Welcome to Meal Plan Monday 228!
It's a red letter day, folks! It is time for another delicious edition of Meal Plan Monday!
We just love how many of you we hear from each week about how helpful Meal Plan Monday is. We have some seriously amazing looking recipes to share with you this week!
Spoiler alert: You're gonna love them!
We just know you're are going to find tons of great ideas! Just keep on scrolling. We're so happy to have you back with us again this week! Let's start by sharing some of the yumminess from last week. Let's go!
Meal Plan Monday 228 Featured Recipes
We love fresh summer peaches! This beautiful cobbler is a wonderful way to use some of them for a treat that the whole family will enjoy.
Can someone pass the vanilla ice cream please?
Make bacon, eggs and hash browns for the whole family at once with this easy sheet pan recipe.
Puff pastry pockets filled with rotisserie chicken, mixed vegetables, and a creamy filling wrapped in a flaky crust. What's not to love?
Leave it up to Southern Bite to create a scrumptious cake recipe drizzled with a sweet butter sauce.
How many slices in a serving? Asking for a friend.
Keep scrolling to discover tons more delicious recipes at Meal Plan Monday 228!
Feast your eyes and find some dishes to try at home in your own kitchen!
Discover More Great Recipes
Do you know someone who enjoys delicious recipes? Share this post with them!
They'll enjoy checking out all of the deliciousness too!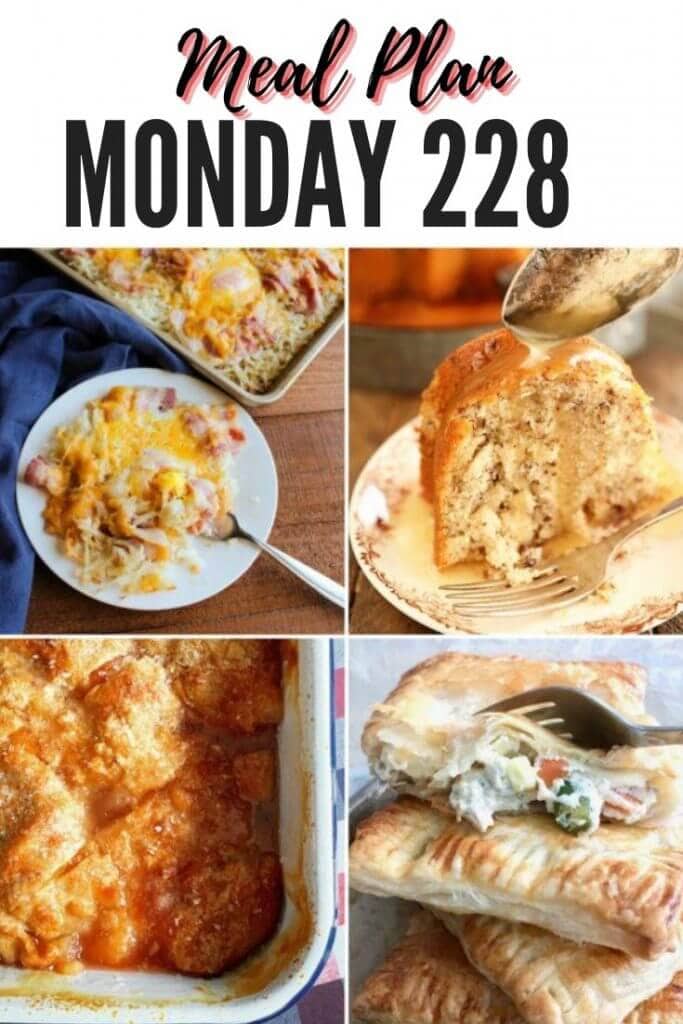 Meet Julia
Author of Julia's Simply Southern
Hey Y'all! I'm Julia, the cook and writer behind the recipes here at Julia's Simply Southern. I began my website so that I could share easy to follow recipes that anyone can use to put a home cooked meal on the dinner table. Thanks so much for stopping by!
Follow me on Facebook | Twitter | Instagram | Pinterest | YouTube