Welcome back, friends! We're sure proud to see you and we're serving up quite the spread at Meal Plan Monday 233.
As we return to busy school nights and look forward to Fall, the search for recipes turns to those quick and easy meals and recipes that make us think of cooler weather.
So pull up a chair and settle in. Let me show you what we've cooked up this week!
Meal Plan Monday 233 Featured Recipes
First up is this Tender Beef Brisket, made in the oven, from The Fresh Cooky!
Beef brisket is a wonderful meal and the leftovers can make up some fine sandwiches to enjoy later.
Broccoli, Cauliflower, and Cheese Salad is a great side or quick lunch from Nancy C!
Easy Creamy Lemon Cheesecake from No Plate Like Home rounds out the meal with a little something sweet.
And our host feature this week is:
Apple Pecan Chewies from Southern Bite! Perfect for an afternoon snack or a treat to cap off the day.
Keep scrolling to discover lots more great recipes ideas to make at home in your kitchen. Meal Plan Monday is the place to gather your weekly meal planning inspiration with an all new edition every Monday!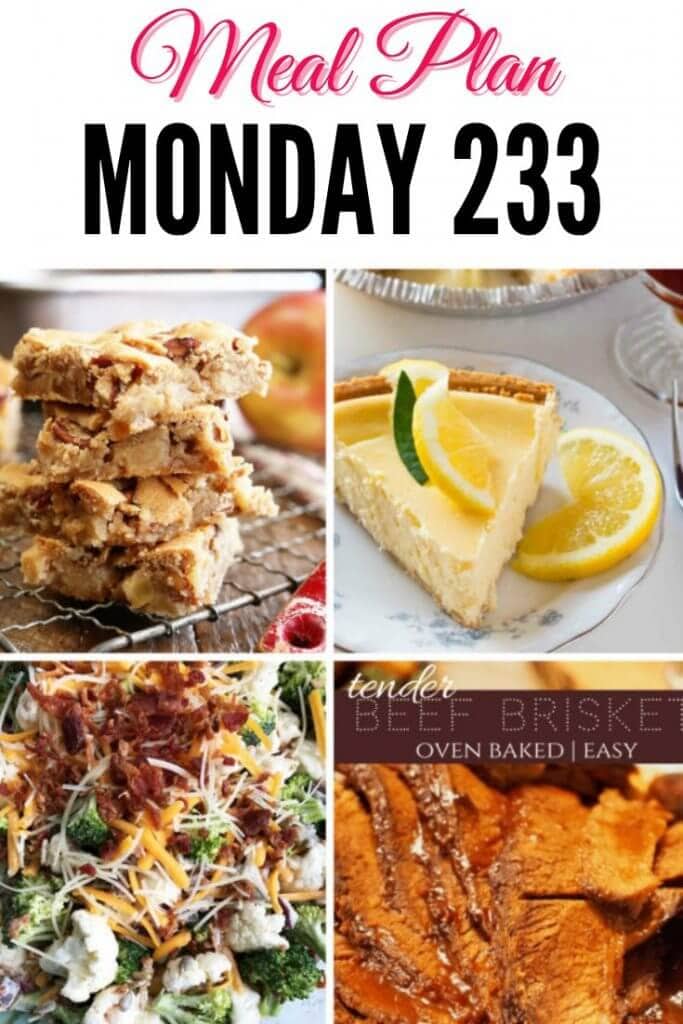 Do you know someone who would enjoy these delicious recipes as much as you did? Feel free to share the post and pass it along to friends and family so they can discover some great new recipes.
Be sure to sign up for our free weekly newsletter so that you never miss our latest recipe posts and follow along on our social media channels.
Thank you for joining us this week! We look forward to seeing you again soon!
Meet Julia
Author of Julia's Simply Southern
Hey Y'all! I'm Julia, the cook and writer behind the recipes here at Julia's Simply Southern. I began my website so that I could share easy to follow recipes that anyone can use to put a home cooked meal on the dinner table. Thanks so much for stopping by!
Follow me on Facebook | Twitter | Instagram | Pinterest | YouTube