In this post I'm sharing how to make a delicious Stuffed Zucchini Recipe.
My family requested a dinner of grilled peppercorn beef tenderloin,
mashed potatoes
, and zucchini. While I was thinking about the preparations for dinner my mind started wondering….
how should I prepare the zucchini
.
'Cause you know, sometimes you just want something a little different. I decided to make a stuffed zucchini and OH M GEE it turned out so good that I had to share it with y'all!
The stuffed
zucchini
that I used as a side dish, honestly could have been a meal itself. This recipe serves four. It takes about 15 minutes to prep and bakes for 45 minutes.
Here's what you'll need:
Zucchini
Breakfast Sausage, I prefer "hot" which is a little spicier
Crushed Ritz Crackers or Bread Crumbs
Grated Parmesan Cheese
An Egg, lightly beaten
Onion Powder
Salt & Pepper to taste
Shredded Cheese, I used cheddar


Stuffed Zucchini Squash
Start by cutting your zucchini in half and scoop out the middle with a spoon, leaving about 1/4″ of the shell. Reserve the zucchini that you scoop from the shell. It will be used in the filling.
Preheat your oven to 350°F.
In a small skillet scramble cook the sausage. Chop up the reserved zucchini pulp and add it to the sausage then saute for 3 or 4 minutes.
How to Make Stuffed Zucchini
In a small mixing bowl crush about half of a fresh stack sleeve of Ritz crackers. I used crackers because I didn't have bread crumbs on hand. If you prefer to use bread crumbs, use three tablespoons of bread crumbs instead.
Add the browned sausage & zucchini mixture to the bread crumbs. Add the grated Parmesan, salt, pepper and onion powder. Stir to combine. Taste for seasoning and adjust if needed. Next, add the beaten egg and mix everything together.
Add your zucchini "boats" to a baking dish and fill each one with the filling mixture.
Easy Baked Zucchini Boats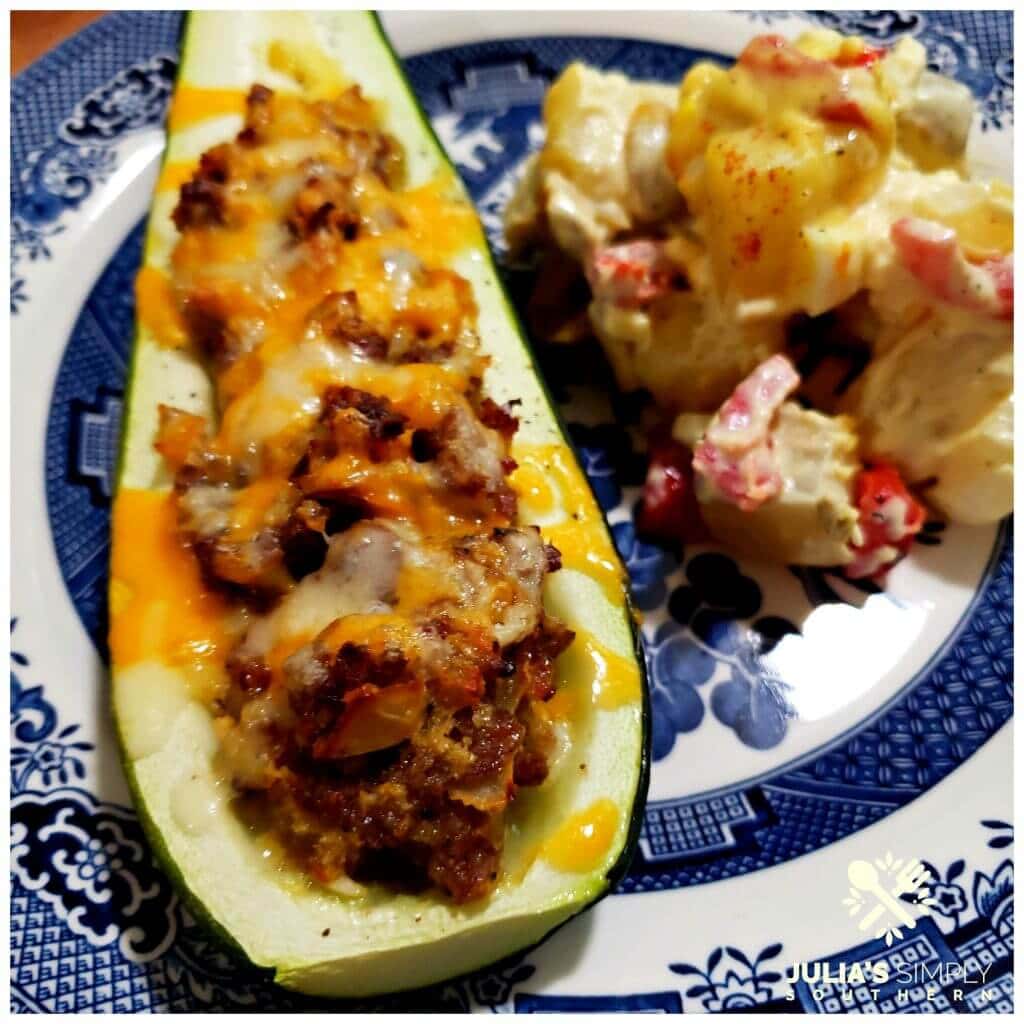 Bake at 350 degrees for 35 minutes. Top with the shredded cheese and bake uncovered for another 10 – 15 minutes until the cheese is melted.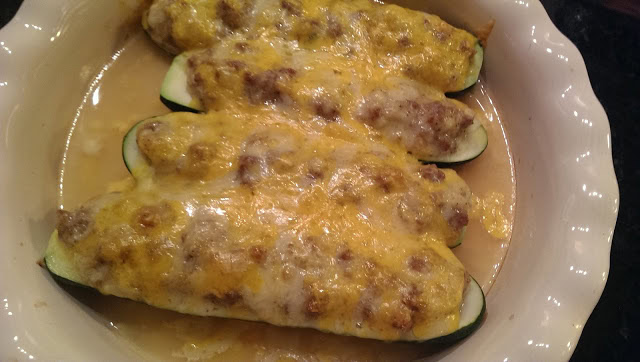 Let stand 5 minutes before serving. They are incredibly delicious! You'll be wanting these again!
Yield: 4 Stuffed Zucchini
Stuffed Zucchini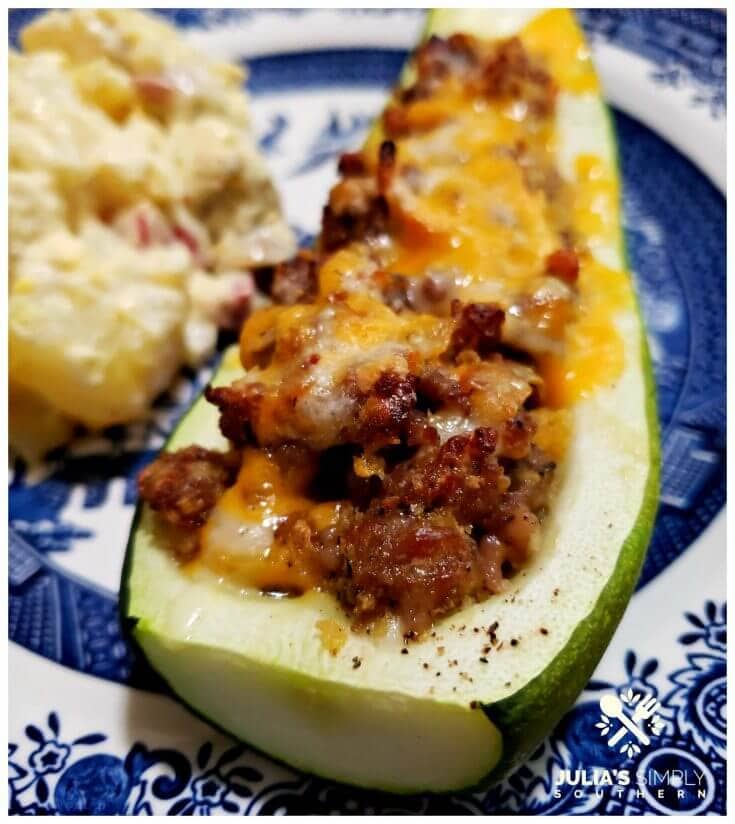 Easy stuffed zucchini boats are perfect as a side dish and filling enough to be the entire meal
Ingredients
2 Zucchini Squash
1/4 lb Breakfast Sausage
1/4 c Finely Diced Onion
3 tbs Bread Crumbs (or crushed crackers)
2 tbs grated Parmesan Cheese
1 Egg, lightly beaten
1/8 tsp Onion Powder
Salt & Pepper to taste
1/4 c Sharp Cheddar Cheese, freshly grated
Instructions
Preheat oven to 350°F.
Slice the zucchini in half lengthwise and use a spoon to remove the pulp, leaving about ¼ inch border along the shell.
Reserve the pulp and set aside to use in the filling mixture.
Brown the sausage, breaking apart as it cooks, in a small skillet. Add the diced onion to the sausage as it cooks to soften.
Next, add the pulp from the zucchini and saute, about 4 minutes.
Add the sausage mixture to a small mixing bowl then add the bread crumbs or crushed crackers, the grated Parmesan cheese, and seasonings. Stir to combine. Taste for seasoning and adjust if needed.
Next, add the egg and mix to combine.
Use a spoon to add the filling mixture to each of the zucchini shells and place in a baking dish or on a lined sheet pan.
Bake for 35 minutes then top with shredded cheddar cheese and bake for an additional 10 to 15 minutes, or until the cheese is melted.

Notes
Ground beef may also be used if preferred over breakfast sausage.
Seasonings may be adjusted to suit individual tastes.
Nutrition Information:
Yield:
4
Serving Size:
1
Amount Per Serving:
Calories:

223
Total Fat:

15g
Saturated Fat:

6g
Trans Fat:

0g
Unsaturated Fat:

7g
Cholesterol:

87mg
Sodium:

505mg
Carbohydrates:

9g
Fiber:

2g
Sugar:

3g
Protein:

13g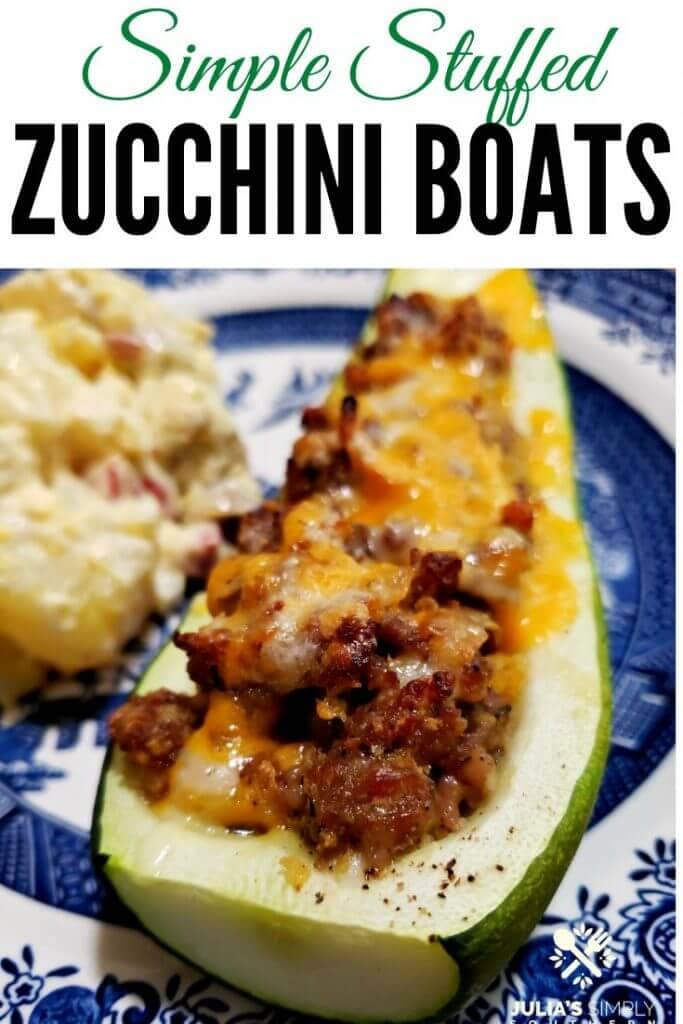 Try Zucchini Nut Bread from Deep South Dish
Meet Julia
Author of Julia's Simply Southern
Hey Y'all! I'm Julia, the cook and writer behind the recipes here at Julia's Simply Southern. I began my website so that I could share easy to follow recipes that anyone can use to put a home cooked meal on the dinner table. Thanks so much for stopping by!
Follow me on Facebook | Twitter | Instagram | Pinterest | YouTube