In this post I am sharing how to make the BEST Cheddar Garlic Drop Biscuits Recipe that you've ever tasted!
Y'all, I'm not one who usually toots their own horn but I'm going to in this instance because these are the best cheesy biscuits. I was going to compare these easy biscuits as a copycat Red Lobster Cheddar Bay Biscuits. When I tasted them however I knew they were way better.
You know what? Everyone else thought so too! The biscuits take only four ingredients that you probably have on hand right now.
Now I know some of y'all are gonna say, "Julia, you can buy a mix to make the Red Lobster biscuits". I am very aware, but have y'all ever read the ingredients on any of those box mixes? There is a bunch of stuff that you don't want to eat in there so why not make your own from scratch with fresh ingredients?
These cheesy garlic herb biscuits are tender and delicious in every flaky bite.
Cheddar Biscuits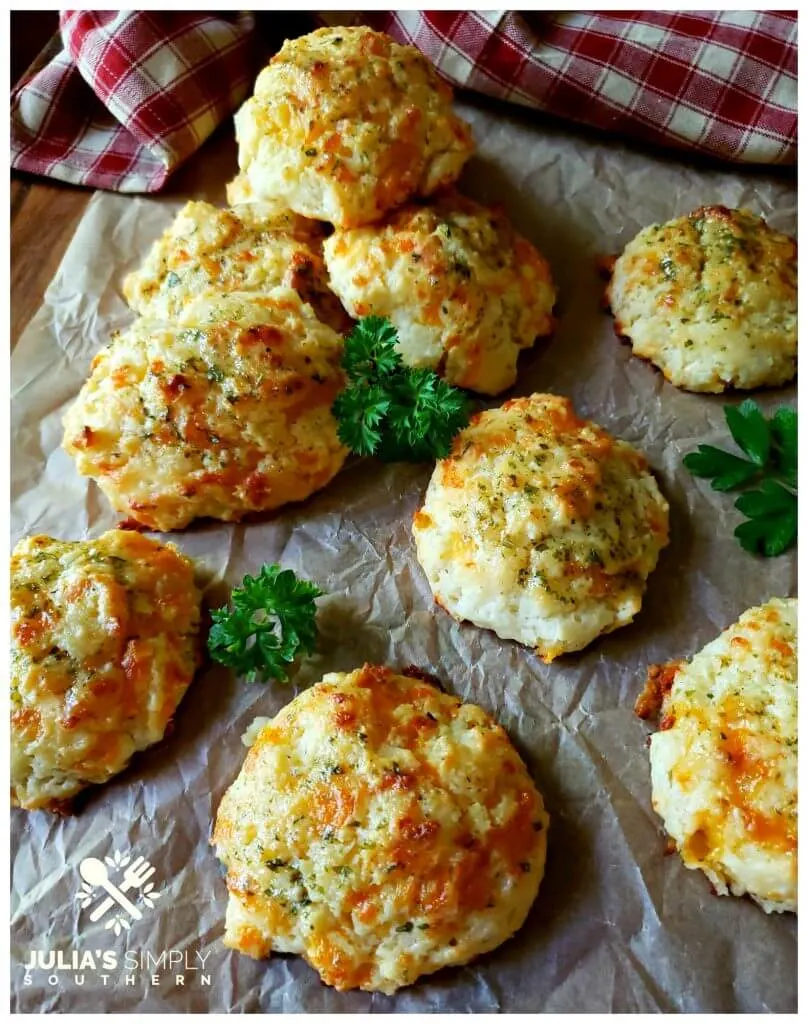 One of the great things about drop biscuits is that they are easy for anyone to make. Even if you haven't mastered rolling out and cutting fresh biscuits, you can make drop biscuits. I promise!
You literally take an ice cream or cupcake scoop and scoop out some of your biscuit dough and drop it on the sheet pan.
Maybe making "pretty" biscuits is not your life's dream and that is okay, just make drop biscuits. They are just as good.
Easy Southern Cheese Biscuits Recipe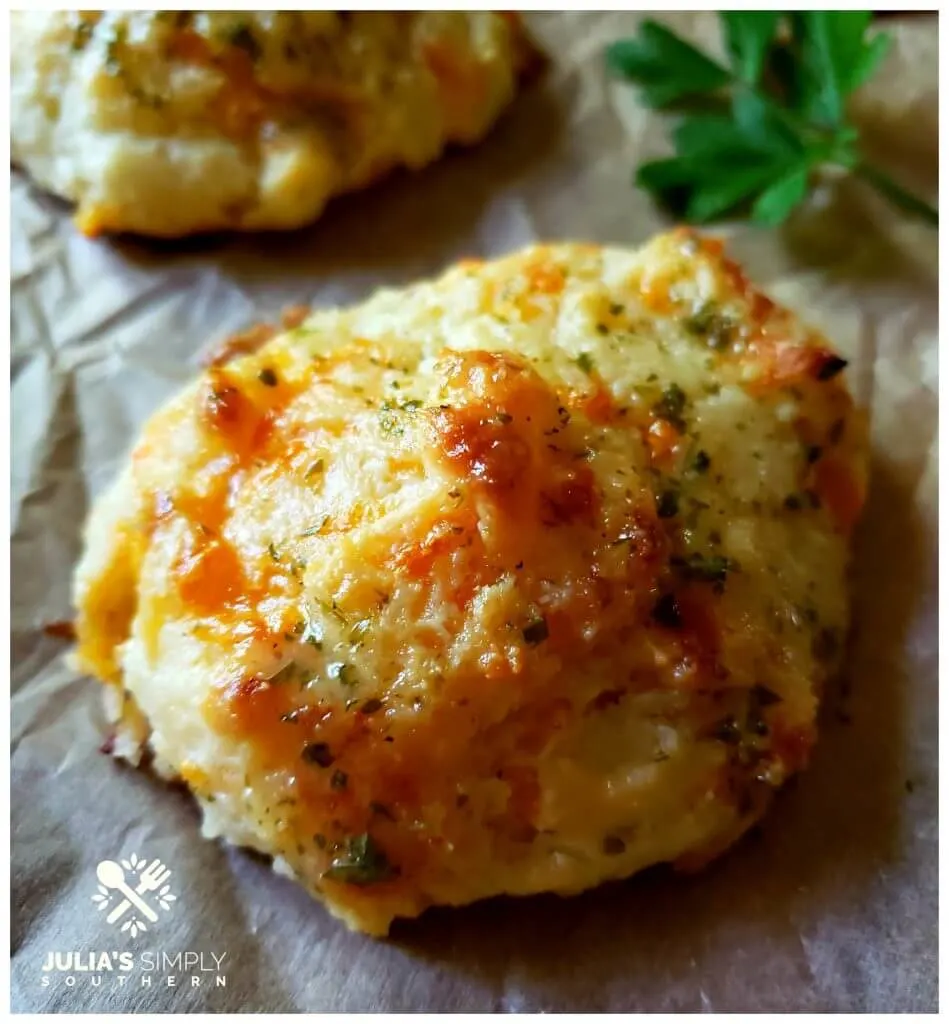 You don't even have to mess with any pastry cutters to make this Cheddar Garlic Drop Biscuits Recipe. All it takes is stirring the ingredients together in a mixing bowl.
The trick to not have to "cut in" the fat for these biscuits, which is butter, is to grate your butter for the recipe. How do you grate butter? It's super easy and all you need to do is pop your stick of butter in the freezer for about twenty minutes.
After you get your cheddar cheese grated (yes, you should use freshly grated cheese) then you can grab your butter and grate it up.
Self Rising Flour Biscuits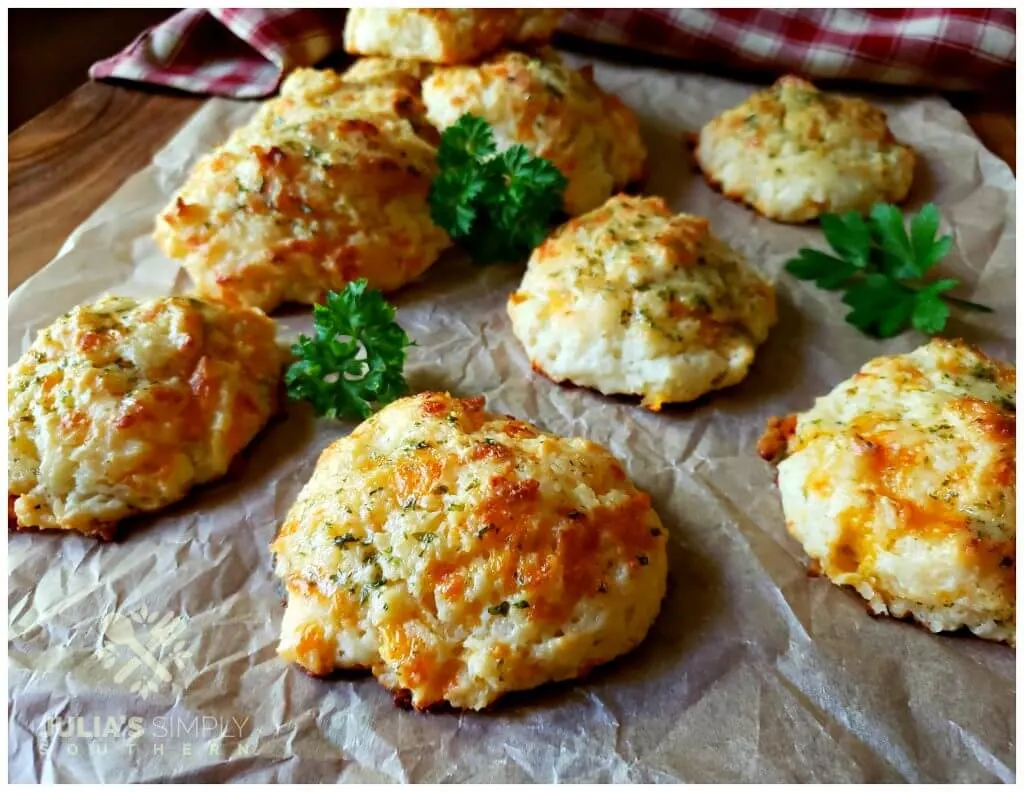 To keep the ingredients needed to a minimum, self rising flour works perfectly in this recipe. Please note that self rising flour and all purpose flour cannot be used interchangeably so be sure to use self rising flour.
All purpose flour could be used only if you have the proper leavening ingredients to add to the flour. Why not keep it easy though and just use the self rising.
How to Make Cheddar Garlic Drop Biscuits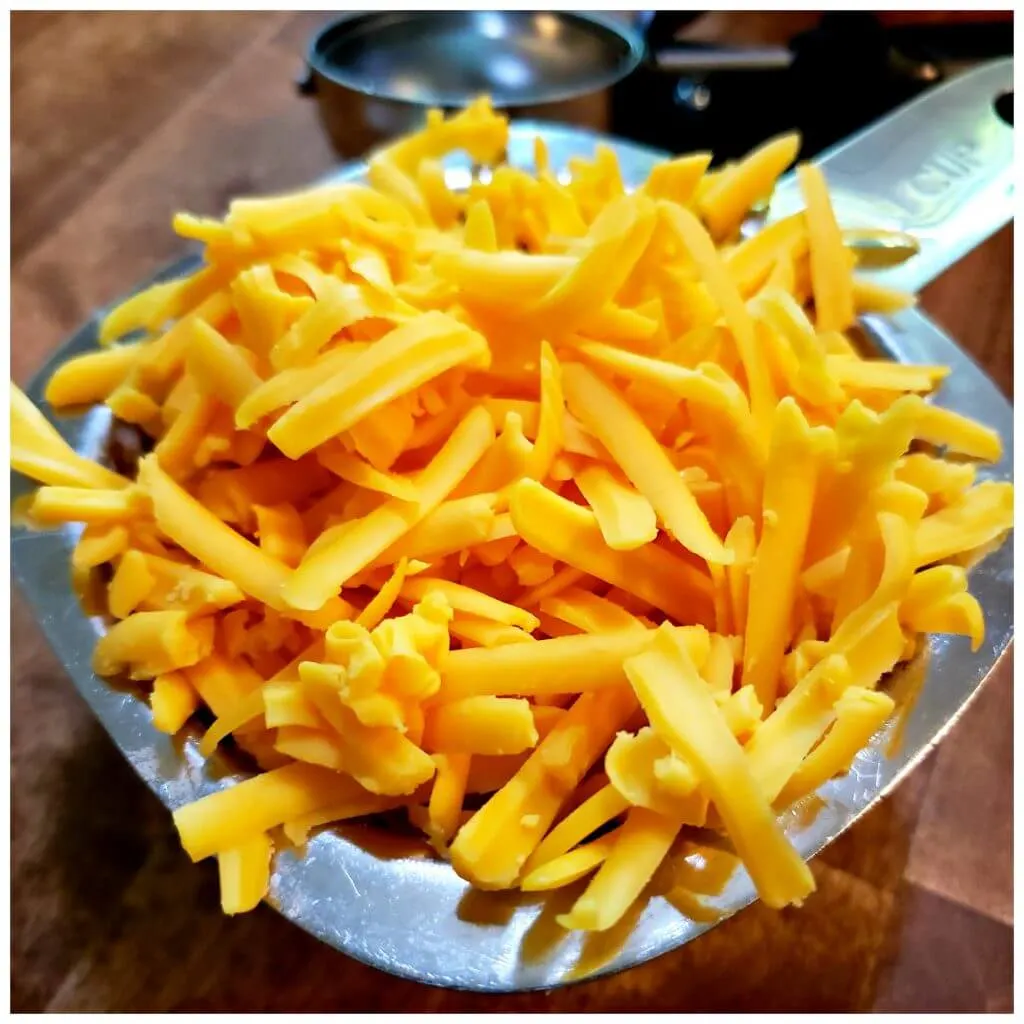 It all starts with cheese! Doesn't a bunch of cheese make everything better? For me it does. I'm a bonafide cheese-a-holic!
I wanted to show you what I mean by a heaping cup of grated cheddar (see photo above).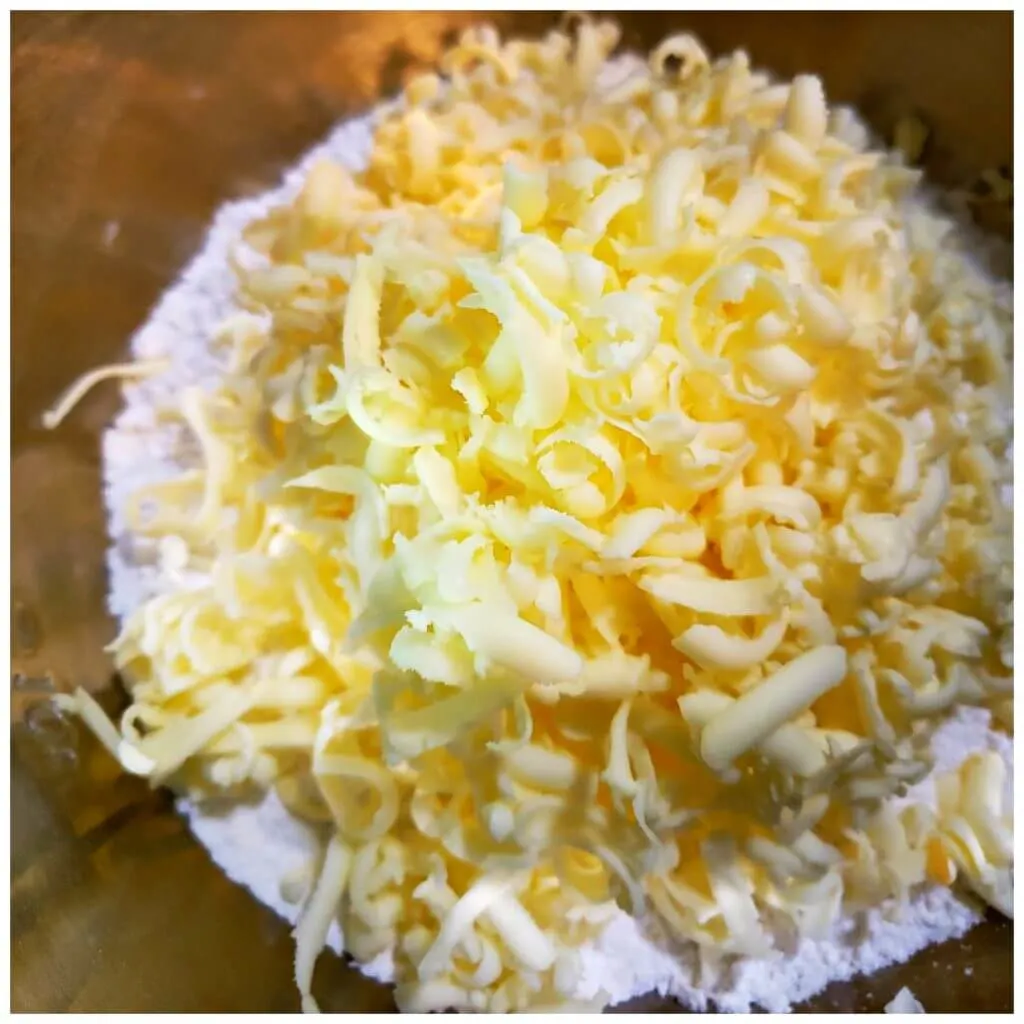 As I mentioned earlier, the best way to incorporate the butter in this recipe is to simply grate it in on top of the flour in your mixing bowl then give it a stir and you're good to go.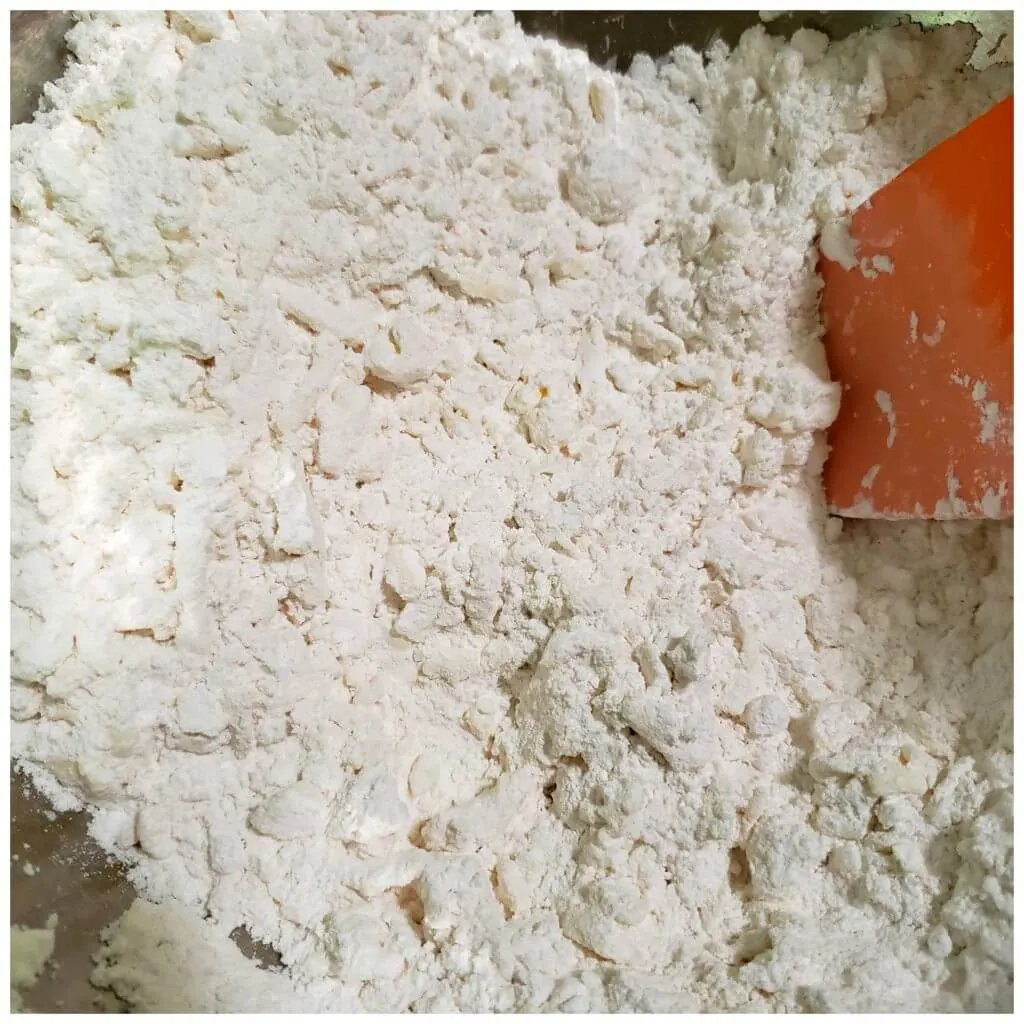 This is how the flour and butter look when combined. It is pretty much the same as it would be if you went through all of the trouble of using a pastry blender.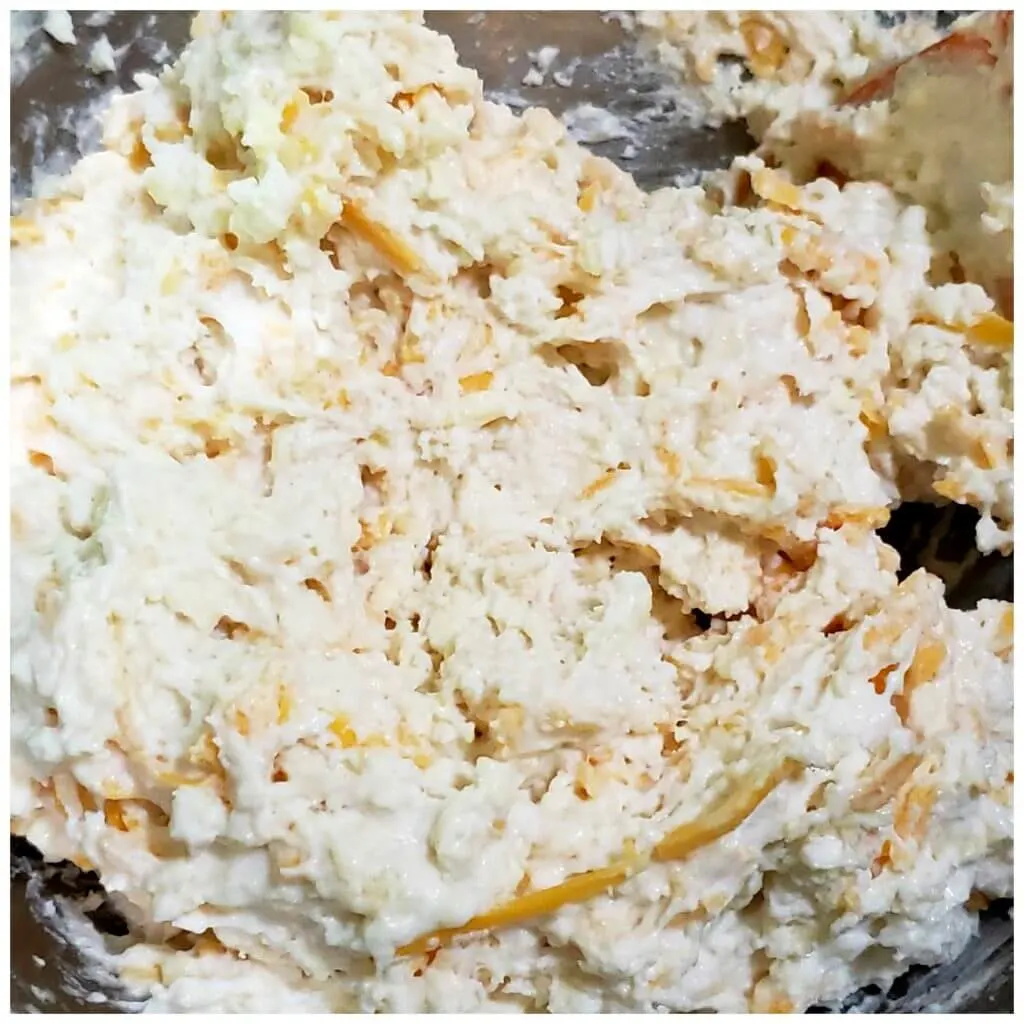 Like most biscuit recipes made in a Southern kitchen, this one has a bit of buttermilk in it. Once you have a sticky dough, stir in your cheese and it's ready to scoop out portions to the baking sheet.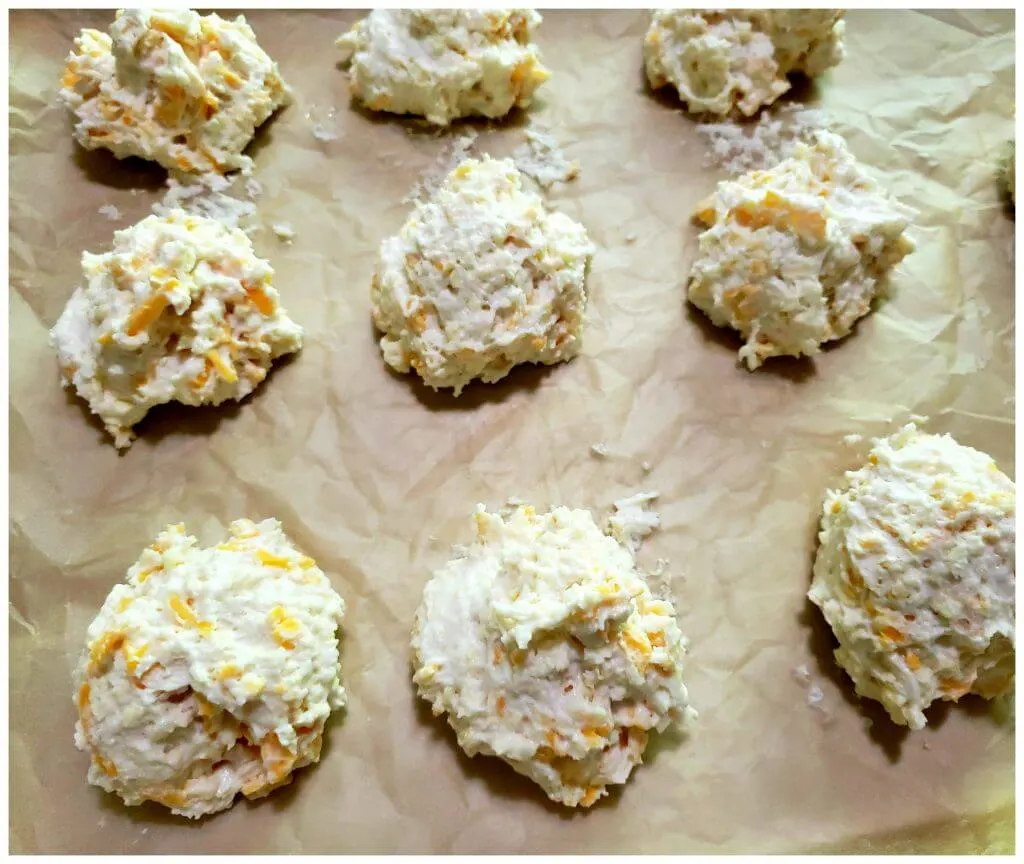 Scoop those biscuits out and "drop" 'em on a lined baking sheet and pop them in the oven. Super easy so far, right?
After your biscuits are done, all that is left to do is brush each one with your garlic herb melted butter. My mouth is watering just thinking about it.
I'm not gonna lie, these biscuits are SINFUL! I ate four of them. FOUR! I couldn't help myself. My husband ate two then said "We've got to get these out of the house." I said "YES, give the rest to the neighbors!"
Don't say that I didn't warn you about how good they are.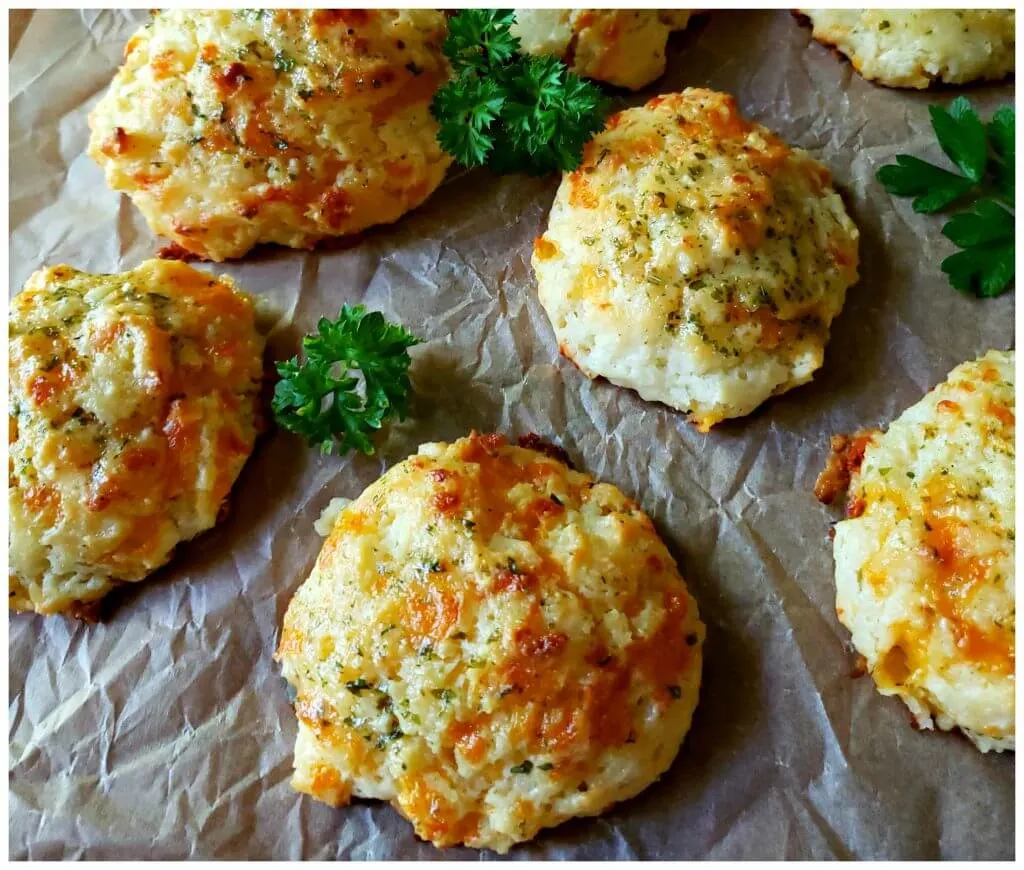 I do have a sort of funny story to share from when I baked these biscuits. Let's just say that I'm glad that I have a clean oven.
When they were done, I reached in with my pot holder to pull out the sheet tray and my wrist gave way. The tray dropped down to the bottom of the oven and every biscuit and the parchment paper went flying into the bottom of that oven.
I couldn't waste one moment! The oven racks came out so fast so that I could save those beautiful freshly baked biscuits. Mission accomplished! Whew.
Cheddar Garlic Drop Biscuits Recipe
Below you'll find the step by step instructions for making these biscuits. I'm going to put "1" as the serving size (insert evil laugh).
Yield: 16 Biscuits
Cheddar Garlic Drop Biscuits Recipe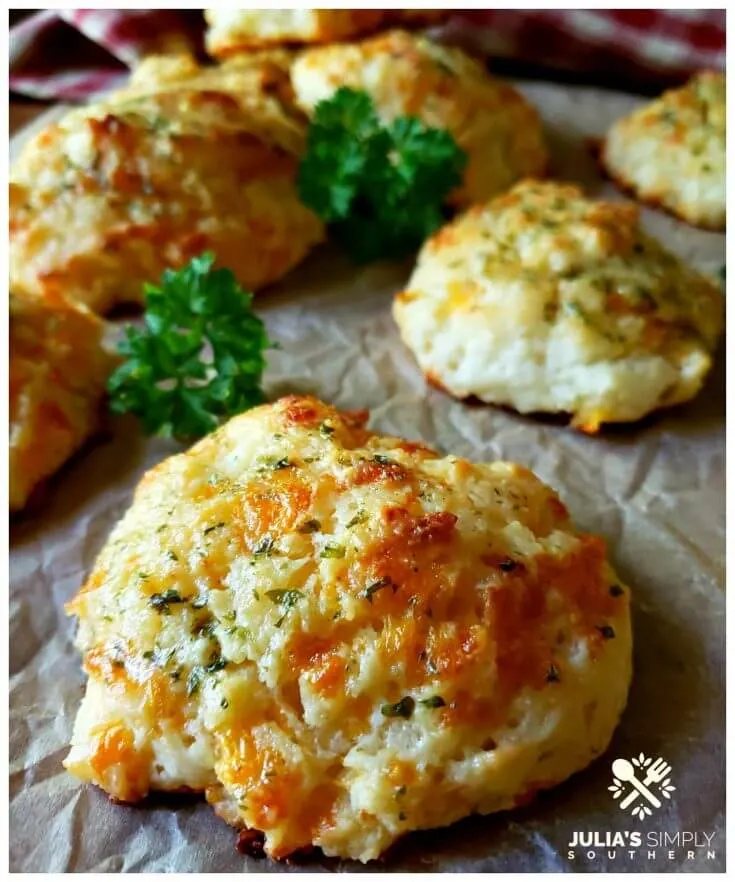 Tender and flaky Cheddar Garlic Drop Biscuits are made with just a few ingredients and are the best thing you'll put in your mouth!
Ingredients
Drop Biscuits
2 c Self Rising Flour
1/2 c Butter (1 Stick, chilled)
1 c Buttermilk
1 c Sharp Cheddar Cheese (heaping and freshly grated)
Buttery Topping
1/4 c Butter, melted
1/2 tsp Garlic Powder
1/2 tsp Dried Parsley Flakes
Instructions
Drop Biscuits
Preheat oven to 450°F (232°C)
Place 1 stick of butter in the freeze for 15-20 minutes.
Line a baking sheet with parchment paper and set aside.
Add the self-rising flour to a mixing bowl.
Take the chilled stick of butter from the freezer and using a box grater, grate the butter into the mixing bowl with the flour. Stir to combine the butter and flour.
Next, add the buttermilk and stir to combine.
Next, add the grated cheddar and stir until combined.
Use a cupcake scoop or ice cream stoop and scoop out portions and drop on the lined baking sheet, spacing about 2 inches apart.
Place in the oven and bake 20 minutes.
Butter Topping
Melt 4 tablespoons of butter (1/4 cup) in the microwave on high for about 30 seconds, or until melted.
Add the garlic powder and dried parsley flakes; stir to combine.
Brush the melted butter mixture over the freshly baked drop biscuits.

Notes
These biscuits are best served warm.
Nutrition Information:
Yield:
16
Serving Size:
1
Amount Per Serving:
Calories:

196
Total Fat:

14g
Saturated Fat:

8g
Trans Fat:

1g
Unsaturated Fat:

4g
Cholesterol:

38mg
Sodium:

375mg
Carbohydrates:

13g
Fiber:

0g
Sugar:

1g
Protein:

6g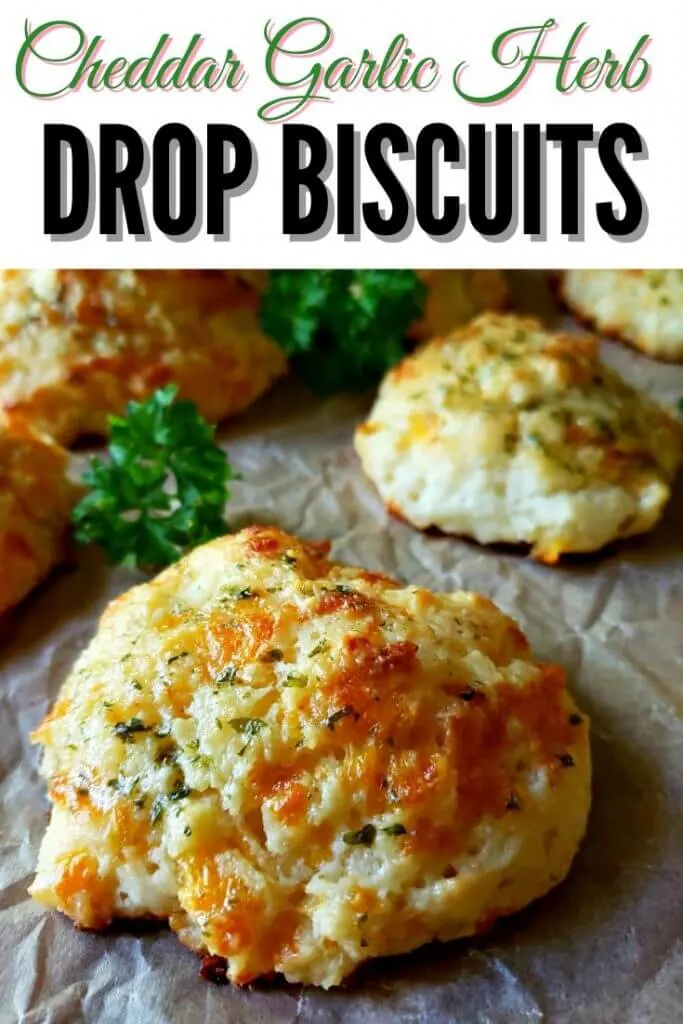 You can also see this recipe shared at the Weekend Potluck.
You might also enjoy this recipe for Jiffy Cornbread Tamale Pie from Back to My Southern Roots
Meet Julia
Author of Julia's Simply Southern
Hey Y'all! I'm Julia, the cook and writer behind the recipes here at Julia's Simply Southern. I began my website so that I could share easy to follow recipes that anyone can use to put a home cooked meal on the dinner table. Thanks so much for stopping by!
Follow me on Facebook | Twitter | Instagram | Pinterest | YouTube