Welcome to Meal Plan Monday 237!
Boy, do we have some delicious recipes for you this week at Meal Plan Monday. This week's features consist of the fluffiest pancakes you've ever seen, a breakfast casserole cooked in a bundt pan, a cube steak (with gravy!) in the crockpot, and chicken baked in butter and cream.
Once we drool over our delicious featured recipes food bloggers from all over are sharing their best recipes with all us here, so get ready for a whole lot of meal planning inspiration.
Now, let's share those featured recipes!
Meal Plan Monday 237 Featured Recipes
Pass the maple syrup please! We're ready to dig in to these delicious pancakes.
This is such a delicious and unique way to start the day!
You just know this is gonna be one of those melt in your mouth delicious meals!
Host Feature of the Week:
We're always looking to add new chicken recipes to our meal rotation.
More Meal Plan Monday 237 Recipes
Keep scrolling to discover more delicious recipes here at Meal Plan Monday! You'll find over a hundred wonderful recipes to feast your eyes upon.
See something that you like? Just click on it to go and fetch the recipe.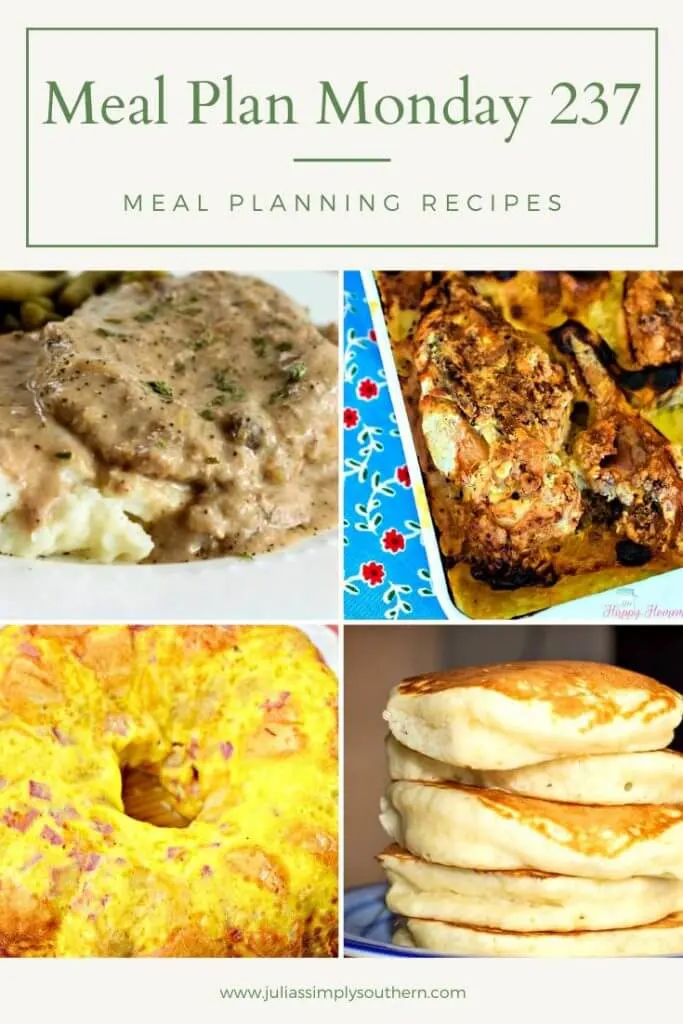 Thanks for joining us for this delicious edition of Meal Plan Monday! Please come again! You'll find an all NEW edition each week filled with mouthwatering dishes.
Share this post with friends who love to eat too! Okay, that would be all of them.
Be sure to sign up for my weekly newsletter and you'll get an email each week with all of the latest recipes posts so that you never miss a thing.
Meet Julia
Author of Julia's Simply Southern
Hey Y'all! I'm Julia, the cook and writer behind the recipes here at Julia's Simply Southern. I began my website so that I could share easy to follow recipes that anyone can use to put a home cooked meal on the dinner table. Thanks so much for stopping by!
Follow me on Facebook | Twitter | Instagram | Pinterest | YouTube