In this post I am sharing a little about Amicalola Falls, located in Georgia.
At 729 feet,
Amicalola Falls
is the tallest cascading waterfall east of the Mississippi, located in
Dawsonville, Georgia
. It's known as one of the Seven Natural Wonders of Georgia. The word Amicalola is Cherokee, meaning "Tumbling Waters".
Before the 19th century, there was little information about the waterfalls. The area was controlled by the Cherokee tribe until 1838. The discovery of gold in North Georgia eventually led to the forced removal of the Cherokee from their lands due to the
Treaty of New Echota
. This was the beginning of the
Trail of Tears
. The Cherokee had to give up their lands and migrate to an area now in present day Oklahoma.
Beautiful Waterfalls of the Southeast
In 1911, the falls were purchased by Georgia and a state park established in the area surrounding the falls.
The waterfalls are a stunning, natural beauty. The Amicalola State Park is one of the most popular in the state.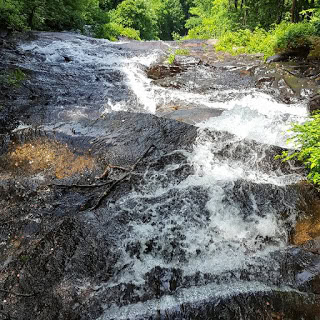 How did I discover Amicalola Falls? In the spring of 2015, my husband and his sister were setting out on their first hiking adventure of the Appalachian Trail. The starting point was this beautiful waterfall.
I drove them to Georgia to drop them off and would pick them up several weeks later in North Carolina.
You might also enjoy Table Rock State Park, located in upstate South Carolina.
Meet Julia
Author of Julia's Simply Southern
Hey Y'all! I'm Julia, the cook and writer behind the recipes here at Julia's Simply Southern. I began my website so that I could share easy to follow recipes that anyone can use to put a home cooked meal on the dinner table. Thanks so much for stopping by!
Follow me on Facebook | Twitter | Instagram | Pinterest | YouTube