Hello friends! Welcome back to another edition of Meal Plan Monday.
We look forward to this roundup each week and hope you do, too! This week's selection at Meal Plan Monday 221 features a chicken dish that is sure to become a family favorite, a decadent salad, sweet cherry pie bars, funfetti doughnuts, and dilly pretzels for that crunchy/salty fix!
Of course, the real fun comes in when bloggers from around the web and around the world add in some of their most popular recipes at the bottom so scroll away and get ready to be inspired. Thanks for being here!
Meal Plan Monday Featured Recipes
Up first are these Glazed Cherry Bars from A Reinvented Mom. These little beauties are easy as pie – you make them in a sheet pan!
Up next is this gorgeous Cobb Salad from Swirls of Flavor. What a beautiful way to get those veggies in!
We had such a hard time picking between these two features that we decided to include them both for anyone feeling snackish this week!
Dilly Pretzels from Nancy C and Funfetti Baked Doughnuts from $5 Dollar Dinners
And this week's Featured Host Recipe Is:
Sticky Chicken from Southern Plate. Sticky Chicken is baked in a delicious homemade honey soy sauce barbecue sticky sauce. It's a beloved family favorite!
What's New at Julia's Simply Southern: Chicken, Bacon and Ranch Quesadillas.
Meal Plan Monday 221 New Recipes
Be sure to join us every week for a new edition of Meal Plan Monday to discover new recipe ideas to try in your own kitchen.
A special thank you to all of the talented food bloggers who join us to share their amazing recipes!
We love all of the meal planning inspiration and know that y'all do too!
Share this post with a friend or family member who enjoys cooking too.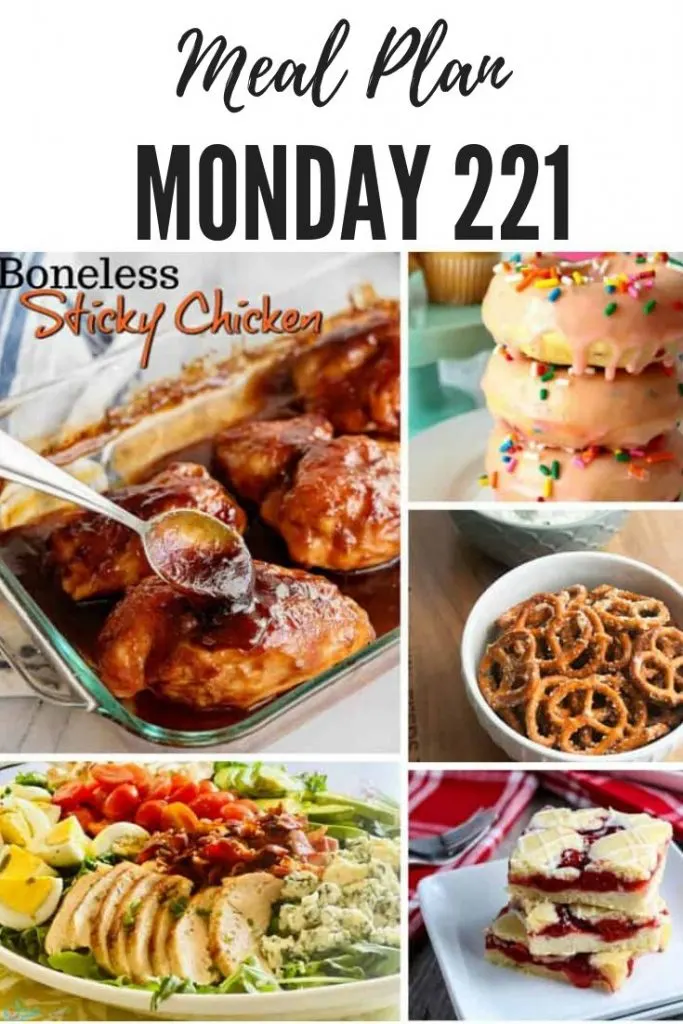 Meet Julia
Author of Julia's Simply Southern
Hey Y'all! I'm Julia, the cook and writer behind the recipes here at Julia's Simply Southern. I began my website so that I could share easy to follow recipes that anyone can use to put a home cooked meal on the dinner table. Thanks so much for stopping by!
Follow me on Facebook | Twitter | Instagram | Pinterest | YouTube