In this post I'll be sharing an Easy Biscuits Recipe made with Southern biscuit flour's Formula L.
I made this batch of what I call
Easy Biscuits
up this morning. They are delicious and you just can't imagine how easy they are to make. I still make up my regular
Southern Buttermilk Biscuits
recipe but back around the holidays someone told me about this
magic
biscuit flour. They went on and on about how good the biscuits were.
Naturally I had to find out what is was. I am not even kidding that you can have these biscuits mixed, rolled, cut and on the tray, then baked all in 15 minutes. When I heard that someone ran in the kitchen and whipped these up so fast because the previous tray of biscuits were dropped, I just couldn't believe it.
The skeptic in me kept thinking, how on earth did someone cube shortening & butter, chill it, cut it into the flour and all the steps needed to make biscuits. They told me to get this very specific flour, and to follow the directions exactly, and I would have the same biscuits they had. So to the store I went and found this very special flour.
Easy Biscuits Recipe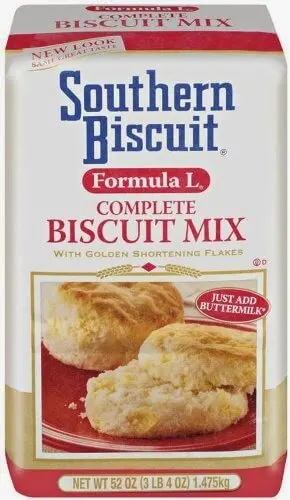 It's Southern Biscuit Formula L, note the Formula L part is important. It's basically flour, shortening flakes, and a few rising agents mixed in.
Toss that with some buttermilk, fold a few times, and you've got some perfect biscuits. If you're one of those folks who can't quite seem to cut the fat, so to speak, into the flour, I am telling you this is for you. You will be able to make biscuits that will get compliments by all.
I couldn't believe it, the shortening was already mixed into the flour. Genius! The flour mix is made by Renwood Mills, a small family owned and operated business in North Carolina. If they don't sell it in your area, it is worth ordering a bag online to try this. It was a life changing discovery. If I need to whip up a quick batch of biscuits, this is my go to now!
Just follow the directions on the bag and after you pull them out of the oven brush the tops with melted butter.
You might also like The Southern Lady Cooks The Best Pumpkin Biscuits recipe.
Meet Julia
Author of Julia's Simply Southern
Hey Y'all! I'm Julia, the cook and writer behind the recipes here at Julia's Simply Southern. I began my website so that I could share easy to follow recipes that anyone can use to put a home cooked meal on the dinner table. Thanks so much for stopping by!
Follow me on Facebook | Twitter | Instagram | Pinterest | YouTube