In this post I am sharing about my Weekend in Charleston South Carolina.
Charleston, South Carolina is one of our favorite places to visit. We do quite a few day trips a year and the occasional weekend.
A few weeks ago in July, we spent the weekend. July happens to be the hottest month of the year, in much of the south, and this was no exception.
It was the hottest July on record in Charleston. Needless to say, rather than a lot of walking as we usually do, we were taking the car everywhere. Thank goodness for air conditioning.
Well, here we go…. upon arriving in Charleston on Saturday morning the first stop was for brunch at High Cotton . The restaurant is owned by the same family who own Halls Chophouse , which we will talk about later because we had dinner there.
Since our brunch reservations were just as they opened I had a chance to take a few photos of the beautiful dining rooms before other guests arrived.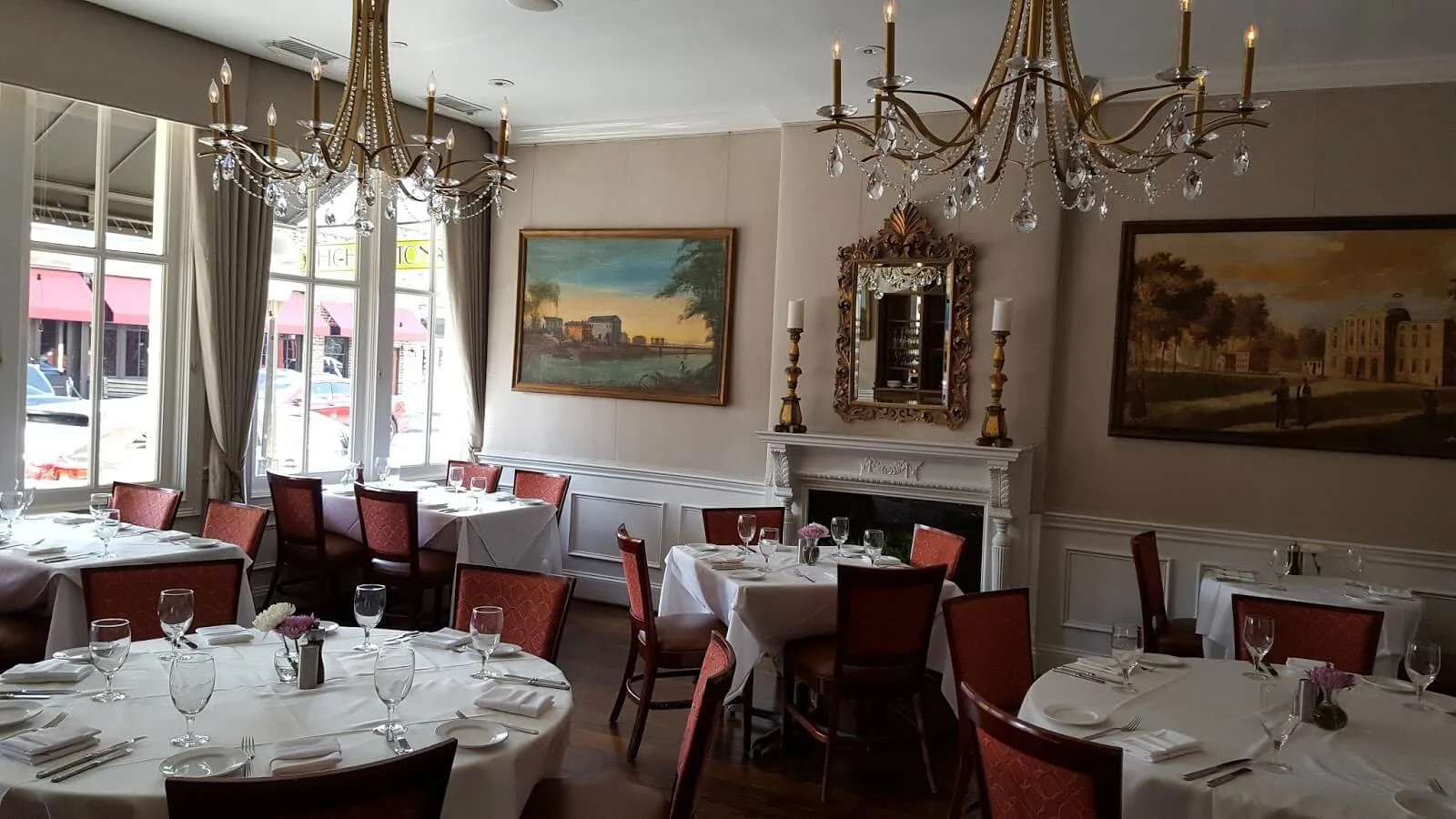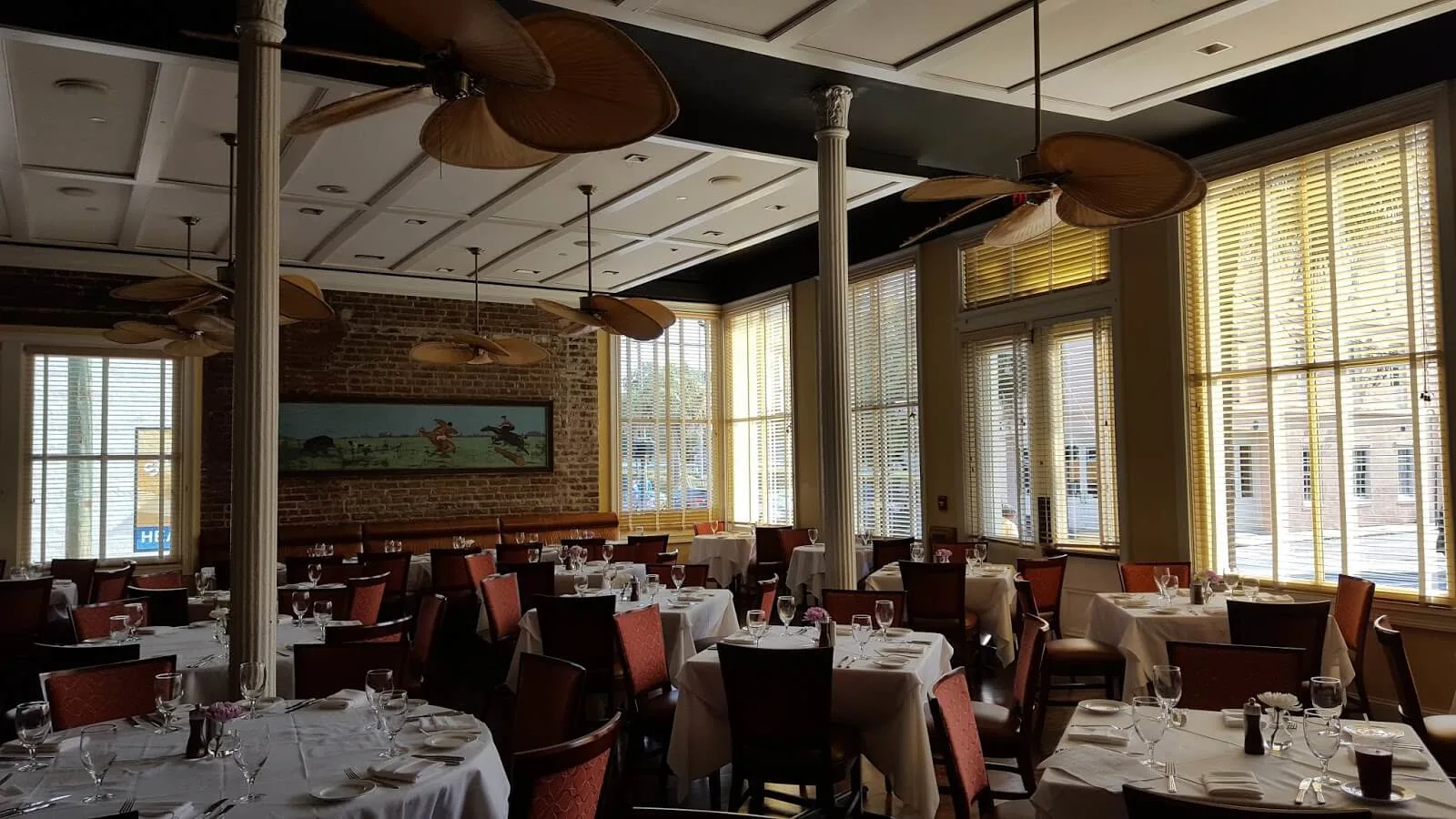 As with all of their restaurants, The Hall Family truly know how to create a memorable dining experience. Brunch was wonderful! I had the Crab Cakes Benedict. I think the picture says it all. Delicious and be sure to have a side of the smoked bacon!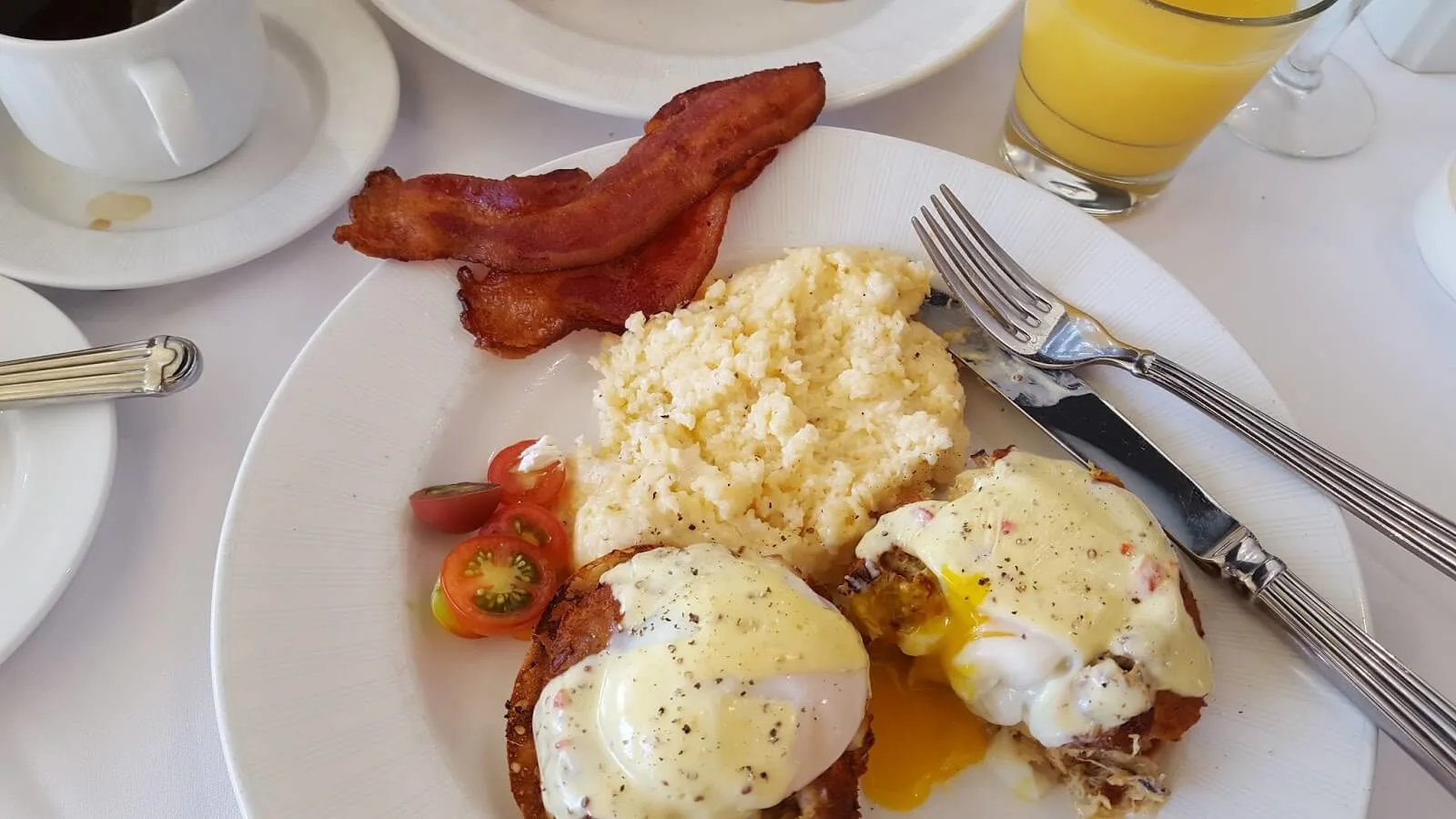 After brunch we were ready to head over to the John Rutledge Inn and get checked into our room. Walking to the car I couldn't help but stop to admire one of the beautiful window boxes that grace so many Charleston homes and businesses. There are so many reasons Charleston is so charming and you will see it everywhere you look.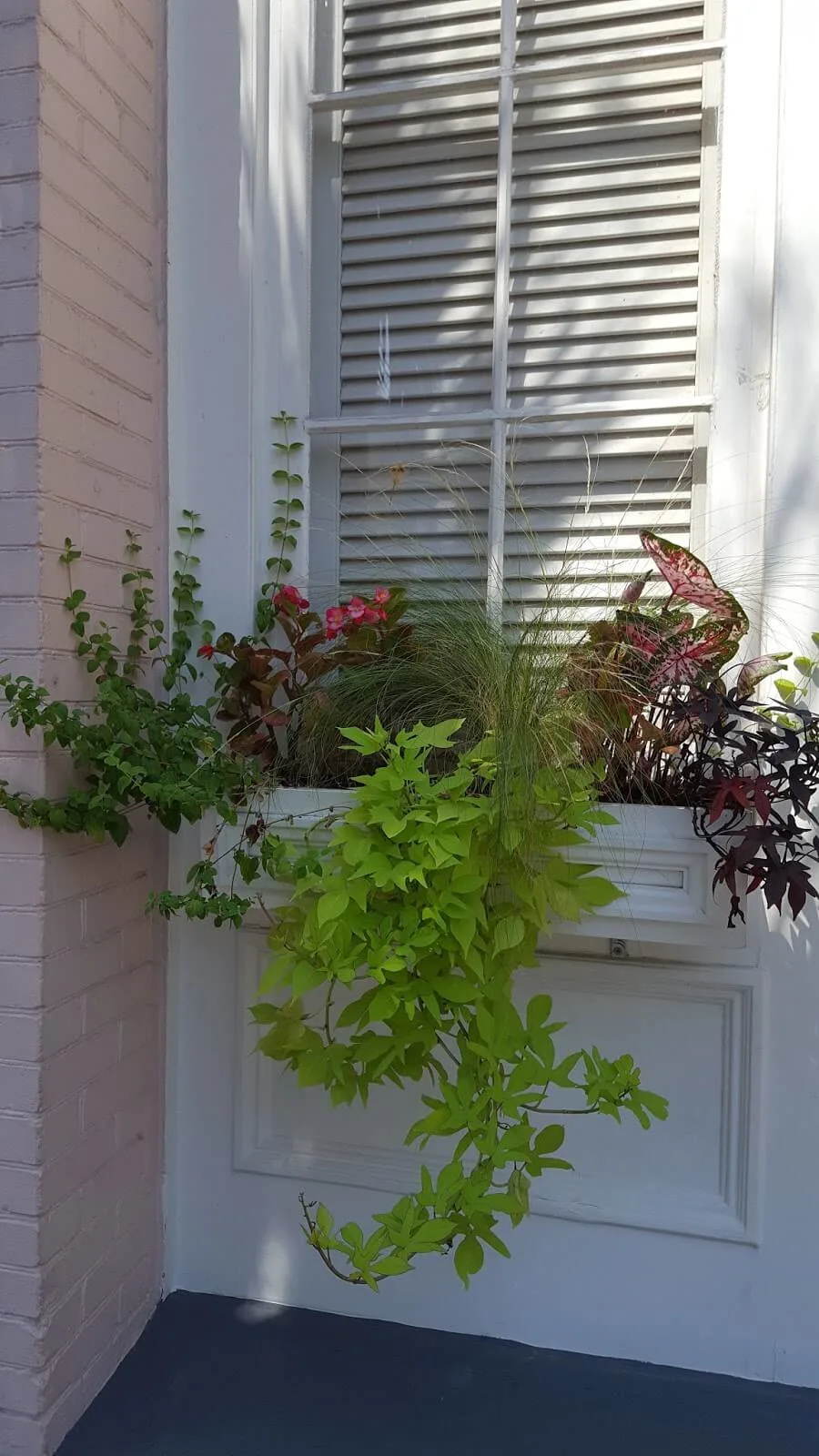 So a short drive and we arrive at
John Rutledge House Inn .
We were able to check in around noon because there had not been guest in the room the night before. I was surprised because it wasn't just a room but the Grand Suite. I just love surprises!
The inn has a fascinating history and was built in 1763 and was home to John Rutledge, one of the 55 original signers of the U.S. Constitution. One of the many well known guest to the house was George Washington during his presidential visit to Charleston.
The house survived the War Between the States but not without a blow to the third floor where a Yankee cannon hit. All is well and it was repaired of course leaving us with this beautiful historic landmark to enjoy today. Legend has it that she-crab soup was first served here.
The hospitality is wonderful here. The staff are very attentive and I highly recommend to anyone to stay here. With that said I must say that if breakfast is the most important part of your life, you may want to overlook it because at best it is just okay.
The breakfast is complimentary and will be served in your room or in the courtyard at your request. Being southern and being a cook myself the breakfast was certainly not something to brag about. Scrambled eggs and bacon are alright.
I ordered biscuits one morning and am sure that they came from a can and were burnt to the pan and served to us anyways. That's a no no in my book but as I said the place is definitely worth staying, you may want to consider breakfast elsewhere.
In the afternoon a complimentary tea and refreshments are served in the ballroom, formerly the second floor drawing room.
Each evening the bed is turned down and drapes drawn closed. You will feel spoiled by the gracious attending. We were even surprised one evening to find a bottle of champagne waiting for us when we returned from our day.
Where to Stay in Charleston SC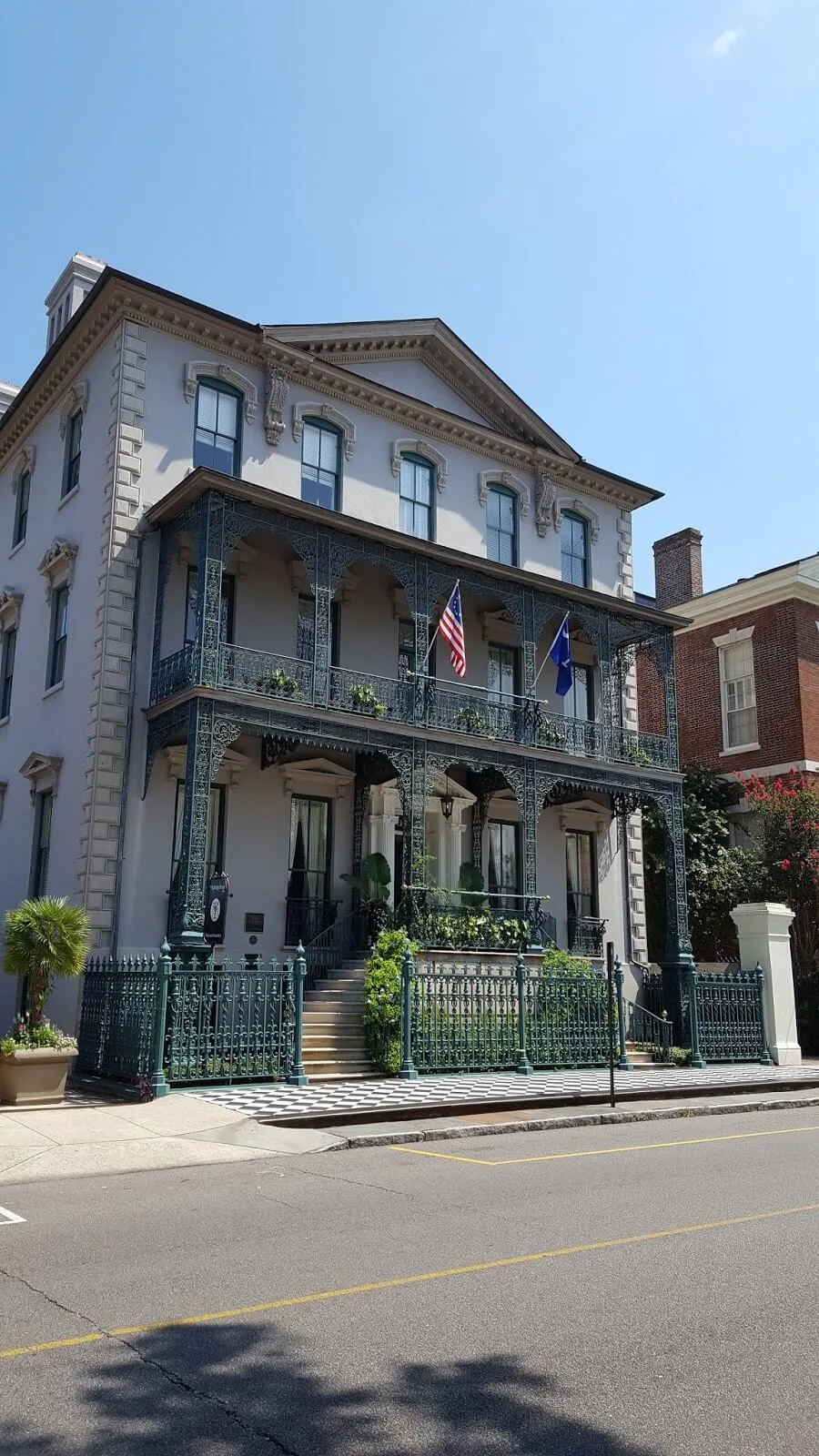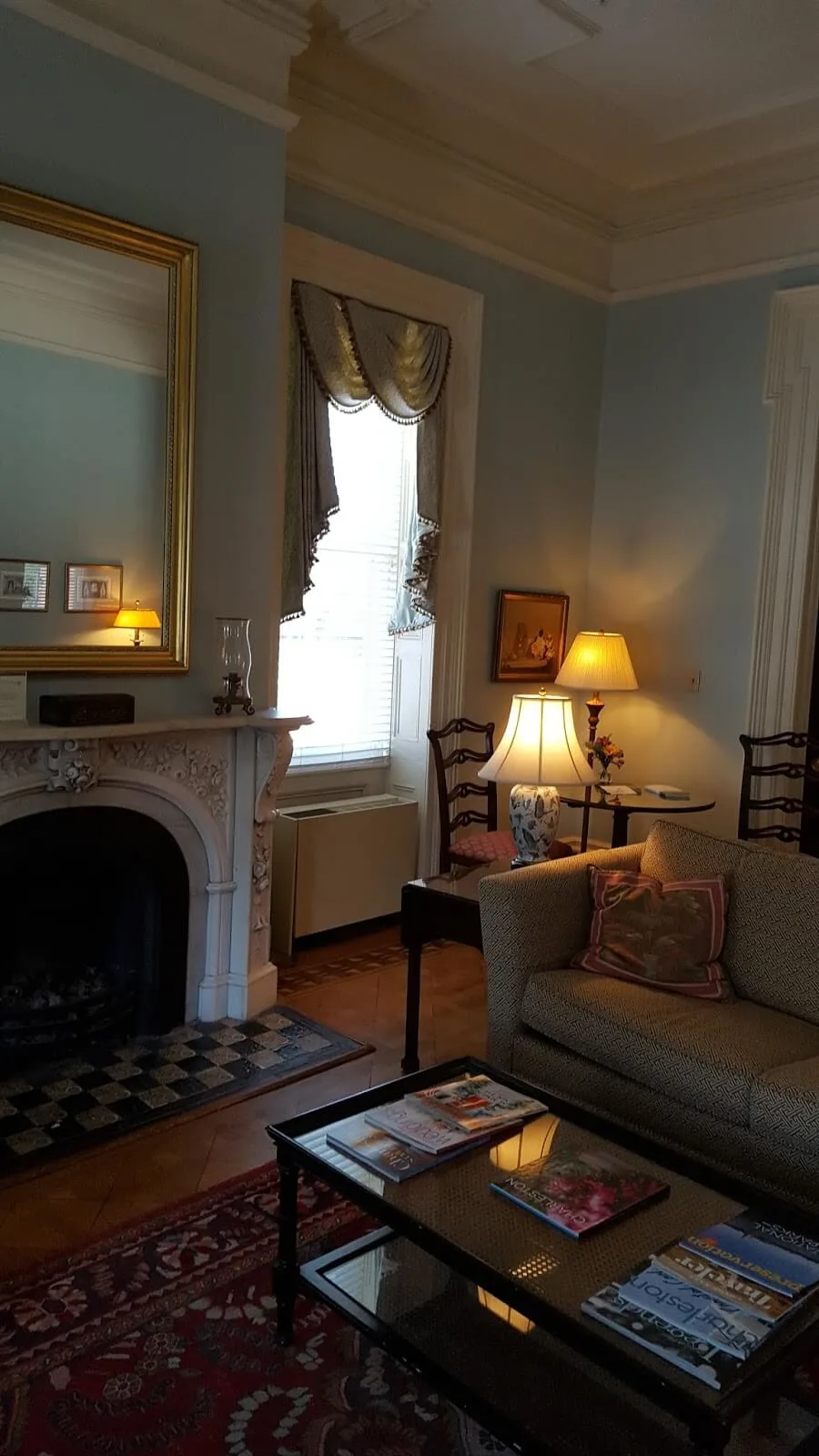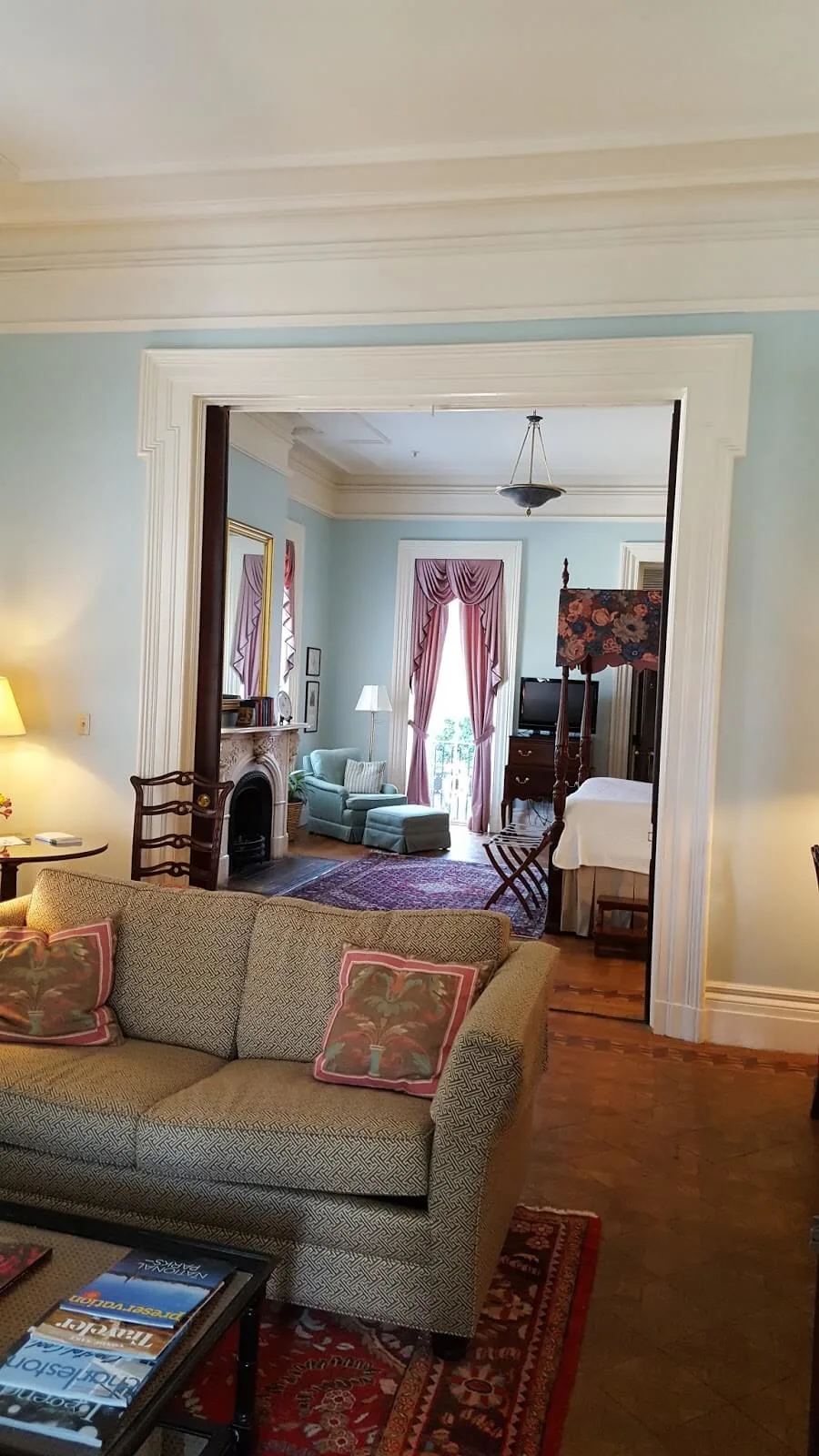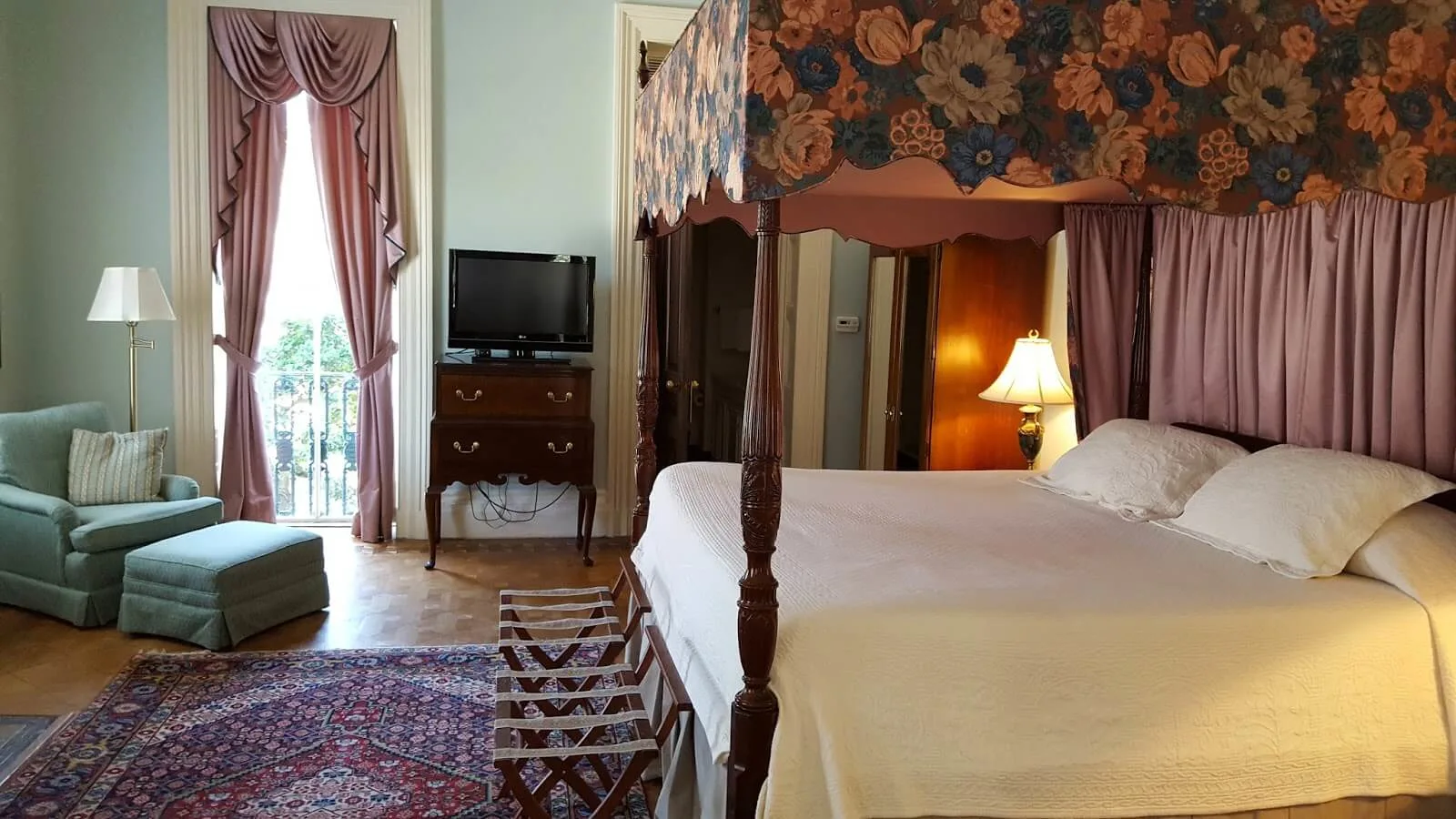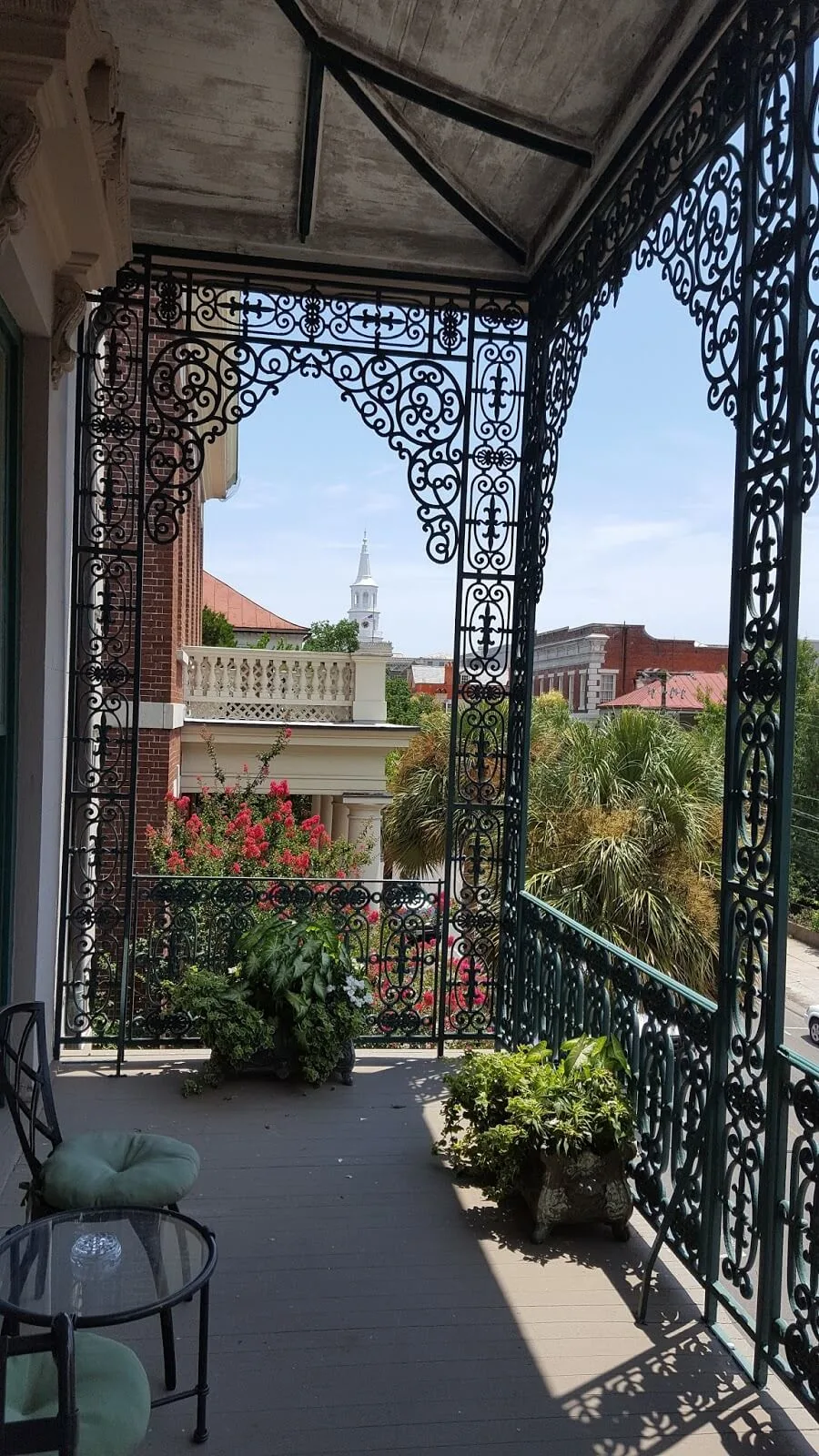 Best Restaurants in Downtown Charleston SC
After checking in and getting unpacked we were out to explore some of our favorite parts of the city. As often as I go to Charleston I never grow tired of it. After a few hours out it was time to return to the inn and change for dinner at
Halls Chophouse .
Halls Chophouse is well known in Charleston and in my opinion it's one of the dining places that is a must if you've never been. Not only is the food incredible, the service here is impeccable. The staff all work together to make sure you receive the highest level of service.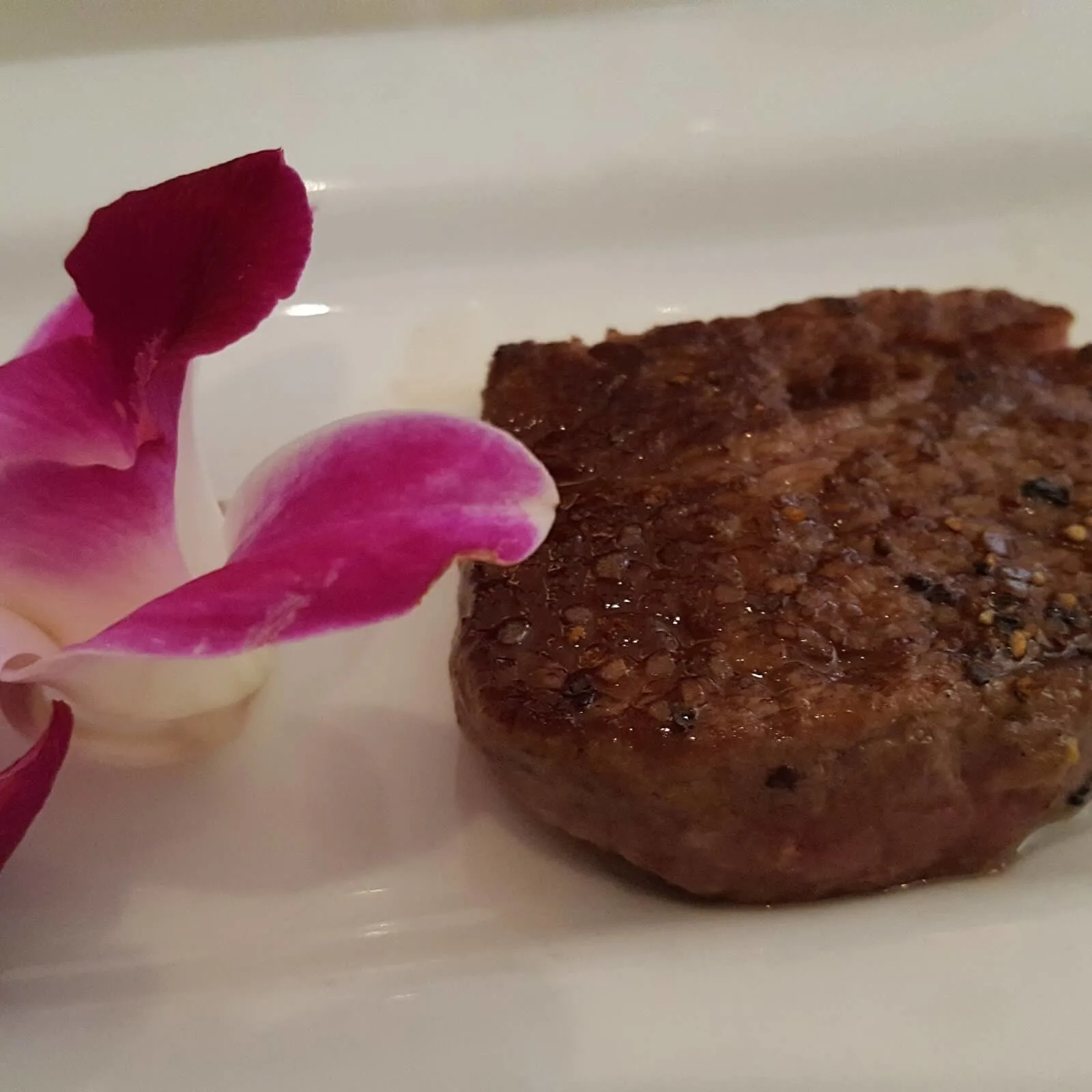 As an appetizer we had two ounces of the
Wagyu Beef
. True Wagyu melts in your mouth like butter. It's a splurge that is well worth it. We also enjoyed the crab cakes appetizer.
Dinner was steak and lobster and one of our sides – the creamed corn. You just have to have their creamed corn! Your taste buds will love you. Other sides were mushrooms and asparagus with hollandaise. A nice glass of wine with dinner and we were filled with happiness.
After dinner we had a sunset schooner cruise scheduled.
Things to See in Charleston SC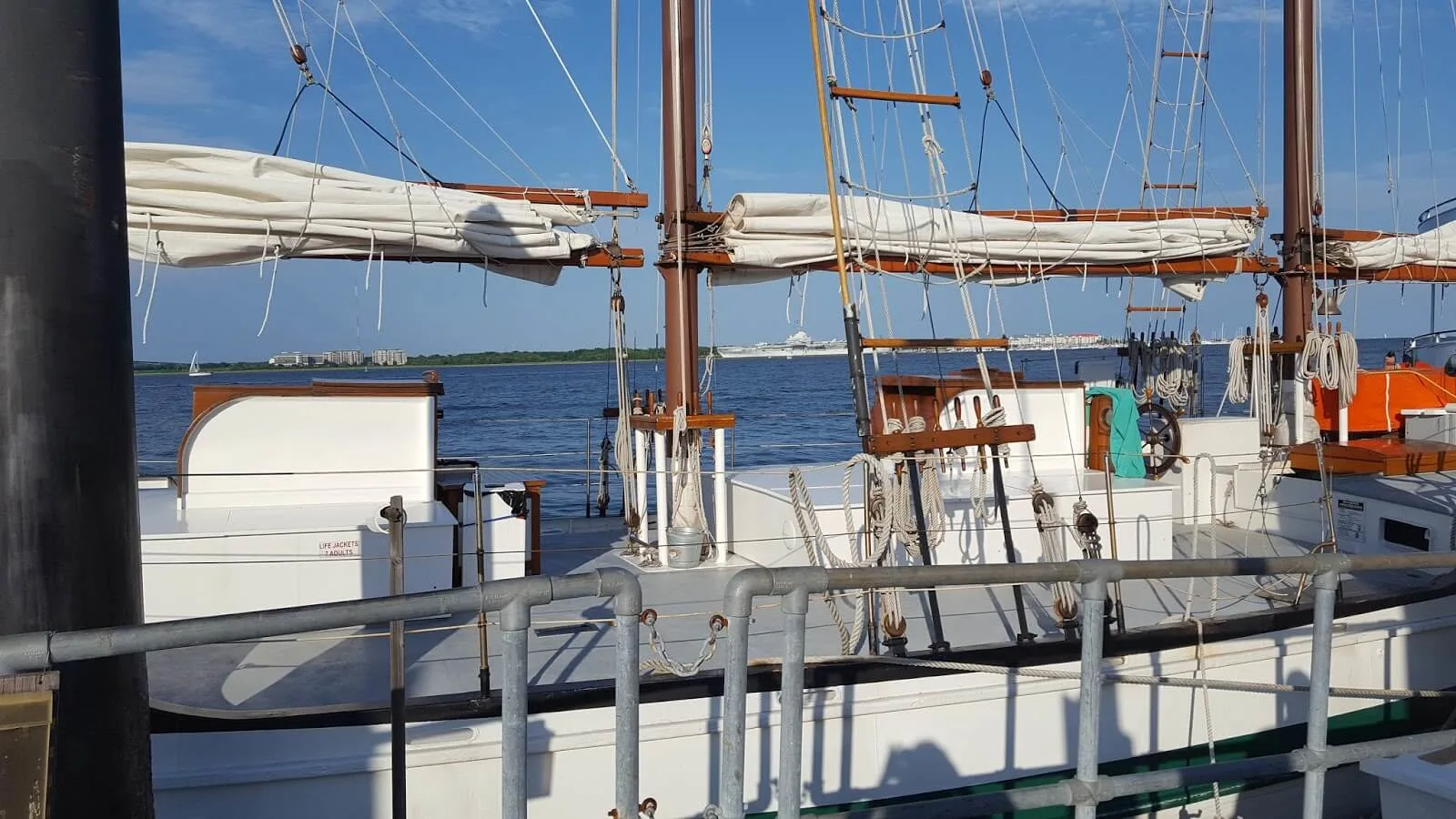 The staff of
Schooner Pride
are happy to answer any questions while you cruise, in fact it's encouraged that you ask questions. The cruise is considered one of the top things to do in Charleston.
It's a wonderful experience to be on this type of vessel where you are sailing by the power of the wind. You'll enjoy a view of the city from the harbor as well as other landmarks, such as
Fort Sumter
.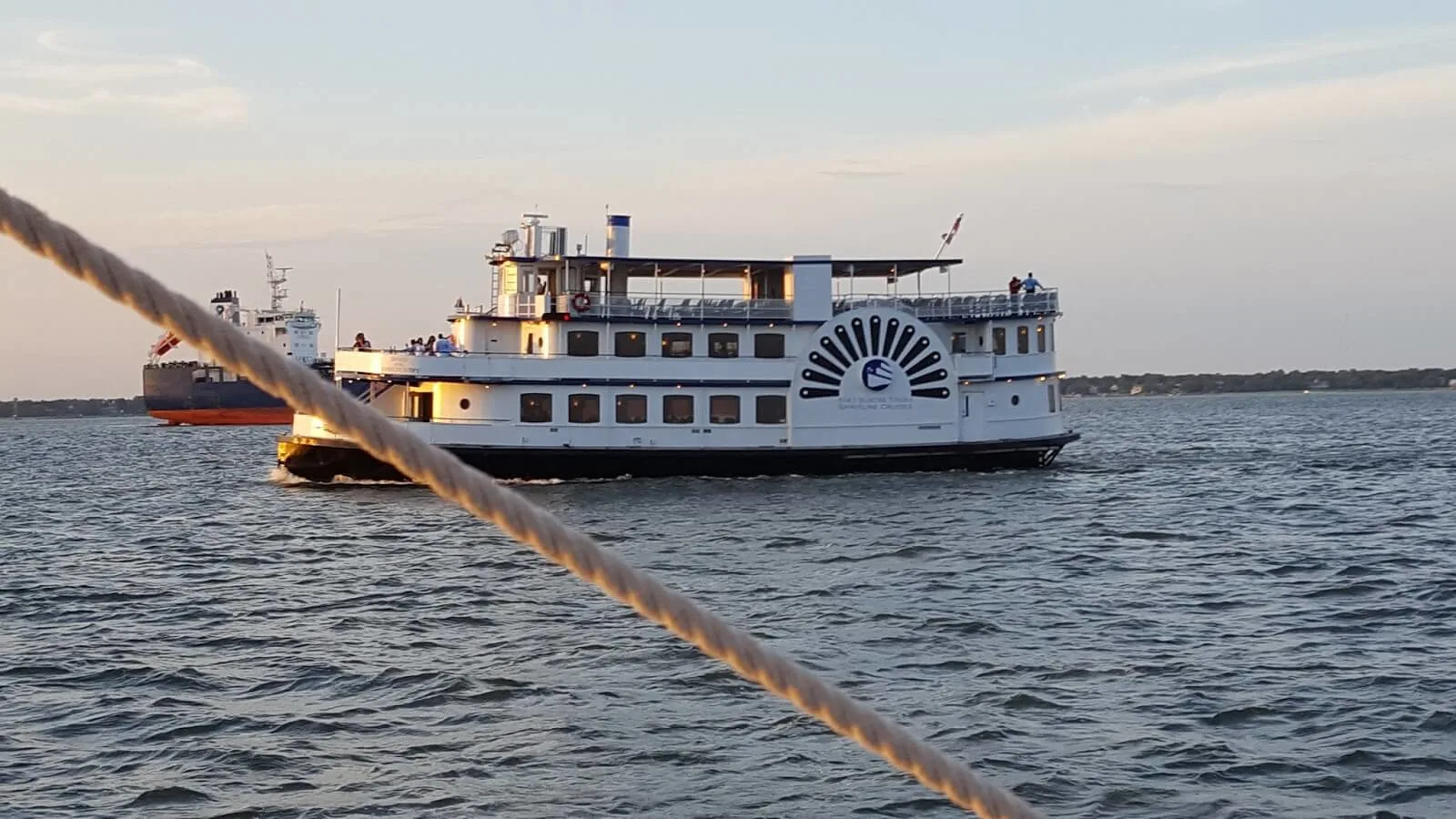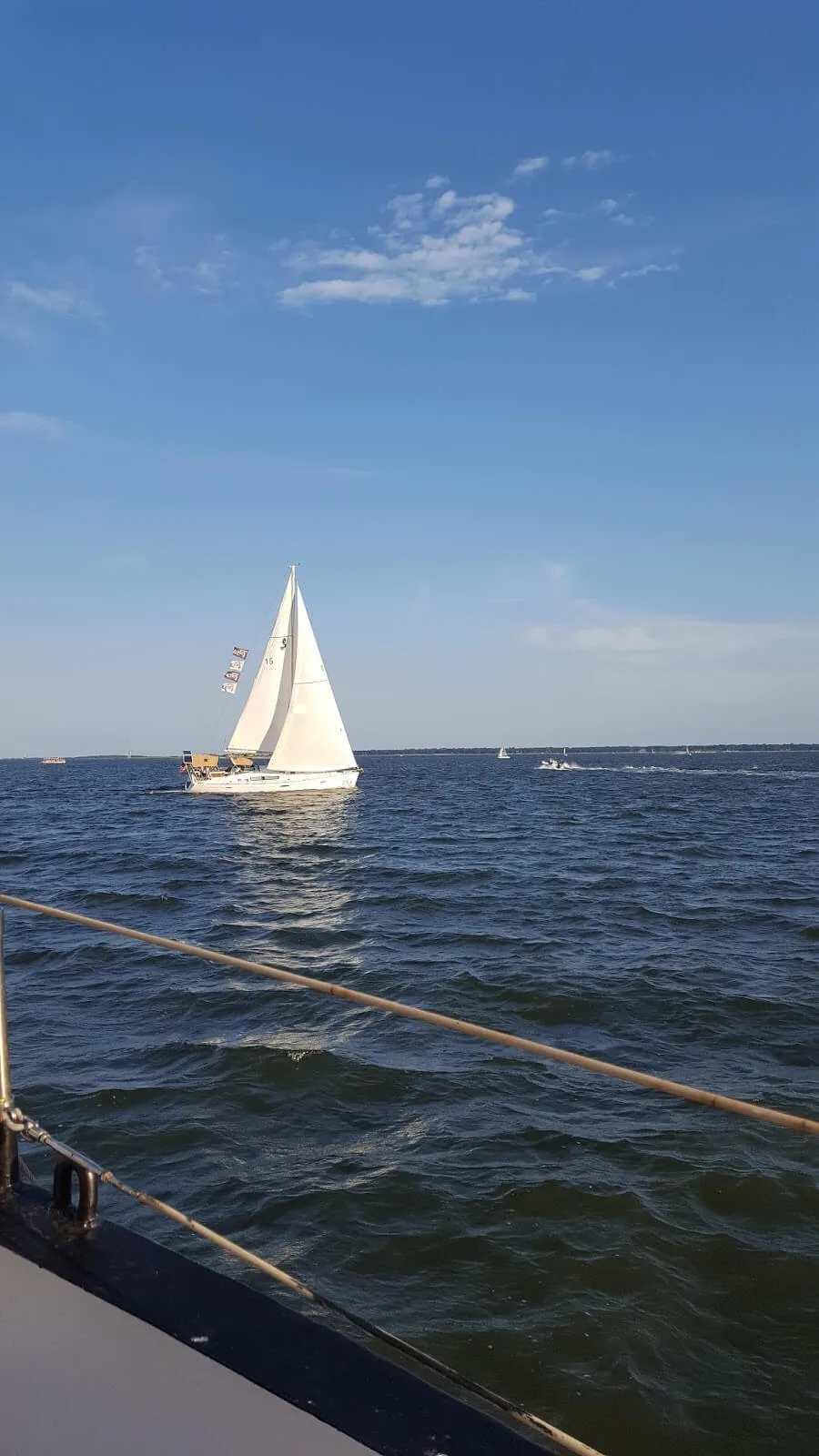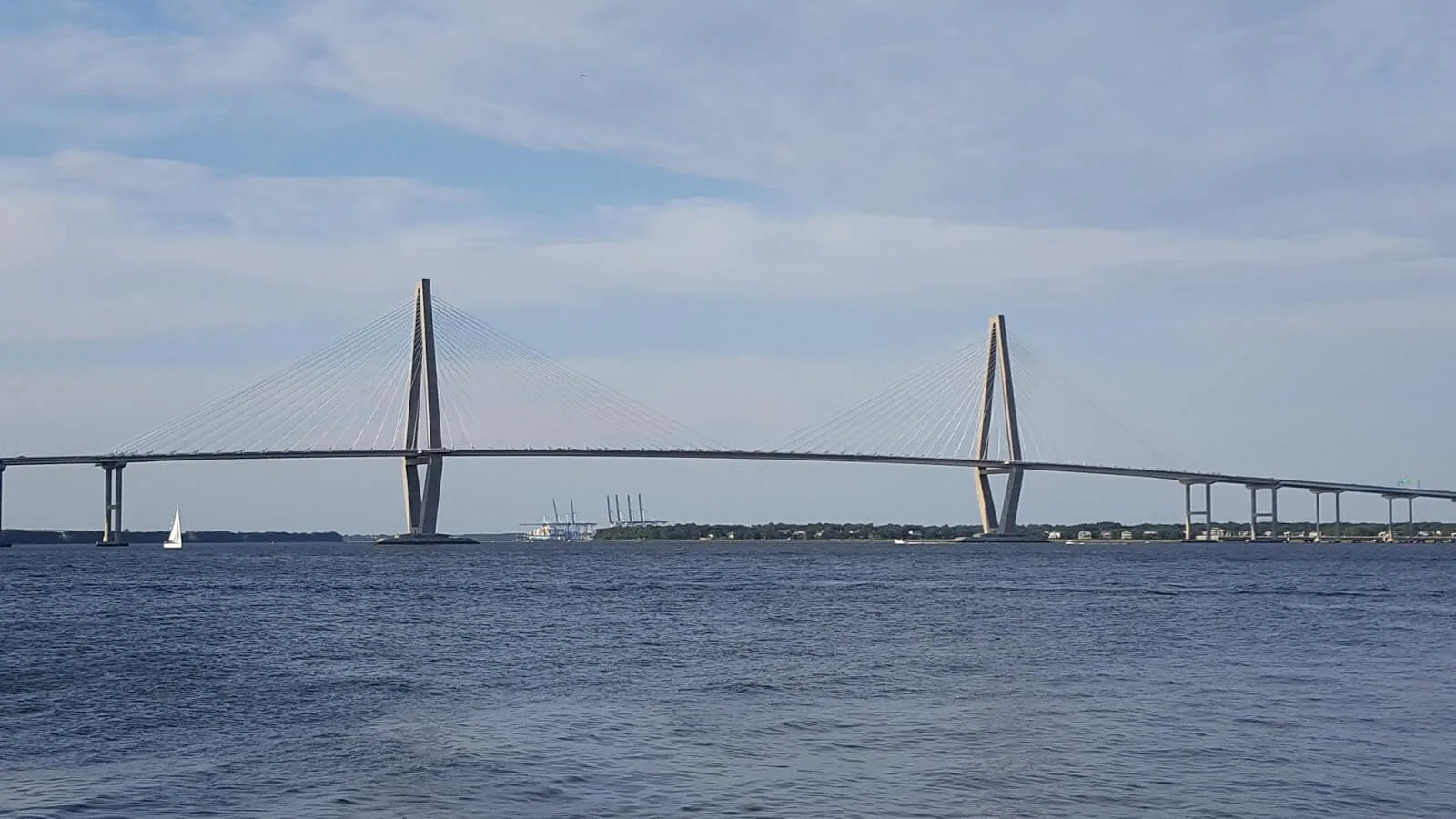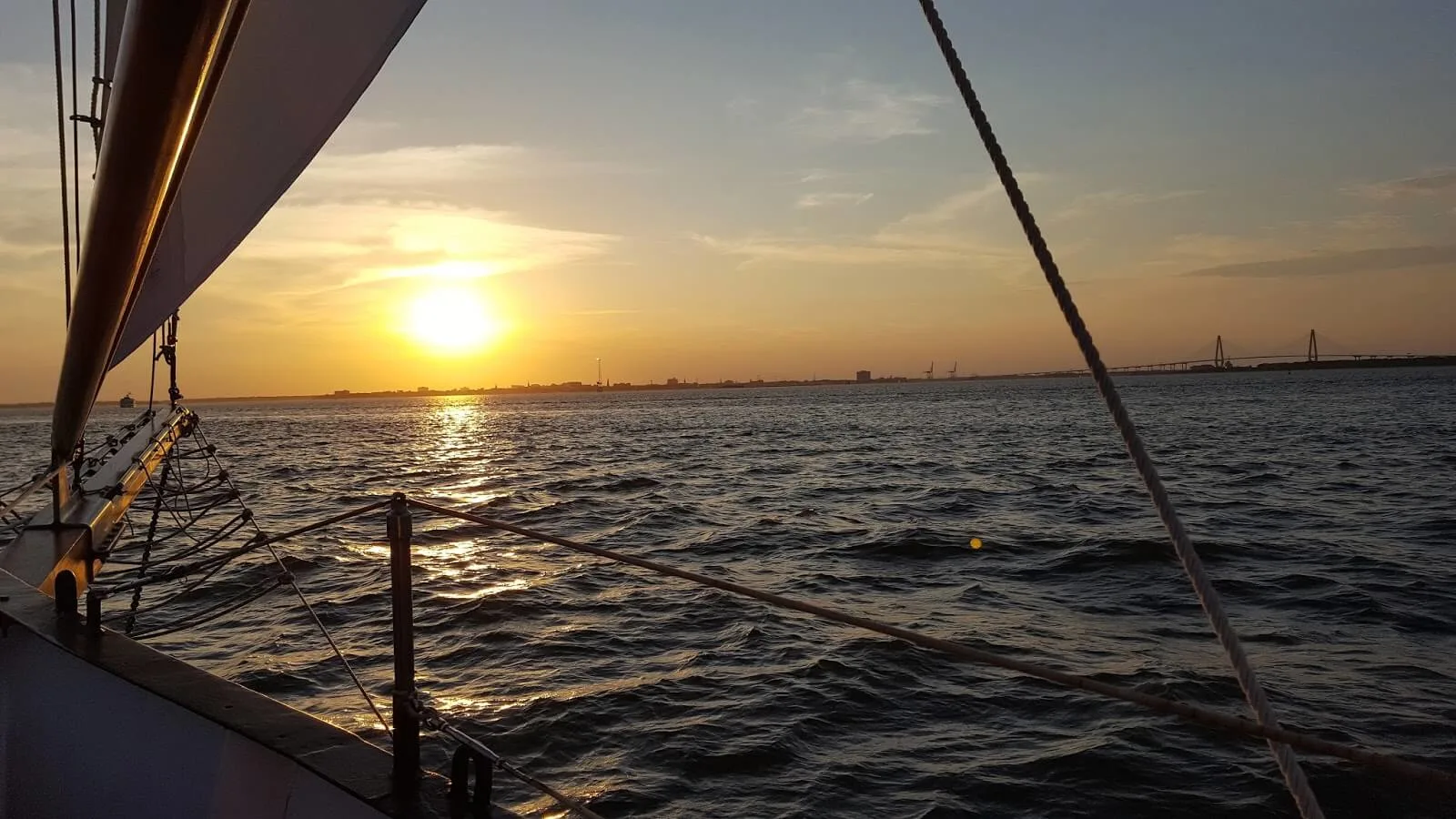 That's a full day on a Saturday and after a trip on the water we were exhausted. Back to the inn to get a restful night's sleep.
Sunday morning we were up early, had our breakfast and dressed for the day. We took a drive to Sullivan's Island to walk on the beach. Sullivan's Island beaches are beautiful and lined with homes, dunes, and sea oats.
No hotels to take away from the beauty here. The beaches here are non-touristy and are nice for a leisurely walk. The drive from downtown is nice and you get to cross over some of the beautiful creeks along the way.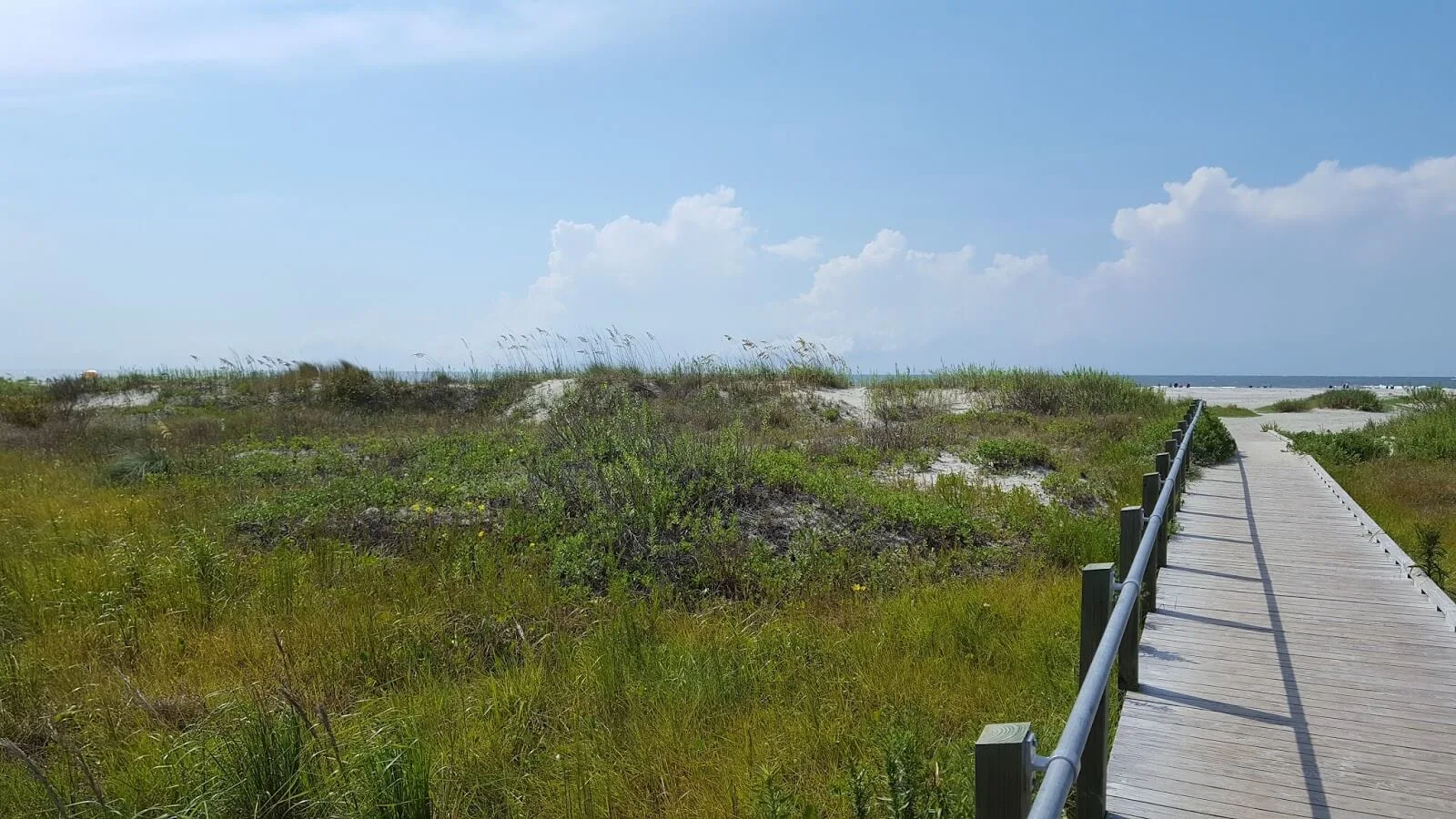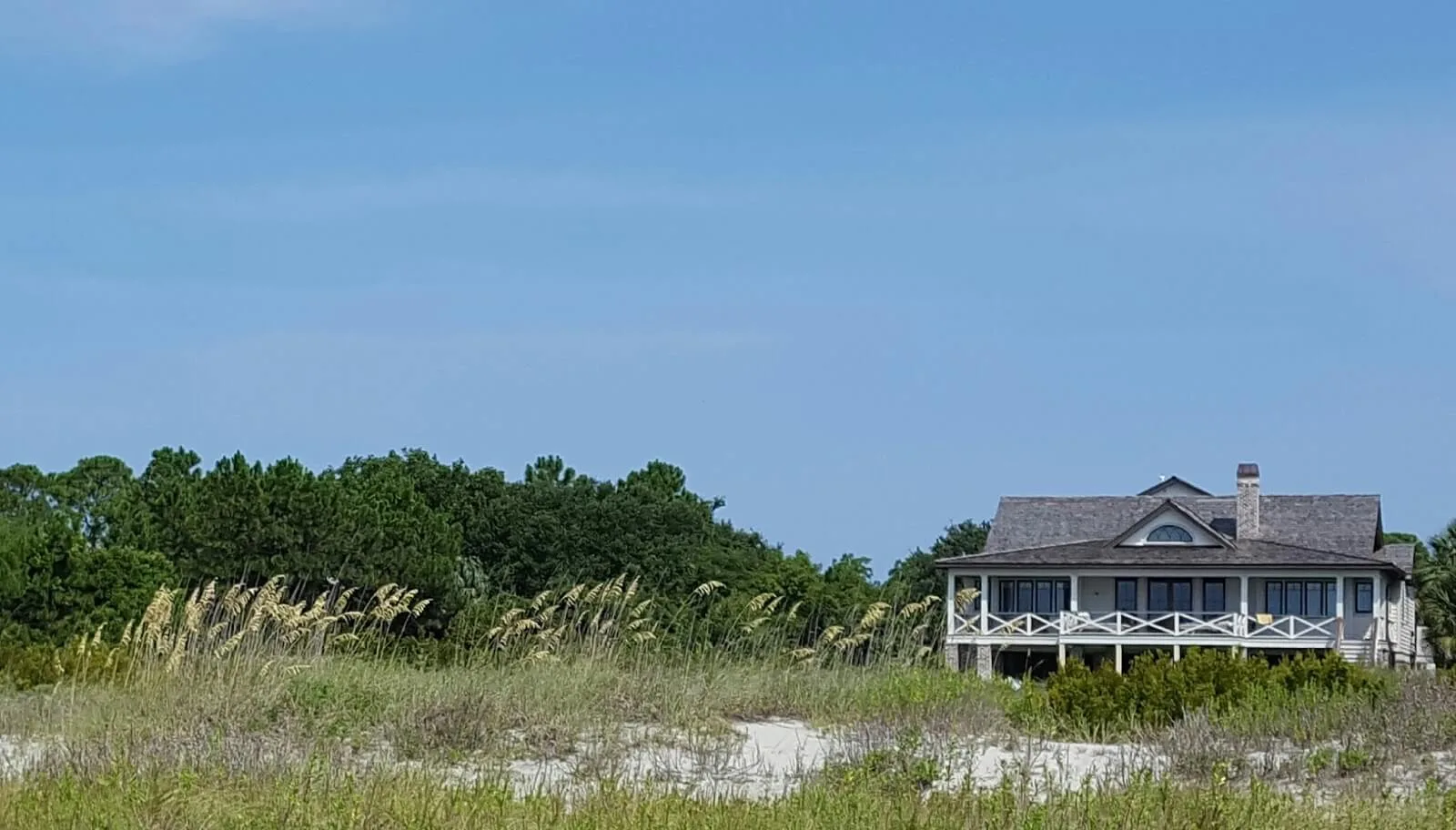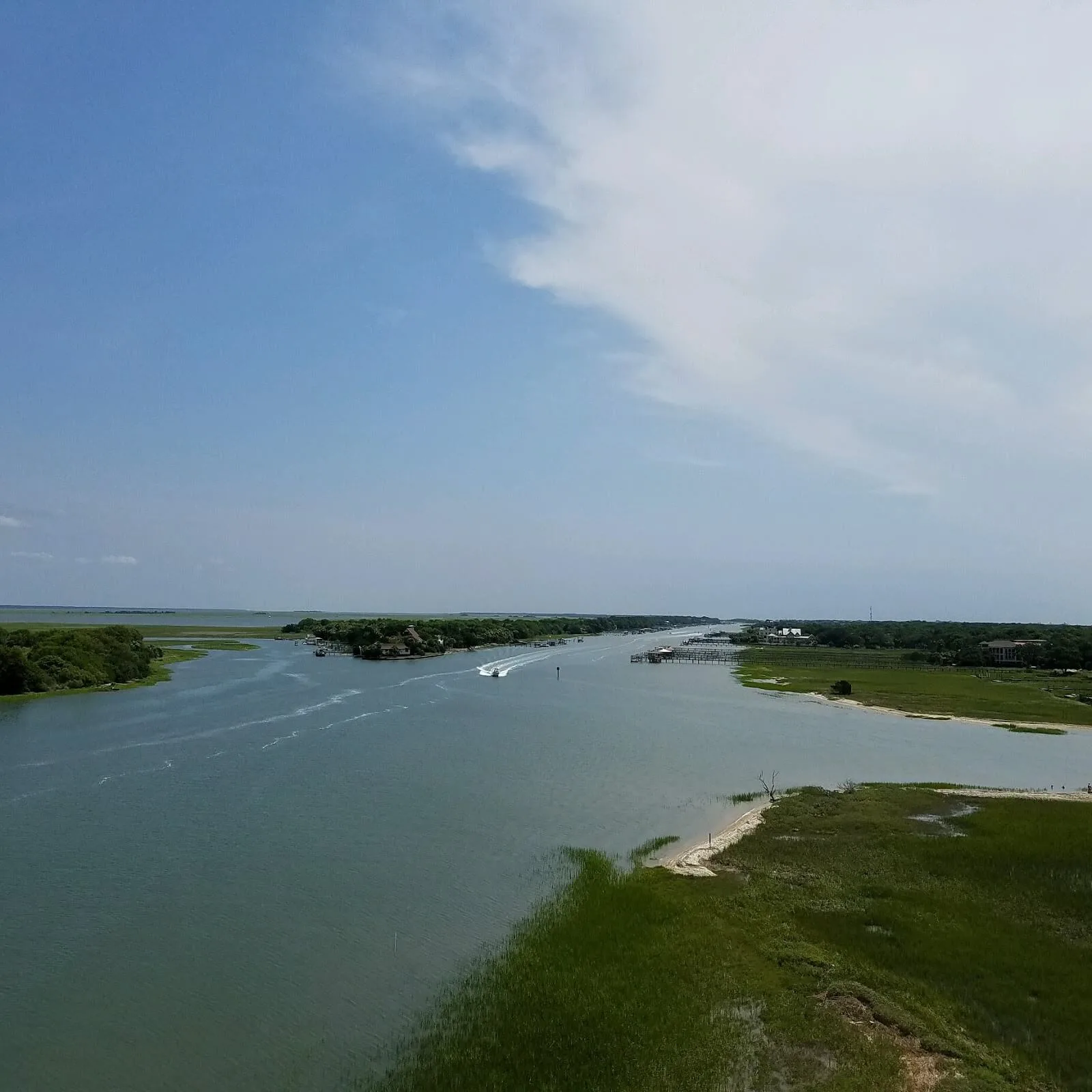 After our beach walk we headed back to the city to have some lunch. One of the popular eating spots is Hominy Grill. It comes highly recommended but it was not meant to be on this Sunday as there was a forty five minute wait. They do not take reservations so get there early. We decided to eat somewhere else.
Update: Sadly, Hominy Grill has closed after many years.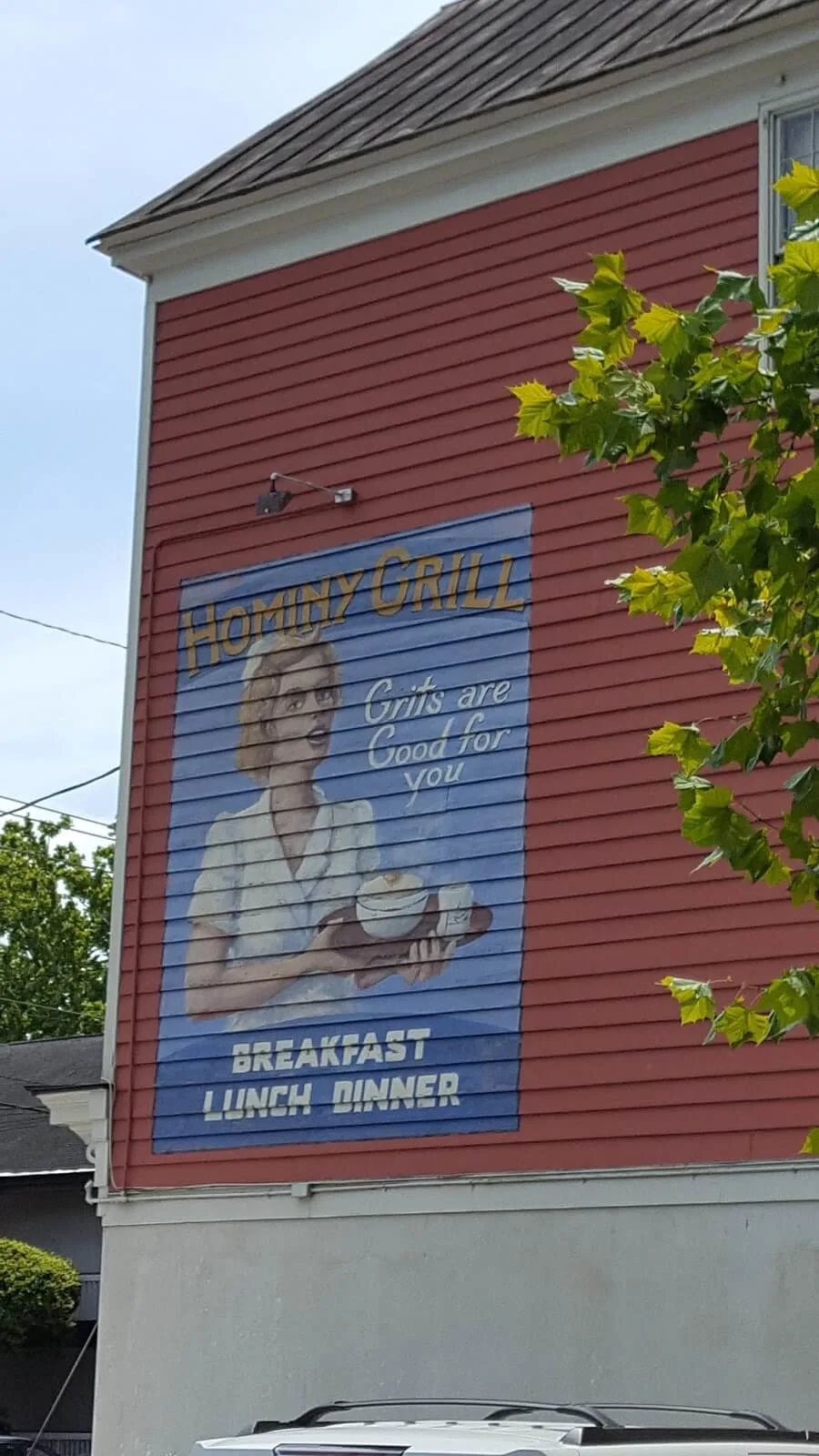 Sunday brunch was at
Magnolias .
Brunch is served here from 10 AM until 3:45 PM.
It was our first visit to
Magnolias
and it will certainly be on our list of places to eat on future trips. Refreshing mimosas , fried green tomatoes, and the pimento cheese appetizer to start.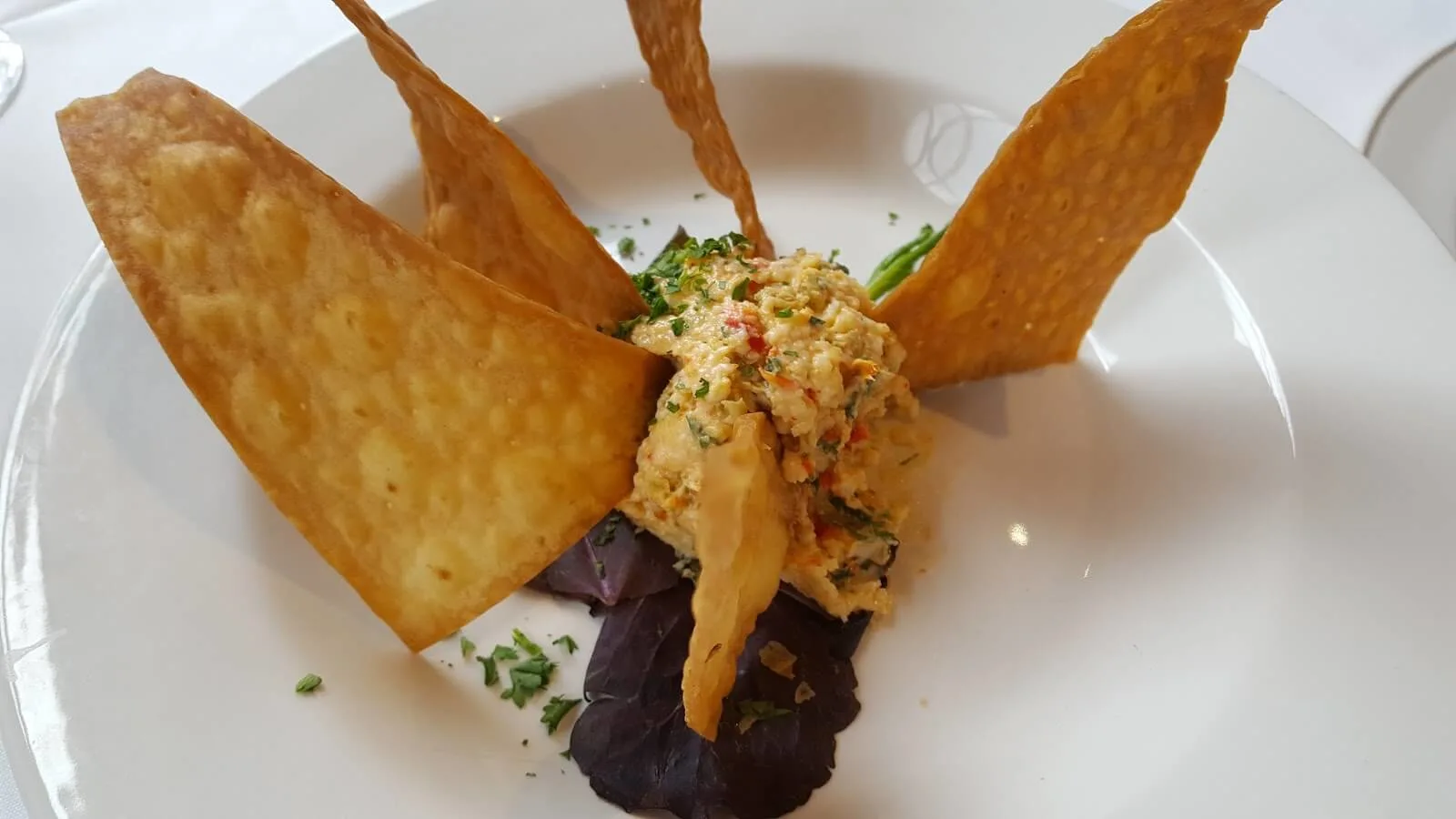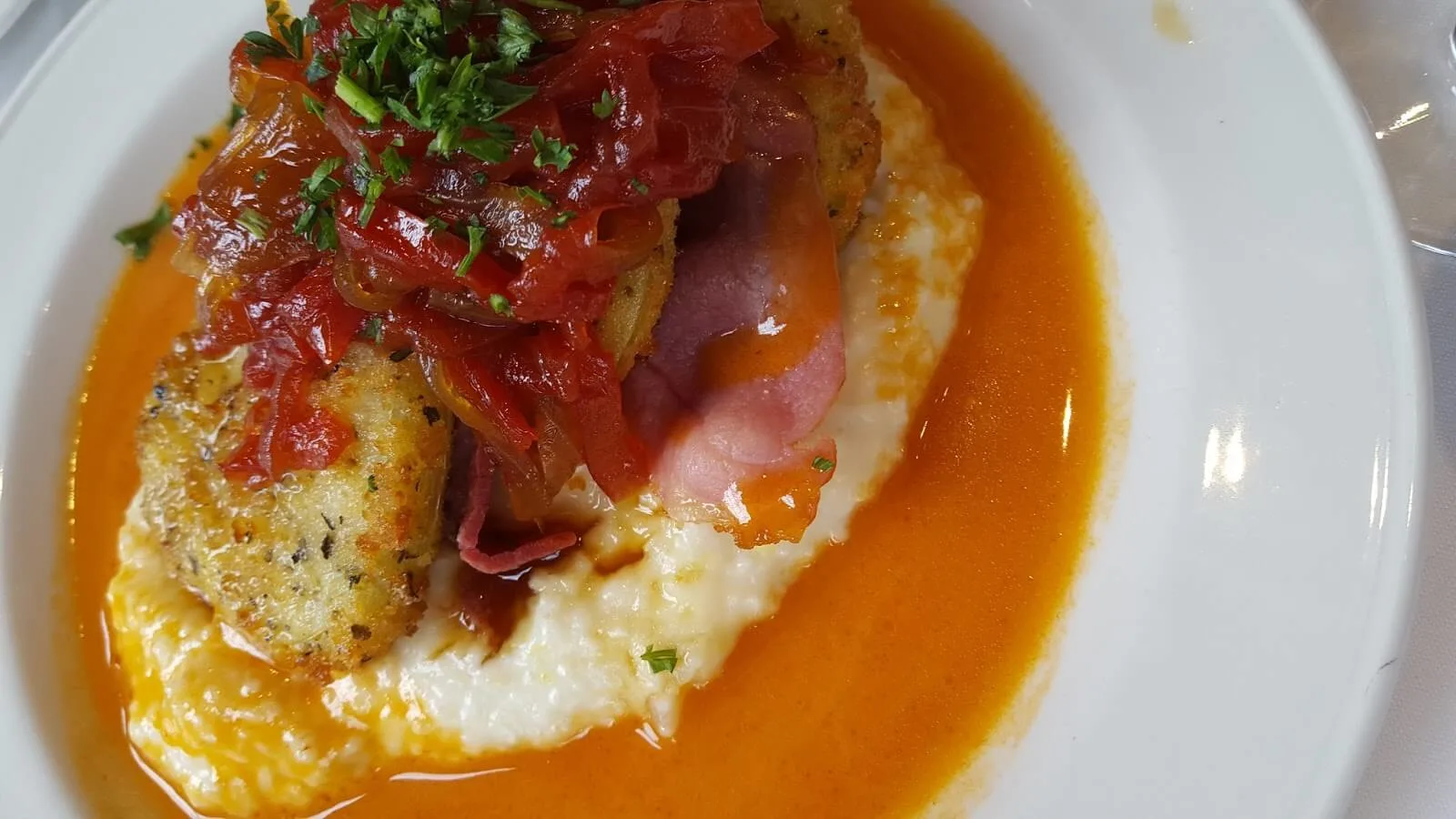 We shared the banana pudding stuffed french toast (yes, you read that right) and buttermilk fried chicken breast. The food was delicious. Presentation was wonderful.
After brunch we were off to do a little shopping. I wanted to get a
sweetgrass basket
to add to my collection so we went over to Meeting Street to visit one of the local vendor artists.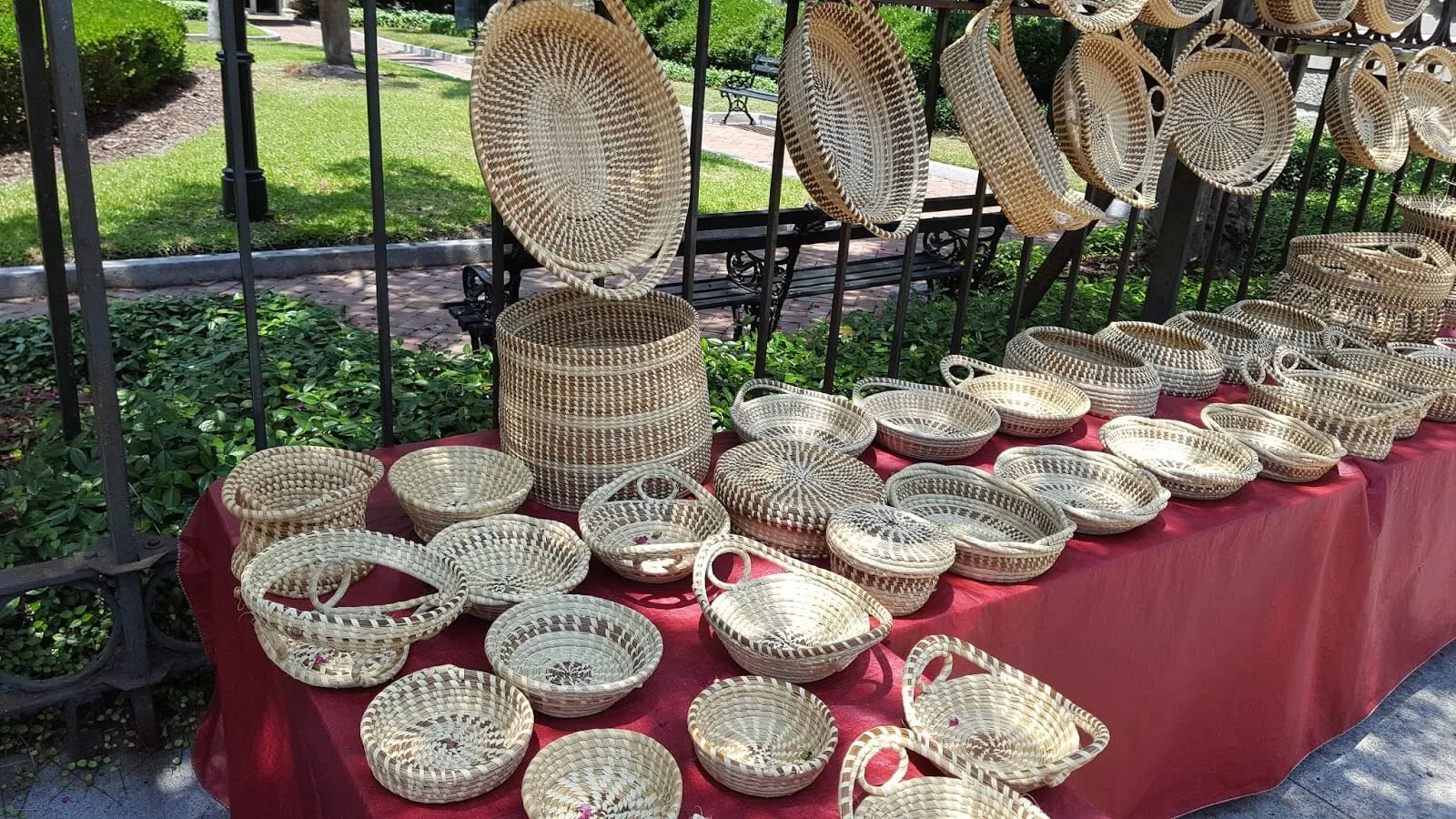 We met Ruth as she sat by her vending area working on a new basket. Ruth learned to make the baskets from her grandmother and she taught the skill to her own grandchildren.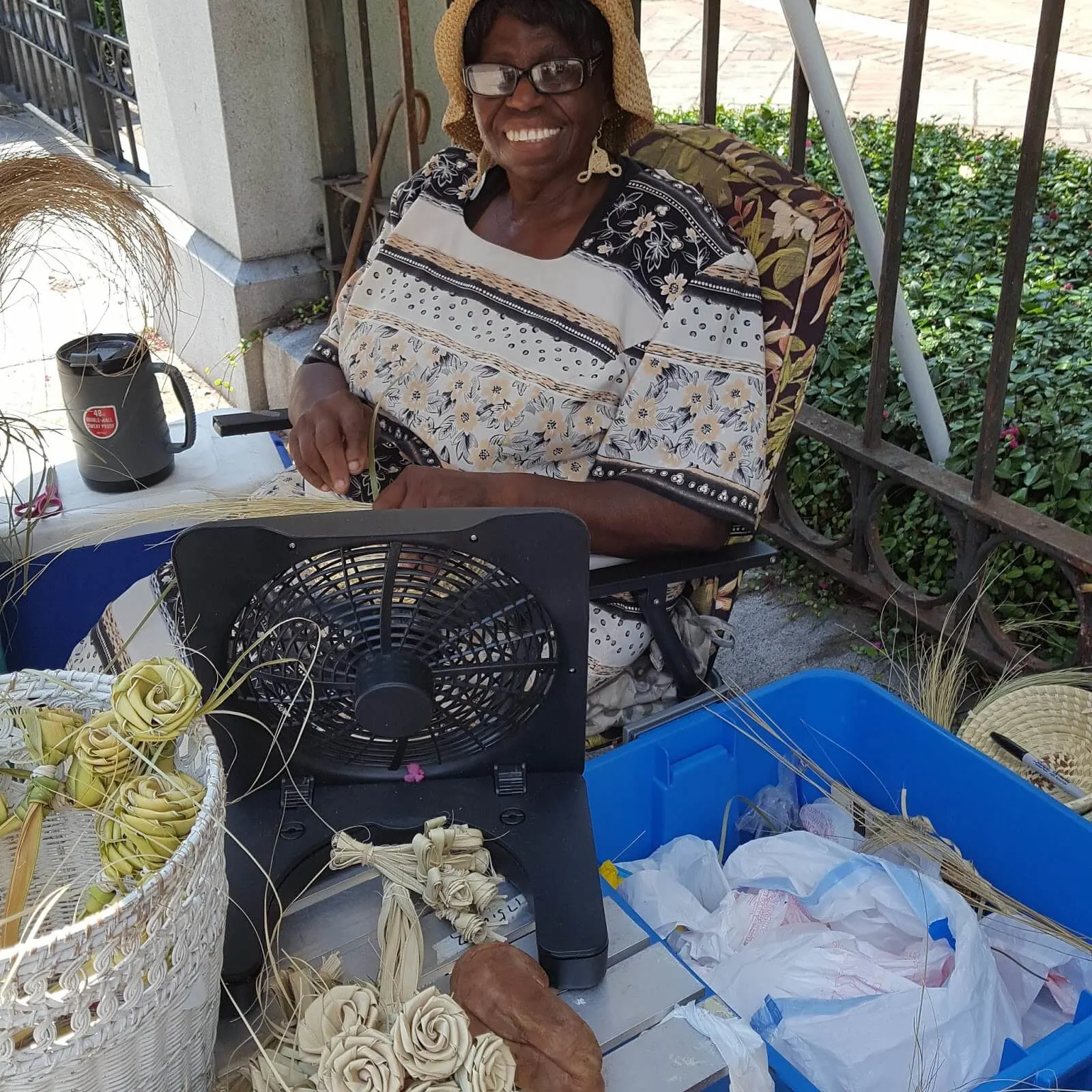 These baskets have been made for centuries in the lowcountry. They were originally made to winnow rice on plantations. They are beautiful and well crafted. The baskets can last forever when well cared for.
This is the basket I chose this day and Miss Ruth gave me a few palmetto roses with my purchase.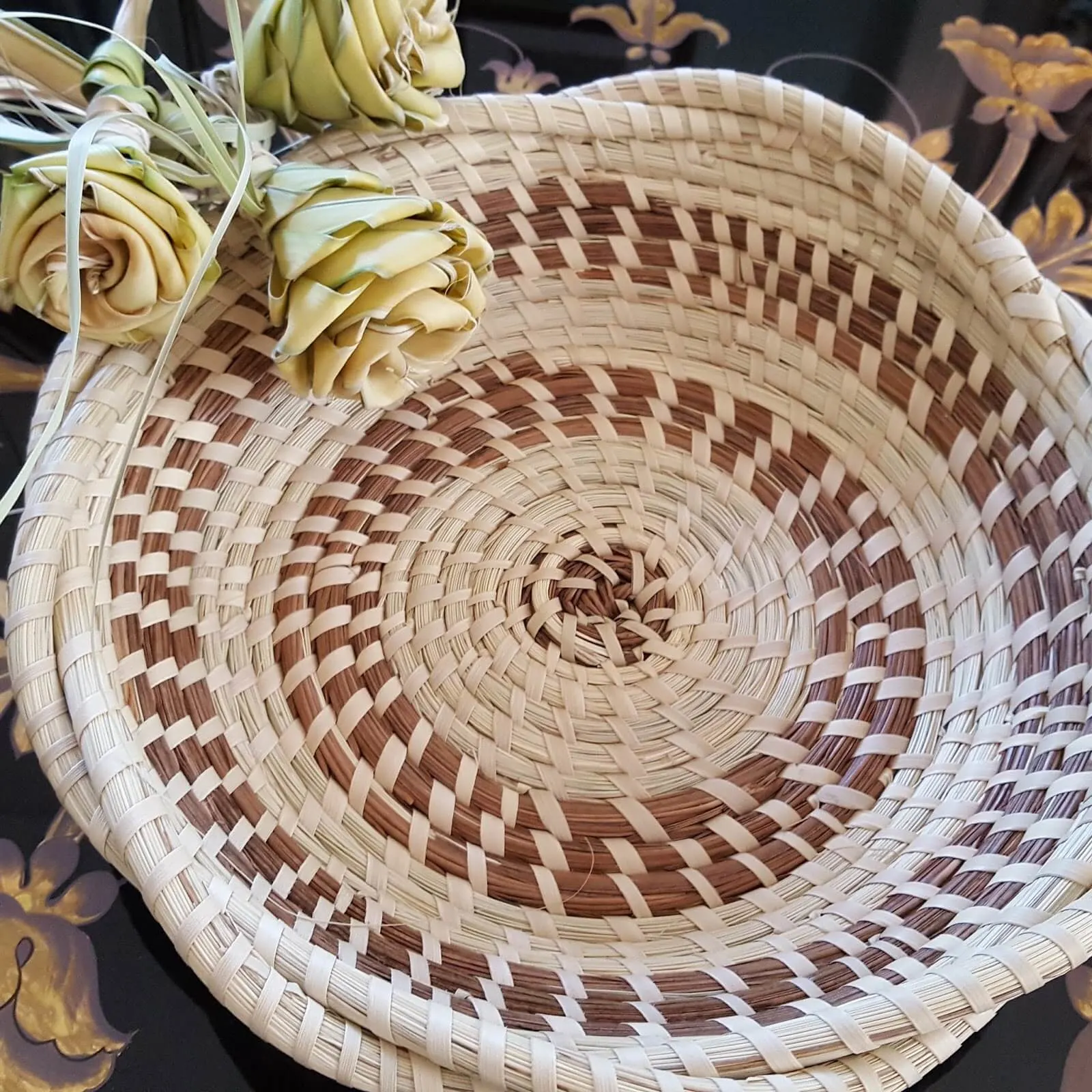 Since it was hot as….well you get the idea….we decided to treat ourselves to ice cream. Taking the recommendation of locals we stopped in at
Jenis Scoop Shop .
This shop has all your favorites along with some unusual flavors and they freely give samples to help you choose.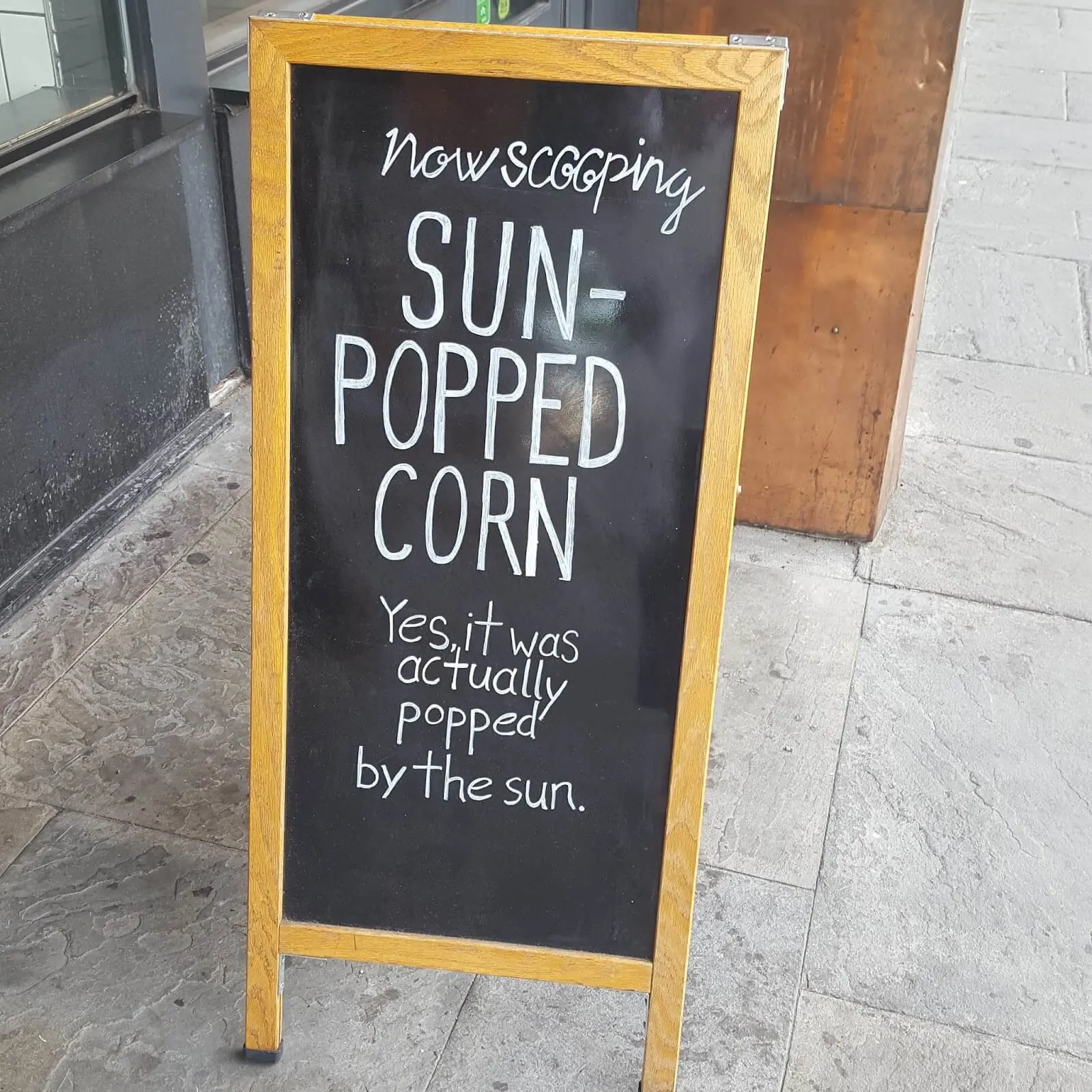 Did I forget to mention that across the street from our inn was the Governor's House Inn ? A well known haunted spot by a friendly gentleman ghost who seems fond of the ladies. I am glad to say he didn't find his way across the street to visit during the night.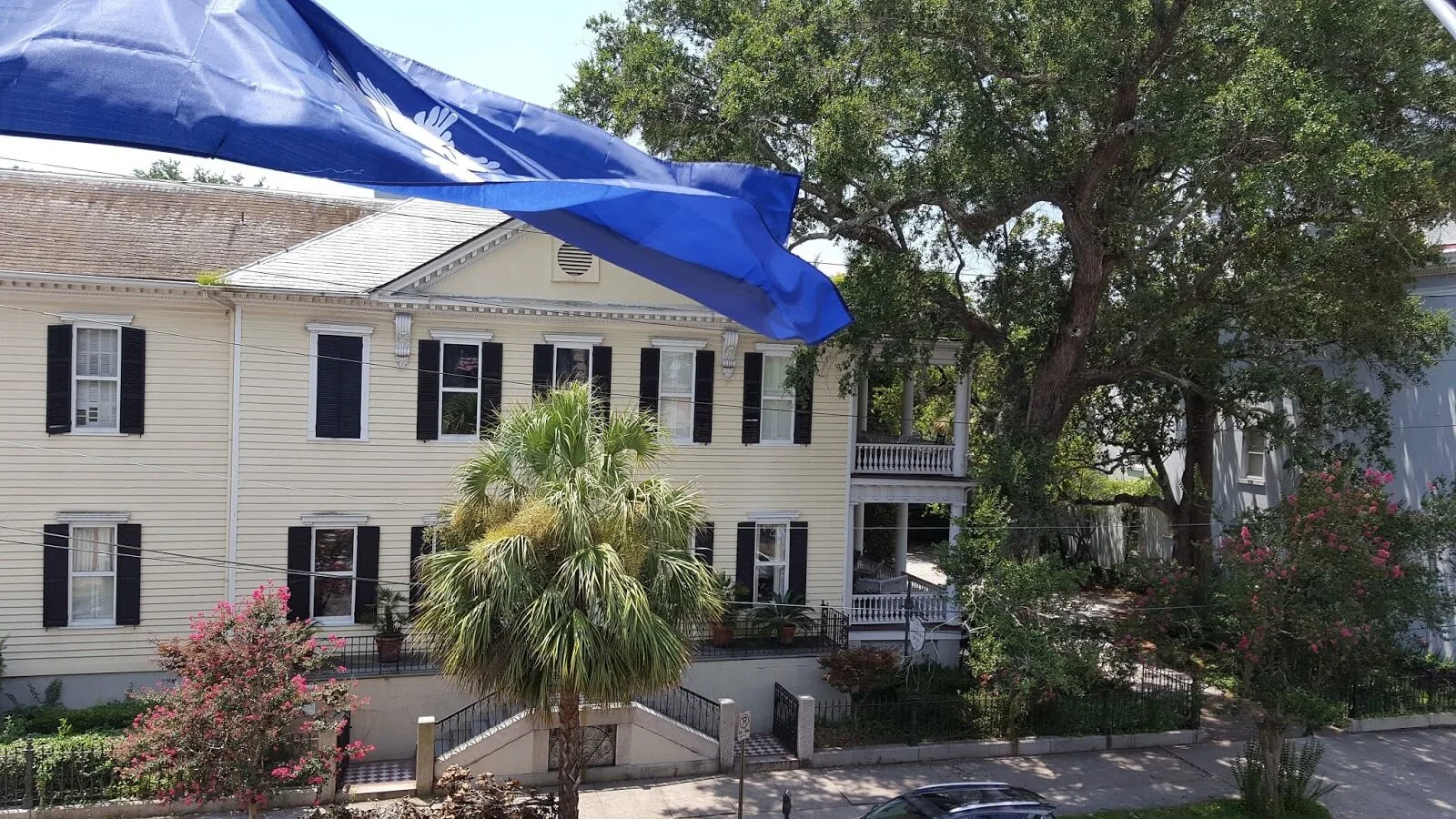 After our ice cream and shopping we headed back to the inn to change for dinner. This night would be dinner at another of our favorites ,
Hank's Seafood.
It's also a favorite among the locals. We share everything so it's win win and enjoyed a lump crab cocktail, shrimp cocktail, lobster, steak au poivre with pimento cheese grits, and fried green tomatoes. The peppercorn sauce is soooo delicious!
After dinner we made our way back to the inn and to bed after a full day. The fun's not even over, we have one more day!
Monday we were heading back to reality but not before enjoying our last day in Charleston. Today's activity….a dolphin tour.
Charleston Outdoor Adventures
would be our host for this new adventure. It was a thrill to meet some of the locals as they fished from the docks while we were waiting for our tour to depart.
The boat was ready and the tour group small, with about twelve people, and we were off breezing through the Ashley River marsh areas to spot dolphins. We saw a lot of them along with the beautiful scenery of the area.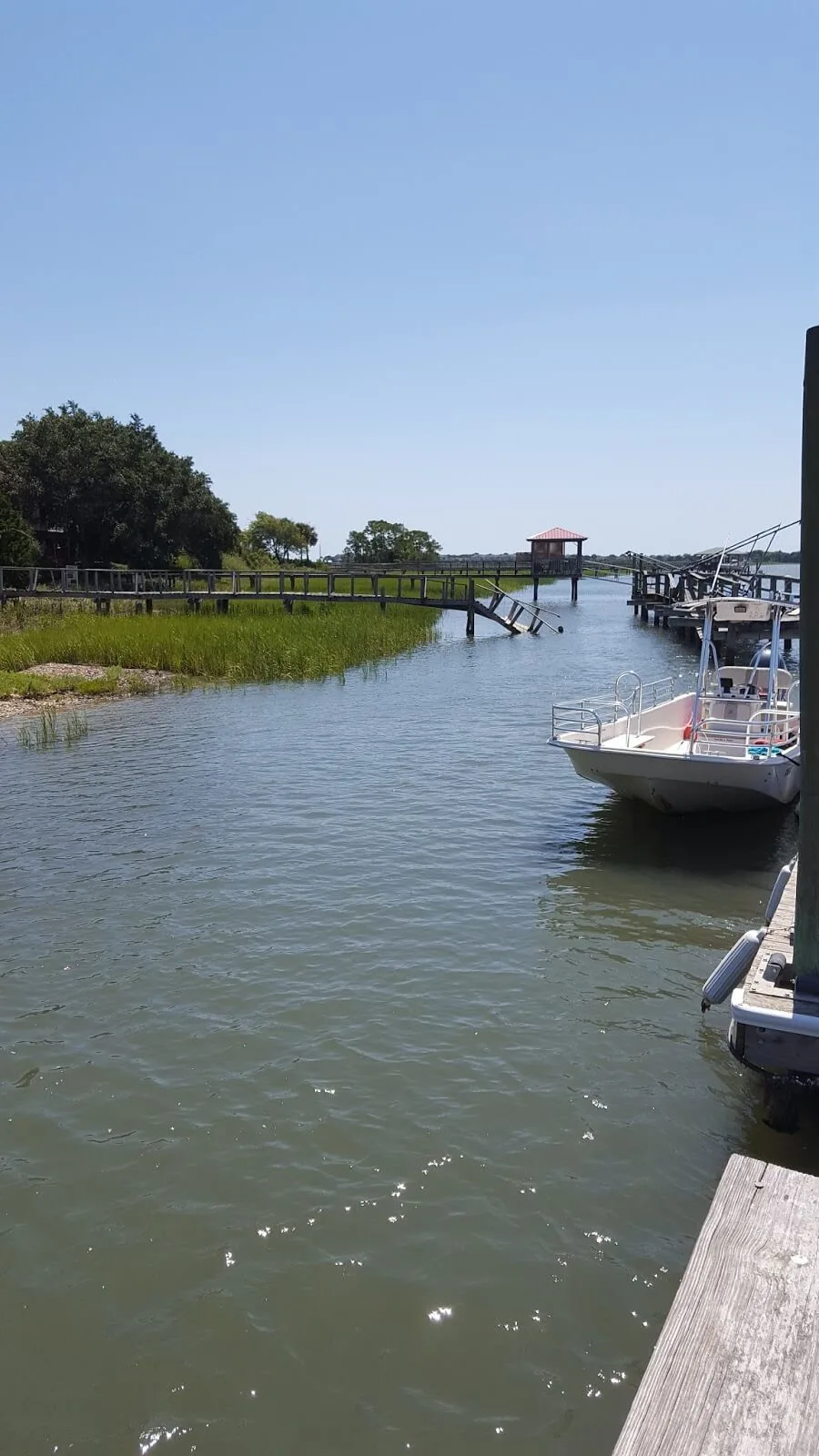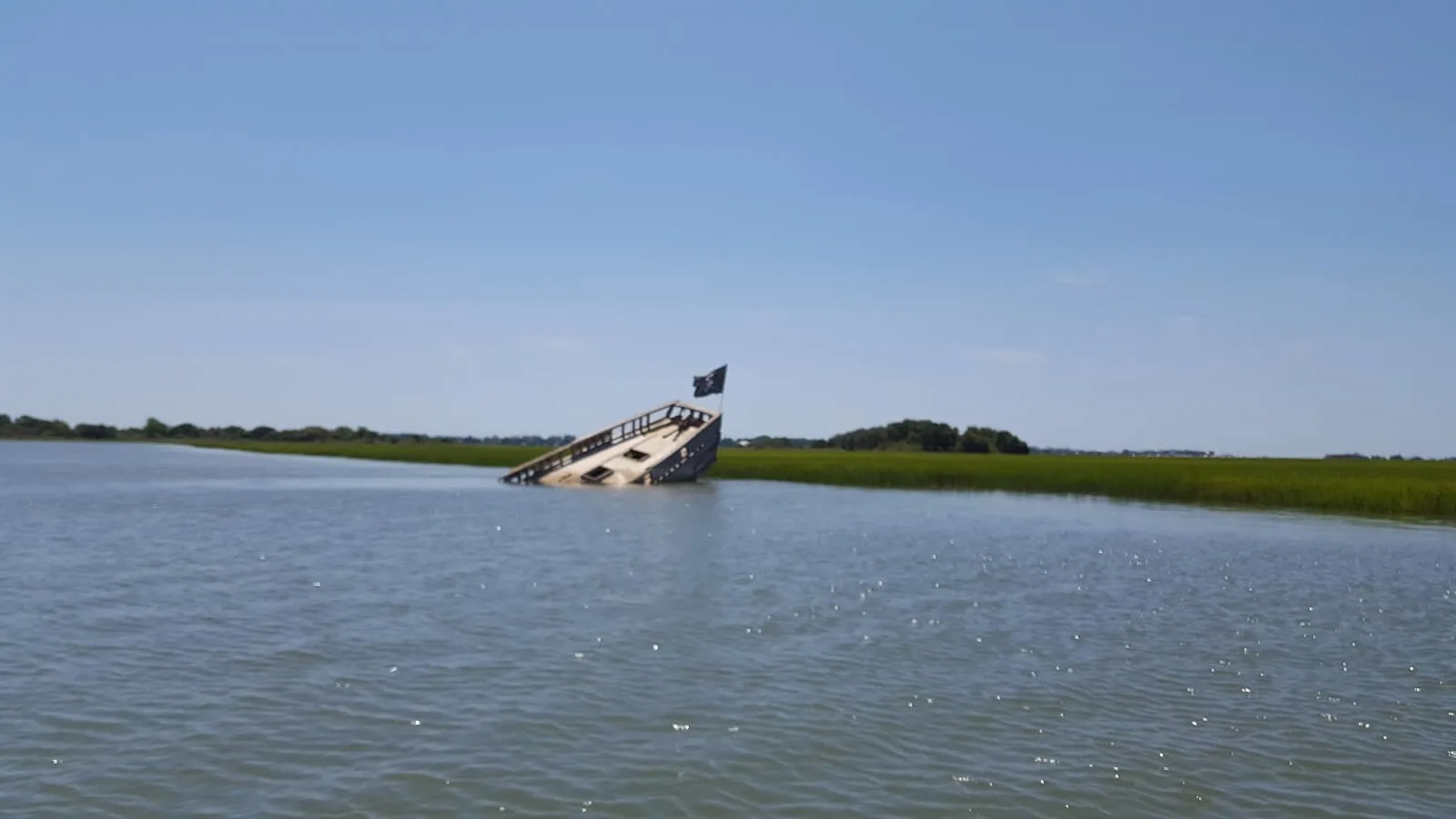 The sunken boat above has been there since Hurricane Hugo.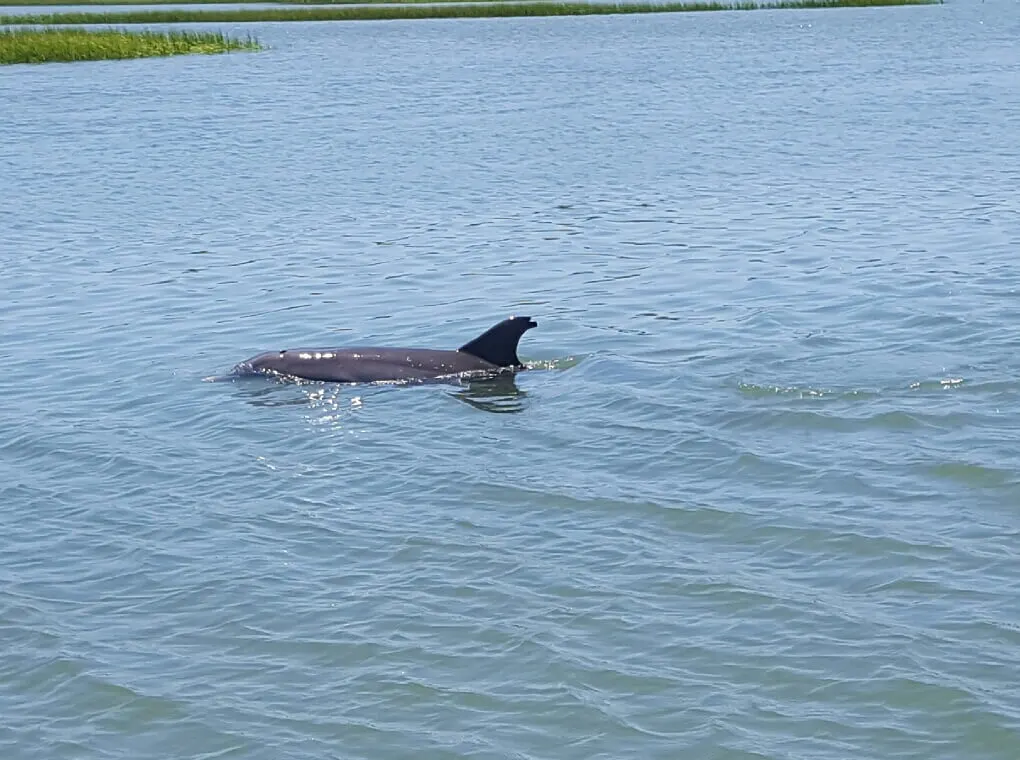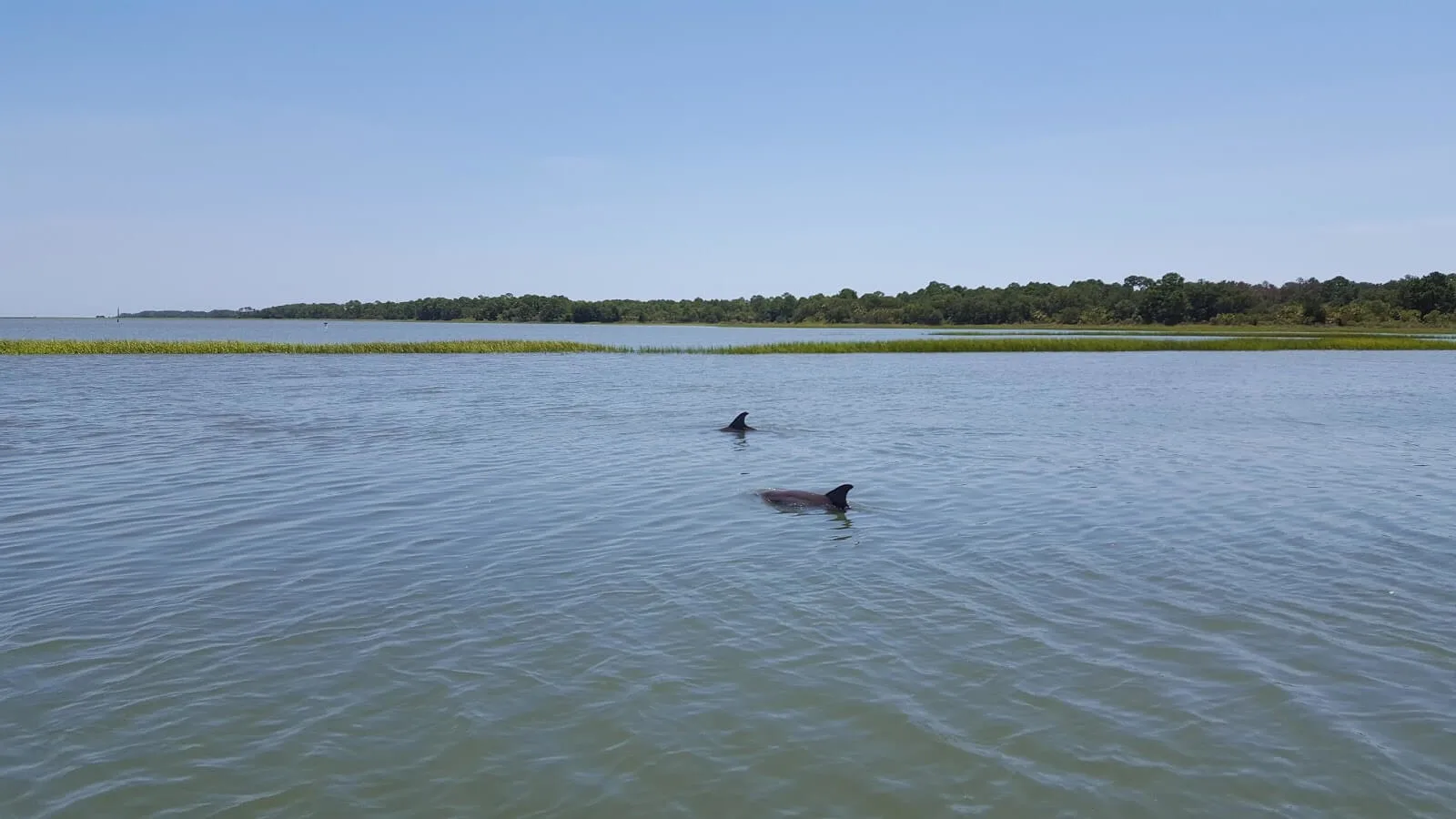 After a couple of hours on the water we headed back to shore. We departed heading home having lunch on the way. Another wonderful weekend in Charleston. I'm already looking forward to my next visit.