Making your own sauerkraut is a simple process using only 2 ingredients and a wide mouth canning jar. Fermented vegetables, like sauerkraut, are good for the digestive system too.
I found the homemade sauerkraut to be so much better than store bought stuff. So, if it's so easy, what's the downside?
Well, you have to have a little patience. Preparation is simple but you're going to have 3-4 weeks to enjoy the fruits of your labor. I promise it is worth the wait.
I learned how simple it is to make your own sauerkraut from Christy Jordan at Southern Plate. I'm posting the ingredients list here, along with a link to Southern Plate for the method.
Homemade Sauerkraut Recipe
Ingredients
Cabbage, shredded
Kosher Salt (Do NOT use iodized or table salt)
Distilled Water, if needed
I originally saw a recipe at Southern Plate for making your own sauerkraut and had to give it a try.
You'll be amazed at how you can get an entire head of cabbage into one jar in this process. This is one of the most simple fermented foods that you can make at home in your kitchen.
Tangy kraut is a great addition to so many dishes, from the classic Reuben sandwich, bratwurst with kraut or an Oktoberfest skillet meal with potatoes.
Recipes with Sauerkraut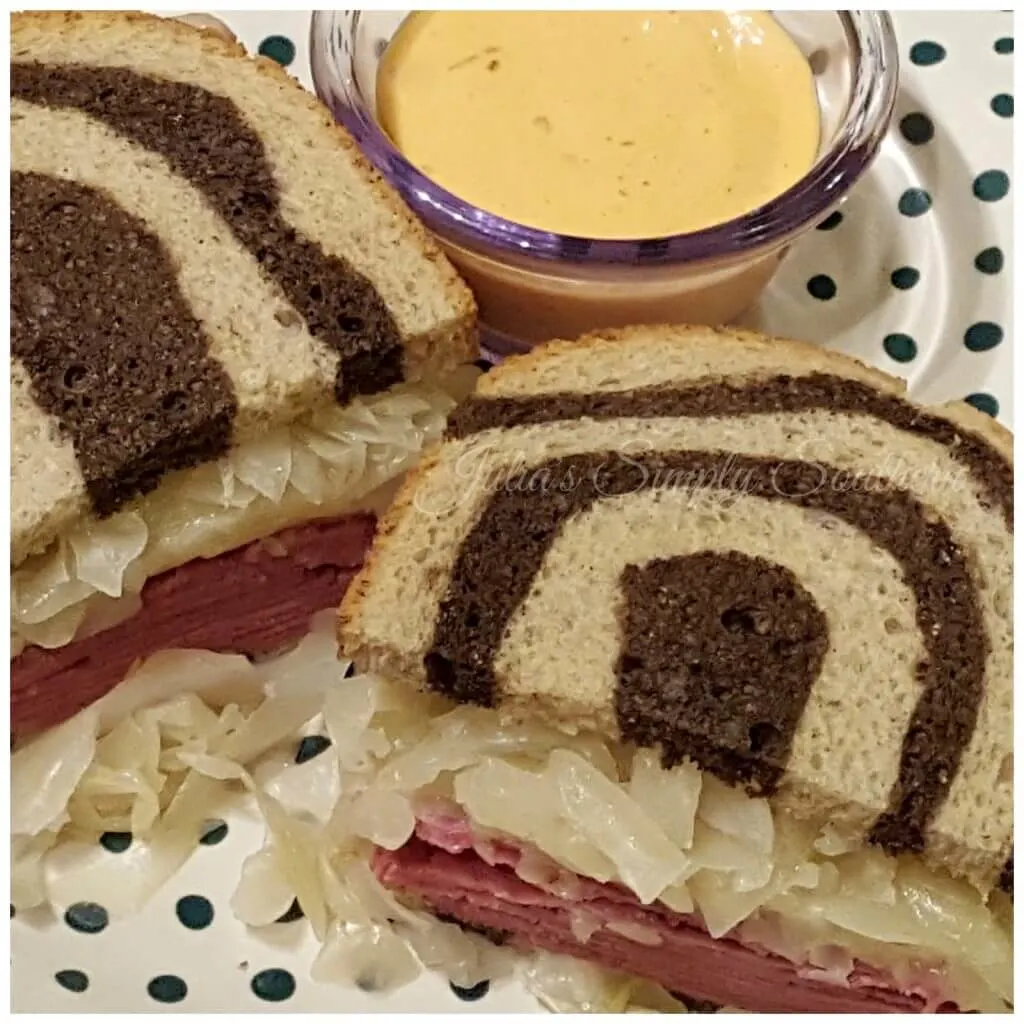 You may also be interested in the recipe for a Classic Reuben Sandwich
See it at:
Awesome Life Friday
Weekend Potluck
How to Make Old Fashioned Kraut
It is important to keep the cabbage submerged in the water brine as it ferments. Release the lid every few days to allow any gases to escape. After a couple of weeks of patience, you'll have your delicious homemade tangy kraut.
Yield: 1 Quart
How to Make Sauerkraut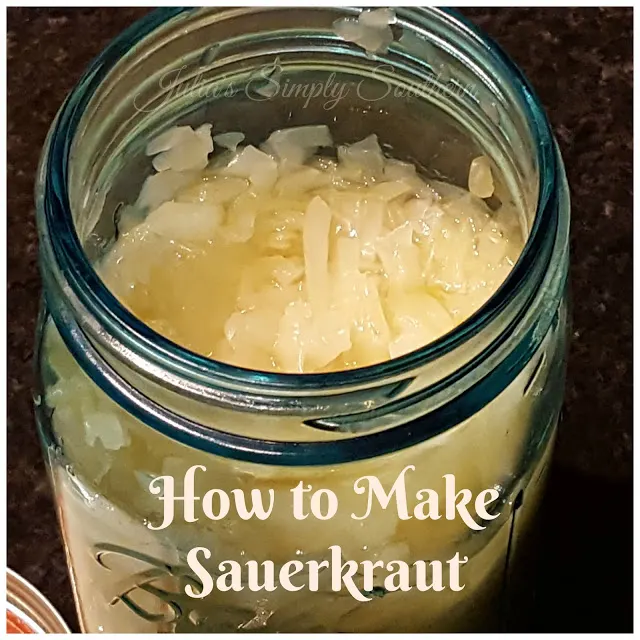 Tangy and delicious homemade sauerkraut is easy to make with just a few ingredients.
Total Time
14 days
15 minutes
Ingredients
1.5 - 2 lb Cabbage, shredded
1 tbs Kosher Salt (Do NOT use iodized or table salt)
Wide Mouth Canning Jars
Instructions
Shred cabbage into small even slices and place in a large bowl
Next, sprinkle the kosher salt over the cabbage and allow it to sit for one hour. After an hour, use your hands to squeeze and break down the cabbage and pull out water from the cabbage.
Pack the cabbage into a canning jar, along with the water released from the cabbage making sure the cabbage is covered with water. If additional water is needed, use a small amount of filtered water to make up the difference.
Allow the sauerkraut to ferment for at least two weeks before using. Check occasionally and release any gases from the canning jar.
Nutrition Information:
Yield:
16
Serving Size:
1
Amount Per Serving:
Calories:

20
Total Fat:

0g
Saturated Fat:

0g
Trans Fat:

0g
Unsaturated Fat:

0g
Cholesterol:

0mg
Sodium:

403mg
Carbohydrates:

5g
Fiber:

2g
Sugar:

2g
Protein:

1g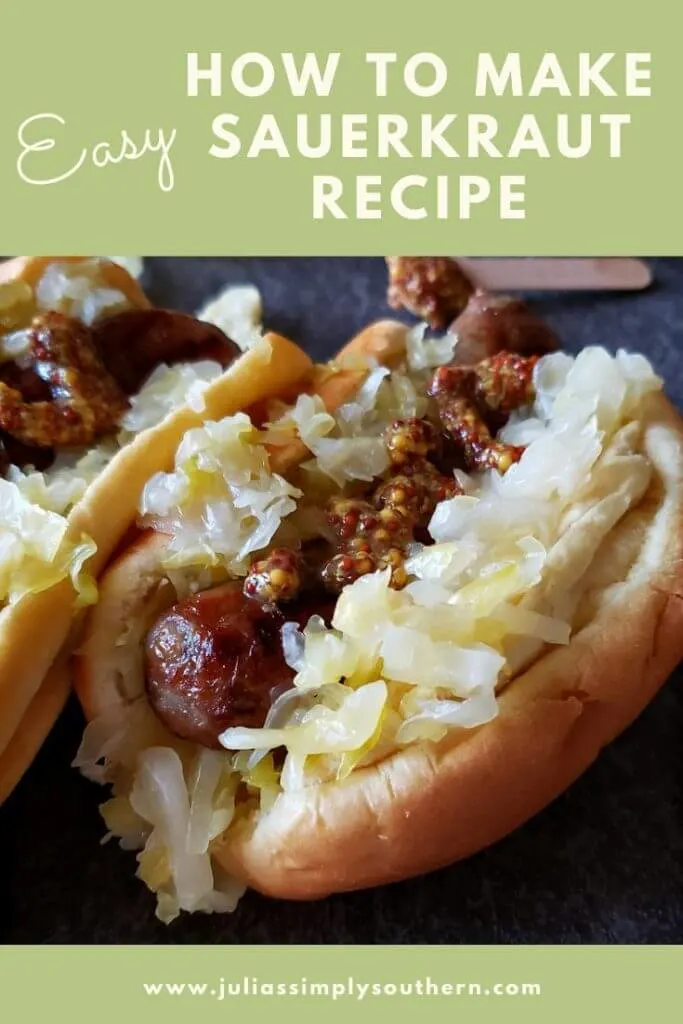 Thanks for stopping by! Don't forget to join our email list so that you never miss a new recipe and follow us on social media.
Meet Julia
Author of Julia's Simply Southern
Hey Y'all! I'm Julia, the cook and writer behind the recipes here at Julia's Simply Southern. I began my website so that I could share easy to follow recipes that anyone can use to put a home cooked meal on the dinner table. Thanks so much for stopping by!
Follow me on Facebook | Twitter | Instagram | Pinterest | YouTube