In this post I am sharing how to make Beer Braised Brats and Sauerkraut.

Everybody loves a delicious grilled bratwurst now and again, right? We sure do on occasion and my personal favorite is having brats with sauerkraut.
Homemade sauerkraut is even better if you have it on hand. Sauerkraut is so easy to make at home and healthy for you. You only need three things (really just two) to make sauerkraut: cabbage, kosher salt and possibly a little bit of purified water.
Making your own sauerkraut does require some advance planning since it needs to hang out and ferment for a few weeks. If you love sauerkraut though, it is well worth the wait.
If sauerkraut is really just not your thing, no worries, you can enjoy bratwurst a variety of ways. Brats are delicious on a bun with mustard, with pickle relish, or with peppers and onions too.
Braising the bratwurst in beer adds an extra layer of flavor. Again, if beer is just something you don't do, no worries, braise in water or chicken stock.
Braising the brats before grilling ensures doneness and the grilling adds that nice layer of crispness to the skin.
How to Cook Bratwurst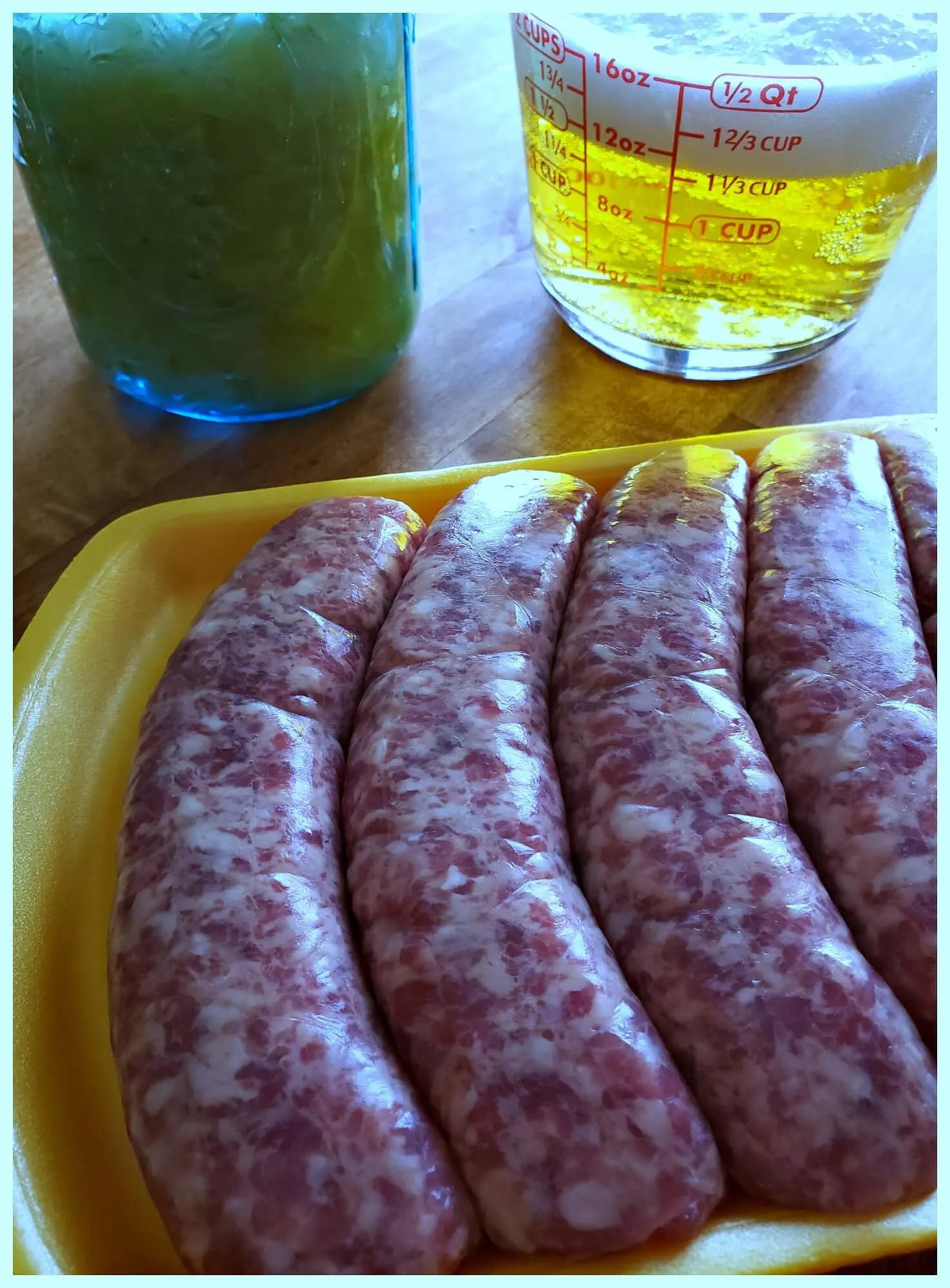 The majority of the time we eat bratwurst on a bun like a hot dog. So if you're wondering what to serve with bratwurst, just serve sides that you would when grilling hot dogs or burgers.
Chips, coleslaw, potato salad or baked beans are always delicious options.
To braise the brats, just bring your braising liquid to a simmer (in this case it is beer) and then add your bratwurst to the pot. Allow them to simmer in the beer for five minutes.
While the brats braise, it's a good time to heat up the grill. A medium flame will do nicely.
When ready, add the bratwurst to the grill and cook turning occasionally to crispy the skin and add some nice grill marks, three to four minutes per side, or until desired crispness.
Grilled Brats and Sauerkraut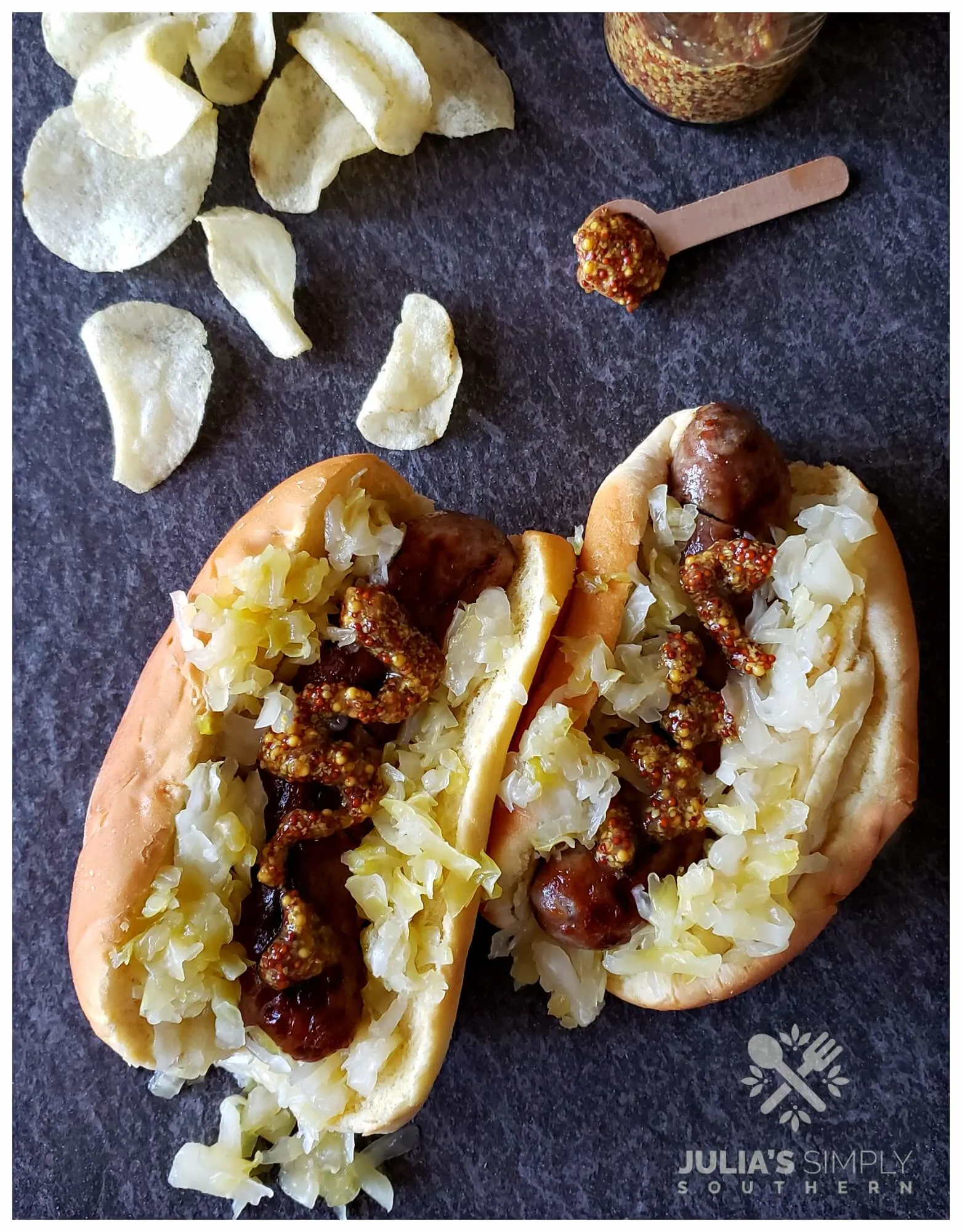 Assemble your grilled brats on a hot dog bun with sauerkraut and course grain mustard, if desired. So delicious!
Do you heat sauerkraut for brats? It depends on personal preference whether you heat your sauerkraut or not. The sauerkraut may be served with bratwurst chilled or gently heated.
How to keep bratwurst warm when cooking for a crowd? If you're serving bratwurst for a crowd, keep them warm by placing the grilled brats in a heated slow cooker with a little bit of water or stock in the bottom to keep them warm.
Beer Brats Grill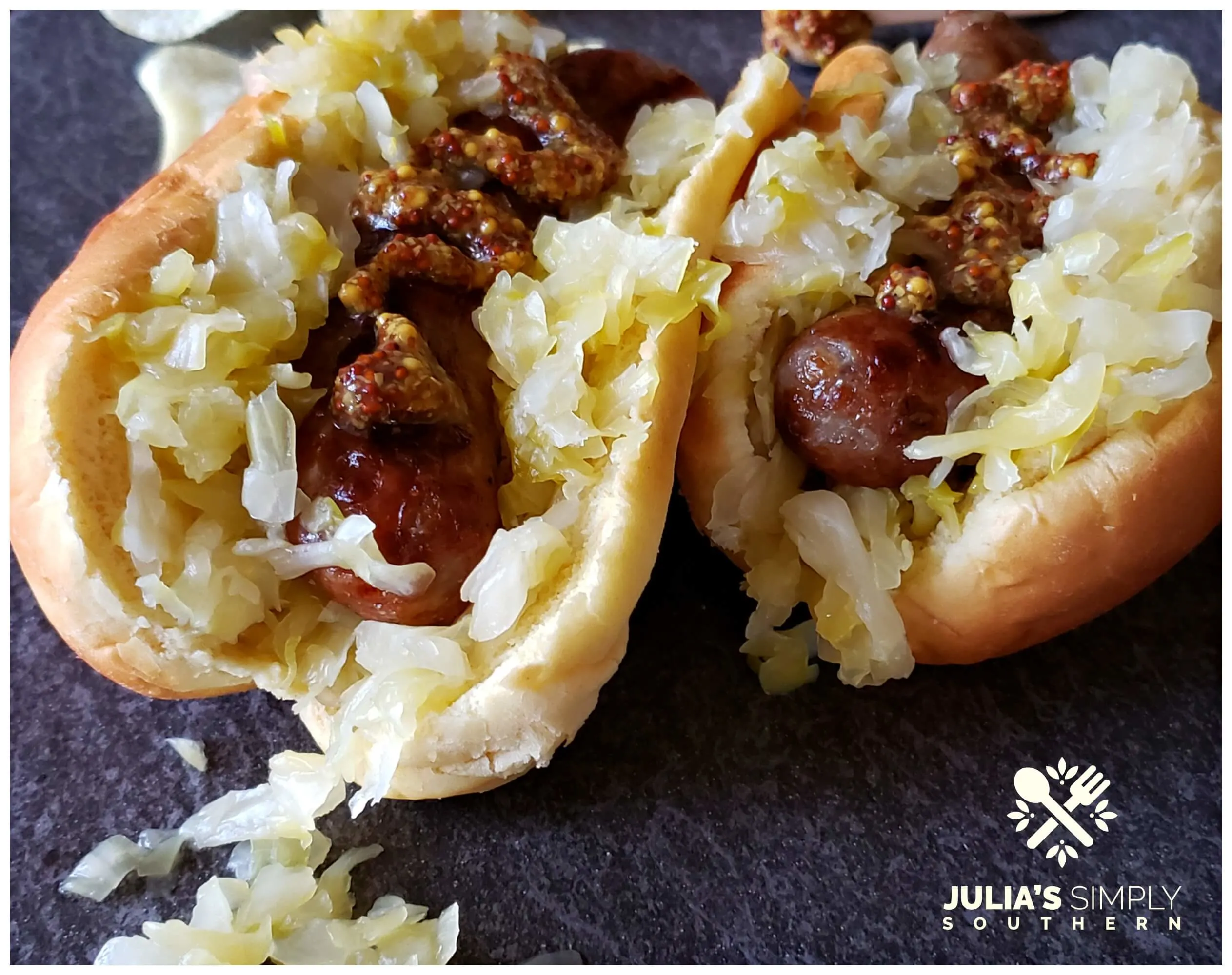 If preferred, bratwurst can be cooked in a skillet. You can skip the braising for this method and heat in a skillet over medium low heat for 20 minutes, turning occasionally, until browned on all sides.
Grilled Bratwurst with Beer, Mustard and Sauerkraut Recipe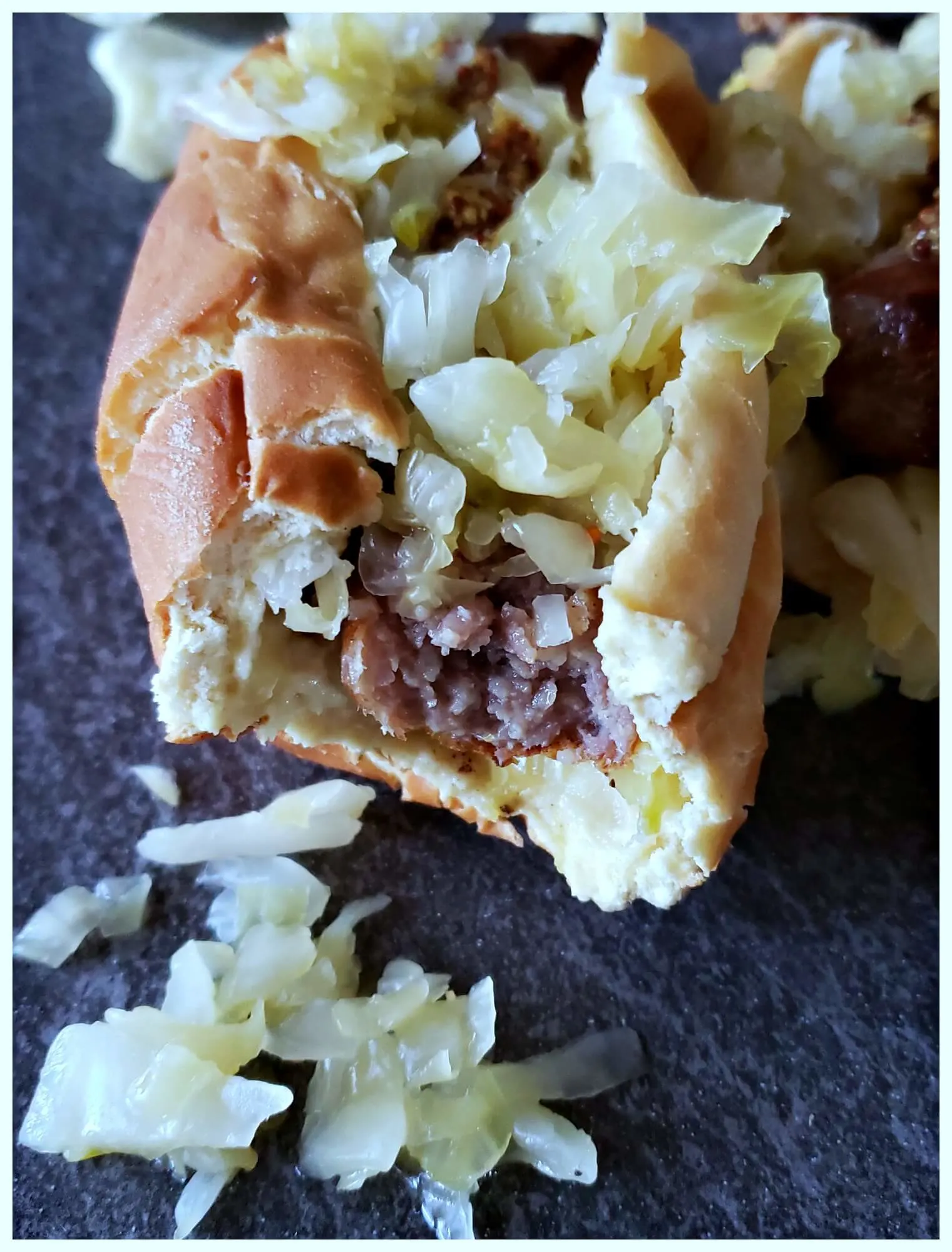 Beer Braised Brats and Sauerkraut
Yield: 5 Bratwurst
Beer Braised Brats and Sauerkraut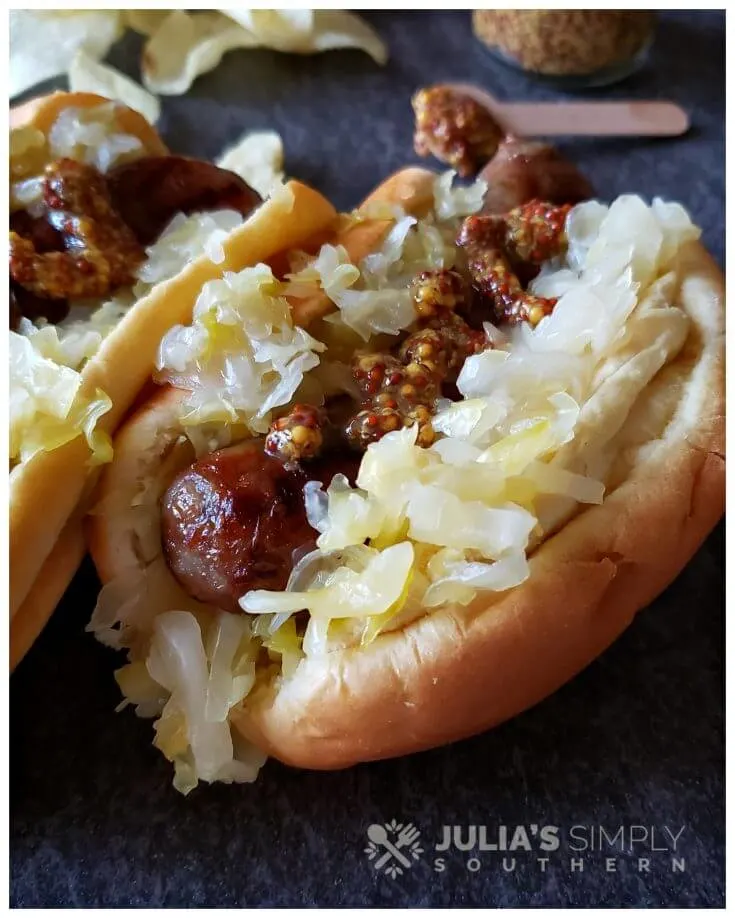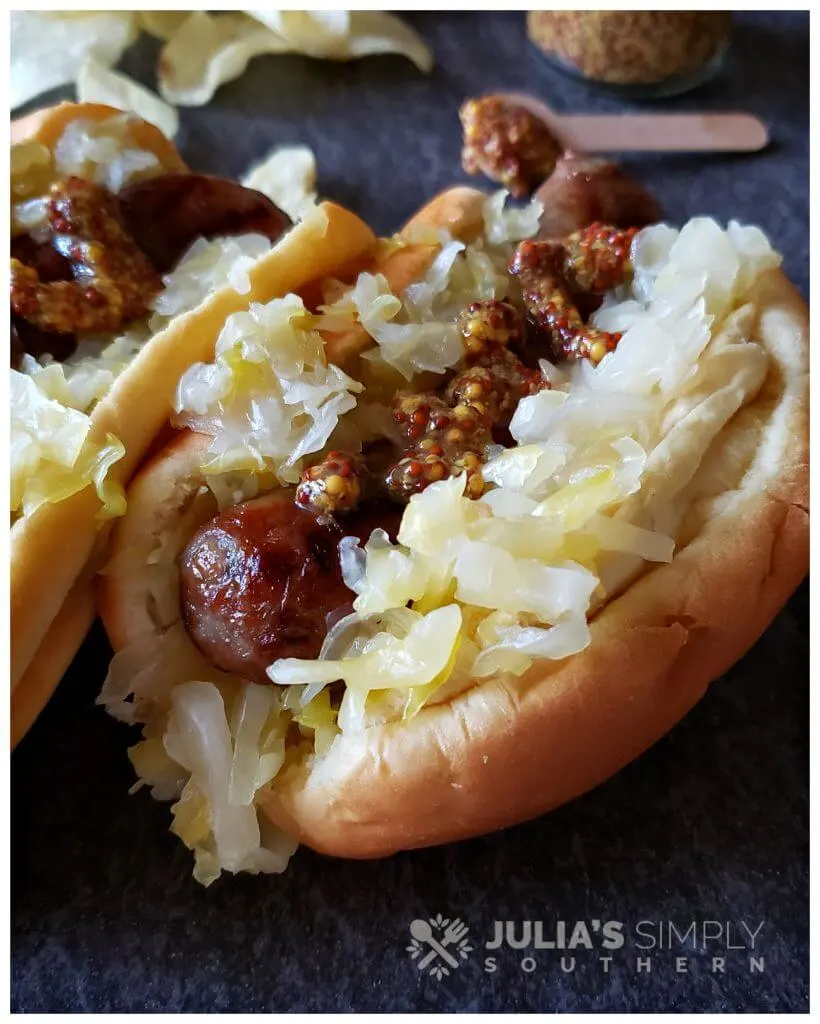 Delicious bratwurst braised in flavorful beer then grilled to perfection and served on a bun with sauerkraut and grainy mustard.
Ingredients
5 Bratwurst
12 oz Beer
1 c Sauerkraut
Course Grain Mustard
Hot Dog Buns
Instructions
Add the beer to a pot and bring to a simmer over medium heat.
Heat the grill so it's hot while braising.
Next, add the bratwurst and allow to simmer for five minutes.
Next, add the bratwurst to the hot grill and cook over medium heat until desired skin crispness and nice grill marks are formed.
Serve hot on a hot dog bun with sauerkraut and mustard, if desired.

Recommended Products
As an Amazon Associate and member of other affiliate programs, I earn from qualifying purchases.
Nutrition Information:
Yield:
5
Amount Per Serving:
Calories:

343
Total Fat:

25g
Saturated Fat:

9g
Trans Fat:

0g
Unsaturated Fat:

15g
Cholesterol:

63mg
Sodium:

784mg
Carbohydrates:

10g
Fiber:

0g
Sugar:

1g
Protein:

13g
Thank you so much for stopping by! Share this recipe with a friend and be sure to sign up for our free newsletter so you never miss a thing.
Follow us on Facebook, Instagram, Pinterest or Twitter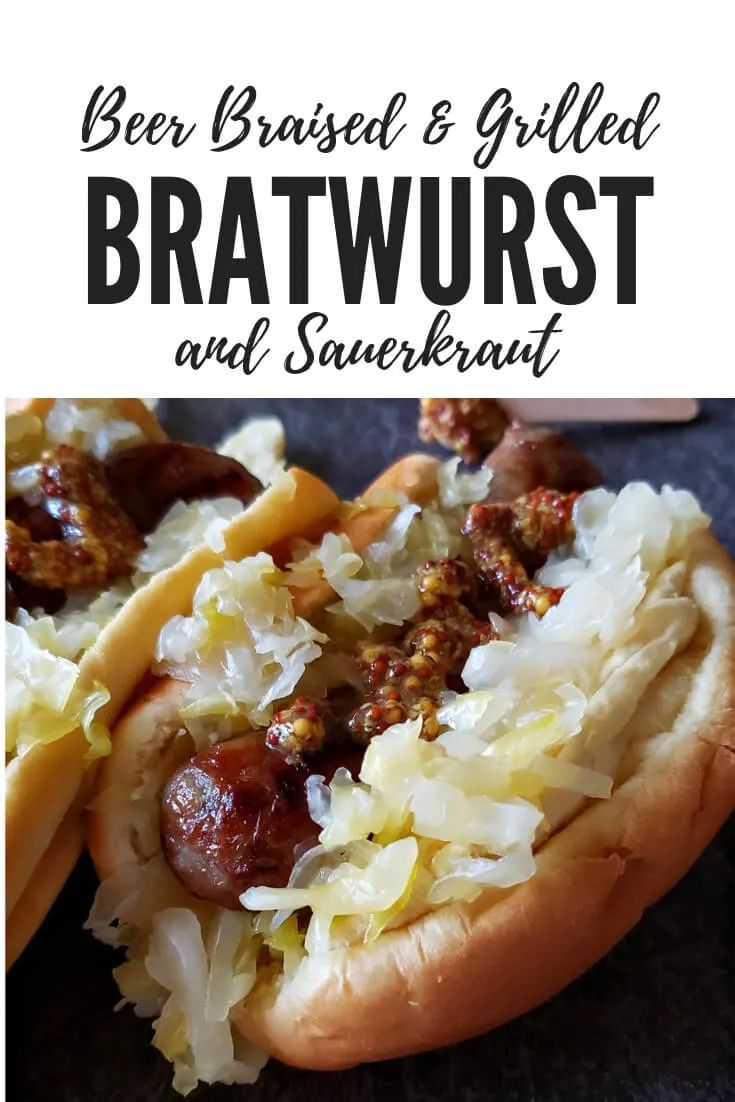 Beer Braised Brats and Sauerkraut
Meet Julia
Author of Julia's Simply Southern
Hey Y'all! I'm Julia, the cook and writer behind the recipes here at Julia's Simply Southern. I began my website so that I could share easy to follow recipes that anyone can use to put a home cooked meal on the dinner table. Thanks so much for stopping by!
Follow me on Facebook | Twitter | Instagram | Pinterest | YouTube