This is not your ordinary recipe for dressing. This is my Aunt Betty's Famous Ham Dressing! It's my first "NEW" recipe post from our new home. The thing is, it's not really a new recipe. It's an old family recipe, shared with me, and is probably older than I am.
Ham dressing was the traditional signature dish that my aunt would bring to family holiday gatherings. This was back when there were over 20 of us gathered at my grandparents home. I still have the memories of those holiday meals.
Everyone would bring a dish to contribute. It was a true feast. Eventually the large gatherings faded away as older cousins left home and had families of their own. We still made a point to go around and visit relatives close by during holidays however. One stop was always to my Aunt Betty's house.
Now, let me tell you about my favorite aunt. Aunt Betty is a wonderful and special lady. She is now in her 80's with the most beautiful white hair. She's always had a contagious smile and laugh. Just to be near her was to feel loved and special.
Please don't get this image in your head of a feeble older lady because my aunt was the only girl in a family with five brothers. She can be a tough cookie if the occasion calls for it. Everyone needs an Aunt Betty in their life. I love her dearly.
What Goes with Ham Dinner
I remember how family would always talk about how delicious her ham dressing was. I was thrilled that she graciously has shared the recipe with me so that I can share it with all of you. You will love this family recipe. It's absolutely delicious and something to be prepared and shared with those you love, during a holiday meal or anytime you want something a bit special.
Time to take a small break to reheat myself a plate of the ham dressing for lunch. I was getting hungry just thinking about it. I can't say enough how delicious it is. The wonderful aromas of the ham baking yesterday to prepare this recipe were just intoxicating.
Ham Cornbread Dressing
Like many cooks, myself included before I starting sharing my recipes with the world, had recipes like this……ingredients and instructions but not really any measurements. For experienced cooks they would go with it and have no issue but some folks need measurements and that's okay. I've taken the recipe as it was gifted to me, as show below, and made it step by step with measurements to follow.
You'll find a printable recipe card at the end of this post.
Let us begin by making the cornbread. We're going to combine all of our ingredients for the cornbread batter while a cast iron skillet, with a small amount of bacon fat, heats in the oven. We are savory cornbread people and that is what this dressing recipe requires. Do not add sugar to your cornbread mixture if that's something you usually do.
Holiday Side Dish Recipe
When your oven reaches temperature, pull the skillet out and add the cornbread batter. Sizzle!
Bake the cornbread in your preheated 400℉ oven for 25 minutes, or until golden brown on top.
Remove the cornbread from the oven and allow to rest for 5 minutes, then transfer to a plate.
Next, make up the dressing mixture. Cover and refrigerate overnight. You could also make it up early in the day to use later on after your ham bakes.
Cut up the cornbread and add to a large mixing bowl along with the crushed saltine crackers, celery, onion and seasonings. I added some cracked black pepper to the mix, even though my aunt's recipe didn't call for it.
When I prepare my traditional Southern Cornbread Dressing, I saute my vegetables before adding to the dry mixture, however I followed Aunt Betty's recipe and diced the vegetables and added them directly to the mixture. They had a nice slight crunch in the ham dressing. Since I wasn't cooking the celery and onion first, I diced on the smaller side.
Save those vegetable scraps and freeze to make homemade stock another time.
The next day, or after you've prepared the dry dressing mixture if you prefer, it's time to bake the ham.
Southern Ham Dressing (Stuffing)
If it's not a country ham, I refer to all other hams as a city ham. That may not be technically true for all other hams but that's what I call them anyways. The ham I used was a semi boneless naturally smoked ham.
Preheat your oven to 325℉.
Place ham into a roasting pan. I add a 1/4 c of water to the bottom of the pan to render more flavorful juices after cooking, this is optional.
Cover the pan with foil and seal around the edges before placing in the oven to bake. Covering the ham with foil will give you a moist ham.
Most smoked hams are technically already "cooked". That doesn't mean I would go and open one right up and take a bite. No way! We're going to bake the ham, generally it's 20 minutes per pound. My ham was right at seven pounds, so I baked it for 2 hours and 20 minutes. This is not the time to go glazing a ham for this recipe. You just want the plain ole ham.
Ham and Dressing Casserole
Remove the cooked ham from the oven. Remove ham in large chunks and place on a cutting board until cool enough to handle. Add the cooking juices rendered into a measuring cup. I ended up rendering 3/4 c of that flavorful broth which I used in the dressing mixture. You could also use it to make a delicious ham gravy.
Keep the bone and wrap in foil to freeze for use in soups or stock.
When the ham is cool enough to handle, chop up 3 cups to add to the dressing mixture you've been storing in the refrigerator. I kind of shredded ham pieces apart and then gave that a rough chop. There will be delicious bites of ham throughout the entire dish.
I felt like the 3 cups of chopped ham looked like a great portion to balance in the ham dressing recipe.
Combine the ham with the rest of the dry ingredients.
Next, I added the 3/4″ c of rendered cooking juices to the mix along with 4 cups of chicken stock. You could use pork stock too. If you decide not to add the cooking juices, you'll need 5 cups of stock.
Holiday Family Recipe
In a small bowl, slightly beat the eggs and add to the dressing mixture and combine. I buy my eggs from a local farm so they do not come in uniform sizes like what you find in a grocery store. My aunt uses two eggs but I used three since my eggs varied in size.
The mixture will be just moist and loose. We'll add this to a casserole dish to bake in a preheated 375℉ oven until set and slightly browned on top.
Bake for 30-45 minutes until set as desired. I baked my ham dressing for 30 minutes using the convection bake mode in my oven.
Aunt Betty's Famous Ham Dressing
It's gonna be good y'all!
Doesn't that look scrumptious?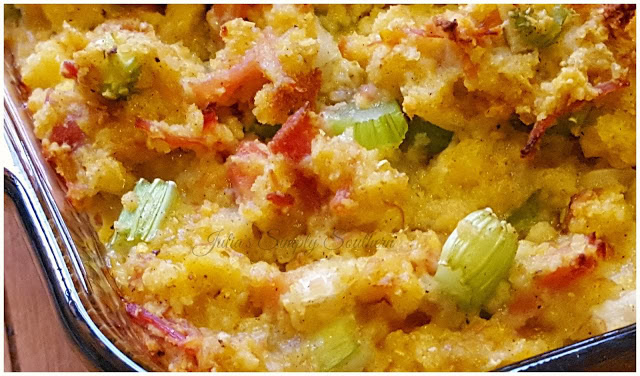 You can see pieces of vegetable and ham in every potential bite of this dressing. It smells heavenly too as you pull it out of the oven.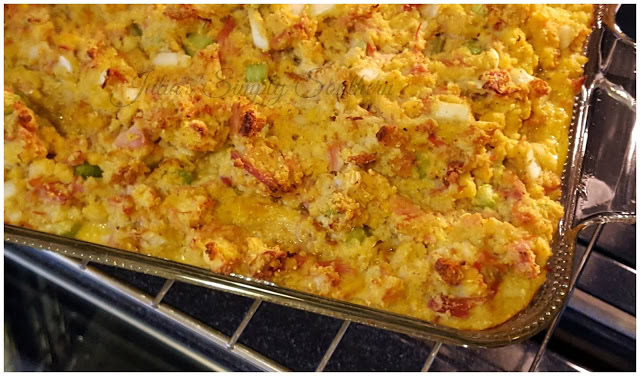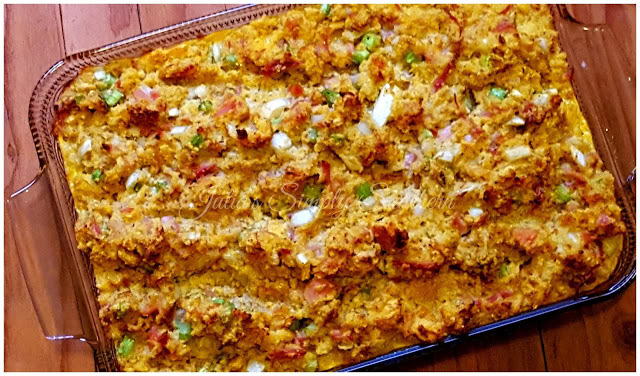 Confession: After pulling the ham out of the oven yesterday…..I was starving. I just had to make a late lunch of ham sandwiches ? cause ham sandwiches with fresh baked ham are the best! One for me and one to share.
Cornbread Dressing with Ham
Let's make Aunt Betty's Famous Ham Dressing!
Yield: 1 Casserole of Dressing
Aunt Betty's Famous Ham Dressing Casserole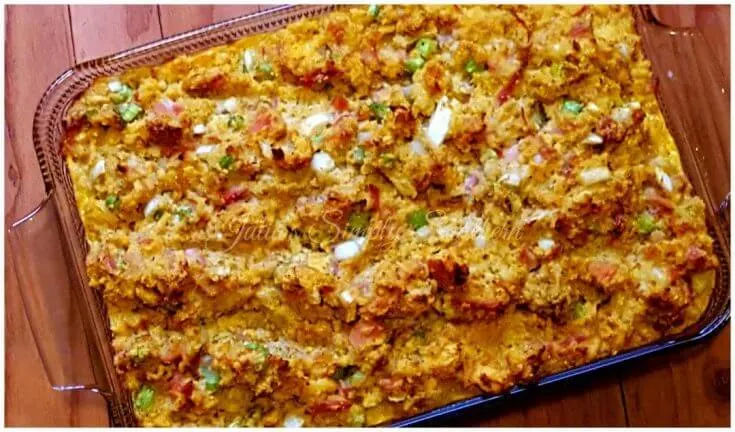 Y'all will love my Aunt Betty's signature holiday dish of Ham Dressing.
Total Time
1 hour
20 minutes
Ingredients
2 c All Purpose Cornmeal, preferably stone ground (I was happy to be able to use stone ground cornmeal that I bought from a local grist mill not far from my home.)
1/2 c All Purpose Flour
2 tsp Baking Powder
Pinch of Salt
Cracked Black Pepper
1.25 c Buttermilk
2 Eggs, slightly beaten
2 tsp Bacon Fat, for bottom of the skillet
1 Sleeve of Saltine Crackers, crushed
1 Onion, finely diced
3 Stalks of Celery, finely diced
1/2 tsp Dried Thyme
1.5 tsp Rubbed Sage (or ground)
Cracked Black Pepper, to taste
3 c Cooked Ham, chopped (recipe follows)
3/4 c Pan Cooking Juices (optional)
4 c Chicken or Pork Stock (if not using pan juices, use 5 c of stock instead)
3 Eggs, slightly beaten
1 5-7 lb Naturally Smoked Ham
1/4 c Water
Instructions
Preheat oven to 400℉. Add bacon fat to a cast iron skillet and place into the oven while it preheats.
In a mixing bowl combine cornmeal, flour, baking powder, salt, pepper, buttermilk and eggs and stir to combine.
Remove skillet from oven when it reaches temperature and add the cornbread batter. Bake for 25 minutes until golden brown.
Combine cornbread, crackers, onion, celery, and seasonings together in a large mixing bowl. Cover and refrigerate overnight. (This can also be done early in the day before baking ham)
The next day after ham bakes - add the chopped ham, pan juices (if using) ,stock and eggs to the dry mixture stored in the refrigerator. Mix well to combine until everything is moistened. Use additional stock if needed.
Preheat oven to 375℉.
Place ham dressing mixture into a casserole dish and place into the oven.
Bake 30 to 45 minutes until set as desired and slightly browned on top.

Nutrition Information:
Yield:
20
Serving Size:
1
Amount Per Serving:
Calories:

355
Total Fat:

26g
Saturated Fat:

9g
Trans Fat:

0g
Unsaturated Fat:

16g
Cholesterol:

59mg
Sodium:

536mg
Carbohydrates:

73g
Fiber:

2g
Sugar:

2g
Protein:

156g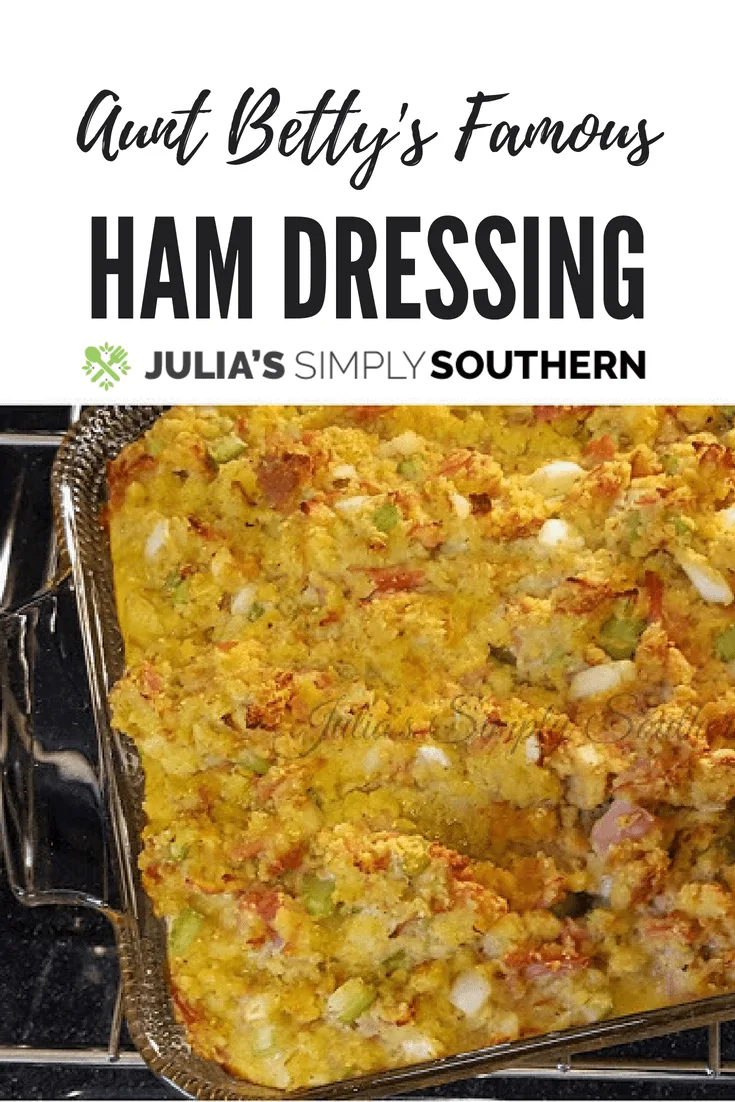 Meet Julia
Author of Julia's Simply Southern
Hey Y'all! I'm Julia, the cook and writer behind the recipes here at Julia's Simply Southern. I began my website so that I could share easy to follow recipes that anyone can use to put a home cooked meal on the dinner table. Thanks so much for stopping by!
Follow me on Facebook | Twitter | Instagram | Pinterest | YouTube