In this post I'll be sharing an easy no bake Kool Aid Pie recipe. Yep, you read that right…Kool Aid Pie!
A couple of week ago hubs was looking at stuff on YouTube. He clicked on a lady making Kool Aid pie (I wish that I could remember her channel). I said "did I hear that right"? He said "yes". Then I said "I wanna see that too".
So he turned his phone and we were watching her make this dessert. I had never ever heard of Kool Aid pie in my life but evidently it has been around a while. Have you ever heard of this no bake dessert?
I decided right then that I wanted to make the recipe so I jotted down some notes to do a taste test then share the recipe with y'all too.
Does it sound intriguing or strange so far? Let's keep going!
Kool Aid Pie Recipe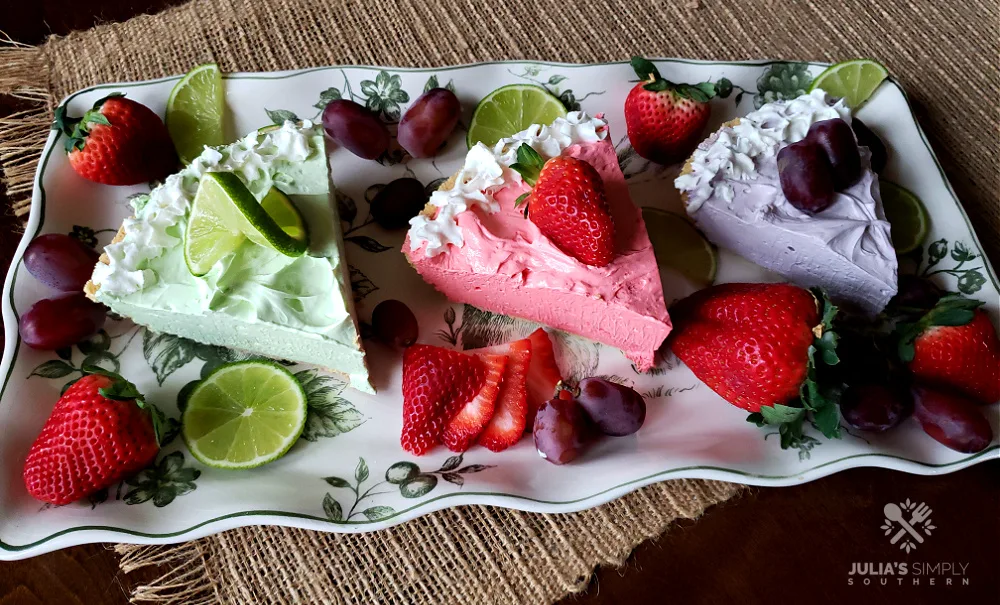 With those pretty pastel colors, all that I can think of is Easter egg pies.
So let's talk a minute about the history of Kool Aid pie. This dessert was first referenced around 1974. Probably a clever mom came up with the recipe.
The ingredients, except the Kool Aid, are pretty standard in a lot of desserts so I knew the recipe would work. I just didn't know how it would taste.
The Kool Aid pie recipe really took off after 2009 sweeping through the internet throughout Mississippi, Tennessee and Georgia then spread from there across the South and beyond.
Mississippi must have a fondness for this beverage mix because they even make Kool Aid Pickles.
Folks seem to love serving up this easy pie dessert at Thanksgiving back then. I found that a bit surprising too since all I can think is that it would be perfect for Easter.
Easy Kool-Aid No Bake Pie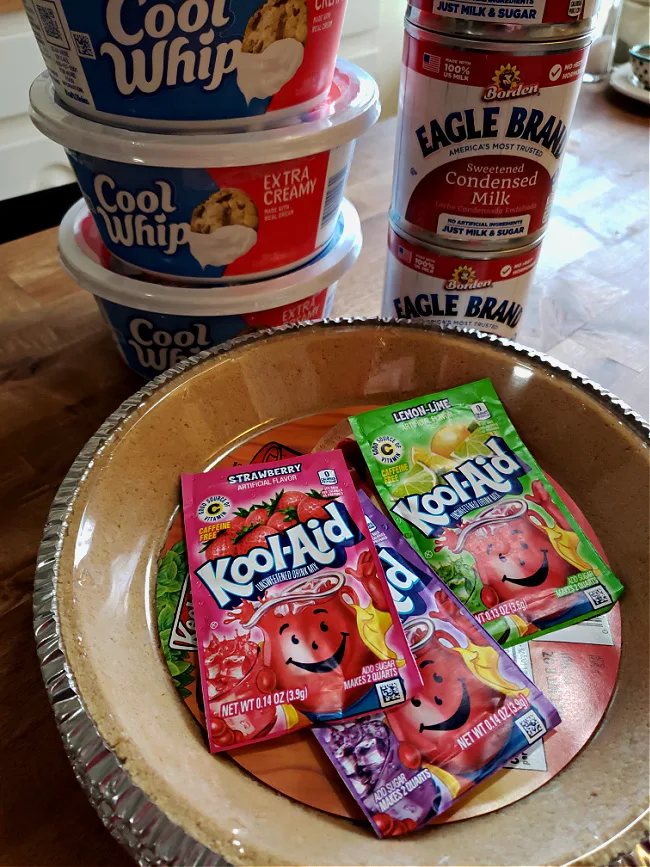 The recipe only calls for three ingredients plus a graham cracker pie crust. I just picked up store bought crusts because it is easier.
What flavors can you make Kool Aid Pie? Well currently you have 21 options to choose from.
Cherry
Tropical Punch
Strawberry
Grape
Lemon-Lime
Pink Lemonade
Black Cherry
Aguas Frescas Mango
Strawberry Kiwi
Lemonade
Aguas Frescas Pineapple
Aguas Frescas Jamaica
Mixed Berry
Berry Cherry
Orange
Strawberry Lemonade
Blue Raspberry
Sharkleberry
Green Apple
Peach Mango
Auusa Frescas Mandarina
Will they all be good? I have no idea. I was actually a bit surprised by the results when we were taste testing the 3 flavors that I chose to make which were strawberry, lemon-lime and grape.
How to Make Kool Aid Pies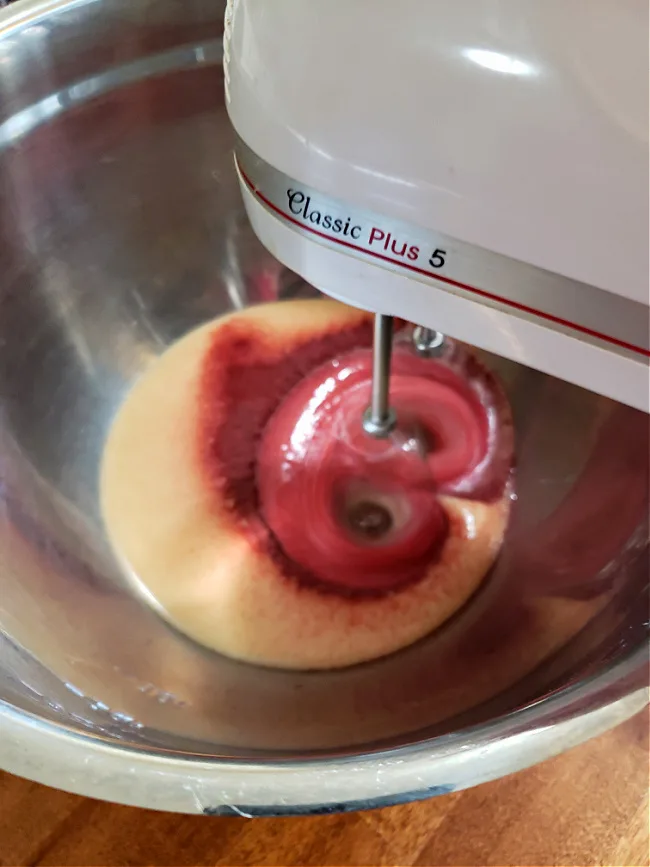 To make a Kool Aid pie you'll need to first combine the flavor packet of your choice with a can of sweetened condensed milk.
Can you make Kool Aid pie without sweetened condensed milk? You can. You could use softened cream cheese instead along with the other ingredients in the recipe. It would be a little different but still work out fine.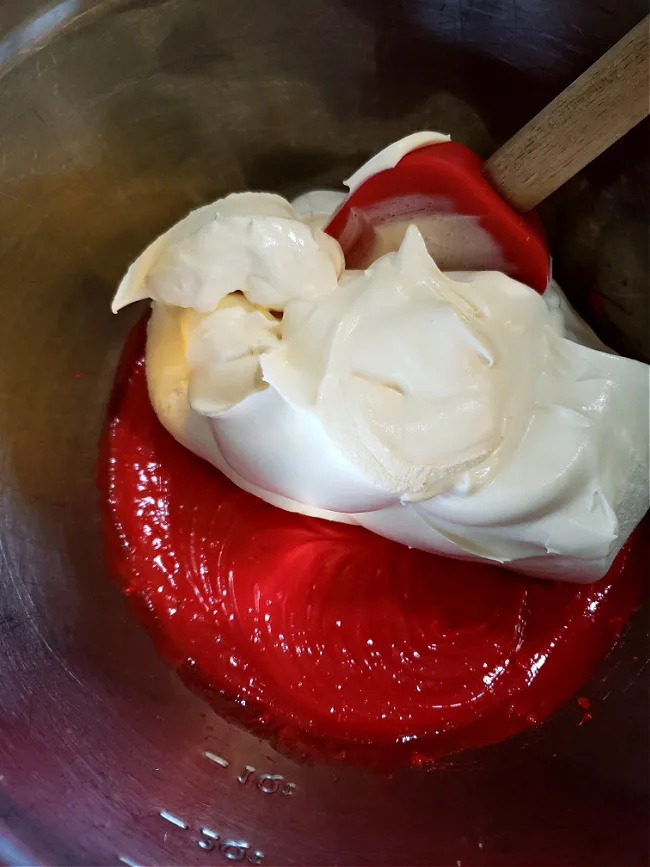 The smell of Kool Aid was pretty strong at this stage but lessened after the Cool Whip was folded in.
After the pie filling is combined, transfer it to the graham cracker pie crust and smooth to the edges.
Fruity Ice Box Pies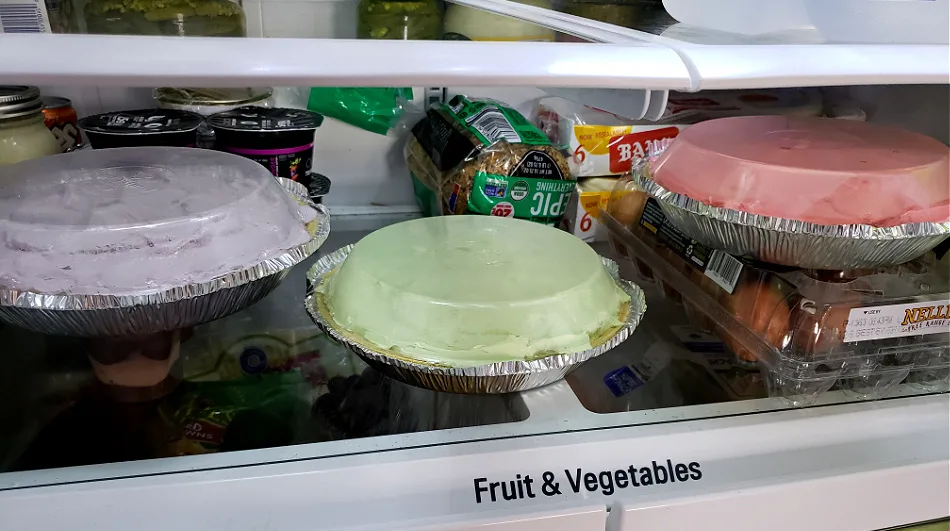 Cover the pie with the handy plastic lid that comes with the store bought crust and pop it into the refrigerator to chill for at least two hours before slicing.
I did go around the edges of the pie before serving and garnished with whipped cream and some fresh fruit. Completely optional of course.
What Does Kool Aid Pie Taste Like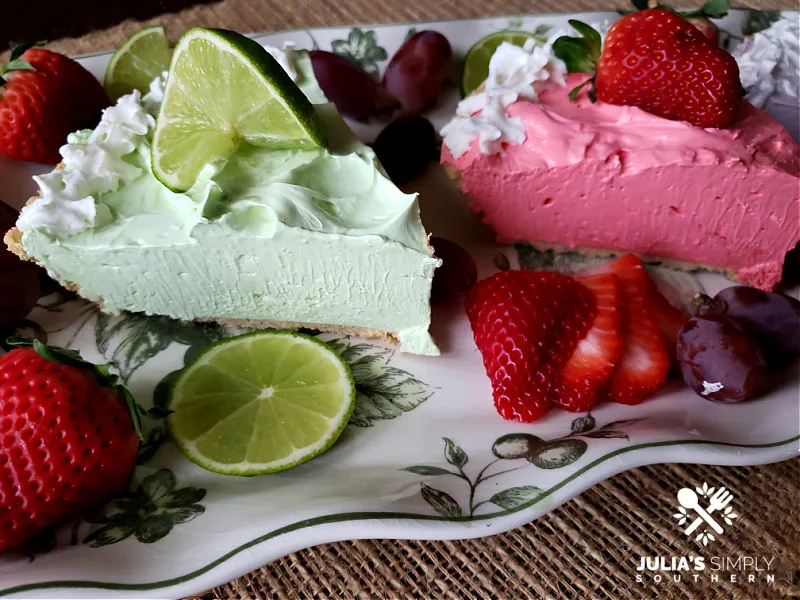 So what did it taste like? We both went for the strawberry first, which ended up being our favorite.
It had a nice taste of strawberry and was delicious. I honestly would not have known that this had Kool Aid in it if I didn't make it myself.
The lemon-lime was also nice. It was what you might expect from a citrus flavored no bake dessert.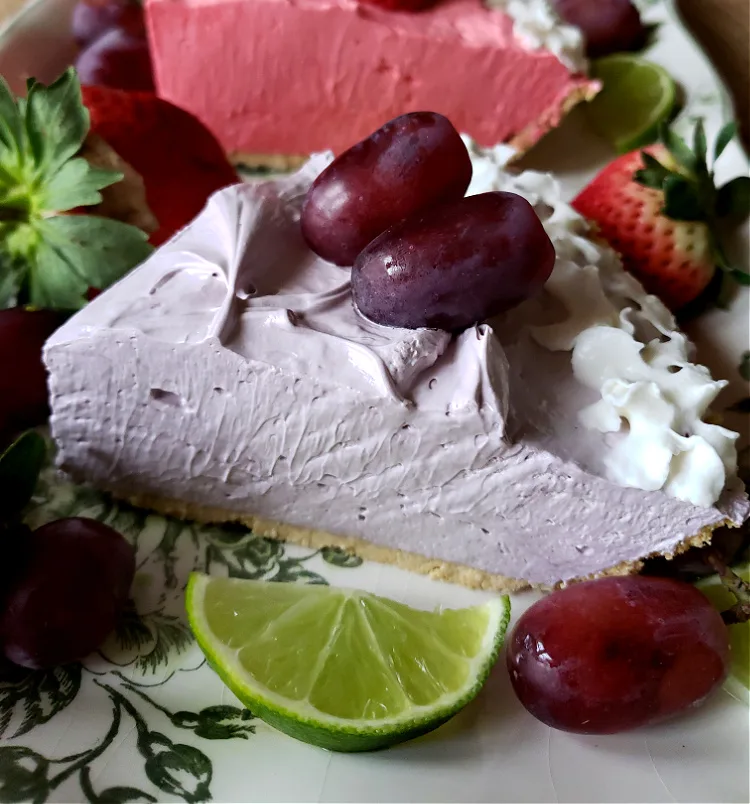 The grape Kool Aid pie was a bit shocking to my taste buds. We were both hesitant when it came to this one.
I mean, what the heck is a grape pie supposed to taste like anyways? So I took a bite.
The grape flavor tasted just like Kool Aid but you are eating it rather than drinking it. That was really strange for me. I believe that kids will love that but for me….well I'd rather drink grape Kool Aid than eat it.
With that said, I think that some of the flavor options will work well for this dessert and others may not, depending on your taste buds. You'll have to experiment with the flavors that appeal to you and see what happens.
I am glad that I tested out 3 options so that I truly got what to expect from this recipe because it can vary greatly depending on your flavor of choice.
Kool Aid Pie Recipe
Below you will find the printable recipe card with all of the details to make this pie.
Yield: 1 Pie
Kool Aid Pie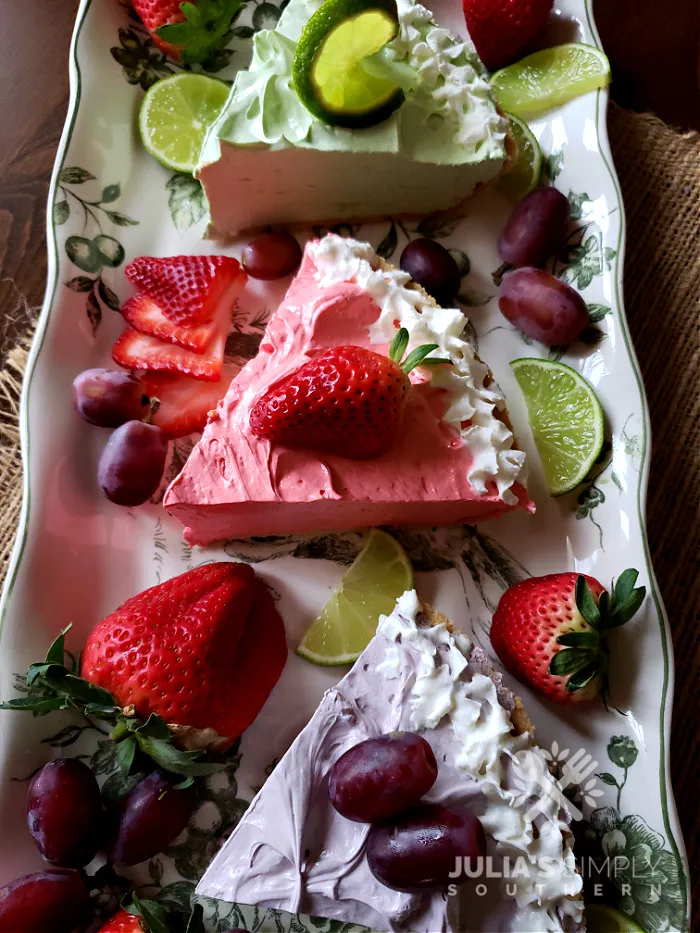 Kool Aid pie is a vintage no bake dessert made with just 3 ingredients plus a store bought pie crust.
Total Time
2 hours
10 minutes
Ingredients
6 oz. Ready Made Graham Cracker Pie Crust
14 oz. Sweetened Condensed Milk
0.14 oz. Kool Aid Flavor Packet, of choice (See post)
8 oz. Extra Creamy Cool Whip, thawed
Instructions
In a mixing bowl: combine the Kool Aid with the sweetened condensed milk using a hand mixer.
Next, fold in the whipped Cool Whip topping until combined. Transfer the filling to a graham cracker pie crust and smooth to the edges.
Cover and refrigerate, at least 2 hours, before serving.
Garnish with whipped cream and fresh fruit, if desired.
Notes
Have a damp paper towel hand to wipe the blade of your knife between cuts for the perfect slice of pie.
Recommended Products
As an Amazon Associate and member of other affiliate programs, I earn from qualifying purchases.
Nutrition Information:
Yield:
8
Serving Size:
1
Amount Per Serving:
Calories:

411
Total Fat:

18g
Saturated Fat:

11g
Trans Fat:

0g
Unsaturated Fat:

6g
Cholesterol:

23mg
Sodium:

192mg
Carbohydrates:

57g
Fiber:

0g
Sugar:

47g
Protein:

7g
You Might Also Enjoy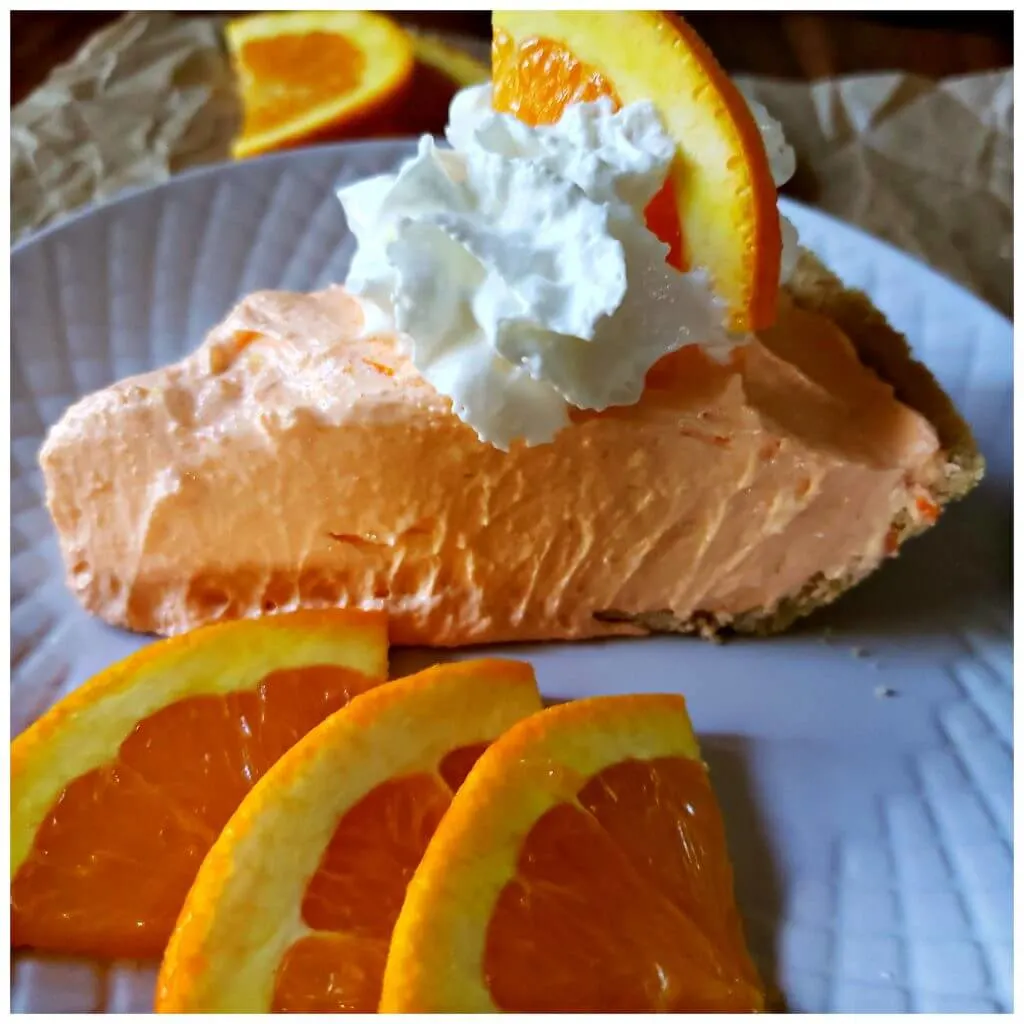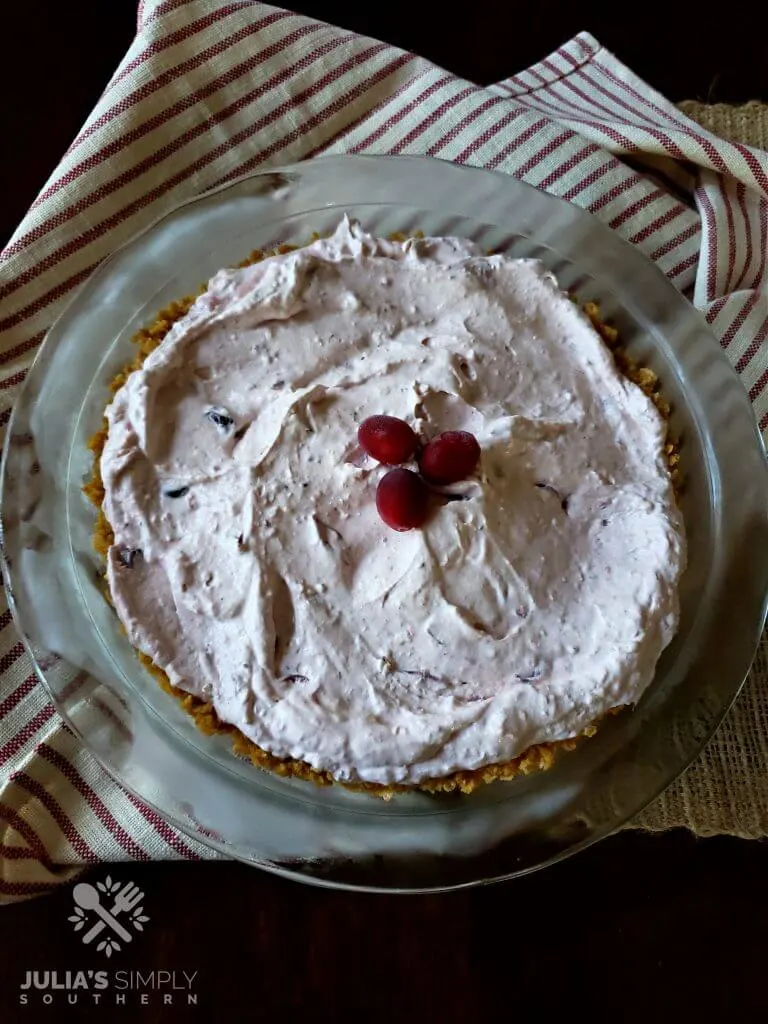 Thank you so much for stopping by! I'm so happy that you did. I hope that you'll try this easy no bake pie dessert soon and test out some of your favorite flavors to discover which ones you like best. Let me know in the comments which flavor becomes your favorite.
Be sure to subscribe to my email list while you're here. As a subscriber I will deliver a weekly newsletter to your inbox so that you never miss the latest recipes and news here on the blog.
Meet Julia
Author of Julia's Simply Southern
Hey Y'all! I'm Julia, the cook and writer behind the recipes here at Julia's Simply Southern. I began my website so that I could share easy to follow recipes that anyone can use to put a home cooked meal on the dinner table. Thanks so much for stopping by!
Follow me on Facebook | Twitter | Instagram | Pinterest | YouTube