In this post I'll be sharing a wonderful Smoked Oyster Seafood Dressing Recipe with crabmeat and shrimp. This is a delicious Southern seafood cornbread dressing that you're gonna love, my Friend!
So, where did oyster dressing originate? It wasn't the South as some might think. Stuffing recipes with oysters was a common dish in Britain and it came to America along with the British colonists.
Seafood dressing was common in the North and South where settlers lived by the sea. Meals back then weren't quite what they are now so to ensure that everyone had enough protein, seafood was added to stuffing since it was plentiful.
Oyster dressing recipes are popular in Louisiana and the low country of South Carolina and often made with fresh oysters. I prefer using smoked oysters instead because they add wonderful flavor to the dressing and there's no fishy smell with leftovers.
The smoked oyster stuffing, with the delicate sweetness of crabmeat, could be a meal itself but wouldn't be the same unless served as a side dish with Thanksgiving turkey or roasted chicken family dinners. The taste of the seafood dressing is amazing and even my seafood skeptic husband loves it.
In fact, Sparky, introduced me to smoked oysters. Back then he wouldn't touch seafood but for some reason loved smoked oysters on crackers. A smoked oyster does indeed make a tasty appetizer ingredient.
Oyster Stuffing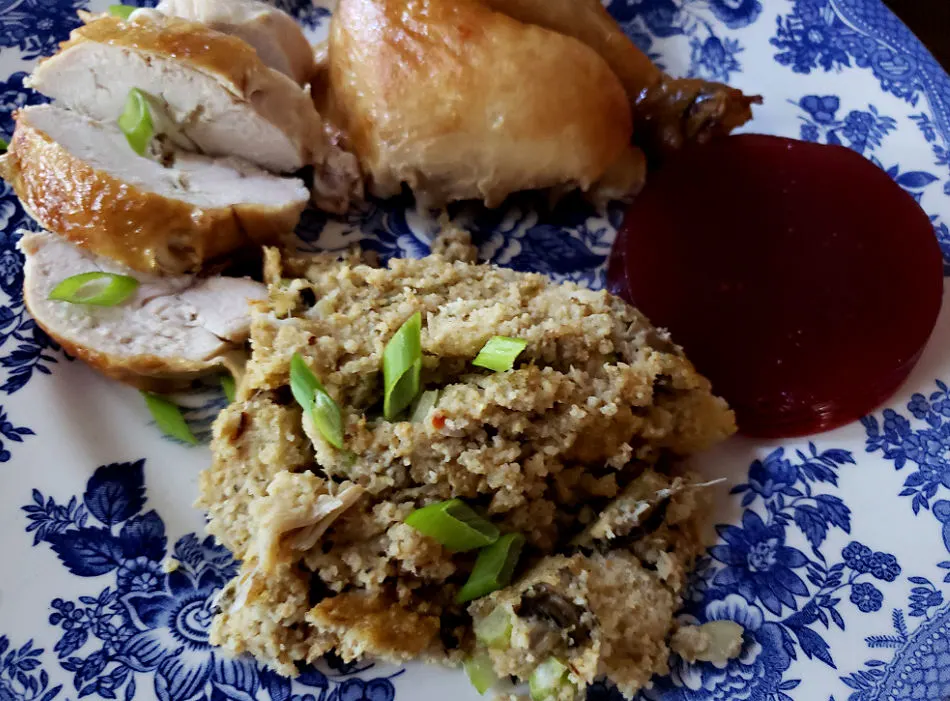 Holiday dinner planning tip: If you plan to serve a seafood stuffing or dressing at your Thanksgiving dinner, be sure to check with guests to make sure nobody is allergic to seafood.
My family prefers the traditional Southern cornbread dressing for Thanksgiving and we usually enjoy my Aunt Betty's Famous Ham Dressing for Christmas.
One of the things that I love about having dressing as a side dish are all of the different ways to make it. Dressing is one of those dishes that you can easily adjust to suit your own tastes with different seasonings and ingredients.
Since my family are team classic dressing for holidays, I enjoy serving the smoked oyster seafood dressing with our regular meals with roasted chicken or a super easy turkey breast tenderloin.
Southern Seafood Cornbread Dressing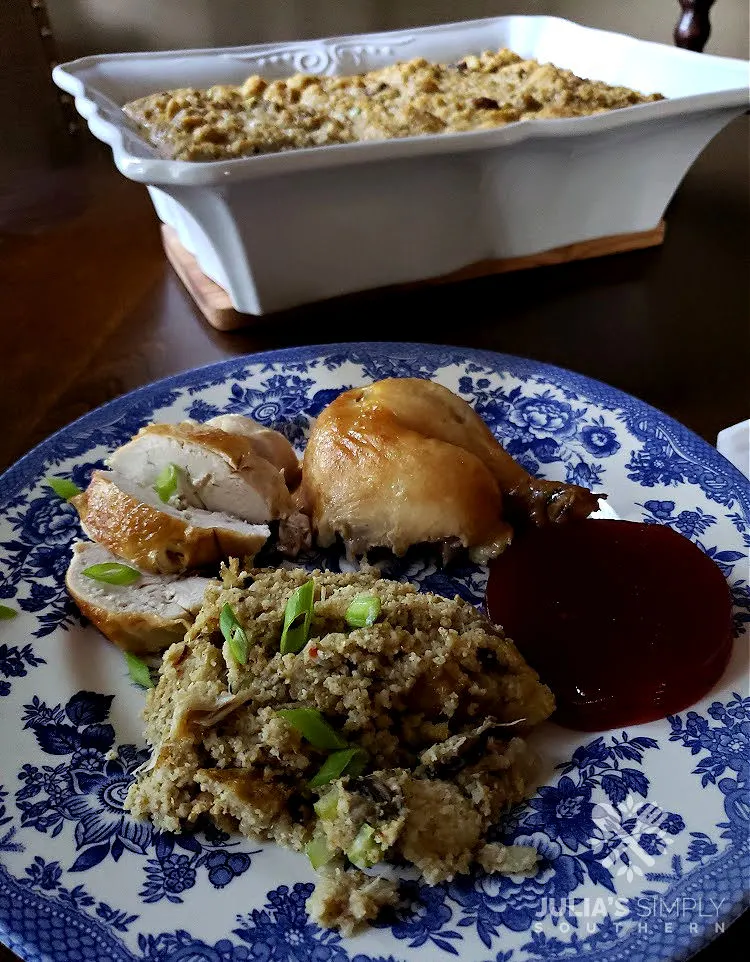 Doesn't that look incredible? We love a taste of the holidays occasionally throughout the year but I'm always so joyful when the holidays do roll around so that we can host our loved ones with a delicious meal.
Nothing makes my heart happier than family and friends gathered around the dining room table to fellowship and enjoy all of the food that I love to prepare and share with them.
How to make Southern Gluten Free Cornbread
It only takes a few simple ingredients to make the savory skillet cornbread. You'll need: self rising cornmeal, chicken stock, eggs and butter.
In case you might be wondering, yes you can make cornbread without buttermilk. I usually do make it with buttermilk but I was out of buttermilk and out of milk. My mother used to make cornbread with water.
I had to improvise and figured since this was going into a dressing recipe that chicken stock (or chicken broth) would work just fine and add a bit of flavor.
Place a large skillet into your oven and preheat it while you prepare the batter. Combine the cornmeal, egg and stock in a medium bowl.
Carefully take your hot cast iron skillet out of the oven and add a little butter to the pan. The hot skillet will melt butter fast. Once melted, pour in the cornbread batter and bake until golden brown.
I always make the cornbread for my dressing the day before and refrigerate it overnight until I need it. That saves time if you're preparing a big meal.
How to make Southern Oyster Stuffing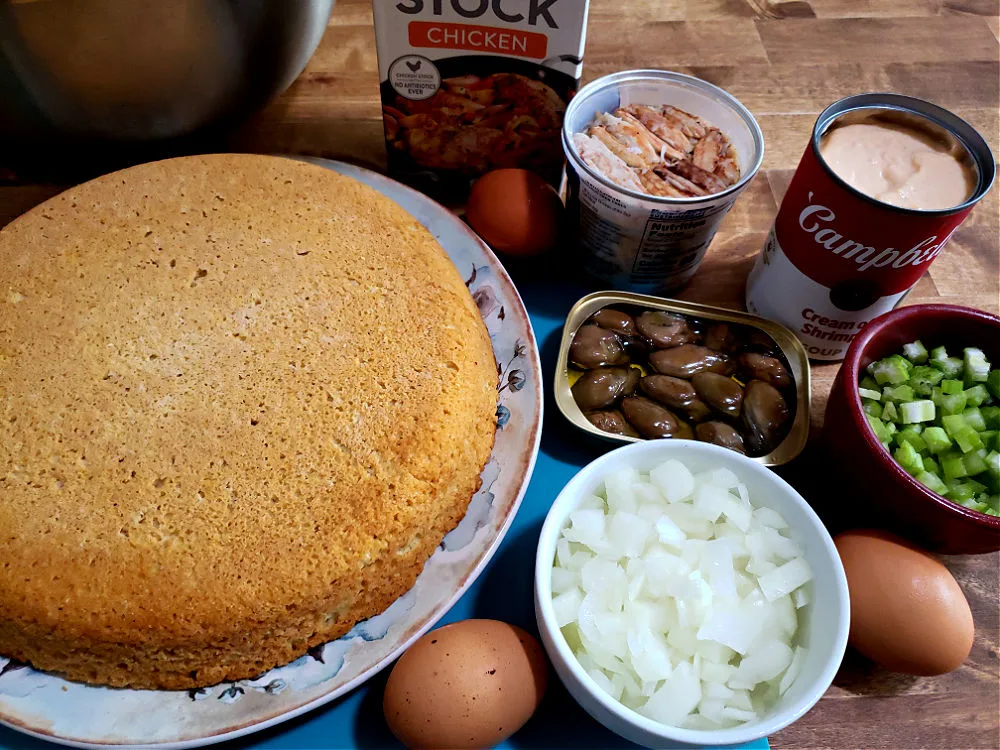 What you will need to make this smoked oyster dressing with crab:
Pone of Cornbread – savory cornbread is the main ingredient in this seafood dressing.
Smoked Oysters – add smokey delicious flavor to the dressing.
Crab Meat – the crab adds wonderful texture and a hint of sweet flavor to this savory side dish.
Onion – a medium yellow onion adds flavor and aromatics.
Celery – traditional flavor ingredient for dressing and aromatic.
Chicken Stock – moistens the dressing mixture and adds rich flavor.
Cream of Shrimp – adds flavor and helps keep the seafood dressing moist.
Large Eggs – the beaten egg are the binder that holds the dressing bread mixture together.
Seasonings – salt, black pepper, poultry seasoning, ground sage and onion powder add the classic flavors that we love in dressing.
Other ingredient options: green bell pepper, Cajun seasoning, hot sauce, garlic powder, oyster sauce, andouille sausage, bacon, pancetta, mushroom, lemon juice, lemon zest or cooked breakfast sausage would all be delicious options if you prefer.
Gluten Free option: cornbread is naturally gluten free. To keep this recipe completely gluten free, omit the cream of shrimp and use a gluten free cream of chicken or mushroom. The Great Value generic brand found at Walmart have gluten free creamed soup options available.
Seafood Stuffing
Putting this easy recipe together takes just a little bit of prep.
Begin by cutting the cornbread into small pieces to form bread cubes and add them to a large bowl. Next, drain the smoked oysters well. They come packed in oil in the tin so I dump them into a small colander to drain in a small bowl then gently blot them with paper towels.
Give the smoked oysters a rough chop and add them to the large mixing bowl with the cubed crumbled cornbread. The crabmeat goes into the mix next but be sure to pick through it to make sure there aren't any bits of shell in the meat (there usually are).
Next, dice the veggies and add the vegetable mixture to the bread mixture along with the cream of shrimp condensed soup, chicken stock, beaten eggs and seasonings and gently stir until everything is combined. Adjust seasonings to taste if necessary then transfer the seafood dressing mixture to a casserole dish. I used a 10×14 baking dish for this recipe.
Cooks Note: if you prefer a softer texter for the celery and onion you can melt a cup butter over medium heat in a small skillet and sauté them to soften before adding to the recipe. Feel free to add the melted butter as well if you go with this option.
Smoked Oyster Dressing with Crab and Shrimp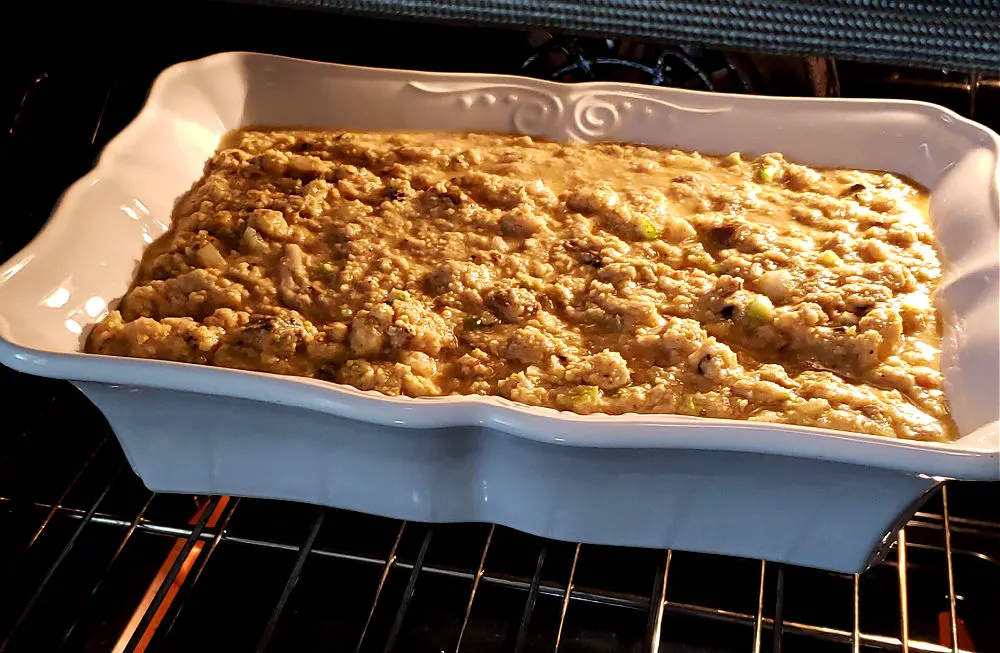 Place the smoked oyster seafood dressing into a hot oven and bake until golden brown and set as desired.
We like this dressing with just a slight jiggle in the center but set, which is a moist consistency. Some folks like to bake it a bit longer so that it cuts like a cake.
Seafood Cornbread Dressing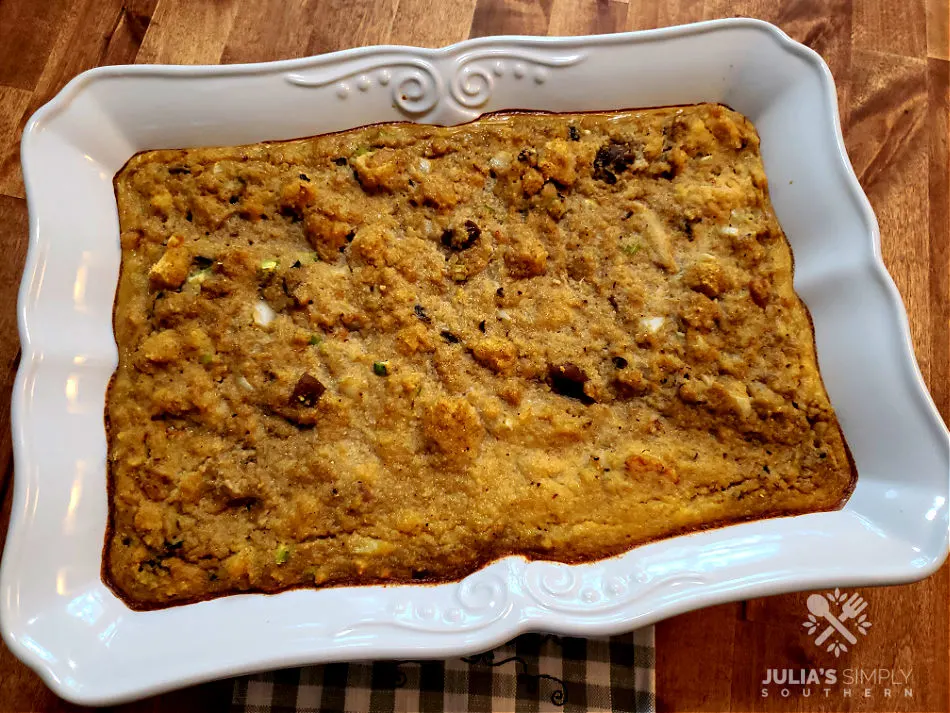 Once the seafood cornbread dressing is out of the oven, allow it to cool slightly then cover with aluminum foil to keep warm until ready to serve.
How long can you keep oyster dressing? Like most cornbread dressing recipes, this smoked oyster seafood dressing will last up to four days in the refrigerator.
Smoked Oyster Seafood Dressing Recipe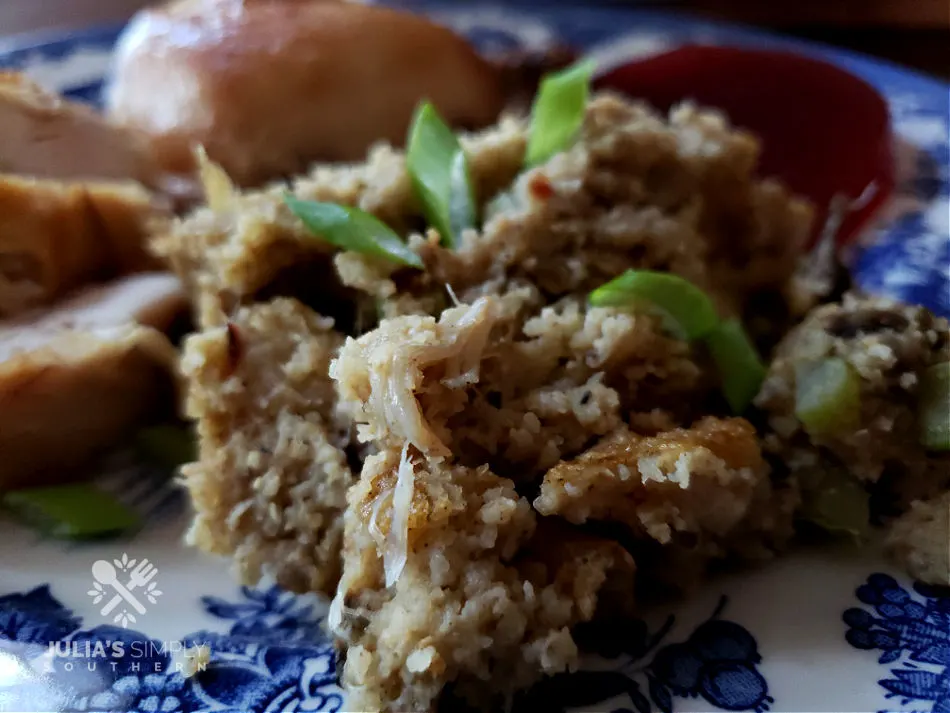 Below you will find the printable recipe with all of the ingredients and details for making this amazing seafood dressing.
Printable Recipe Card
Yield: 1 Seafood Dressing Casserole
Smoked Oyster Seafood Dressing Recipe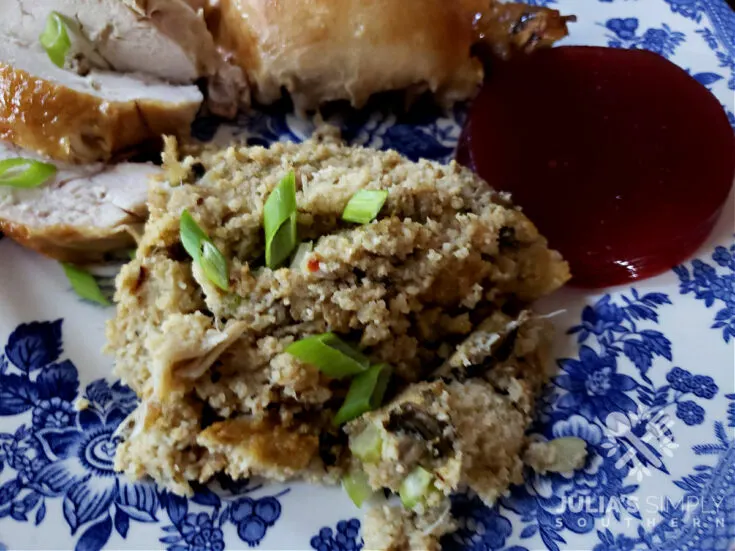 Smoked Oyster Seafood Dressing Recipe with crab and shrimp makes a wonderful side dish for roasted chicken or Thanksgiving turkey.
Total Time
1 hour
15 minutes
Ingredients
Smoked Oyster Seafood Dressing
1 Pone of Cornbread (recipe follows)
2- 3.7 ounce Canned Smoked Oysters, drained and chopped
8 ounce Crab Claw Meat, picked
1 Onion, diced
½ cup Celery, finely diced
32 ounces Chicken Stock
10.5 ounce Cream of Shrimp Condensed Soup (undiluted)
3 Eggs, lightly beaten
1 teaspoon Kosher Salt (or Sea Salt)
½ teaspoon Freshly Ground Black Pepper
2 tablespoons Poultry Seasoning
1 teaspoon Ground Sage
½ teaspoon Onion Powder
Cornbread
3 cups Self Rising Cornmeal
1½ cups Chicken Stock
2 Eggs, beaten
2 tablespoons Butter
Instructions
Seafood Cornbread Dressing
Preheat oven to 350°F (176°C).
Cut cornbread into cubes and transfer to a large mixing bowl then add the chopped smoked oysters, crabmeat, onion, celery, chicken stock, cream of shrimp soup, beaten eggs and seasonings; stir to combine.
Transfer the dressing mixture to a rectangle baking dish (I used a 10x14), place into the oven and bake for 1 hour or until golden brown and set as desired.
Skillet Cornbread Recipe
Preheat oven to 400°F (204°C)
Place a cast iron skillet in the oven as it preheats while you make the cornbread batter.
In a medium mixing bowl; add the cornmeal, chicken stock and eggs then mix to combine.
Carefully remove the hot skillet from the oven using pot holders and add 2 tablespoons of butter to the skillet and allow it to melt. Once melted, pour in the cornbread batter then bake 25 minutes, or until golden brown. (see notes)
Notes
Make cornbread the day before and refrigerate overnight if desired.
See full post for alternative ingredient options and gluten free option.
Seafood dressing may be refrigerated up to four days.
Recommended Products
As an Amazon Associate and member of other affiliate programs, I earn from qualifying purchases.
Nutrition Information:
Yield:
16
Serving Size:
1
Amount Per Serving:
Calories:

301
Total Fat:

15g
Saturated Fat:

7g
Trans Fat:

0g
Unsaturated Fat:

6g
Cholesterol:

124mg
Sodium:

705mg
Carbohydrates:

29g
Fiber:

2g
Sugar:

4g
Protein:

14g
What to serve with Smoked Oyster Seafood Dressing?
Enjoy this seafood cornbread dressing with turkey (or turkey wings), chicken, baked ham and other delicious side dishes.
Other side dish options include: baked macaroni and cheese casserole, green beans, potato salad and deviled eggs.
Don't forget the dessert! Sweet potato pie or banana pudding would be a great ending to a wonderful meal.
Check out these Southern Holiday Recipes
Smoked Oyster Seafood Dressing Recipe
Thank you so much for stopping by! I am so glad that you did. If your family enjoys seafood then I know that you'll love this smoked oyster dressing. My oh my, it sure is good!
Be sure to subscribe to my email list while you're here. Subscribers receive a weekly newsletter delivered straight to your inbox with the latest recipes and news here on the blog so that you never miss a thing.
Meet Julia
Author of Julia's Simply Southern
Hey Y'all! I'm Julia, the cook and writer behind the recipes here at Julia's Simply Southern. I began my website so that I could share easy to follow recipes that anyone can use to put a home cooked meal on the dinner table. Thanks so much for stopping by!
Follow me on Facebook | Twitter | Instagram | Pinterest | YouTube