Southern stewed okra and tomatoes, also called smothered okra or okra gumbo, is an old fashioned Southern classic combo. Okra and tomatoes go together like mashed potatoes and gravy. The perfect match for a signature Southern dish.
Okra and tomatoes may be served as a side dish, as a topping for cooked rice, or become the main meal with the addition of sausage – smoked sausage that is.
One thing that I've found is people either love okra or hate okra. One of the main reasons I hear that folks don't like okra is that it's slimy. Yes, okra does make slime, called mucilage, but that doesn't mean that all okra recipes create a slimy mess. The mucilage of okra has an advantage when stewing, making soups or gumbo, because it acts as a natural thickening agent.
Southern okra and tomatoes have a great flavor and texture and I can assure you – not slimy. The mister says he could eat okra and tomatoes every day, with a dash of Tobasco® of course.
"What grows together, goes together"
Here's a tip to cut the slime on okra – choose fresh small pods. Yes, you want the little ones. The bigger the okra pods are, they get tough and woody…..and more slimy. You'll know when you get one that's one the woody side because slicing it will not be easy. I go ahead and discard those pods.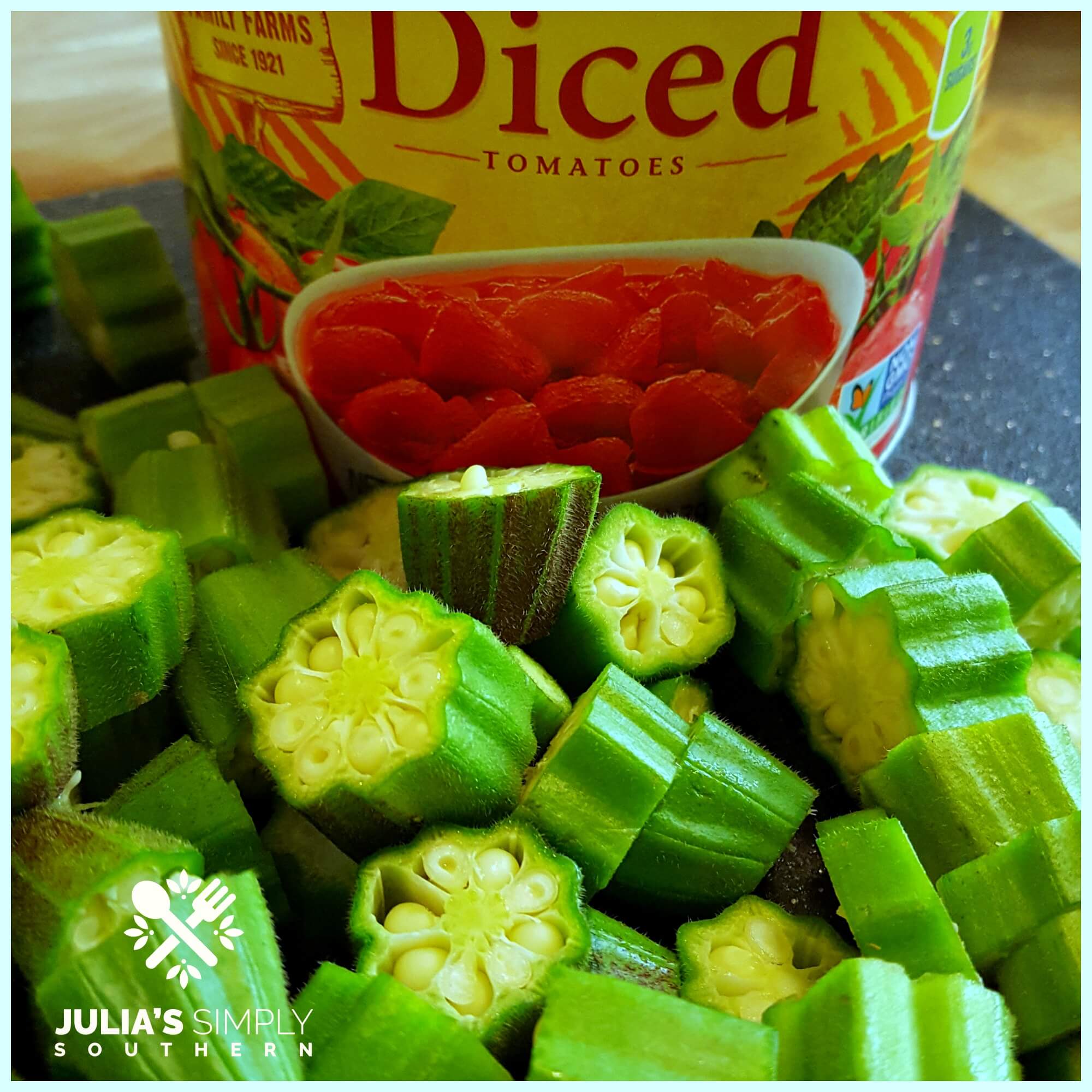 Southern Okra & Tomatoes
The key to this dish is to keep it simple. It is simple ingredients with just the right seasonings cooked to perfection. By the way….don't cook it to death. I know it's "stewed" but there's a limit to everything before turning it to mush.
Here's what you'll need: fresh okra, canned tomatoes and yes fresh are fine too, a Vidalia onion, bacon, some chicken or veggie stock and a few seasonings. Some folks like to add celery and bell pepper too. I didn't have any on hand and it's good without it too.
How to Make Classic Okra and Tomatoes with Bacon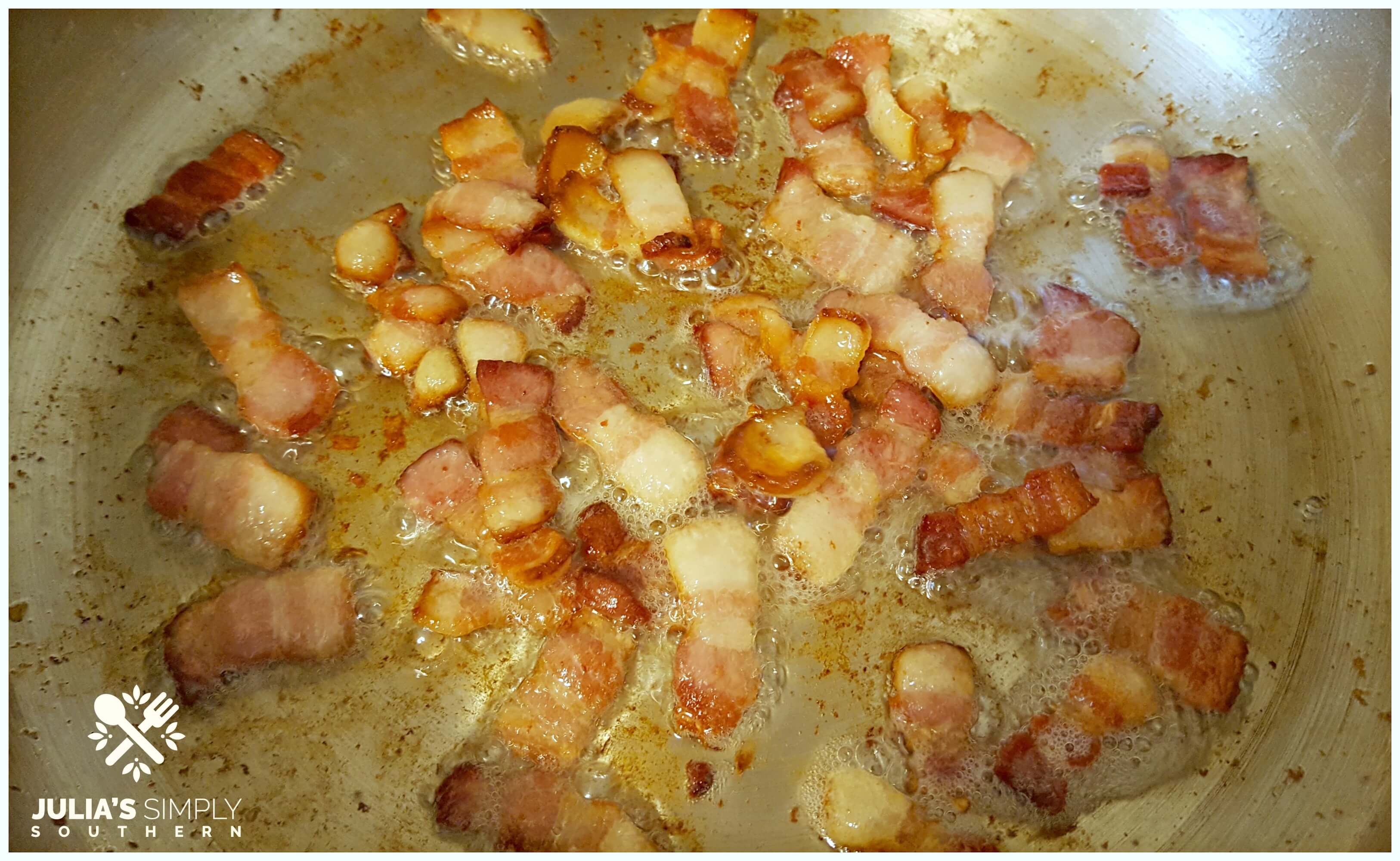 Step 1: Cut bacon into pieces and saute until cooked through over medium heat. Remove the bacon pieces and reserve for later.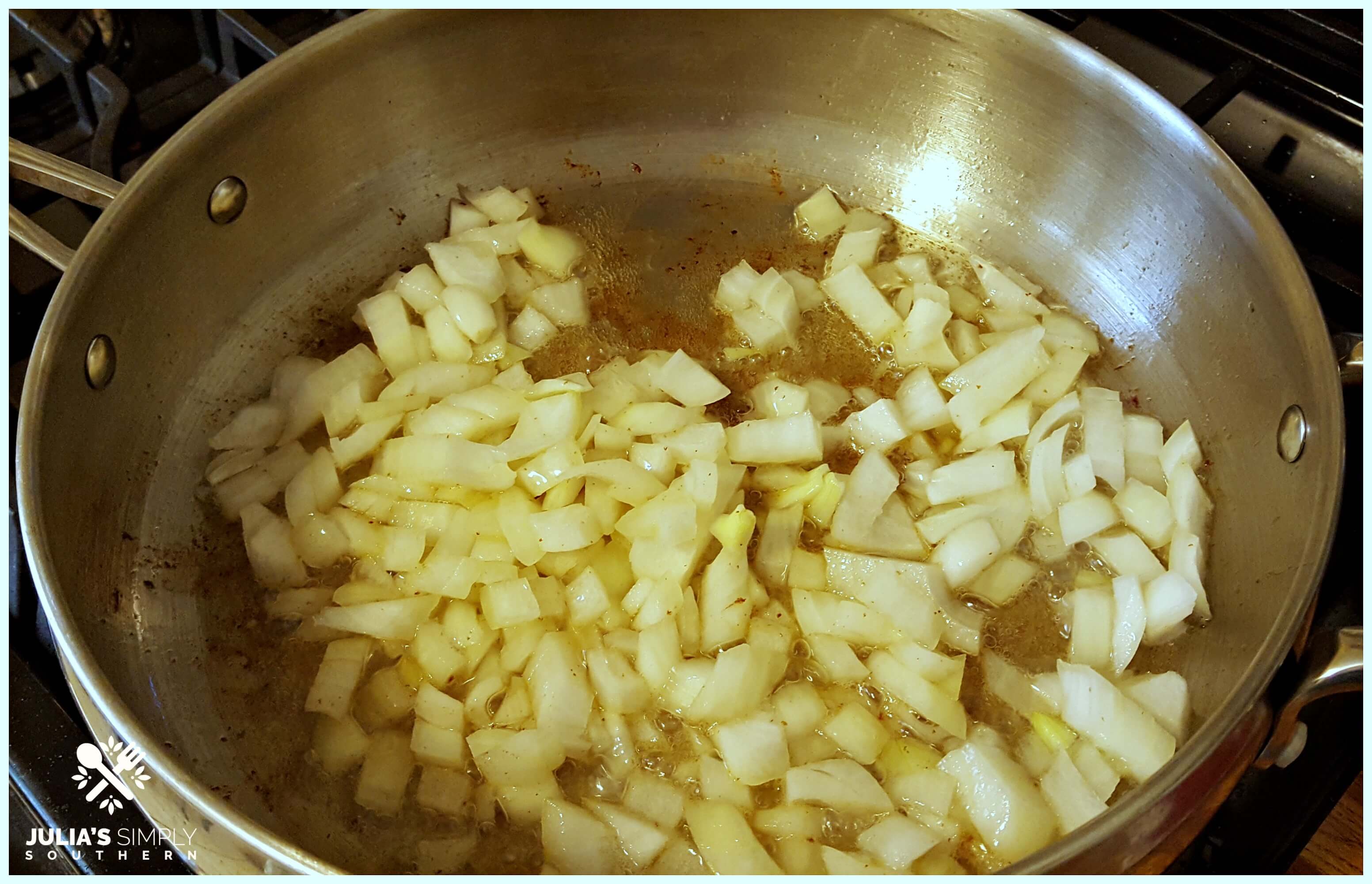 Step 2: Next, add the diced onion to the bacon fat rendered and sauté until tender. See those brown bits from cooking the bacon stuck on the bottom of the pan? Those are flavor bits! As the onion cooks and releases moisture, scrape those bits from the pan to incorporate into the dish.
Tomatoes and Okra Southern Style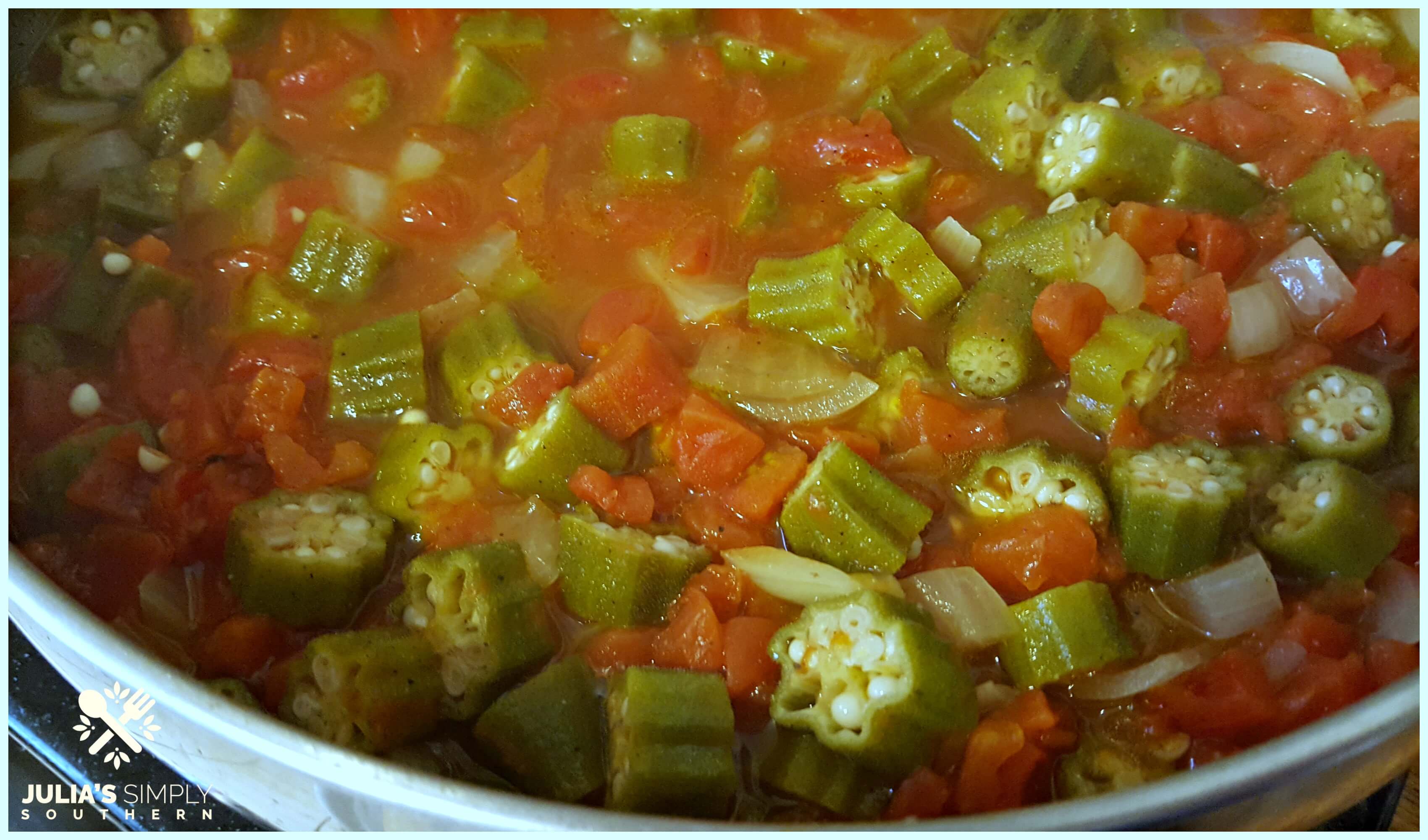 Step 3: Next, add the canned tomatoes (or fresh diced if you have them) and the sliced okra to the skillet. Stir to mix everything together. If you're adding other diced vegetables such as bell pepper and celery, add those in now too. Add the stock and seasonings. Bring to a simmer, cover, and cook for 20-30 minutes.
Cook's Note: I used a large stainless pan to prepare this dish. A coated dutch oven or similar would also work great. I recommend that you not use cast iron. The acidity of the tomatoes is not a good match for your cast iron cookware.
Classic Country Cooking Okra and Tomatoes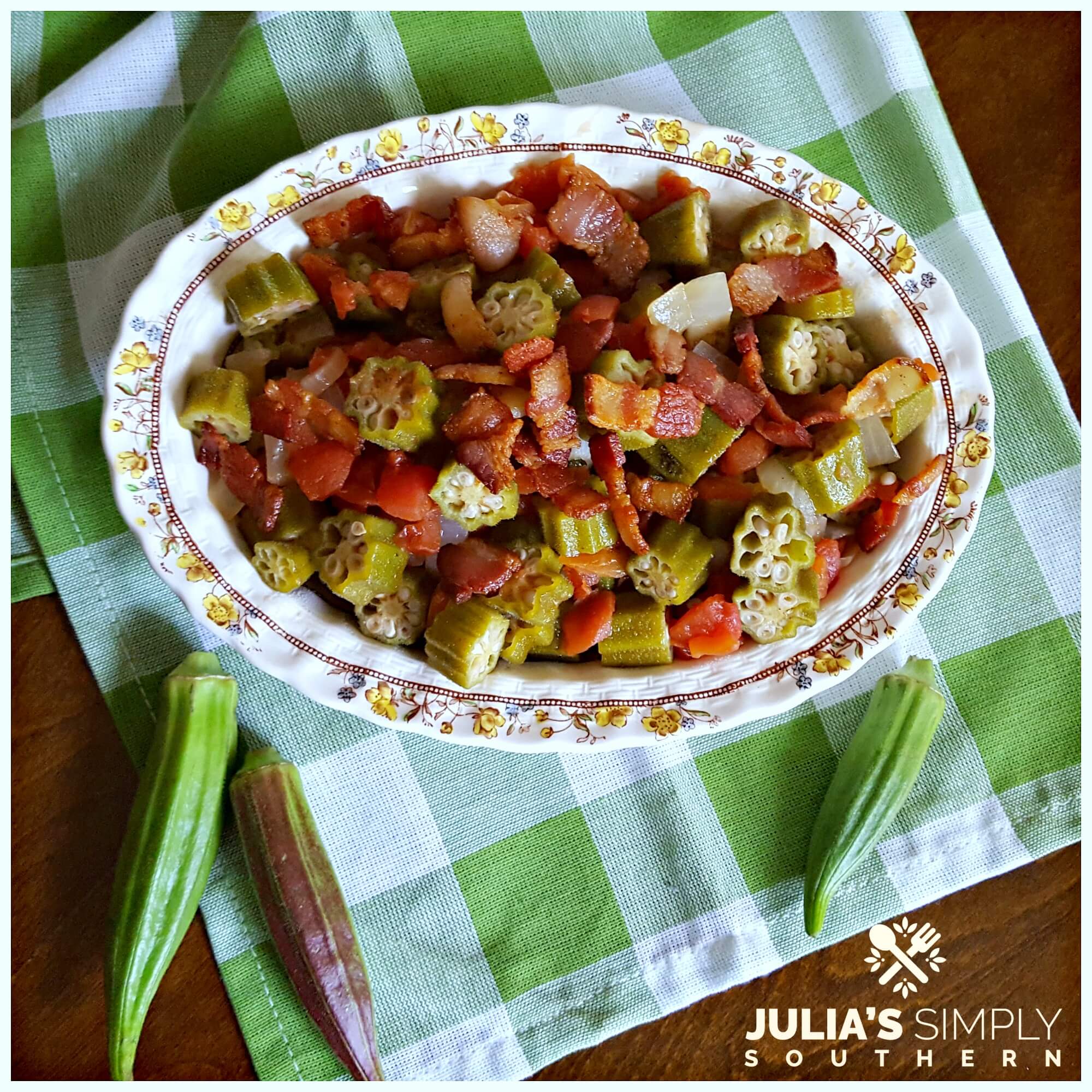 You may also be interested in: Southern Skillet Fried Okra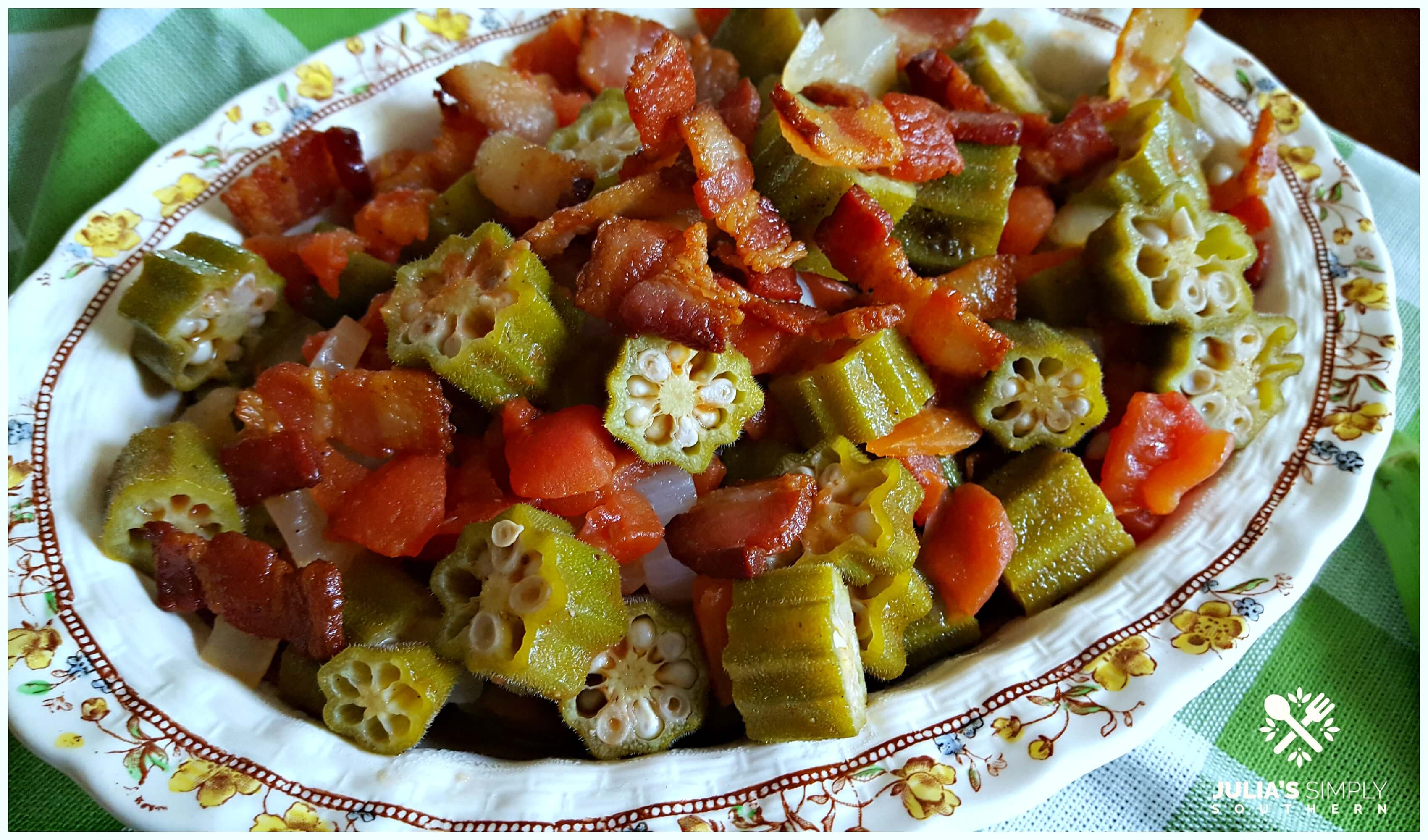 Let's make Southern Stewed Okra & Tomatoes!
Yield: 8 Servings
Southern Stewed Okra & Tomatoes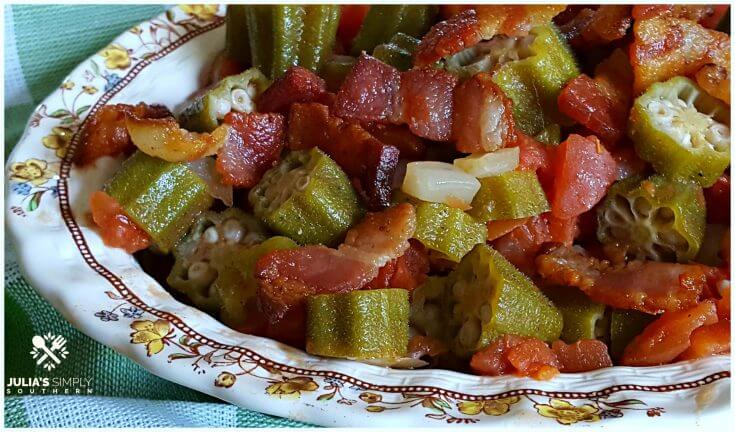 Classic Southern okra and tomatoes are a savory and delicious side dish.
Ingredients
4 Thick Slices of Bacon, cut into pieces
1 M/L Vidalia Onion, diced
1 28 oz Can of Diced Tomatoes
1.5-2 lbs Fresh Okra, sliced
2 c Vegetable or Chicken Stock
Pinch of Salt
1/4 tsp Ground Black Pepper
1/4 tsp Ground Garlic Powder
1/2 tsp Creole Seasoning
Instructions
Begin by sauteing the bacon pieces until browned over medium heat. Remove the cooked bacon and reserve for garnish later.
Next, add the diced onion to the bacon fat rendered and saute for 2 to 3 minutes until softened.
Next, add in the canned diced tomatoes with juice and the sliced okra. Stir to combine.
Next, add the stock and seasonings. Stir to combine.
Bring to a simmer. Cover and cook (stew) for 20 to 30 minutes. Do not overcook.
Serve hot topped with bacon pieces as a side dish or topped over cooked rice.
Nutrition Information:
Yield:
8
Amount Per Serving:
Calories:

103
Total Fat:

3g
Saturated Fat:

1g
Trans Fat:

0g
Unsaturated Fat:

2g
Cholesterol:

7mg
Sodium:

359mg
Carbohydrates:

15g
Fiber:

7g
Sugar:

8g
Protein:

7g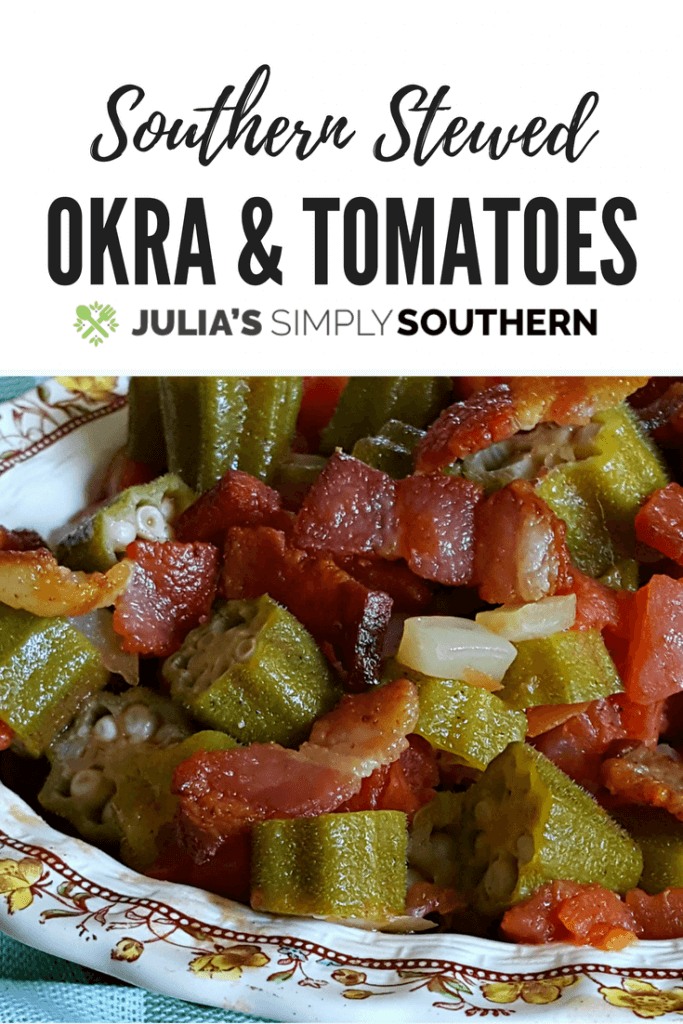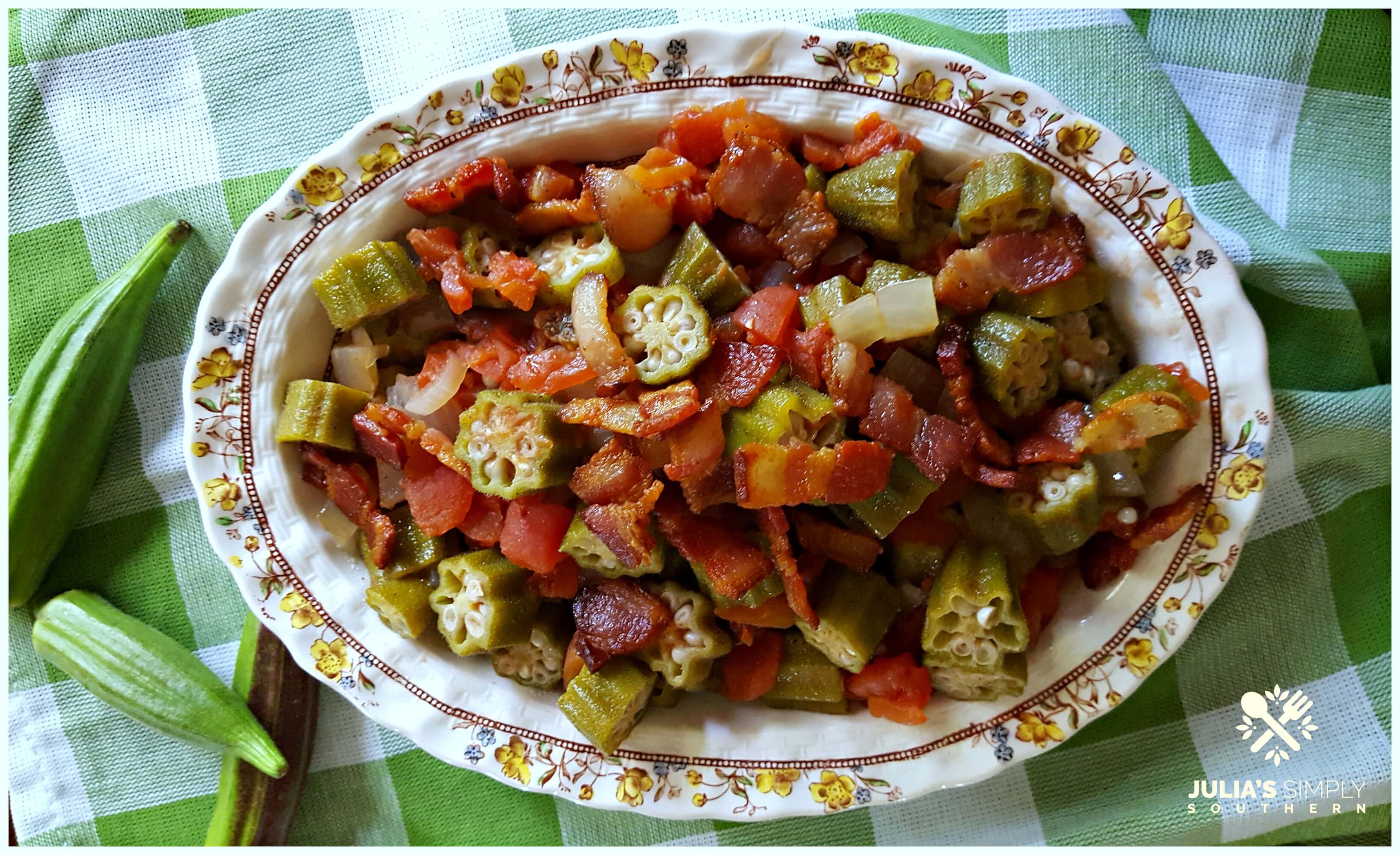 Recipe shared at the Weekend Potluck
Meet Julia
Author of Julia's Simply Southern
Hey Y'all! I'm Julia, the cook and writer behind the recipes here at Julia's Simply Southern. I began my website so that I could share easy to follow recipes that anyone can use to put a home cooked meal on the dinner table. Thanks so much for stopping by!
Follow me on Facebook | Twitter | Instagram | Pinterest | YouTube