In this post, you'll find how I make Southern Fried Cabbage, a beloved Southern side dish.

Good ole fried cabbage is a traditional side dish, a savory soul food, just good old country cooking. We love cabbage and enjoy it a variety of ways…like in a stir fry, boiled or made into coleslaw.
Cabbage was once considered a winter staple. Of course now we can get cabbage all year long. It is easy to understand how it became an important crop since it is so versatile and able to be eaten raw, cooked or even fermented.
Preparing Southern style cabbage in a skillet is a fairly easy task. Typically, fried cabbage is cooked in bacon drippings or butter and seasoned.
Cooking cabbage with bacon drippings is my personal favorite. It is so savory and I enjoy the bits of crispy bacon served atop this classic vegetable side dish.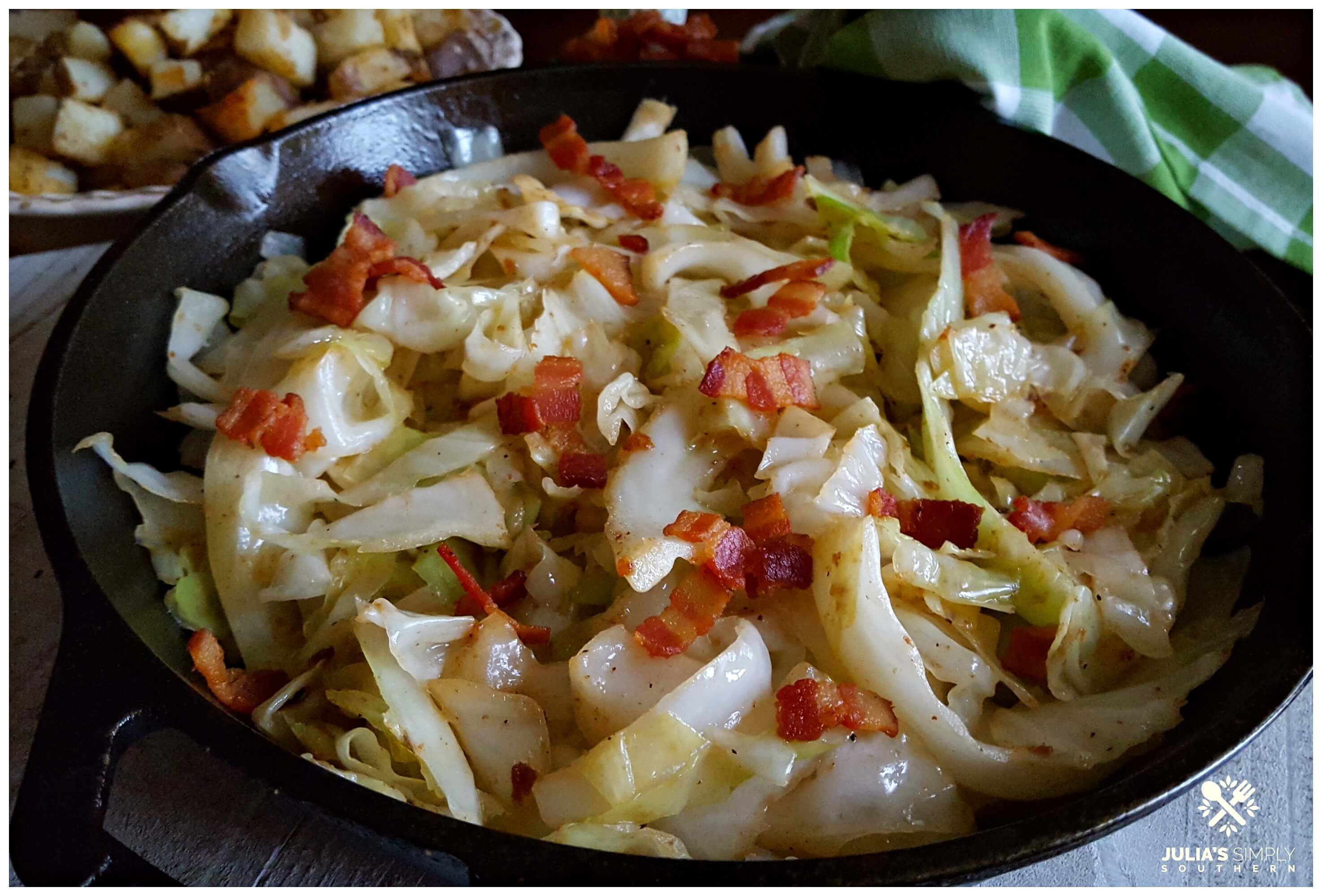 I keep referring to fried cabbage as a side dish but there are times when it can become the star of the show as a main course.
Historically, vegetables have been of great importance to Southerners diets. It is not unusual at all for there to be no meat course for supper and enjoy a vegetable plate where fried cabbage, fried potatoes, sliced tomatoes and a cucumber salad might be served.
Cabbage is also a favorite for a good luck new year meal for those who don't care for collard greens.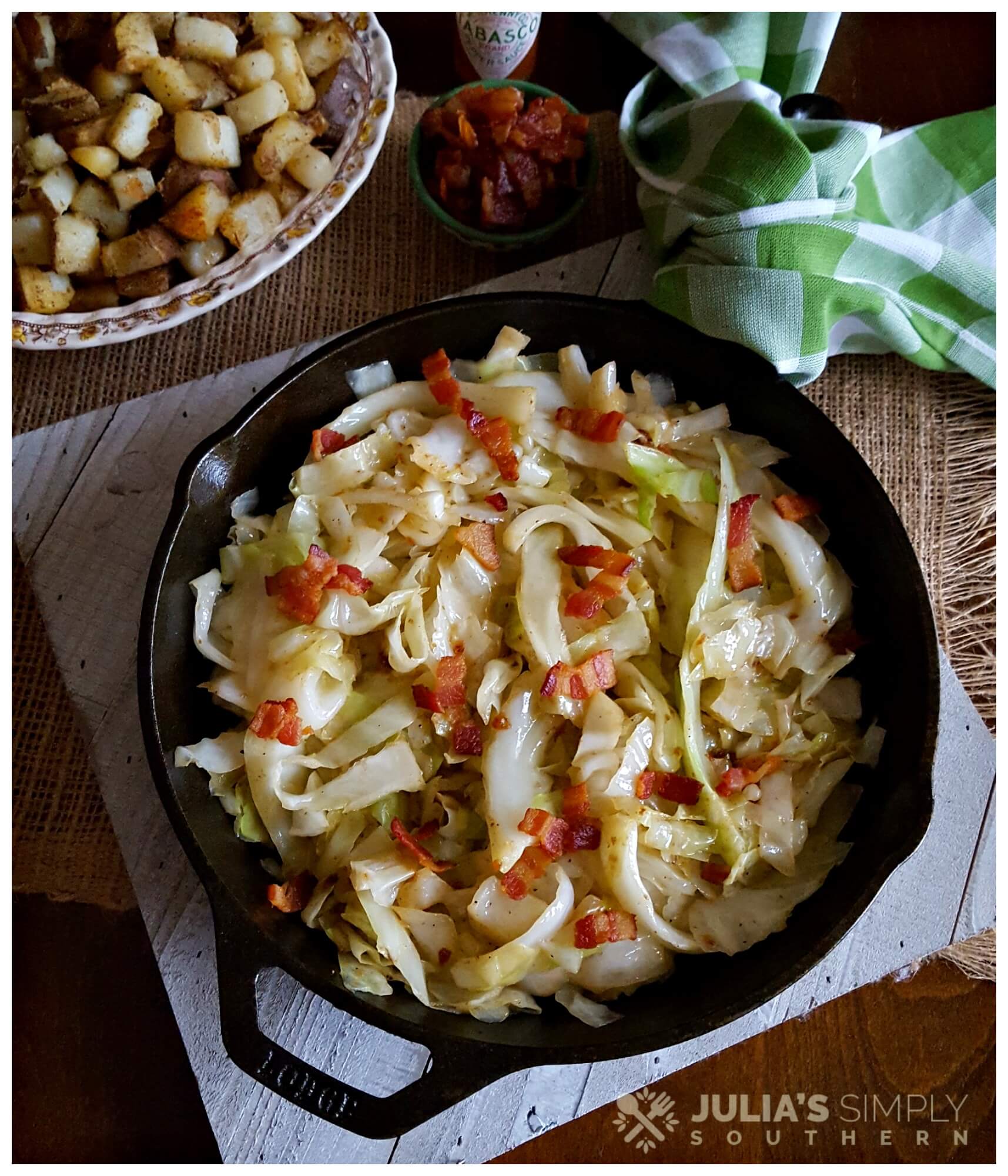 Fried Cabbage with Bacon
If you have bacon drippings stored in the fridge, which I always do, you can take a shortcut and skip frying the bacon for this recipe. Who wants to miss out on crispy bacon bits for garnish though? Not me.
With just four ingredients we can create this savory side dish. Here is how I do it…
Step 1: Chop up the bacon strips and cook over medium heat until crispy. A cast iron skillet is preferred for this task but any skillet large enough to hold the cabbage later will do.
Step 2: While the bacon cooks, cut up the cabbage. Remove an outer undesirable leaves on the cabbage and discard. I cut cabbage into strips, others chop into smaller pieces, the choice is yours.
Step 3: Remove the cooked bacon pieces and set aside to use later for garnish. Add the cabbage to the skillet and turn a few times to coat with the bacon drippings. Season with salt and pepper and cook until desired tenderness, turning occasionally.
Very simple but that is a 5 star fried cabbage recipe if I ever saw it.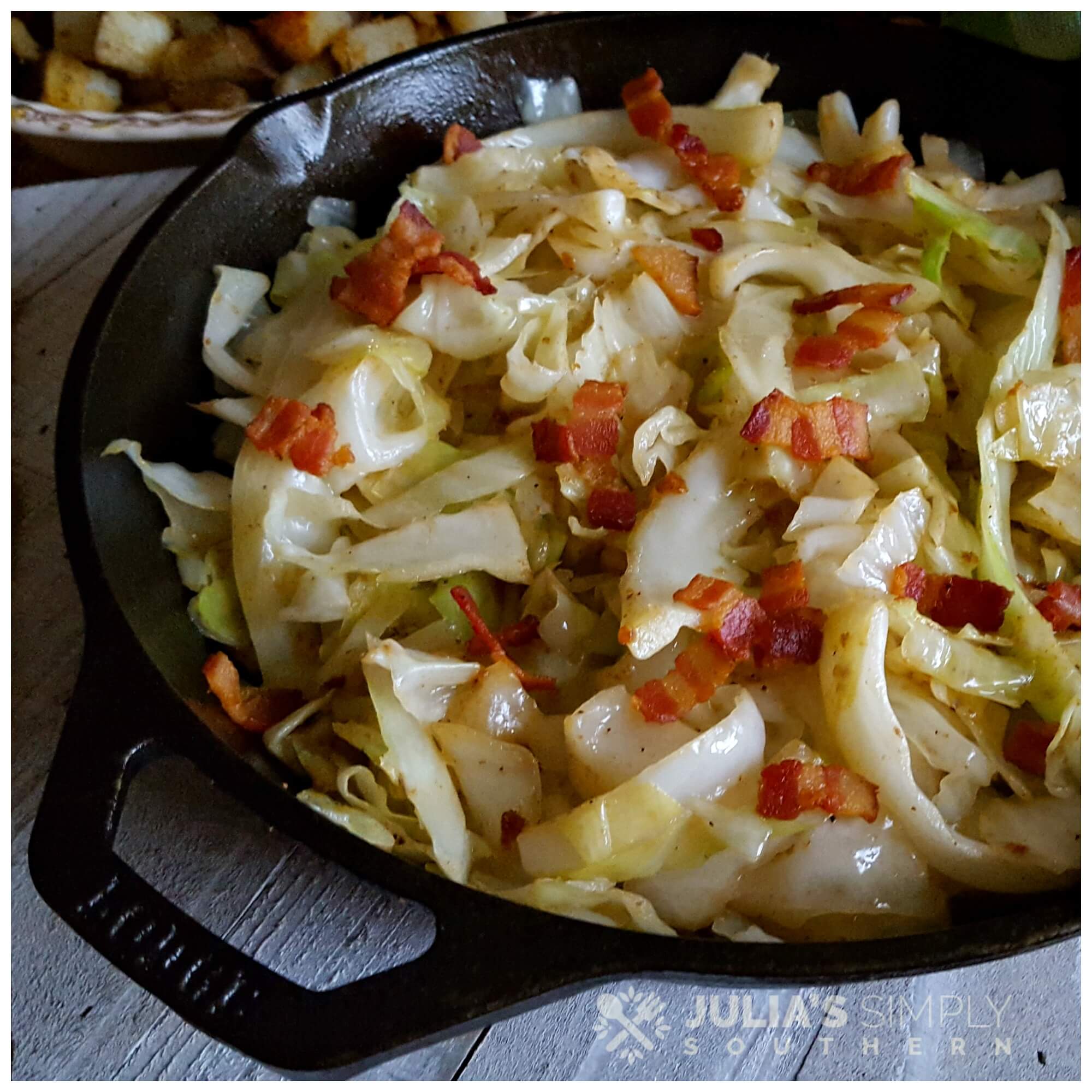 Iron Skillet Cabbage Recipe
Let's make this Southern Fried Cabbage!
Yield: 2 pounds Cabbage (give or take)
Southern Fried Cabbage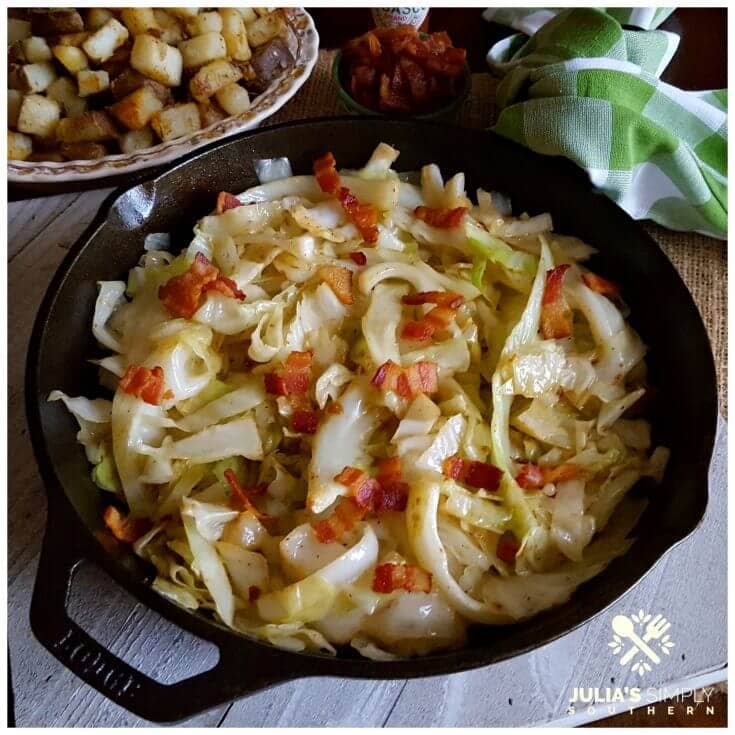 Savory Southern style fried cabbage with bacon is a delicious traditional side dish
Ingredients
5 Strips of Bacon, chopped
1 Head of Cabbage, medium to large in size
Salt and Cracked Black Pepper, to taste
Instructions
Heat an iron skillet over medium heat.
Add the chopped bacon pieces and cook until crispy. Remove the bacon once cooked and set aside to use as garnish later.
Remove and discard any undesirable outer leaves from the cabbage.
Cut the cabbage into strips or chop into smaller pieces if desired.
Add the cabbage to the skillet and turn to coat with the bacon drippings.
Season with salt and cracked black pepper.
Cook until tender, turning occasionally.
Use reserved bacon pieces as garnish or add back to the cooked cabbage, mix and serve.
Recommended Products
As an Amazon Associate and member of other affiliate programs, I earn from qualifying purchases.
Nutrition Information:
Yield:
6
Amount Per Serving:
Calories:

94
Total Fat:

4g
Saturated Fat:

1g
Trans Fat:

0g
Unsaturated Fat:

2g
Cholesterol:

9mg
Sodium:

275mg
Carbohydrates:

12g
Fiber:

4g
Sugar:

6g
Protein:

6g
Thank you so much for stopping by! I hope you'll take a moment to share this recipe with a friend and follow us on Facebook, Instagram and Pinterest.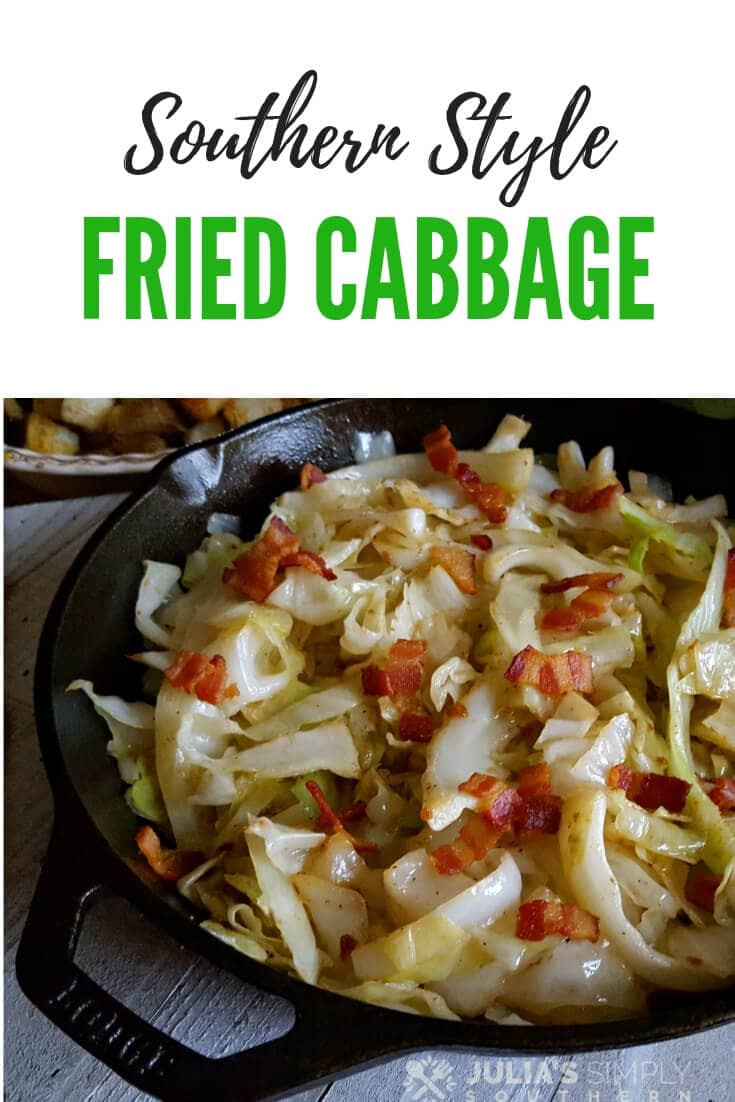 Sign Up for our FREE monthly newsletter or to receive email notifications when new recipes are posted. Scroll down if you're on your mobile device to sign up to receive an email alert each time a new recipe is posted or use the form right below to sign up for the monthly newsletter.
We hope to see you again soon!
See this recipe at: Weekend Potluck and Meal Plan Monday
Meet Julia
Author of Julia's Simply Southern
Hey Y'all! I'm Julia, the cook and writer behind the recipes here at Julia's Simply Southern. I began my website so that I could share easy to follow recipes that anyone can use to put a home cooked meal on the dinner table. Thanks so much for stopping by!
Follow me on Facebook | Twitter | Instagram | Pinterest | YouTube