I'm sharing how to cook Southern Style Green Baby Lima Beans using fresh frozen beans rather than dried.
I don't know about you but beans are a staple at our house. I tend to make a lot of them during the cooler months of the year.
Beans are nutritious and can be served as a filling meal themselves, with a side of cornbread of course, or served as a side dish.
I cook a pound or slightly more of beans at a time, which yields a lot of cooked beans. There are just two of us so we may have leftovers for a couple of days. Cooked beans can also be frozen in batches to reheat later.
Green baby lima beans are a particular favorite at our house. I also really enjoy the larger creamy lima beans, which we call butter beans.
How to Cook Fresh Lima Beans
Have you ever had fresh beans? We're all familiar with the dried beans and they are a pantry staple! You can keep a bag of dried beans on hand for quite some time.
I recommend trying fresh beans too. You can keep fresh frozen beans on hand. Fresh beans can be found at farmer's markets after harvest and easily found frozen at your local grocery store.
What's the difference, they are both lima beans? True, they are the same bean but there is a bit of difference between using fresh beans vs the dried variety.
Fresh beans are tender and the skins hold up well to cooking. There is no splitting. There is no need to soak fresh beans and they cook faster than the dried variety….by half. Some even say that fresh beans have a slightly sweeter and floral taste about them.
I'm not fancy enough to pick up on all of that but they are delicious, tender and make a wonderful meal.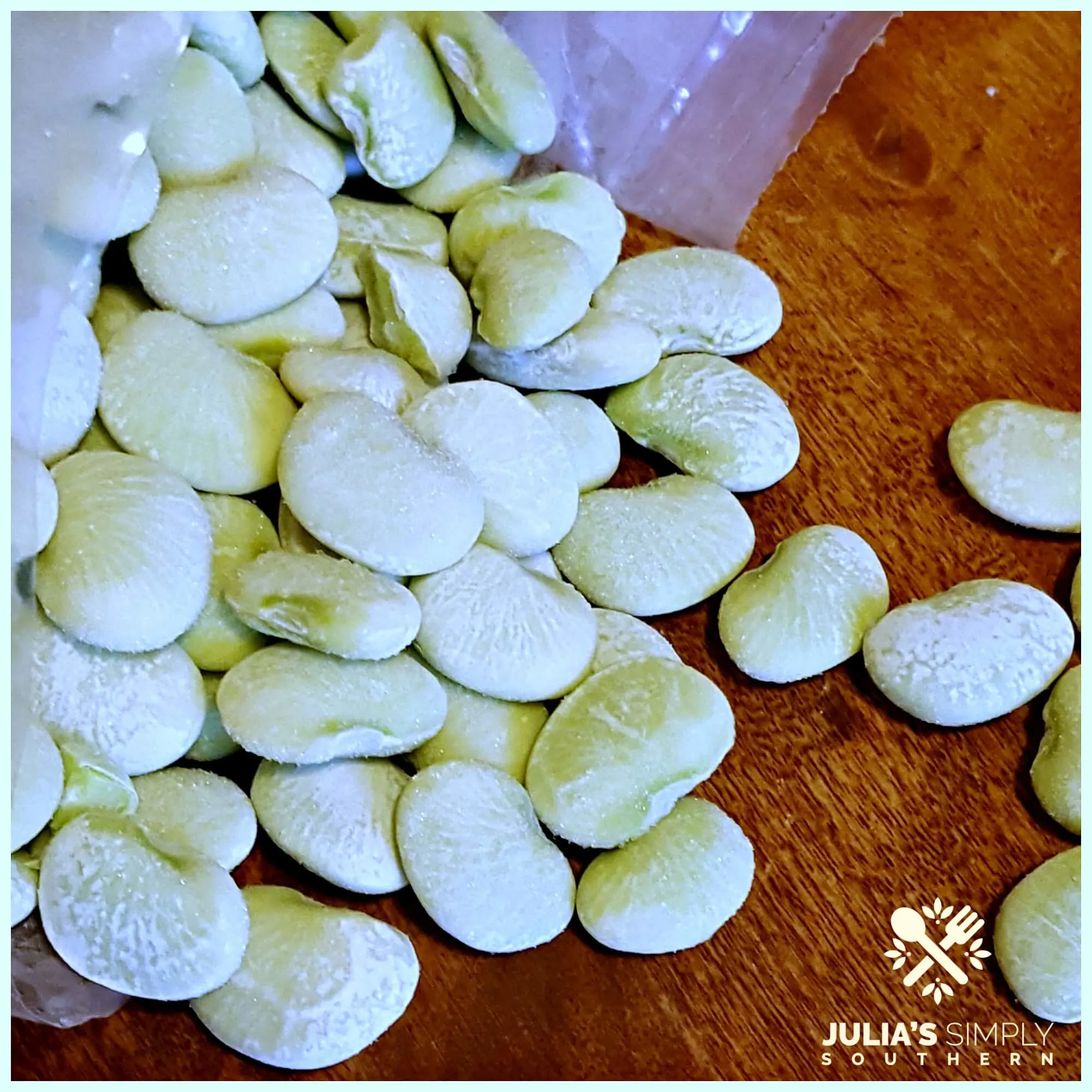 How to Cook Green Baby Lima Beans
What makes Southern style beans so different? Flavor! Seasoning and flavoring beans can make all the difference whether folks find beans delicious or are put off by them.
Here's what you'll need: (Full Printable Recipe can be found below in this post) fresh frozen lima beans, flavorful meat pieces (such as cut up bacon, country ham pieces, salted pork, or a smoked ham bone), vegetable stock, some water and seasonings.
Southern Style Green Baby Lima Beans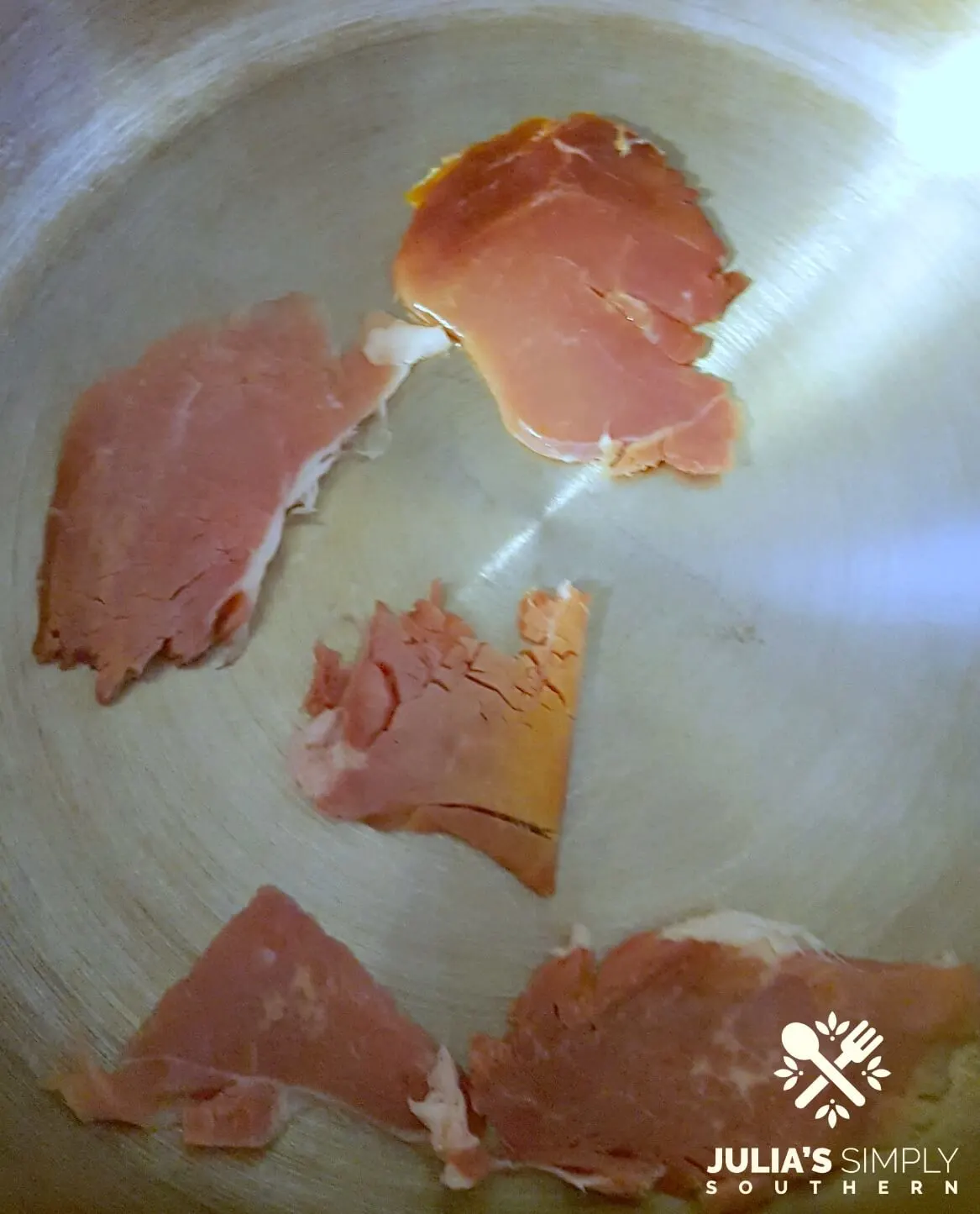 Step 1: Begin by searing the meat pieces in the bottom of the pot over medium heat. I use country ham pieces a lot when cooking beans. Chopped bacon works nicely too. Allow the meat to cook a few minutes to render some of the flavorful fat in the bottom of the pot.
Step 2: Next, add the beans, vegetable stock and water. I use my own homemade stock which are so rich and flavorful but store bought is just fine too. Next, season the beans with salt and cracked black pepper.
Some folks like to add aromatic vegetables to their beans while cooking, such as onion or celery. I don't but do like to have some fresh chopped onion on the side to eat with my beans.
Lima Beans and Ham Recipe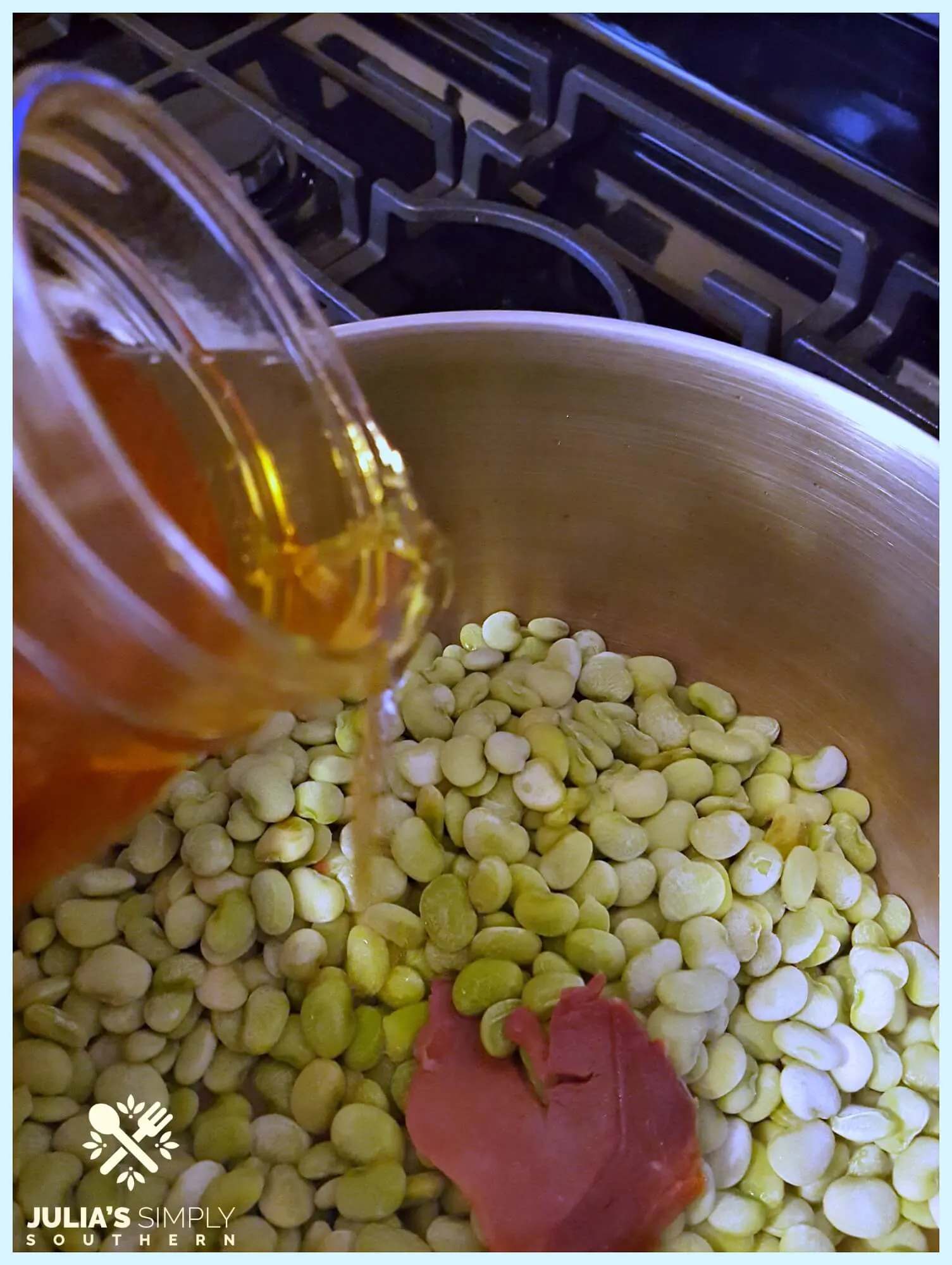 Step 3: Bring the beans to a boil, then reduce the heat to a simmer. Cover with a lid, leaving a slight tilt to vent, and simmer for one hour or until tender as desired. The fresh beans are done in an hour but I do cook mine for a half hour more to thicken up the juices.
Before y'all ask…no I didn't throw the juices away. I've been yelled at before about that. I set it aside to get a good picture for y'all so you can see the beans.
Southern Butter Bean Recipe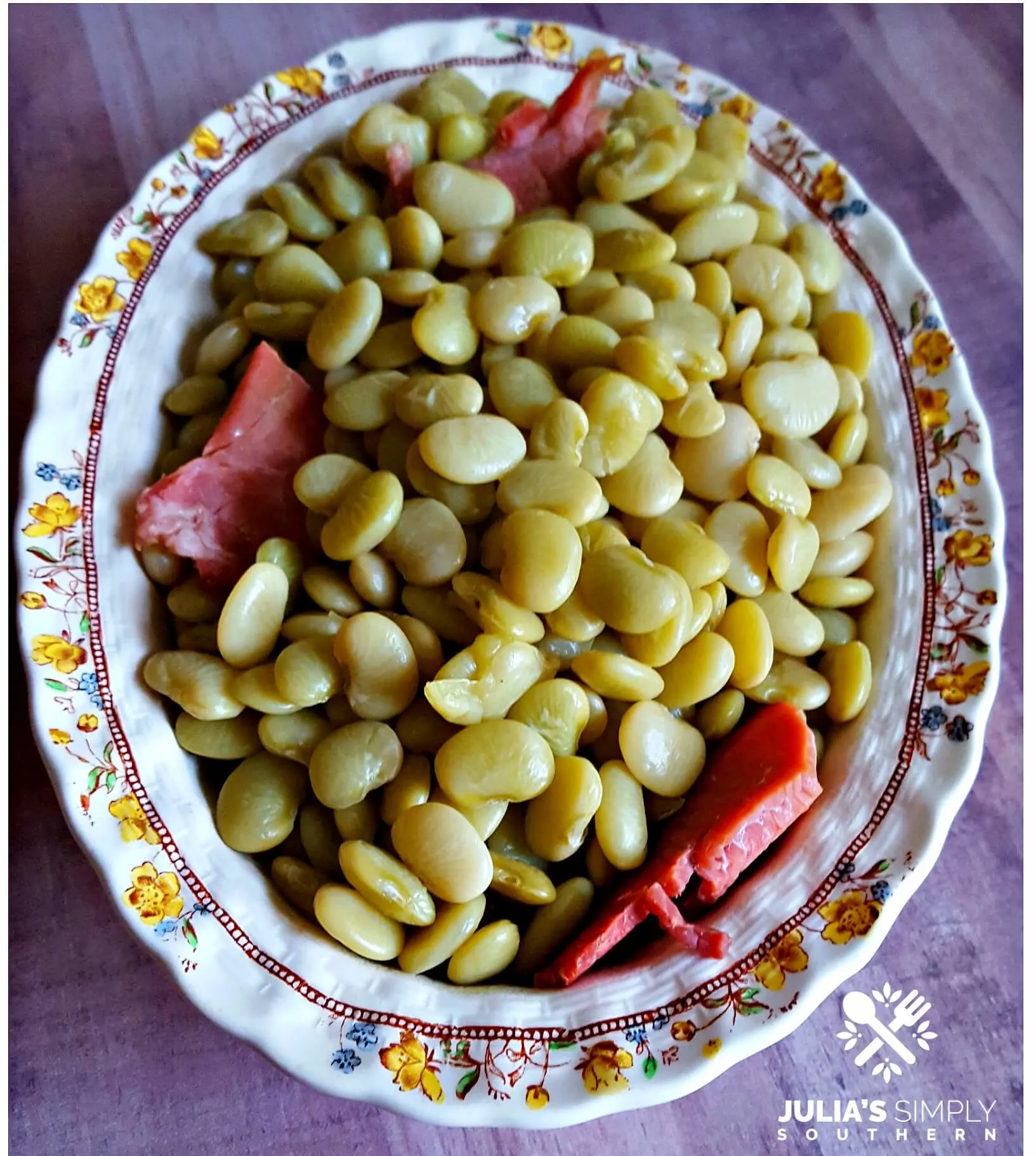 Let's make these Southern Style Green Baby Lima Beans!
Yield: 1.5 lb Lima Beans
Southern Style Green Baby Lima Beans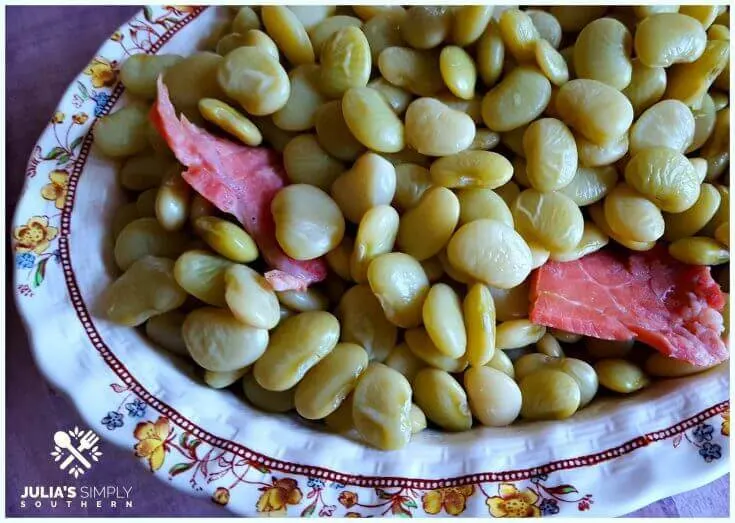 A classic Southern favorite of green baby lima beans as a meal or side dish.
Total Time
1 hour
5 minutes
Ingredients
1.5 lb Fresh Frozen Baby Lima Beans
Country Ham Cooking Pieces or 2 strips of bacon chopped
2 c Vegetable Stock
6 c Water
1 tsp Salt, or to taste
Cracked Black Pepper, to taste
Instructions
Begin by heating a soup pot over medium heat.
Add the meat pieces to the pot and cook a few minutes to release some of the fats to the bottom of the pot.
Next, add the beans, stock and water then season.
Bring to a boil then reduce the heat to a simmer.
Cover the pot with a lid leaving a slight tilt to vent the steam.
Cook 1 to 1.5 hours until desired tenderness and juices thicken.
Recommended Products
As an Amazon Associate and member of other affiliate programs, I earn from qualifying purchases.
Nutrition Information:
Yield:
15
Serving Size:
.5 cup
Amount Per Serving:
Calories:

94
Total Fat:

0.3g
Saturated Fat:

0.1g
Trans Fat:

0g
Cholesterol:

0mg
Sodium:

239mg
Carbohydrates:

17.5g
Fiber:

5.4g
Sugar:

1.2g
Protein:

6g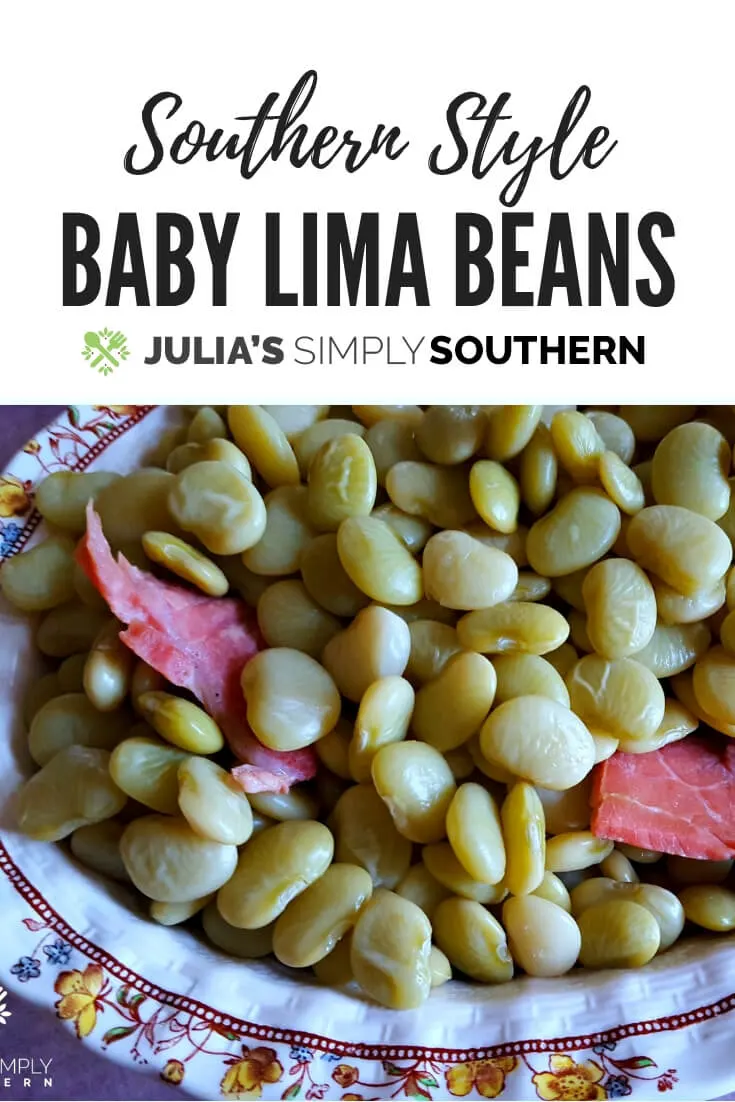 Don't forget to share and pin this recipe, we appreciate the support and help getting the word out. You can sign up for our free newsletter or to received notifications when we post new recipes.
Thanks for stopping by and I hope to see you again real soon!
See this recipe at the Weekend Potluck and Meal Plan Monday
Check out the Latest Recipes
Meet Julia
Author of Julia's Simply Southern
Hey Y'all! I'm Julia, the cook and writer behind the recipes here at Julia's Simply Southern. I began my website so that I could share easy to follow recipes that anyone can use to put a home cooked meal on the dinner table. Thanks so much for stopping by!
Follow me on Facebook | Twitter | Instagram | Pinterest | YouTube