In this post I will be sharing a classic Crunchy Broccoli Salad Recipe.
Friends, I am sure that just like me you have had broccoli salad at some point in your life (unless you're anti-veggies). We all know that there can be ten broccoli salads lined up on the table at a covered dish dinner and every one of them are gonna be a little bit different than the next.
Well friends, I am gonna share my tried and true classic broccoli salad with its sweet creamy dressing combined with crunchy broccoli, pecans, grapes and bacon. A whole lotta bacon. Well, not too much bacon. Is there even such a thing?
This delicious broccoli salad is the perfect combination of sweet and savory and everything just works perfectly together to give you an amazing side dish to enjoy at home or for sharing at your next potluck gathering.
Crunchy Broccoli Salad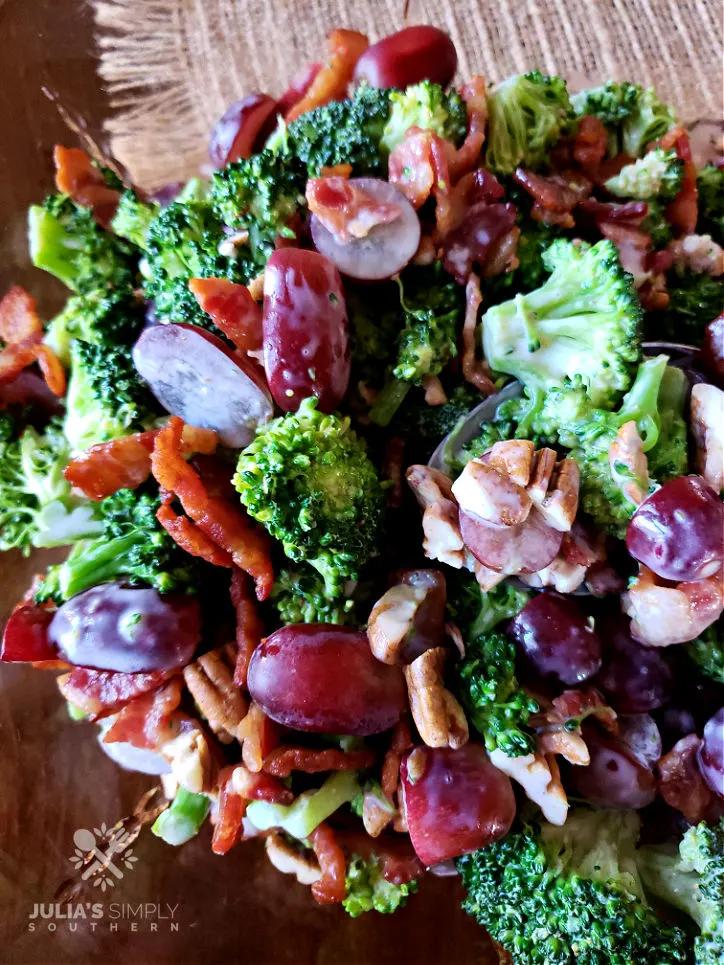 Y'all, just look at all of that deliciousness! Oh my word, it truly is one amazing broccoli salad and I just know that you're gonna love it.
Sweet and Crunchy Broccoli Salad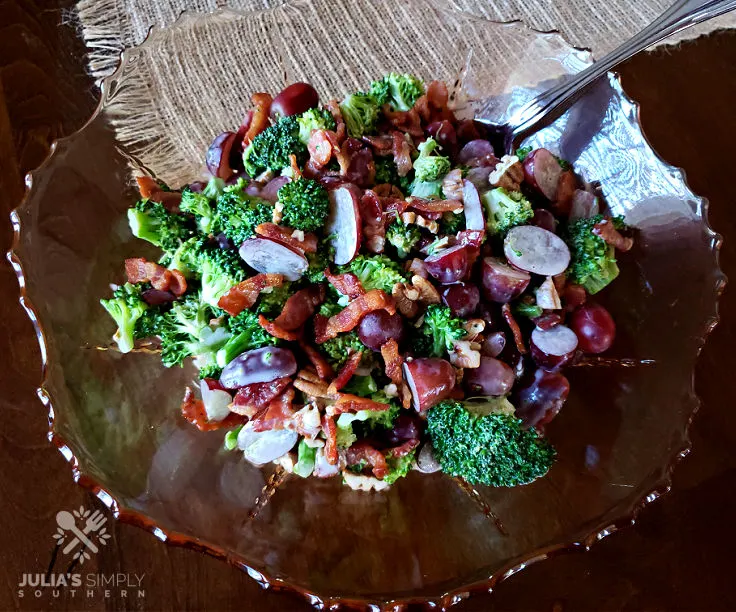 What do I need to make Crunchy Broccoli Salad?
Broccoli
Seedless Red Grapes
A Quality Mayonnaise
Sugar
Apple Cider Vinegar
Bacon
Pecans
You will also need a large bowl to mix the salad and a small bowl to combine the dressing.
How do you make Broccoli Salad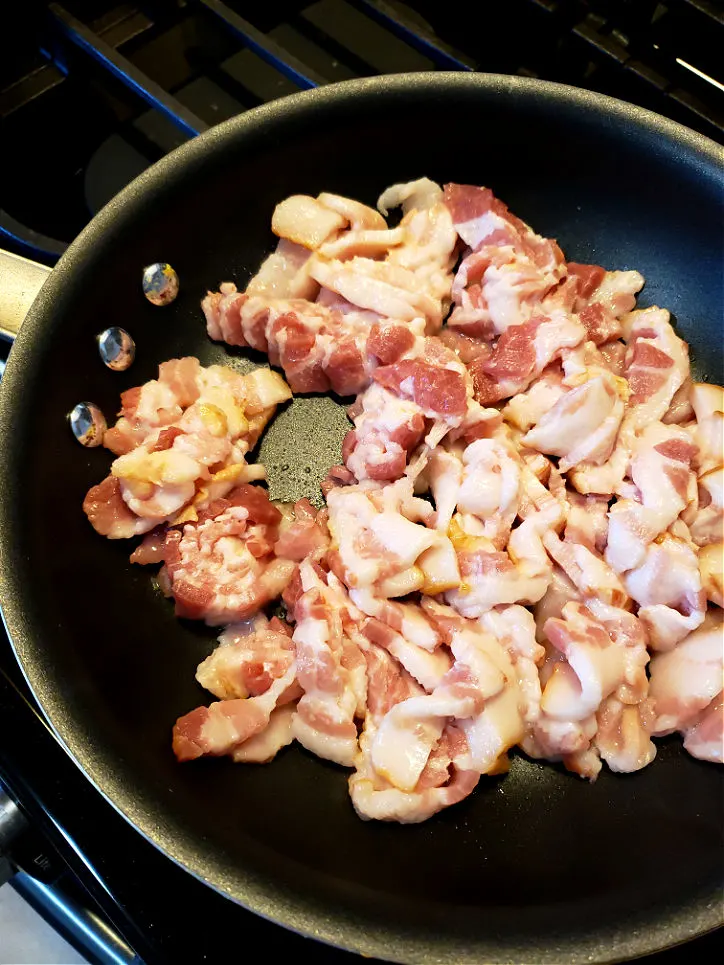 To get started with the broccoli salad recipe, chop up the bacon and add it to a hot skillet to cook until crispy. You'll have to give it a turn occasionally.
I use a whole pound of bacon in my broccoli salad and I'm not the least bit sorry about it.
You'll want your regular run of the mill bacon for this side dish recipe. I wouldn't recommend anything like maple bacon for broccoli salad.
Cook the bacon over medium heat until crispy then use a slotted spoon to remove the bacon pieces and transfer them to a plate lined with paper towels to drain off the excess grease.
Broccoli Salad with Grapes, Pecans and Bacon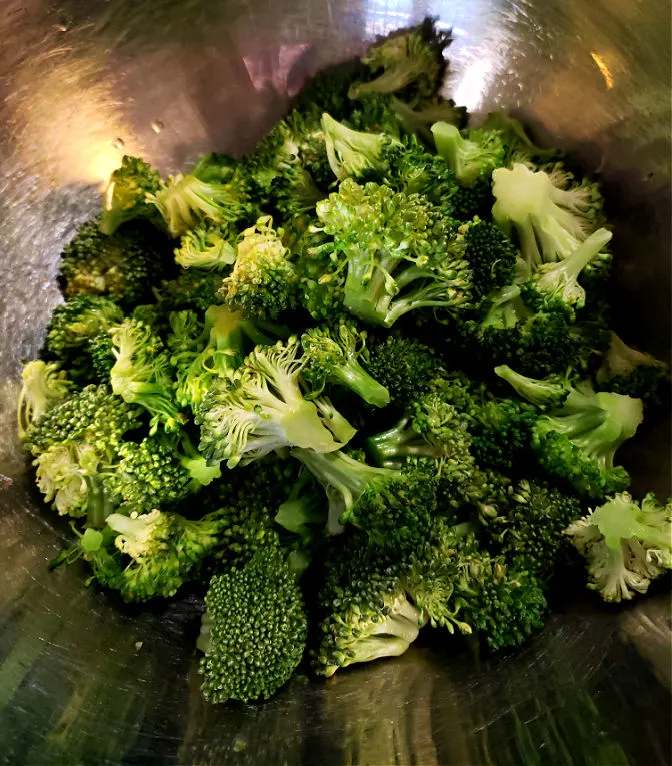 How do you cut broccoli for broccoli salad? Floret pieces work best for this salad and small tender stems. Cut the florets into small pieces that are manageable for eating easily.
Do you steam broccoli for broccoli salad? While the bacon is cooking, I like to steam my broccoli for 2 minutes to give it a bright green beautiful color. This is completely optional since this is a crunchy salad.
Steaming or blanching the broccoli for a minute or two then transferring the broccoli into an ice bath to stop the cooking will keep it crunchy and deliver that nice green color.
We eat with our eyes first after all and I think that raw broccoli is a bit dull and gray so I like to liven things up.
I know that it is one more thing to do for this recipe but it really does so much in my opinion.
Dressing for Crunchy Broccoli Salad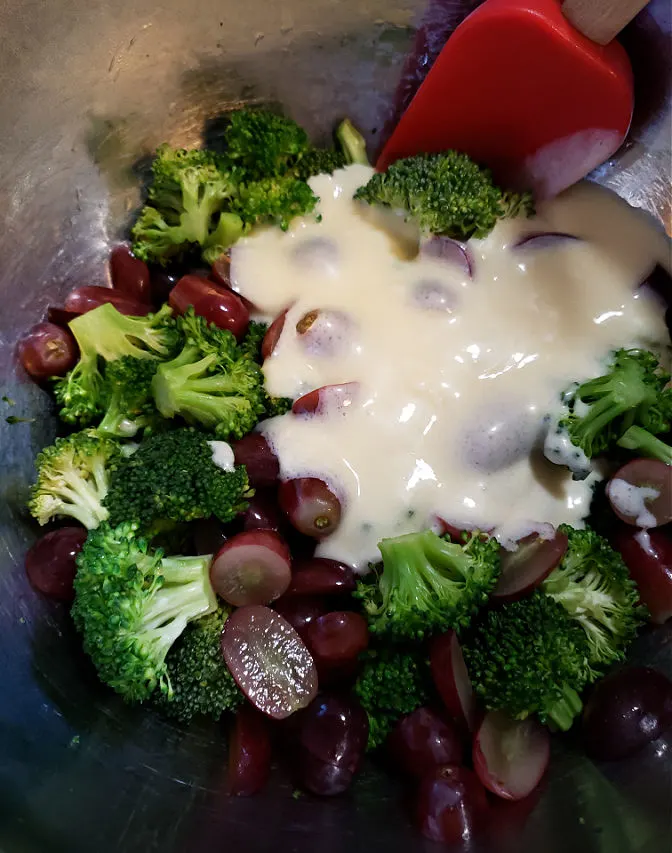 What is the dressing for broccoli salad? The dressing mixture for this salad is a mix of creamy mayonnaise, sugar and apple cider vinegar.
The dressing is supposed to be sweet but when combined with everything else it is the perfect contrast of flavors.
To prepare the grapes, just slice them in half. I do some in one direction and some the other for a bit of visual interest. The pecans can just be roughly chopped up.
If you would like to add a bit of citrus flavor to the dressing then a little lemon juice works nicely. To lighten up the dressing you could use an olive oil mayonnaise or combine half regular mayonnaise with half Greek yogurt.
Easy Broccoli Salad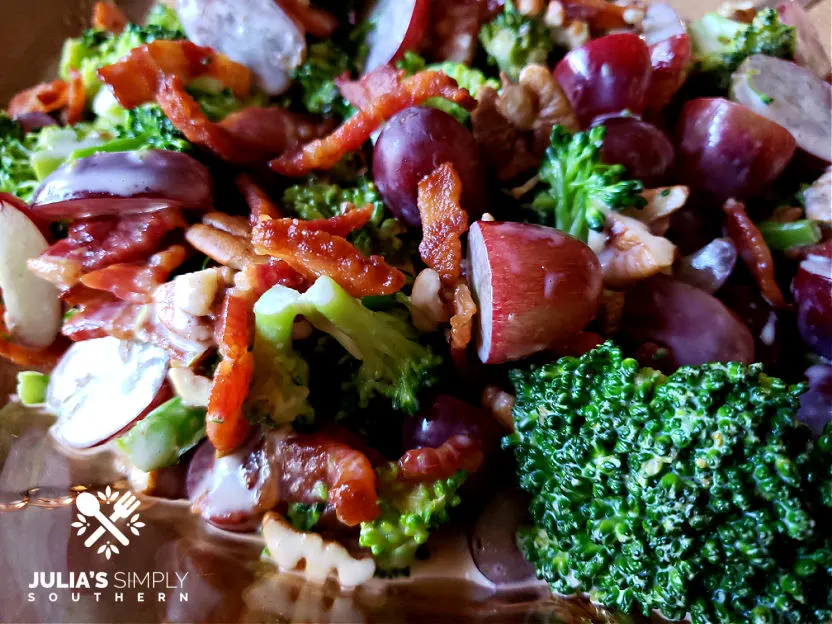 How do you make broccoli salad? To finish the broccoli salad recipe just combine the steamed broccoli, grapes and dressing together in a mixing bowl.
At this stage the crunchy broccoli salad can be covered in a mixing bowl or airtight container and refrigerated if you're making it ahead. When you're ready to serve stir in the crispy bacon and pecans.
If the bacon and pecans are added way ahead of time they tend to loose that crunchy affect and soften a bit.
Be sure to give the broccoli salad a stir occasionally to redistribute any of the dressing that has settled on the bottom of your serving bowl.
Now you're ready to enjoy your wonderful crunchy broccoli salad! I am often asked for the recipe so I'm happy to be sharing here with y'all.
There is a printable recipe card below with all of the details to make this simple veggie salad.
Crunchy Broccoli Salad Recipe
Yield: 1 Side Dish
Crunchy Broccoli Salad Recipe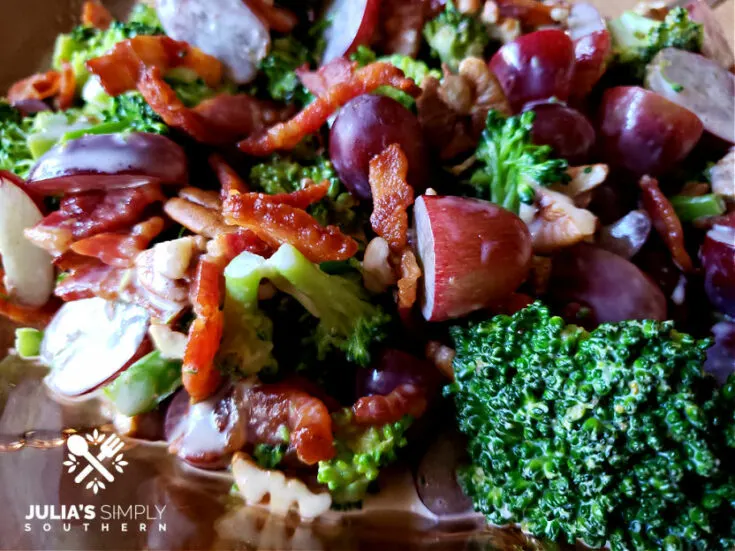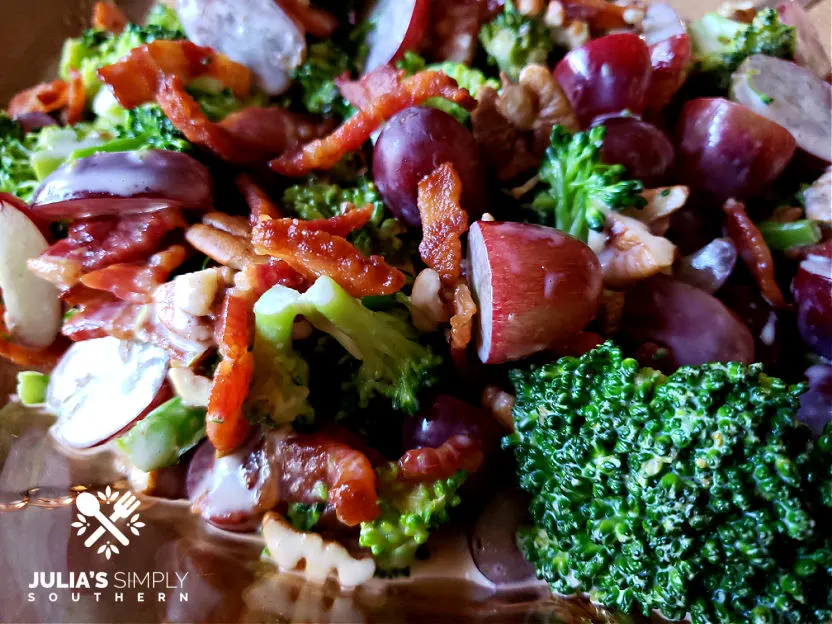 A delicious tried and true Crunchy Broccoli Salad recipe with a sweet creamy dressing combined with broccoli, crispy bacon, pecans and grapes for a delicious blend of flavors that everyone loves. This broccoli salad is a great side to enjoy at home or sharing at your potluck gatherings.
Ingredients
Crunchy Broccoli Salad
4 cups Broccoli Florets (heaping cups)
2 cups of Seedless Red Grapes, sliced in half
1 pound of Bacon, chopped and cooked crispy
½ cup Pecans, chopped
Dressing
1 cup of Mayonnaise (I used Dukes)
⅓ cup of Granulated Sugar
2 tablespoons of Apple Cider Vinegar
Instructions
The Salad
Cook the chopped bacon in a hot skillet until crispy then drain well and set aside.
While the bacon cooks, steam the broccoli. To steam broccoli, bring a covered pot with a little water to a boil then top with the steamer portion then add the broccoli and cover. Set a timer for 2 minutes. Do not over cook as you still want the broccoli to be crunchy. Transfer the steamed broccoli to an ice bath to stop the cooking and transfer to a colander to drain well. (See Notes)
The Dressing
In a small mixing bowl; combine the mayonnaise, sugar and apple cider vinegar together well with a whisk and set aside.
Putting it all together
In a mixing bowl; combine the broccoli, grapes and dressing. Stir in the bacon and pecans just before serving.
Stir the broccoli salad occasionally to redistribute the dressing.





Notes
Steaming is optional but gives the broccoli a nice bright green color. If preferred, the broccoli can be dropped into boiling water and blanched for 1 minute then transferred to the ice water bath to stop the cooking.
The broccoli may be made ahead, covered and refrigerated but you'll want to wait to add the bacon and pecans when ready to serve so they don't soften in the salad.
Recommended Products
As an Amazon Associate and member of other affiliate programs, I earn from qualifying purchases.
Nutrition Information:
Yield:
12
Serving Size:
1
Amount Per Serving:
Calories:

389
Total Fat:

30g
Saturated Fat:

7g
Trans Fat:

0g
Unsaturated Fat:

22g
Cholesterol:

45mg
Sodium:

775mg
Carbohydrates:

15g
Fiber:

2g
Sugar:

10g
Protein:

15g
Can I add other ingredients to my sweet broccoli salad? Sure, here are a few suggestions to try.
Red Onion
Sunflower Seeds
Black Pepper
Red Bell Peppers
This broccoli salad is sure to become your favorite go to recipe because it is the BEST and so easy to make.
You Might Also Enjoy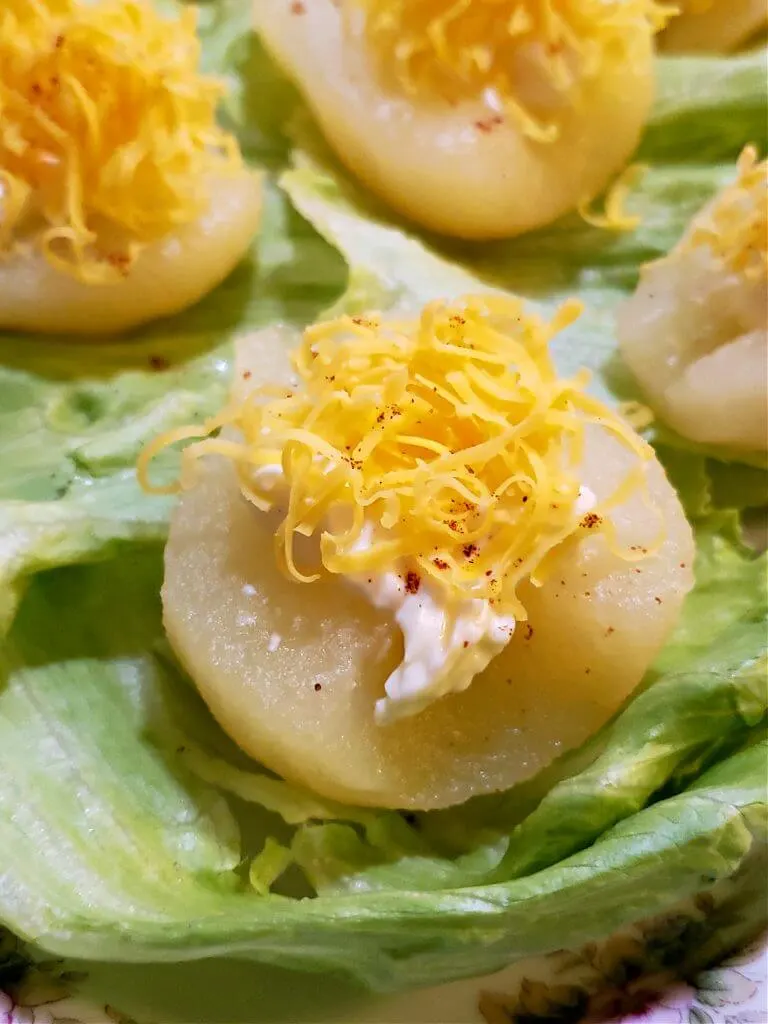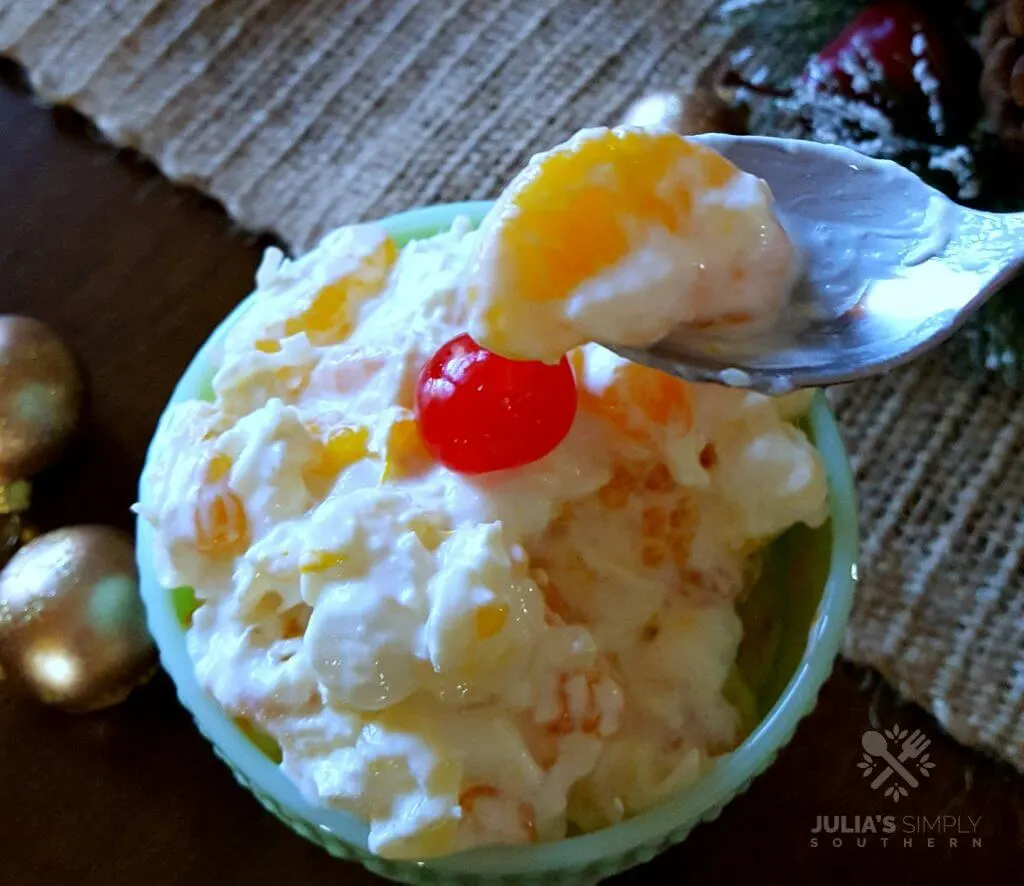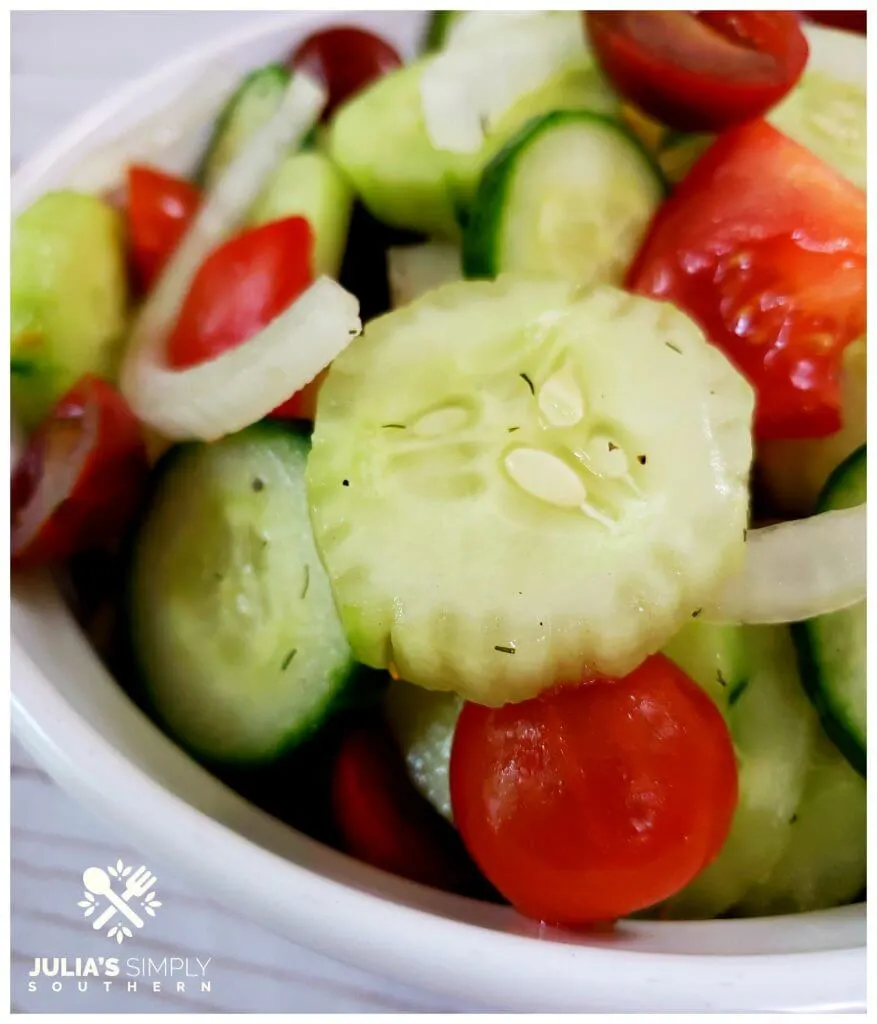 Thank you so much for stopping by! I am so happy that you did. This is the best broccoli salad and I know you will love it just as much as we do. It is just as delicious the next day. Broccoli crunch salad is a favorite salad at gatherings.
Be sure to subscribe to my email list while you are here. As a subscriber, you will receive a weekly newsletter from me via email with the latest recipes and news here on the blog so that you never miss a thing.
Meet Julia
Author of Julia's Simply Southern
Hey Y'all! I'm Julia, the cook and writer behind the recipes here at Julia's Simply Southern. I began my website so that I could share easy to follow recipes that anyone can use to put a home cooked meal on the dinner table. Thanks so much for stopping by!
Follow me on Facebook | Twitter | Instagram | Pinterest | YouTube