In this post I am sharing one of my favorite side dish recipes, Loaded Mashed Potato Casserole.
This easy casserole recipe is a great way to use up left over mashed potatoes. In fact, it is my go to recipe to use leftover mashed potatoes when I'm not making classic potato cakes.
There is just one tiny downfall, if you could consider it such…….when using leftover mashed potatoes, you only get a small casserole. Everyone will love this dish and want second helpings. You might consider just making the casserole to begin with.
I'm not kidding at how popular this potato dish will be. The pickiest eaters I know love this stuff!
This is a splurge dish however so be warned that this recipe doesn't fit in with any diet plan you might be on. So enjoy occasionally for a real treat! Okay calorie police, I've told everyone so don't come yelling at me about calories. 😉
Another thing I love about this over the top delicious dish is that if you happen to have some leftover, you can re-heat it easily in the oven and it's just as tasty as the night before.
Loaded Mashed Potatoes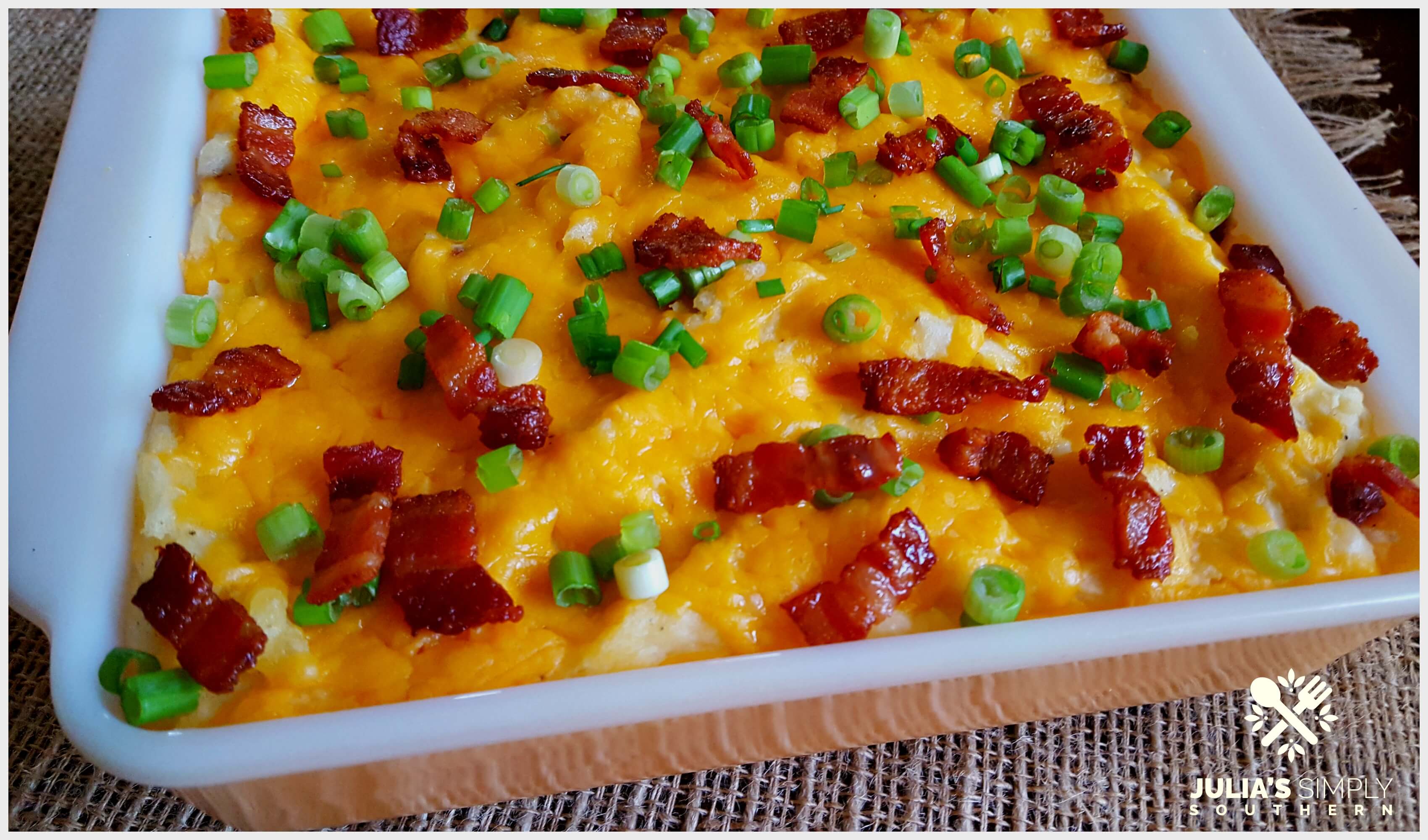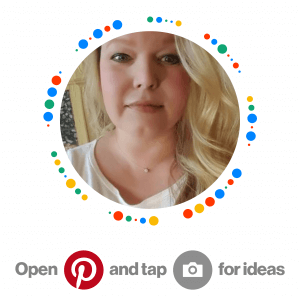 Since we have the holidays coming up and we want to share special dishes with those we love, I'm sharing the recipe to make a full casserole.
What will you need? Potatoes (I prefer Russet), Water, Bacon, Butter, Cream Cheese, Sour Cream, Salt and Pepper, Cheese and Green Onions.
You may have seen recipes for Twice Baked Potato Casserole before, this is a much faster way to make it but either method will work just fine to deliver this tasty dish.
Mashed Potato Casserole with Sour Cream
What makes this potato casserole loaded? ALL of the good stuff! Just think of what you've come to expect with a loaded baked potato. Rich and tasty with gooey cheese and bacon! MMMMM, bacon! Wanna bite?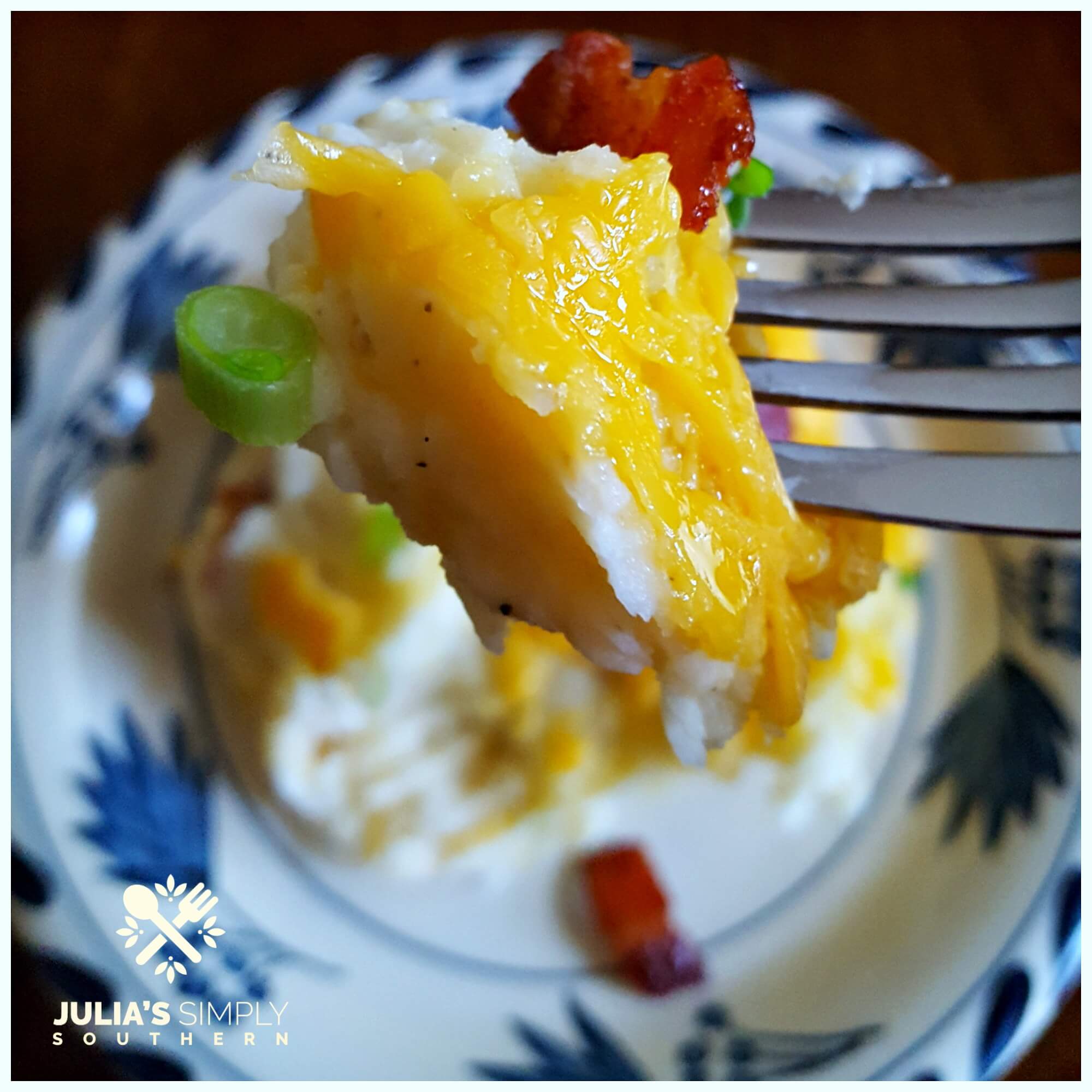 Loaded Mashed Potatoes Recipe Cream Cheese
Okay, let's make this thing!
Step 1: We need some mashed potatoes. Peel and dice the Russet potatoes, add to a pot and cover with water. Bring to a boil and cook for ten minutes. Drain the potatoes well in a colander and add to a mixing bowl.
Step 2: Use a hand mixer to mash the potatoes until creamy. Next, add the butter, cream cheese and sour cream. Season with salt and pepper. Mix to combine thoroughly.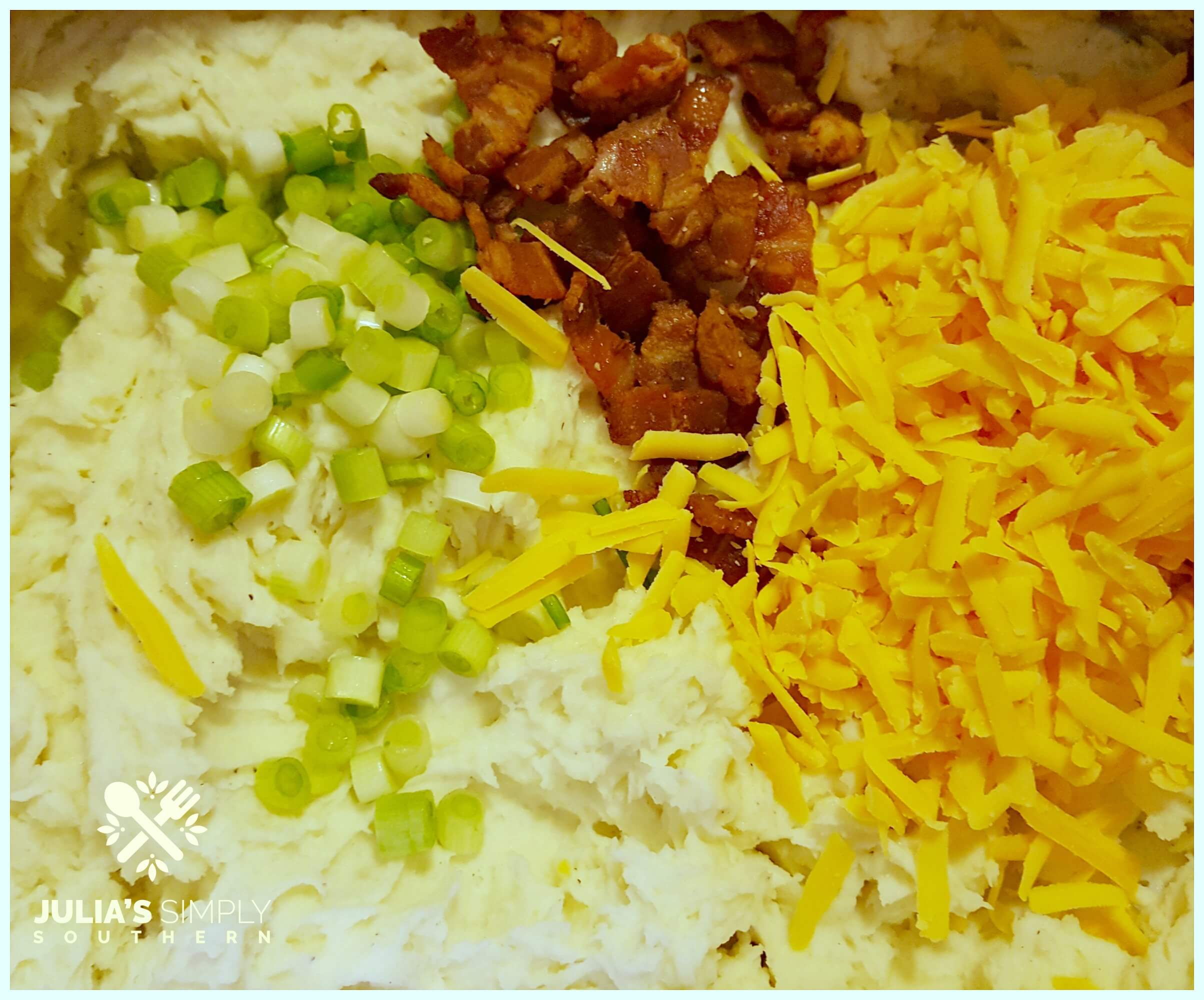 Preheat oven to 350°F
Step 3: Let's make this dish sinfully delicious! Add half of the cooked bacon (OH, by the way if you don't have cooked bacon on hand, chop some up and cook it while your potatoes are cooking), half of the shredded cheese and half of the scallions (green onions) to the mashed potatoes and mix it all up.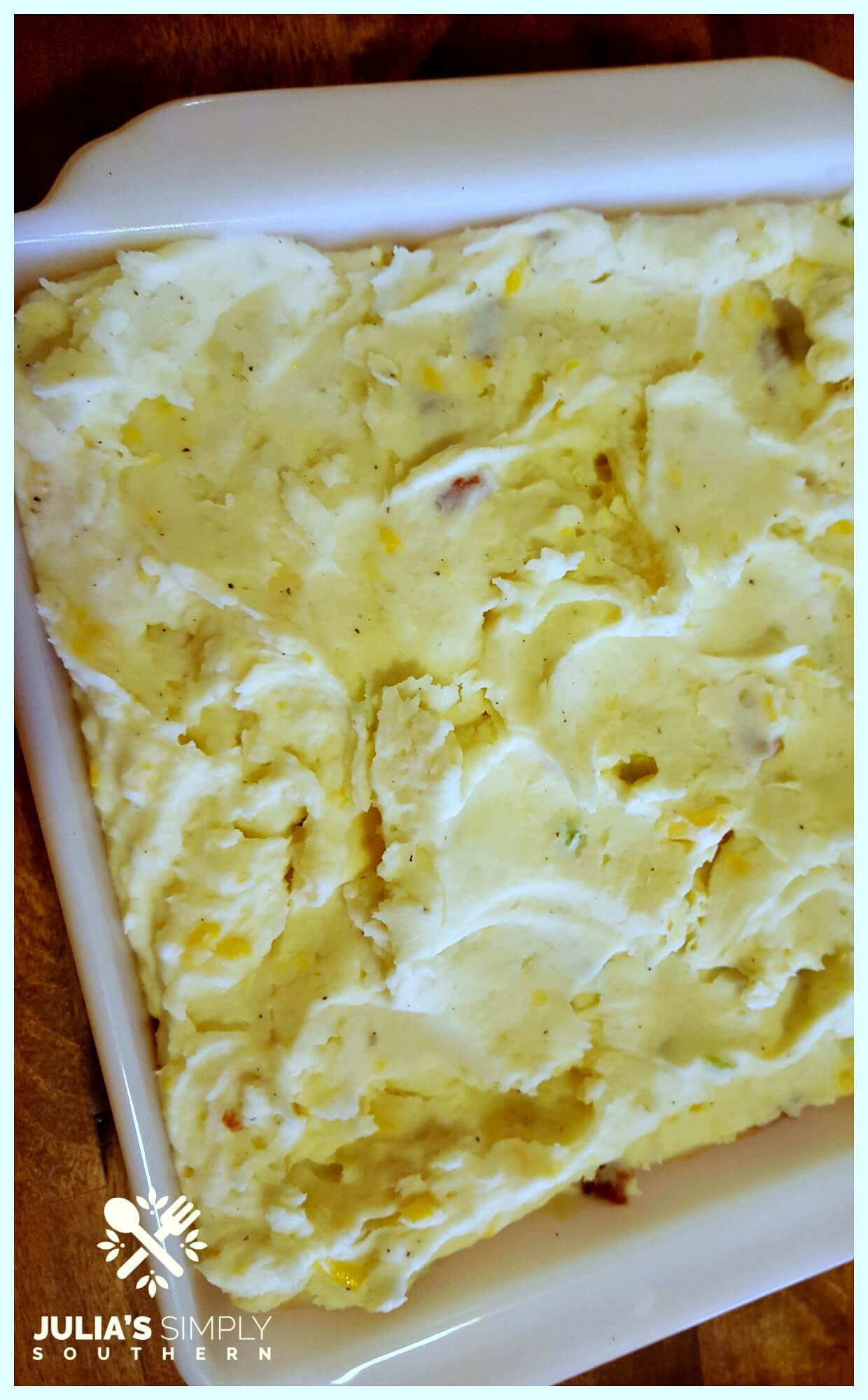 Step 4: Spread the potato mixture into a casserole dish (I used a square 9″ baking dish) and cover with the remaining shredded cheese. Bake for 20 to 25 minutes until the cheese is melted and everything is hot and bubbly. Garnish the casserole with the remaining cooked bacon pieces and green onions. Serve hot.
This casserole smells AH-MAZING as it bakes!
---
Tips for making the Best Mashed Potato Casserole
Use cooked bacon pieces rather than store bought bacon bits.
Use freshly grated cheeses – not only does the cheese melt better, it has better flavor. Shredding your own cheese is also cheaper and you don't end up with extra additives found in pre-packaged shredded cheese.
Pre-soften the butter and cream cheese by leaving out at room temperature for at least an hour before needed.
Always peel the outer layer of green onions before chopping or consuming.
---
Loaded Mashed Potato Casserole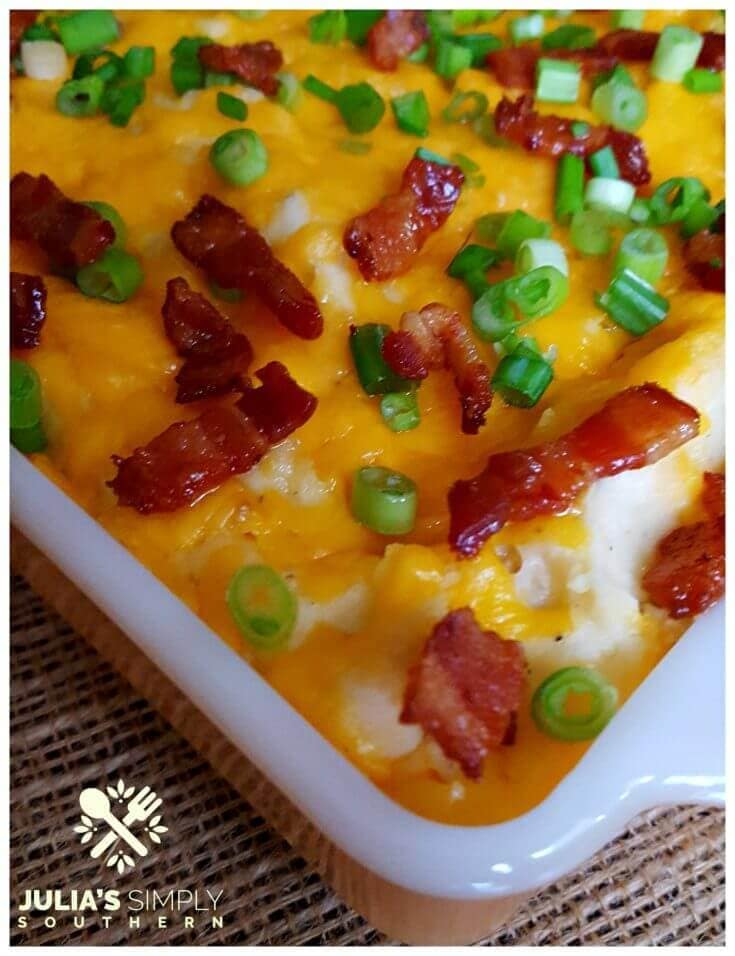 Loaded Mashed Potato Casserole is the sinfully delicious side dish everyone will love. Serve it on occasion as a special treat or for holiday meals
Total Time
1 hour
10 minutes
Ingredients
6 c Peeled and Diced Russet Potatoes (about 8 potatoes depending on size)
Water
5 Strips of Cooked Chopped Bacon, divided
4 tbs Butter, softened to room temperature
4 oz Cream Cheese, softened to room temperature
1/2 c Sour Cream
1/2 tsp Salt (or to taste)
1/4 tsp Ground Black Pepper (or to taste)
8 oz Sharp Cheddar Cheese, grated and divided
1/2 c Green Onions, chopped and divided
Instructions
Cover the potatoes with water, bring to a boil and cook for 10 minutes or until tender
Chop and cook bacon while potatoes are cooking then set aside until needed.
Preheat oven to 350°F
Drain the cooked potatoes well in a colander and add to a mixing bowl.
Use a hand mixer to whip the potatoes until smooth.
Next, add the butter, cream cheese, sour cream and seasonings to the potatoes and mix well to combine.
Next, add half of the shredded cheddar cheese, bacon and green onions and mix to combine.
Next, add the potato mixture to a baking dish and top with the remaining cheese.
Bake 20-25 minutes until the cheese is melted.
Garnish the baked casserole with the remaining bacon and green onions.
Serve hot.
Recommended Products
As an Amazon Associate and member of other affiliate programs, I earn from qualifying purchases.
Nutrition Information:
Yield:
9
Serving Size:
1 cup
Amount Per Serving:
Calories:

331
Total Fat:

25g
More Recipes You Might Enjoy
:
Southern Candied Yams
|
Perfect Mashed Potatoes
|
Southern Potato Salad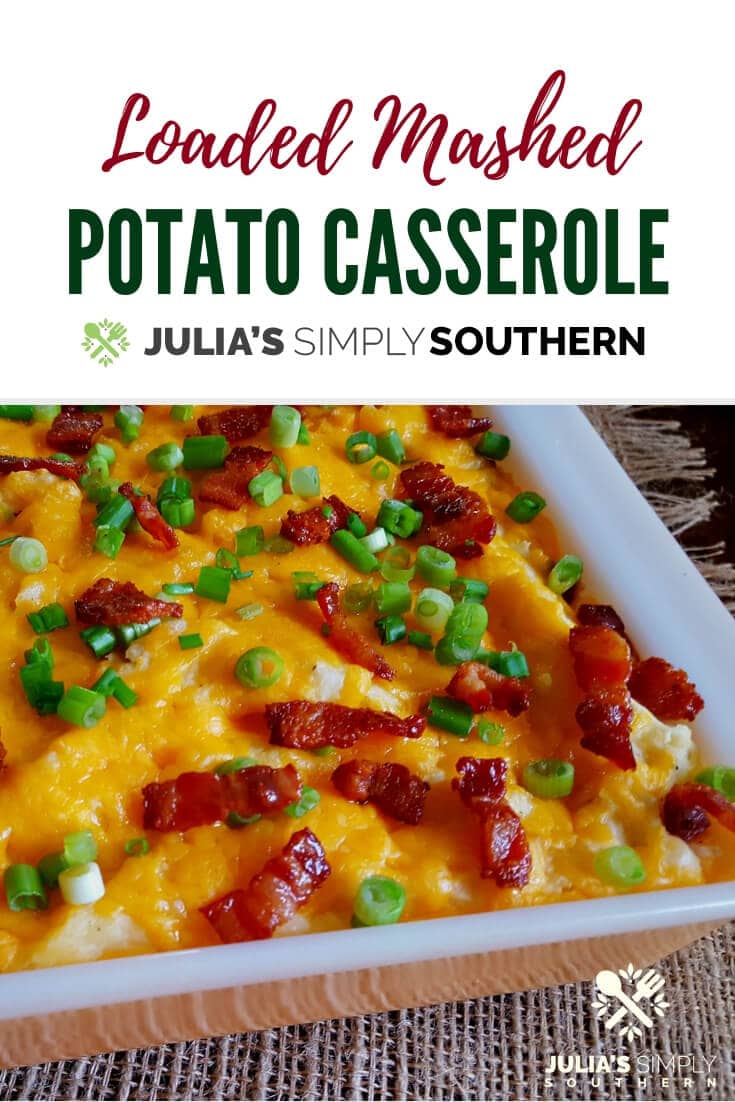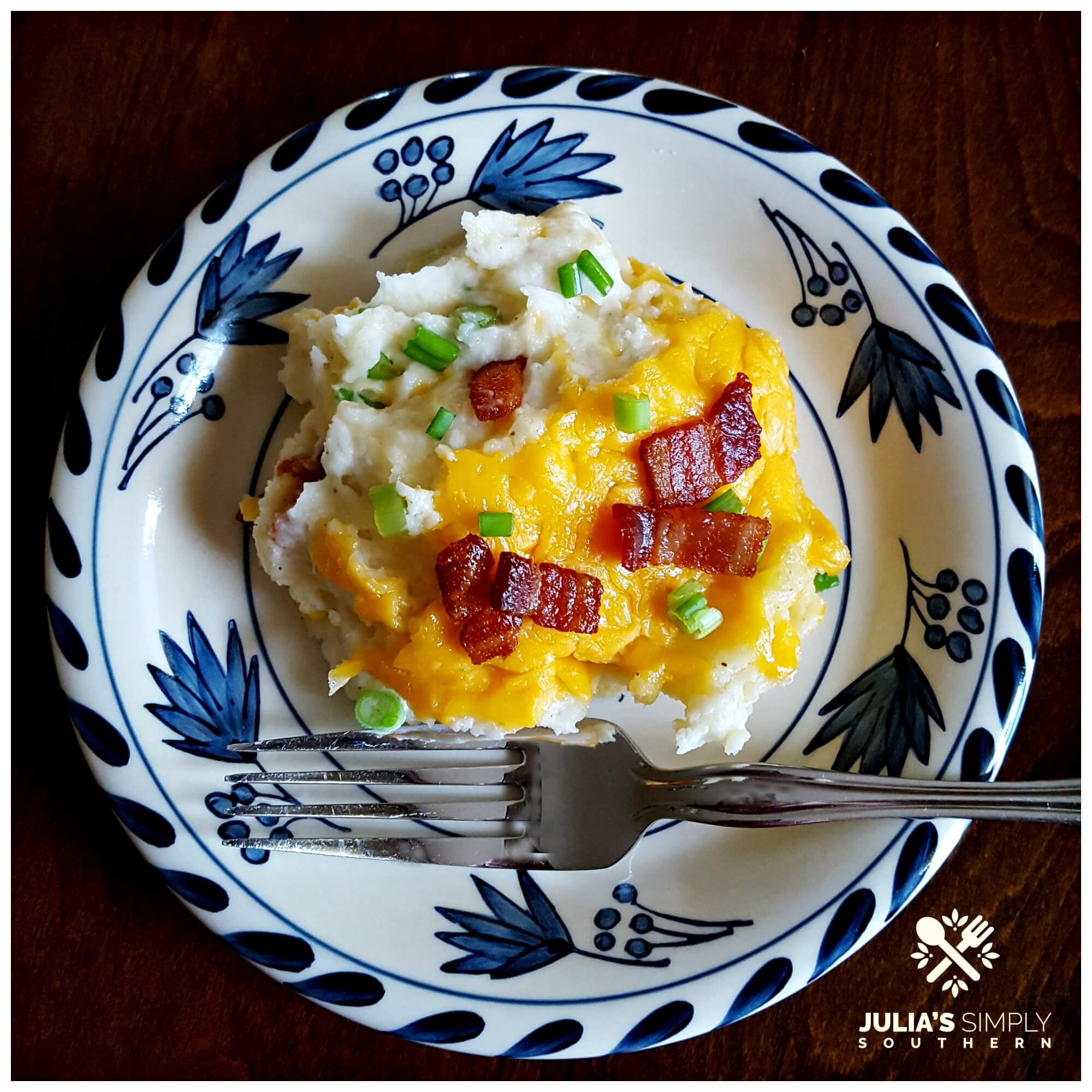 See this recipe share at Weekend Potluck and Meal Plan Monday