In this post I will be sharing a Sweet Potato Souffle Recipe with Raisins and Coconut topped with a crunchy pecan oat streusel crumble.
Y'all, let me tell ya, when it comes to comfort food, there is nothing quite like a good ole Southern sweet potato soufflé.
Friend, it's like a warm, cozy hug for your taste buds, and today, I'm gonna share with you my special recipe that'll have your family and friends begging for seconds.
This ain't your ordinary sweet potato dish, no siree! We're taking those sweet, creamy sweet taters and turning 'em into a Southern masterpiece.
Now, what sets my Sweet Potato Soufflé apart from the rest is the love and attention to detail we pour into every bite.
Picture this… silky smooth sweet potatoes blended with plump raisins and luscious coconut, all topped off with a crunchy, crispy streusel topping loaded with those glorious pecans. It is like a symphony of flavors and textures, y'all!
Sweet Potato Soufflé Recipe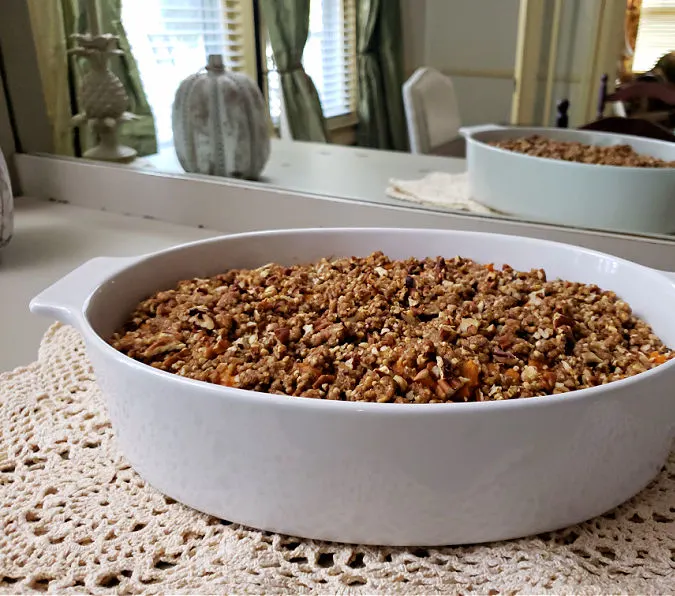 So, whether you're gathering around the table for a special holiday feast, for Thanksgiving dinner or Christmas, or just want to treat yourself to some good old-fashioned Southern comfort, my Sweet Potato Soufflé is sure to hit the spot.
So, grab your mixing bowls and let's get cooking! Y'all ready? Let's do this!
Here's what you will need to make the sweet potato soufflé recipe:
Sweet Potato Soufflé with Crumble Topping with Oats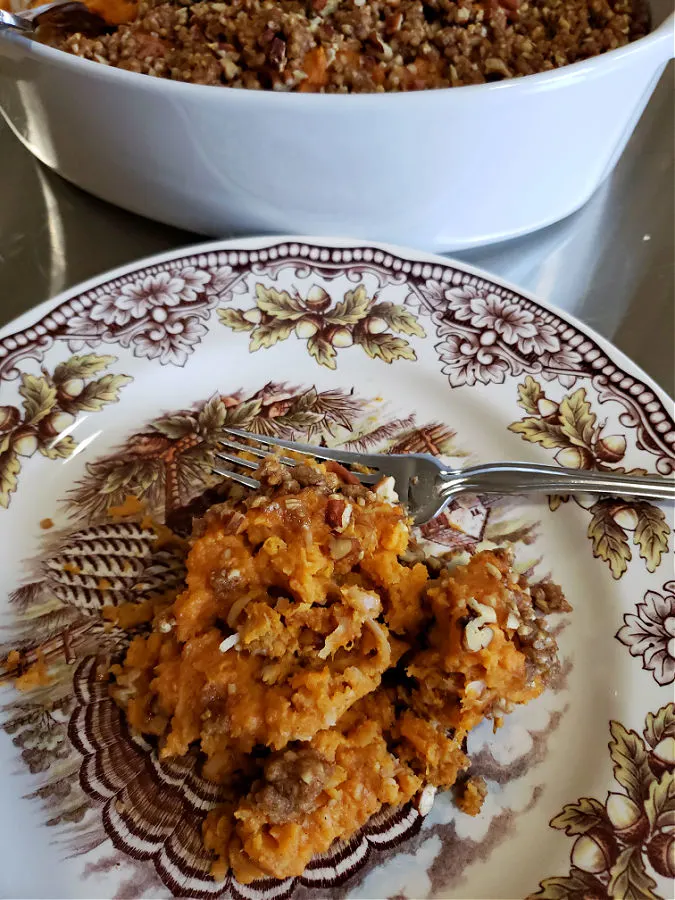 What to serve with sweet potato soufflé?
Roast Turkey or Ham: Sweet potato soufflé is often served as part of a traditional holiday meal alongside roast turkey or ham.
Sautéed Fresh Green Beans: provides a nice contrast to the sweetness of the soufflé and adds some freshness to the meal.
Cranberry Sauce: Cranberry sauce is a classic accompaniment for holiday meals.
Cornbread Dressing or Stuffing: For a heartier meal, you can serve sweet potato soufflé alongside dressing or stuffing. The combination of sweet and savory flavors can be quite satisfying.
Dinner Rolls: Warm dinner rolls are a comforting side dish.
Macaroni and Cheese: I know that this side is one of mixed feeling, but in my neck of the woods, people like a side of baked macaroni and cheese with holiday meals.
Ultimately, the choice of side dishes to serve with sweet potato soufflé will depend on your personal preferences and the occasion. Feel free to mix and match these options to create a well-rounded and satisfying meal that suits your taste.
Easy Sweet Potato Casserole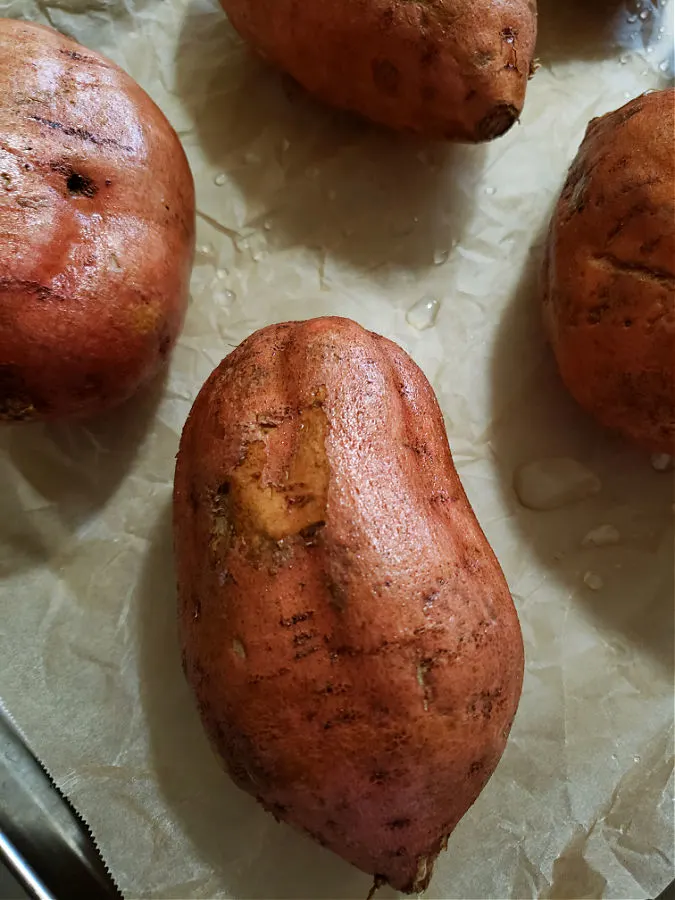 Here's what you will need to make this old fashioned sweet potato soufflé recipe:
Fresh Sweet Potatoes – I love fresh sweet potatoes for this recipe and the fresh Carolina grown are plentiful this time of year. If you can't find fresh, you can substitute canned yams or canned sweet potato puree.
Eggs – are a binder and help to make the casserole fluffy…or soufflé like.
Brown Sugar – I love the extra depth of flavor from the molasses in the brown sugar for this dish. Some folks like to drizzle a little maple syrup into the casserole filling for extra flavor.
Ground Cinnamon
Vanilla Extract
Nutmeg – freshly grated preferred. There is nothing like the special touch and aromatics of fresh nutmeg during the holiday season.
Sweetened Flaked Coconut
Raisins – black raisins or plump golden raisins, your choice. I used the black because that is what I have on hand.
The first step is to pre-heat your oven and wash the sweet potatoes and put them on a parchment lines cooking sheet, then bake them until they are tender.
Thanksgiving Sweet Potato Side Dish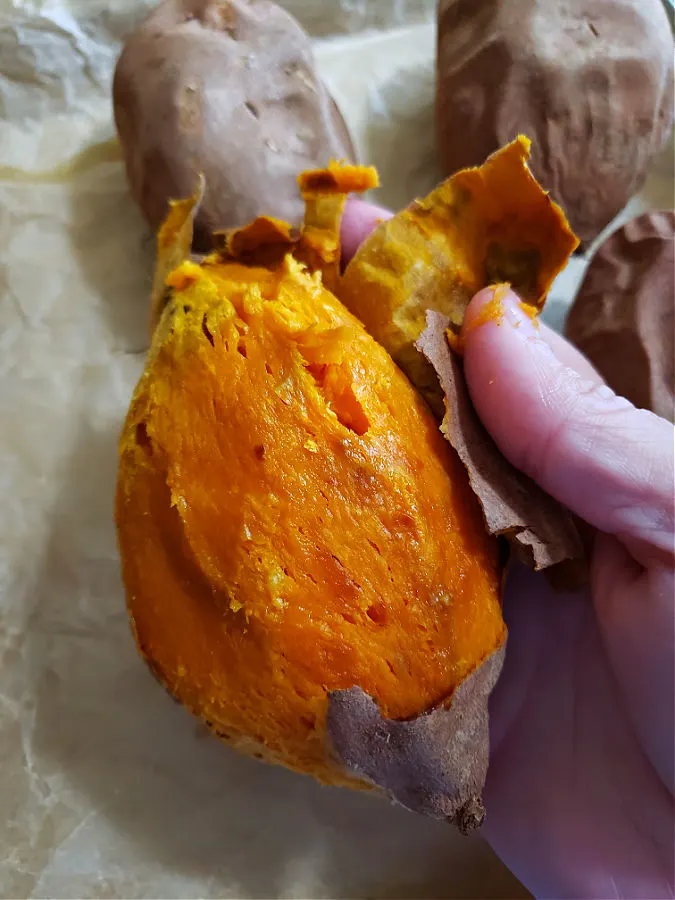 Some folks like to peel, chop and boil the sweet potatoes in a large pot with salted water. That works fine, but I think that roasting them in the oven just adds more depth of flavor.
The baked sweet potatoes are also very easy to peel. You can just use your hands to remove the peelings once they've cooled to room temperature.
Once the peelings are removed, add the tender roasted sweet potatoes to a large bowl.
Easy Sweet Potato Casserole in just a few Steps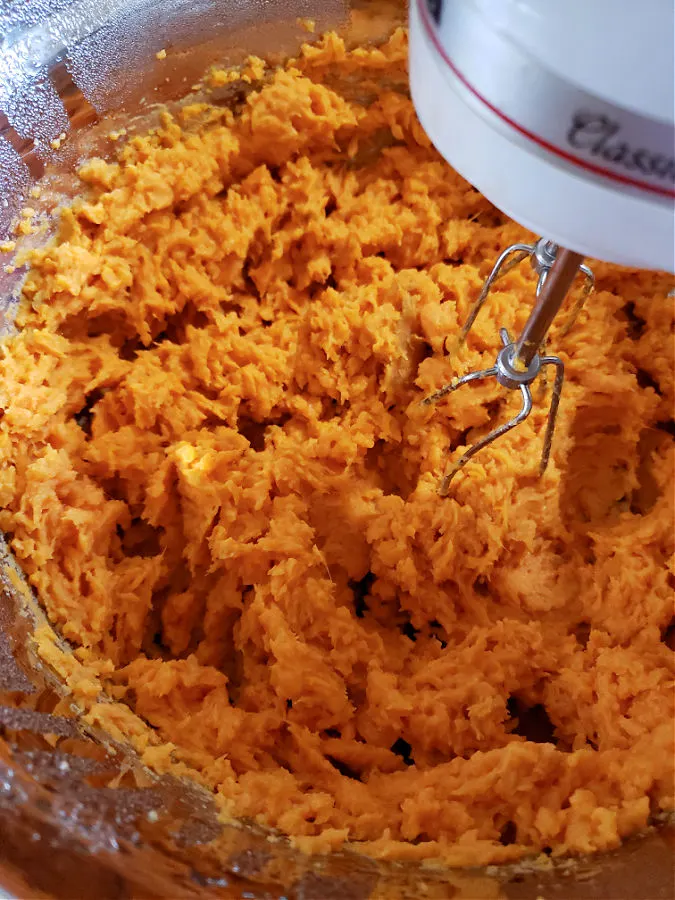 To prepare the sweet potato mixture, use an electric hand mixer to whip the potatoes. You could also use a potato masher, if preferred.
Add the eggs to the sweet potatoes and mix them in during this step.
Mashed sweet potatoes would make a fine side dish itself, but we are going to continue and transform them into a wonderful sweet potato soufflé.
If you're trying to work ahead, the sweet potato puree could be made the day before, covered in plastic wrap and stored in the refrigerator until needed. Or, store the potatoes in an airtight container.
Freshly Grated Nutmeg is Amazing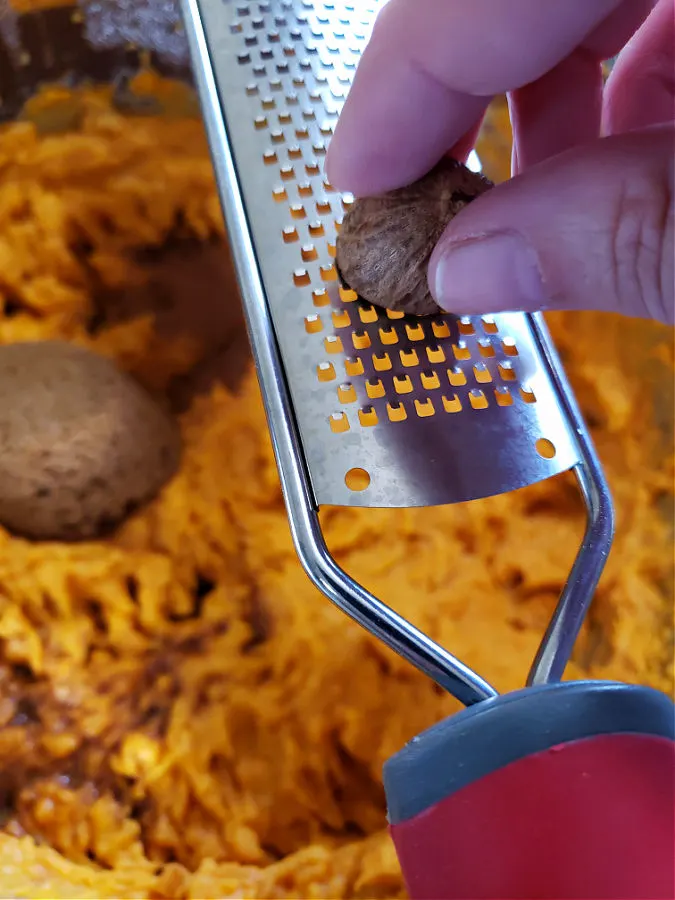 Now, while your creamy sweet potatoes are in the large mixing bowl, let's spice things up a bit!
Grate in the fresh nutmeg. Ahhh, the aromas of freshly grated nutmeg just scream "the holidays are here".
Sweet Potato Soufflé with Coconut and Raisins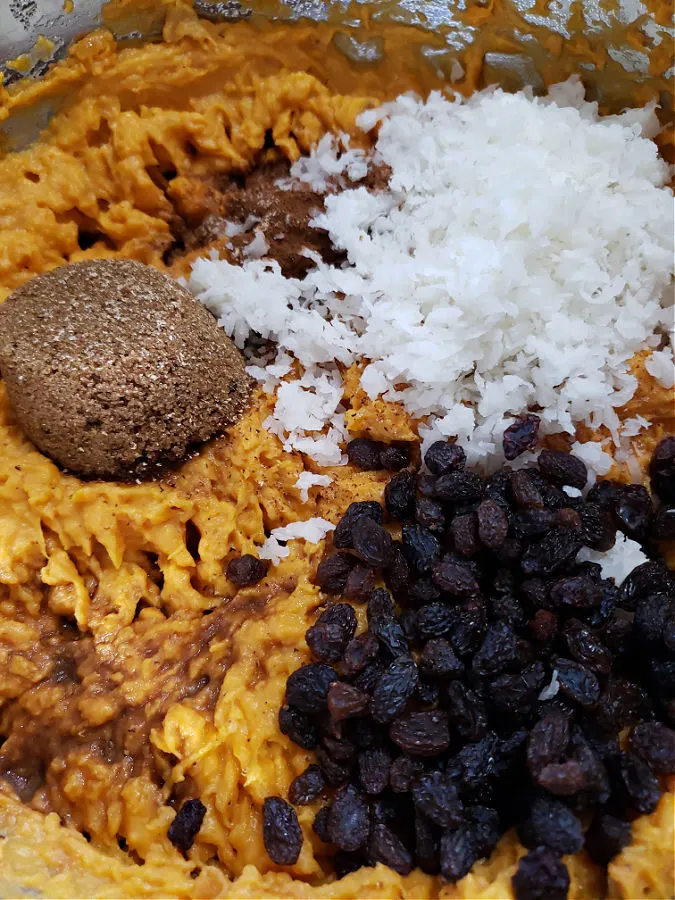 Next, add the brown sugar. You can adjust how much sugar you want. I tend to be a bit reserved since the sweet potatoes are naturally sweet and we are adding additional sweet ingredients like the raisins and coconut.
Also add in the cinnamon, vanilla extract, coconut and raisins then use the hand mixer to combine everything together.
The Crumble Topping with Oats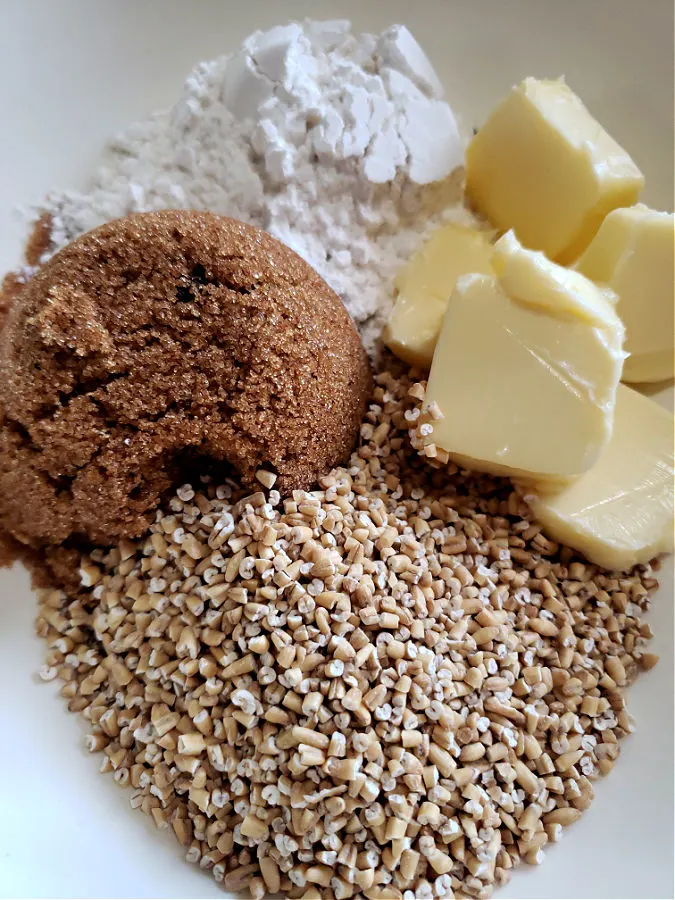 To make the crumble pecan topping, you will need:
Brown Sugar
All Purpose Flour
Butter
Oats – I used steel cut because that is what I had. I probably would have preferred old fashioned.
Chopped Pecans
Add these topping ingredients to a small bowl.
Crunchy Pecan Topping is the Best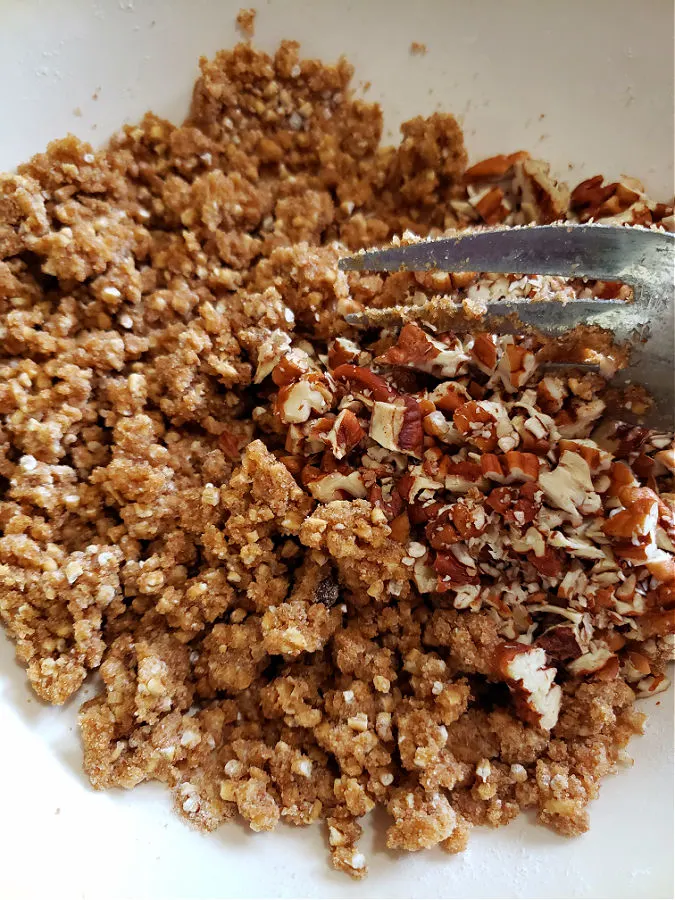 I used a large serving type fork to blend the topping together and make sure the butter was blended well with the rest of the ingredients.
Top the Sweet Potato Mixture and Bake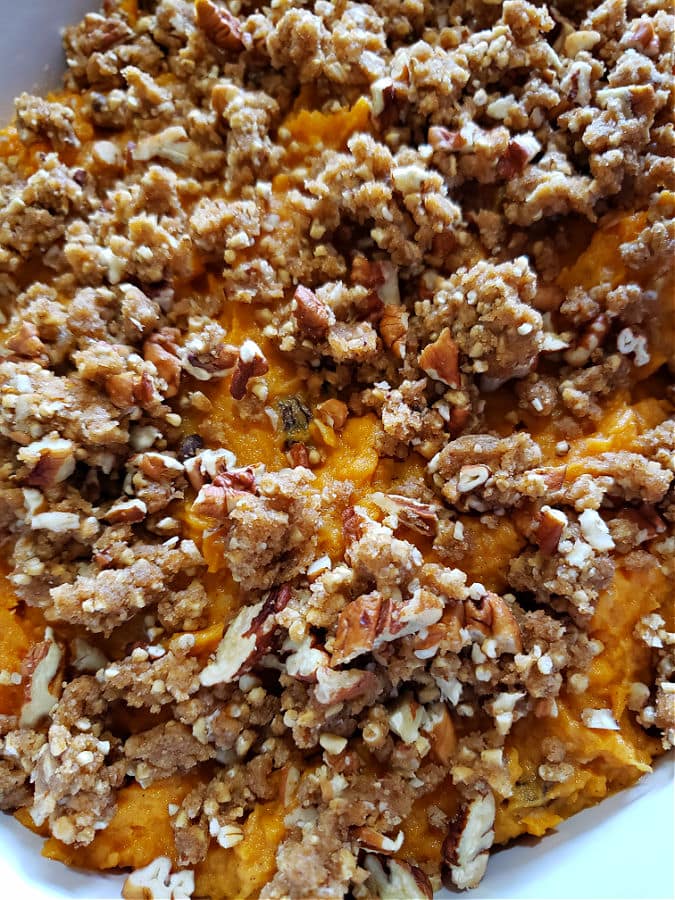 Transfer the sweet potato soufflé mixture into a casserole dish. Sprinkle the pecan streusel over top of the sweet potato layer.
Place the casserole into a preheated oven and bake until the crunchy pecans layer is golden brown and the soufflé is warmed through.
I've always been told that the difference between the sweet potato casserole and sweet potato soufflé is the topping. The streusel crumble type is customary for the soufflé. But to each their own, if you want the marshmallow topping then use that.
When done baking, allow the sweet potato soufflé to cool slightly before serving. This dish will be the perfect addition to your Thanksgiving table to enjoy with the Thanksgiving turkey and other savory sides.
Printable Recipe Card
Yield: 1 Casserole
The Best Sweet Potato Soufflé Recipe with Raisins, Coconut, and Pecan Oat Streusel Topping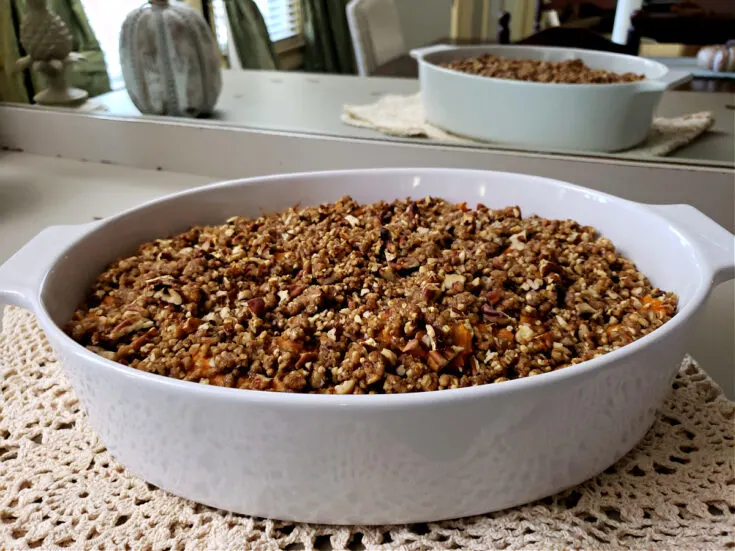 Indulge in the cozy flavors of fall with our delectable Sweet Potato Soufflé recipe! Made from scratch using fresh sweet potatoes, this dish is a delightful blend of creamy sweetness, coconut, and plump raisins. And the pièce de résistance? A heavenly, crunchy pecan oat streusel topping that adds the perfect touch of texture and flavor. It's a mouthwatering autumn treat you won't be able to resist! Perfect for family meals or your Thanksgiving dinner. This tasty sweet side is sure to be a favorite at your holiday table.
Ingredients
Soufflé Sweet Potato Filling
6 medium to large Baked Sweet Potatoes
3 Eggs
½ cup Brown Sugar, packed (light or dark)
1½ teaspoon Ground Cinnamon
1 teaspoon Vanilla Extract
Pinch of Freshly Grated Nutmeg
1 cup Sweetened Flaked Coconut
½ cup Raisins
Crumble Streusel Topping
½ Brown Sugar, packed
¼ cup All Purpose Flour
4 tablespoon Butter, softened to room temperature
⅓ cup Oats (I used steel cut), optional
½ cup Chopped Pecans
Instructions
To Bake the Sweet Potatoes
Pre-heat oven to 400°F (204°C)
Wash the sweet potatoes and place on a parchment lined baking sheet. Pierce the potatoes once or twice with the sharp tip of a knife to vent. Bake 1 hour or until tender. To test, use an oven mit and gently squeeze the potatoes. Allow the potatoes to cook enough to handle, or to room temperature, and peel.
The Soufflé Filling
Preheat oven to 350°F (177°C)
In a large mixing bowl, add the baked sweet potato filling and use an electric hand mixer to whip until creamy and fluffy. Next, add the eggs and use the hand mixer to combine. Then add the brown sugar, cinnamon, vanilla extract, nutmeg, coconut, and raisins. Mix just enough to combine.
Transfer the sweet potato soufflé mixture to a baking dish and set aside.
Prepare the Topping
In a small bowl combine the brown sugar, all purpose flour, butter and oats together using the tines of a fork. Stir in pecans. Sprinkle the topping over the sweet potato soufflé filling.
Bake the sweet potato soufflé for 45 minutes to 1 hour, until golden brown and heated through.
Allow to cool slightly before serving.
Notes
See the full post for more tips and serving suggestions.
If preferred, may use mini marshmallows as the topping in place of the pecan streusel.
I used a deep oval casserole dish for this recipe and no size could be found on the dish. A regular sized rectangle baking dish would work also.
The sweet potatoes may be baked the day before if needed. Whip them with a mixer and store in the refrigerator until needed for the filling and add the remaining ingredients.
Recommended Products
As an Amazon Associate and member of other affiliate programs, I earn from qualifying purchases.
Nutrition Information:
Yield:
8
Serving Size:
1
Amount Per Serving:
Calories:

379
Total Fat:

16g
Saturated Fat:

8g
Trans Fat:

0g
Unsaturated Fat:

7g
Cholesterol:

85mg
Sodium:

140mg
Carbohydrates:

56g
Fiber:

6g
Sugar:

34g
Protein:

6g
Popular Recipes on the Blog
The Latest Posts
Sweet Potato Souffle Recipe with Raisins and Coconut
In closing, whether you are enjoying sweet potato soufflé as part of a your Thanksgiving day meal or just whipping it up for a cozy family dinner, this Southern classic sweet potato recipe is sure to warm your heart and delight your taste buds.
Its rich, sweet flavors and delightful textures make it a standout side dish that pairs wonderfully with a variety of main courses and accompaniments.
So, gather 'round the table with loved ones, savor every bite, and let the comfort of this sweet potato soufflé bring joy to your meal.
Before you go, friend, sign up for my e-newsletter so that you never miss the latest recipes and news here on the blog.
Here's to good food, good company, and good times. Happy Thanksgiving and happy eating, y'all!
Meet Julia
Author of Julia's Simply Southern
Hey Y'all! I'm Julia, the cook and writer behind the recipes here at Julia's Simply Southern. I began my website so that I could share easy to follow recipes that anyone can use to put a home cooked meal on the dinner table. Thanks so much for stopping by!
Follow me on Facebook | Twitter | Instagram | Pinterest | YouTube