In this post I'm sharing a vintage recipe for Lettuce and Tomato Salad with Mayo.
This old fashioned recipe is many decades old and I recall my mother making it when I was growing up.
The basic recipe is quite simple and you'll find slight variations such as the addition of onion or a boiled egg.
I honestly don't know if this was just a Southern thing or not but I know many Southern folks grew up eating this mayonnaise based salad.
Mayonnaise was a popular "dressing" back then and you'll find it in many old school recipes such as classic pea salad, pear salad, pineapple salad and Waldorf salad.
I've mentioned before that I think using mayonnaise was so popular because that is what was available, there weren't the many varieties of salad dressings that we have available today.
This particular mayonnaise salad also happens to be one of my husband's favorites. He requested that I make one over the weekend and I thought I should share it with y'all too because I haven't done that yet.
Vegetable Salad with Mayonnaise Dressing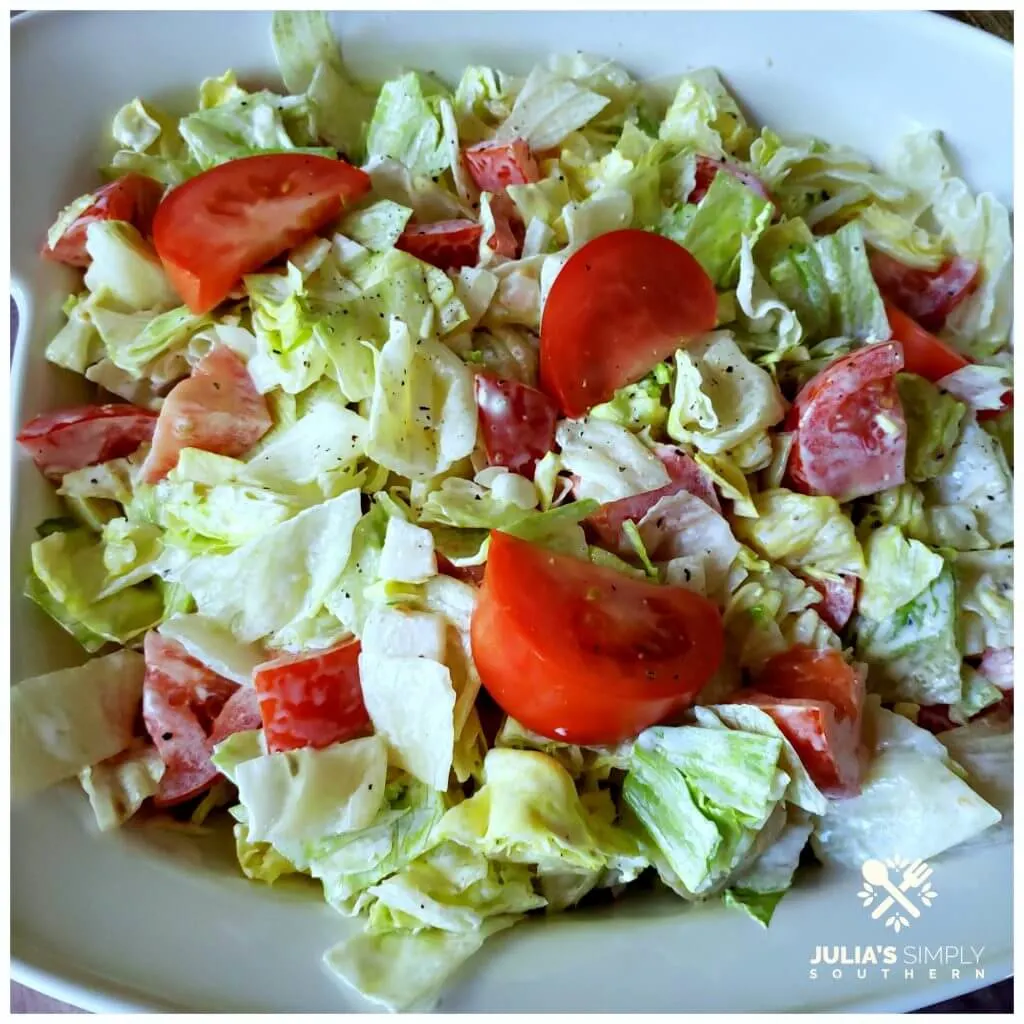 Can I substitute Miracle Whip for Mayonnaise in this salad? You can if you're fond of Miracle Whip since it is technically a salad dressing. I do recommend trying it with mayonnaise first.
Which mayonnaise is best? For us the best mayonnaise is Duke's but that is what I grew up with. It will vary according to your own personal tastes and likely what you have available in your area.
How to make mayonnaise salad? This salad is very simple to prepare and it is as easy as tossing the ingredients with a small amount of mayonnaise, just enough to lightly glaze the vegetables then season with salt and pepper.
Creamy Lettuce and Tomato Salad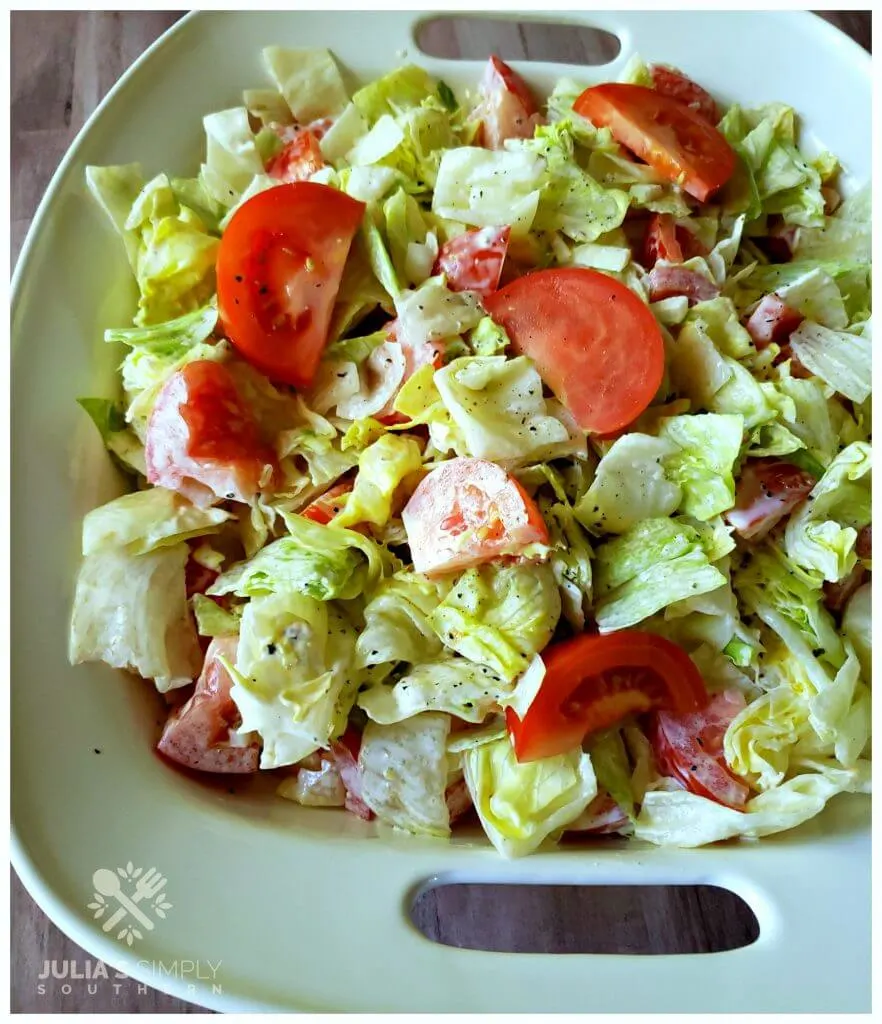 "Traditions are part of the illustrious monogrammed fabric that make up our DNA. They are the core building blocks of our Southerness. When we bleed, we bleed the colors of our football team and an excess amount of sweet tea. We do not take traditions too seriously at all because we are Southern. We are tradition." ~ Jacklyn R.
Did you grow up eating this old school salad recipe? I'd love to know if you did, so leave me a comment and share your memories with us.
I don't think that myself nor my husband are the only folks who have fond memories of the foods that we grew up with. That is something instilled in all of us.
I will always cherish the memories of recipes, cooking, and sharing meals with the wonderful cooks in my family.
Variations of this salad: add diced onion (my husband's favorite, top with a sliced boiled egg, or add bacon to make it a BLT salad.
Lettuce and Tomato Salad with Mayo
Yield: 6 Salad Servings
Lettuce and Tomato Salad with Mayo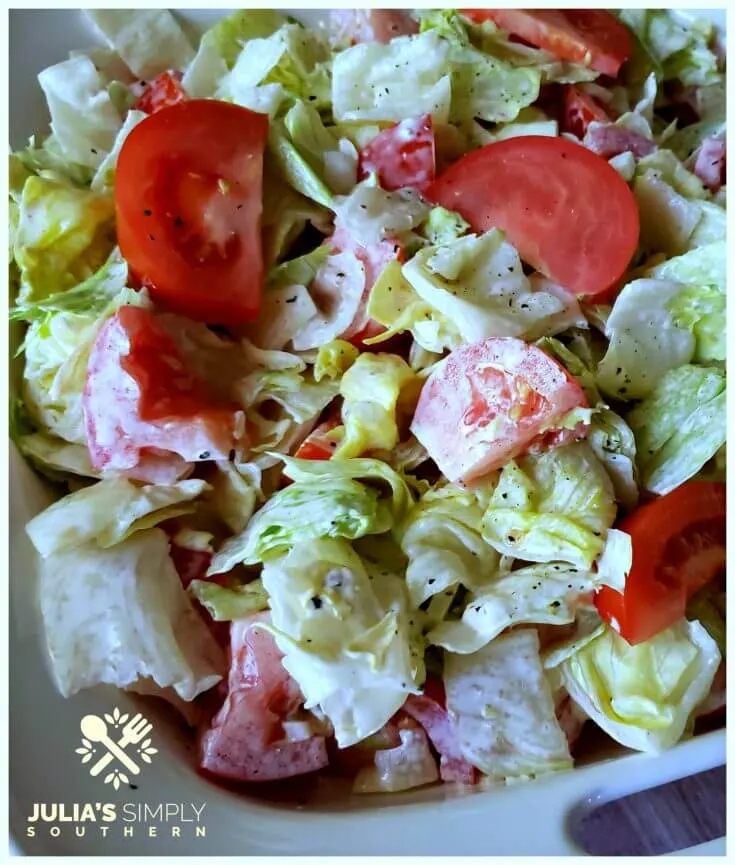 Vintage recipe for a Southern mayonnaise salad with lettuce and tomatoes
Additional Time
30 minutes
Ingredients
1 Head of Crisp Iceberg Lettuce, chopped
4 Beefsteak Tomatoes, chopped
1/2 c Mayonnaise
1 Small Onion, diced (optional)
Salt and Cracked Black Pepper, to taste
Instructions
Add the chopped lettuce, tomato and onion (if using) to a large mixing bowl.
Next add the mayonnaise, beginning with a quarter cup, and lightly toss then add another quarter cup if needed so that the salad is lightly coated.
Season with salt and black pepper.
Cover and chill in the refrigerator for half an hour before serving.
Notes
Mayonnaise salad can be topped with sliced boiled egg, if desired.
Recommended Products
As an Amazon Associate and member of other affiliate programs, I earn from qualifying purchases.
Nutrition Information:
Yield:
6
Serving Size:
1
Amount Per Serving:
Calories:

178
Total Fat:

16g
Saturated Fat:

2g
Trans Fat:

0g
Unsaturated Fat:

13g
Cholesterol:

8mg
Sodium:

246mg
Carbohydrates:

9g
Fiber:

2g
Sugar:

4g
Protein:

2g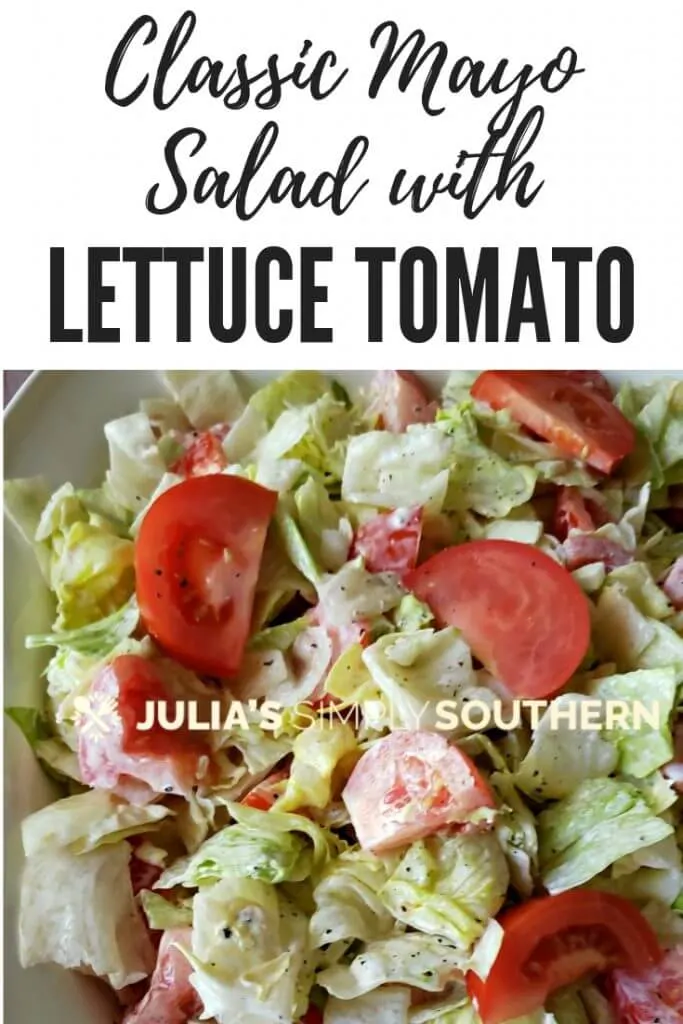 Thanks for stopping by! Share this recipe and join us on social media.
See this recipe shared at these delicious food parties: Weekend Potluck and Meal Plan Monday.
Meet Julia
Author of Julia's Simply Southern
Hey Y'all! I'm Julia, the cook and writer behind the recipes here at Julia's Simply Southern. I began my website so that I could share easy to follow recipes that anyone can use to put a home cooked meal on the dinner table. Thanks so much for stopping by!
Follow me on Facebook | Twitter | Instagram | Pinterest | YouTube