In this post I'll be sharing an easy Classic Southern Baked Chicken Recipe.
Y'all this is that classic ole school way of preparing oven baked chicken pieces. It's a great make ahead chicken recipe for a crowd too.
That is why you'll almost always find these basic seasoned oven roasted pieces of chicken on cafeteria menus or those meat and three places that always serve up delicious food.
I actually call this cafeteria style chicken more than any other name.
Southern baked chicken is so easy to prepare too making it a perfect main course for meal rotations of busy families. And of course, it tastes pretty darn good too!
Easy Baked Chicken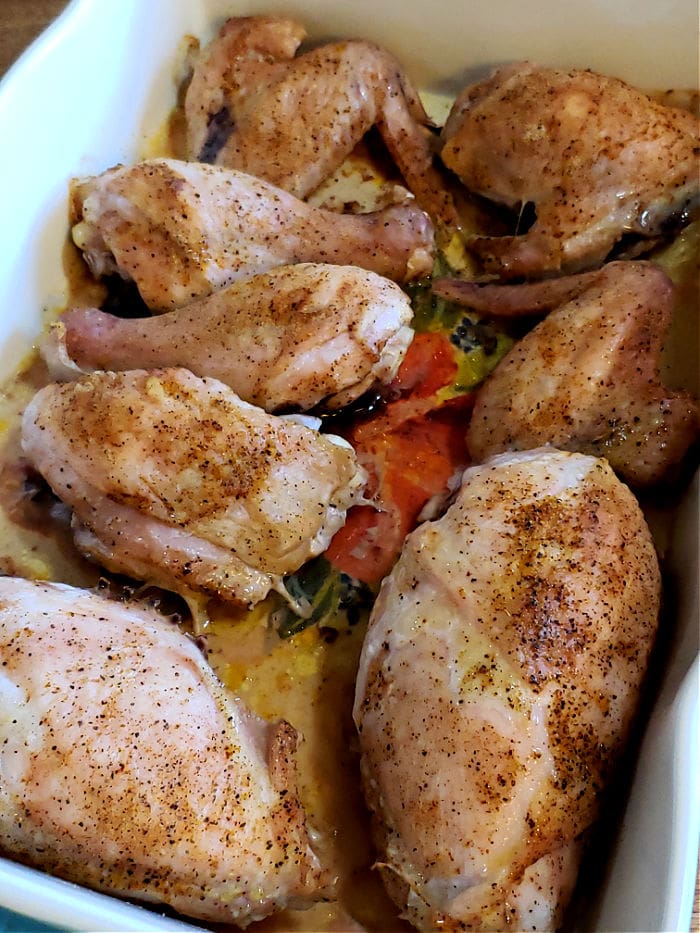 Doesn't that baked chicken look delicious? So simple and so good!
What is Southern style baked chicken? It is cut up pieces of chicken, usually from a whole bird but can be any pieces that you prefer, seasoned very basically and baked until tender. You can start with a package of cut up chicken if you prefer.
Sometimes the seasoning is as basic as salt and black pepper. This is really one of the easiest cut up chicken recipes around.
What do you serve with oven roasted chicken pieces? Just think of those delicious sides that you might see as you walk through the cafeteria line while choosing your favorites.
Sides such as green beans, mashed potatoes and gravy, macaroni & cheese, fried squash, crunchy broccoli salad, rolls or biscuits, or smoky soul food collard greens would all be great options.
Anything that you like with chicken would be a perfect choice, even if it is just a side salad. The possibilities are countless so just go with what you have a taste for that day.
Oven Roasted Chicken Pieces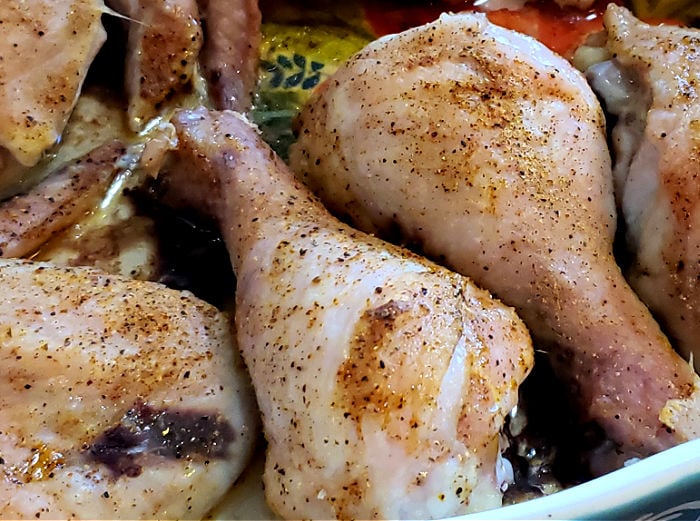 How do you keep chicken pieces moist? To keep your baked chicken pieces moist don't over-cook it. Dark meat, or legs and thighs, tend to stay more moist than a breast piece.
If you like the white meat breast pieces can be removed before the rest are done to ensure that they stay moist. I personally don't bother with that because it's not a big deal to me.
Also allowing the chicken pieces to rest a few minutes before cutting into them will help retain those natural juices.
Do you need to cover chicken for baking? No, covering the pieces of chicken while they bake is not necessary and also allows the skins to crisp up a bit and take on some color.
How to Bake Chicken Pieces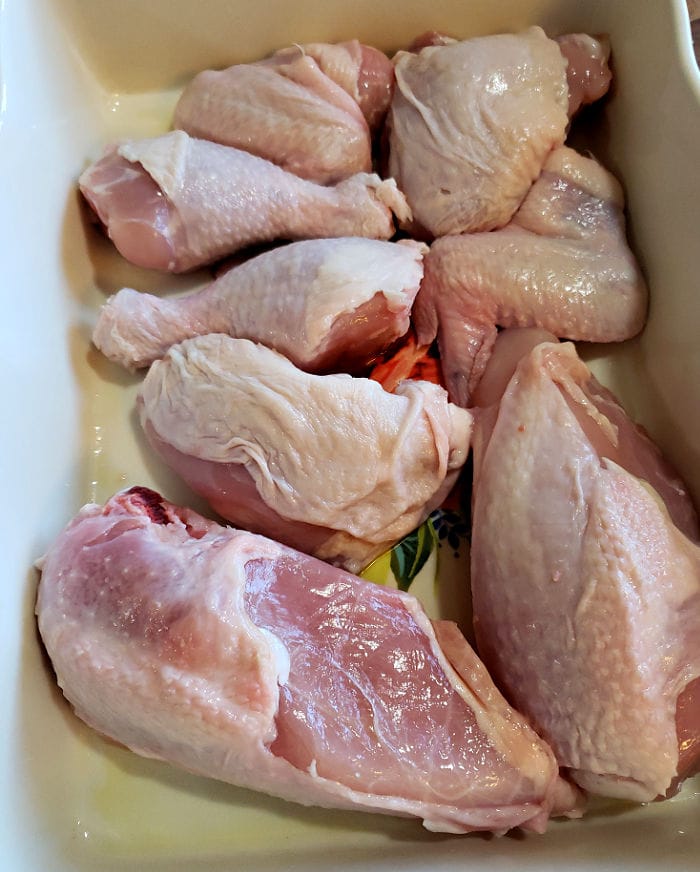 Buying a whole chicken to cut up is much cheaper than buying the pieces and that is what I prefer. Once you practice cutting up a whole chicken a time or two and getting used to feeling for those joints you will find it so easy to cut one up too.
When I cut up a chicken, I begin by patting it dry with some paper towels and placing the chicken on a stable meat cutting board. Using a wooden cutting board for meats and poultry is not recommended due to possible bacteria contamination.
Oh, and by the way be sure to check the cavity and remove the giblet package if it was included. You can freeze those for another use or discard.
Next, I will take my kitchen shears that I keep on hand for food only and turn the chicken over (breast side down) and cut out the backbone. The backbone can be saved for making stock.
It is easy to see where the breast bone is once the backbone is removed. You can easily cut right down the center of that breast bone (inside the cavity) and halve the chicken.
Cutting up a Whole Chicken is Budget Friendly
Once the chicken is halved then I find it easier to manage cutting away the wings, legs and thighs eventually being left with the breast pieces.
There are many videos that you can check out online to see a whole chicken being cut up if you're a visual learner, like this one from Natasha's Kitchen.
Cafeteria Style Baked Chicken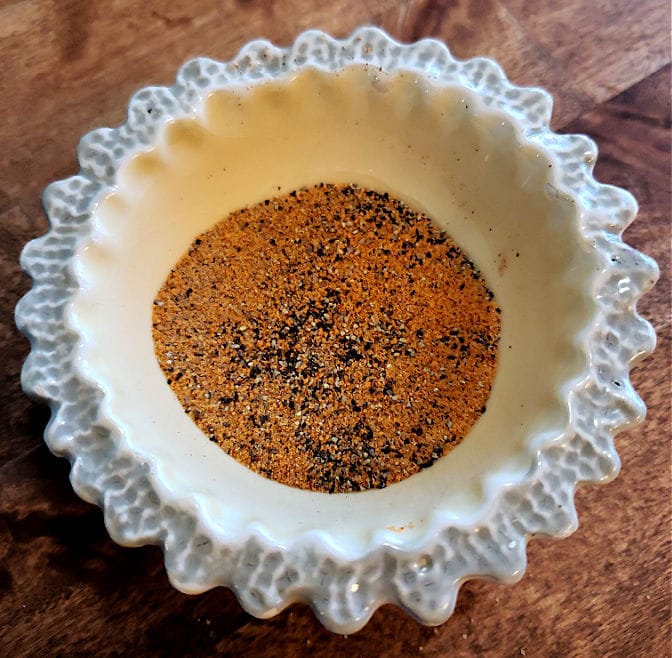 What is the best way to season baked chicken pieces? As I mentioned previously, the seasoning is usually pretty simple and basic when making this classic Southern baked chicken recipe.
You can use just salt and pepper if you like. I prefer to use a seasoned salt blend, Lawry's in particular because we always have a bottle in the spice cabinet. Hubs likes Lawry's on his grits.
I also add a little black pepper to the mix and that is all that I use for this recipe.
The seasoned salt also already has other spices like onion for additional flavor and paprika to give color.
Roasted Chicken Pieces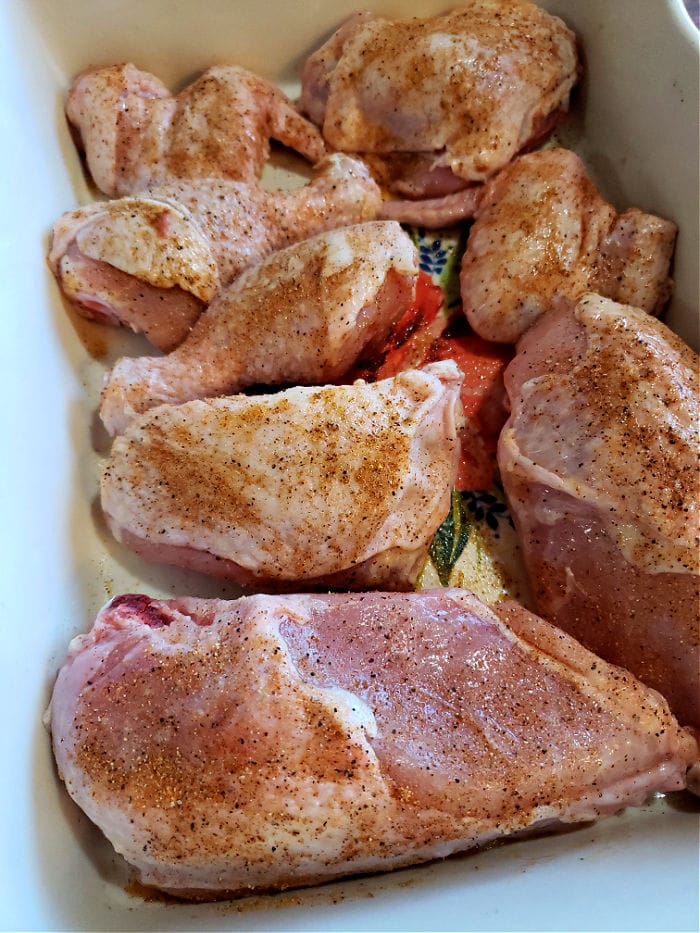 Season the chicken well, tops and bottoms and arrange them in a baking dish that is large enough so they aren't over-crowded.
Place the chicken into the oven to bake until done and enjoy those wonderful aromas that fill the air.
Bone in chicken pieces have a lot more wonderful flavor and will be a meal the whole family enjoys.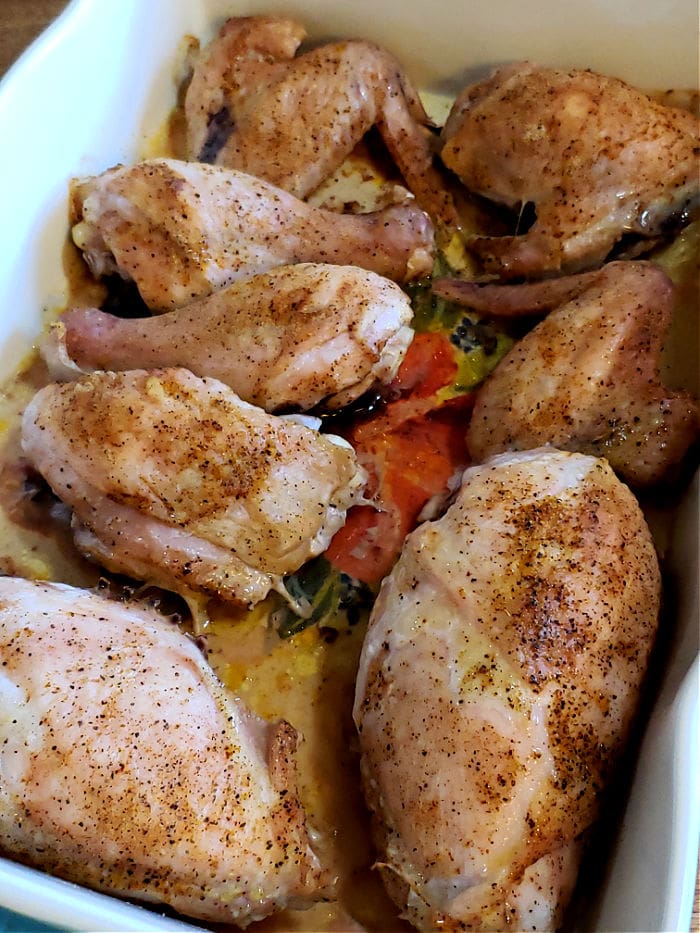 What do I need for the classic Southern baked chicken recipe?
All of the details will also be in the printable recipe card following.
A whole chicken cut up or chicken pieces
Olive Oil
Seasoned Salt
Ground Black Pepper
A rectangle baking dish or baking sheet
Classic Southern Baked Chicken Recipe
Yield: 8 Pieces
Classic Southern Baked Chicken Recipe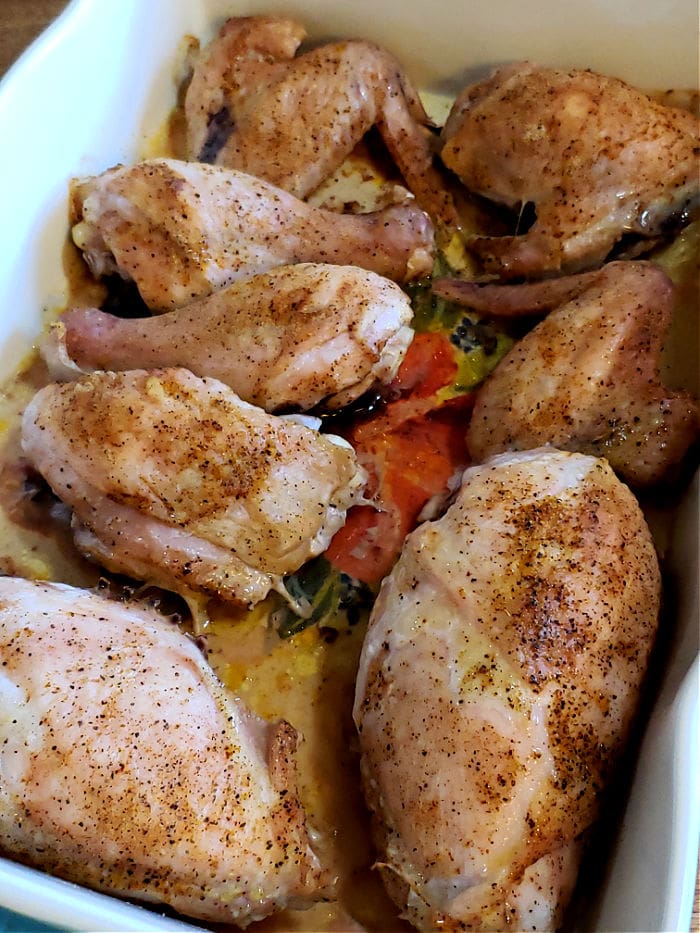 Classic Southern baked chicken or cafeteria style baked chicken is an easy and delicious meal. This is also a great make ahead option when feeding a crowd.
Ingredients
4 pound Chicken, cut up into pieces
2 teaspoons of Olive Oil
1½ teaspoon of Seasoned Salt (Lawry's used in this recipe)
½ Ground Black Pepper
Instructions
Preheat oven to 350°F.
Brush olive oil on the bottom of a baking dish or baking sheet to prevent the chicken pieces from sticking.
Combine the seasoned salt and black pepper together then liberally season all sides of the chicken pieces.
Arrange the pieces of chicken in the prepared baking dish and bake uncovered for 45 minutes. Allow the chicken to rest 10 minutes after cooking before serving.
Recommended Products
As an Amazon Associate and member of other affiliate programs, I earn from qualifying purchases.
Nutrition Information:
Yield:
8
Serving Size:
1 Piece
Amount Per Serving:
Calories:

284
Total Fat:

31g
Saturated Fat:

8g
Trans Fat:

0g
Unsaturated Fat:

19g
Cholesterol:

213mg
Sodium:

346mg
Carbohydrates:

0g
Fiber:

0g
Sugar:

0g
Protein:

54g
Once your chicken is out of the oven and has rested a few minutes, the pieces can be transferred to a serving platter or just serve straight from the cooking dish.
A delicious chicken dinner doesn't have to be prepared with fancy cooking techniques or complicated recipes. Sometimes simple is best!
This chicken recipe will deliver tender, juicy and flavorful Southern baked chicken every time.
If you like this classic baked chicken recipe then you might also enjoy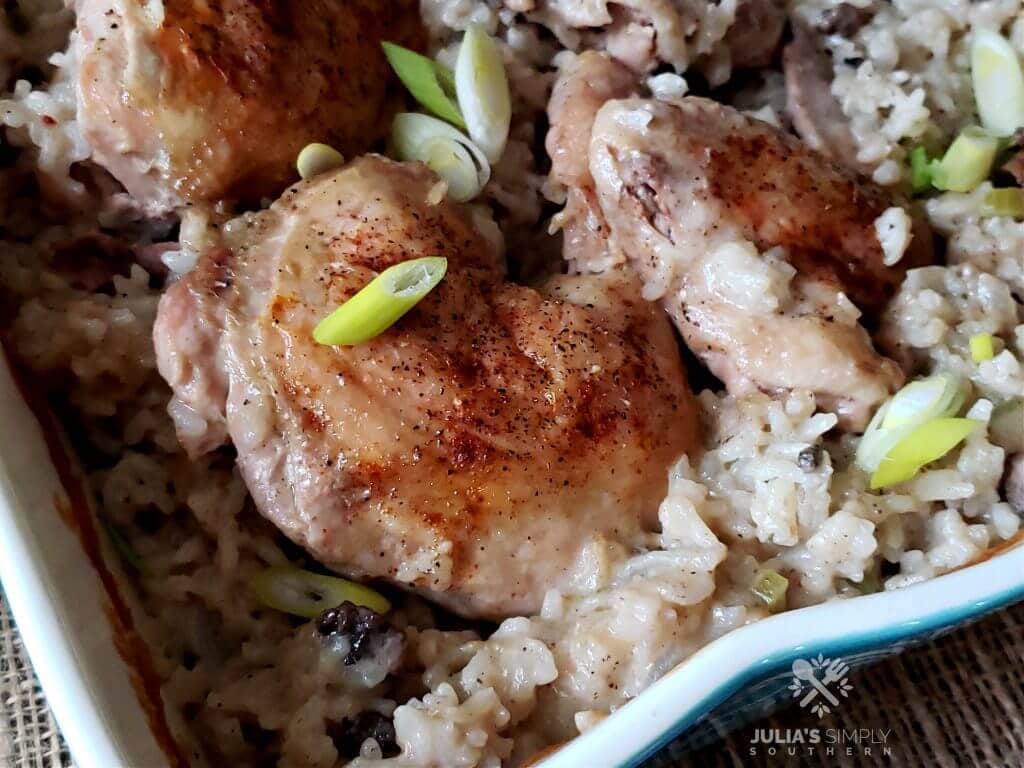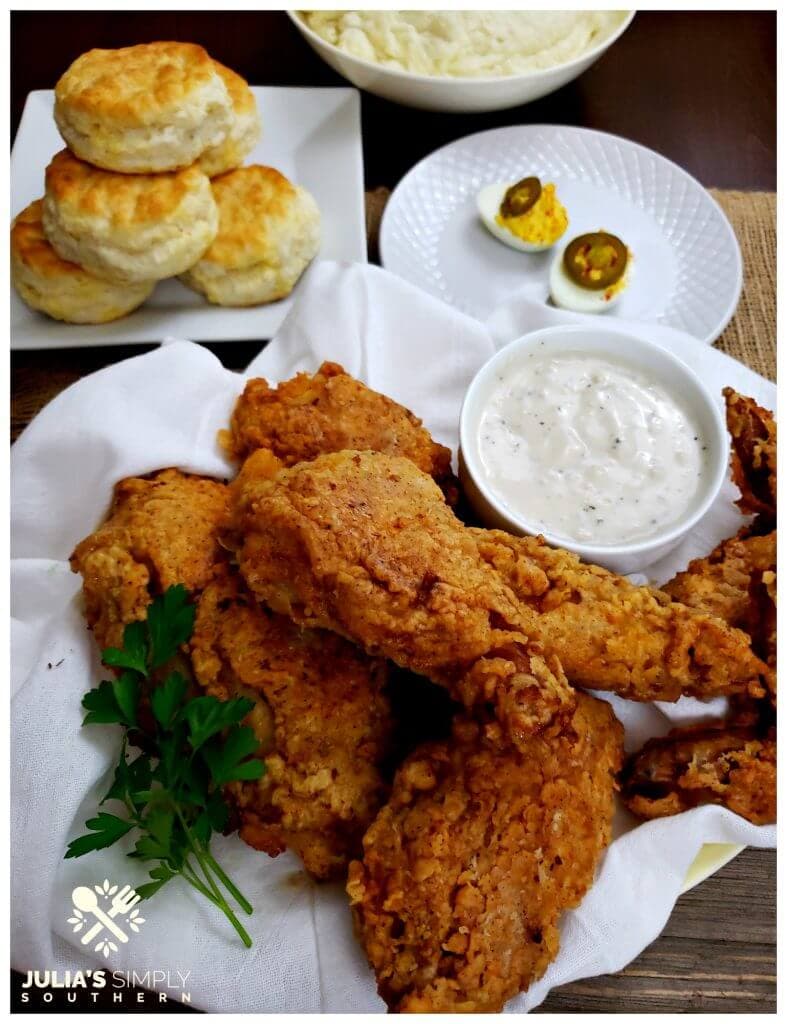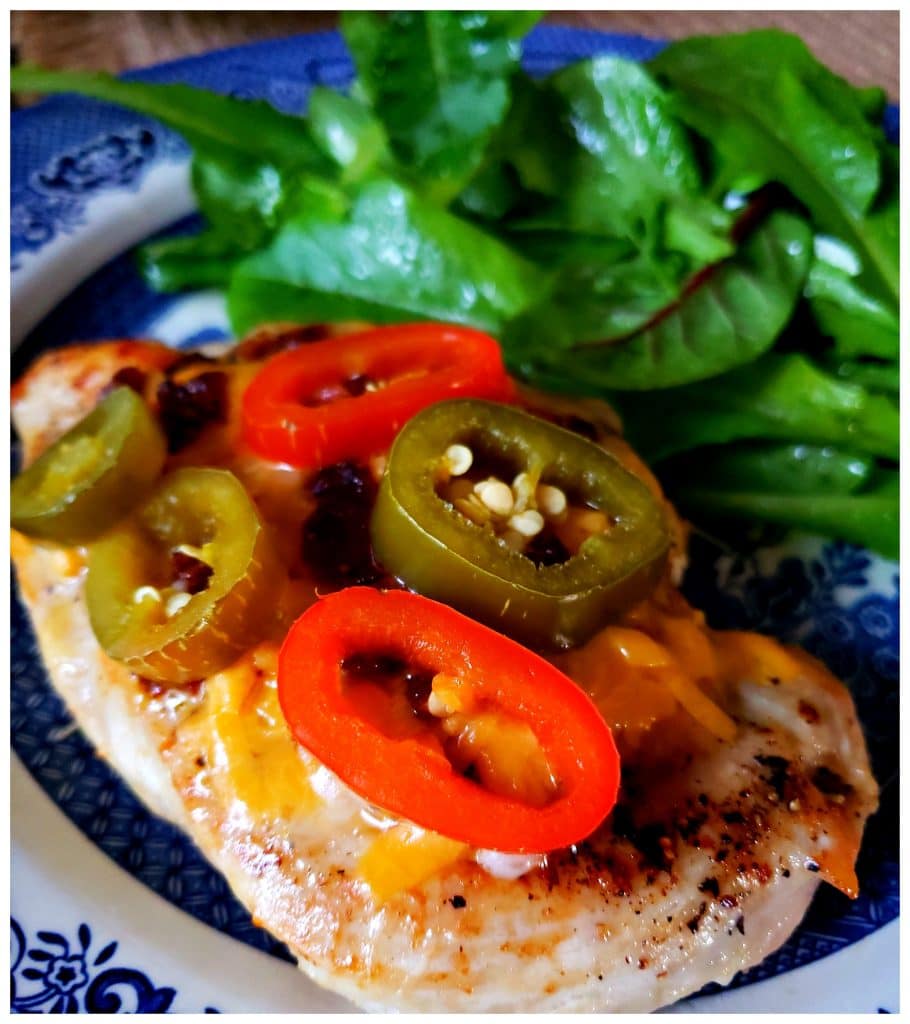 Looking for something else?
What Other Baked Chicken Recipes are Good?
If you would like to try something other than Classic Southern Baked Chicken it is easy to switch things up. Here are few tasty ideas…
Lemon Pepper Chicken
Baked Barbecue Chicken
Baked Italian Chicken
Blackened Chicken
Cajun Creole Seasoned Chicken
Garlic Chicken
Chicken Paprika
Ranch Chicken
Once you've mastered the classic baked chicken recipe then it is easy to create your own favorite meals with the spices and flavors that your family enjoy.
Thank you for stopping by!
Thank you so much for stopping by! I am so glad that you did and I hope that this classic and easy baked chicken recipe will be on your dinner menu soon. I know that you'll enjoy it just as much as we do.
Be sure to subscribe to my email list while you are here. As a subscriber you will receive a weekly newsletter from me with the latest recipe posts and any news here on the blog so that you never miss a thing.
Classic Southern Baked Chicken Recipe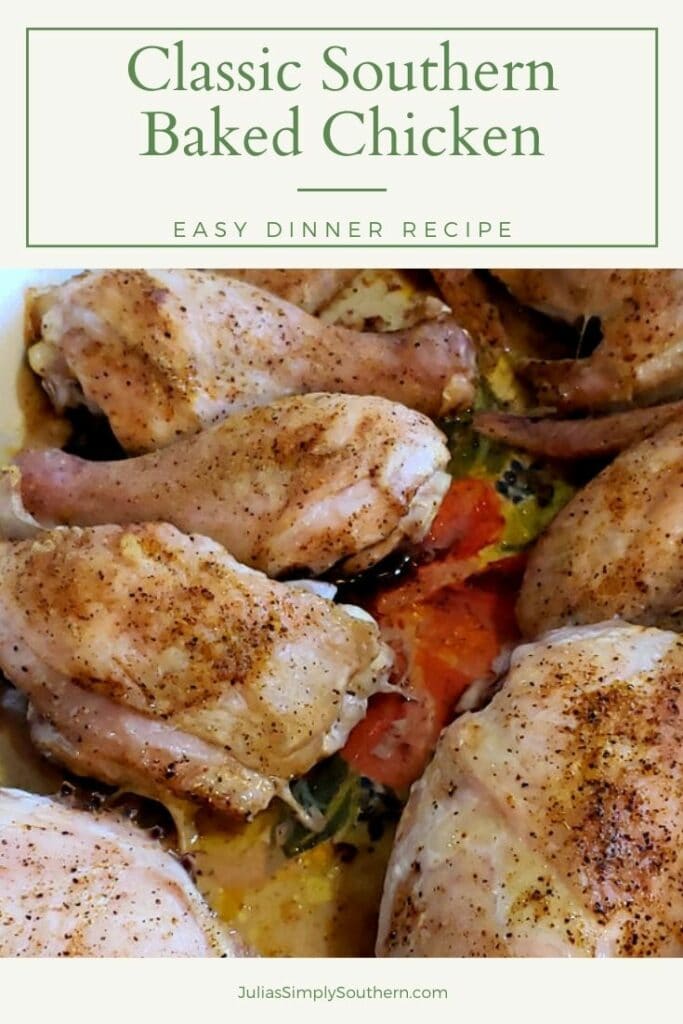 Meet Julia
Author of Julia's Simply Southern
Hey Y'all! I'm Julia, the cook and writer behind the recipes here at Julia's Simply Southern. I began my website so that I could share easy to follow recipes that anyone can use to put a home cooked meal on the dinner table. Thanks so much for stopping by!
Follow me on Facebook | Twitter | Instagram | Pinterest | YouTube