In this post I am sharing an old fashioned Southern favorite … Hot Water Cornbread.

In the South, cornmeal is a pantry staple. We prefer stone ground if at all possible. It's been that way for centuries. The local grist mill owner would have been one of the most important people in the community back in the day.
What makes cornmeal a staple ingredient? I suppose because it is so versatile. You can use cornmeal to make a cake of cornbread, a crispy coating for fried foods, in dessert type recipes or for crispy pan fried hot water cornbread. Of course no Southern holiday would be complete without a side of cornbread dressing.
You may also hear hot water cornbread referred to as hoe cakes, corn cakes or cornbread fritters. There are also variations, simple changes really, in how hot water cornbread is cooked which can make it something else. Two such variations would be lace cornbread or corn pone.
I've heard that hot water cornbread would have been considered an everyday type of cornbread since it was basic with minimal ingredients. The cake of cornbread made with buttermilk and eggs today would have been thought of as fancy, or company, cornbread.
How Water Cornbread without Shortening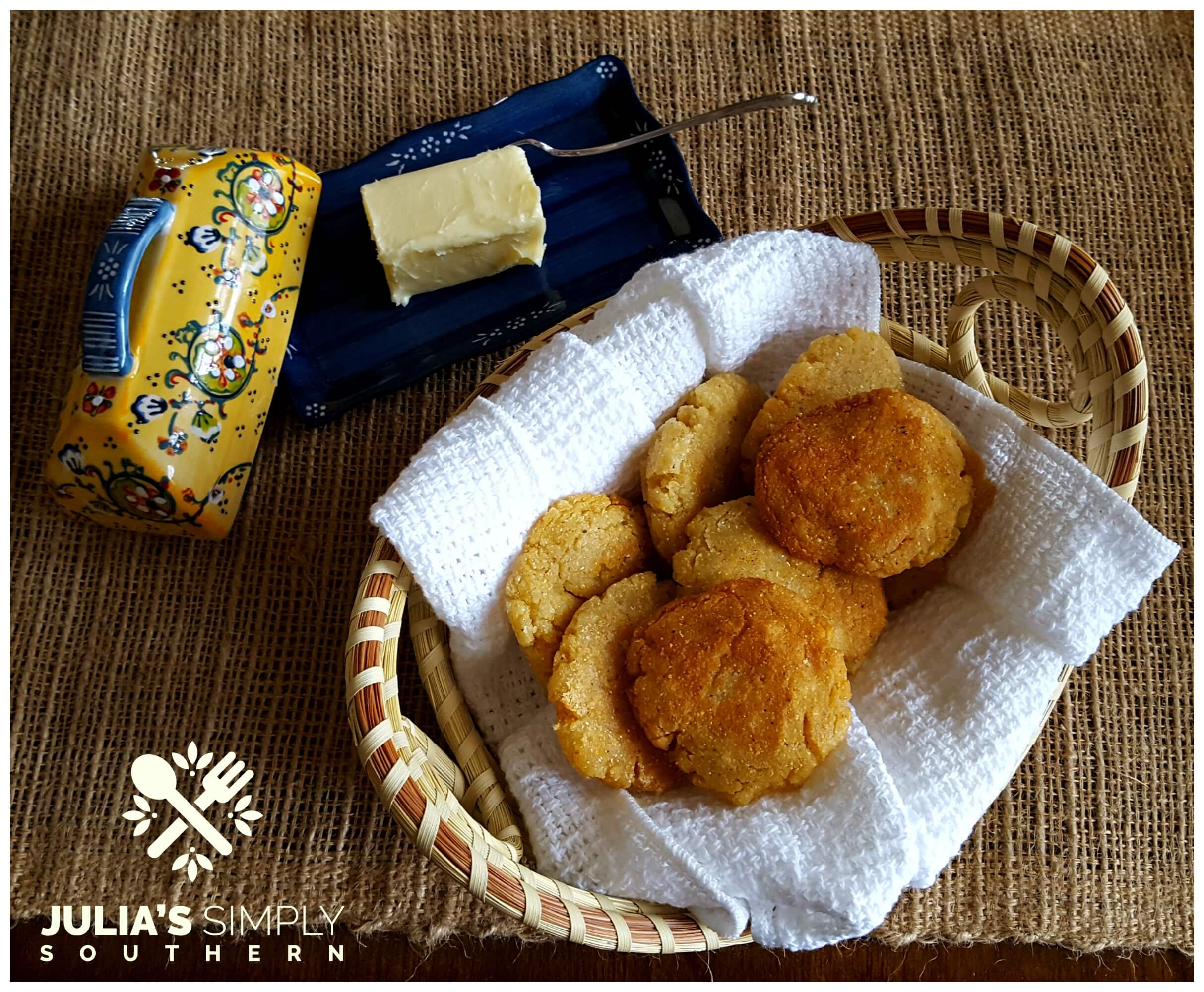 I'm lucky enough to have a historic grist mill about five minutes or so from my house so I can pick up stone ground cornmeal very easily. You can also order it online these days in case local markets to you don't carry it.
Hot water cornbread is my husbands preferred version of cornbread because they're crispy all around. I love them too really….with a dab of butter for me.
Growing up in the South, we always had either cornbread or biscuits on the table at supper time. While I use buttermilk now when I make a cake of cornbread, my mother always just used water and an egg.
We could spend all day talking about all of the different ways that cornbread recipes can be made. I own an entire cookbook of just cornmeal recipes in fact…so there's a lot.
Southern Hot Water Cornbread Recipe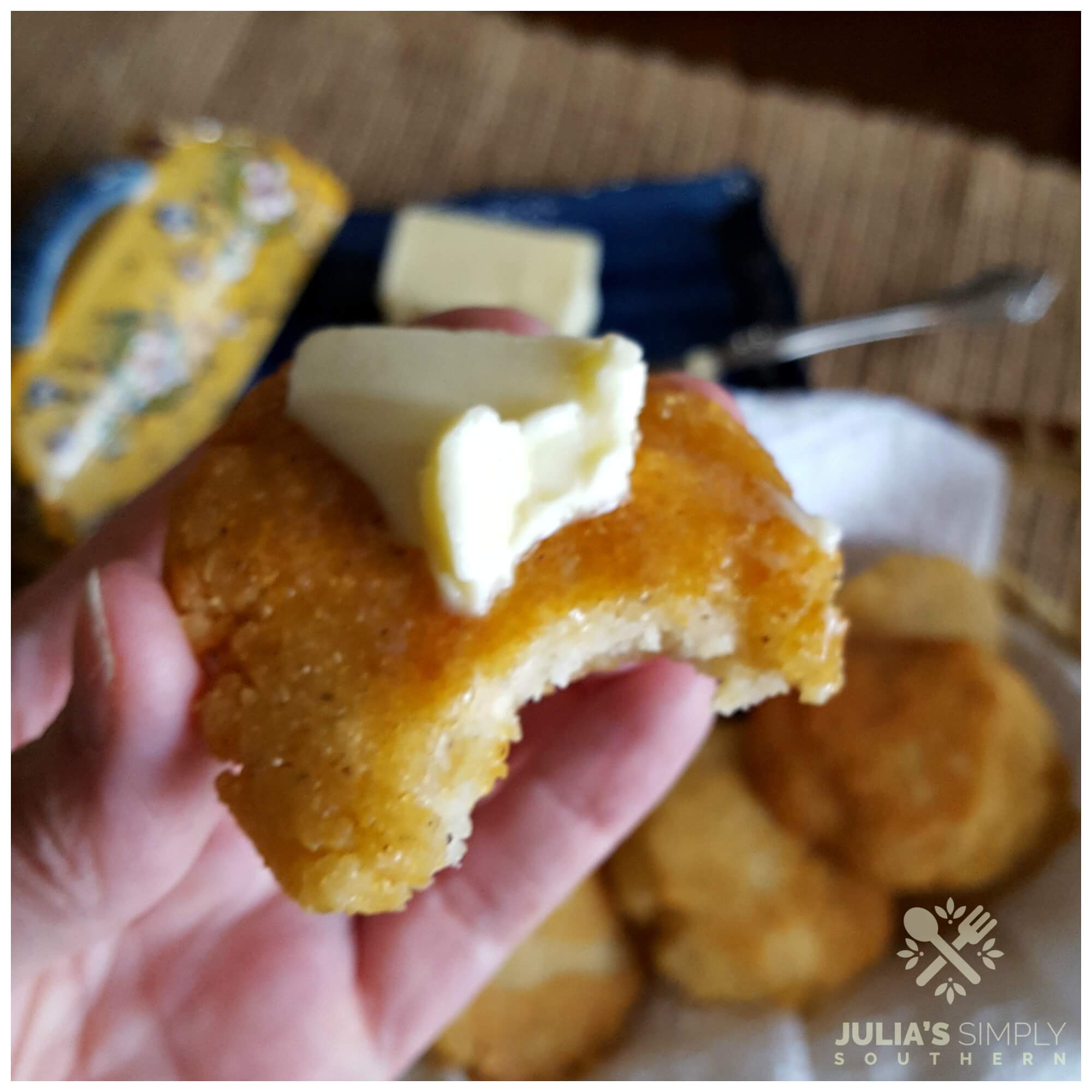 Why do they call it hot water cornbread? unlike high rise cake cornbread we're all used to, hot water cornbread is simple in ingredients. To make hot water cornbread can be done with just three ingredients plus some hot water to make the batter and a bit of oil for frying.
Can I make cornbread with water instead of milk (or buttermilk)? You sure can! As I mentioned earlier, my mother always made cornbread with water….not even hot water, just plain old cold tap water.
Is cornbread supposed to be sweet? Not unless you're making a cake 😉 a side of cornbread should be a savory side for your meal.
Fluffy Hot Water Cornbread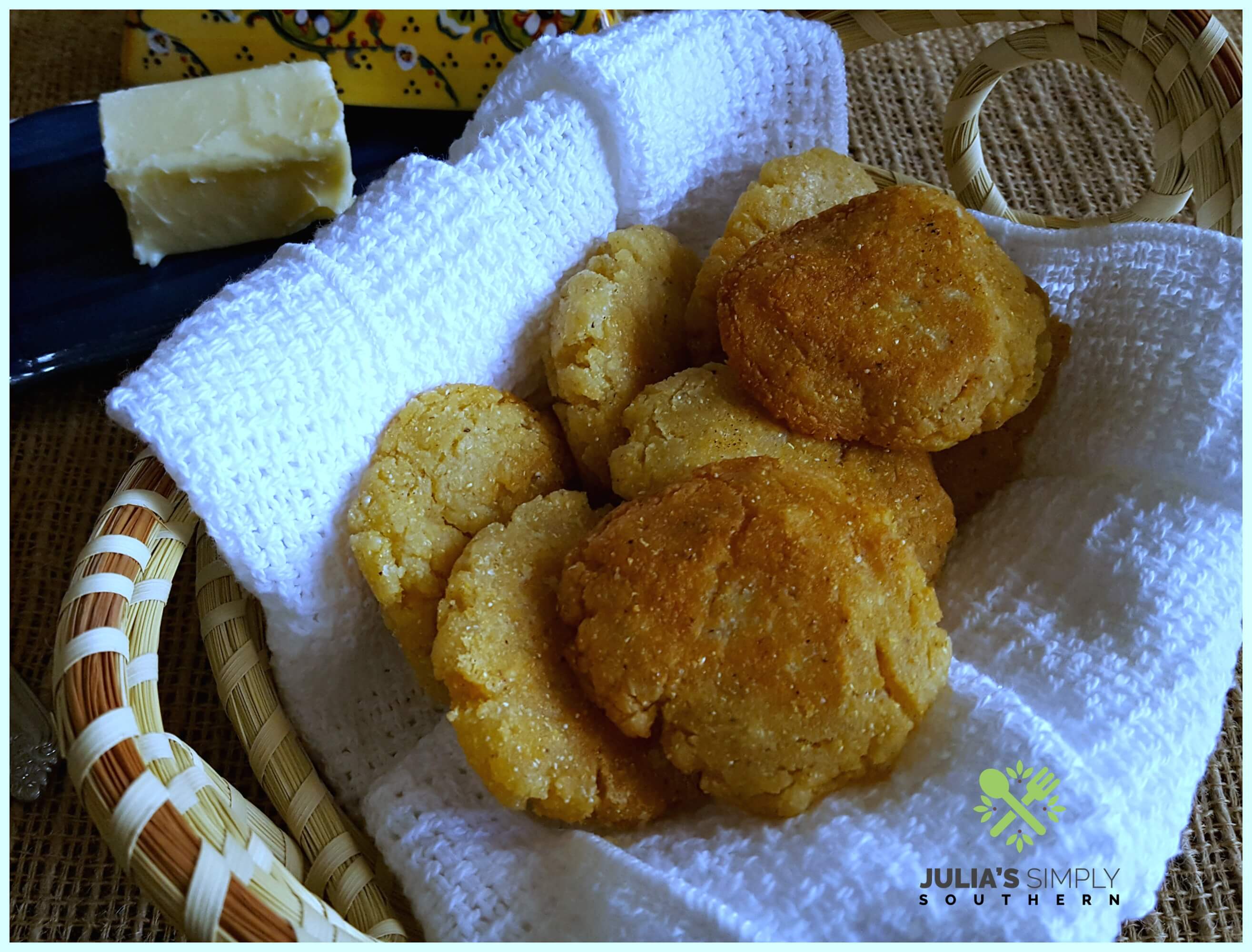 You'll find a full printable recipe card further down in this post.
How do you make hot water cornbread in a skillet? Here's what you'll need…some oil fro frying, all purpose cornmeal, baking powder, salt, cracked black pepper and hot water.
Pan Fried Cornbread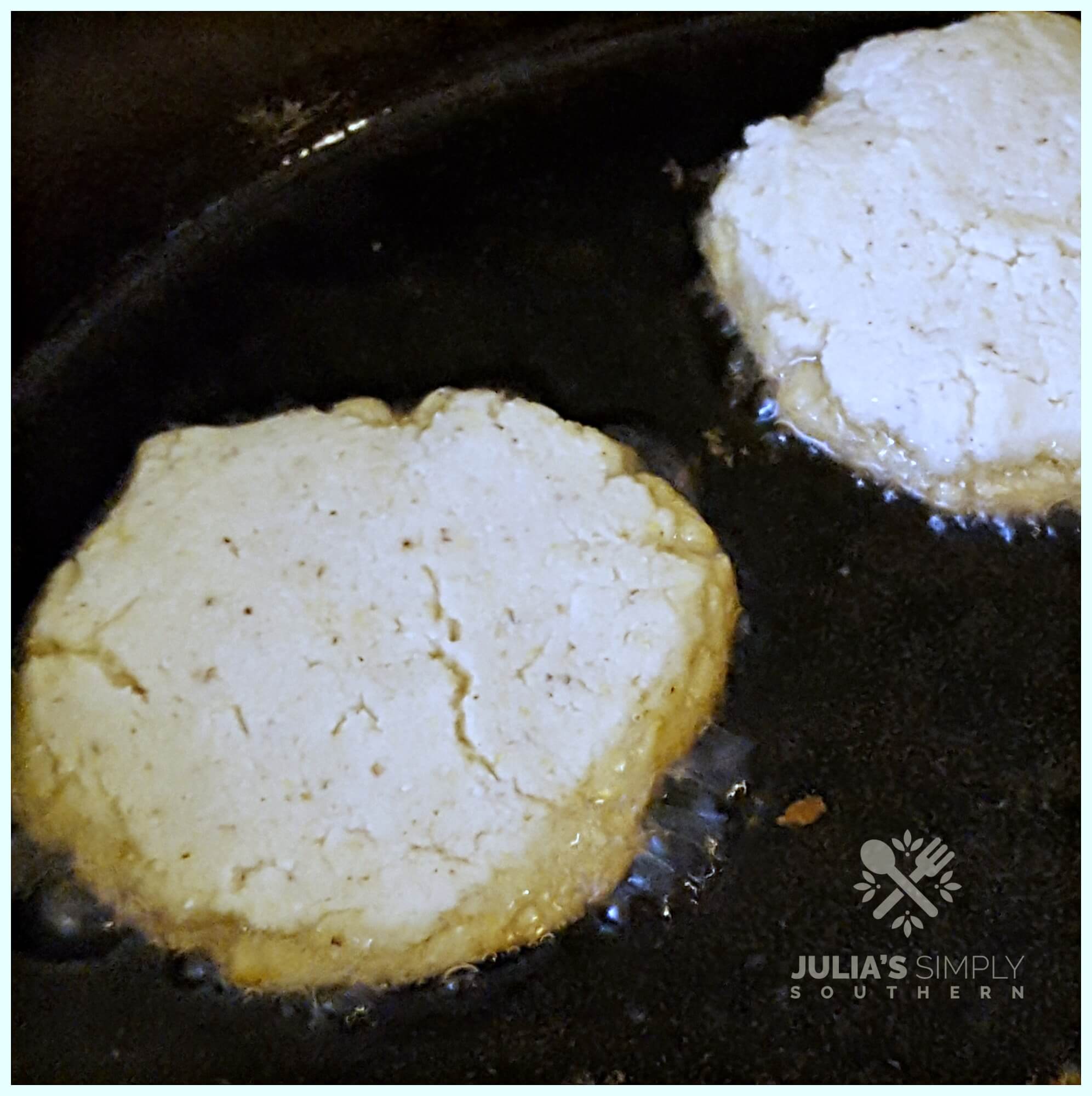 Step 1: Heat the oil in a cast iron skillet until it is hot enough for frying.
Step 2: Make your hot water cornbread batter by combining the cornmeal, baking powder, salt, pepper and hot water together in a mixing bowl. The batter for hot water cornbread will be a bit thick and that is what you want.
In fact, you'll take a tablespoon at a time and use your hands to sort of shape it (if you want it sort of pretty…this is completely optional), otherwise you can just drop it right into the skillet and pat it out with your spatula.
Step 3: Pan fry the hot water cornbread until golden brown on each side then remove from the pan and drain of excess oil on a paper towel lined plate.
Hot Water Cornbread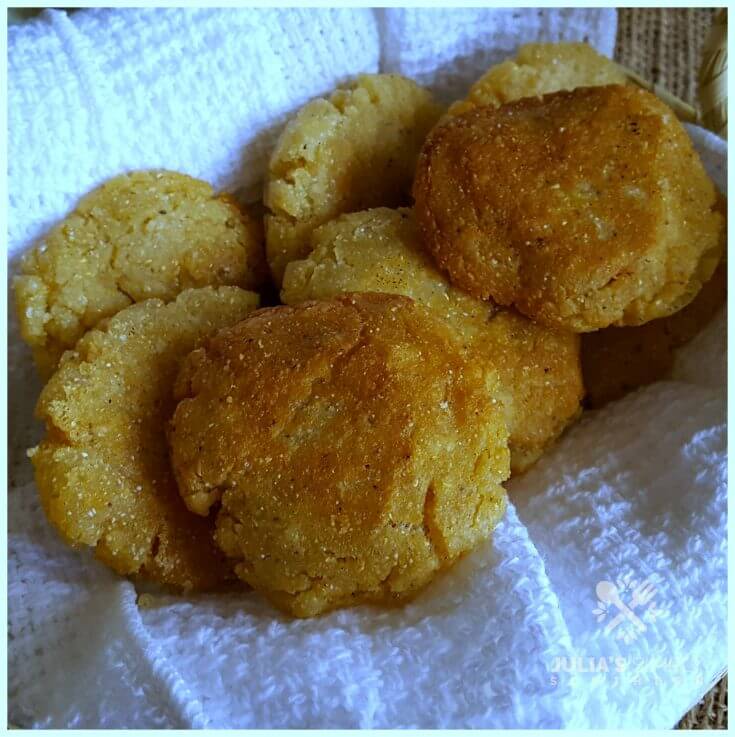 Old fashioned Southern hot water cornbread that is pan fried until crispy and golden brown
Ingredients
1/3 c Vegetable or Peanut Oil, enough to cover the bottom of a skillet
1.5 c All Purpose Stone Ground Cornmeal
1 tsp Baking Powder
1 tsp Salt
Cracked Black Pepper, to taste, if desired
1 to 1.5 c Boiling Hot Water, or enough to make a thick wet batter
Instructions
Heat the cooking oil over medium heat in a cast iron skillet.
In a bowl mix the remaining ingredients to form a wet thick batter.
Form a table spoon at a time into disk like shapes or just drop into the skillet and free form.
Cook 3 to 4 minutes per side until crispy and golden brown.
Serve with room temperature softened butter, if desired.
Nutrition Information:
Yield:
8
Amount Per Serving:
Calories:

73
Total Fat:

2g
Saturated Fat:

0g
Trans Fat:

0g
Unsaturated Fat:

2g
Cholesterol:

0mg
Sodium:

361mg
Carbohydrates:

12g
Fiber:

1g
Sugar:

0g
Protein:

1g
See this recipe shared at: