In this post you'll discover the easy recipe for 15 Bean Soup with Smoked Sausage – a one pot meal!
A nutritious and economical one pot meal of 15 bean soup. Serve with a side of corn bread. This is a favorite supper for us during the cooler months of the year.
Which Beans are in 15 Bean Soup?
The fifteen varieties include: Northern, Pinto, Large Lima (Butter Beans), Black Eyed Pea, Garbanzo, Baby Lima, Small Red, Yellow Split Pea, Lentil, Navy, White Kidney, Green Split, Cranberry, Small White and Black Bean.
Ingredients:
1 package 15 Bean Soup Dry Beans
32 oz Chicken, Turkey, Beef or Vegetable Stock
1 tbs Butter
1 Onion, yellow or white, diced
3 Stalks of Celery, diced
2 Bell Peppers, I used a yellow and red but any color will do
1 tsp Salt
1/2 tsp Black Pepper
1/4 tsp Onion Powder
3 Bay Leaves
Flavor Packet from 15 Bean Soup package
1 package Beef Smoked Sausage , sliced or diced
8-10 cups Water for cooking
Smoked Sausage and Bean Soup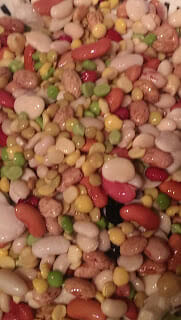 Cajun Style 15 Bean Soup Recipe
Although there are some beans in this mix that do not require soaking, I go ahead and soak them all. I mean who would want to pick out certain beans to soak, right?!? Soaking also gets rid of some of the, ahem, gases.
The longer beans soak, the more gas producing compounds break down. Pardon me. Soaking also reduces cooking time.
There are basically four important steps to using any dry beans:
1) Clean
2) Rinse
3) Soak
4) Cook
Clean and rinse the beans and place in a bowl, add 1/2 of the stock and fill the rest with water until the beans are covered. Reserve the rest of the stock for cooking the beans. Cover the bowl and place in the refrigerator to soak overnight.
15 Bean Soup Recipe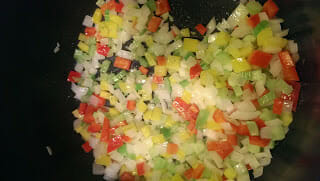 Remove your beans from soaking and pour into a colander and rinse well.
In a large pot add 1 tablespoon of butter and heat over medium heat. Add diced onion, celery, and bell pepper and saute until onions begin to become translucent.
Add the remaining stock to the pot along with the salt, pepper, onion powder, bay leaves. Add your beans, water, and flavor packet. Stir to combine all and bring to a boil.
Reduce and cover pot leaving a vent. You may have to add more water during the cooking process due to evaporation. Cook 1 hour on a medium low heat.
Add the smoked sausage and cook for 1 more hour. Remember to remove your bay leaves when done.
One Pot Meal Recipes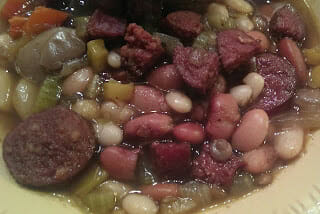 You can serve this along with corn bread or
This soup can be served over rice as well.
This is definitely a hearty meal, no matter how you choose to serve it.
Easy Bean Soup
15 Bean Soup Recipe Vegetarian: If you would like to prepare this recipe so that it is vegan friendly, use vegetable stock and omit the smoked sausage.
More delicious versions to try with 15 Bean Soup: Try this recipe using chicken or ground beef instead of pork, they're all delicious!
15 Bean Soup with Smoked Sausage
This delicious one pot meal of 15 bean soup with smoked sausage is delicious. It is easy to customize this recipe using other variations or made to be vegan friendly.

Prep Time 15 minutes

Cook Time 2 hours

Total Time 2 hours 15 minutes
Ingredients
1 package 15 Bean Soup Dry Beans
1 Carton Chicken, Turkey, Beef or Vegetable Stock
1 tbs Butter
1 Onion, yellow or white, diced
3 Stalks of Celery, diced
2 Bell Peppers, I used a yellow and red but any color will do
1 tsp Salt
1/2 tsp Black Pepper
1/4 tsp Onion Powder
3 Bay Leaves
Flavor Packet from 15 Bean Soup package
1 package Beef Smoked Sausage , sliced or diced
8-10 cups Water for cooking
Instructions
Clean and rinse the beans and place in a bowl, add 1/2 of the stock and fill the rest with water until the beans are covered.

Cover the bowl and place in the refrigerator to soak overnight.

In a large pot add 1 tablespoon of butter and heat over medium heat then add the diced onion, celery, and bell pepper and saute until onions begin to become translucent.

Next, add the remaining stock to the pot along with the salt, pepper, onion powder, bay leaves.

Next, add the beans, water, and flavor packet. Stir to combine and bring to a boil.

Reduce the heat and cover pot leaving a vent. You may have to add more water during the cooking process due to evaporation.

Cook 1 hour on a medium low heat.

Next, add the smoked sausage and cook for an additional hour.

Serve hot with cornbread, if desired
Nutrition Information:
Yield:
12
Amount Per Serving: Calories: 417 Total Fat: 11g Saturated Fat: 4g Trans Fat: 0g Unsaturated Fat: 6g Cholesterol: 35mg Sodium: 480mg Carbohydrates: 55g Fiber: 22g Sugar: 11g Protein: 25g