Chili is a comfort food favorite! As temperatures cool down , chili becomes a staple on the menu everywhere. The best chili recipes are loaded with flavor, perfect to serve with a side of cornbread, crackers, or over rice. Best of all it's easy to make. You can have dinner on the table in about an hour. This is great for feeding a crowd too!
Ingredients
1 tsp Olive Oil
1/2 c Celery, finely diced
1 Onion, diced
1 Red Bell Pepper, diced
1 lb Ground Beef
1 lb Country Breakfast Sausage (I use Neeses)
1 tsp Salt
1/4 tsp Black Pepper
1/4 c Chili Powder (about 4 tbs)
1 tsp Smoked Paprika
1/2 tsp Cumin
1 tsp Cayenne Pepper Sauce
4 c Beef Stock
1 tsp Worcestershire Sauce
1 tsp Beef Better Than Bouillon (or 1 bouillon cube)
2 16oz Cans of Pinto Beans, drained & rinsed
1 16oz Can of Red Kidney Beans, drained & rinsed
1 15oz Can Black Beans, drained & rinsed
1 15oz Can Great Northern Beans, drained & rinsed
26.46 oz Finely Chopped Tomatoes (can use diced tomatoes or crushed tomatoes)
2 oz Tomato Paste
Ultimate Chili Con Carne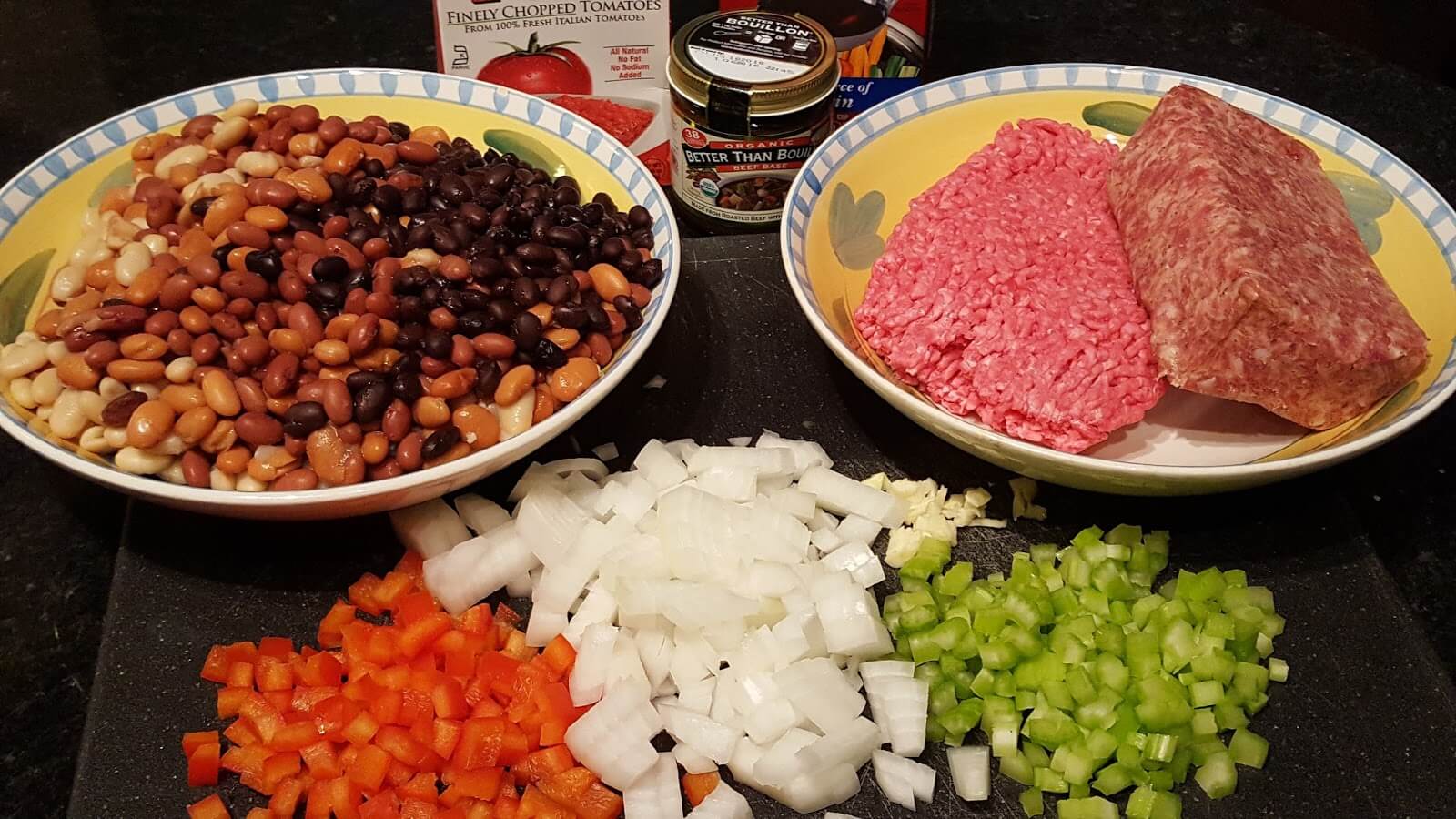 Heat a large dutch oven over medium heat.
Add olive oil, celery, onion, and bell pepper. Saute five minutes until the vegetables begin to become tender.
Add ground beef and sausage. Break up and cook until browned. Drain excess oils if desired and return to the pot if desired. I don't drain it myself.
Easy Chili Beans Recipe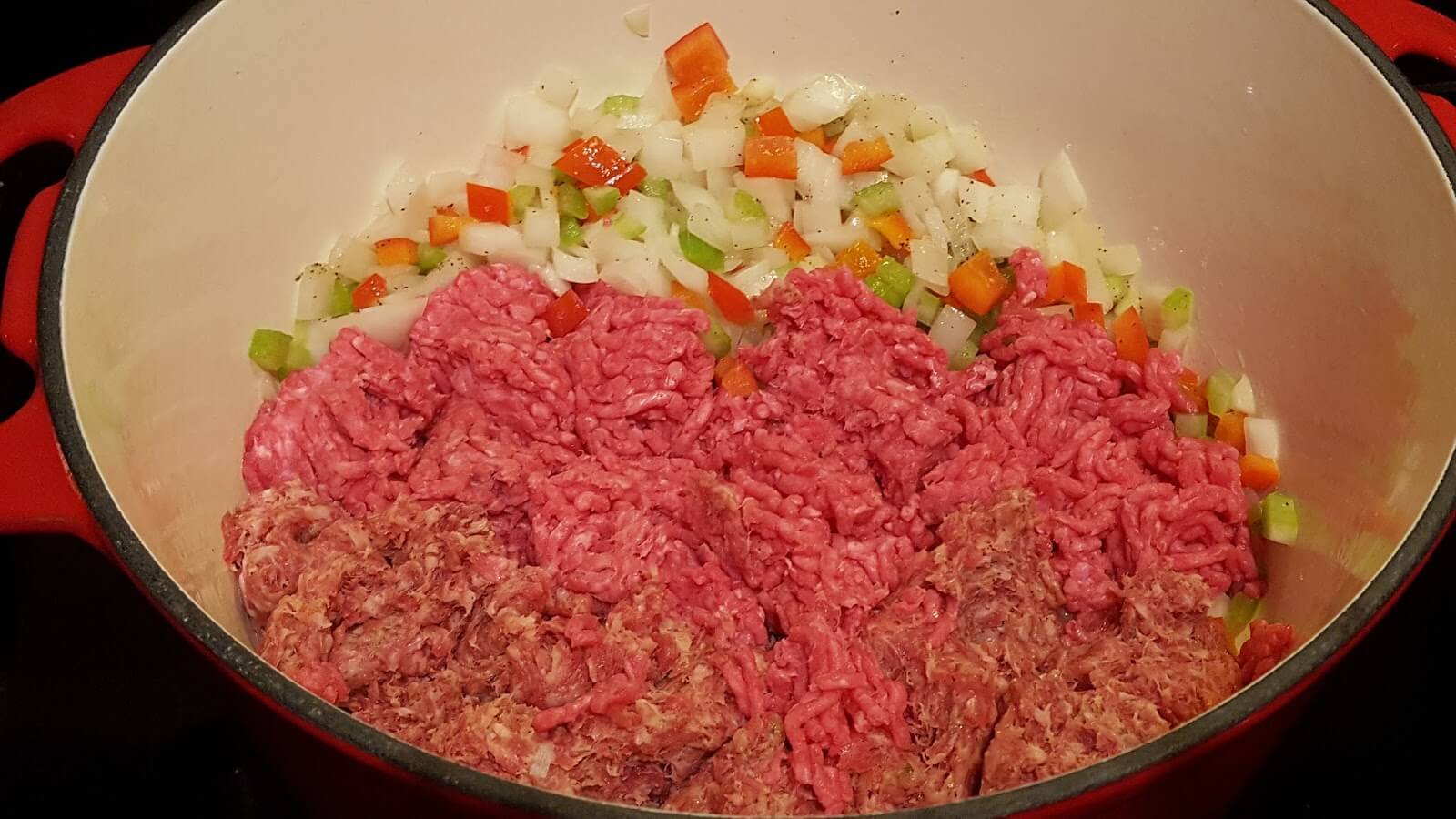 Add seasonings to the meat and vegetables, stir to combine.
Hearty Beef Chili Recipe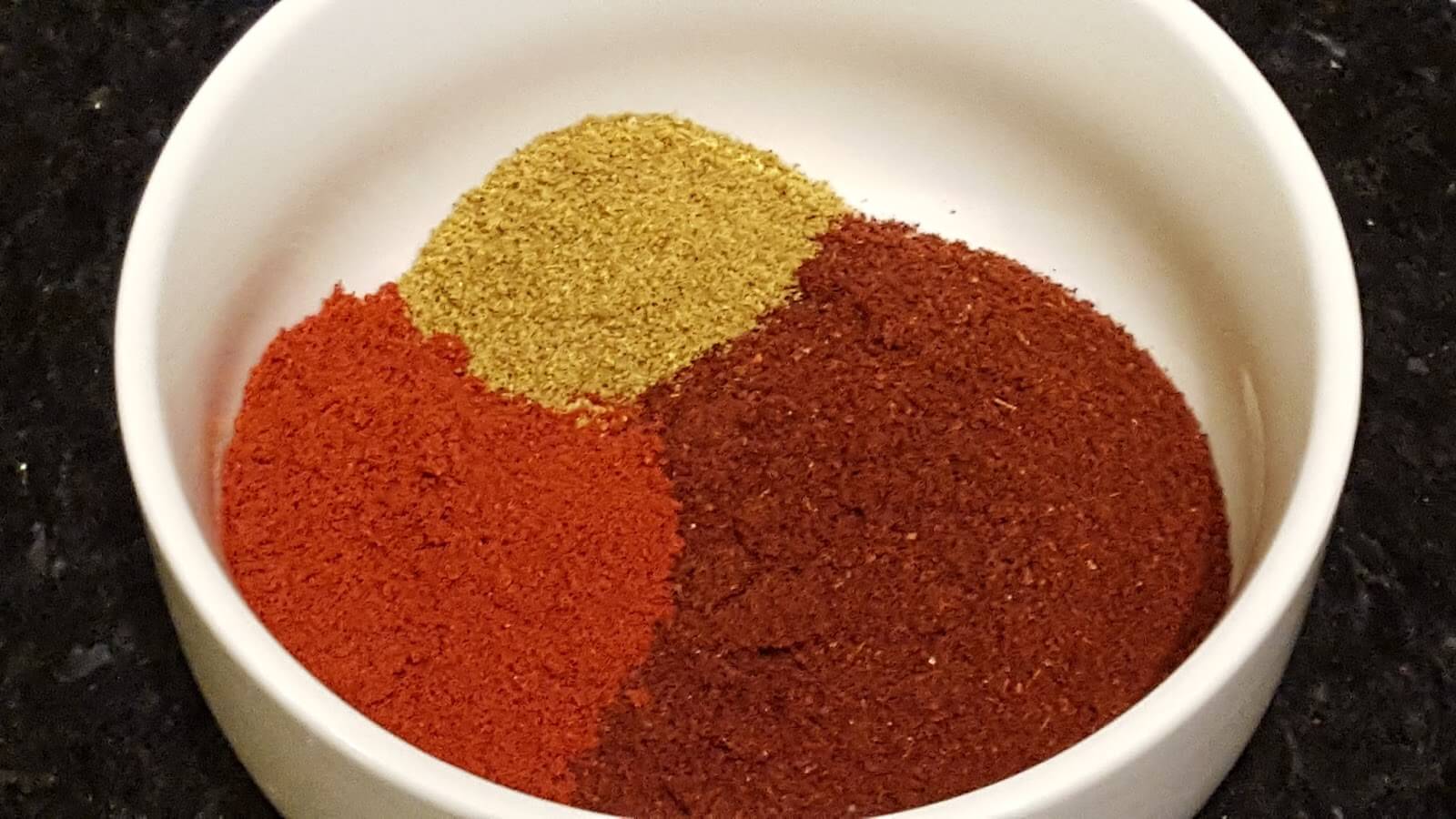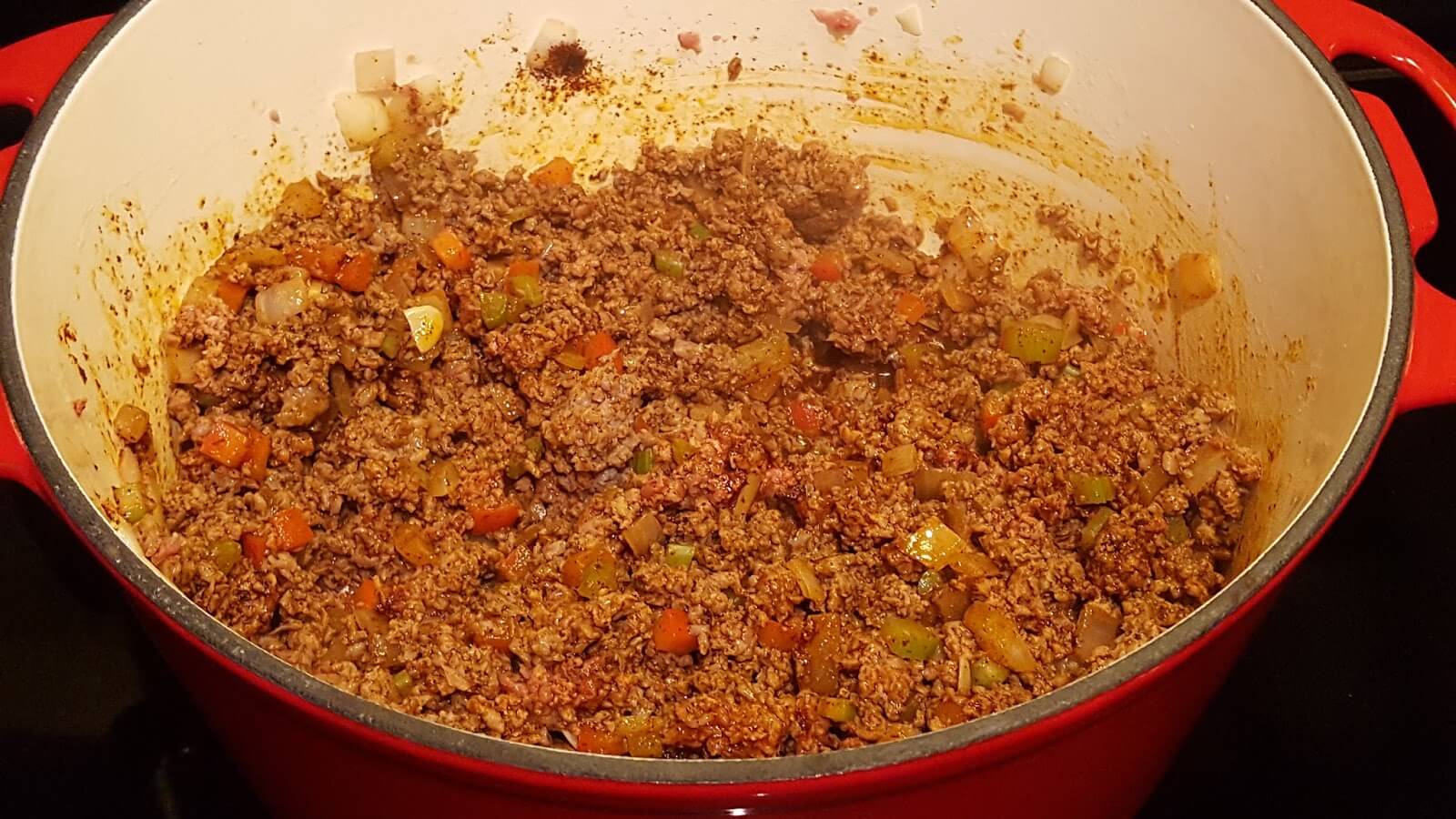 Add beef stock, Worcestershire, bouillon and stir to combine with the beef and vegetables.
Add beans, chopped tomatoes, and tomato paste. Stir to mix with the other ingredients.
Beef and Bean Con Carne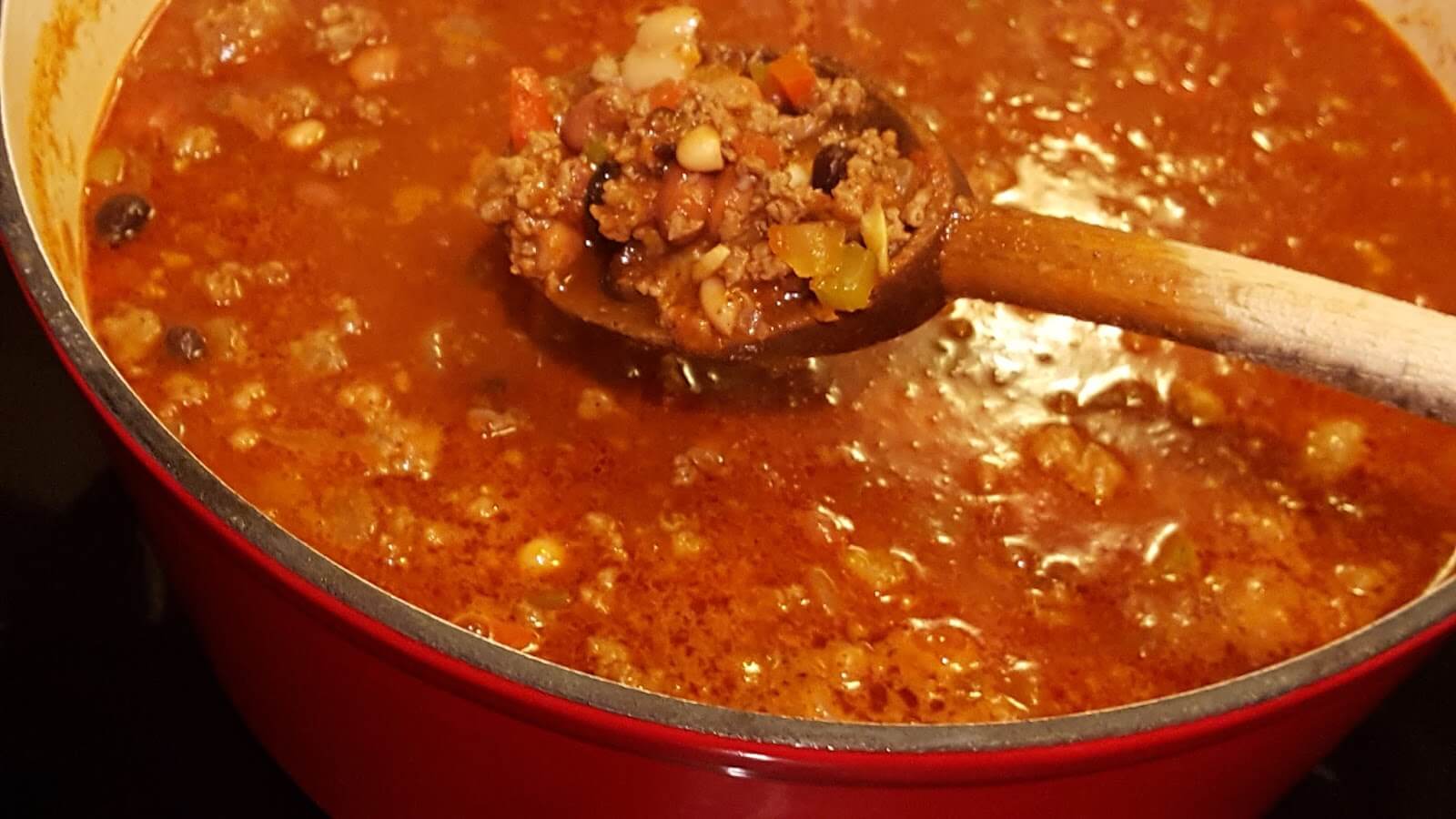 Simmer over medium heat for half an hour.
Serve hot.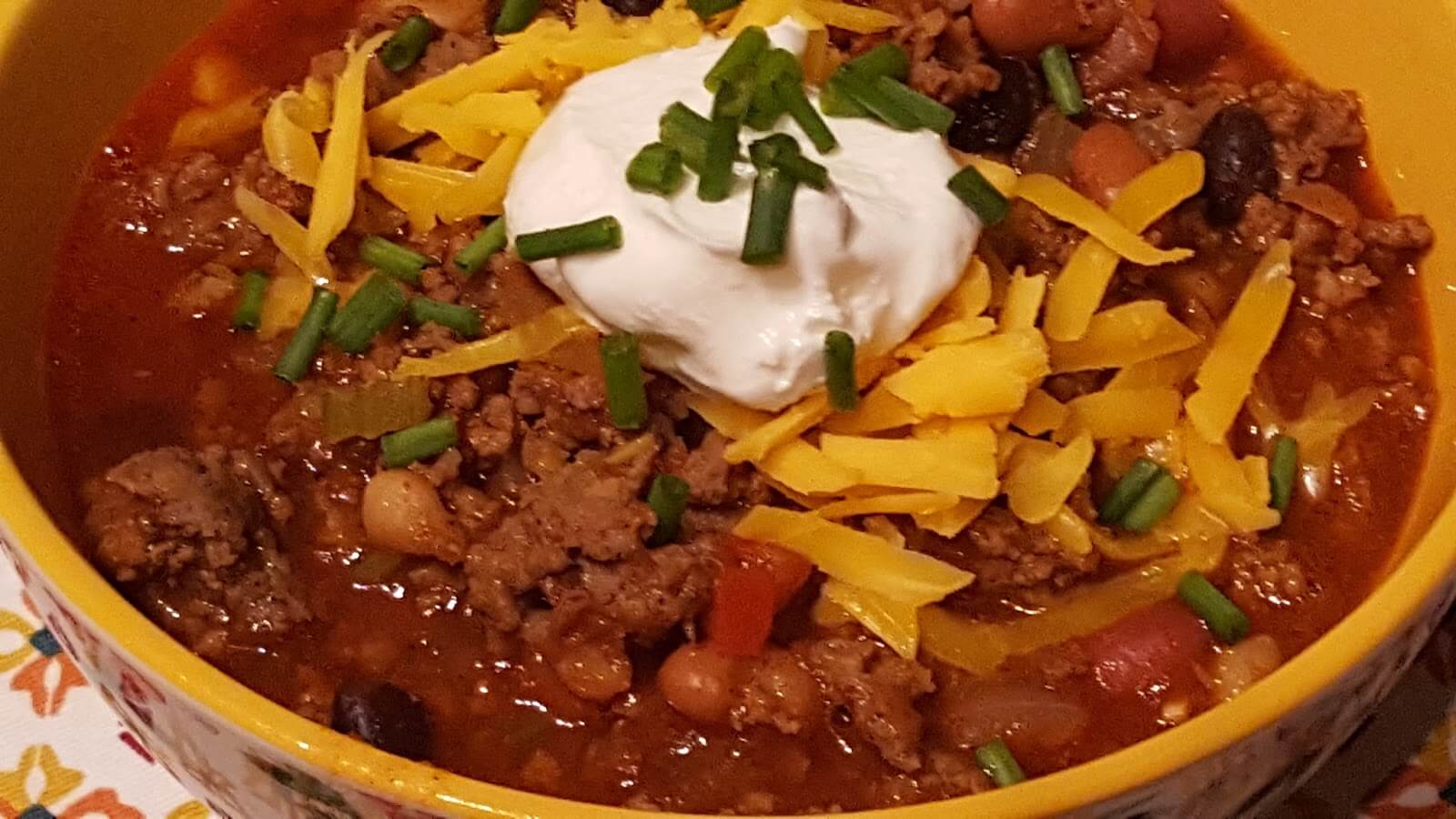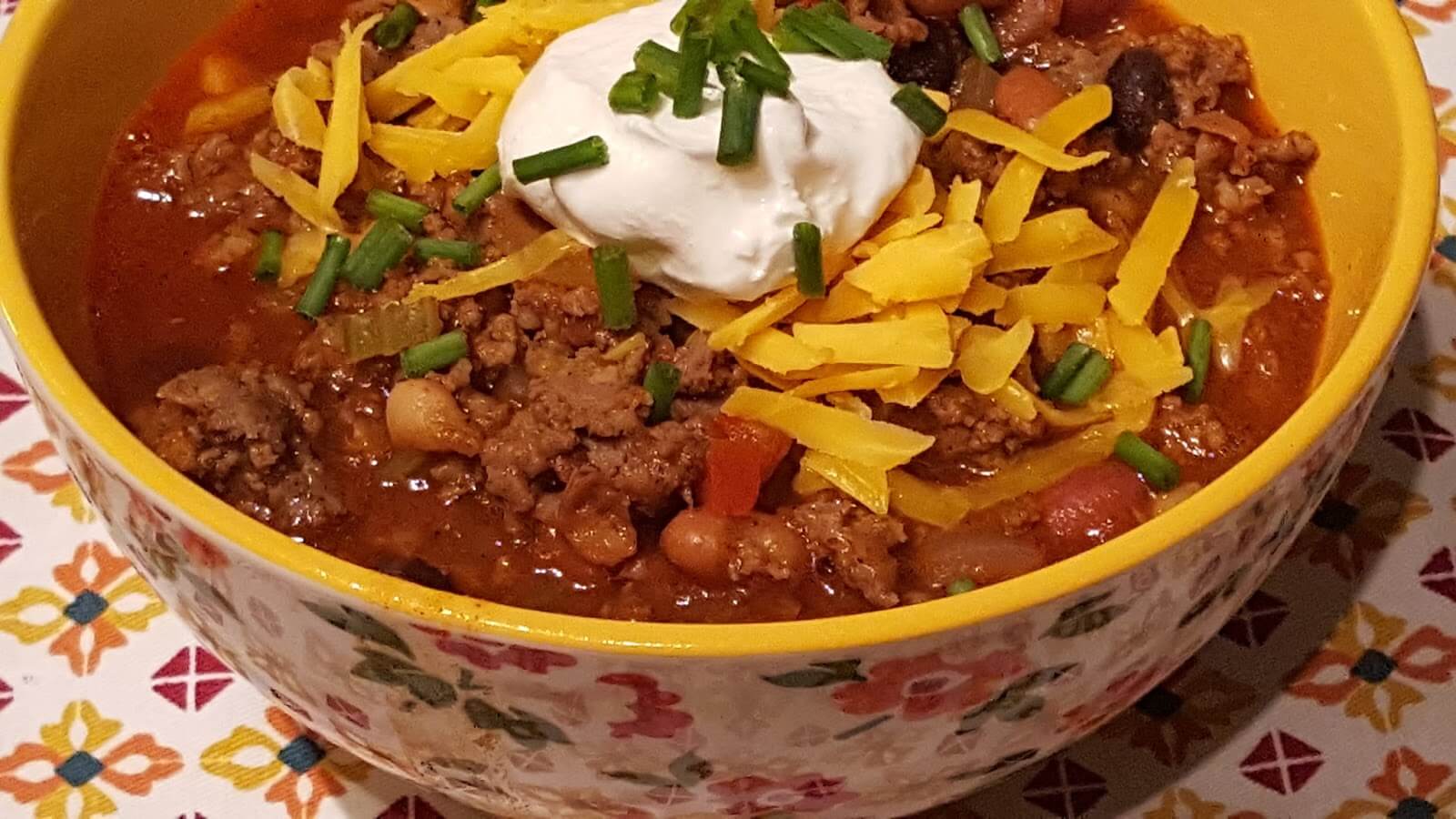 See it at:
Hearty Chili Con Carne
Hearty beef, sausage and bean chili con carne is a comfort food classic meal
Ingredients
1 tsp Olive Oil
1/2 c Celery, finely diced
1 Onion, diced
1 Red Bell Pepper, diced
1 lb Ground Beef
1 lb Country Breakfast Sausage (I use Neeses)
1 tsp Salt
1/4 tsp Black Pepper
1/4 c Chili Powder (about 4 tbs)
1 tsp Smoked Paprika
1/2 tsp Cumin
1 tsp Cayenne Pepper Sauce
4 c Beef Stock
1 tsp Worcestershire Sauce
1 tsp Beef Better Than Bouillon (or 1 bouillon cube)
2 16oz Cans of Pinto Beans, drained & rinsed
1 16oz Can of Red Kidney Beans, drained & rinsed
1 15oz Can Black Beans, drained & rinsed
1 15oz Can Great Northern Beans, drained & rinsed
26.46 oz Finely Chopped Tomatoes (can use diced tomatoes or crushed tomatoes)
2 oz Tomato Paste
Instructions
Begin by heating a large dutch oven over medium heat.
Next, add the olive oil, celery, onion, and bell pepper.
Saute for five minutes until the vegetables begin to become tender.
Next, add the ground beef and sausage. Break up the meat and cook until browned.
Next, add the seasonings to the meat and vegetables, stir to combine.
Next, add the beef stock, Worcestershire, and bouillon. Stir to combine.
Next, add the beans, chopped tomatoes, and tomato paste. Stir to combine.
Simmer the chili over medium heat for half an hour.
Serve hot.
Top with sour cream, shredded cheese and chives (optional)

Nutrition Information:
Yield:
12
Amount Per Serving:
Calories:

504
Total Fat:

20g
Saturated Fat:

6g
Trans Fat:

0g
Unsaturated Fat:

11g
Cholesterol:

67mg
Sodium:

714mg
Carbohydrates:

49g
Fiber:

10g
Sugar:

7g
Protein:

35g