In this post I will be sharing a Simple Baked Chicken Tenders Recipe. These delicious chicken breast tenders are sure to be a meal your entire family will love.
If it is your first time making homemade chicken tenders, I am sharing all of my best tips with step by step photos to walk you through it. For those who are experienced in the kitchen, there is always the "jump to recipe" option if you prefer to skip down.
Why you'll love this recipe…
I mean, who doesn't love a delicious chicken strips basket with some french fries? I sure do! Kids also love chicken tenders (and chicken nuggets) so it's a great meal option that everyone will enjoy.
Few Ingredients – a few simple ingredients is all it takes to make a delicious homemade chicken tenders recipe.
Time Saver – a few quick minutes of prep and your dinner is in the oven to bake and do its thing so you can do other things.
Quick Meal – you'll have your family's supper on the table in about half an hour.
Quality Ingredients – you control what goes into your food preparing it at home and there's no mystery ingredients.
Chicken Strips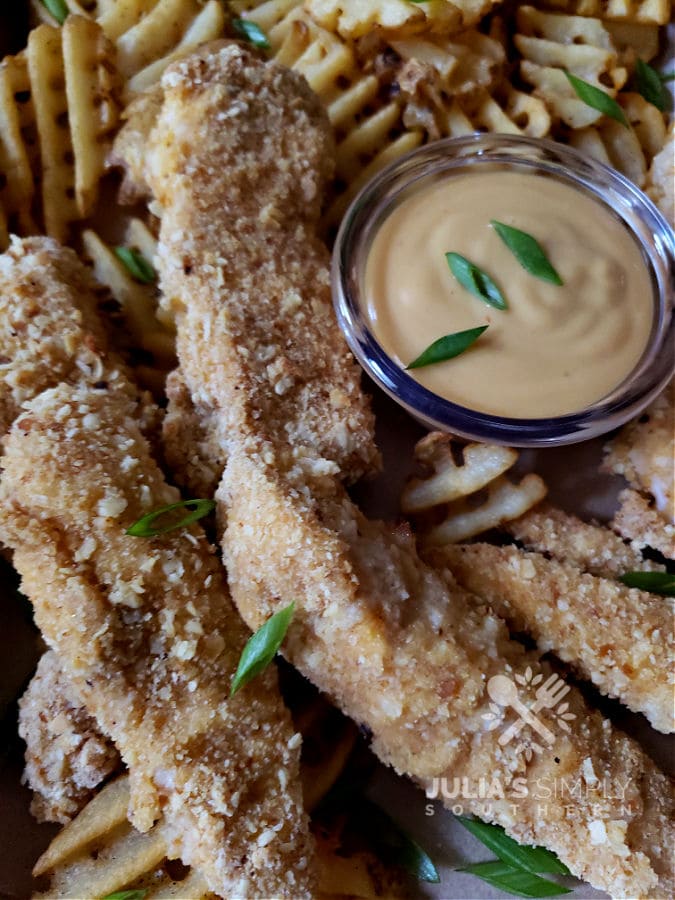 Doesn't that look delicious? Crispy coated tenders served with classic waffle fries and your favorite dipping sauce.
What's your favorite dipping sauce for crispy chicken tenders? Sometimes I prefer no sauce at all. If I'm in the mood for a dipping sauce, I enjoy honey mustard sauce, ranch dressing or barbecue.
You can also pick up some great dipping sauces at your local grocery store these days. There are so many to choose from.
Try a homemade dipping sauce, such as Shut Yo Mouth Sauce, which is great for fries, chicken tenders and seafood.
Oven "Fried" Chicken Tenders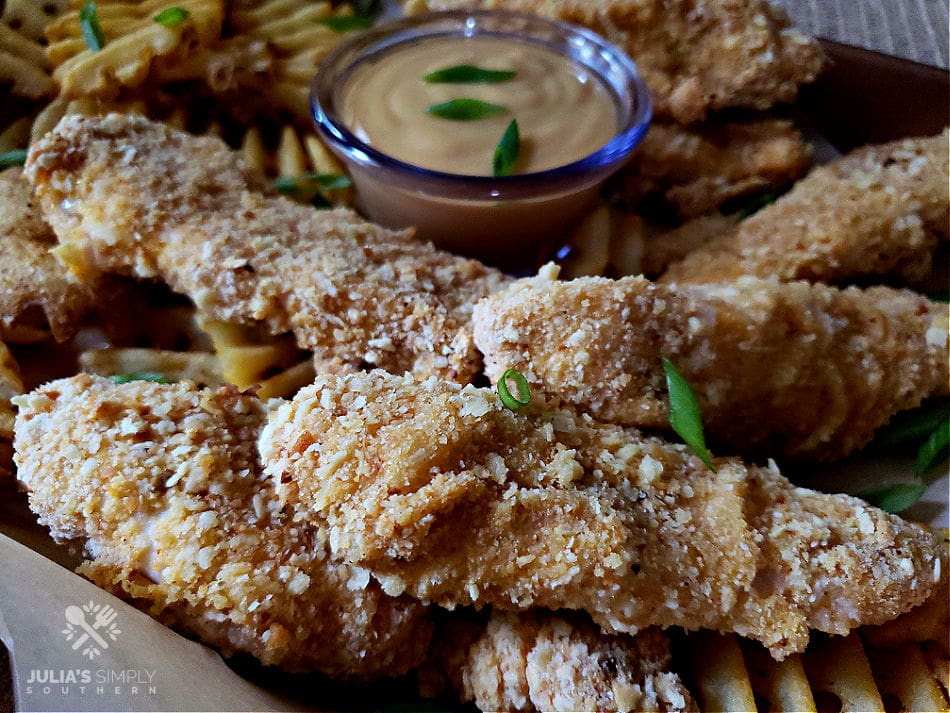 Chicken recipes are among the top favorite meals for families and making your own meals at home can be much more economical.
Depending on appetite of course, let's say that I prepared this meal for a family of four. Everyone would get a couple of tenders and some of the fries. I used a pound of chicken so when it is all said and done, it comes out to just a couple of dollars and some change per person.
I guarantee that you will not escape the drive-thru that cheap.
What You'll Need to Make It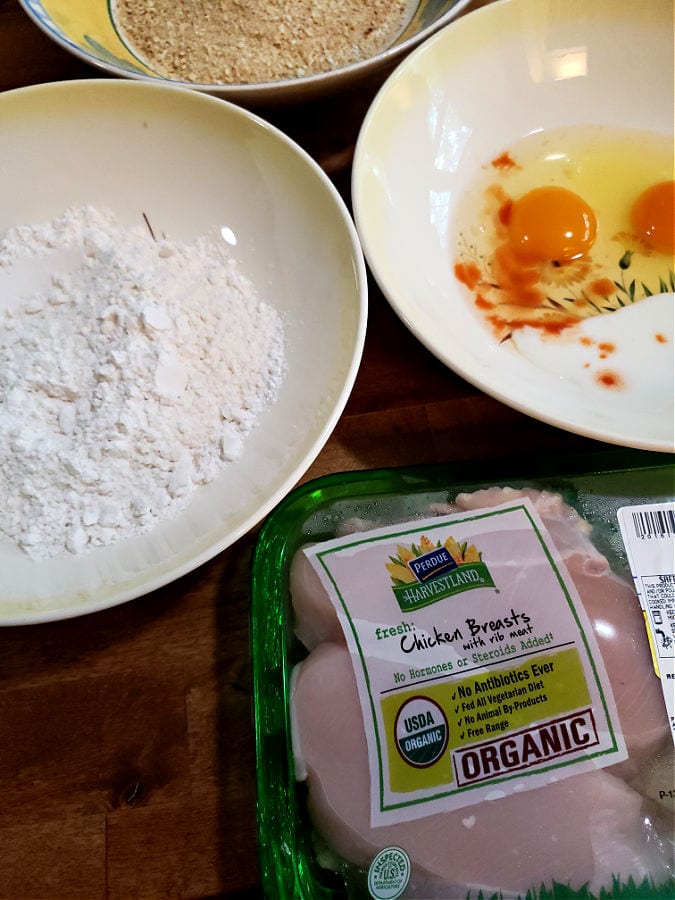 Everything that you need to make this recipe can be picked up at your local Wal Mart or favorite grocery store.
Chicken – I prefer cutting up boneless skinless chicken breasts into tenders but you could also use chicken tenderloins. Keep in mind that the tenderloin has the tough tendon in it, which can be cooked and eaten, but it's more enjoyable to remove that tendon prior to cooking. I'll stick with the breast pieces.
Flour – the flour mixture is the first step of dredging in this tender recipe. The flour mixture will have seasoning and dry the chicken for the next steps.
Wet Mixture – the egg mixture along with a splash of buttermilk and optional hot sauce are whisked together and add another layer of flavor and prepare the chicken strips so that the final crunchy coating will adhere to the chicken pieces.
Bread Crumb Mixture – the bread crumbs add the final crunchy coating. You can use regular breadcrumbs, panko breadcrumbs or seasoned breadcrumbs. Your choice, just use what you have on hand. I really like panko but was out so I used plain bread crumbs. I didn't use Parmesan cheese in my bread crumb mixture but that is also a tasty option to include if you prefer.
Seasonings – seasoning chicken is very important. In the recipe I've noted the seasonings going into the flour but allow me to share a tip…season the chicken pieces themselves with a pinch of salt before you begin the rest of the process. I used onion powder, garlic powder, salt, paprika (for color) and ground black pepper in my flour mixture. You could also use any additional seasonings and dried herbs that you like. For a spicy kick some cayenne pepper or Creole seasoning.
Baked Chicken Tenders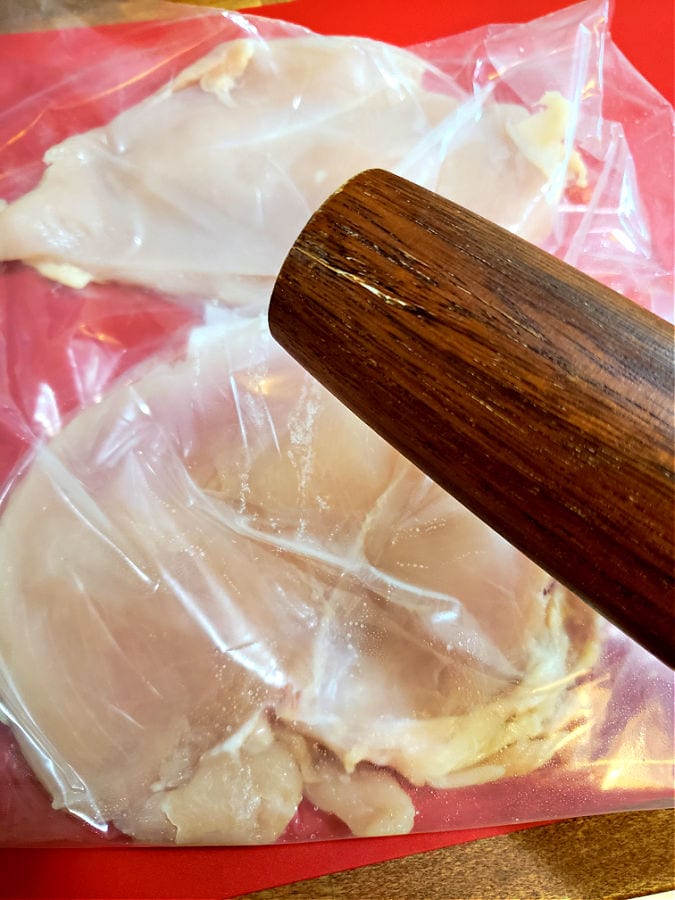 Okay, let's prep the chicken. If you are using boneless breast pieces like I am, I place them into a plastic food storage back or between sheets of plastic wrap and pound them with my wooden rolling pin to flatten them out a bit so the chicken is pretty even for cooking.
Pounding the chicken breasts out to a somewhat even thickness also ensures all of the pieces will cook the same amount of time.
There are also thin cut breast options available at the store if you prefer and you can skip this step if that is what you have to use.
Kid Friendly Tenders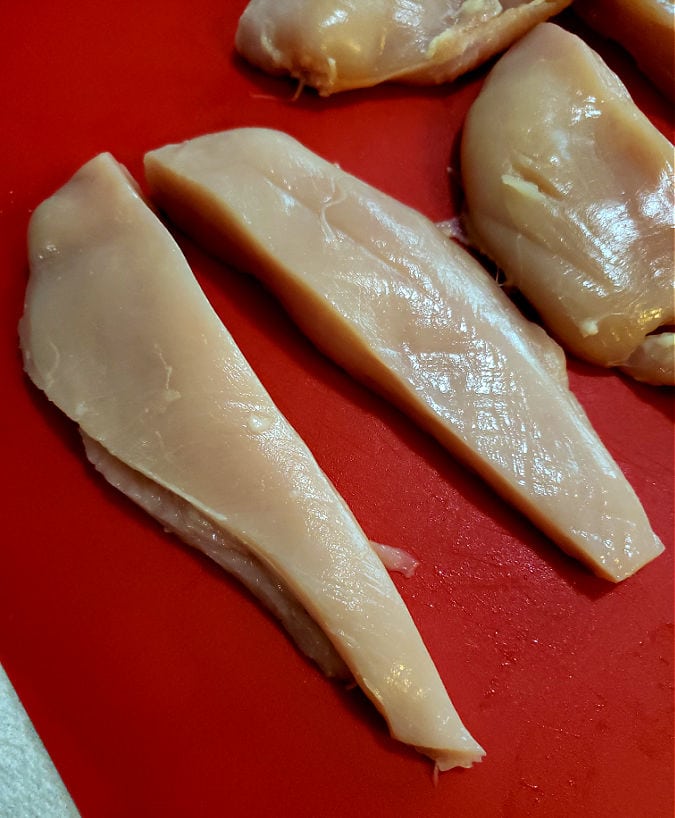 Next, slice the chicken breast into "tenders". However you want to slice them up works perfectly fine.
By the way, the chicken could be cut into smaller pieces for smaller tenders for appetizers. Chicken tenders are a perfect finger food at gatherings. Cut them up into even smaller pieces and make delicious homemade nuggets.
Properly Seasoned Chicken is Better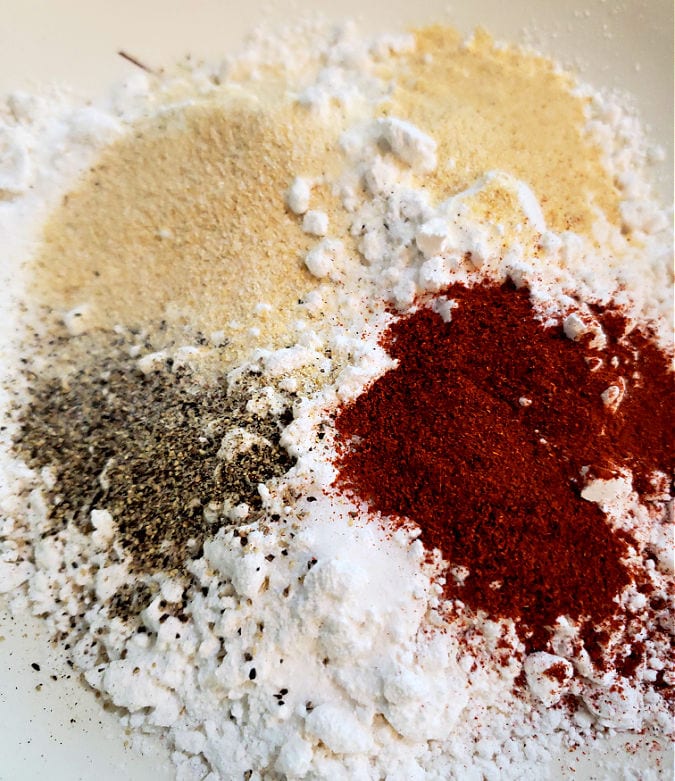 Don't be skimpy on the seasonings in your flour mixture. Once you've added your seasonings to the flour, give it a few stirs so that everything is combined.
I should mention that while I have used all purpose flour in this recipe, this is one of the circumstances where it doesn't matter which type of flour is used. If you only have self rising on hand then just use that.
If you're searching for "baked chicken tenders recipe no breading" then you can skip the breading and coat the chicken pieces with a little olive oil then just season the chicken pieces and bake as instructed.
The Breading Station for Crunchy Coating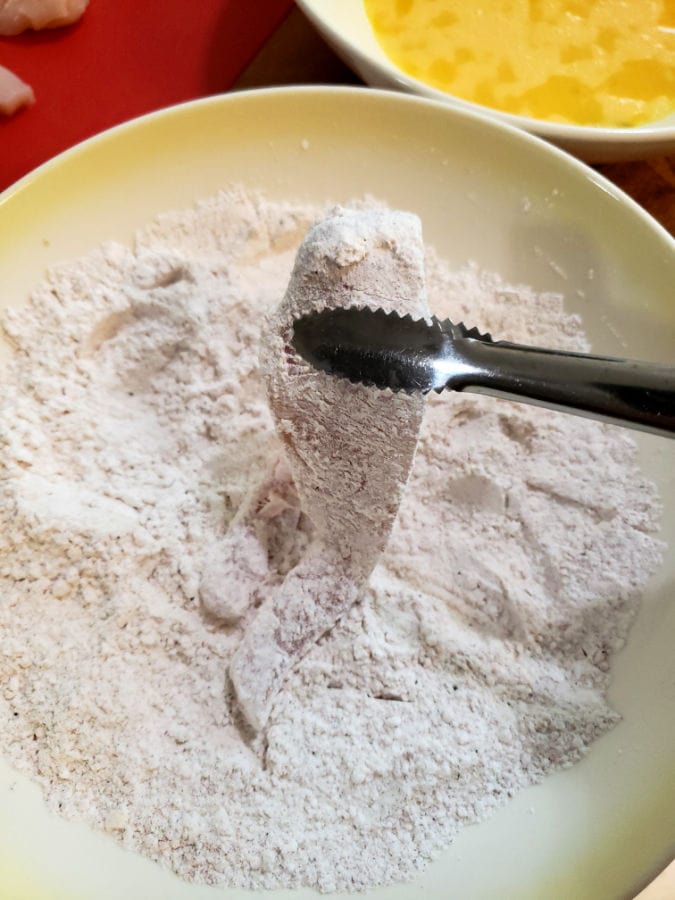 Before we start dredging, let's prepare our cooking sheet. Line a cooking sheet with aluminum foil (for easy clean up if you wish) and a cooking rack (like a cooling rack but oven proof). The rack lined cookie sheet helps with air circulation Set the prepared baking sheet aside.
Now, let's dredge the chicken. First, dredge each chicken piece in the seasoned flour mixture.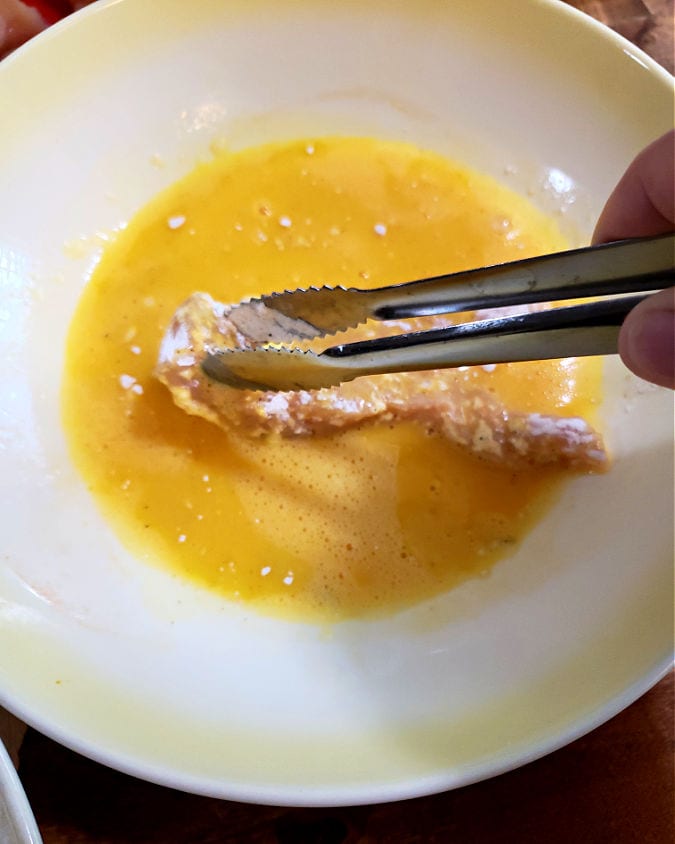 Next, the chicken pieces are dipped into the egg mixture to coat. Allow any excess egg to drain off.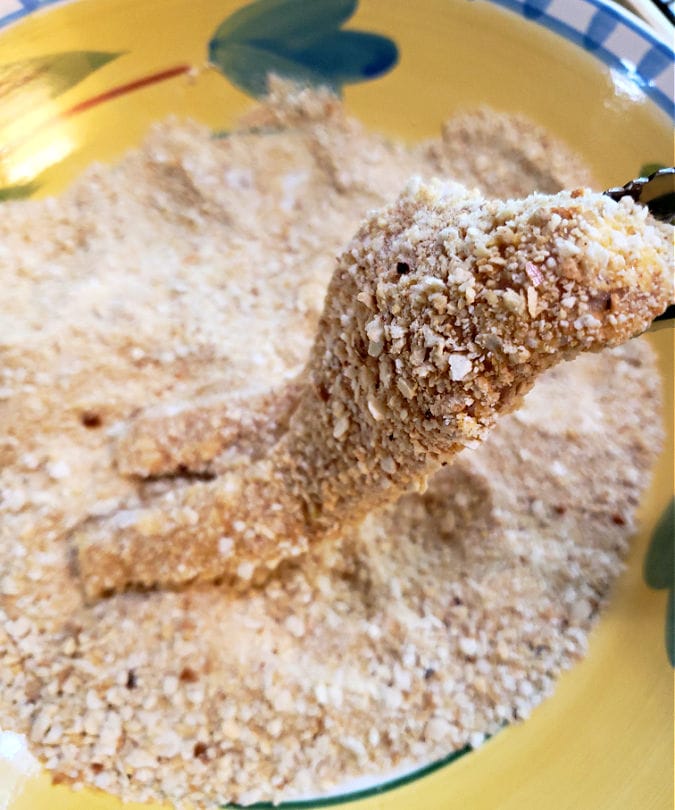 Finally, the chicken is dredged in the crunchy bread crumb coating. If you want to take another great opportunity to add some flavor to your chicken tenders, add some seasonings of your choice the bread crumbs. Shake of any excess and transfer the dredged chicken strips to the cooking sheet in a single layer.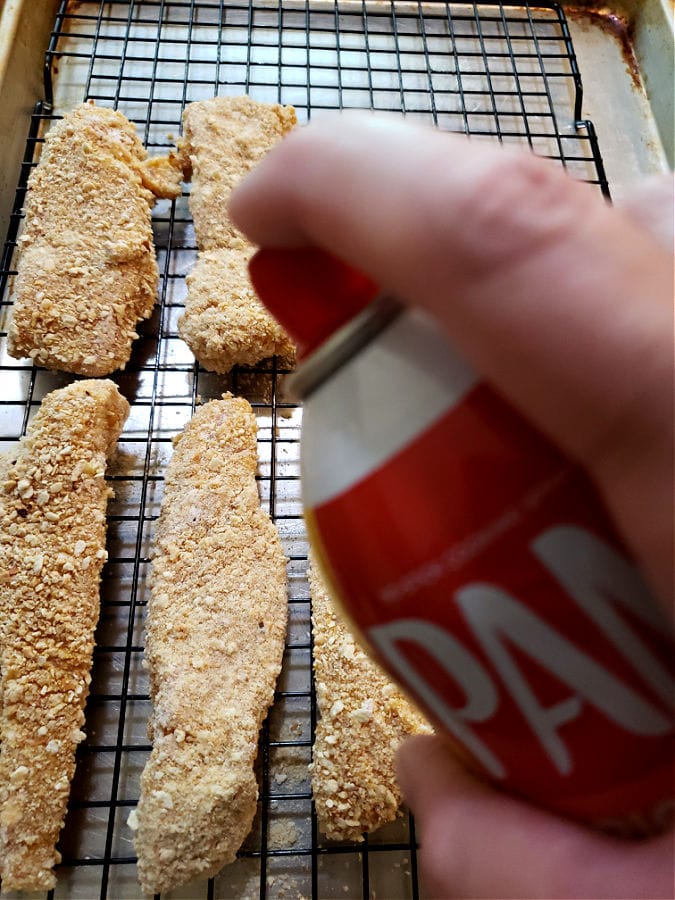 Lightly spray the chicken tenders with a nonstick cooking spray or olive oil spray. This will help with browning and give that oven "fried" result that we are after for crispy baked chicken tenders.
Since I was using frozen waffle fries as our side, I just added them to the same cooking sheet so it could all cook together at the same time.
Oven Baked Chicken Tenders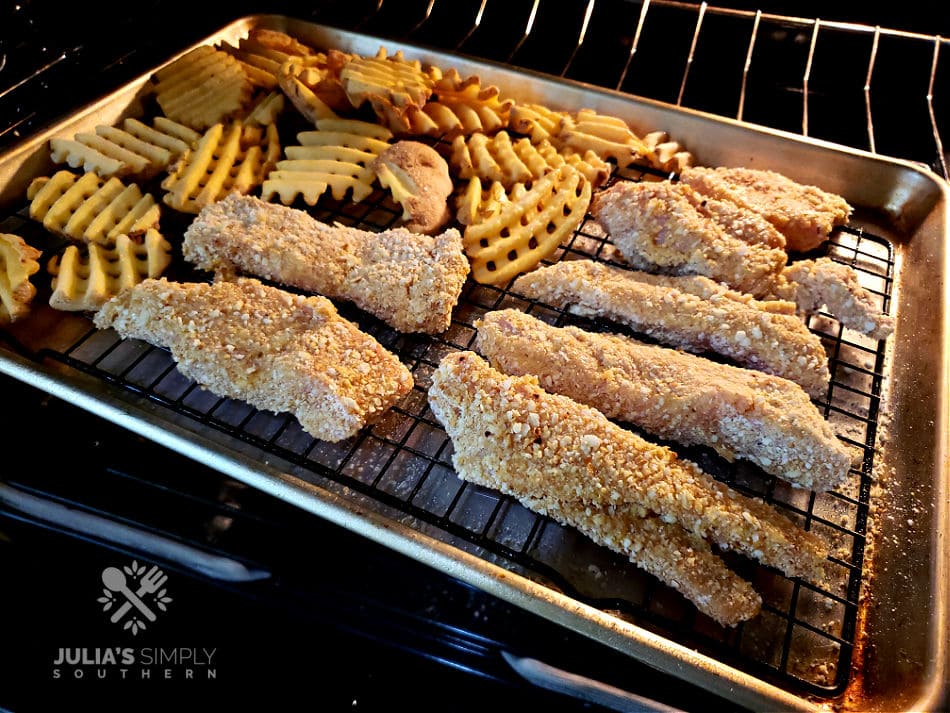 Next, place your sheet pan meal into a hot oven and allow to bake until a golden brown crispy perfection.
Halfway through the cooking process you will want to carefully remove the pan from the hot oven and use tongs to flip the chicken pieces then lightly spray the other side and return to the oven to bake.
The internal temperature of chicken should be 165°F for safe consumption. If you are unsure whether your chicken pieces are done, use a quick read meat thermometer to test it.
What to Serve with Chicken Strips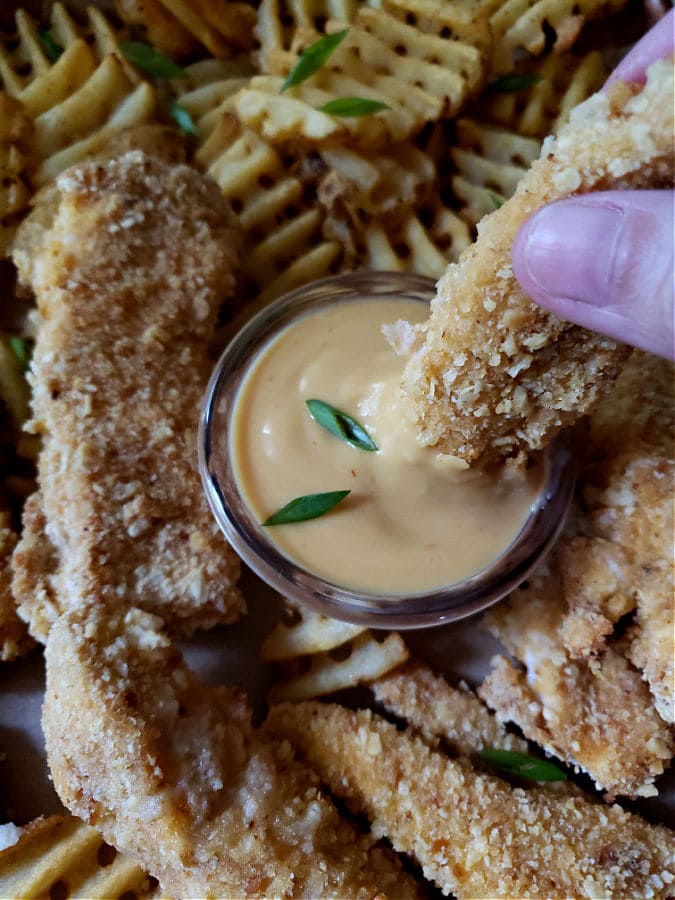 If you're wondering what to serve with chicken strips, here are some suggestions:
Fries – french fries, waffle fries, crinkle fries, tater tots, sweet potato fries or whatever your potato of choice might be are all great options to enjoy with chicken tenders.
Coleslaw – a great cool side for chicken dinners.
Baked Beans
Macaroni and Cheese
Side Salad
Don't forget a beverage like refreshing water, homemade lemonade or a glass of sweet tea to enjoy with your meal.
Simple Baked Chicken Tenders Recipe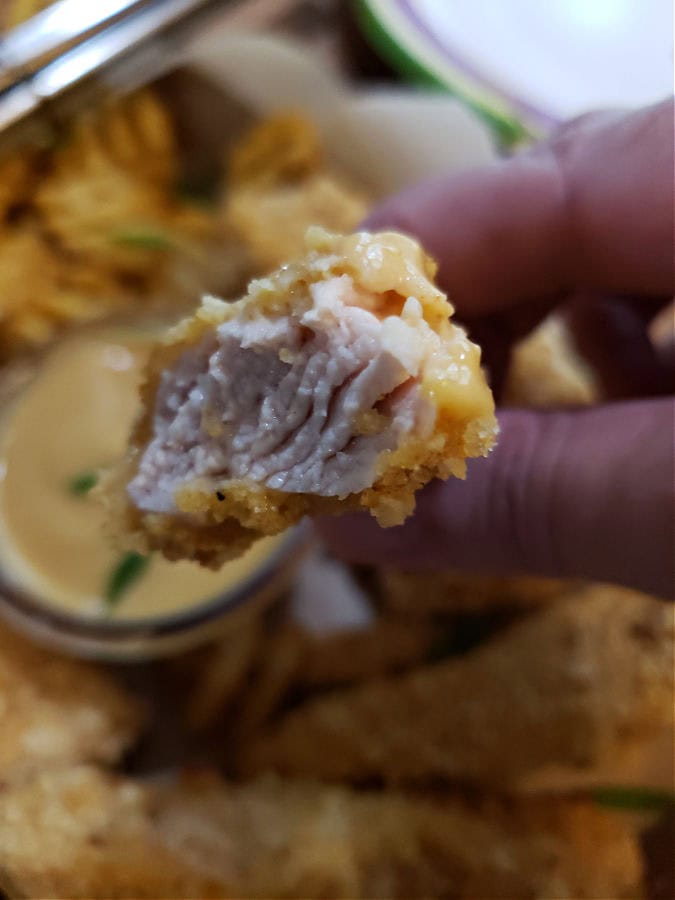 Below, you will find the full ingredient list and instructions for this recipe in the printable recipe card.
Yield: 1 pound of chicken strips
Simple Baked Chicken Tenders Recipe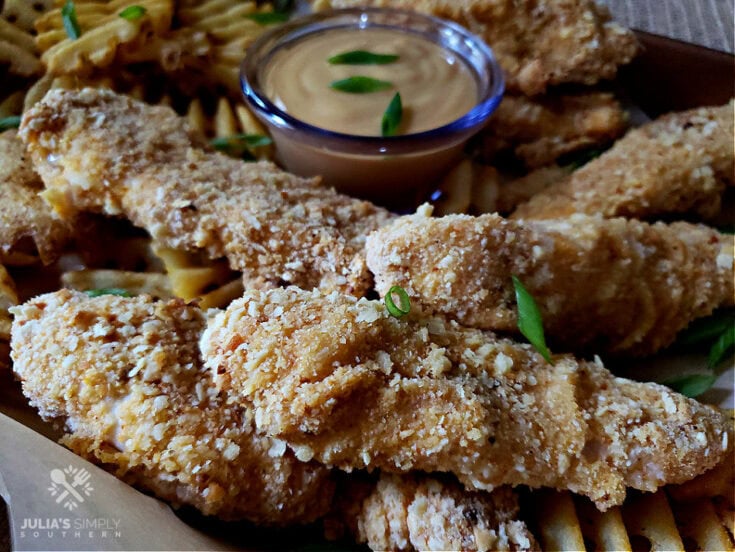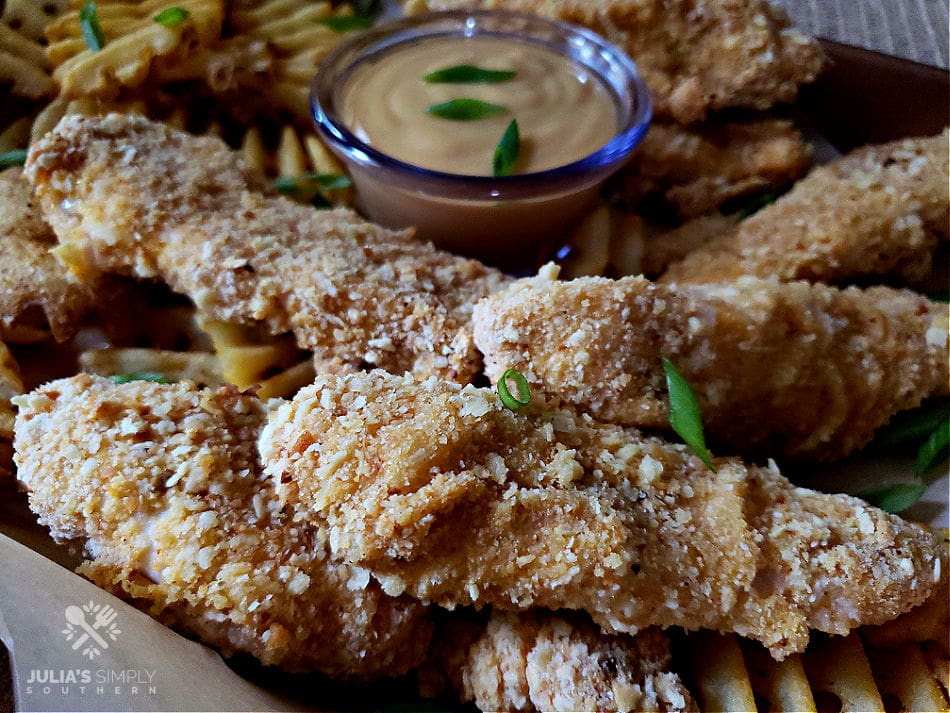 Delicious homemade chicken tenders that are oven baked with a crispy crunchy coating. A family friendly meal that everyone will love.
Ingredients
The Chicken
1 pound Boneless Skinless Chicken Breasts, cut into strips
1 cup All Purpose Flour
2 Eggs
2 tablespoons Buttermilk
3 to 4 Dashes of Hot Sauce (optional)
1½ cups Plain Bread Crumbs (or Panko breadcrumbs)
2 teaspoons Salt
½ teaspoon Ground Black Pepper
1½ teaspoons Onion Powder
1 teaspoon Garlic Powder
1½ teaspoon Paprika
Other
Non-stick Cooking Spray
Cooking Rack Lined Baking Sheet
Instructions
Preheat oven to 425°F
Prepare a baking sheet by lining with aluminum foil (optional) and placing a cook rack on the sheet then set aside.
Prepare the chicken breast by placing into a plastic storage bag and pounding until thinner and even then cut into strips. Season the chicken pieces with a pinch of salt. Set aside.
Dredging Station
Flour Mixture - in a bowl combine flour and seasonings together.
Wet Mixture - in another bowl combine eggs, buttermilk and hot sauce then whisk together.
Bread Crumb Coating - in a third bowl add the bread crumbs.
Prepare for the Oven
Dredge each chicken strip into the flour mixture, then wet mixture and finally into the bread crumb coating. Place the dredged chicken strips in a single layer on the prepared baking sheet. Lightly spray the chicken strips with non-stick cooking spray.
Bake 20-25 minutes, (turn chicken strips over halfway through baking and lightly spray the other side) or until golden brown and internal temperature of the chicken is 165°F.
Serve
Allow the chicken tenders to cool slightly before serving then serve with your favorite side dishes and dipping sauces.





Notes
See post for additional recipe tips.
Recommended Products
As an Amazon Associate and member of other affiliate programs, I earn from qualifying purchases.
Nutrition Information:
Yield:
4
Serving Size:
2 Tenders
Amount Per Serving:
Calories:

509
Total Fat:

9g
Saturated Fat:

3g
Trans Fat:

0g
Unsaturated Fat:

5g
Cholesterol:

190mg
Sodium:

1490mg
Carbohydrates:

56g
Fiber:

3g
Sugar:

3g
Protein:

48g
Can I make this recipe in the air fryer? Yes, you sure can! My air fryer only goes up to 400°F and would take 15 to 30 minutes to cook the chicken tenders. You may need to adjust cooking time if needed for your particular air fryer model if needed.
See the Latest Recipes on the Blog
Simple Baked Chicken Tenders Recipe
Thank you so much for stopping by! I am so glad that you did. I know you'll love this easy recipe for a delicious chicken tenders meal just as much as we do. Enjoy!
Be sure to subscribe to my email list while you are here. Subscribers receive a weekly newsletter delivered straight to your inbox with the latest recipes, news and meal ideas so that you never miss a thing.
Love and Happy Cooking!
Meet Julia
Author of Julia's Simply Southern
Hey Y'all! I'm Julia, the cook and writer behind the recipes here at Julia's Simply Southern. I began my website so that I could share easy to follow recipes that anyone can use to put a home cooked meal on the dinner table. Thanks so much for stopping by!
Follow me on Facebook | Twitter | Instagram | Pinterest | YouTube