BOO Y'all! I wanted to share these easy Halloween treats – White Chocolate BOO-Nana Ghost Pops so you can add them to your recipe collection.
I know it's a tad early since we still have a month or so of summer left. In fact, the kids in my area just started school today. It seems when school is starting back everyone is getting fall fever.
While I appreciate everything about each of our very distinct seasons in the South, I must admit that fall is my favorite.
I love the crispness in the air during fall, the cooler temperatures, and all of the colorful leaves.
These ghostly banana ghost popsicles are so cute for Halloween and delicious. The entire family will love them. You can make these an everyday treat by simply leaving off the funny little candy eyes.
The natural shape of the bananas make them perfect for ghost treats. BOO-Nana pops can be made ahead of time and stored in the freezer for an extra cool treat or in the refrigerator, for up to a week (if they last that long).
Besides all of the goodies, Halloween is a fun time of year. There are movies to enjoy, kids get to dress up as favorite characters (some grown ups too), and maybe have a fright or two.
My personal favorite Halloween movie tradition is "Hocus Pocus". I have watched it every year since it was released back in 1993. My husband loves horror movies and he has plenty of those to choose from this time of year.
"When witches go riding, and black cats are seen, the moon laughs and whispers 'tis near Halloween."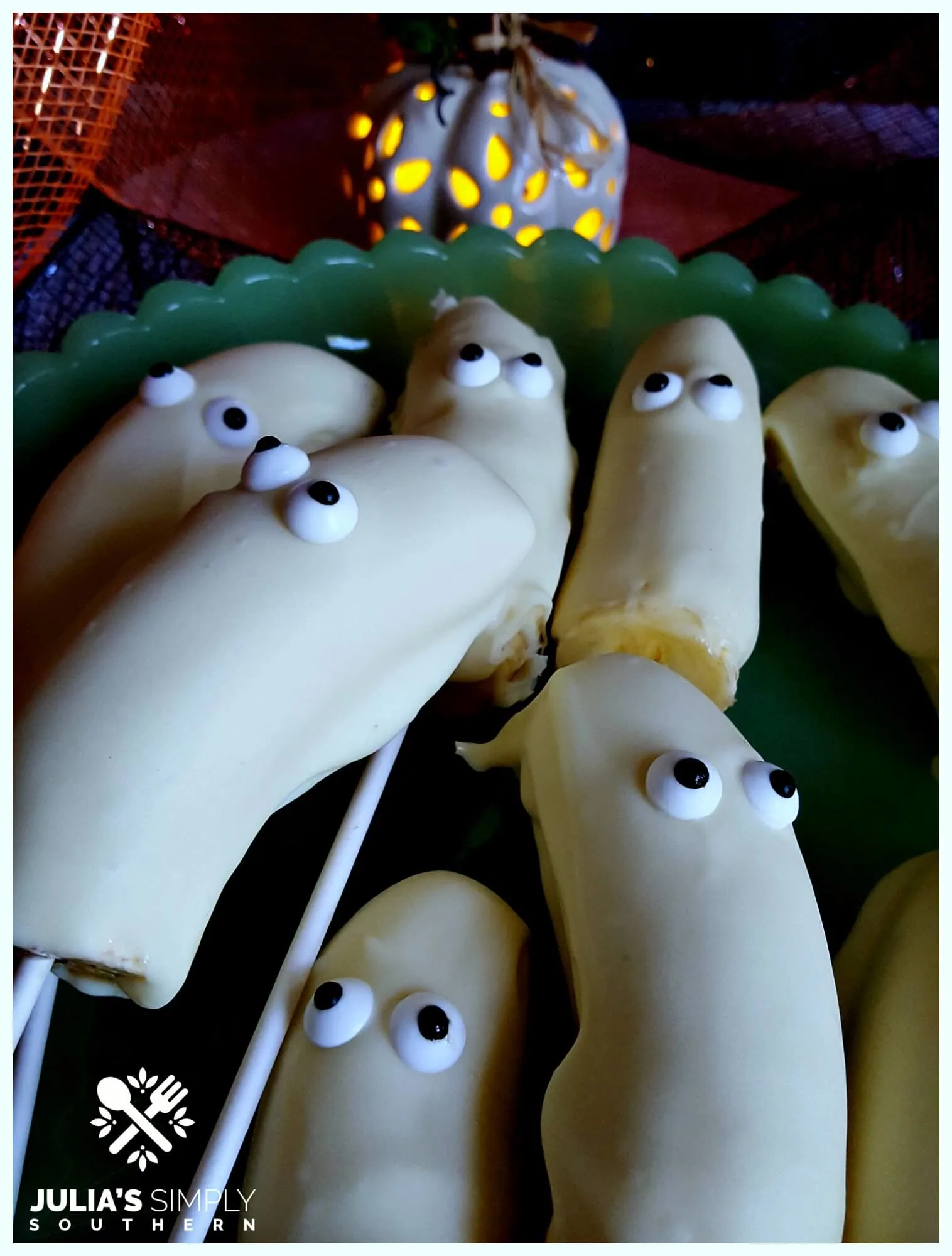 Frozen Banana Ghost Pops
You'll find the full printable recipe at the bottom of this post. To make these fun ghostly banana treats you'll need, bananas, lollipop sticks, white baking chips and candy eyes.
The one thing that requires a little care in making this treat is melting the white chocolate chips. It's best done slowly using a double boiler.
You can make your own double boiler using a pot filled about half way with water and placing a bowl on top as I have.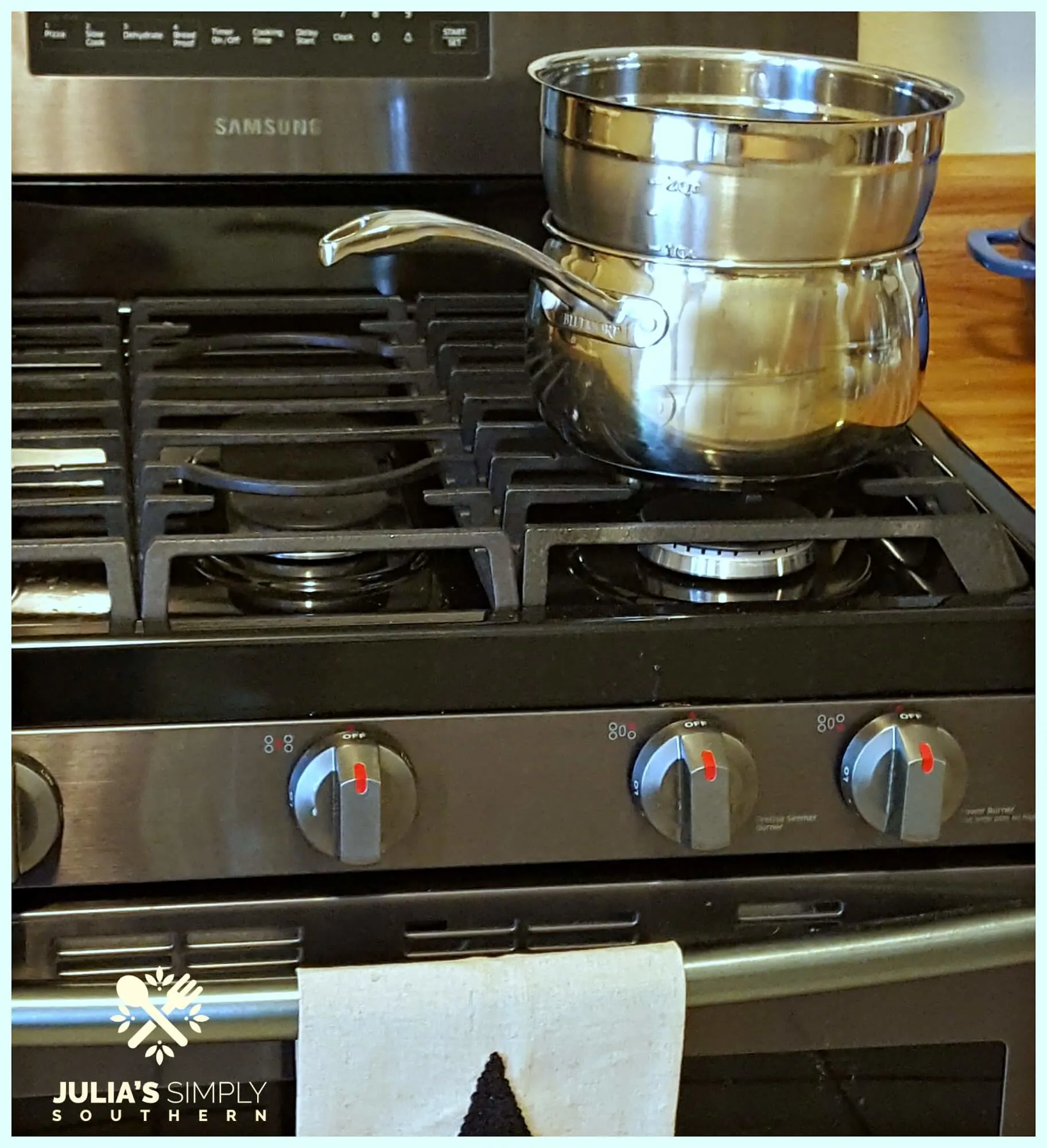 I speak from experience that trying to melt white chocolate chips too fast results in a big ole mess! White chocolate, as we all know, is not real chocolate. Trying to melt it too fast can separate the ingredients used in the white baking chips and it becomes a watery goo.
So let's make these treats y'all!
Halloween Banana Pops
Step 1: Peel and cut the bananas in half. Insert each half of banana with a lollipop stick and place on a plate or parchment lined baking sheet and freeze for 30 minutes.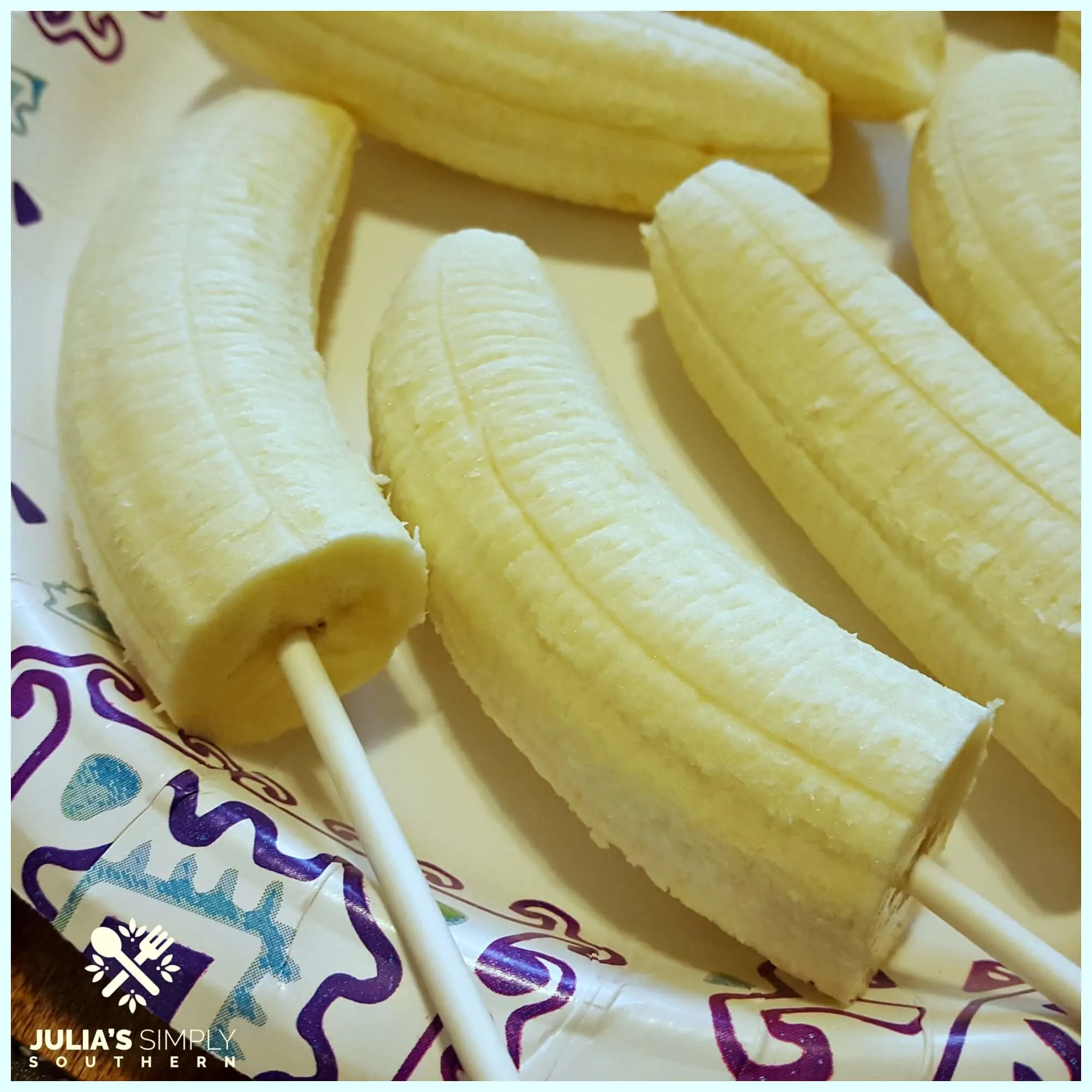 Step 2: While the bananas are chilling in the freezer, prepare the white chocolate dip. Add water, about half way, to your pot and bring to a simmer over medium heat. You'll just want a simmer and not full boil.
Once the water is simmering place your bowl over the pot. Next, add the white baking chips and stir constantly until melted and smooth. It really doesn't take very long. Remove the bowl from the pot and set aside.
Be careful removing the bowl as it can become very hot and you may need to use a pot holder.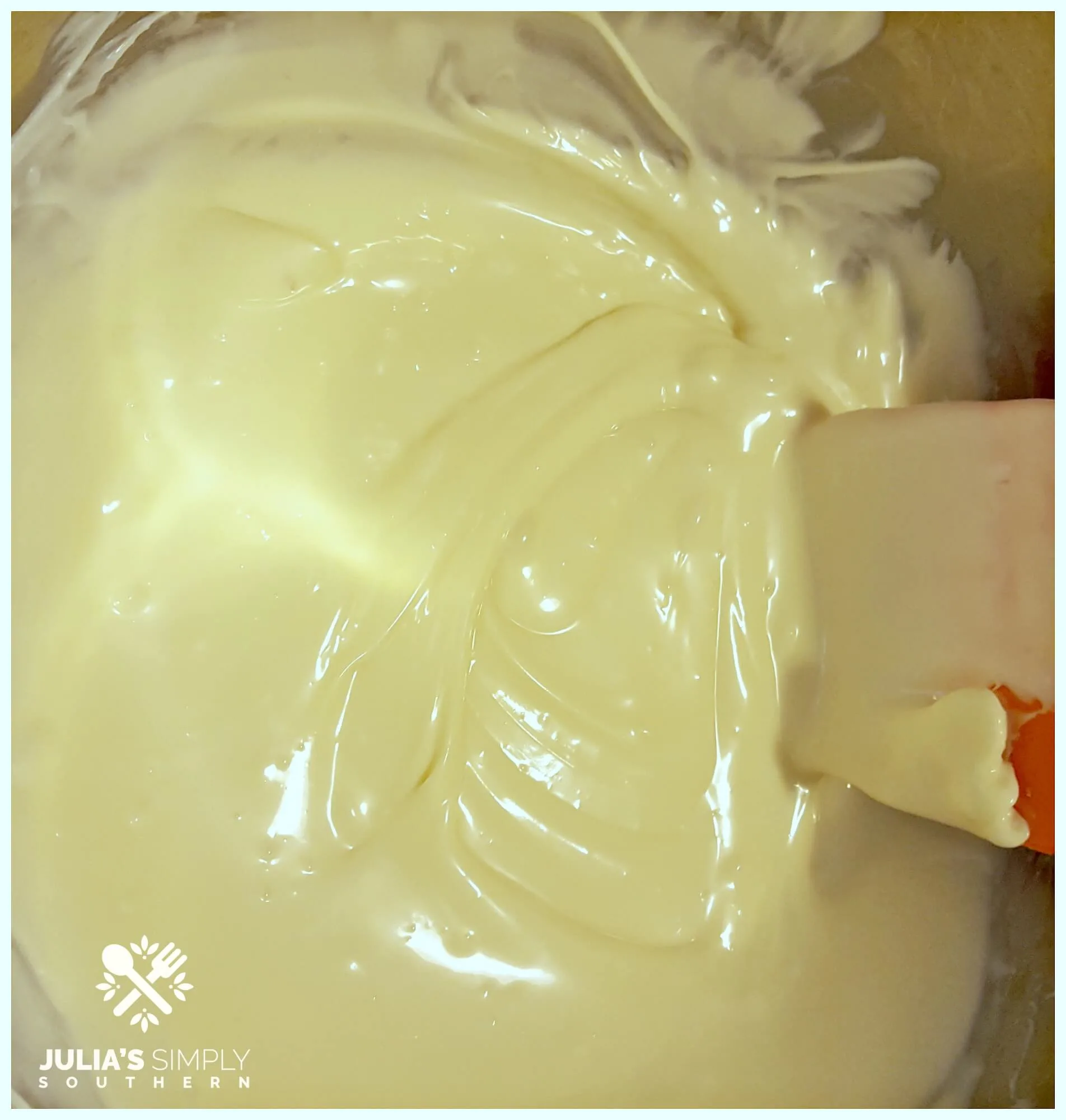 Step 3: Remove the bananas from the freezer. Dip and roll each banana Popsicle in the white chocolate. I find that using my spatula to cover the bananas is helpful.
Since the chocolate covered bananas will be a bit heavy, it also helps to use the spatula to remove some of the excess so you don't end up with puddles under your ghosts. Add the coated bananas to a parchment lined baking sheet.
Next apply the candy eyes. Refrigerate the BOO-Nana pops in the refrigerator for 30 minutes, or until set.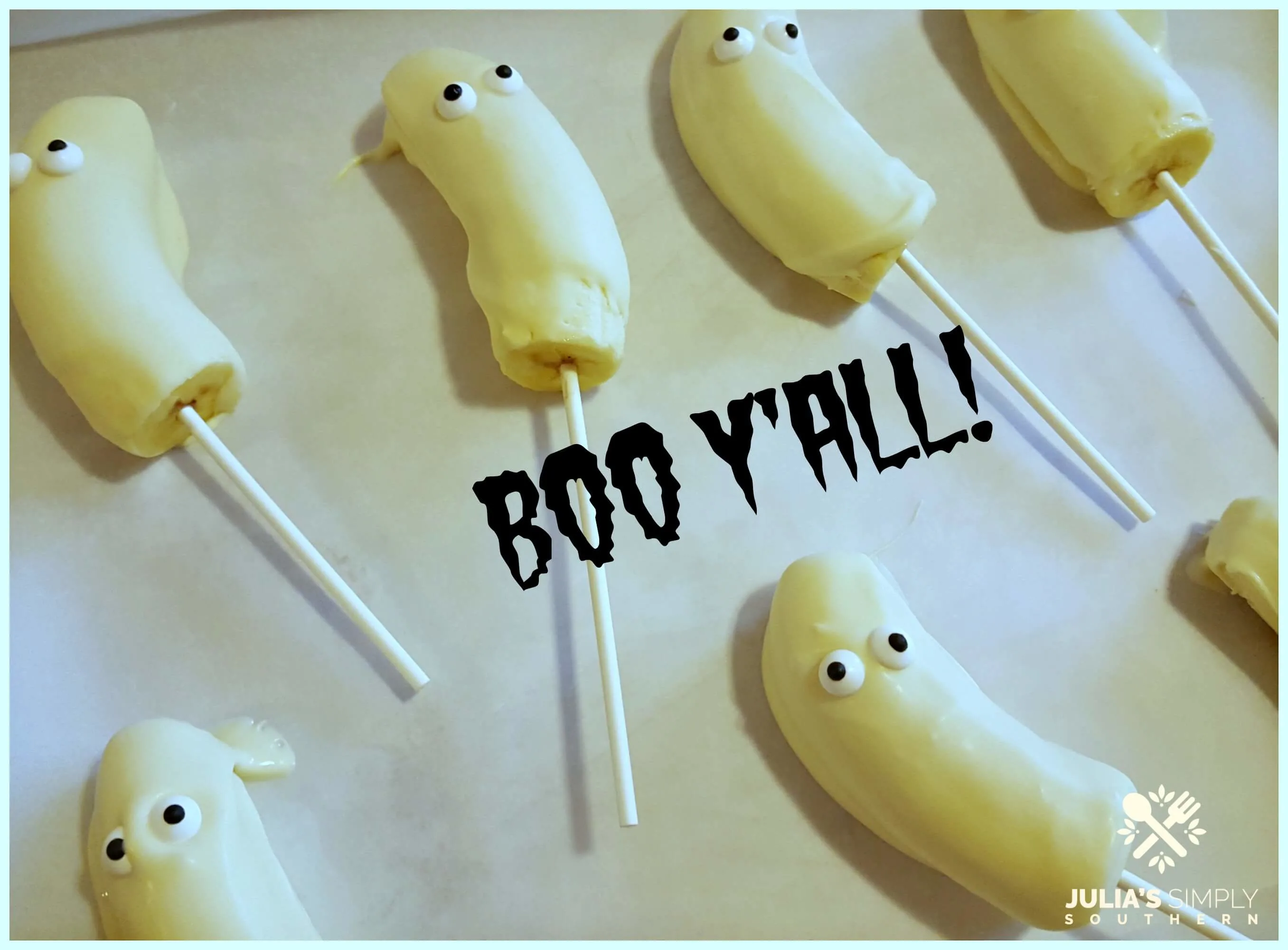 White Chocolate BOO-Nana Ghost Pops
When black cats prowl and pumpkins gleam, may luck be yours on Halloween
For more fun Halloween recipes, check out my friend Southern Halloween Queen
Yield: 8 Ghost Pops
White Chocolate BOO-Nana Ghost Pops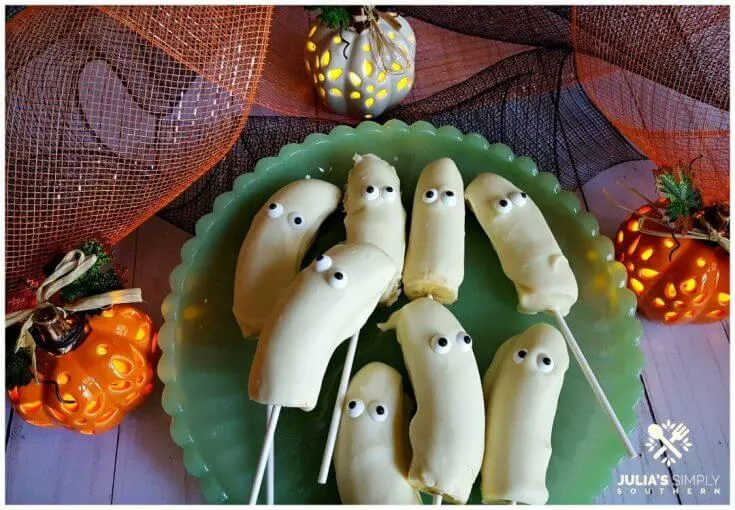 A fun and easy Halloween treat of chocolate covered bananas that look like ghosts.
Total Time
1 hour
10 minutes
Ingredients
4 Bananas
8 Lollipop Sticks
2 c White Baking Chips (I used an 11 oz bag of Ghiradelli)
16 Candy Eyes
Instructions
Peel and cut each banana in half.
Next, insert a lollipop stick each half of banana and place on a plate or baking sheet. Freeze for 30 minutes.
Next, using a double boiler, melt the white baking chips. Stir the chips constantly until melted and smooth. Remove from heat immediately.
Next, take each banana and roll in the white chocolate to coat. Remove any excess chocolate and place on a parchment lined baking sheet.
Next, apply two candy eyes to each ghost pop.
Optional: You can use icing or black flat candy sprinkles to make a mouth if desired.
Chill the ghostly banana popsicles in the refrigerator for 30 minutes or until set.
Enjoy as a snack or dessert treat.

Recommended Products
As an Amazon Associate and member of other affiliate programs, I earn from qualifying purchases.
Nutrition Information:
Yield:
8
Serving Size:
1
Amount Per Serving:
Calories:

158
Total Fat:

5g
Saturated Fat:

1g
Trans Fat:

0g
Unsaturated Fat:

4g
Cholesterol:

0mg
Sodium:

81mg
Carbohydrates:

39g
Fiber:

2g
Sugar:

19g
Protein:

2g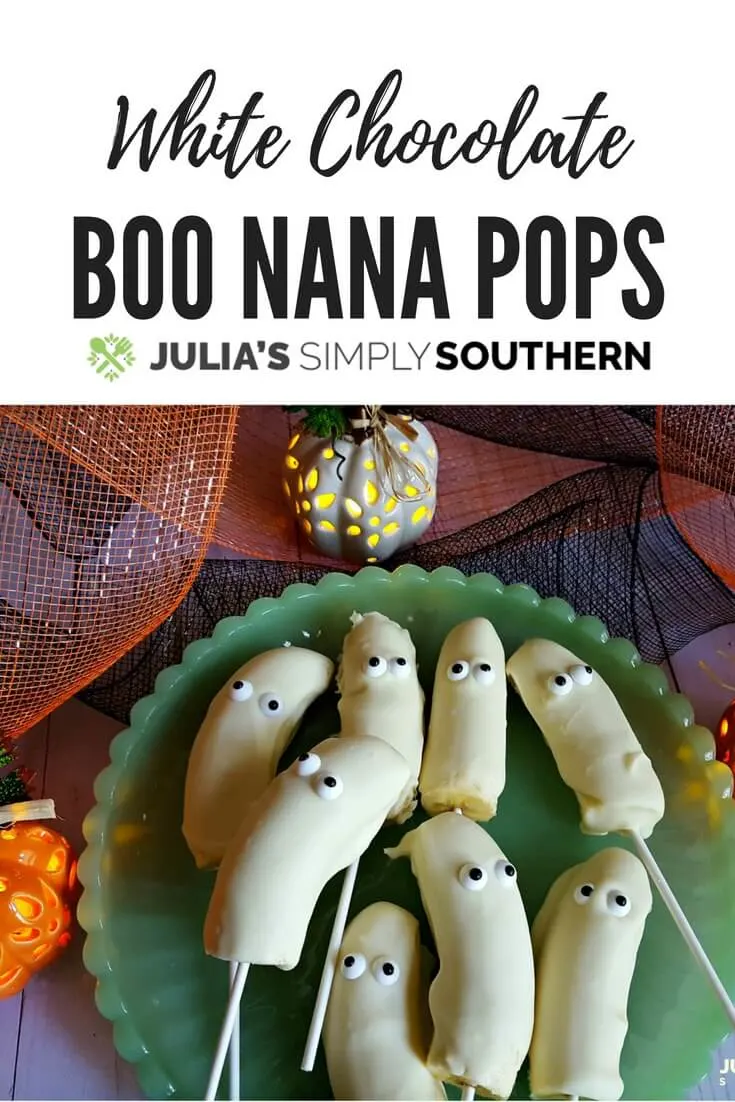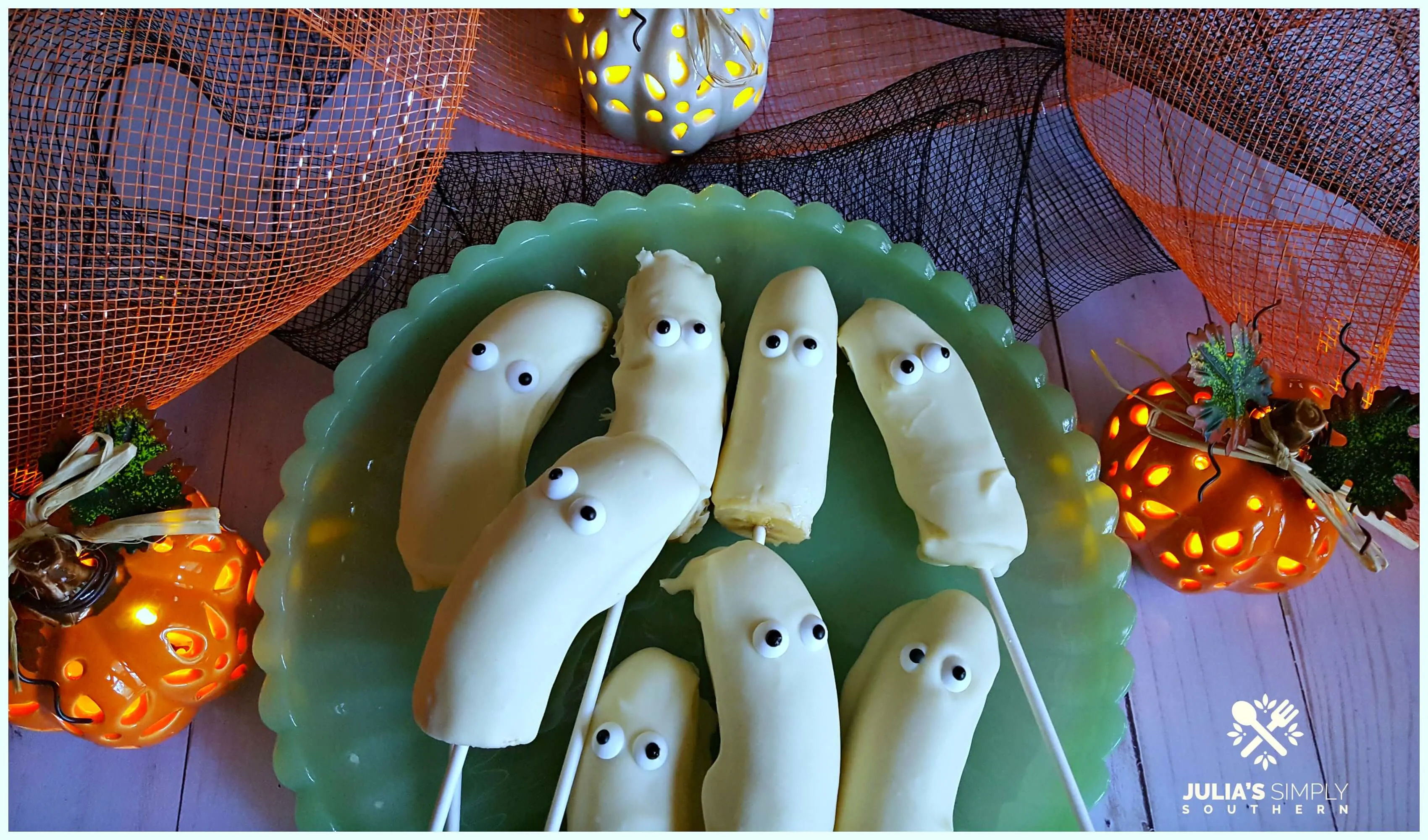 See it at the Weekend Potluck and Meal Plan Monday
Check out the Latest Recipes
Thank you so much for stopping by! I am so glad that you did.
Be sure to subscribe to my email list while you are here. Email subscribers receive a newsletter each week with the latest recipes and news here on the blog so that you never miss a thing.
Until next time, Love and Happy Cooking, Friend!
Meet Julia
Author of Julia's Simply Southern
Hey Y'all! I'm Julia, the cook and writer behind the recipes here at Julia's Simply Southern. I began my website so that I could share easy to follow recipes that anyone can use to put a home cooked meal on the dinner table. Thanks so much for stopping by!
Follow me on Facebook | Twitter | Instagram | Pinterest | YouTube