In this post, you'll discover how to make Southern Sweet Potato Bread, a classic old fashioned quick bread recipe.
Y'all, let me tell you, I like pumpkin bread. It's delicious and I have a great recipe for it but if I had the choice between pumpkin or sweet potato bread….it's the sweet potato bread hands down.
Soul Food Sweet Potato Bread
Sweet potato bread, just as pie or candied yams, is soul food. Classic Southern soul food that has been a part of our food history for generations.
This sweet potato bread recipe is moist and delicious with the perfect taste of those classic fall spices. Did I mention there's pecans and raisins too? There sure are!
Let's start by talking about the sweet potatoes. Did you know that you can bake up sweet potatoes and mash them up to store in the freezer just like you would pumpkin puree? That is what I do so I have it on hand during the holiday months of the year for sweet potato dishes and desserts.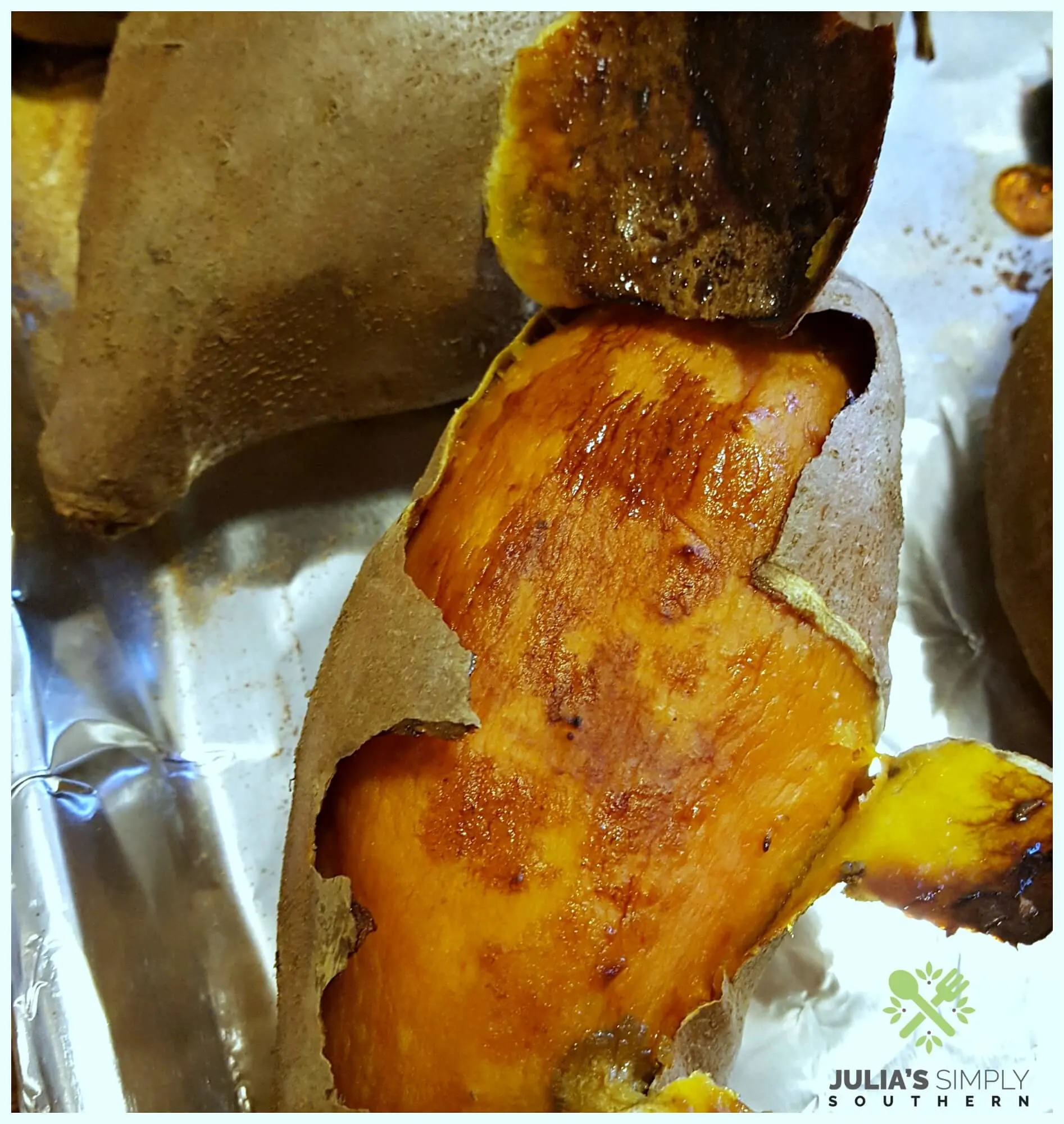 To bake the sweet potatoes: Preheat your oven to 425°F. Wash the sweet potatoes and place onto a baking sheet. Bake until tender, about one hour. Give the sweet potatoes a gentle squeeze to test for doneness.
Sweet potatoes are so fragrant while baking and fill the house with their wonderful aroma.
Peeling the sweet potatoes is so easy. You don't even need a knife. Allow the baked sweet potatoes to cool for handling. They short of separate themselves from the skin while baking. Just use your fingers to easily peel away the skin.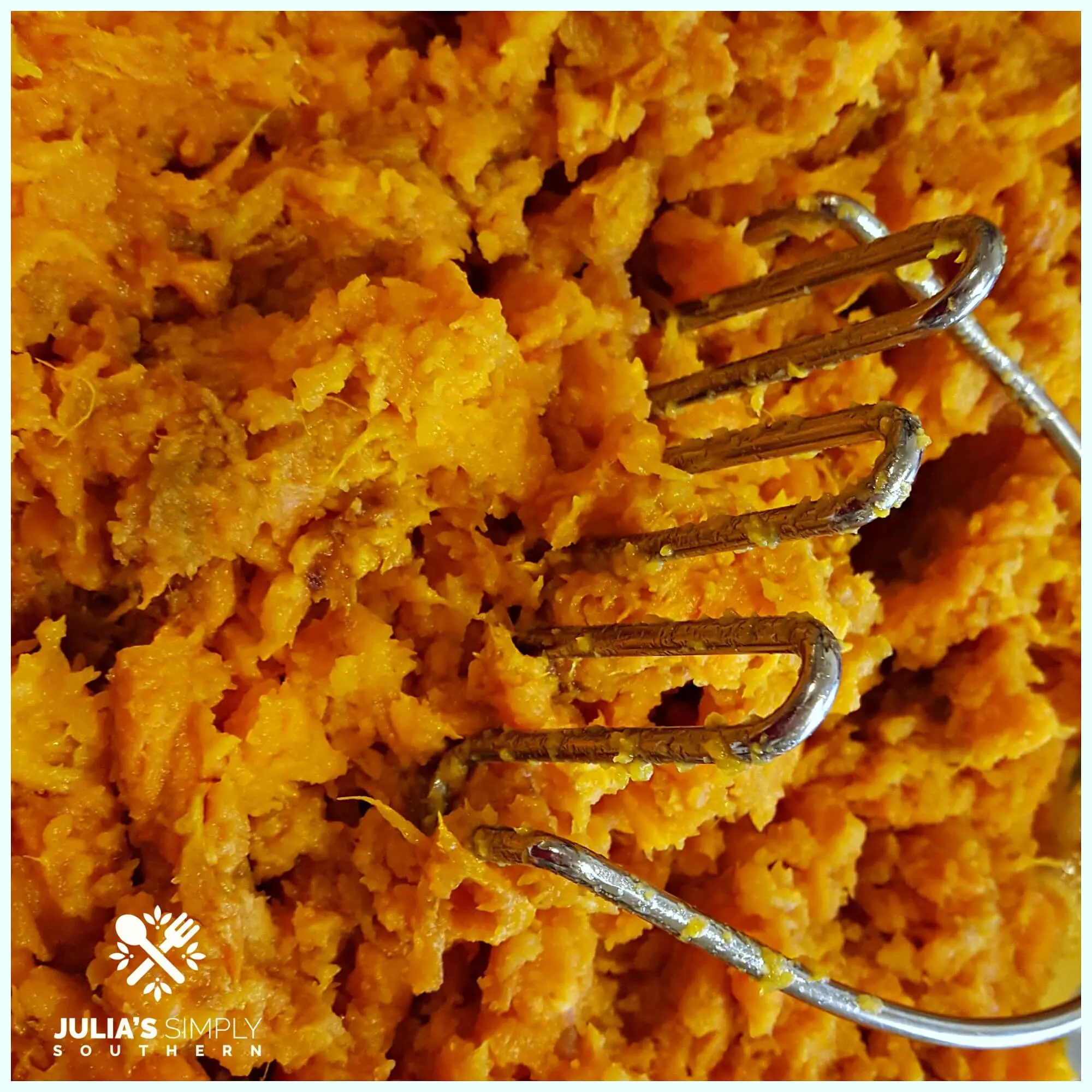 Freezing cooked sweet potatoes: After peeling, I mash the sweet potatoes with a potato masher…you can use a fork too. I measure out the mashed sweet potatoes by the cupful and add to plastic freezer storage bags (no more than 2 cups per bag) and label.
I make up a few bags with just one cup and a few with two cups of the mashed sweet potatoes. You only need one cup for many recipes.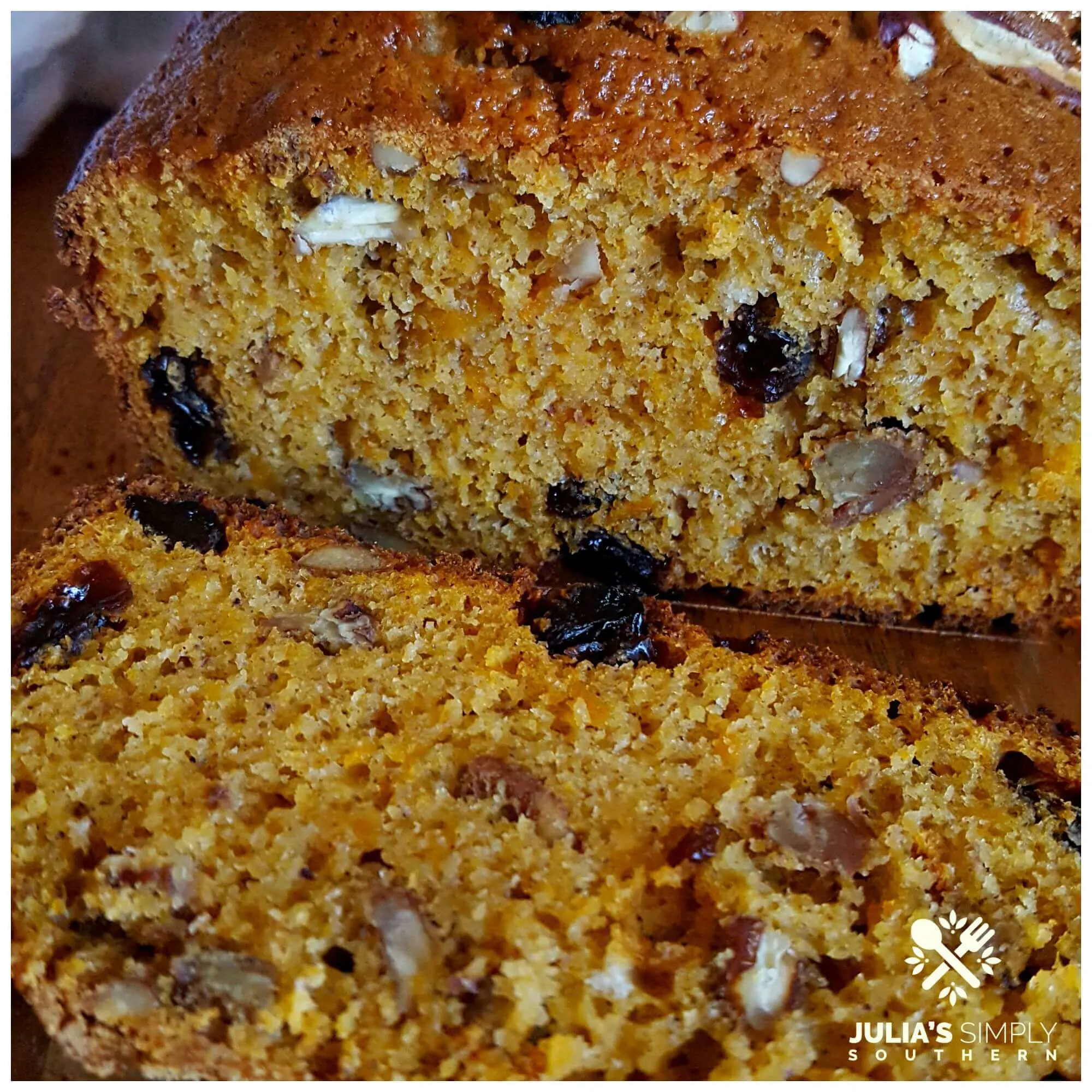 Granny's Old Fashioned Sweet Potato Bread
Here's what you'll need to bake up a loaf: (Find the full printable recipe near the bottom of this post) Self rising flour, sugar, nutmeg, cinnamon, allspice, vegetable oil, milk, sweet potatoes, pecans and raisins. Besides the bread ingredients, you'll want to have a 9 x 5 loaf pan and some cooking spray.
I wanted to insert a note here: The recipe is kept easy by using self rising flour. I want to make sure everyone is aware that self rising flour is NOT the same as all purpose flour.
The reason I'm pointing that out is I had a reader once bake one of my recipe substituting all purpose when the recipe specifically called for self rising. She wasn't happy with the results of course.
Self rising and all purpose cannot be interchanged unless you add leavening agents to the all purpose flour. Self rising flour already contains the leavening agents.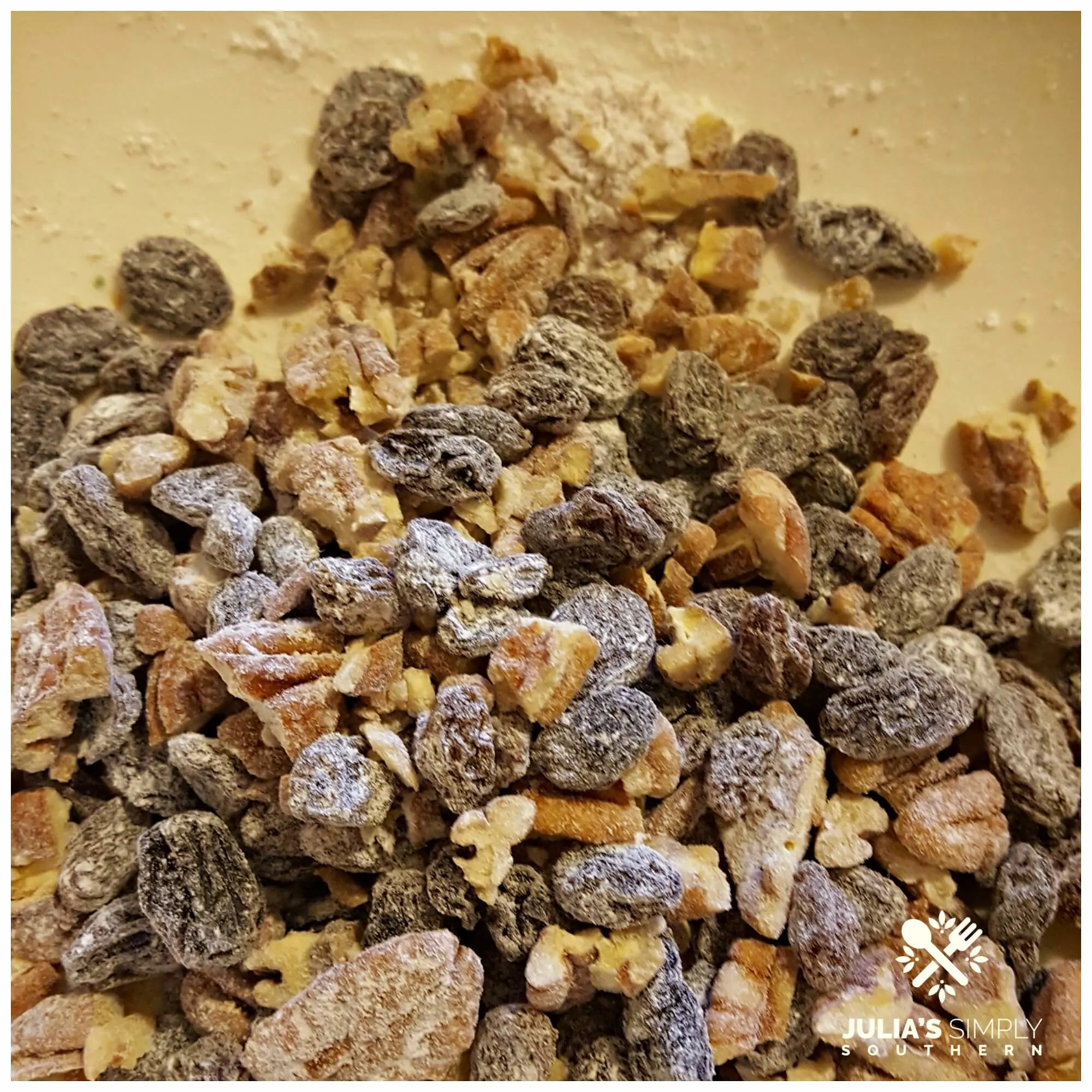 Southern Sweet Potato Bread
Preheat oven to 350°F
Step 1: In a mixing bow, add the flour, sugar, and spices. Using a whisk to mix the dry ingredients together.
Step 2: Beat the eggs in a small bowl and add to the dry mixture. Add the vegetable oil and milk and use a hand mixer to combine. Next add the mashed sweet potatoes and mix to combine.
Tip: Add the chopped pecans and raisins to a small bowl and toss with a teaspoon of flour. Dusting with flour keeps them from sinking to the bottom of the batter. This works for baking recipes where you're adding nuts, raisins, or chocolate chips.
Step 3: Add the pecans and rains and mix to combine. Spray a loaf pan with cooking spray (or grease with Crisco shortening) and add the batter. Bake for 1 hour and 15 minutes. Test for doneness by using inserting a toothpick. If the toothpick comes out clean, it's done. Ovens vary, so adjust baking time if necessary.
Allow the bread to cool before serving. To keep bread moist, only slice off what's needed at a time. Keep the bread wrapped in plastic for storage on the counter.
Yield: 1 Loaf
Southern Sweet Potato Bread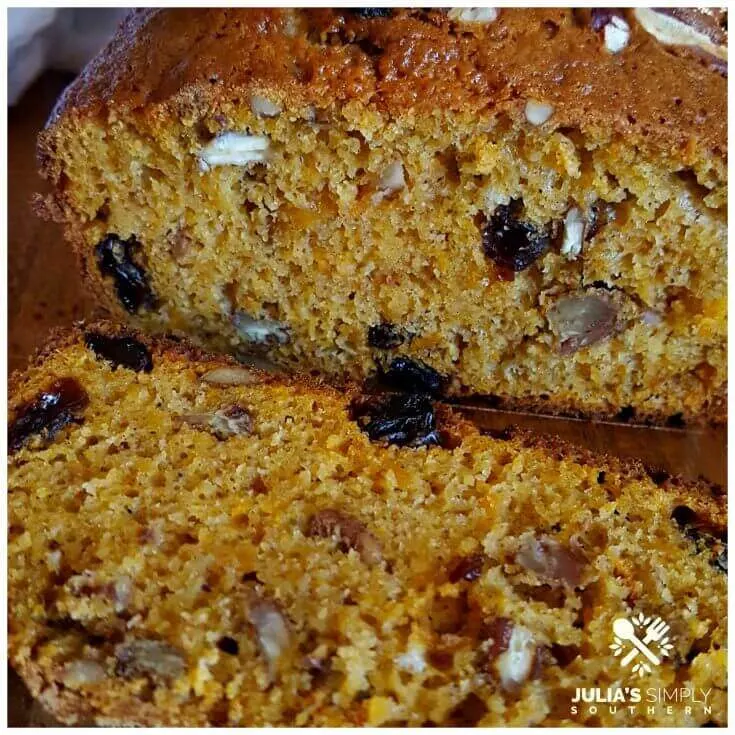 Classic Southern Sweet Potato Bread with fresh chopped pecans and raisins is a must bake treat for autumn.
Cook Time
1 hour
15 minutes
Total Time
1 hour
25 minutes
Ingredients
1.5 c Self Rising Flour (I use White Lily)
1 c Granulated Sugar
1/2 tsp Ground Cinnamon
1 tsp Ground Nutmeg
1/4 tsp Ground Allspice
1/4 c Vegetable Oil
1/4 c Whole Milk
2 Eggs, beaten
1 c Mashed Cooked Sweet Potatoes
1 c Chopped Pecans
1/2 c Raisins
Instructions
Preheat oven to 350°F
Add the flour, sugar, cinnamon, nutmeg and allspice to a mixing bowl. Whisk to combine the dry ingredients together.
Next, add the vegetable oil, eggs and milk to the dry ingredients and combine using a hand mixer.
Next, add the mashed sweet potatoes and mix to combine.
Next, dust the pecans and raisins with flour then add the the bread batter. Mix to combine.
Spray a 9 x 5 loaf pan with cooking spray (or grease with shortening) and add the batter.
Bake for 1 hour and 15 minutes, or until done.
All the bread to cool before serving.

Recommended Products
As an Amazon Associate and member of other affiliate programs, I earn from qualifying purchases.
Nutrition Information:
Yield:
9
Serving Size:
1" Slice
Amount Per Serving:
Calories:

257
Total Fat:

7.6g
Saturated Fat:

1.7g
Cholesterol:

37mg
Sodium:

18mg
Carbohydrates:

45.2g
Fiber:

1g
Sugar:

27.6g
Protein:

3.9g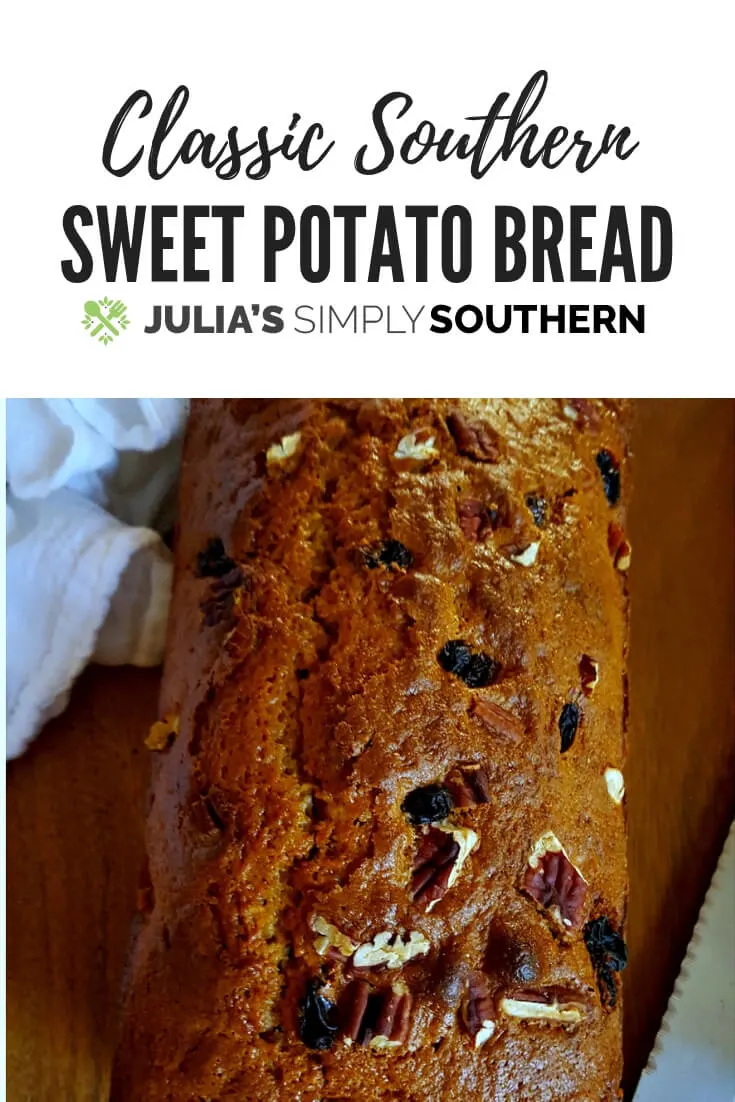 If you enjoyed this recipe, be sure to share and pin!
See this recipe at the Weekend Potluck and Meal Plan Monday
Meet Julia
Author of Julia's Simply Southern
Hey Y'all! I'm Julia, the cook and writer behind the recipes here at Julia's Simply Southern. I began my website so that I could share easy to follow recipes that anyone can use to put a home cooked meal on the dinner table. Thanks so much for stopping by!
Follow me on Facebook | Twitter | Instagram | Pinterest | YouTube