In this post I'll be sharing the Best Pound Cake Recipe. It is the best because it was my great grandmother's recipe.
We all know that grandmas and great-grandmamas all make the best everything.
It's likely that we have all heard the story of how the original pound cakes got their name because there was a pound of each ingredient used in the recipe. Y'all, I bet that was one heavy cake!
Folks were baking up pound cakes back all the way back in the 1700's. A lot of people were illiterate at that time in history. The simple ingredients list served a purpose for those who couldn't read recipes… or receipts as they would have been called then.
It was easy for them to just remember a pound of this and pound of that.
I love pound cake! The dense buttery vanilla flavor in this cake is scrumptious! Perfect inner texture with out that tasty outer crunch.
My great grandmother's recipe receipt card starts out with "this is the best pound cake that you will ever taste."
She passed on many years ago but if she says it is the best then you can betcha that I'm not gonna argue the point. And you know what? I do think it is the best. It is delicious but this cake also has a special place in my heart.
Pound Cake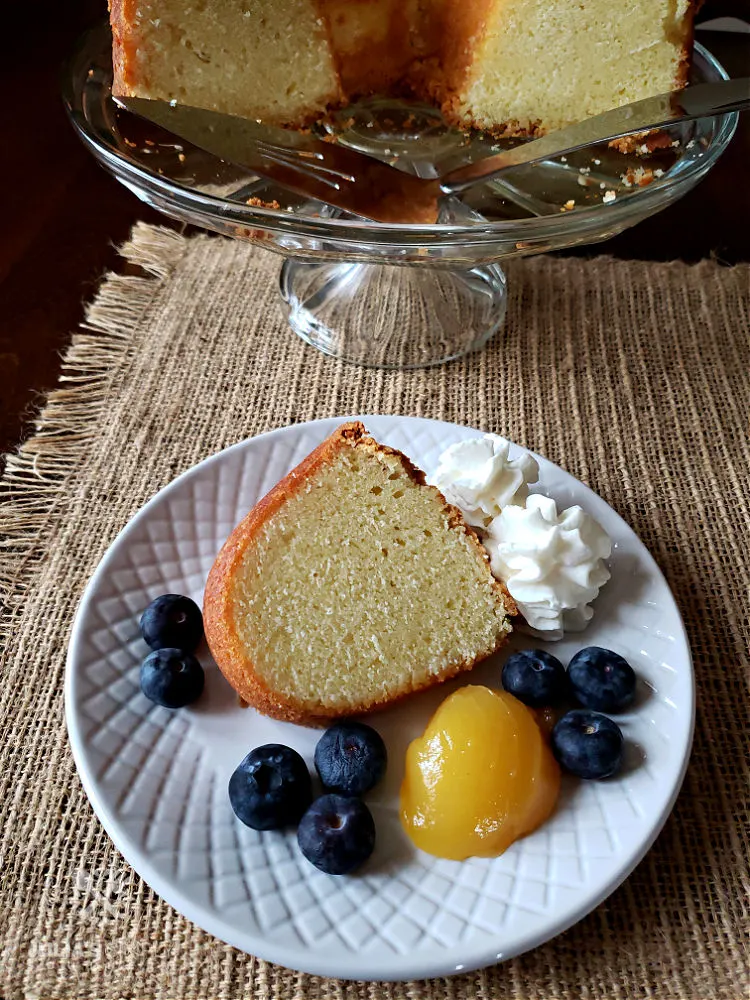 Doesn't that cake look amazing? I enjoyed a slice with some fresh blueberries, a dollop of lemon curd and some whipped cream. Oh my stars y'all! YUM!
I texted the photo above to Daddy, who's got a great big sense of humor, to which he immediately replies "I don't like raw egg yolks with my cake." What? I cracked up laughing.
What do I need to make the Best Pound Cake?
Butter or Margarine – I use salted butter for everything and I know pro bakers would cringe but I'm a home cook and it works just fine for me.
Crisco Shortening – The shortening will help lend extra moistness to the cake.
Granulated Sugar – We need sugar because we want our cake to be sweet after all.
Eggs – Pound cakes usually have a lot of eggs. Have them ready at room temperature for baking.
All Purpose Flour – Sifting the flour together with the baking powder and salt adds air and helps create the right texture for this cake so it is worth the extra minute that it takes to sift.
Baking Powder – Baking powder adds some leavening in the cake but keep in mind that pound cake should be dense.
Salt – Salt enhances the sweet flavor.
Whole Milk
Vanilla Extract – for flavor
Butter or Margarine
There was only one change that I made to the recipe. Great grandmama lists margarine and only used margarine in her pound cake.
There is one good reason to use margarine as she did. The margarine can help prevent the cake from sticking to the pan which pound cakes are prone to do.
I use real butter and that is what I keep on hand so that is what I used in the recipe. That being said, I did have to make the cake twice because my first one stuck to the pan that I thought I prepared well but obviously did not.
The second go I took extra cake in preparing the fluted bundt pan and the cake turned out perfectly. Whew!
Cakes with a lot of butter can stick so just be aware of that tip when baking these types of recipes.
Traditional Pound Cake Recipe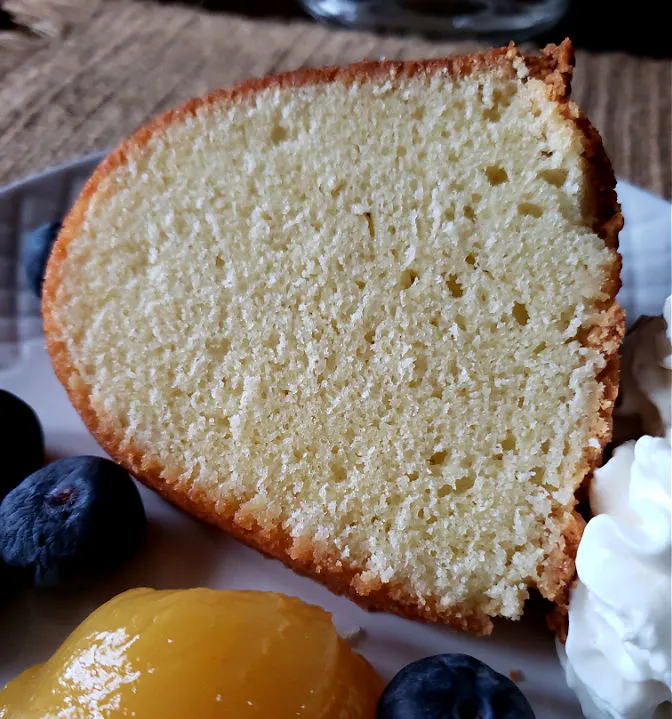 Check out that perfect pound cake texture. Dense, moist and delicious!
How to keep a pound cake moist? Butter helps along with storing the cake in a covered dish (cake plate) at room temperature. You'll also want to avoid over-baking a pound cake.
My mother used to wrap her pound cake in plastic wrap while it was still warm tightly until it cooled to ensure an extra moist cake.
For this pound cake recipe I just baked it and allowed it to cool completely on a cooling rack and it was still moist and delicious.
You could use this traditional vanilla pound cake recipe and switch up the flavoring extracts to create other cakes such as lemon, almond or banana. There's a wide variety of flavorings and extracts available if you wish to try them.
What is pound cake good with? The best toppings for pound cake include:
Fresh Fruit
Ice Cream
Whipped Cream
Nuts
Fruit curd, jams or jellies
Strawberry, caramel or chocolate sauce
Of course pound cake is absolutely delicious all by itself. It goes great with a morning cup of coffee too.
Great Grandmama's Pound Cake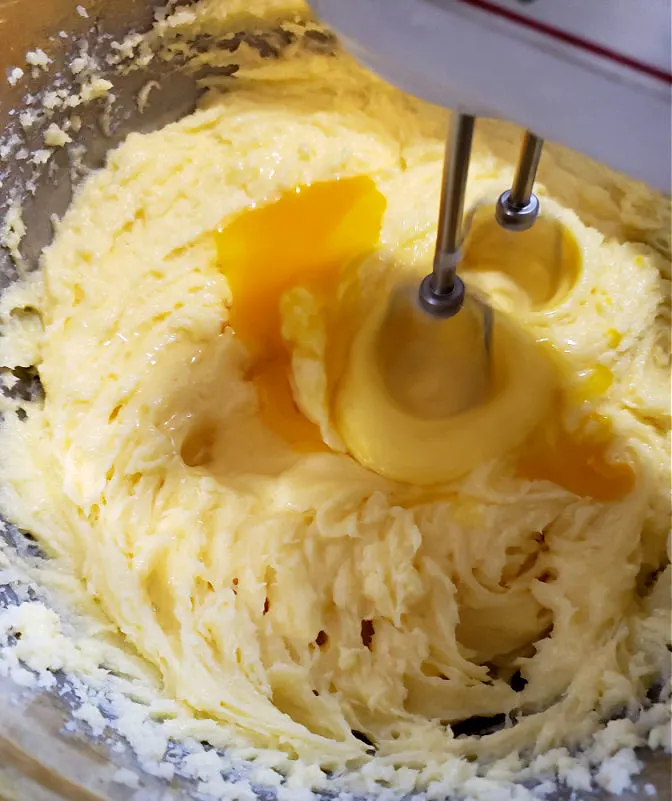 Tips for Baking Pound Cake
Make sure that the ingredients are room temperature
Cream together the butter (or margarine), shortening and sugar until light, fluffy and smooth before adding the other ingredients.
Don't over mix the batter – just enough to combine.
Follow the recipe exactly and measure all ingredients for best results.
Take extra care to prepare the pan to prevent sticking. Melted Crisco shortening could be brushed to coat the pan or liberally spraying with Baker's Joy will prevent sticking.
Always read through the entire recipe and instructions before starting to prepare it.
Stay organized and have all of the ingredients ready.
To begin this pound cake recipe, cream together the butter, shortening and sugar in a large mixing bowl using a hand mixer. You could use your stand mixer if preferred.
Cream it really well until combined. It should be very smooth and fluffy.
The next step is to add the eggs, one at a time beating just enough to mix it in between each addition.
Crack the eggs in a small bowl before adding to your creamed buttery mixture to ensure that no pieces of eggshell make its way into your cake.
Vanilla Pound Cake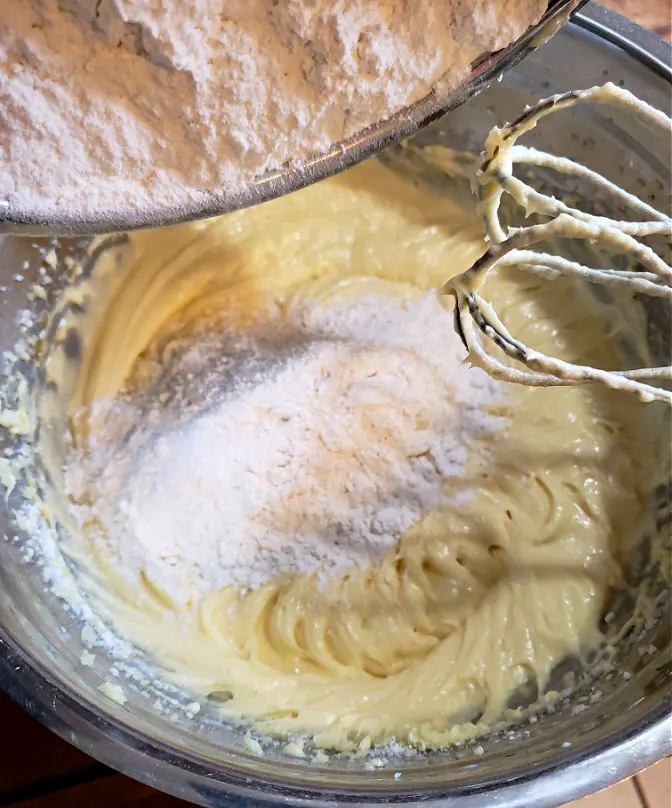 The creamed butter, shortening and egg mixture should already look very creamy and smooth before adding the rest of the ingredients.
Begin with about a third of your sifted flour mixture and add it to the batter then mix with your hand mixer to combine.
Homemade Cakes from Scratch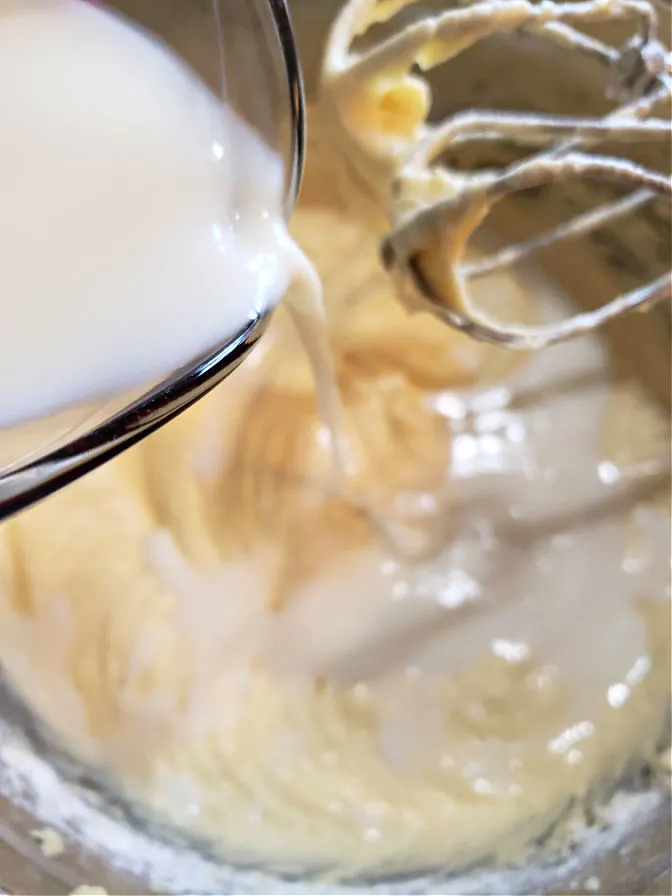 The dry ingredients and the milk will be added alternately to the creamed mixture so after your third of dry mixture is incorporated, add about a third of the milk.
Mix to combine then repeat with another third of the dry ingredients then milk until it has all been added to the cake batter and combined.
How long should you beat a pound cake? Don't over mix it. It only needs to be mixed until everything is smooth and creamy.
Moist Pound Cake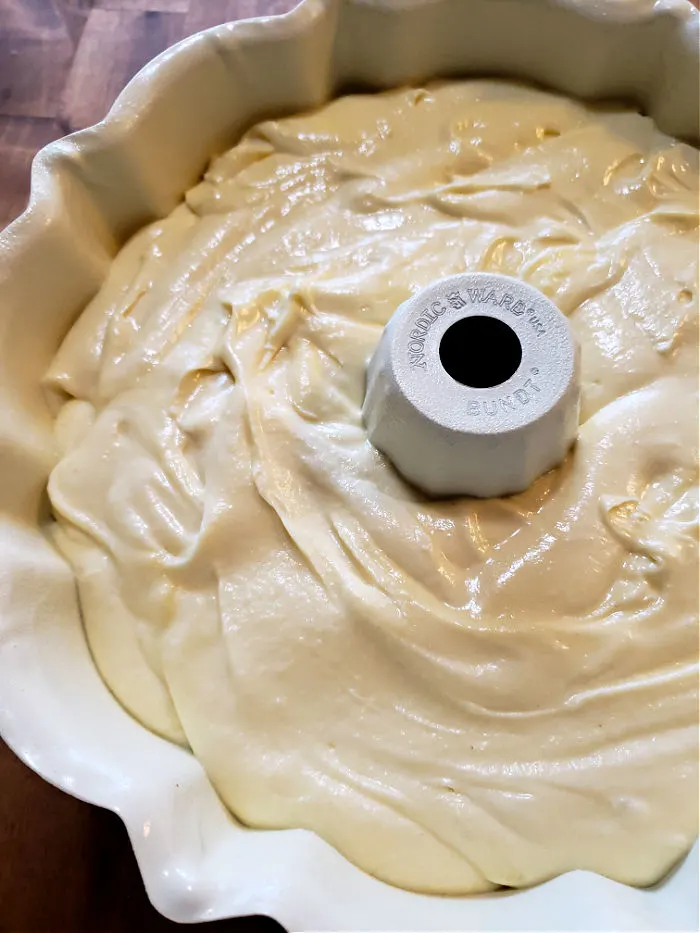 The pound cake batter should be creamy, smooth and look velvety. This recipe actually produces a beautiful cake batter and you can just tell that it will make an amazing dessert.
Next, add the cake batter to a well prepared fluted pan. I've chosen my bundt pan but a tube pan would also work with this recipe.
Use the specified pan for the recipe that you are using because pound cakes vary.
Does pound cake rise a lot during baking? This recipe will rise and to the very top of the bundt pan. The cake could settle back down some once cooled.
The cake is ready to go into a hot pre-heated oven to bake until it is golden brown and delicious.
Amazing Homemade Desserts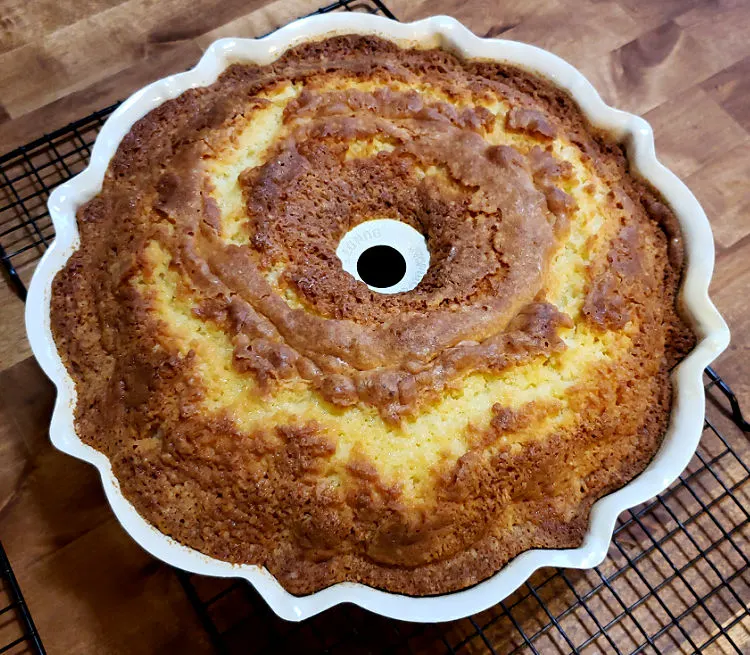 What is the best temperature to bake pound cake? This recipe calls for the cake to bake in a 325°F (165°C). Other recipes may call for a different baking temperature so go by the recipe that you will be using.
To test your cake for doneness, insert a tooth pick into the center in one or two places to see if it comes out clean.
It is important to allow a pound cake in a bundt pan to cool in the pan for ten minutes. Timing is important.
This amount of time allows the cake to continue to pull away from the sides of the baking pan. A knife can be gently run around the edges to ensure it has pulled away.
Allowing the cake to cool longer in the pan can increase chances that the sugars in the cake will cling to the sides.
I should also mention that using a basic classic bundt pan is a great option for turning out a perfect cake.
Some of the highly detailed and decorated pans can increase chances of sticking.
When Can I Eat My Cake
After ten minutes cooking in the pan, the cake can be turned out onto a cake plate and allowed to cool completely.
Resist the urge to slice your pound cake until it has cooled completely as this can cause moisture loss which means a dryer cake.
Best Pound Cake Recipe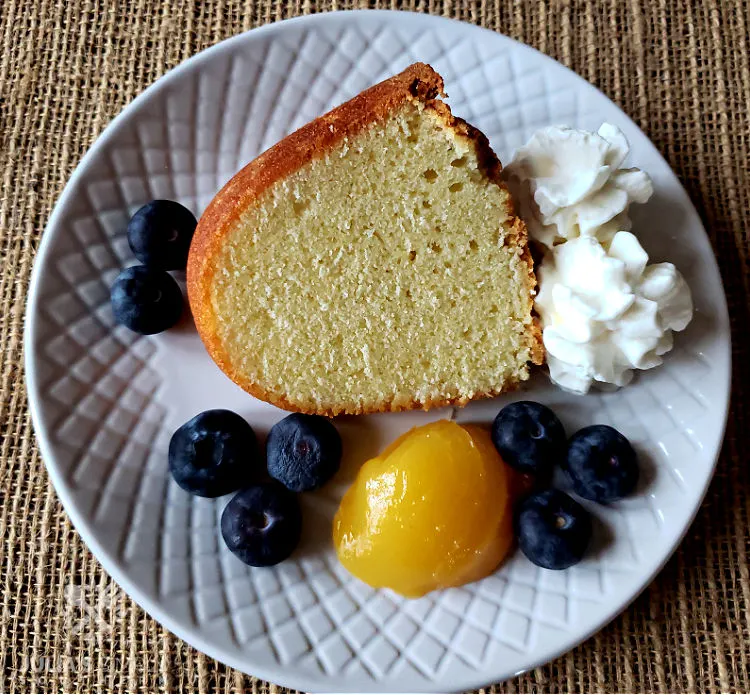 What else can I do with a pound cake? This cake could also be cut up to create dessert trifles. Thin slices of pound cake with a creamy filling and fresh fruit can create dainty sweet tea sandwiches.
Should pound cake go in the fridge? The refrigerator could make it last longer but will dry the cake out and change the texture and flavors. It is best stored at room temperature in a covered dish.
Yield: 1 Cake
Best Pound Cake Recipe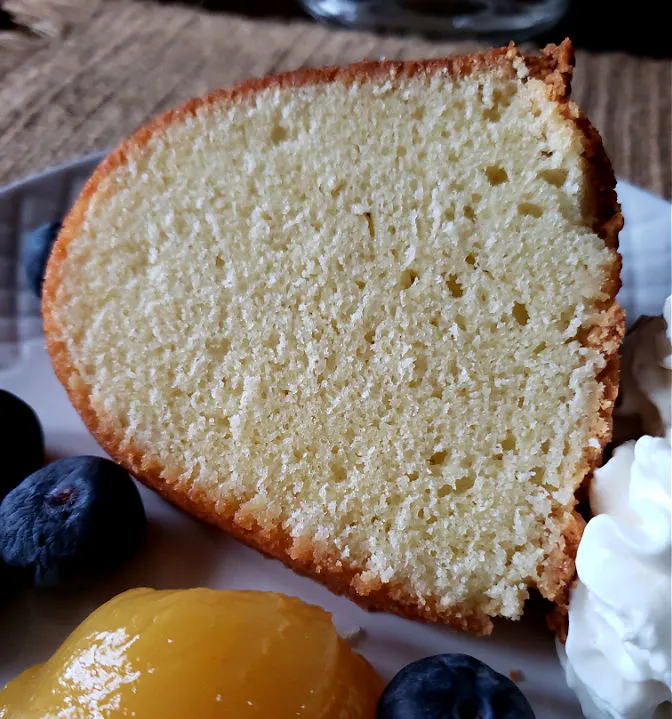 Great grandmother's best pound cake recipe. A traditional vanilla pound cake that is moist with perfect dense texture and so delicious.
Cook Time
1 hour
10 minutes
Total Time
1 hour
20 minutes
Ingredients
2 Sticks of Butter, softened to room temperature (or margarine)
½ cup of Crisco Shortening, room temperature
3 cups Granulated Sugar
5 Eggs, room temperature
3 cups All Purpose Flour
½ teaspoon Baking Powder
¼ teaspoon Salt
1 cup Whole Milk
1½ teaspoons Pure Vanilla Extract
Instructions
Preheat oven to 325°F
In a large mixing bowl -cream the butter (or margarine if using) and shortening together. Add the sugar and continue creaming using a hand mixture until light, fluffy and smooth.
Next; add the eggs one at a time, beating well after each egg.
Sift the flour, baking powder and salt together in another bowl.
Add alternately in thirds the dry ingredients and milk to the creamed mixture blending well after each addition.
Next, add the vanilla and scrape down the sides of the bowl and beat for one minute with a hand mixer until smooth and creamy.
Pour the batter into a greased and floured tube pan (see post).
Bake for 1 hour and 10 minutes, until the cake is golden brown and cooks away from the pan.
Cool the cake for 10 minutes in the pan before turning out. Allow to cool completely before slicing.
Recommended Products
As an Amazon Associate and member of other affiliate programs, I earn from qualifying purchases.
Nutrition Information:
Yield:
16
Serving Size:
1
Amount Per Serving:
Calories:

422
Total Fat:

20g
Saturated Fat:

11g
Trans Fat:

0g
Unsaturated Fat:

8g
Cholesterol:

94mg
Sodium:

169mg
Carbohydrates:

56g
Fiber:

1g
Sugar:

38g
Protein:

5g
Can I use self rising flour instead of all purpose for this pound cake recipe? No, the leavening agents in the self rising flour would be too much for this recipe. All purpose flour is the best flour for this pound cake.
How long will pound cake last at room temperature? The cake will retain its freshness for 3 days properly covered then it will start to dry out and lose freshness.
You Might Also Enjoy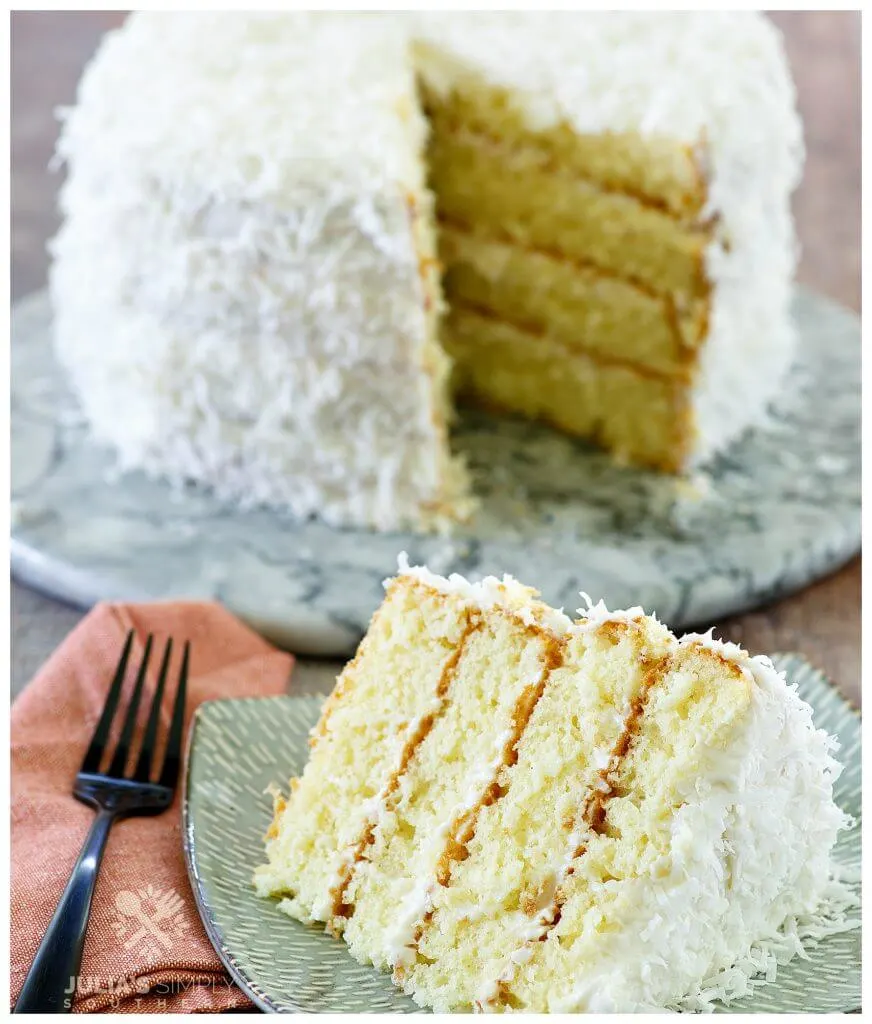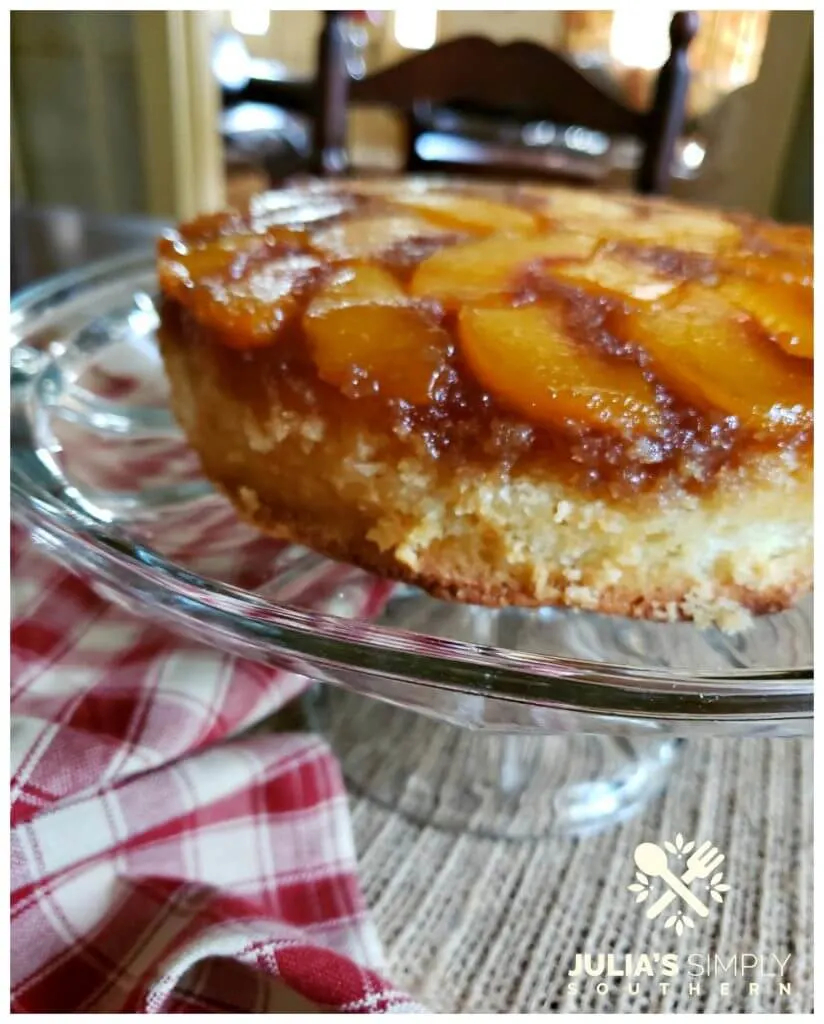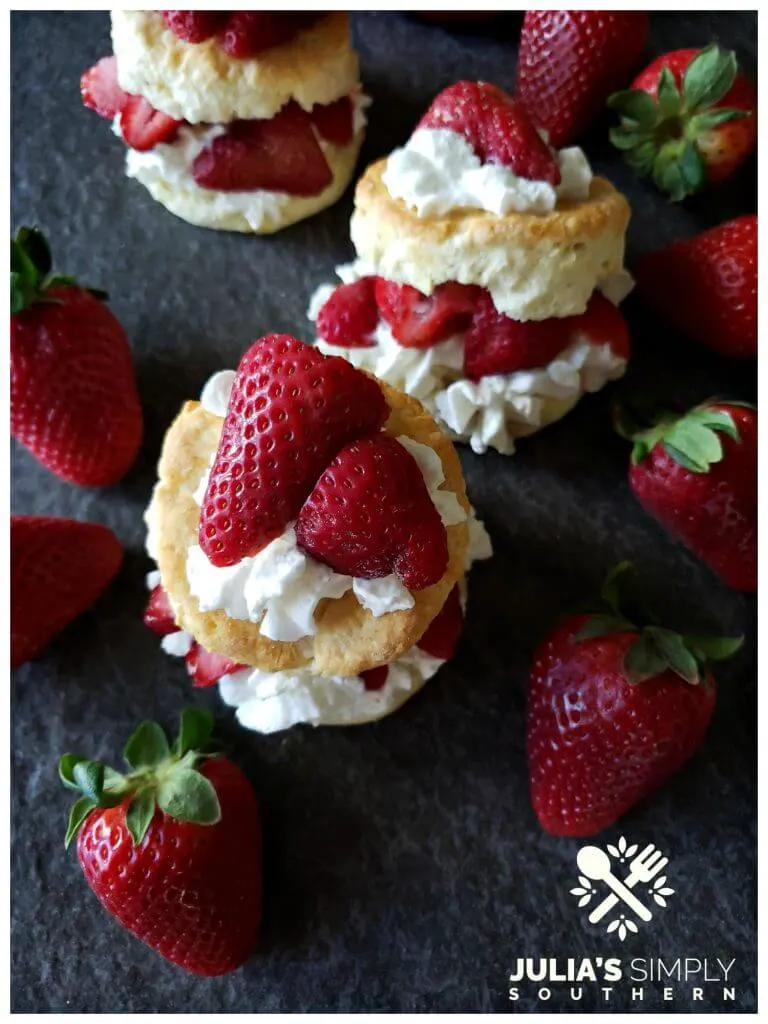 Looking for Something Else?
Popular Recipes
Thank you for stopping by!
Thank you for stopping by! I am so glad that you did. I know that you'll find all of the tips that you'll need to make your own best pound cake recipe to enjoy.
Special thanks to my beloved great-grandmother for leaving behind her recipes so that I could share them for others to enjoy.
Be sure to subscribe to my email list while you are here. As a subscriber you will receive a weekly newsletter with the latest recipes and news here on the blog so that you never miss a thing.
Meet Julia
Author of Julia's Simply Southern
Hey Y'all! I'm Julia, the cook and writer behind the recipes here at Julia's Simply Southern. I began my website so that I could share easy to follow recipes that anyone can use to put a home cooked meal on the dinner table. Thanks so much for stopping by!
Follow me on Facebook | Twitter | Instagram | Pinterest | YouTube