In this post I am sharing my quick and Easy Marinara Sauce.

Marinara sauce is a basic sauce that anyone can easily prepare. The list of ingredients is simple. In under an hour you'll have a tomato sauce for pasta or to use for dipping.
When you picture making a tomato sauce, do you picture an ancient Italian grandmother with a million years of cooking experience stirring a big pot? I used to. Thankfully, for all of us, marinara is not that complicated.
To make a marinara, you only need crushed tomatoes, an onion, garlic, and some seasonings. Really, that's it!
Simple Marinara Sauce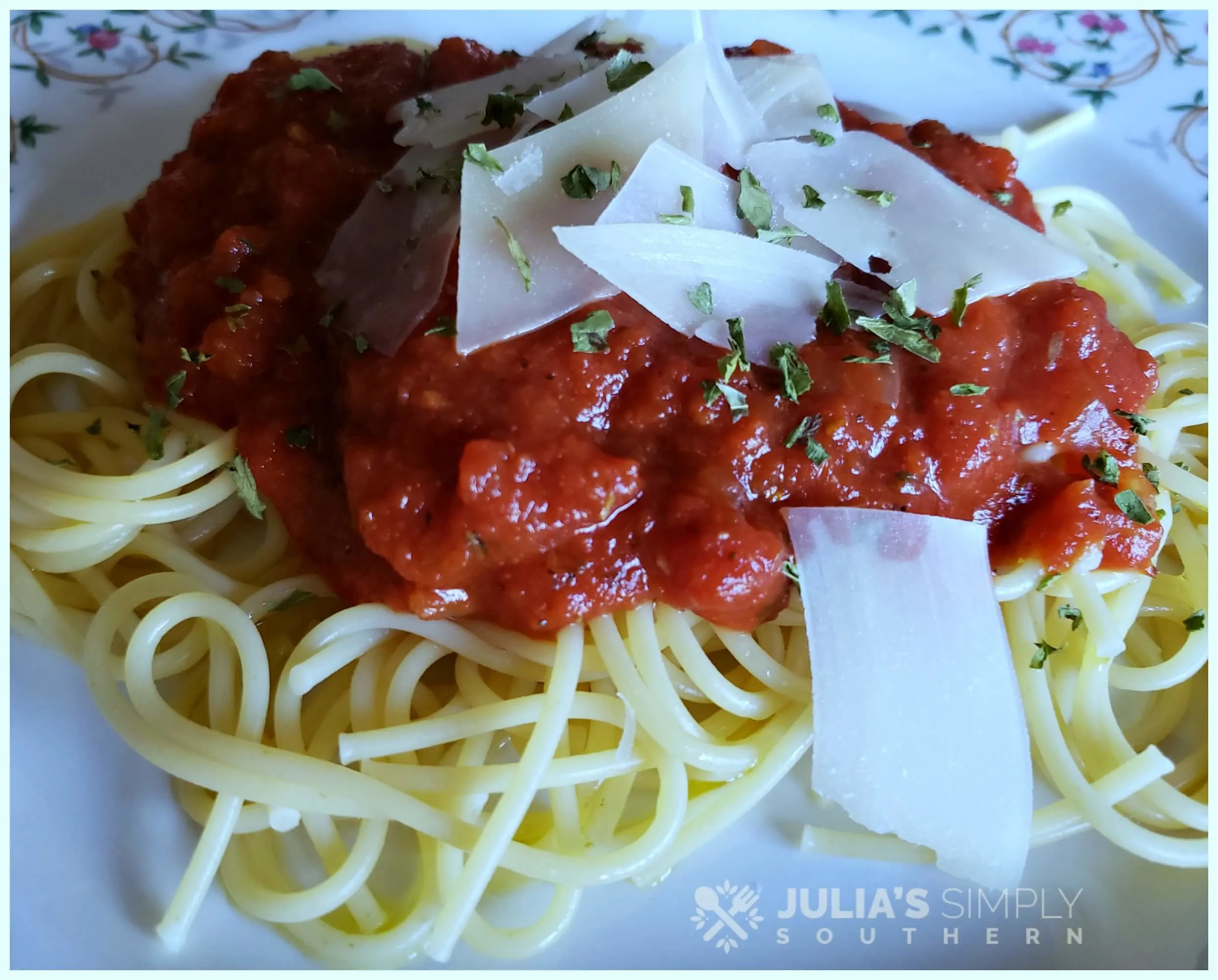 ME: "What would you like for dinner?"
Mr. Simply Southern: "Spaghetti"
ME: (Thinking to myself) "I should have known!"
Typically I have the weekly meals planned out for the most part. There are times though where my inspiration is a bit lacking. That's when I ask the question that I already know the two possible answers to.
The meals of choice when I ask are going to be either spaghetti or country fried steak. 98% of the time! I've gotten those answers more than once in the same week before too.
Marinara Sauce Pasta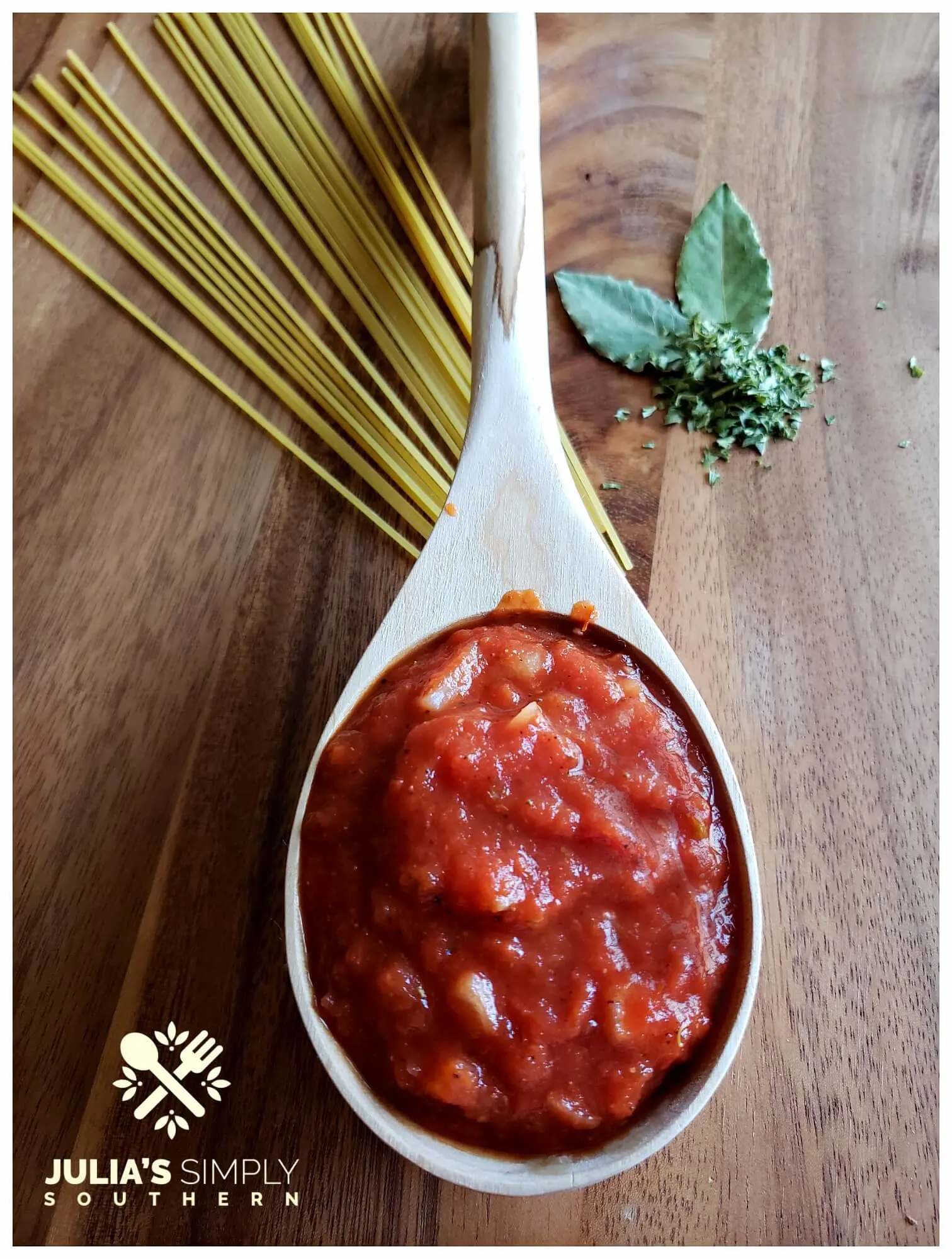 When spaghetti is requested in this house, I usually pull some of my homemade bolognese from the freezer but it is January.
What does January have to do with anything? Well, for us, January is our slowest and penny pinching month of the year. Do you have a month like that?
Seriously, January is the month that I use up everything that is left in the freezer (a good thing) which saves money on groceries and cleans out the freezer for restocking soon.
Well, when spaghetti was requested last week…I didn't even have a jar of store bought sauce in the cupboard. Thankfully I did have a can of crushed tomatoes so I would just make my own. I also own every seasoning and herb there is so why not.
Marinara Dipping Sauce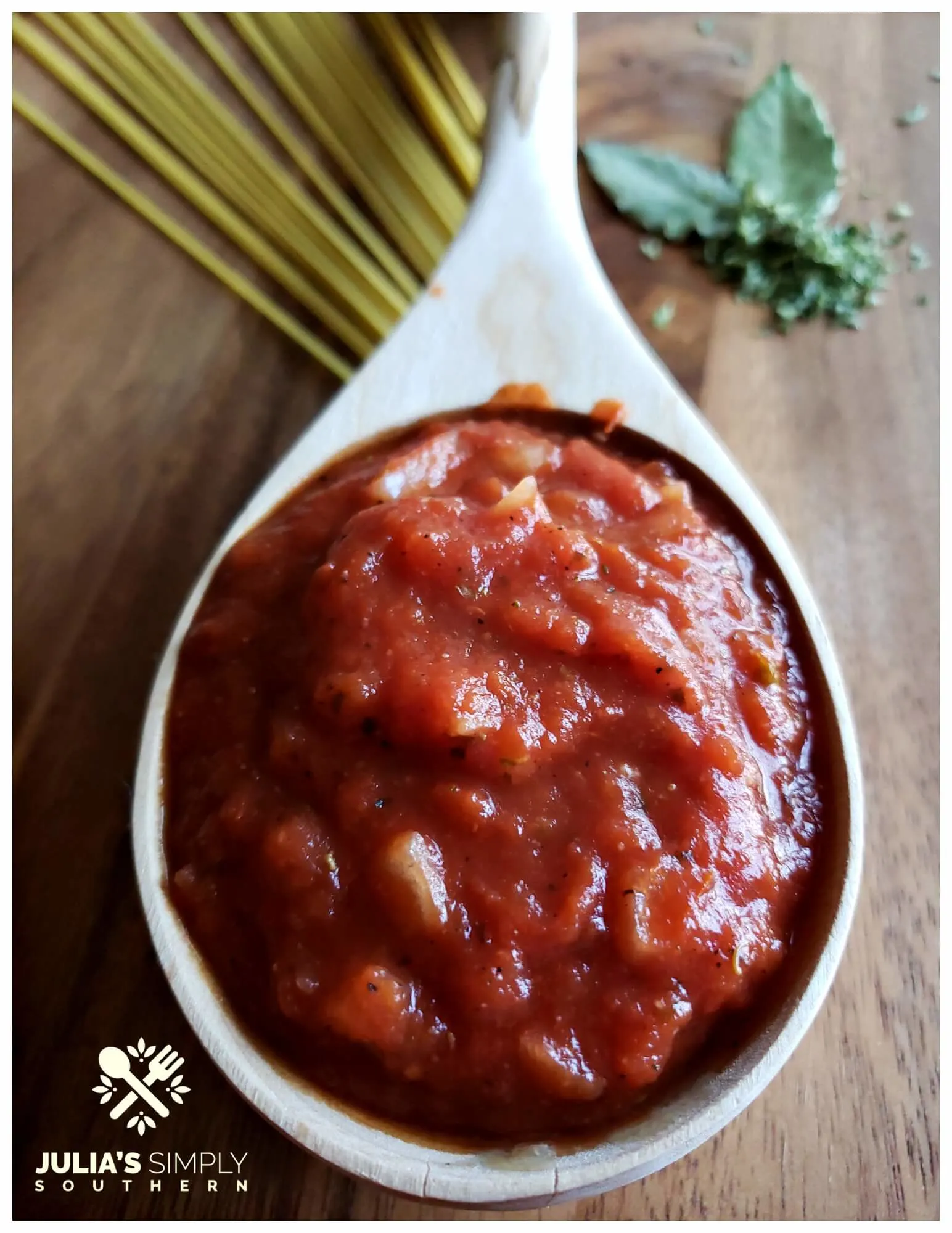 Here's the thing friends…I have no problem whatsoever in "dressing up" a jar of store bought sauce. I do it all of the time. The other thing is…when I make something homemade that's it – there is no going back in this house. From that point on I will have to make the homemade version forever.
I do love cooking but sometimes we all want a shortcut. Well, just as predicted, my marinara was proclaimed to be better than store bought and I should always make it that way. Alright then.
Simple Tomato Sauce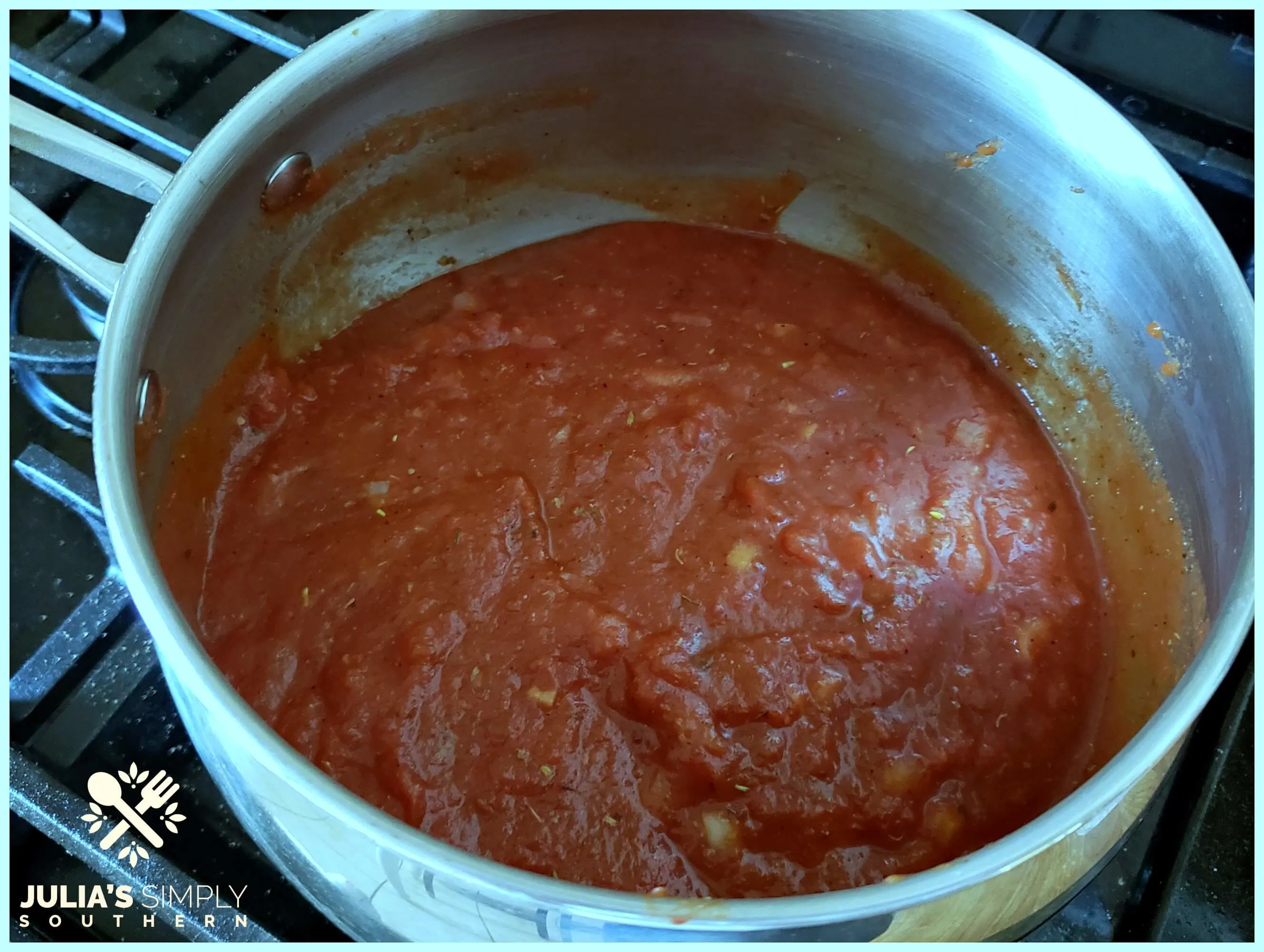 Besides being super easy to make, this marinara is a small batch sauce. As I mentioned earlier, it's delicious on pasta but you can use it to dip those mozzarella sticks in too.
Step 1: Dice and onion and mince some garlic. That was the hard part. 😉
Step 2: Drizzle a little olive oil in a sauce pan and saute the onion and garlic for about two minutes. Next, add the remaining ingredients and stir everything together. Bring to a low simmer, cover, and let the sauce cook for 30 minutes to 1 hour.
The marinara is a delicious quick sauce with rich tomato taste….that's exactly how you want it to be.
Below, you'll find a printable recipe card for this recipe. I hope you try it soon! Let me know what you think.
OH, and before you go…I'd appreciate it if you could share this post with your friends. You can also sign up to receive an email when we post a new recipe and follow us on Facebook, Instagram and Pinterest if you like.
Yield: 28 ounces of Sauce
Easy Marinara Sauce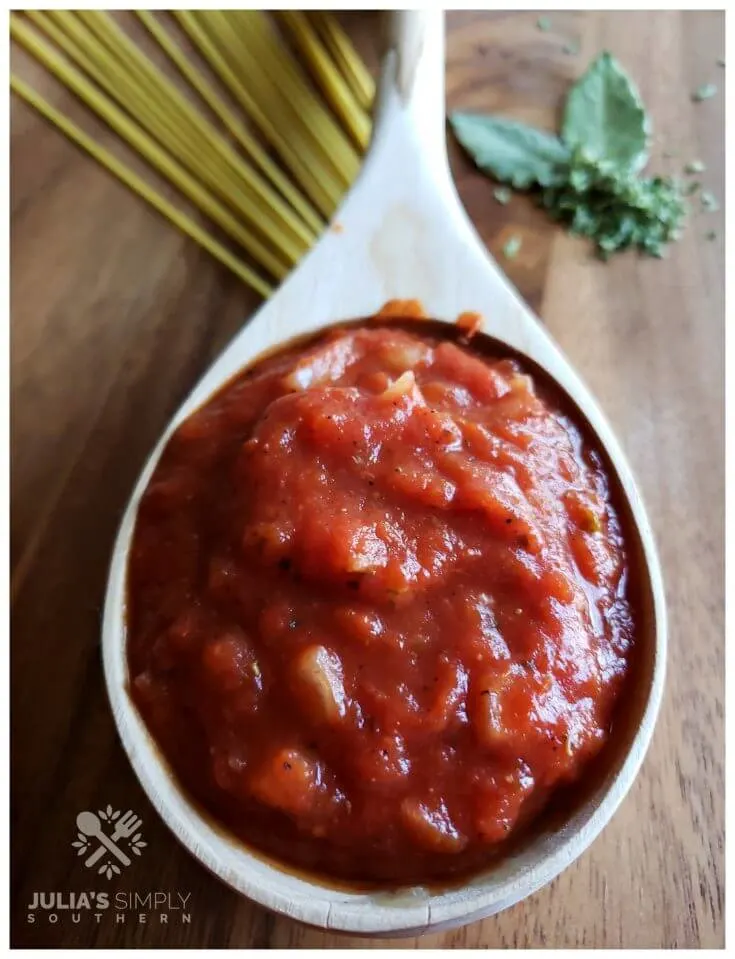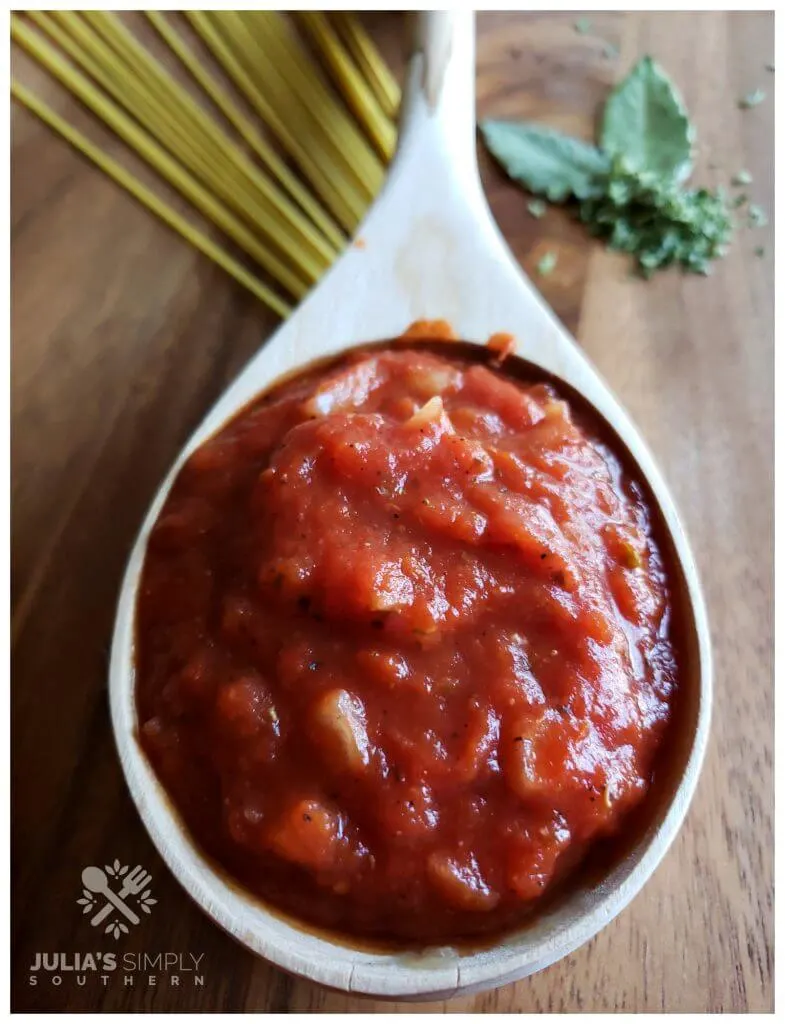 Simple and easy marinara sauce that is rich in tomato flavor, perfect as a topping for pasta or to use as a dipping sauce.
Total Time
1 hour
5 minutes
Ingredients
1.5 tsp Olive Oil
1 Onion, diced
2 Cloves of Garlic, minced
28 oz Can of Crushed Tomatoes
1 tsp Granulated Sugar
1 tsp Salt, or to taste
1/2 tsp Ground Black Pepper, or to taste
1/4 tsp Red Pepper Flakes, or to taste
1.5 tsp Italian Seasoning
1/2 tsp Garlic Powder
Instructions
Add the olive oil to a sauce pan and heat over medium.
Next, add the onion and garlic and saute for 2 minutes.
Add the remaining ingredients and mix to combine.
Cover the sauce pan and reduce the heat to a low simmer.
Cook for 30 minutes to 1 hour.
Serve marinara sauce over your favorite pasta or use it as a dipping sauce.
Notes
Olive oil is used for cooking, while extra virgin olive oil is a finishing/tasting sauce.
Leftover marinara can be frozen.
Nutrition Information:
Yield:
13
Amount Per Serving:
Calories:

31
Total Fat:

1g
Saturated Fat:

0g
Trans Fat:

0g
Unsaturated Fat:

1g
Cholesterol:

0mg
Sodium:

294mg
Carbohydrates:

6g
Fiber:

1g
Sugar:

3g
Protein:

1g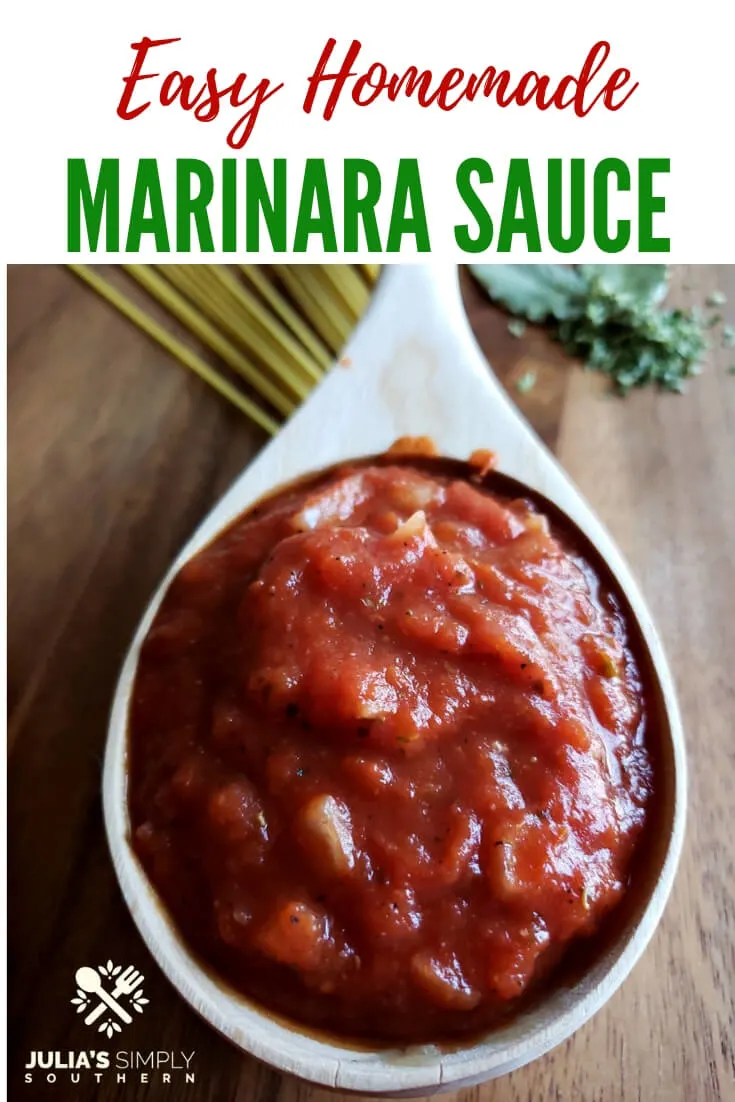 See What's Been Cooking in Our Latest Posts
Meet Julia
Author of Julia's Simply Southern
Hey Y'all! I'm Julia, the cook and writer behind the recipes here at Julia's Simply Southern. I began my website so that I could share easy to follow recipes that anyone can use to put a home cooked meal on the dinner table. Thanks so much for stopping by!
Follow me on Facebook | Twitter | Instagram | Pinterest | YouTube