In this post I am sharing an easy recipe for Short Cut Peanut Butter Blossoms.
If you're up to your elbows in mixing bowls and spatulas baking up a smorgasbord of cookies, like I am, this time of year then you might enjoy a short cut or two.
There is nothing wrong with a short cut holiday cookie recipe, depending on circumstances. This is not the type of recipe I would carry to a cookie swap party. You'll want to share a scratch made cookie for this type of gathering.
When gifting a variety of cookies, or offering a variety at your holiday gatherings however, mixing in a couple of short cut recipes into the mix of all of your home baked goodies will work fine.
This particular recipe for these peanut butter cookies with Hershey Kisses uses a cookie mix. They're still semi-homemade. Just 5 simple ingredients to a delicious holiday treat!
More cookie recipes you might enjoy: Grandma's Old Fashioned Peanut Butter Cookies, Oatmeal Raisin Cookies and the original Chocolate Chip Cookie.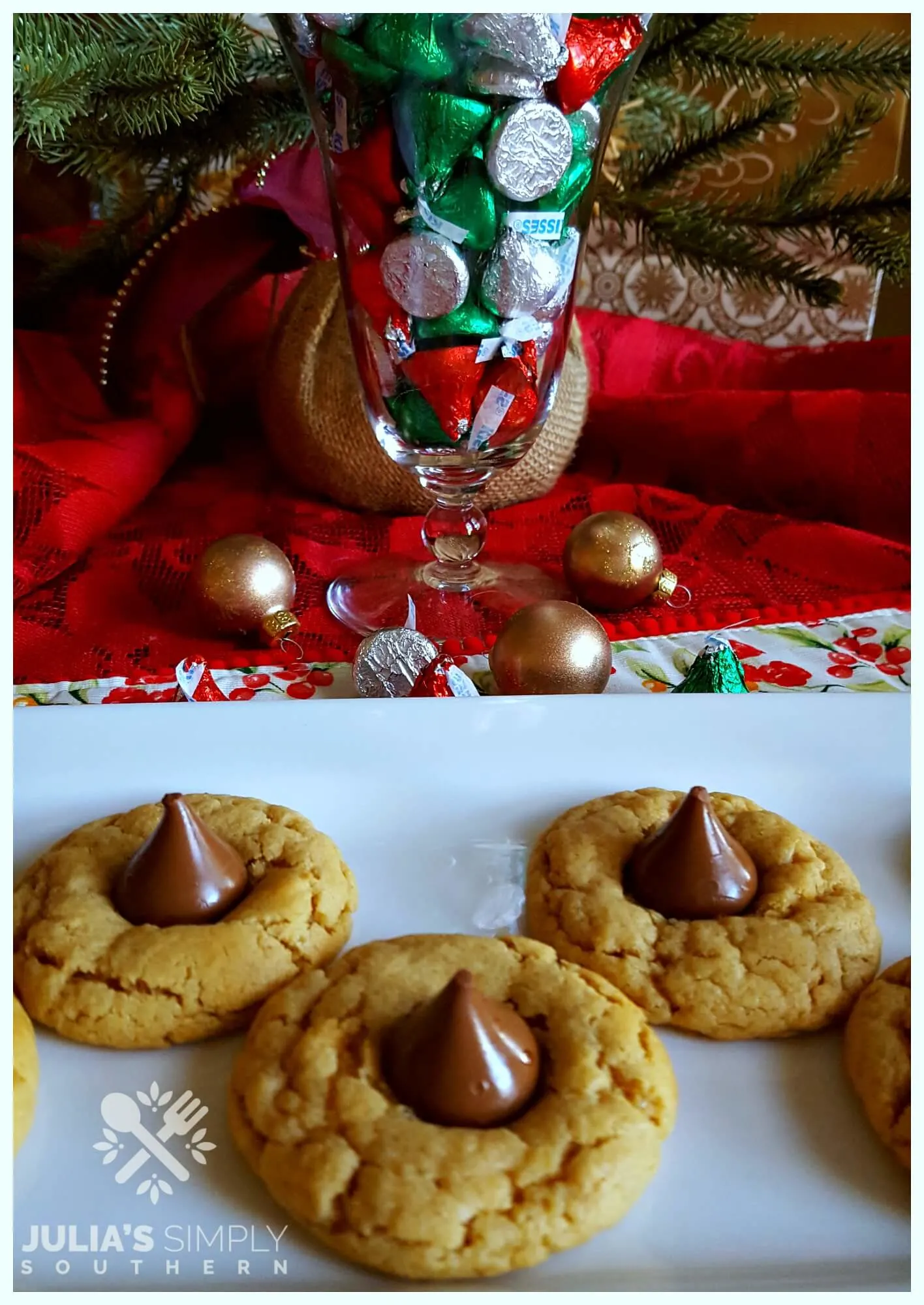 A semi-homemade cookie recipe might work better for some people who may not keep a lot of baking supplies on hand. You can also catch the cookie mix on sale for around a dollar which makes this very budget friendly too.
I make these peanut butter blossoms every year. I love the magic that happens when you add that Kiss to the top of the cookie and it transforms into a chocolate bite that literally melts in your mouth.
Hershey's Kiss Blossoms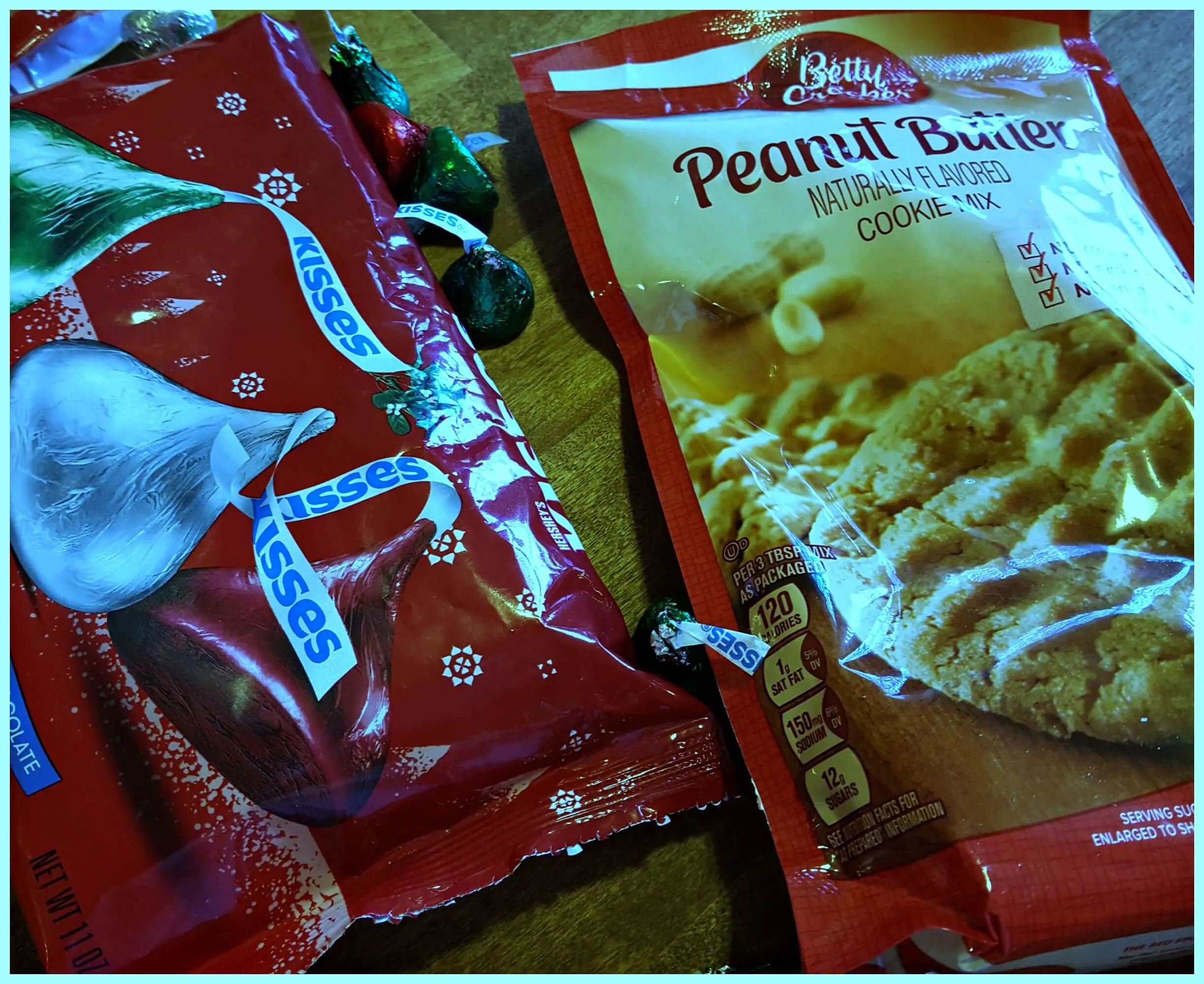 Here's what you'll need: Hershey Kisses, peanut butter cookie mix (plus the ingredients to make the mix – vegetable oil, and egg and a smidgen of water).
Seriously y'all, the most complicated thing about this recipe is unwrapping all of the kisses you'll need. I usually enlist help for that 😉 So get all of the kisses you'll need unwrapped before you begin so they're handy.
Preheat your oven to 375°F (190°C)
Step 1: Follow the package instructions for the cookie mix and combine the mix, vegetable oil, an egg and water in a mixing bowl with a hand mixer.
Step 2: Use a small cookie scoop to portion and roll each scooped amount into a ball, then place on a parchment lined baking sheet. Leave these cookies in the ball shape – Do Not press them down before baking. Bake 8 to 10 minutes. I bake mine for a shorter time so they're softer cookies.
Step 3: The fun and oddly satisfying part…immediately place a kiss on top of each cookie and gently press down into the cookies.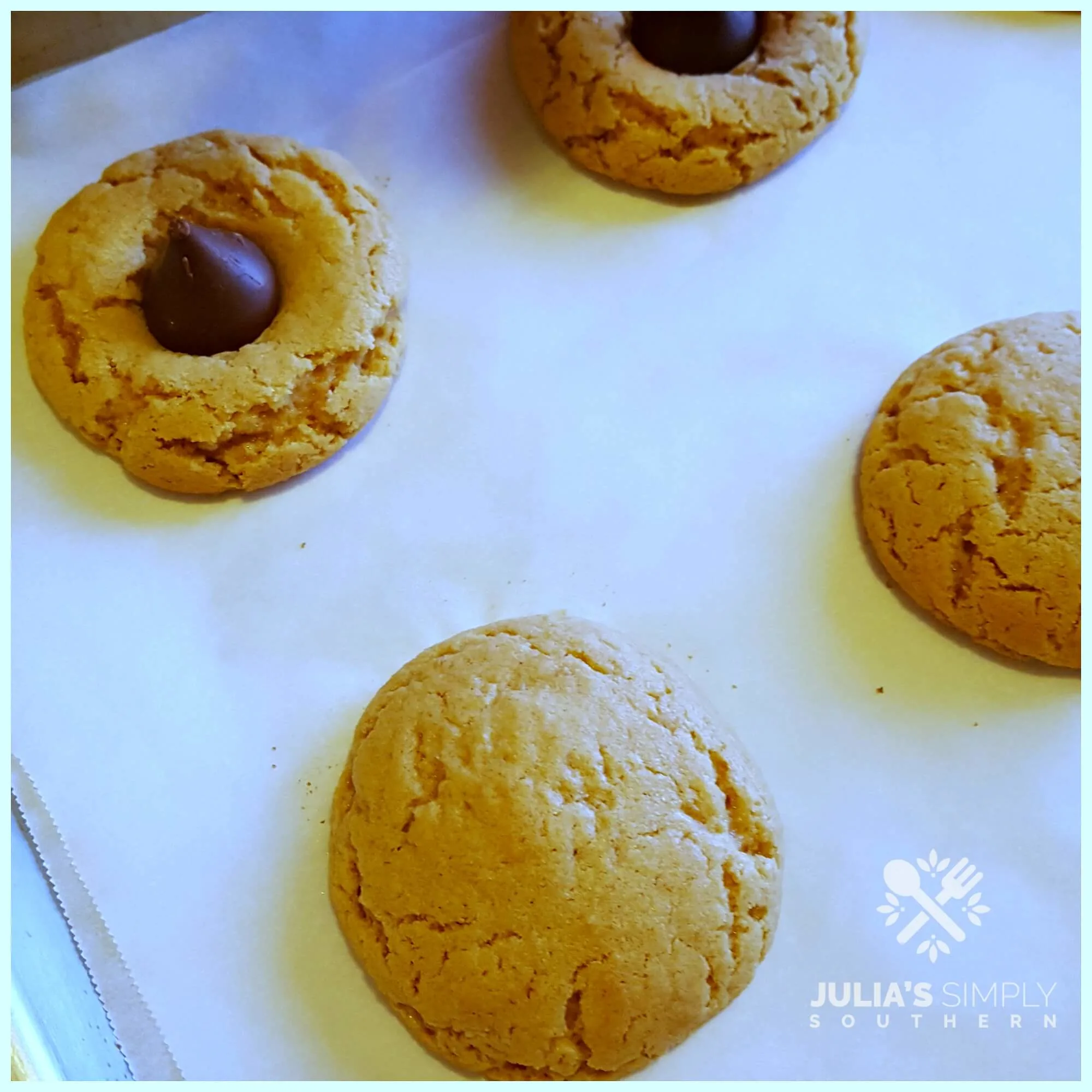 Keep going until they're all done.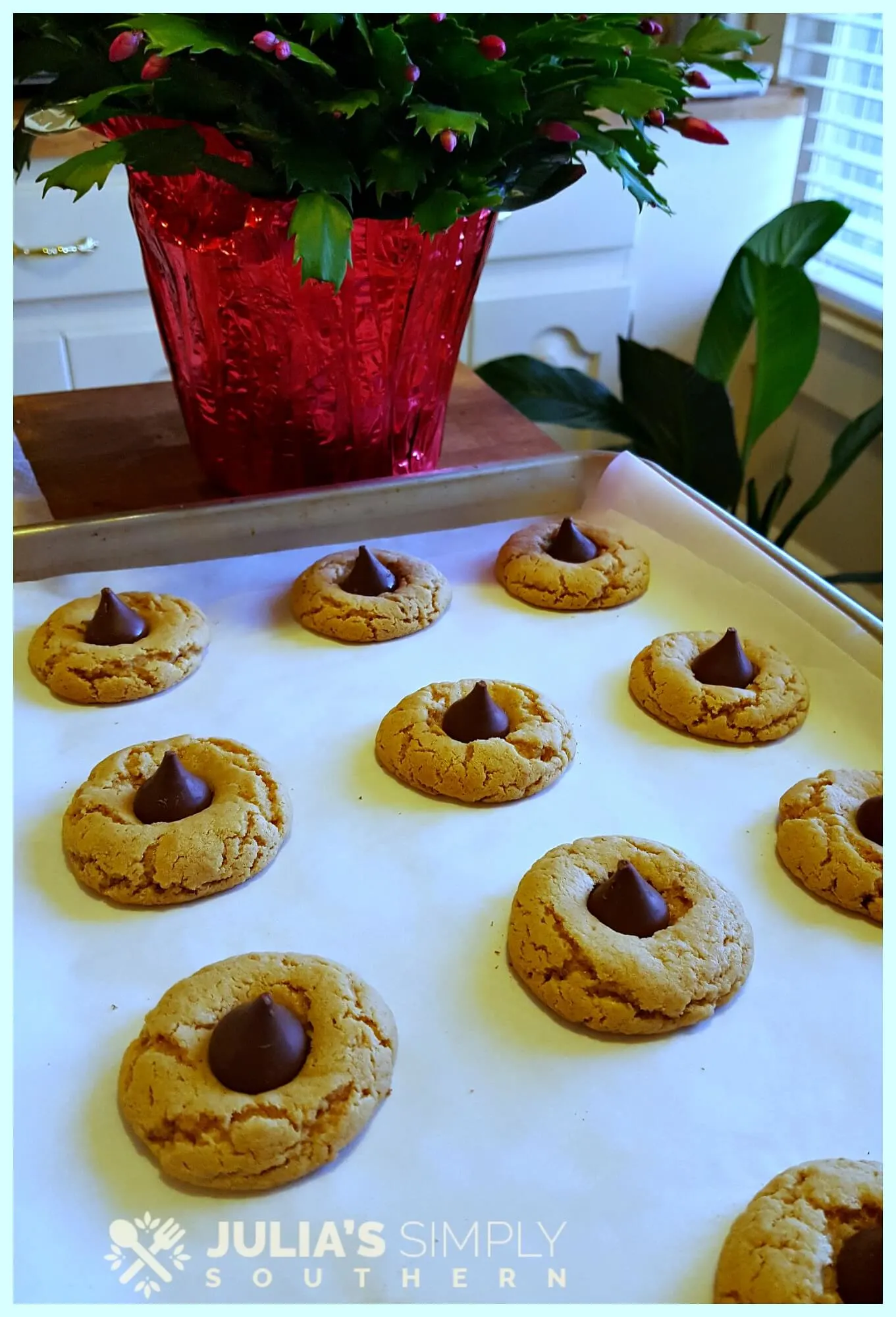 Transfer the cookies to a wire rack to cool completely.
I'm not sure exactly how the magic works but the heat from the cookie is enough to soften the Hershey Kiss but when the cookies are completely cool….the kisses stay soft.
That makes them a bit tricky, so you probably don't want to stack them on top of each other. The cookies aren't as cute with smooshed kisses.
Best Peanut Butter Blossoms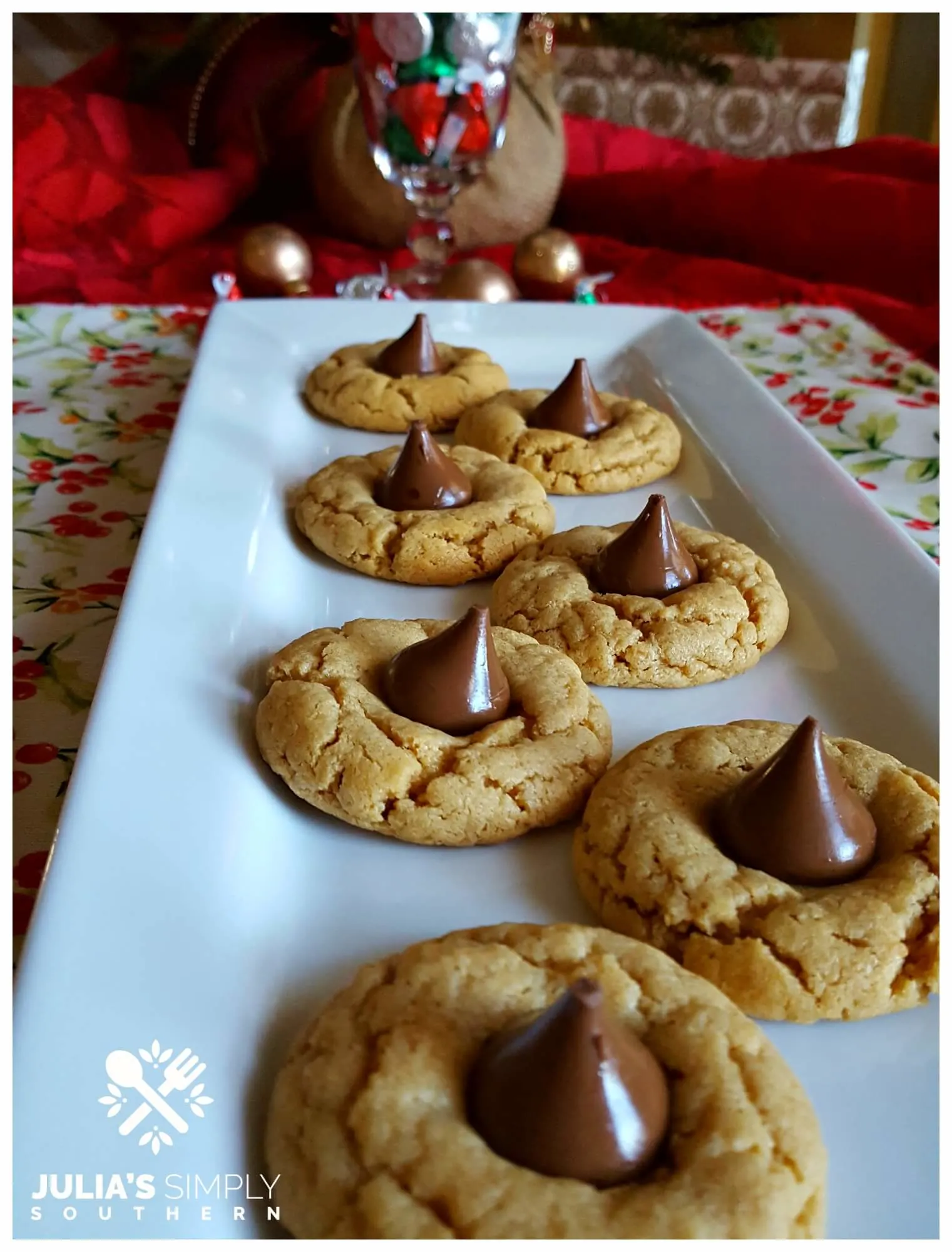 Peanut butter blossoms are perfect to arrange on a platter. You can also carefully place three or four in cellophane gift baggies while preserving the shape.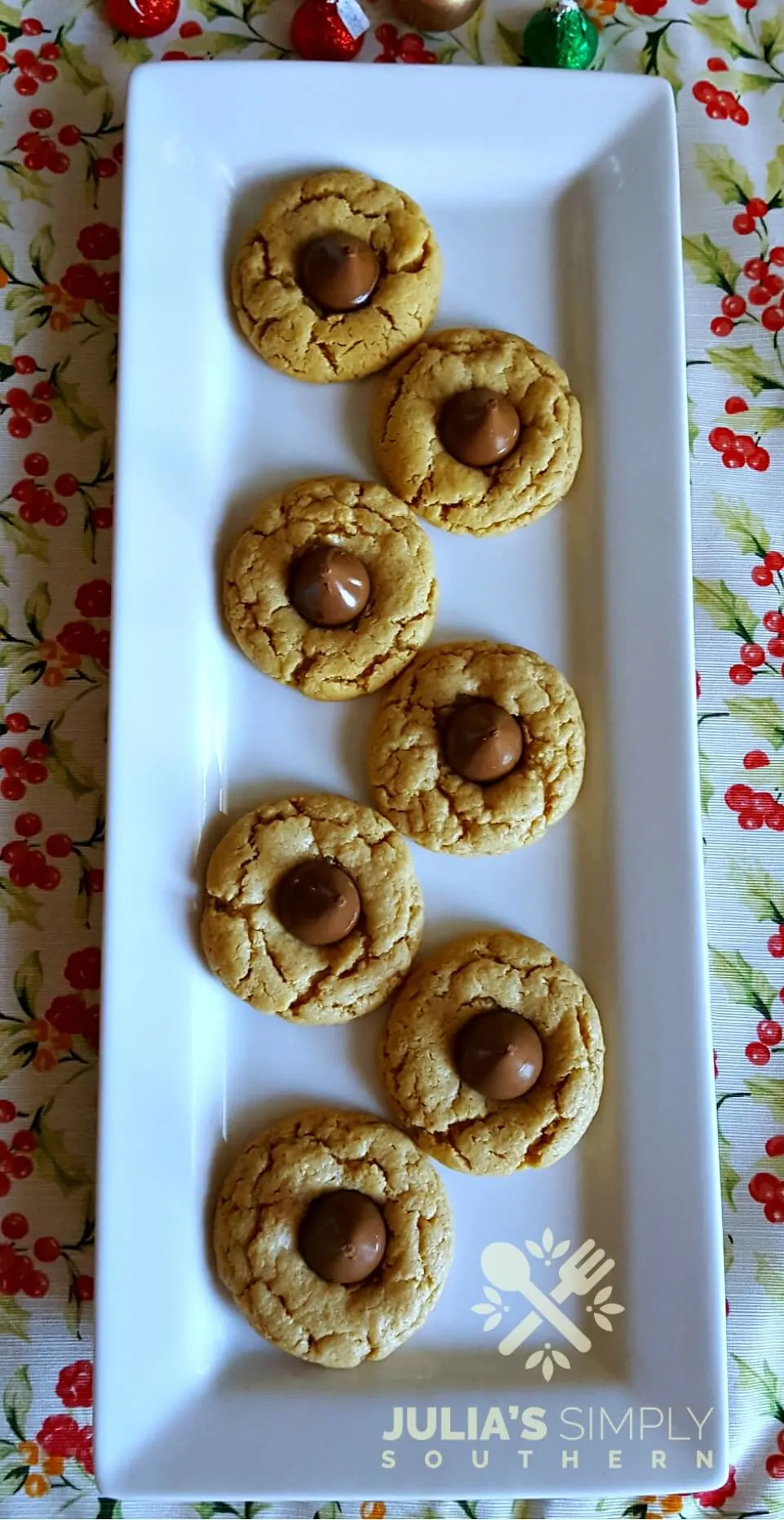 Let's make a batch of Short Cut Peanut Butter Blossoms!
Yield: 3 Dozen
Short Cut Peanut Butter Blossoms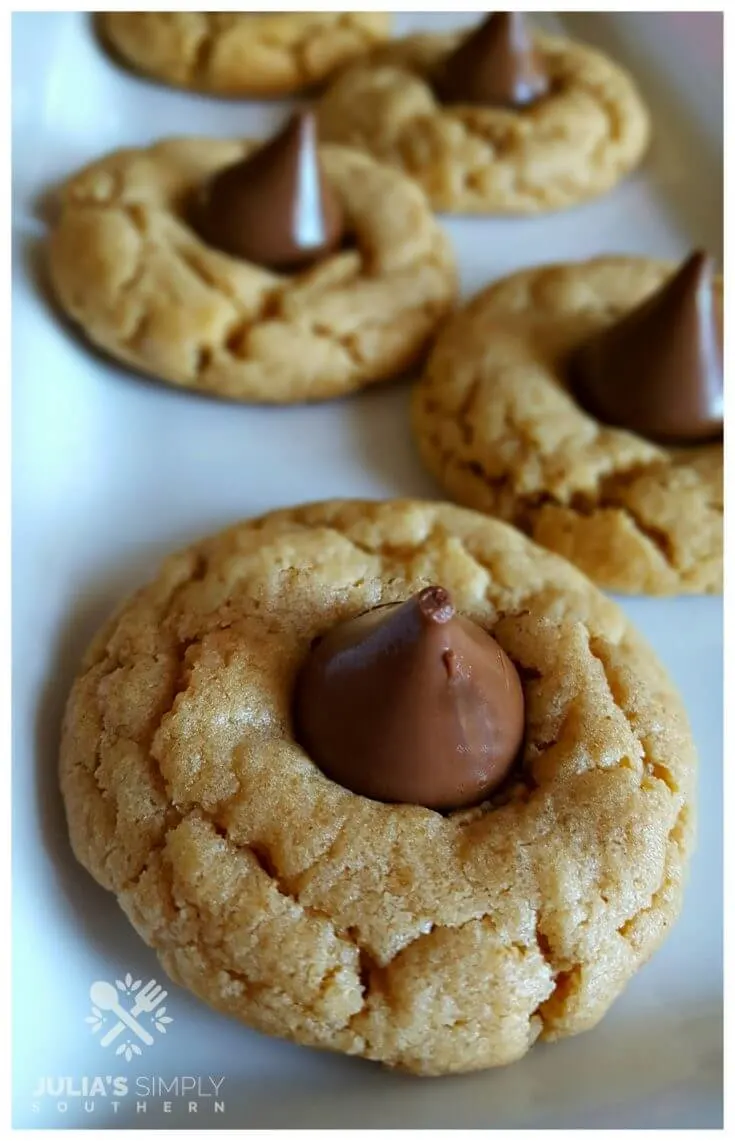 A short cut semi-homemade cookie for the holidays
Ingredients
36 Hershey Milk Chocolate Kisses, unwrapped
17.5 oz Betty Crocker Peanut Butter Cookie Mix
3 tbs Vegetable Oil
1 tbs Water
1 Egg
Instructions
Preheat oven to 375°F.
Prepare cookie mix per package instructions.
Form round balls with a small cookie scoop and place on a parchment lined baking sheet.
Bake the cookies according to package instructions, 8-10 minutes.
Immediately place a Hershey Kiss on top of the baked cookies and gently press down.
Transfer the cookies to a wire rack and cool.
Recommended Products
As an Amazon Associate and member of other affiliate programs, I earn from qualifying purchases.
Nutrition Information:
Yield:
18
Serving Size:
2 cookies
Amount Per Serving:
Calories:

140
Sharing is Caring, thank you.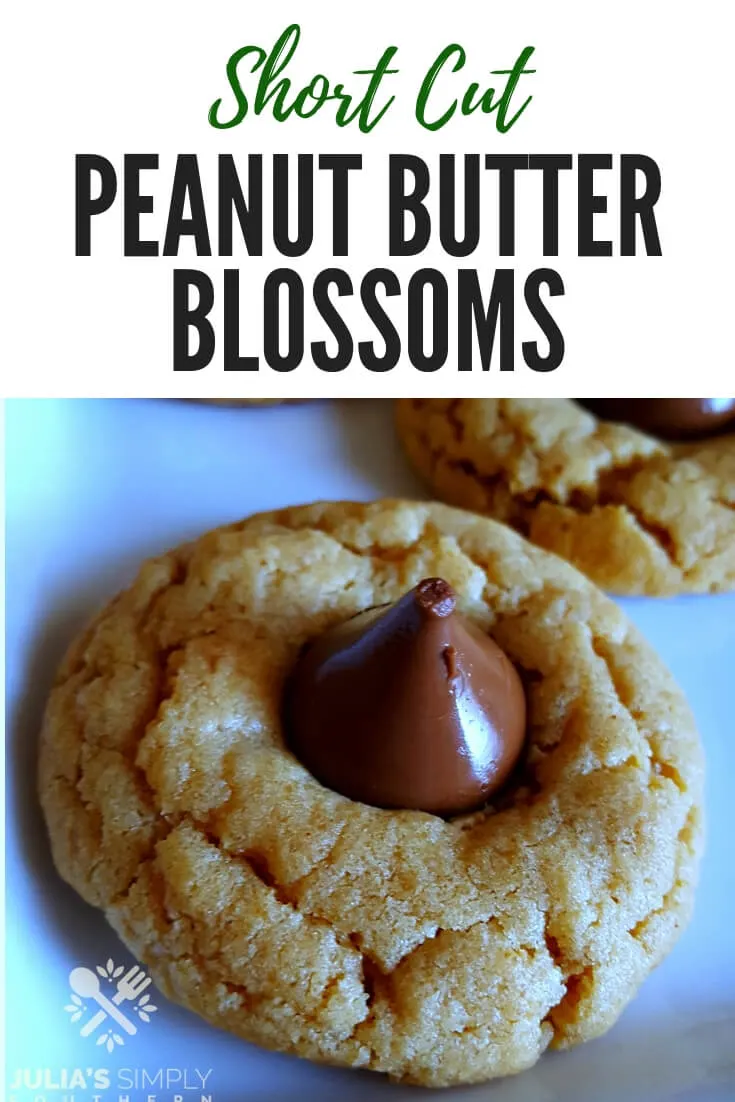 Try these easy sweet treats that make great holiday gifts: Easy Peanut Butter Fudge Bars and Crock Pot Chocolate Peanut Butter Candy.
See this recipe shared at Weekend Potluck and Meal Plan Monday
Meet Julia
Author of Julia's Simply Southern
Hey Y'all! I'm Julia, the cook and writer behind the recipes here at Julia's Simply Southern. I began my website so that I could share easy to follow recipes that anyone can use to put a home cooked meal on the dinner table. Thanks so much for stopping by!
Follow me on Facebook | Twitter | Instagram | Pinterest | YouTube