In this post I am sharing on of my personal favorites…Charleston Shrimp and Grits.
Do you have a meal that just makes you swoon? Like you can hear the angels sing just thinking about eating it? For me that would be shrimp and grits.
The freshest sweet wild caught shrimp and grits are perfect for any meal of the day in South Carolina. This dish originates from the lowcountry of my beloved state.
Perhaps being born in a coastal state, it is just in our DNA to have a special fondness for seafood. It has to be, right? Of course these days you'll find shrimp and grits on the menu of restaurants across the country.
So how did breakfast shrimp become such a popular dish? Well, like most anything there are two stories and both have truth in them.
The most popular story know by many is that shrimp and grits was a humble breakfast enjoyed by our lowcountry fisherman, rightfully so….they had plenty on hand.
The other story, and likely the true origin of this Southern cuisine, is that it was introduced to us by the enslaved Africans of the Charleston area.
Southern Shrimp and Grits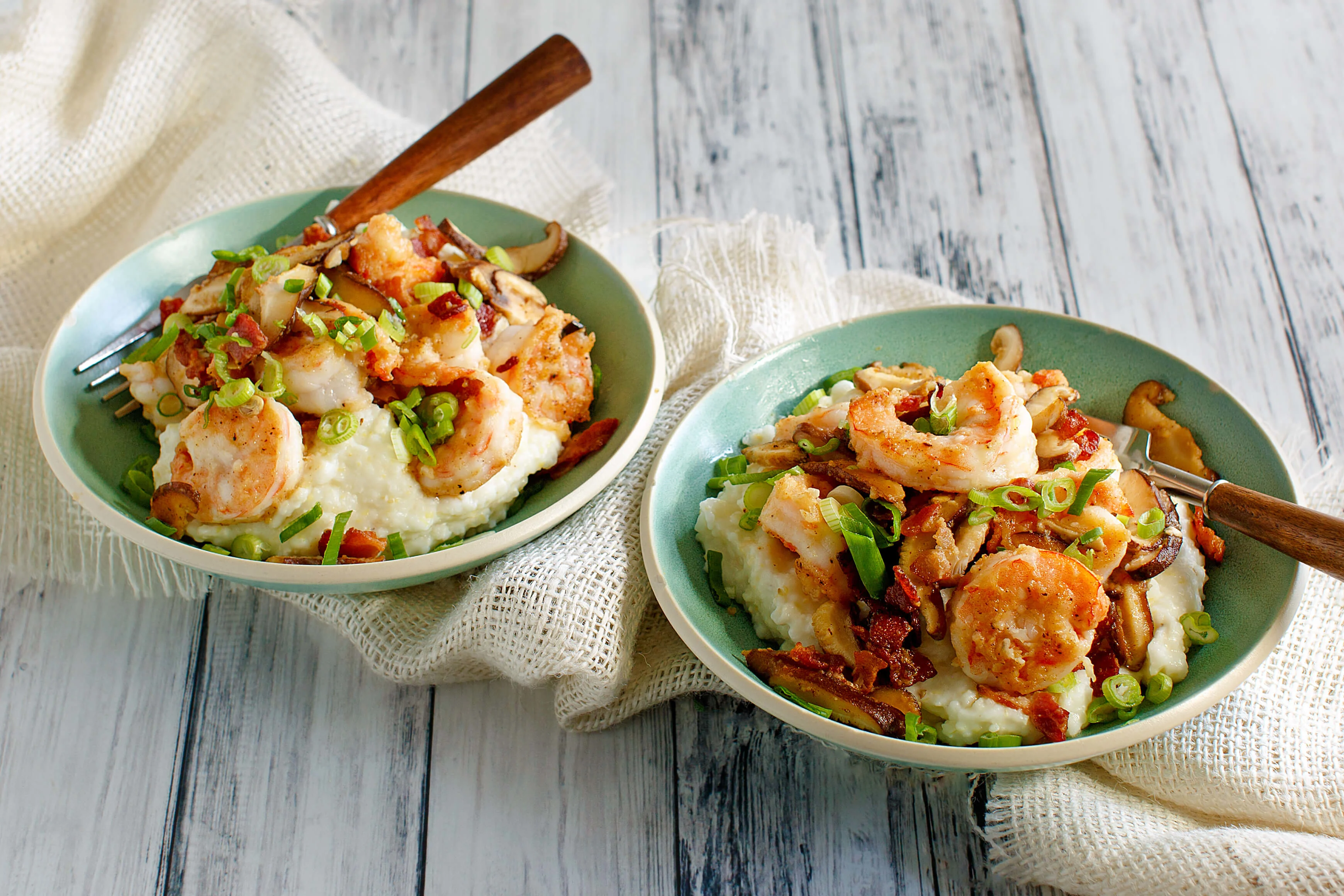 Okay y'all….let's talk about grits for a minute. Stone ground grits are the preferred grits of the South. Never ever do we use instant. If you stumble upon a recipe for grits that cook less than 30 to 45 minutes just keep on scrolling. Trust me.
Not that you'll find this very interesting but there happens to be a historic grist mill just down the road from my house.
Back in the day, the local grist mill owner was a very important man and usually had a bit of money from running their profitable business.
Well that's enough of my jibber jabber, let me tell y'all how to make these shrimp and grits. I do apologize…I just get to gushing when talking about my home state and delicious food.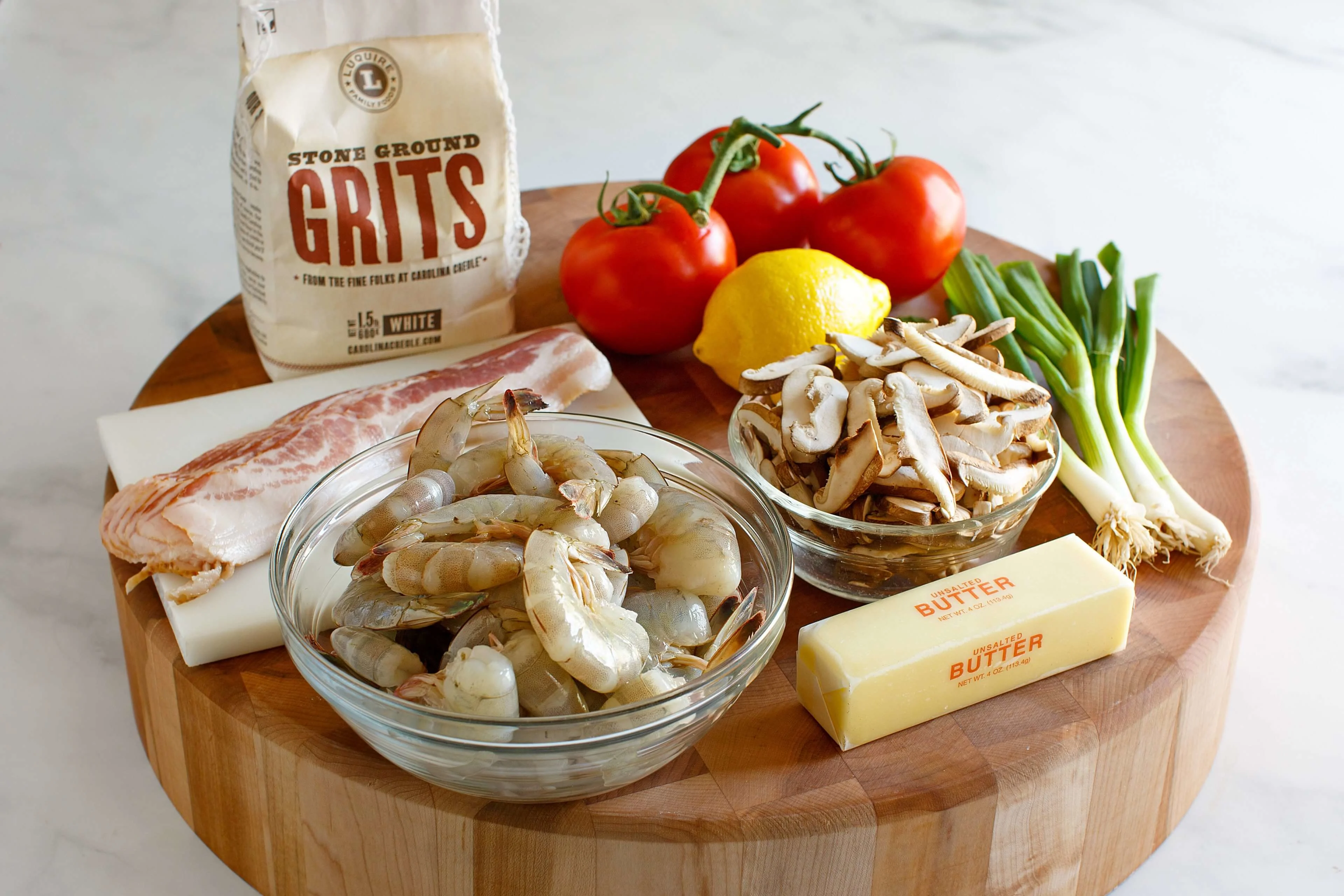 Preparing shrimp and grits is fairly simple. You'll see many versions…some folks like to add sausage or Tasso ham while others might make a pan sauce or gravy.
Do what suits your taste. The main components here are that you want there to be shrimp, grits and it needs to be savory and seasoned well.
Here's what you'll need to make my version: bacon, peanut oil (optional), shrimp, flour, salt and pepper, mushrooms, garlic, lemon juice, Tabasco, green onions, grits and some butter.
I s'wanee y'all…I'm getting so excited and my mouth is watering just telling y'all about this recipe!
Lowcountry Favorite Meal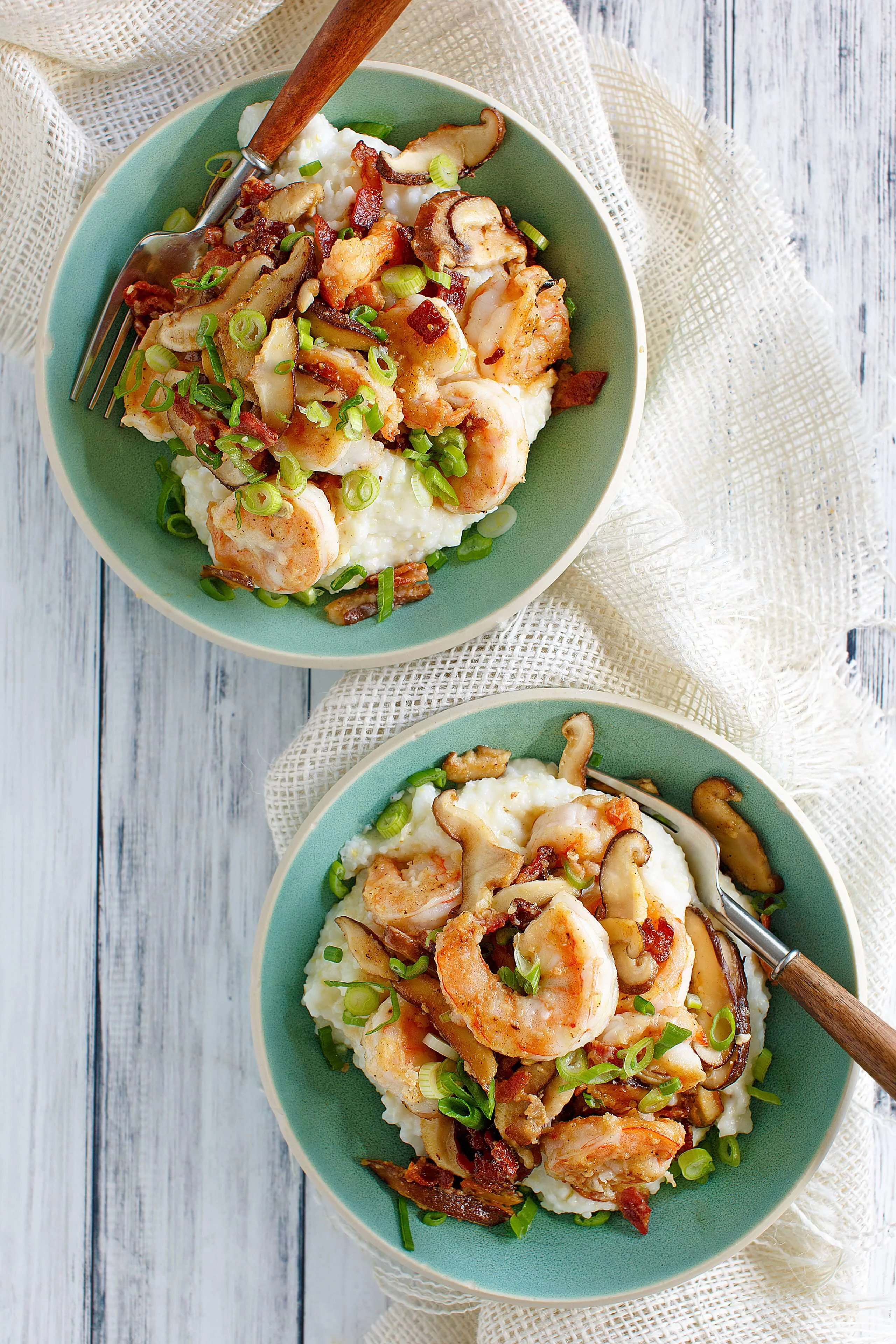 "Southern Cooking is the Mother cuisine of America" ~ Nathalie Dupree
Step 1: It is best to get the grits to cooking before you start on everything else since they take a while. Bring water to a boil, season with salt then stir in your grits. Turn down the heat and let them cook, about 40 minutes, stirring occasionally.
Step 2: In a skillet over medium high heat, cook some chopped bacon until crisp. Remove and set aside. Toss the shrimp in a small bit of seasoned flour to very lightly coat then add them to the skillet. Cook the shrimp on one side then flip and add the mushrooms and reserved bacon back to the skillet.
Next, add the garlic to the pan and stir constantly so the garlic doesn't brown and become bitter. Remove the skillet from the heat and add the remaining ingredients.
To serve, spoon the shrimp mixture over a serving of grits.
Charleston Shrimp and Grits
Yield: 4 Servings
Charleston Shrimp and Grits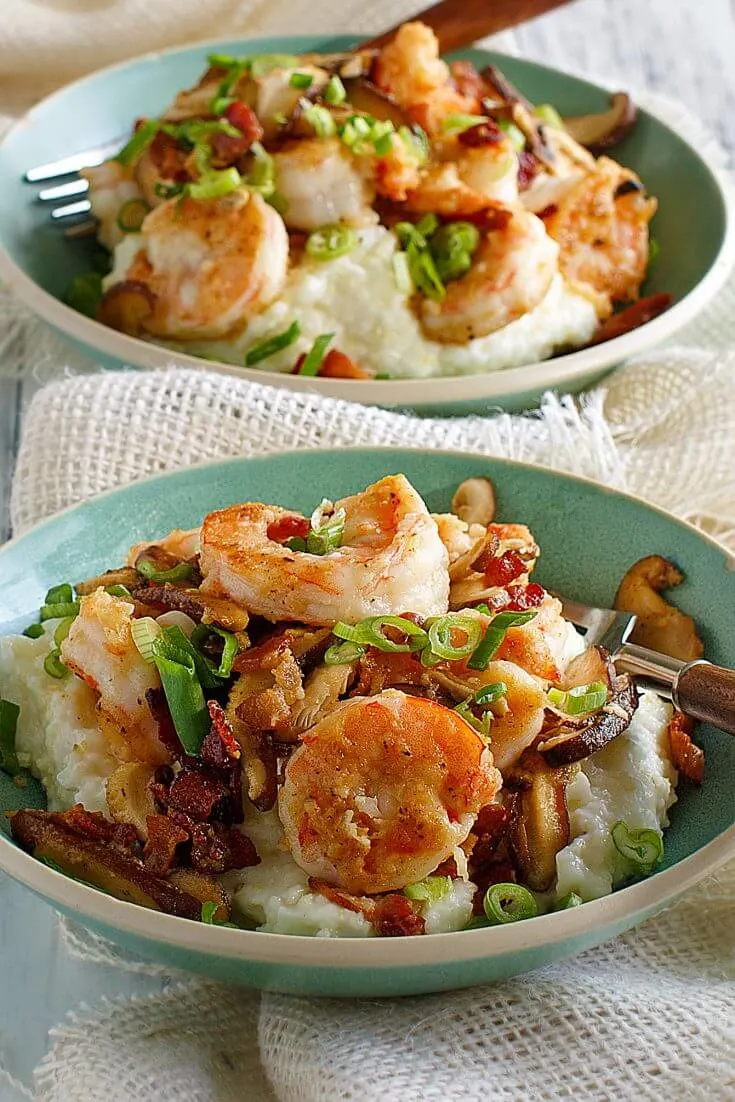 A lowcountry favorite in South Carolina - Charleston Shrimp and Grits. Enjoy it for any meal of the day.
Ingredients
Shrimp
6 Slices of Bacon, chopped
Peanut oil, optional
1 Pound of Shrimp, peeled and deveined
2 tbs flour seasoned with salt and pepper, to taste
1 ¼ c Sliced Shiitake Mushrooms
1 large Clove of Garlic, minced
2 tsp Lemon Juice
½ tsp Tabasco
¼ c thinly sliced Green Onions
Grits
4 ½ c Water
1 c Stone Ground Grits
1 tsp Salt
3 tbs Butter
½ tsp Freshly Ground Pepper
½ tsp Tabasco
Instructions
Grits
In a medium saucepan over high heat bring water to a boil. Whisk in the grits and salt , reduce heat to low and cook, stirring occasionally, until the grits are thickened, approximately 35-40 minutes.
Remove from the heat and add the butter, pepper and Tabasco, adding more to adjust seasoning as desired.
Shrimp
In a medium skillet over medium-high heat, cook the bacon, stirring occasionally, until crisp, approximately 5-6 minutes.
Drain the bacon on paper towels, reserve the bacon fat in pan and add peanut oil if needed to give you approximately 1 ½ tablespoons.
Toss the shrimp with the flour until they are lightly coated, removing any excess flour.
Over medium-high heat cook the shrimp on one side, flip and add mushrooms and bacon. Cook approximately 2 minutes.
Add the garlic, stirring constantly so as not to brown the garlic. Remove from heat and add the lemon juice, Tabasco and green onions.
Spoon over grits and serve.

Recommended Products
As an Amazon Associate and member of other affiliate programs, I earn from qualifying purchases.
Nutrition Information:
Yield:
4
Amount Per Serving:
Calories:

387
Total Fat:

20g
Saturated Fat:

9g
Trans Fat:

0g
Unsaturated Fat:

10g
Cholesterol:

279mg
Sodium:

737mg
Carbohydrates:

16g
Fiber:

2g
Sugar:

1g
Protein:

34g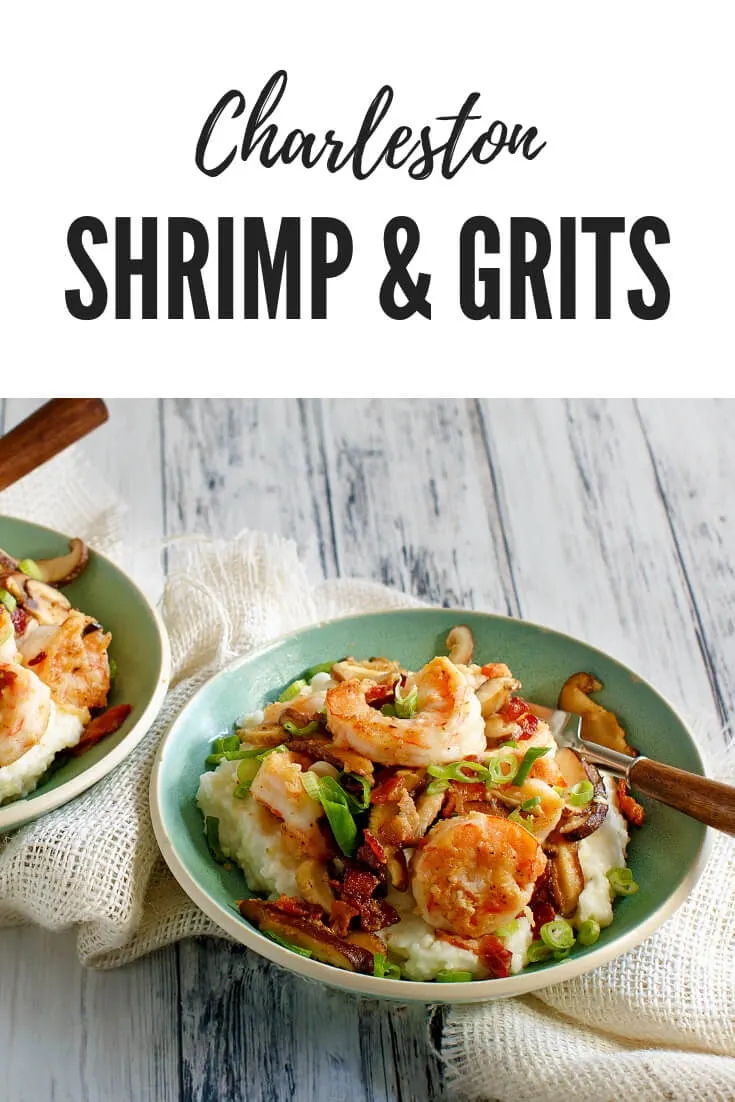 Thank you for stopping by! While you're here, you can sign up for our free newsletter so that you never miss a thing.
Follow us on social media…you can find us on Facebook, Instagram and Pinterest.
See this recipe at: Meal Plan Monday and Weekend Potluck
Meet Julia
Author of Julia's Simply Southern
Hey Y'all! I'm Julia, the cook and writer behind the recipes here at Julia's Simply Southern. I began my website so that I could share easy to follow recipes that anyone can use to put a home cooked meal on the dinner table. Thanks so much for stopping by!
Follow me on Facebook | Twitter | Instagram | Pinterest | YouTube