In this post I'll be sharing a classic homemade Southern Salisbury Steak Recipe with mushroom gravy. It is so delicious!
Can you ever have too many ground beef recipes? I think not. Lawsy y'all, ground beef was a staple at our house growing up.
We would have some variation of a hamburger steak at least once a week. Sometimes in milk gravy, covered in onions or peppers and occasionally Salisbury steak.
Salisbury steaks are some delicious down home cooking in a rich homemade mushroom gravy. My mouth is watering just thinking about it.
I'll usually add Salisbury steak with mushroom gravy to our meal rotation at least once every two or three months. It is so good, y'all!
Salisbury Steak Recipe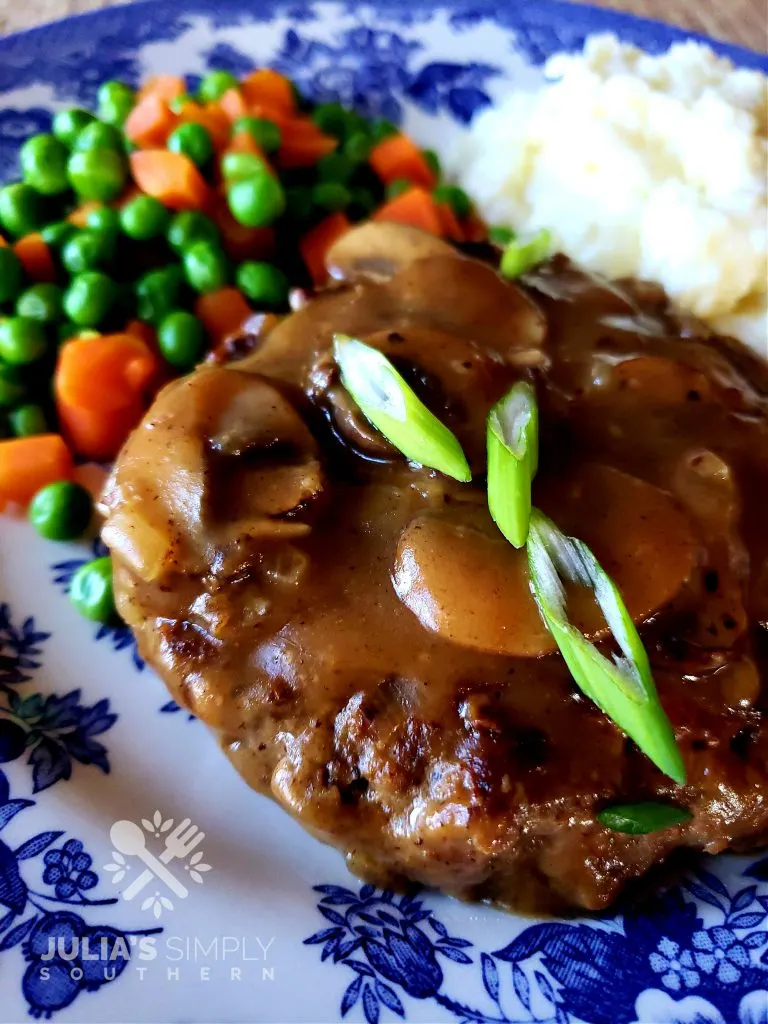 This classic dish has been around since the late 1800's and used to be considered a health food.
What? Yes, it seems the doctor Salisbury, for whom they're named after considered these fancy hamburgers and that minced beef patties were health food. Okay Doc, whatever you say!
Unlike a lot of the foods we eat that can be traced way back to the countries that our ancestors migrated from, Salisbury steak is considered to be a true American dish.
Simply Salisbury Steaks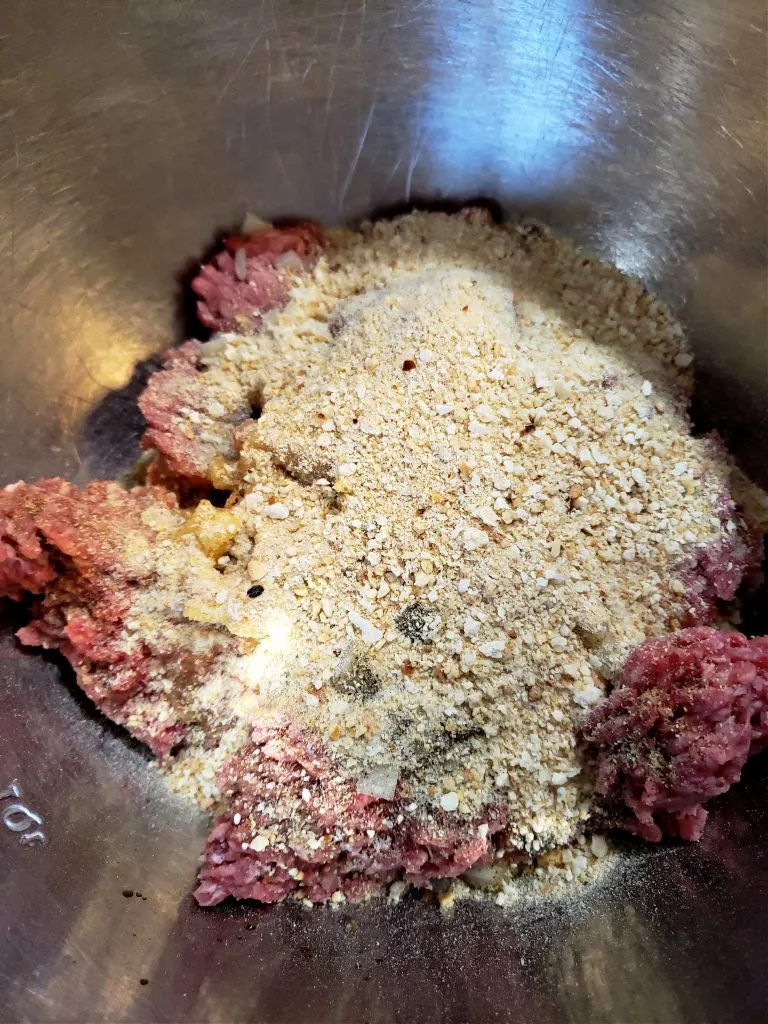 How do you make Salisbury steak from scratch? It is so easy and that is what makes this simple recipe so great and a must for your go to dinner collection.
You'll need some ground beef, onion, ketchup, Worcestershire, seasonings and bread crumbs.
It almost sounds like the makings for a meatloaf with a fancier name and made into patties.
Old Fashioned Salisbury Steak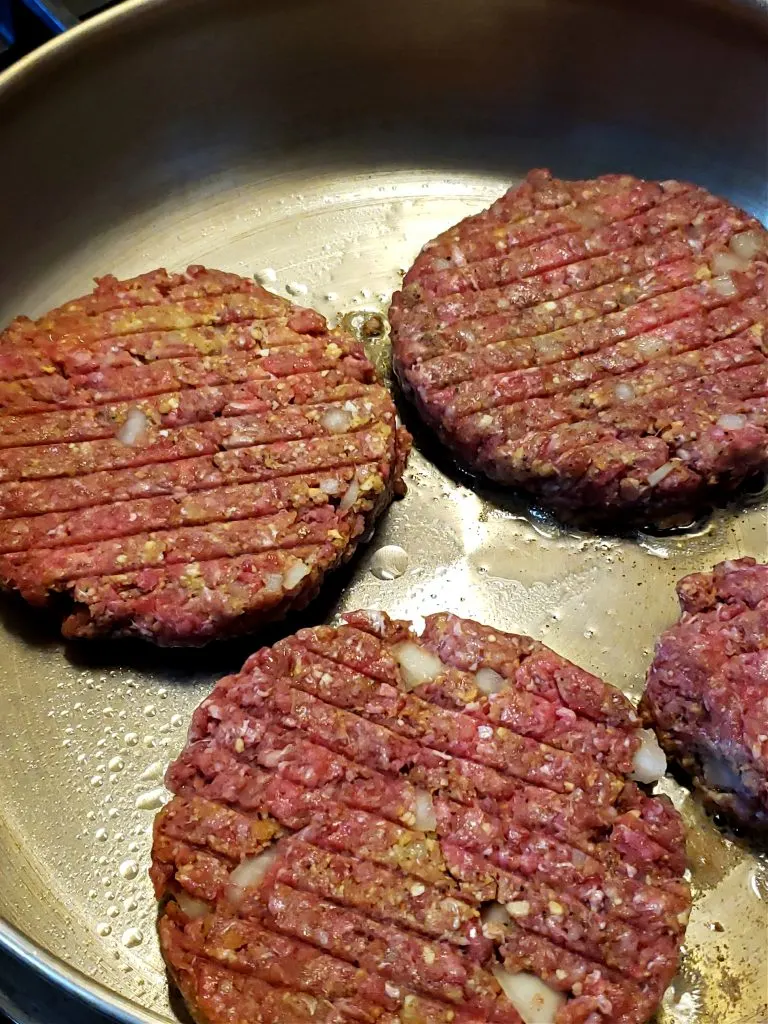 Once you have your ingredients combined for the meat patties, they'll go into a hot skillet with a little oil to brown on each side until cooked through.
Salisbury Steak with Mushroom Gravy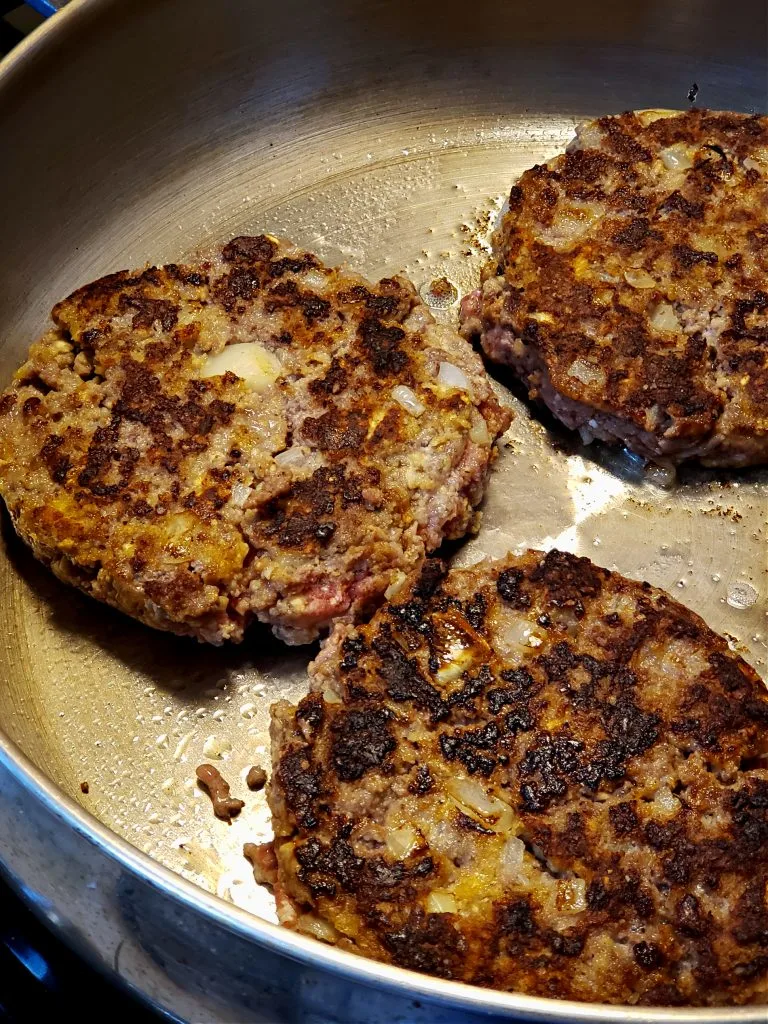 Look at how beautifully browned this easy Salisbury steak gets!
Once your patties have cooked through then you'll remove them from the skillet and set aside to make what might just be the star of the show. The mushroom gravy!
Easy Homemade Salisbury Steaks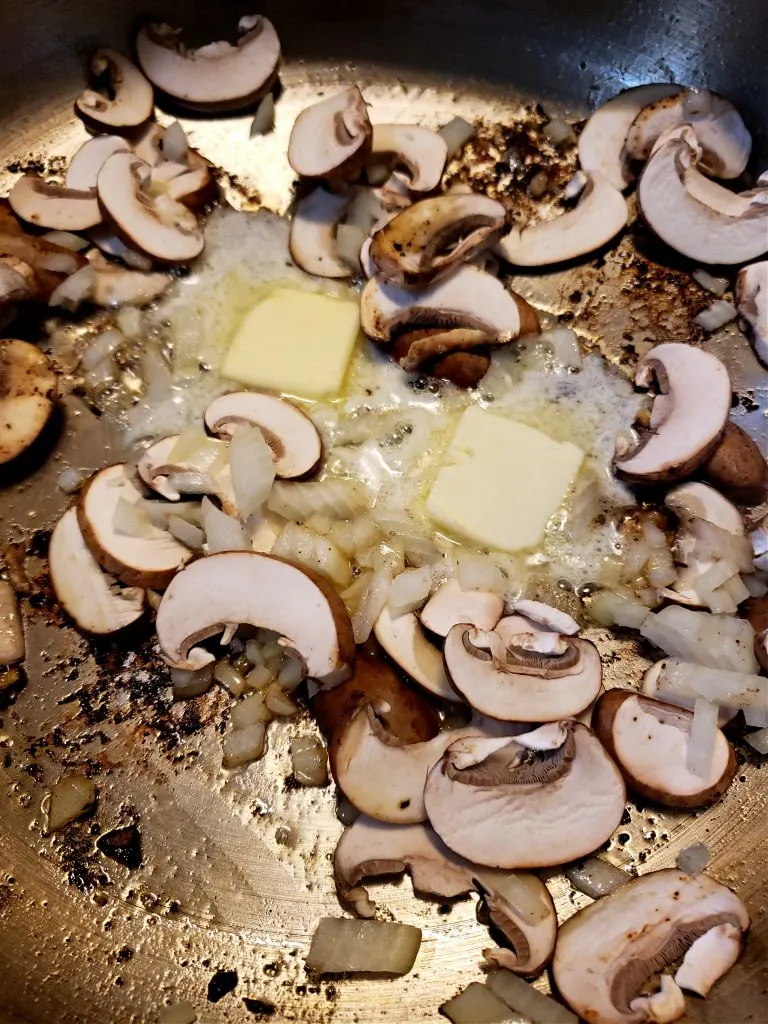 Y'all, this gravy is so good! Start with a little butter then add in the sliced mushrooms and onion.
As the moisture from the mushrooms and onion releases into the skillet begin scraping those brown flavor bits off of the bottom of your skillet.
Those tasty bits will add even more delicious flavor to your gravy.
How to Make Mushroom Gravy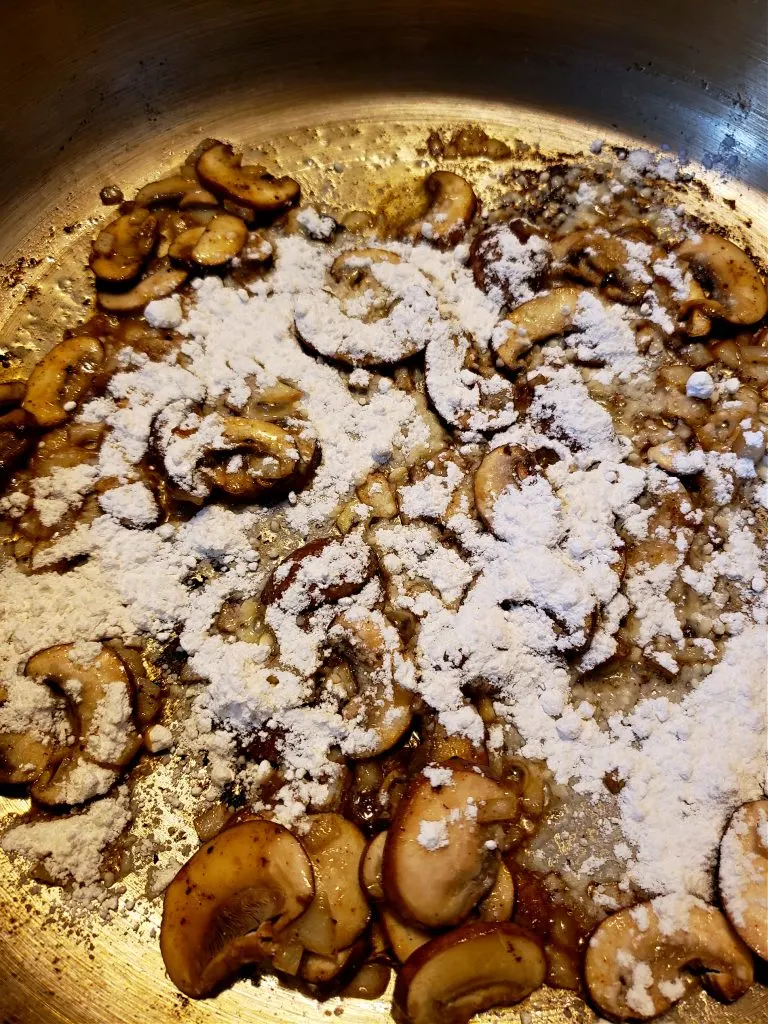 I like to use baby Bella mushrooms (also knows as cremini) because I think they compliment beef recipes well. White button mushrooms will work just fine too if that's what you have.
After the mushrooms have softened and browned, add a bit of flour to the skillet and allow it to cook a bit to take that "flour" taste away. The flour is the thickening agent for the gravy.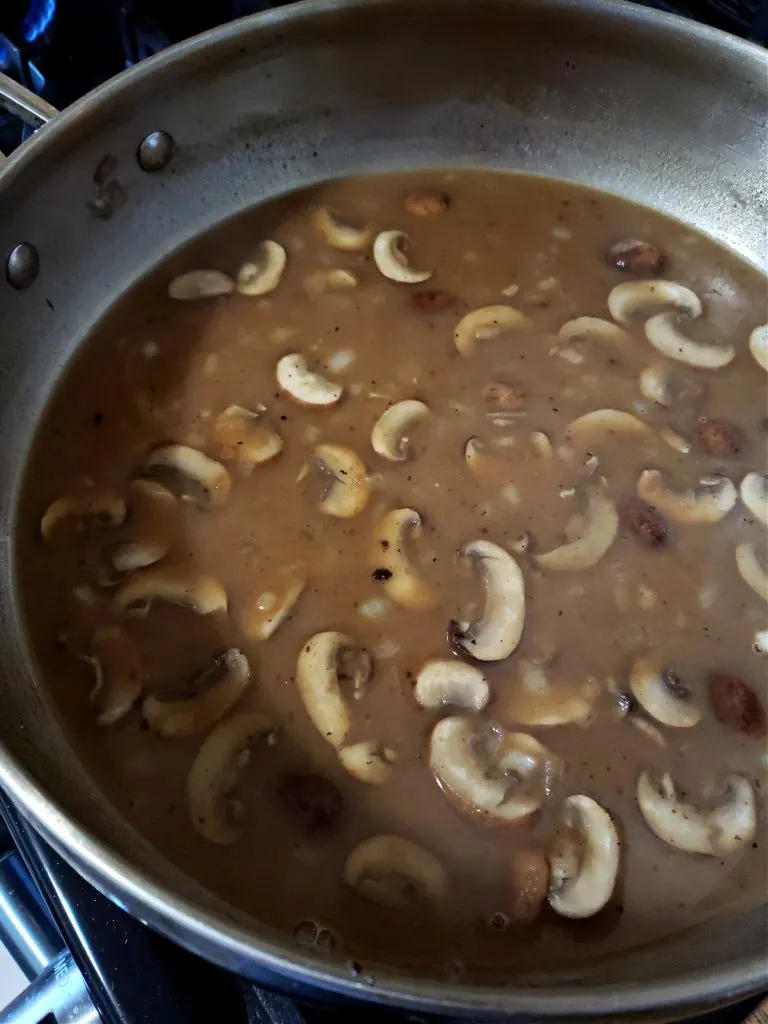 Next it is time for some seasonings and beef broth.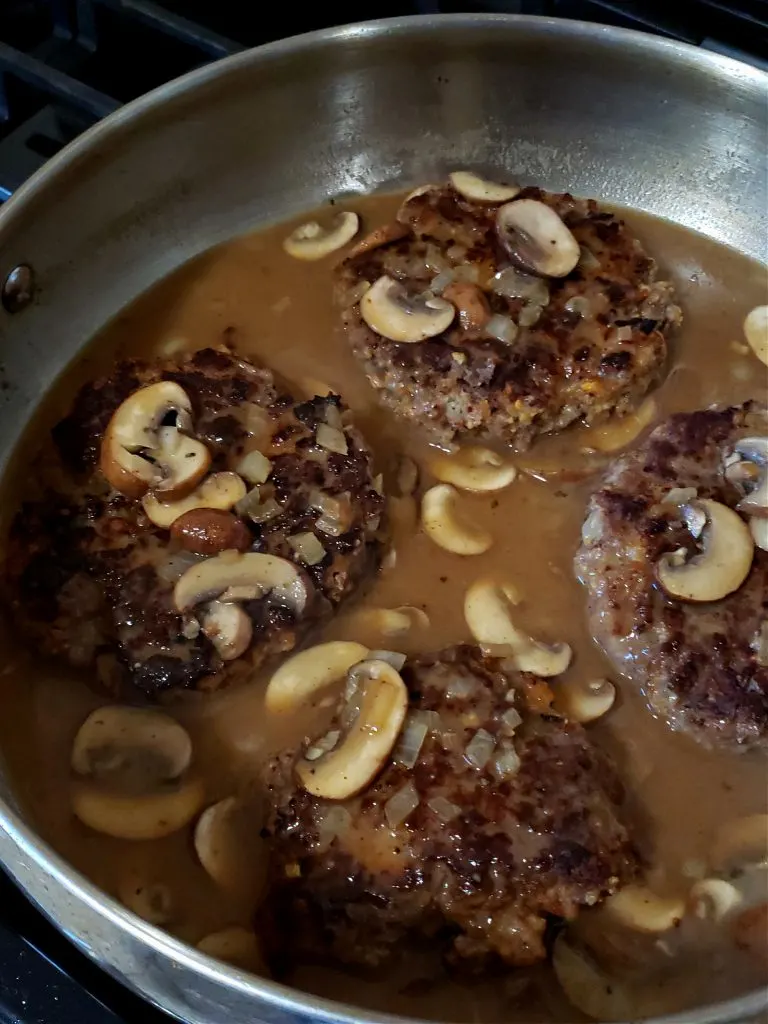 Simmer the gravy until you notice that it is beginning to thicken up a bit. Return the Salisbury steaks to the skillet and continue to simmer until the gravy is nice and thick.
This will take just a few minutes and you'll notice when the gravy has thickened up nicely and taken on a beautiful rich brown color.
Southern Salisbury Steak Recipe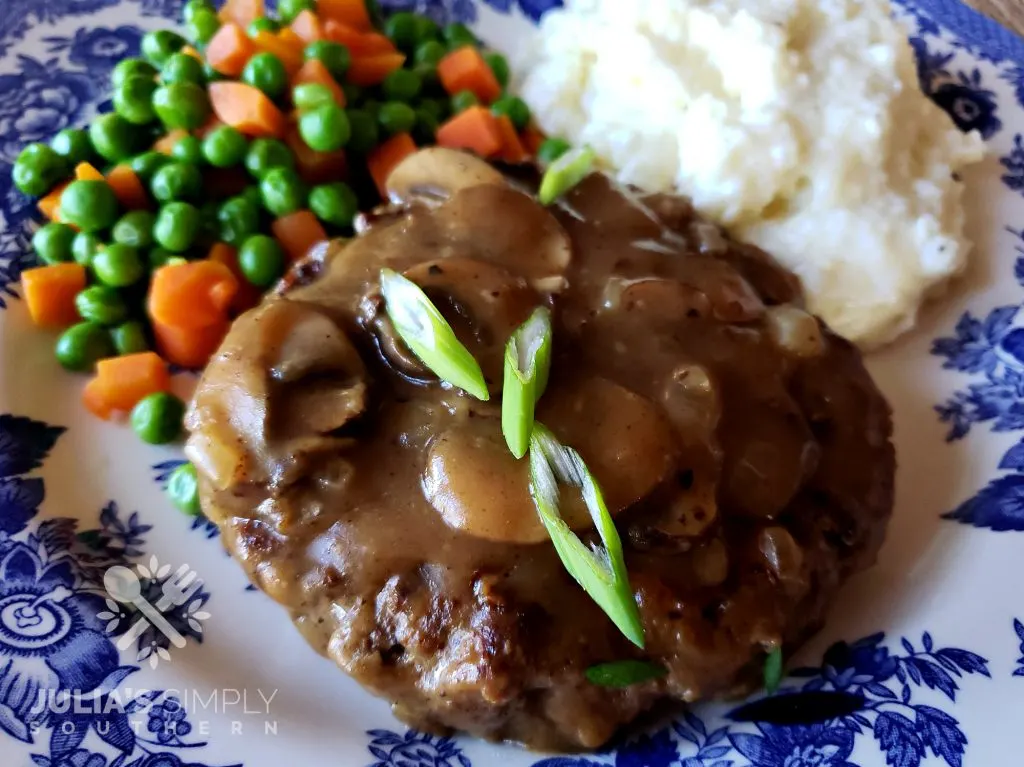 Doesn't that look amazing? YUM! I served our Salisbury steaks up with some mashed potatoes with peas & carrots.
Below you will find all of the details in the printable recipe card and past that I'm sharing a few more family recipes that you might enjoy.
Yield: 4 Salisbury Steaks
Salisbury Steak with Mushroom Gravy Recipe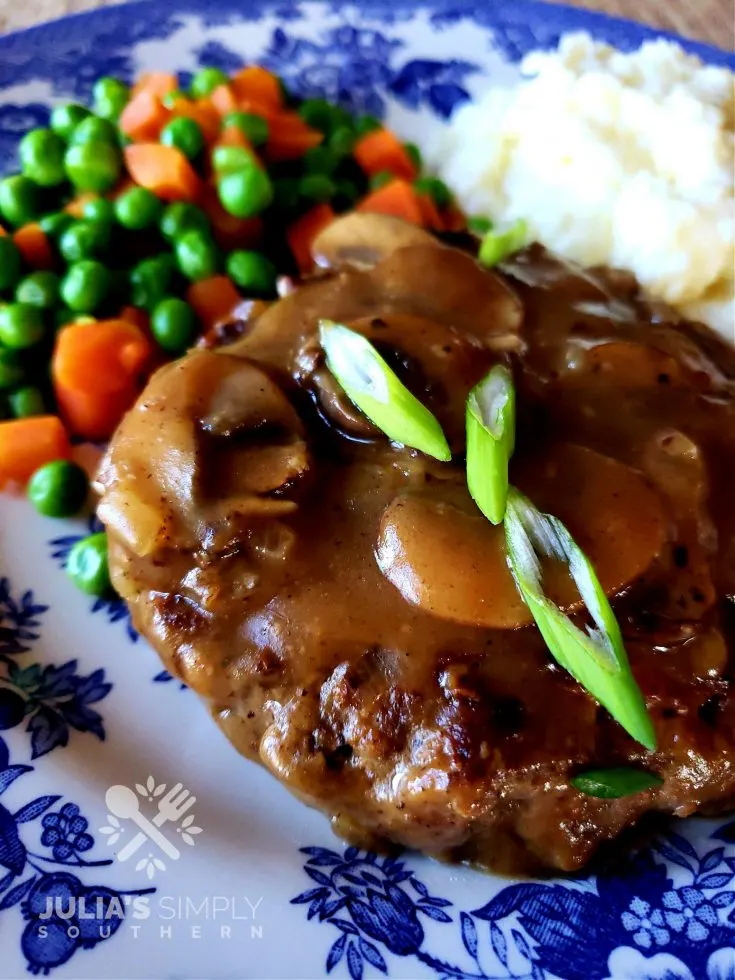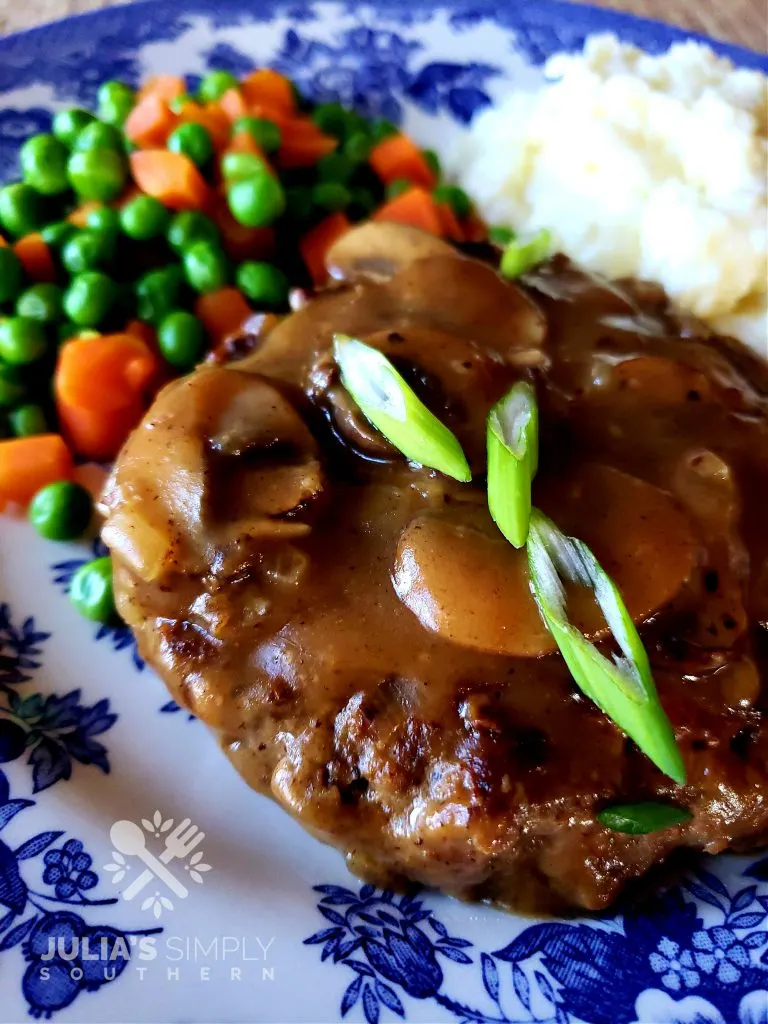 Classic Salisbury steak recipe with homemade mushroom gravy is a down home comforting family meal. This easy recipe is so delicious and will become a go to for your dinner rotation.
Ingredients
Salisbury Steaks
1 Tbsp. Cooking Oil
1 pound Ground Beef
1 Large Egg, beaten
1/4 c Onion, finely diced
1 Tbsp. Ketchup
3 or 4 Dashes of Worcestershire Sauce
1 tsp. Kosher Salt
½ tsp. Cracked Black Pepper
½ tsp. Garlic Powder
½ tsp. Onion Powder
¼ tsp. Mustard Powder
⅓ cup Plain Bread Crumbs
Mushroom Gravy
2 Tbsp. Butter
¼ c Onion, diced
1 cup Baby Bella Mushrooms, sliced
2 Tbsp. Flour
Salt and Pepper, to taste
1½ cup of Beef Broth
Instructions
Salisbury Steaks
Heat cooking oil in a large skillet over medium heat.
In a mixing bowl, combine the minced ground beef, onion, ketchup, Worcestershire, egg, seasonings and bread crumbs together then form into patties (about the same size for even cooking).
Place the Salisbury steak patties into the skillet and cook on each side until browned. About 4 minutes per side. Transfer to a plate and set aside.
Mushroom Gravy
Add the butter, mushrooms and diced onion to the skillet and sauté
for about 3 minutes or until the mushrooms have browned and softened.
Next, add the flour and stir to combine. Allow to cook for about 2 minutes.
Next, add the beef stock and stir to combine. Be sure to scrape up the brown bits from cooking the beef patties for added flavor.
Season with salt and black pepper; reduce the heat to medium-low and bring to a simmer.
Return the Salisbury steak patties to the skillet and simmer for 20 minutes.
Serving

Serve the Salisbury steaks topped with homemade mushroom gravy along with a couple of your favorite sides.
Recommended Products
As an Amazon Associate and member of other affiliate programs, I earn from qualifying purchases.
Nutrition Information:
Yield:
4
Serving Size:
1
Amount Per Serving:
Calories:

496
Total Fat:

31g
Saturated Fat:

12g
Trans Fat:

1g
Unsaturated Fat:

15g
Cholesterol:

163mg
Sodium:

570mg
Carbohydrates:

17g
Fiber:

2g
Sugar:

4g
Protein:

36g
You Might Also Enjoy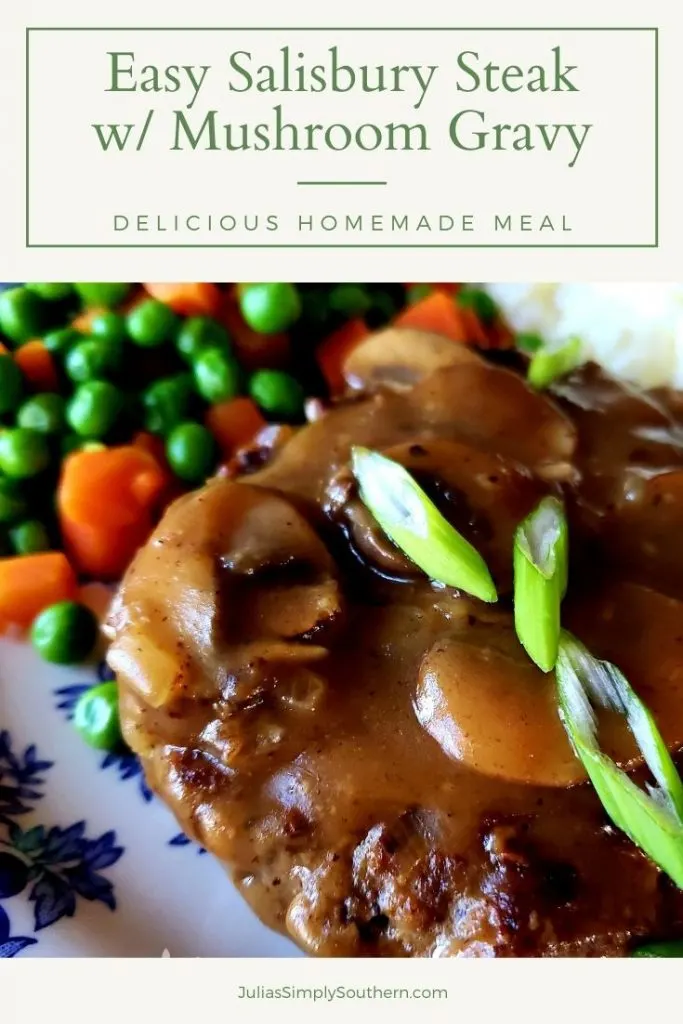 Southern Salisbury Steak Recipe
I am so happy that you stopped by! If you're searching for the best Salisbury steak recipe then I know you'll love this one.
Be sure to subscribe to my email list while you're here. As a subscriber I'll send you a weekly newsletter with the latest recipes and news here on the blog so that you never miss a thing.
Meet Julia
Author of Julia's Simply Southern
Hey Y'all! I'm Julia, the cook and writer behind the recipes here at Julia's Simply Southern. I began my website so that I could share easy to follow recipes that anyone can use to put a home cooked meal on the dinner table. Thanks so much for stopping by!
Follow me on Facebook | Twitter | Instagram | Pinterest | YouTube