In this post I'll be sharing the Chick-Fil-A Chicken Salad Recipe – Copycat of the original discontinued menu item.
This copycat Chick Fil A chicken salad is an easy recipe and taste just like the real thing. That's because it is the real thing! The original "not so secret recipe" came straight from the horse's mouth, so to speak. Straight from the popular fast food chain website.
What happened to the Chick-fil-a chicken salad sandwich? It was taken off the menu back in September of 2017.
One of the great things about Chick-Fil-A, besides their food, is their willingness to share the recipes of those beloved menu items that they discontinue, like their popular Chick-Fil-A coleslaw recipe.
Why did Chick-fil-A discontinue chicken salad? A representative from the company shared that removing menu items is not an easy decision although necessary occasionally to offer menu items that guests are interested in. They get their ideas for menu changes from guests feedback. Makes sense, right!
In this post, I am sharing the original simple recipe, how I prepared it and a few tips for how to make it budget friendly too. So, if you love their chicken salad recipe, you'll absolutely love this one.
Copycat Chick-Fil-A Chicken Salad
Chick fil a salads are delicious and the discontinued chicken salad spread is no exception. Enjoy the spread stuffed into celery for a low carb snack or to make one of the best chicken salad sandwich recipes that you ever put in your mouth.
The texture of the chicken salad reminds me of what you find at the grocery store in the small plastic tubs, so it spreads very easily onto your favorite sandwich bread.
What do I need for the Original Chick Fil A Recipe?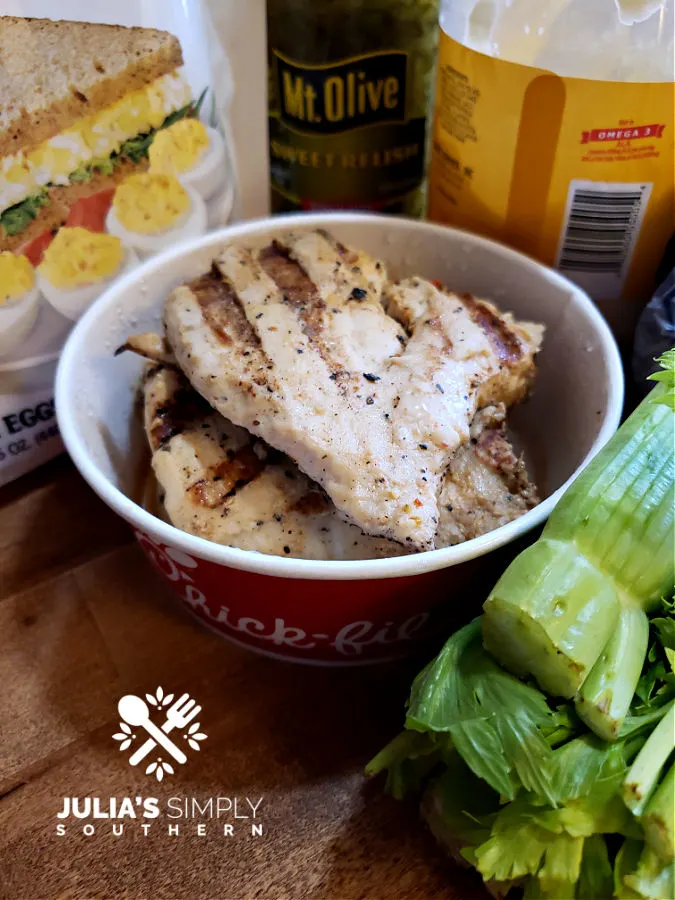 Here's what you'll need to make this recipe:
Cooked chicken breasts – the original Chick fil a recipe calls for four of their chicken breasts, which can be grilled or fried. I went with the grilled chicken breast.
Four of those chicken breasts will run you around $18.40. So you're gonna be making one of the most expensive one pound batches of chicken salad ever. Yikes!
I did follow their recipe but I would really recommend buying the ready to use grilled chicken breast pieces that you can find at your local grocery store or cook your own. It will be a lot less expensive. Chicken nuggets or rotisserie chicken would also work if that's what you have on hand. You'll need around one pound of chicken to make the recipe.
Celery – adds great flavor to cold salads and texture. Celery is also a pretty common ingredient in chicken salad or tuna salad recipes.
Sweet Pickle Relish – just like my mother's chicken salad recipe, this one calls for the sweet pickle relish. A lot of folks like the sweet relish. The taste reminds me of the store bought varieties. My own simple chicken salad recipe uses dill relish salad cubes instead because that's what we prefer at our house.
Real Mayonnaise – if I had to guess I am betting that the original Chick fil a spread uses Hellman's or a restaurant mayonnaise. Since I don't know for sure, because the recipe wasn't that specific, I used Duke's mayonnaise.
If you would like to lighten things up then you could use a mayonnaise made with olive oil. Another great way to lighten the mayonnaise would be to use half of a plain Greek yogurt combined with the mayonnaise.
Hard boiled Eggs – another common ingredient in Southern style chicken salad, which adds flavor and texture.
Best Chicken Salad Sandwich Recipes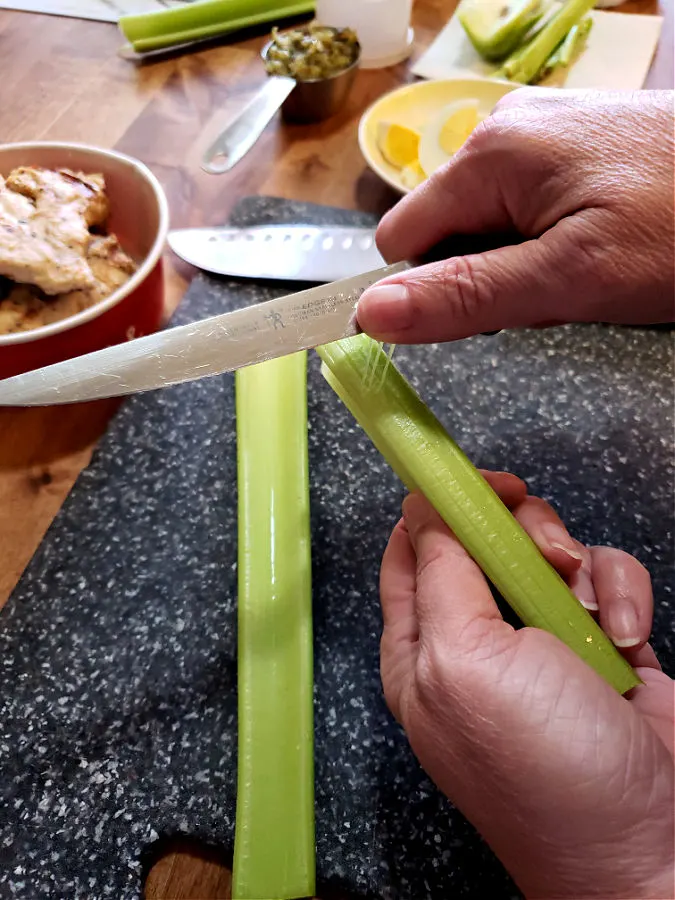 Besides the easy list of ingredients that you can easily find at your local grocery store (and a nearby Chick-Fil-A restaurant if you want to use their chicken), you'll also need a food processor to combine the salad the way they made theirs. That's what I did, but everything could also be hand chopped and would be just as delicious.
Where's the salt and ground black pepper? I thought the same thing! As I mentioned before, I did follow their recipe exactly and the recipe didn't call for seasonings. If I were to make my own tweaks to the recipe, I would add a little salt and pepper because I do like that in chicken salad.
I would also likely add a little bit of onion too. After you try the recipe, you may also want to make alterations to suit your tastes. A bit of chicken broth could be used for extra flavor or a splash of lemon juice for a citrus kick of freshness.
Begin by prepping all of your ingredients so they are ready to go into the food processor. When I use celery in cold salads, I like to remove the stings on the stalk with a knife before chopping into chunks.
There's no need to spend time dicing the celery since it will be going into the food processor.
How to Make Chicken Salad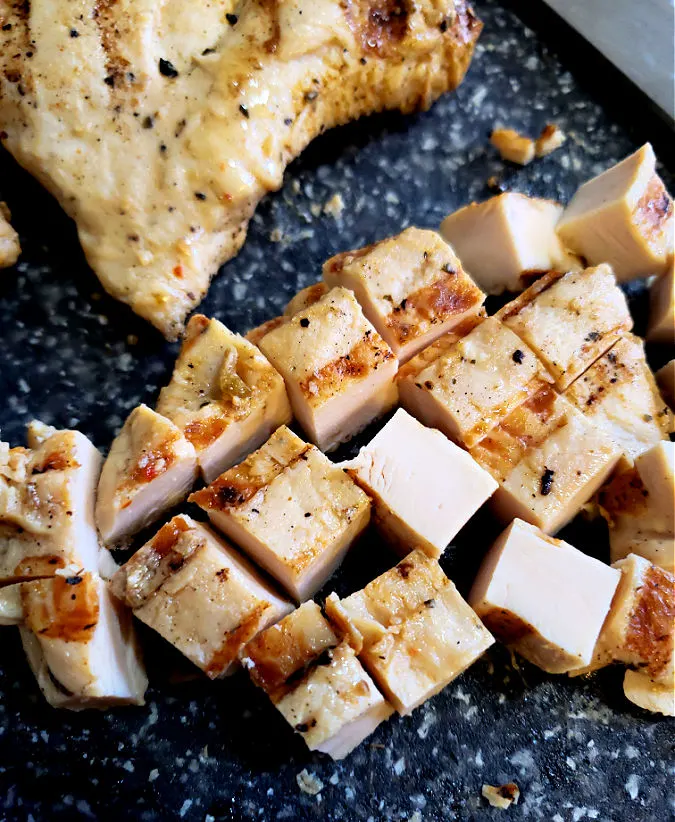 Next, I diced up the pricey chicken breasts into large chunks. The grilled chicken breasts that I picked up at Chick-Fil-A did taste like it was seasoned with salt and pepper, so maybe that's why they didn't add any to the chicken salad recipe.
Prep All Ingredients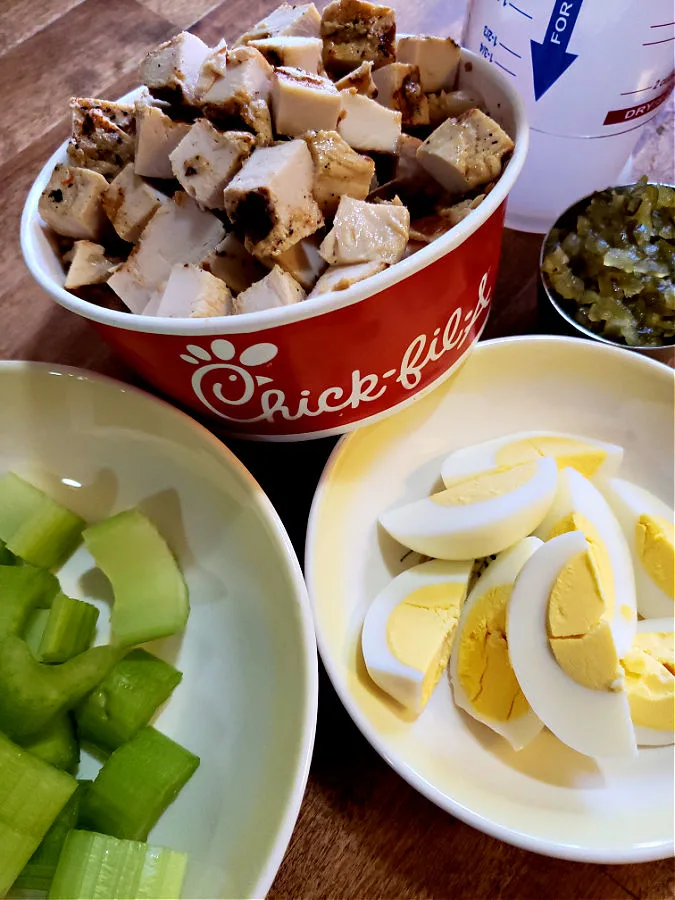 After chopping the boiled eggs and measuring out the amount of mayonnaise needed, I had everything ready to combine in the food processor.
Bygone Chicken Salad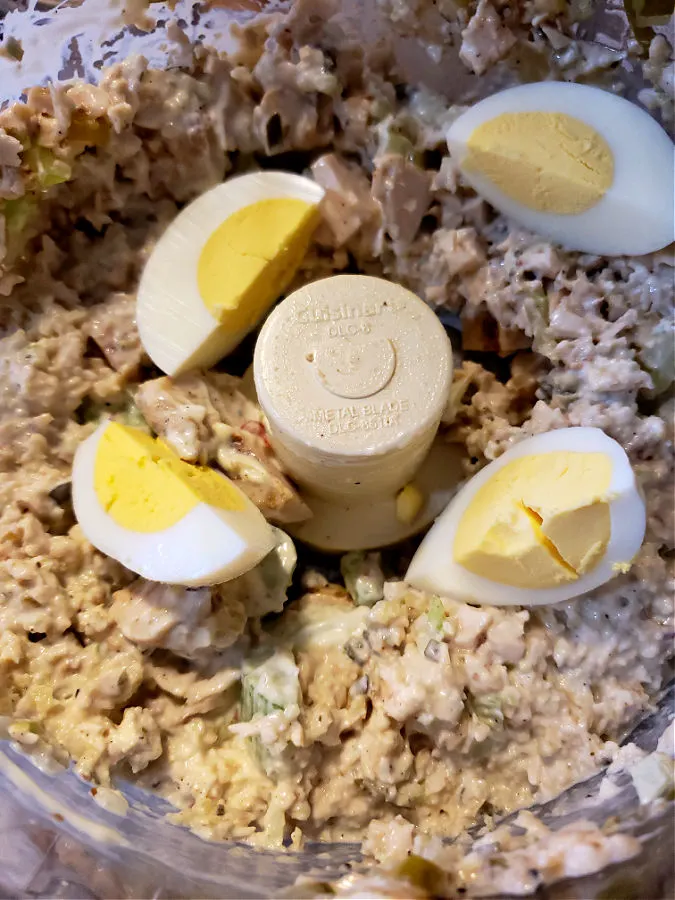 My copycat chicken salad was made just like Chick-Fil-A said to do it. So, I pulsed together all of the ingredients with the exception of the hard boiled eggs.
The boiled eggs were then added one at a time and pulsed into the chicken mixture.
My personal opinion is that may have been a bit too much processing and I would have just thrown the eggs in with everything else from the start.
The food processor did a great job of combining everything together. After processing to a desired consistency, transfer the chicken salad to a large bowl, preferably an airtight container.
Delicious Southern Style Chicken Salad Sandwich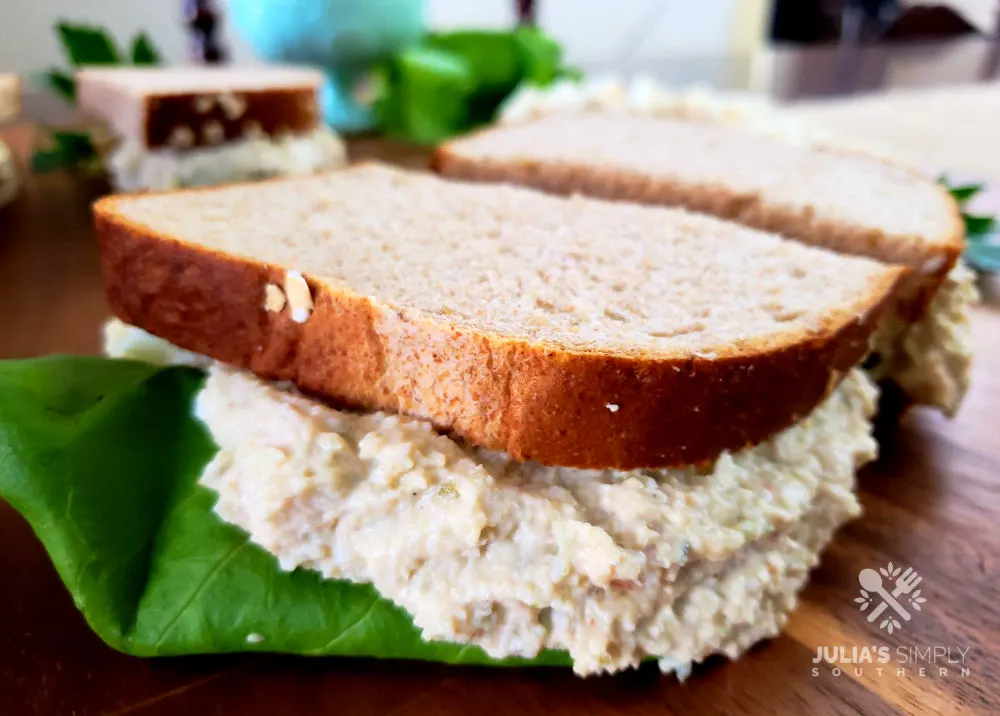 Finally, it was time for tasting!
What kind of bread is best for chicken salad sandwiches? That's easy! The best bread is the one that you like the best. At our house that includes a variety so I went with an oatmeal whole grain bread, mostly because it resembles what was used for the original Chick-Fil-A chicken salad sandwich. Slices of toast would be great too.
I made a couple of sandwiches with some fresh lettuce and set those aside. I also added a bit of the chicken salad mixture to a small bowl along with a few crackers so that we could taste it a variety of ways.
It was delicious! Even though we usually opt for a dill relish, we didn't mind the sweet relish at all in this recipe. The chicken salad was creamy and flavorful without a lot of ingredients.
Another delicious way to enjoy chicken salad is to simply add a helping on top of fresh salad greens with a few grape tomatoes and enjoy a tasty salad.
What to serve with chicken salad sandwiches? The sandwich itself is often enough but chips, coleslaw, pickles, a side salad, pasta salad, a side of fruit or french fries are always great options to enjoy with a sandwich. During the cooler months, a cup of soup also pairs great with a sandwich. Don't forget to enjoy a glass of iced sweet tea with your meal.
Printable Recipe Card for the Famous Recipe
Here are the printable instructions and details to make Chick-Fil-A Chicken Salad Recipe – Copycat version at home. Be sure to check out the rest of my post if you jumped ahead for cost saving tips and alternate recipe suggestions.
Yield: 3 Cups
Chick-Fil-A Chicken Salad Recipe - Copycat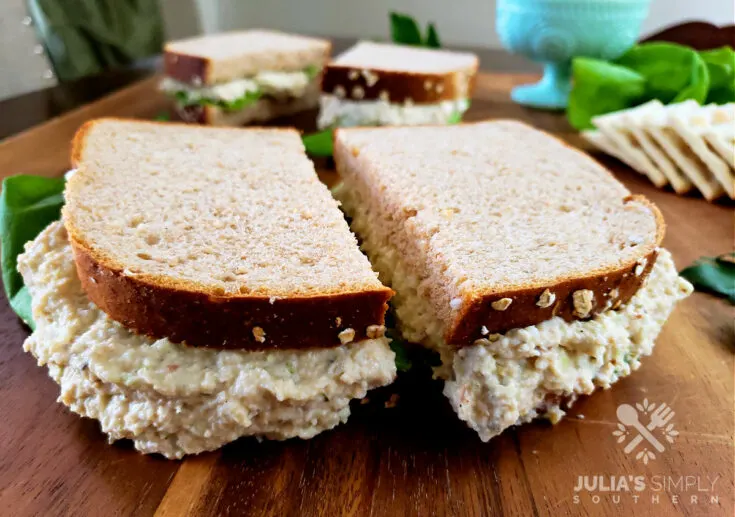 Copycat Chick-Fil-A chicken salad that is just like the original recipe that was taken off the menu that's easy to make with just a few ingredients at home. Enjoy this delicious Southern style chicken salad on sandwiches, salads or on crackers.
Ingredients
4 Chick-Fil-A Chicken Breast, Original or Grilled - I used Grilled (See post for cost saving options)
2½ ounces Celery, (1 cup) approximately 1½ full stalks, washed, trimmed and cut into 1 inch pieces.
⅓ cup Sweet Pickle Relish
½ cup Real Mayonnaise, I used Dukes
2 Hard Boiled Eggs (cooled and peeled) cut into chunks
Instructions
Using a food processor, mix the chicken, celery, mayonnaise and relish by using the pulse option 4 or 5 seconds.
Next, add the chopped hard boiled eggs and continue processing for up to an additional 10 seconds or until the salad is chopped to desired consistency. (Total processing needed is 10-15 seconds)
Notes
Season with salt and black pepper, if desired. See full post for more options and suggestions.
The copycat Chick Fil A Chicken Salad may be stored in an airtight container in the refrigerator up to 4 days.
Recommended Products
As an Amazon Associate and member of other affiliate programs, I earn from qualifying purchases.
Nutrition Information:
Yield:
4
Serving Size:
3/4 cup
Amount Per Serving:
Calories:

327
Total Fat:

27g
Saturated Fat:

5g
Trans Fat:

0g
Unsaturated Fat:

21g
Cholesterol:

133mg
Sodium:

411mg
Carbohydrates:

8g
Fiber:

0g
Sugar:

6g
Protein:

13g
You Might Enjoy This Too
Check out the Latest Recipes
Well, y'all, I hope y'all enjoyed making this copycat Chick-fil-a chicken salad as much as I enjoyed sharing it with you today.
Remember, friend, you can customize it with your favorite add-ins, but don't skimp on that secret ingredient: love.
Serve it up at your next family gathering, and watch those smiles spread like butter on a hot biscuit.
Thank you so much for stopping by! I am so glad that you did. I know that you will love this delicious copycat Chick-Fil-A chicken salad recipe just as much as I do.
Be sure to subscribe to my email list while you are here and I'll send you a weekly newsletter with all of the latest recipes and news here on the blog so that you never miss a thing.
Until next time, love and happy cooking, Friend!
Meet Julia
Author of Julia's Simply Southern
Hey Y'all! I'm Julia, the cook and writer behind the recipes here at Julia's Simply Southern. I began my website so that I could share easy to follow recipes that anyone can use to put a home cooked meal on the dinner table. Thanks so much for stopping by!
Follow me on Facebook | Twitter | Instagram | Pinterest | YouTube