In this post I'll be sharing how to make Panko Parmesan Baked Pork Chops. Y'all are gonna love these panko pork chops. They are crispy, delicious and so easy to make.
Who enjoys delicious home cooked meals that are easy to make? We all do. Amiright? Well my friends I've got plenty of those types of recipes here on the blog including these delicious oven "fried" pork chops.
Depending on what you choose to serve along with the crispy baked panko breaded pork chops, you might can make a sheet pan meal of it. That is what I did by roasting the asparagus on the same baking sheet with the chops.
Why you'll love this recipe? It's quick and easy and on the table in about half an hour. This meal is kid friendly so the whole family will love it. Pork chops are typically not very expensive so that is another plus for this recipe.
There are many ways to cook pork chops and I know that you'll enjoy having this recipe in your collection of go to meals.
Panko Pork Chops Baked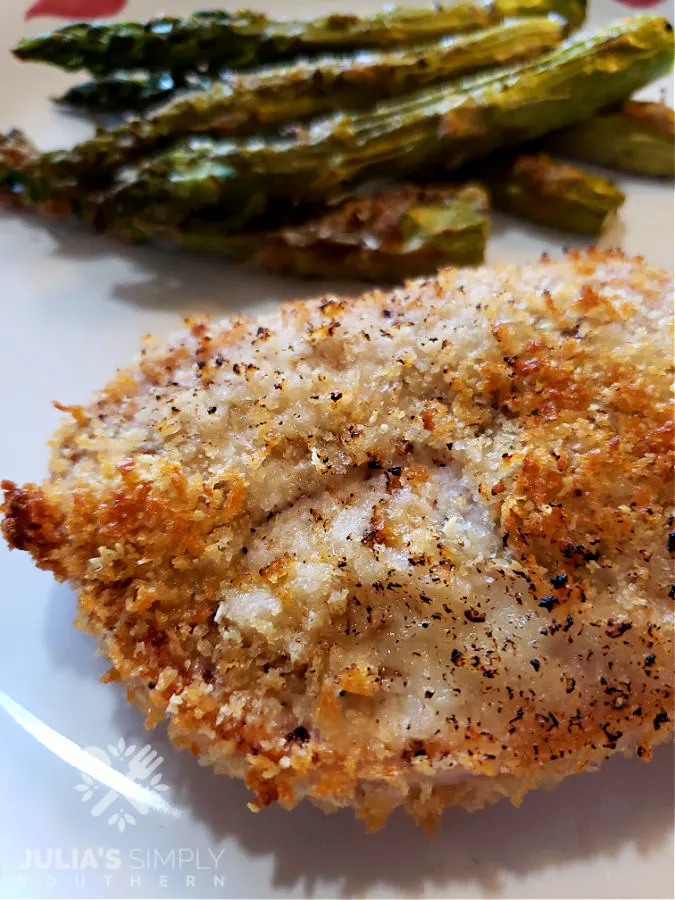 Check out that crispy baked "oven fried" pork chop! YUM! Baking 1 inch pork chops doesn't take that long. In fact the pork chops were done a couple of minutes before the coating was browned as I wanted it to be.
I know there is nothing quite like Southern pan fried pork chops and the gravy that goes with it but you'll seriously love these oven pork chops too. It's a must try recipe!
Southern Oven Fried Pork Chops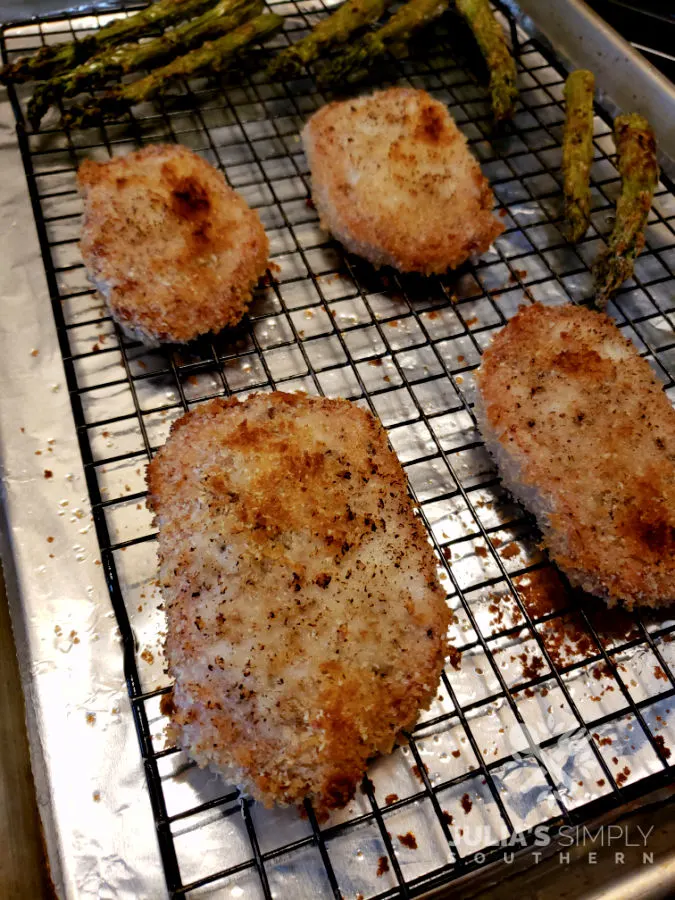 The trick to getting the pork chops crispy all around is cooking them on a rack placed on the baking sheet so they're slightly elevated and air can circulate all around them.
Breaded pork chops sitting directly on the pan will get a tad mushy on the bottom when baked in the oven. The cooking rack method works every single time.
In case you might be wondering if the panko parmesan pork chops can be cooked in an air fryer, the answer is yes. I'll include my tips for that further down in the post.
What do I need to make it?
Here's what you'll need to make the panko Parmesan baked pork chops recipe.
Panko Bread Crumbs – these Japanese style bread crumbs are wonderful for their light flaky texture and the extra crispiness they offer to foods that are fried….or baked. If you don't have Panko then don't sweat it. Just use regular bread crumbs instead.
Freshly Grated Parmesan Cheese – the fresh grated cheese adds wonderful flavor. Don't have a Parmesan wedge to grate, just use the pre-grated variety. I do love keeping a small wedge of Parmesan on hand to grate myself. It is delicious but is a bit pricey. I find that it does last quite a while though.
Mayonnaise – a small amount of your favorite mayonnaise is the perfect coating for the pork chops so that the breading mixture adheres to the pork. I prefer Duke's mayo as my brand of choice because of the extra egginess and twang.
Pork Chops – boneless or bone in work well. Just use what your family enjoys most. Bone in tend to cook a tad bit faster and have more flavor. Boneless are often preferred and easy to handle, particularly for kids. I had one pound of pork chops, which was 4 boneless that were about an inch thick.
Salt and Pepper – to season the pork chops.
Baking Sheet – lined with foil for easy clean up.
Cooking Rack – like an oven safe cooling rack to elevate the pork chops for air circulation.
Cooking Spray – I used regular ole Pam to lightly spray the tops before baking to help with browning.
You may use thicker cut pork chops if that is what you have on hand. They are a treat but cooking time may have to be adjusted.
The current safe standard for pork chops is an internal temperature of 145° Fahrenheit for doneness.
Oven Fried Pork Chops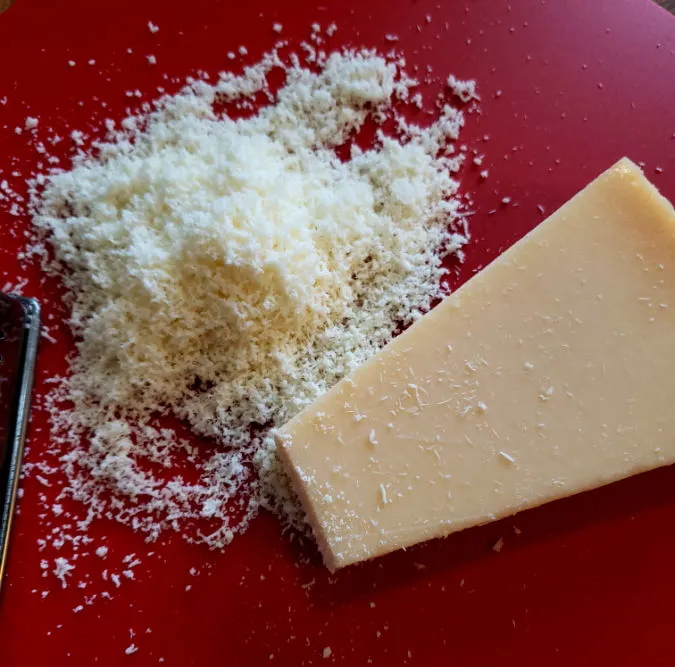 Go ahead and grate your Parmesan cheese up. Just a little bit will do. It really adds a nice touch to finish off pasta dishes or to use in coatings for meat and veggies for baking.
Fresh grated Parmesan makes a homemade alfredo sauce amazing too! As I mentioned, the wedge of Parmesan is a tad pricey. You'll find me looking at every single wedge until I find the cheapest one to take home.
You will also find the green plastic jar of pre-grated Parmesan in my refrigerator at all times too. Just use what ya got on hand. No need to break the bank over making pork chops for dinner.
The crispy coating to oven bake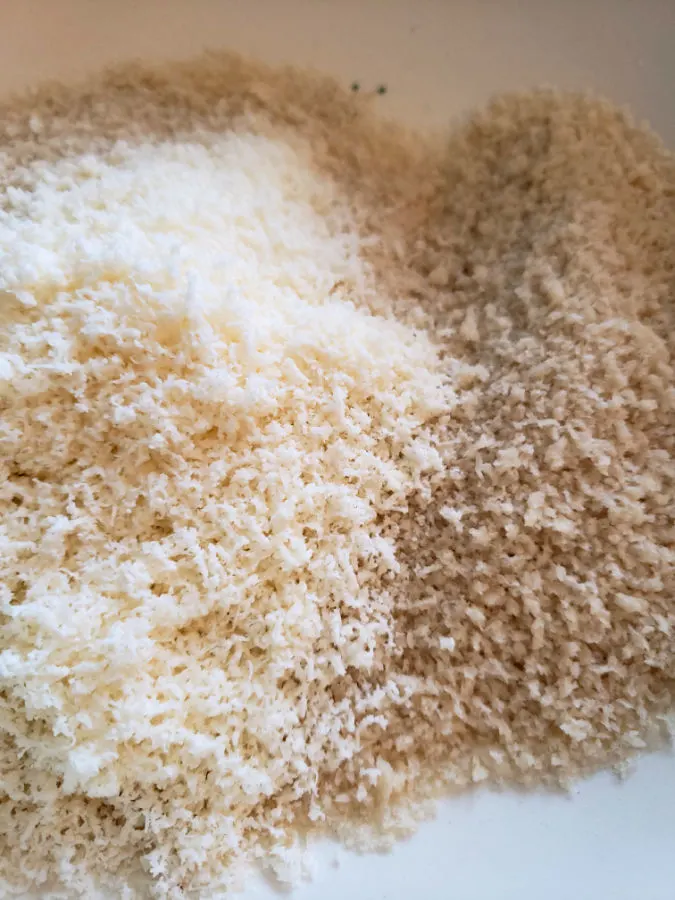 Combine the parmesan cheese with the panko bread crumbs in a bowl and set aside. You'll want to use a bowl that will allow for easy coating of the pork chops.
Oven Fried Pork Chops with Mayonnaise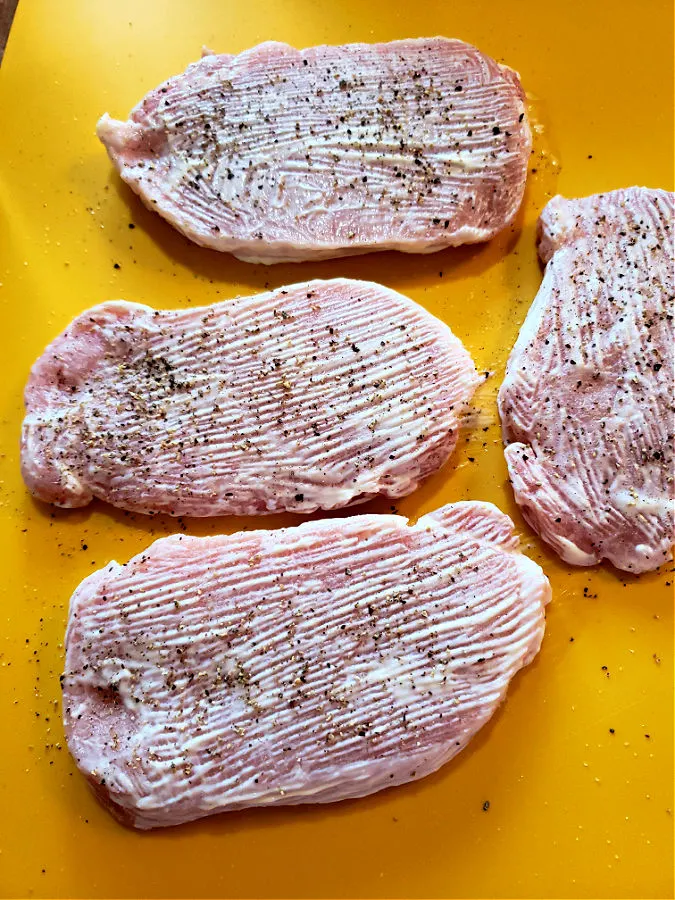 Let's bring those boneless pork chops to the party! Place the pork chops on a cutting mat and brush a light layer of mayonnaise to the top, bottom and sides of each chop.
Next, season with some salt and pepper to suit your tastes. I kept it simple with just a little kosher salt and cracked black pepper.
If there are other seasonings that you'd like to use then go ahead and add them to the pork before coating in the panko parm mixture.
How do you fry pork chops in the oven?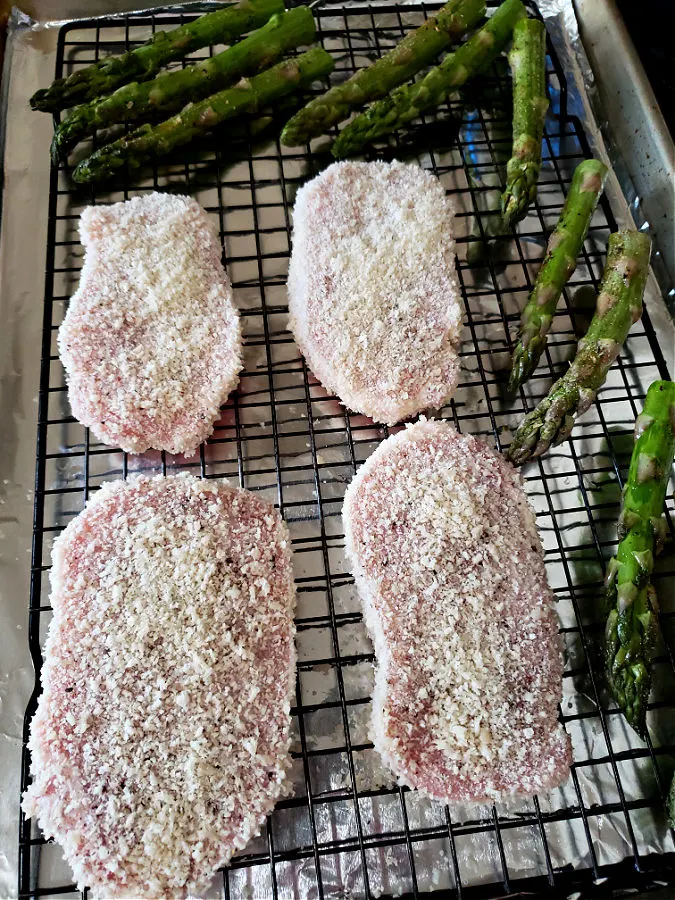 Coat each chop in the cheesy bread crumb mixture and place on the cooking rack. Lightly spray a bit of cooking spray on top of the meat before placing it into the oven to bake.
Crispy Baked Panko Pork Chops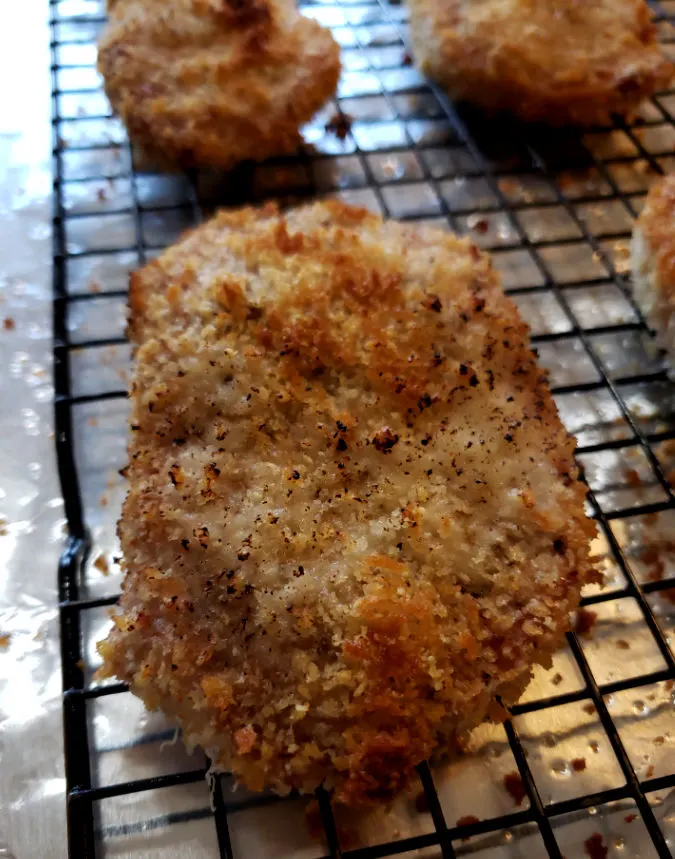 How do you fry pork chops in the oven? Oven "fry" (bake) the pork chops until the coating is browned as desired and the pork chops are cooked through.
The elevated rack for air circulation is the key for crispy oven fried pork chops.
Panko Parmesan Baked Pork Chops
How to reheat pork chops? You can reheat leftover pork chops in a pre-heated 350°F oven for about ten minutes. The coating mixture may not retain the crispiness however after being refrigerated.
Below you will find the printable recipe card for the panko parmesan baked pork chops.
Yield: 1 pound
Panko Parmesan Baked Pork Chops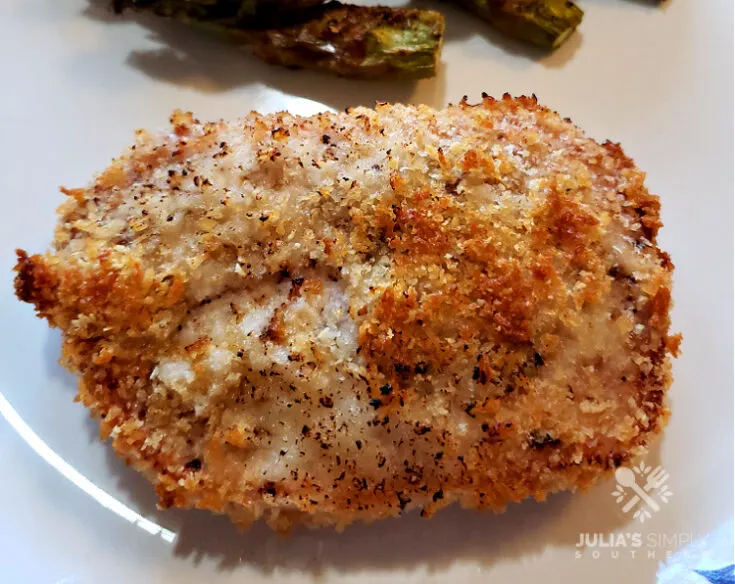 Crispy and delicious oven "fried" pork chops with a panko parmesan coating is an easy homemade meal that you can have on the table in about half an hour.
Ingredients
1 cup Panko Bread Crumbs
1/2 cup Grated Parmesan Cheese
2 tablespoons of Mayonnaise
1 pound of Pork Chops (4 boneless chops about 1" thick)
Salt and Black Pepper, to taste
Other
Baking Sheet with cooking rack (see post)
Cooking Spray
Instructions
Preheat oven to 375°F.
Combine the panko bread crumbs and grated parmesan cheese in a small mixing bowl and set aside.
Brush a light layer of mayonnaise on each side of the pork chops; season the chops then coat in the panko parmesan mixture.
Place on a baking sheet lined with a bakeable cooling rack. Lightly mist some cooking spray (like Pam) over the pork chops before baking.
Bake 25 minutes or until golden brown.
Recommended Products
As an Amazon Associate and member of other affiliate programs, I earn from qualifying purchases.
Nutrition Information:
Yield:
4
Serving Size:
1
Amount Per Serving:
Calories:

445
Total Fat:

23g
Saturated Fat:

7g
Trans Fat:

0g
Unsaturated Fat:

13g
Cholesterol:

109mg
Sodium:

375mg
Carbohydrates:

22g
Fiber:

1g
Sugar:

2g
Protein:

36g
Air Fryer Method: The air fryer is like a mini sized convection oven. Follow all steps as oven method and set the temperature for the air fryer just as you would for oven baking. Check pork chops at 20 minutes for rack style air fryers. For basket type air fryers, turn the pork chops half way through cooking.
Adjust cooking times as needed for your air fryer model.
What to serve with oven "fried pork chops? Check out my side dish recipes for ideas to serve along with your delicious panko parmesan pork chops.
Check out the Latest Recipes on the Blog
Thank you so much for stopping by! I am so glad that you did.
Be sure to subscribe to my email list while you are here. Subscribers receive a weekly newsletter via email from yours truly with the latest recipes and news here on the blog so that you never miss a thing.
Meet Julia
Author of Julia's Simply Southern
Hey Y'all! I'm Julia, the cook and writer behind the recipes here at Julia's Simply Southern. I began my website so that I could share easy to follow recipes that anyone can use to put a home cooked meal on the dinner table. Thanks so much for stopping by!
Follow me on Facebook | Twitter | Instagram | Pinterest | YouTube