In this post I am sharing The Best Tuna Salad recipe.
We love our mayonnaise based salads in the South, there is no denying it. One in particular, old fashioned tuna salad.
Tuna salad is delicious on a sandwich, as a cracker spread, mixed with noodles or stuffed into tomatoes. You just can't beat it!
I've made a lot of this salad in my lifetime, I've eaten a lot of this salad in my lifetime and at some point I came up with the perfect recipe. There is just enough spice, flavor and texture to make this tuna salad the BEST.
If you think about it in advance and can make this tasty lunch salad the day before, I think it just gets better once all of those delicious flavors mingle together overnight in the refrigerator.
I proudly serve this tuna salad at any gathering if the occasion calls for it. It's perfect for luncheons. This recipe easily serves a crown depending on how it is served…or just double up on the recipe.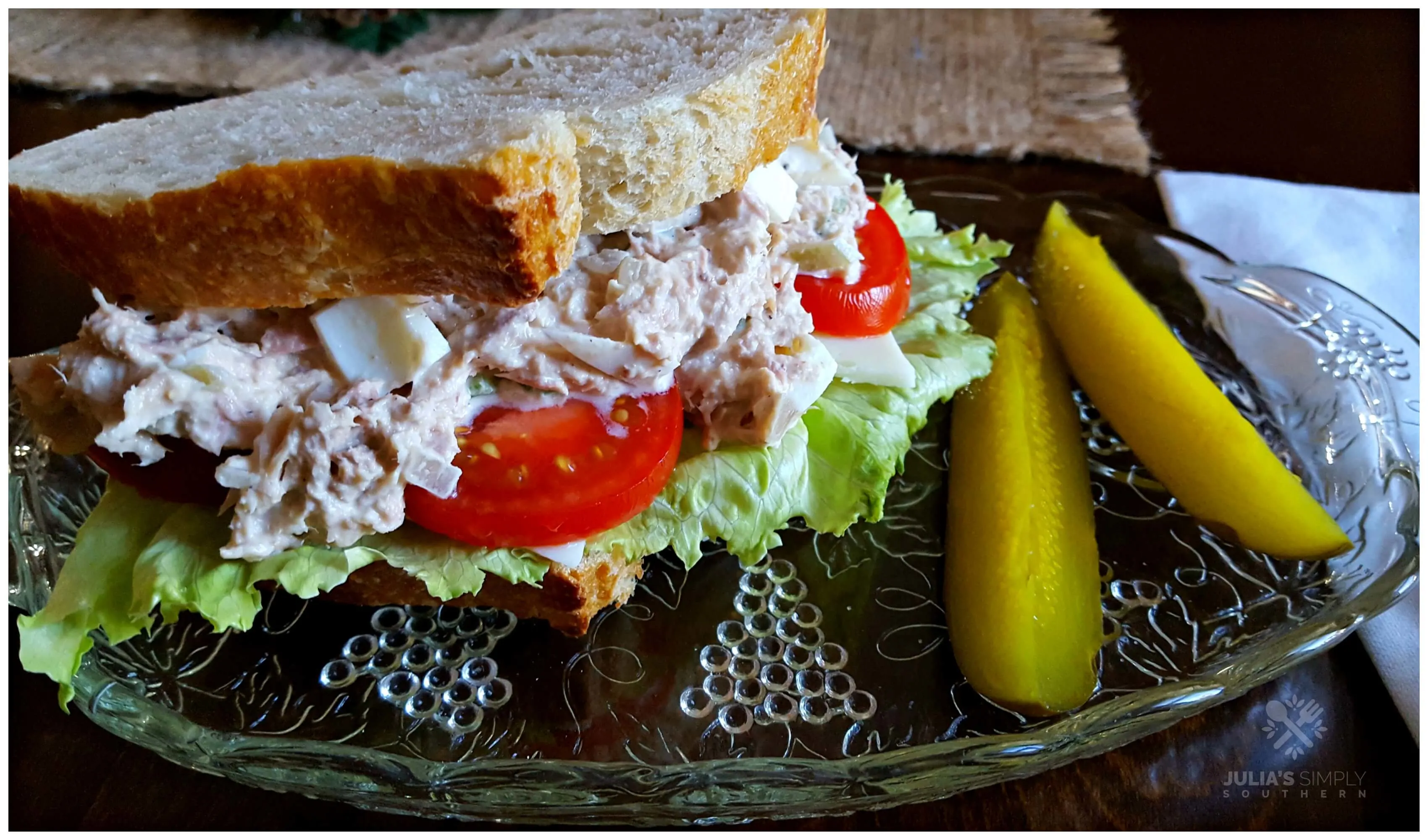 More recipes you might enjoy:
Southern Tuna Salad with Macaroni
How Do You Make the Best Tuna Salad?
To make your salad with canned tuna, it all starts with quality ingredients. Here's what you'll need…and don't worry about grabbing a pen and paper, I've got a printable recipe card further down in the post: A tiny bit of butter, a shallot, celery, canned tuna, boiled eggs, salt, black pepper, Old Bay Seasoning and Mayonnaise (preferably Dukes).
Personally, I do not care for raw celery. Taking the few minutes to saute the celery and shallot really makes this recipe a bit more special. It takes the raw edge off but the vegetables still offer that bit of crunch and texture to the recipe.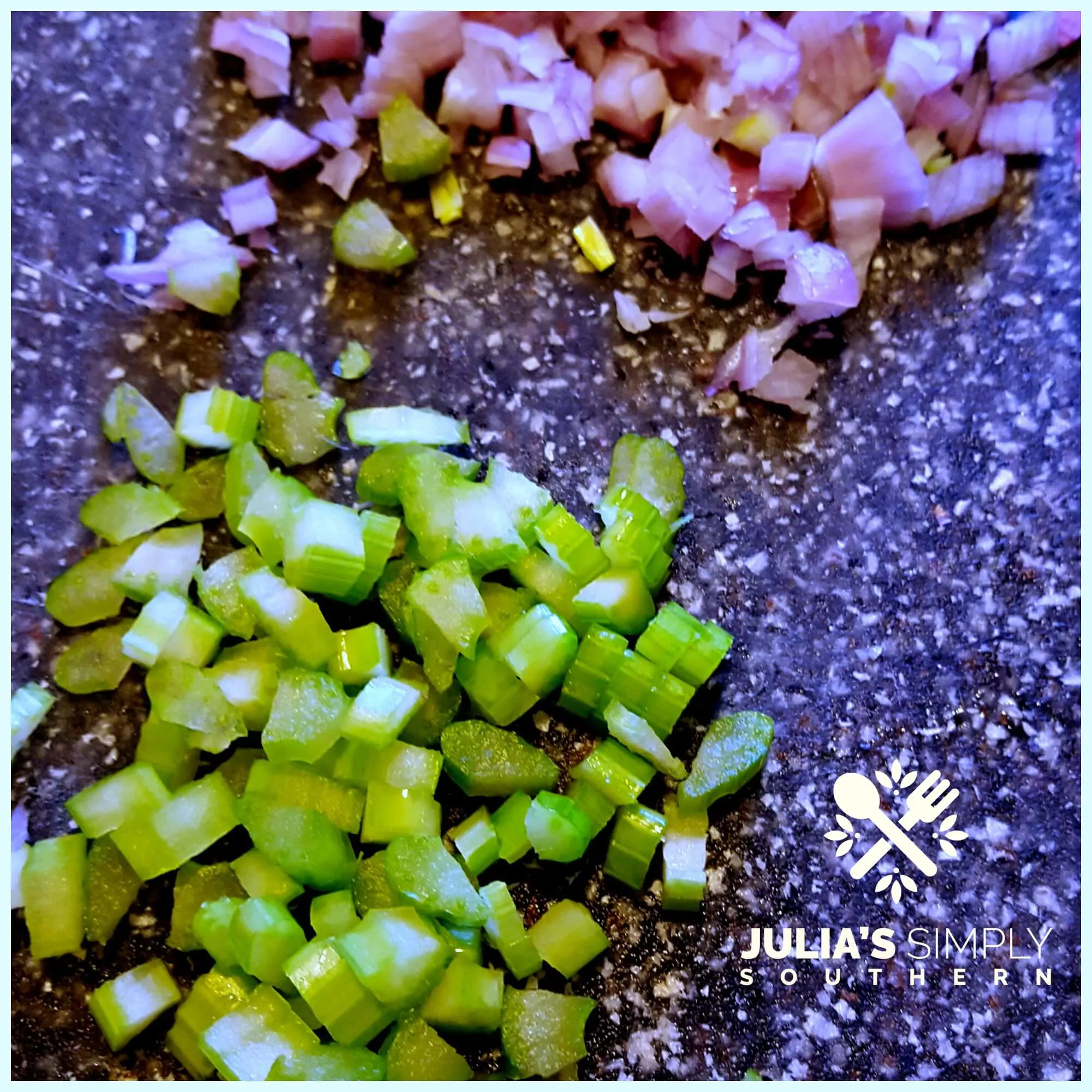 Old Bay Makes it Better
Step 1: Drain the tuna! Drain it really well! Let it drain some more. Seriously, you want it well drained.
I open up my cans of tuna before I begin anything else and throw it in a mesh colander to drain while I work on everything else. That way by the time I get ready for it, it has drained so that the finished salad is not a liquidy mess.
Step 2: Finely dice the shallot and celery then add to a small skillet with a small pat of butter and saute over medium heat 4 to 5 minutes until the vegetables just begin to tender but are still crunchy.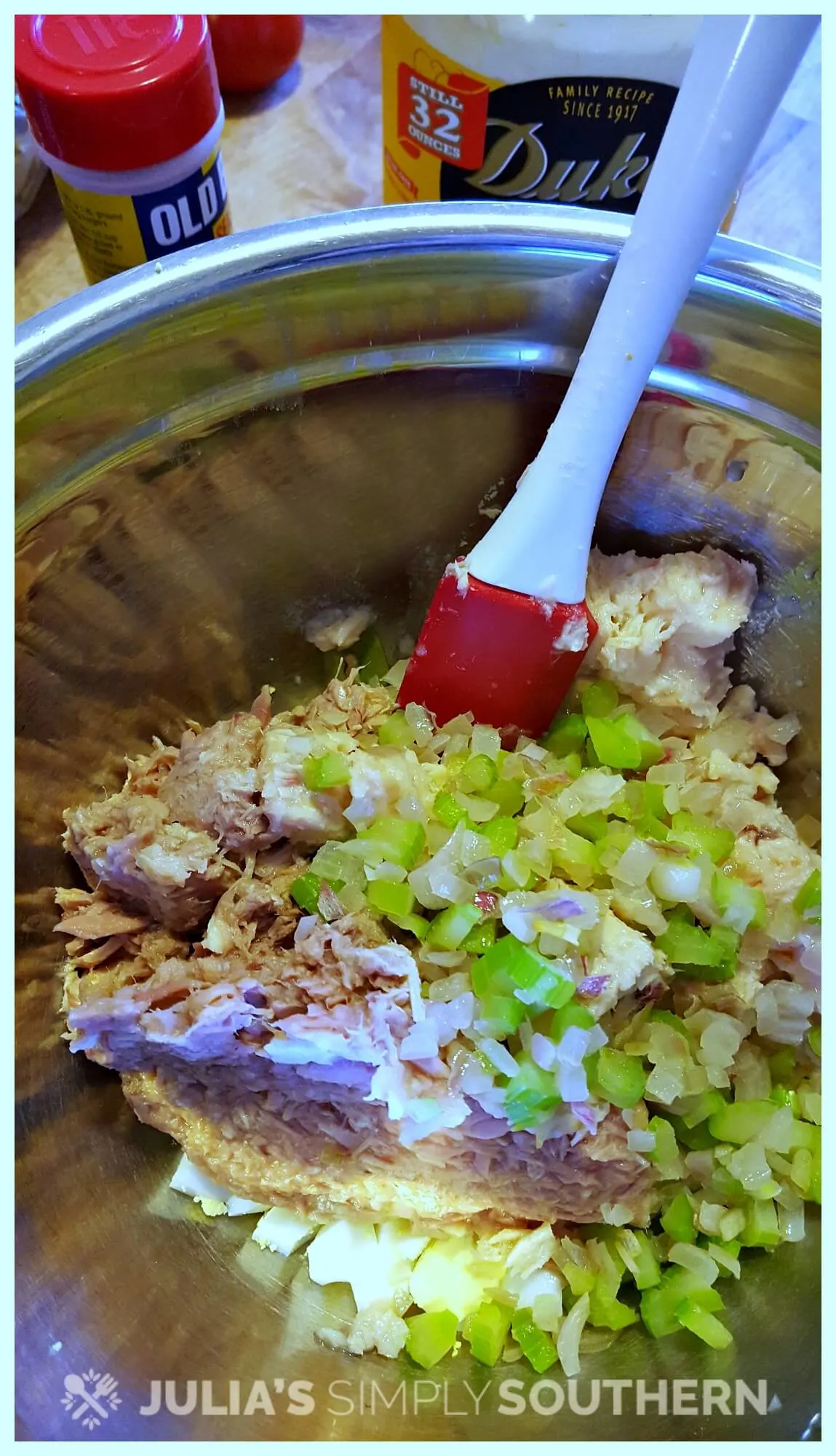 Step 3: Dice up a couple of hard boiled eggs and add them to a mixing bowl. Next, add that really drained well tuna then the sautéed vegetables. Lightly mix everything together.
Next, season the tuna mixture with some salt, cracked black pepper and a bit of Old Bay seasoning. Lightly stir everything together once more to distribute the seasonings. Lastly, add in the creamy mayonnaise and stir to mix everything together.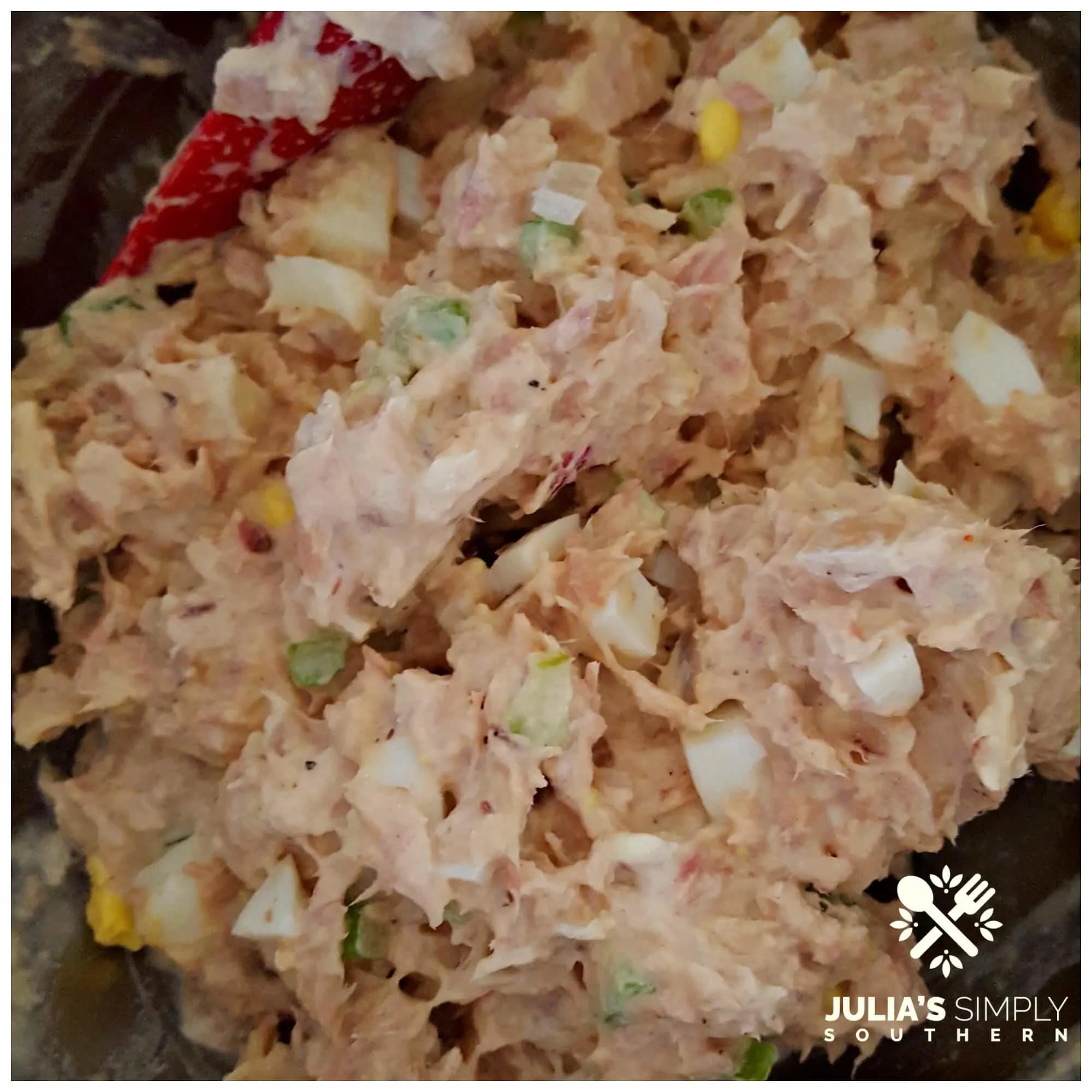 There we have a beautiful tuna salad with egg. I realize that some folks think of boiled eggs as just a filler in recipes and I guess that is true but I really like the texture it adds to tuna salad.
Honestly, Southerners love to throw boiled eggs into all sorts of recipes and I'm no exception. You'll find a boiled egg in my giblet gravy during the holidays to the cornbread dressing.
We add the additional ingredients to tuna salad to give it interest, flavor and different textures that are interesting when chewing. It's more yummy that way, trust me. A really, really, really basic tuna salad with just tuna and mayo is kind of a mushy bore.
Delicious Sandwich Spread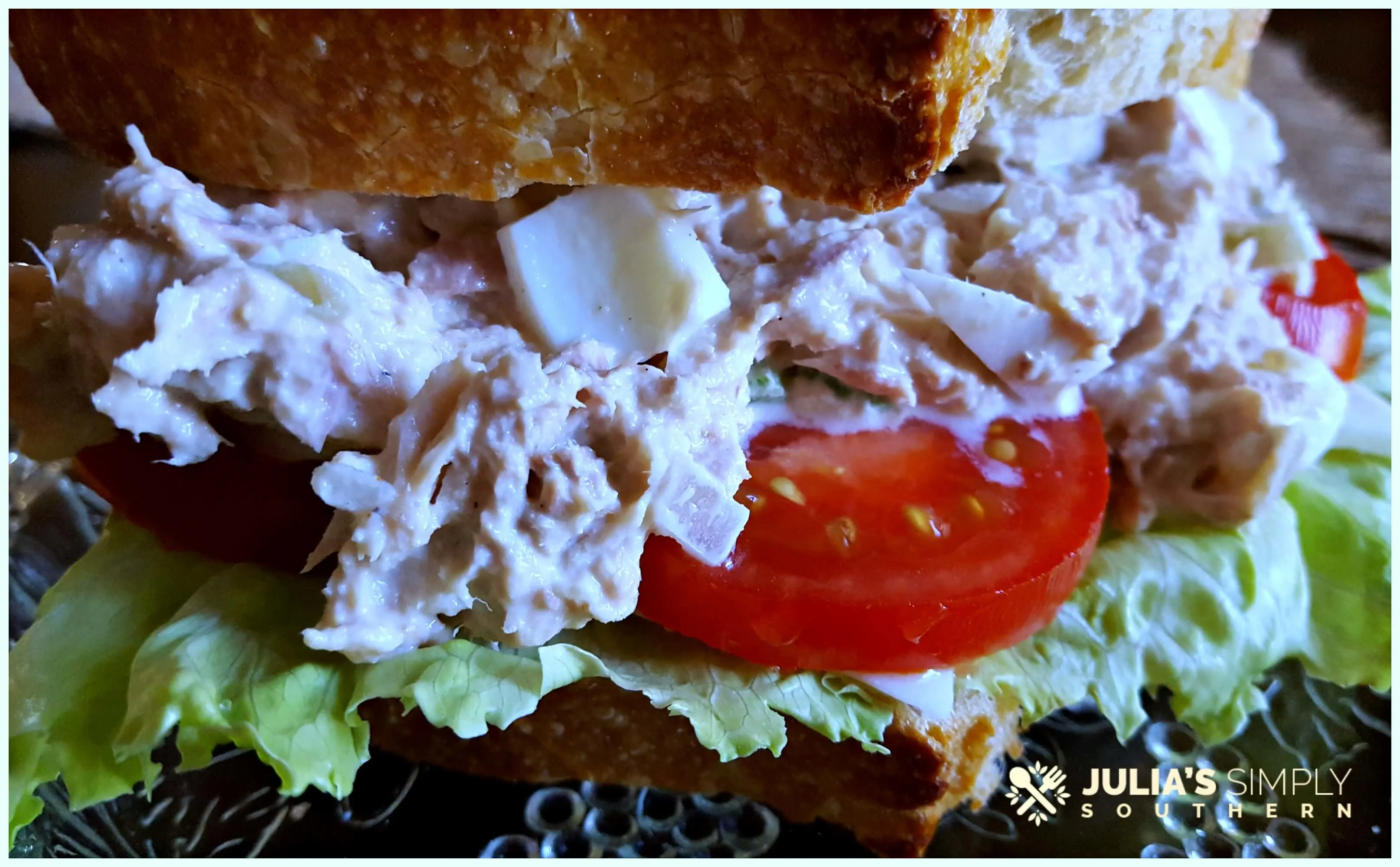 On this particular day, I'm using my tuna salad to make sandwiches for lunch. Fresh country sourdough bread slices, crispy lettuce, ripe tomato, a slice of white American cheese and a generous helping of tuna salad….served with a pickle spear of course. Delicious!
Printable Recipe
Yield: 1.25 lbs Tuna Salad
The Best Tuna Salad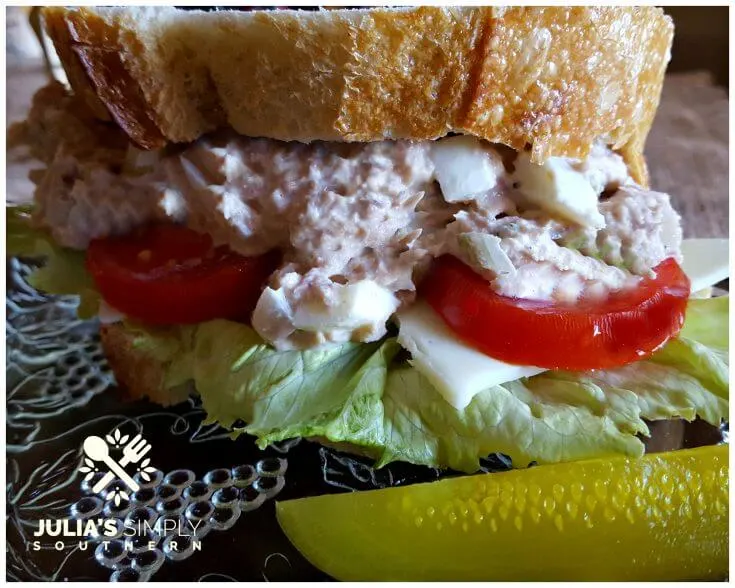 A delicious old fashioned tuna salad recipe with egg that is perfect on salads, crackers or sandwiches
Additional Time
6 minutes
Ingredients
1/2 tbs Butter
1 Shallot, finely diced
1/4 c Celery, finely diced
20 oz Canned Tuna Fish, well drained
2 Hard Boiled Eggs, diced
1/2 tsp Salt, or to taste
Fresh Cracked Black Pepper, to taste
1/4 tsp Old Bay Seasoning
1/2 c Mayonnaise
Instructions
Add the butter to a small skillet then add the shallot and celery and saute over medium heat for 4-5 minutes.
In a mixing bowl, combine the boiled eggs, drained tuna, and sauteed vegetables.
Next, season with salt, pepper and Old Bay.
Lightly mix together then add mayonnaise and stir until it's incorporated with the rest of the ingredients.
Chill until ready to serve.
Notes
Draining the tuna well is key to a great tuna salad.
Leftovers can be stored in the refrigerator up to 3 days.
I use a mix of chunk light tuna and chunk white tuna, packed in water. You'll want to avoid the tuna packed in oil for this recipe.
Recommended Products
As an Amazon Associate and member of other affiliate programs, I earn from qualifying purchases.
Nutrition Information:
Yield:
6
Serving Size:
1/2 cup
Amount Per Serving:
Calories:

405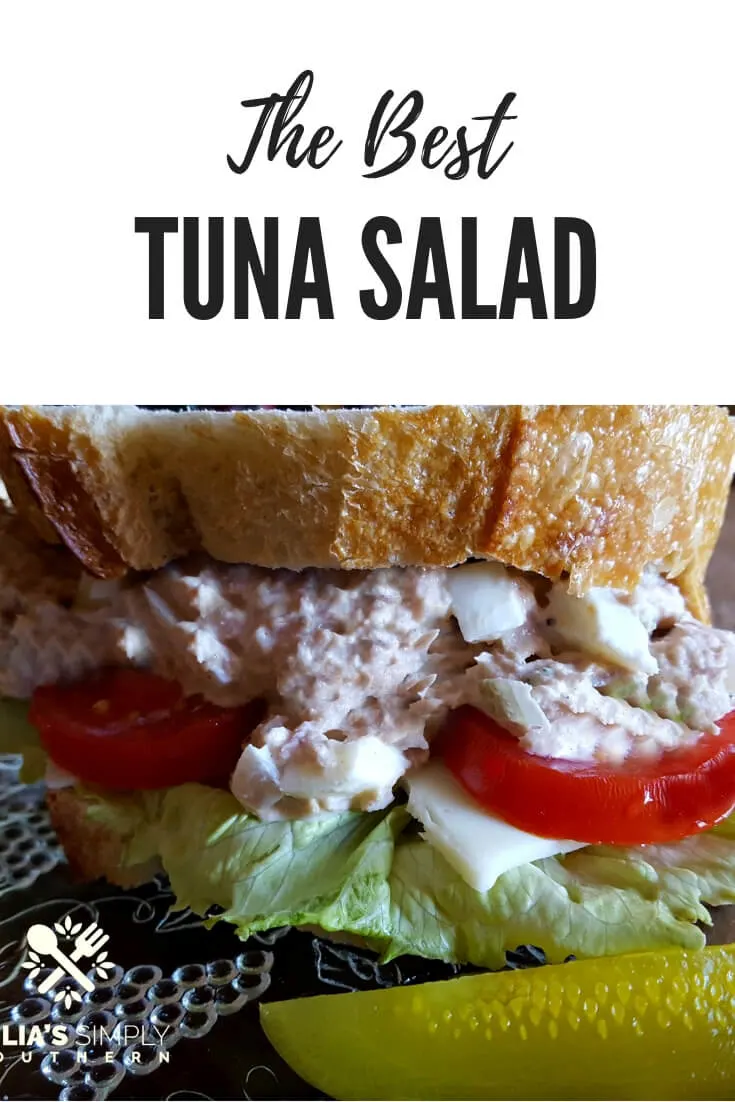 The Best Tuna Salad Recipe
See this recipe shared at Meal Plan Monday and Weekend Potluck
Thank you for stopping by! I am so glad that you did. I know that you will love my tasty version of tuna salad so I hope that you try it soon.
Bes sure to subscribe to my email list while you are here. As a subscriber I'll send you a weekly newsletter with my latest recipes and news here on the blog so that you never miss a thing.
Meet Julia
Author of Julia's Simply Southern
Hey Y'all! I'm Julia, the cook and writer behind the recipes here at Julia's Simply Southern. I began my website so that I could share easy to follow recipes that anyone can use to put a home cooked meal on the dinner table. Thanks so much for stopping by!
Follow me on Facebook | Twitter | Instagram | Pinterest | YouTube