In this post I am sharing an easy holiday baking recipe for Chocolate Cherry Almond Christmas Cookies.
These dainty little shortbread cookies are elegant and impressive but so easy to make.
Variations of shortbread cookies are among my personal top favorites for holiday baking. The reason that I love shortbread so much is it holds its shape well, doesn't spread all over the place and is easy to decorate however you like.
This particular recipes is my twist on classic Southern cherry crowns. I love the flavor of the chocolate in this cookie. The candied cherries add a beautiful finish and are as shiny red as Rudolph the red nose reindeer's nose.
Easy Holiday Cookies Recipe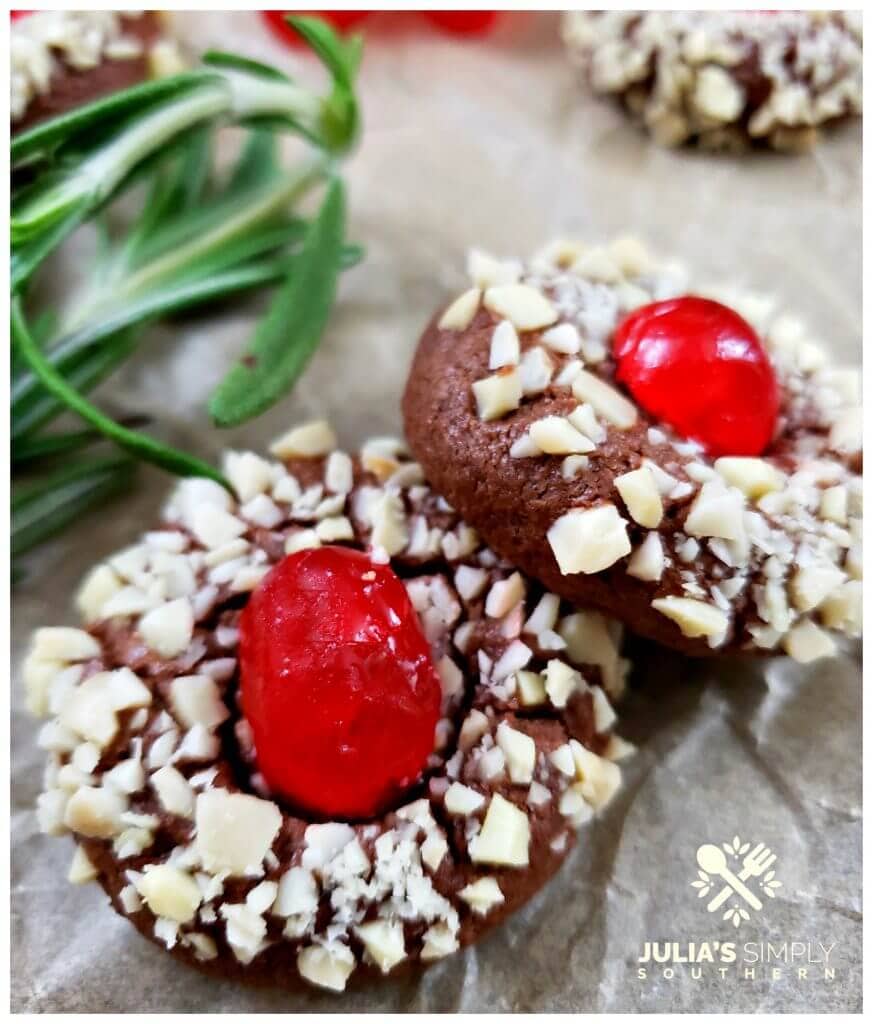 How many cookies will Santa eat? There is no way to be sure so it's best to bake plenty and have a plate full waiting for him.
What are candied (or glace) cherries? This candied cherry fruit are the type of fruit you'd traditionally find in a fruit cake. You'll find them in the holiday baking section at your local grocery store.
Chocolate Thumbprint Shortbread Cookies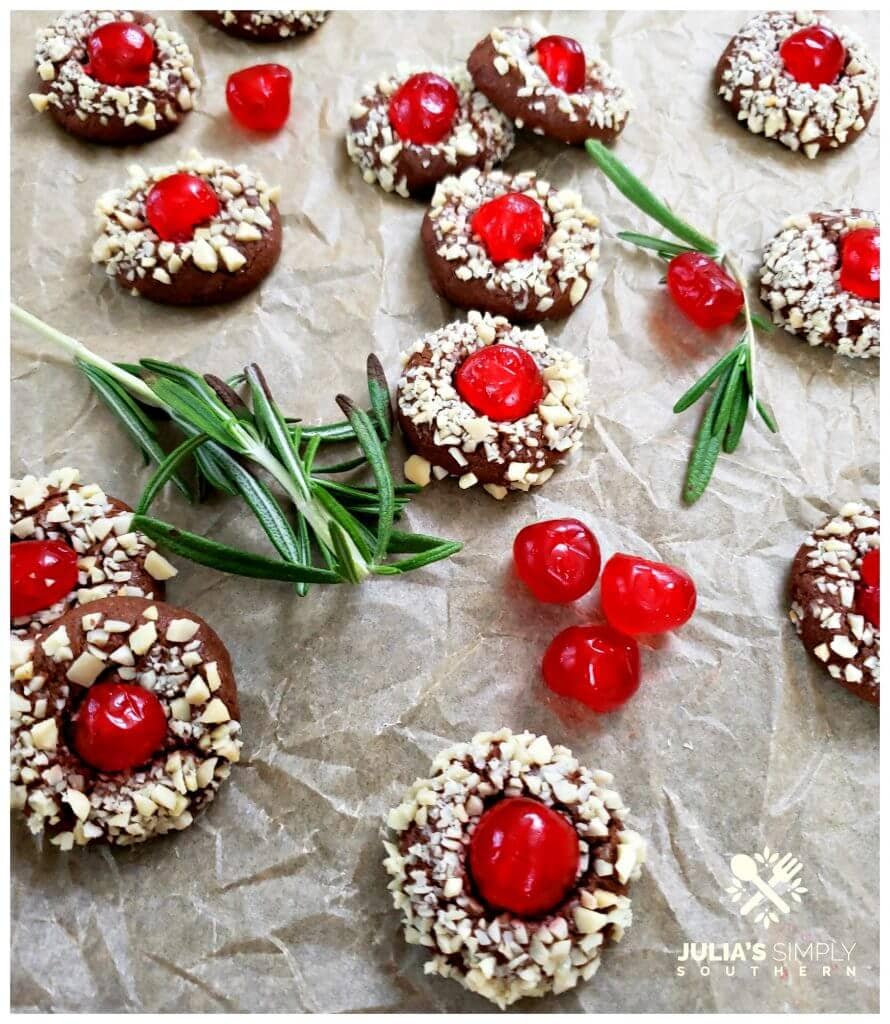 Can we talk about ground almonds for a minute? I couldn't find any at my grocery store. No worries, I thought, I'll just toss some into a coffee bean grinder.
Well, I soon discovered that the coffee bean grinder was not in our house. In fact, we had mistakenly left it behind this summer at my sister in law's camper.
Although it's just a half hour from our house, I was in no mood to go on a road trip to fetch it and decided I would just chop the almonds up myself.
Have you ever had to finely chop almonds? It's a bit of a task. You have to chop them as fine as you can and keep on chopping over and over and over again to get them where you want them.
After the almonds came the part where all of the candied cherries needed to be cut in half.
It was worth the extra bit of effort because it is for Christmas cookies after all and they're supposed to be special. I think they turned out beautiful too.
Elegant Cookies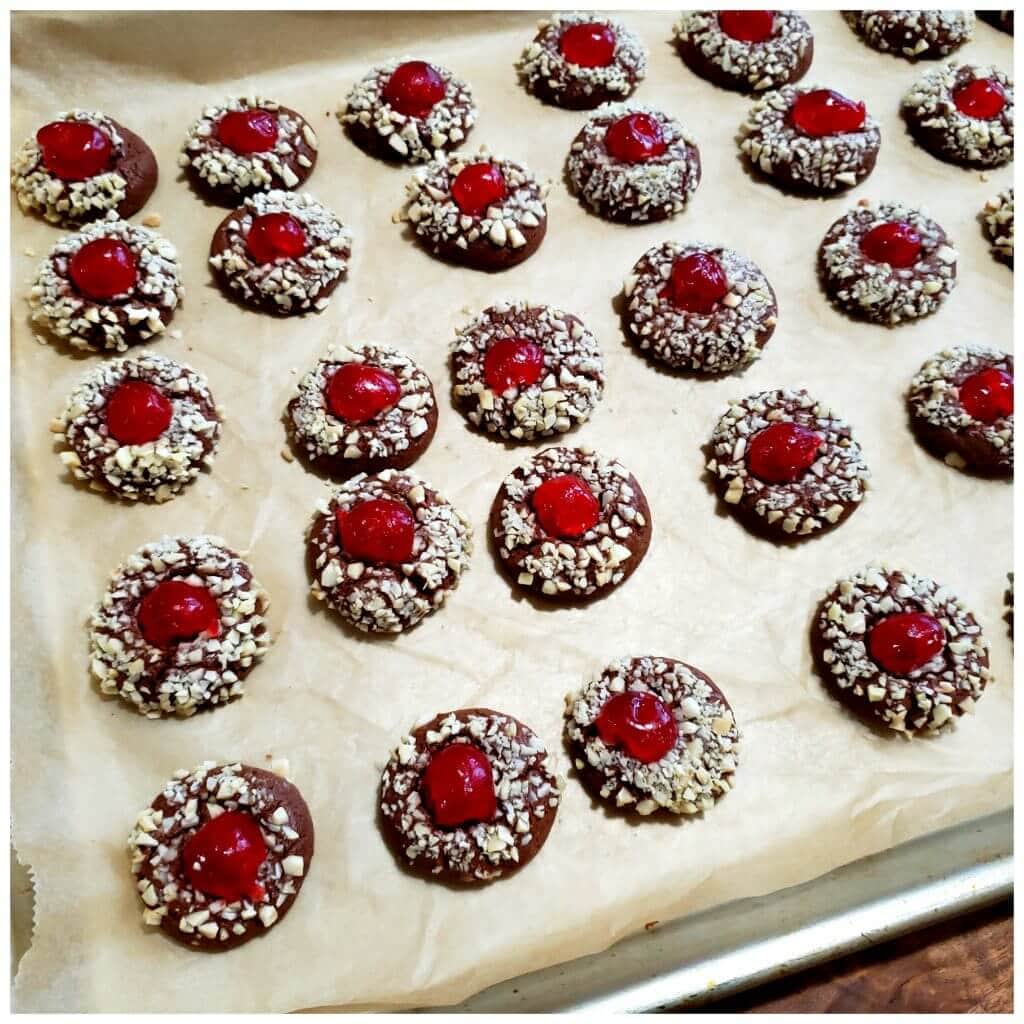 Chocolate Cherry Almond Cookie Recipe
You'll find the step by step instructions in the printable recipe card below. Check out the note section where I've shared a couple of variations for this easy recipe. Let's bake a batch of Chocolate Cherry Almond Christmas Cookies.
Yield: 6 Dozen Cookies
Chocolate Cherry Almond Christmas Cookies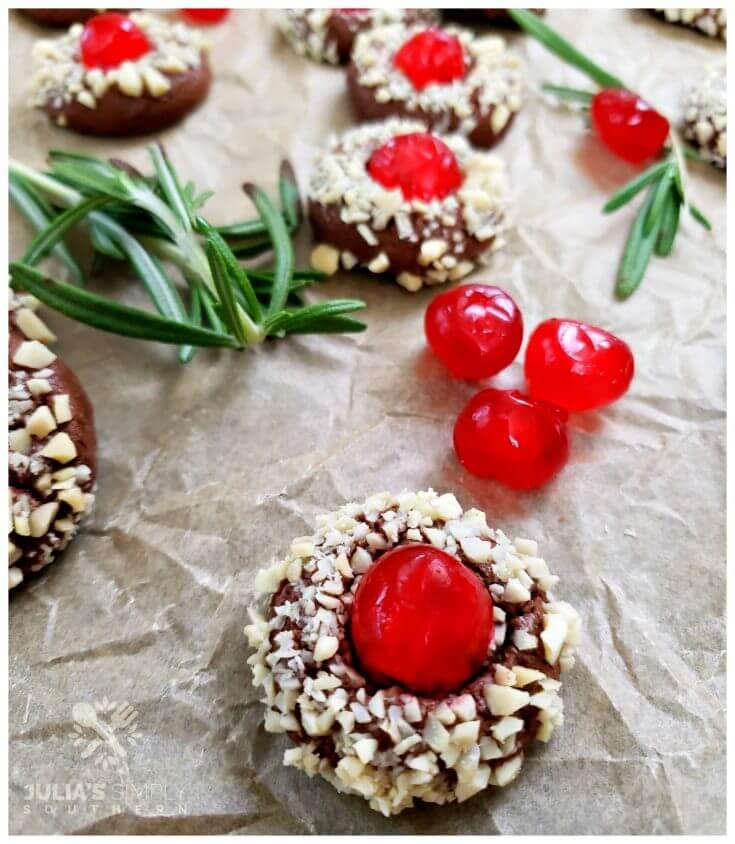 Easy chocolate shortbread thumbprint cookies with candied cherries and almond topping.
Total Time
1 hour
25 minutes
Ingredients
2 Sticks of Butter, softened to room temperature
3 oz Cream Cheese, softened
1 c Granulated Sugar
1 Large Egg, separated
1 tsp Vanilla Extract
2 c All Purpose Flour
1/2 c Unsweetened Cocoa Powder
1 c Ground Blanched Almonds
4 oz Red Candied Cherries, halved
Instructions
In a mixing bowl; beat butter and cream cheese with a hand mixer on medium speed until creamy.
Gradually add the sugar to the butter mixture, beating well to combine; add the egg yolk and vanilla extract then mix to combine.
Next add the flour and cocoa powder in batches mixing to combine between each addition; cover the dough and chill for one hour.
Preheat oven to 350°F (176°C)
Shape the dough into 1.5 inch balls; dip tops of the balls into lightly beaten egg white then in ground almonds to coat.
Place cookie dough balls on a parchment lined baking sheet. Gently make an indentation in the middle of each cookie with your thumb and place a cherry half in the center.
Bake for 15 minutes. Cool for 5 minutes on the cookie sheet then transfer to cooling racks to cool completely.
Notes
To make old fashioned Southern Cherry Crown Cookies, omit the cocoa powder and add another ½ cup of flour to the recipe. Use almond extract instead of vanilla and follow the rest of the recipe as is.
Use your favorite nut ground in place of almonds if preferred.
Instead of cherry, a whole pecan may be used to top each cookie or omit the nut entirely and gently press the cookies down with two fingers and decorate with sprinkles.
Thumbprints may also be made and topped with a dollop of jam.
Recommended Products
As an Amazon Associate and member of other affiliate programs, I earn from qualifying purchases.
Nutrition Information:
Yield:
24
Serving Size:
3 cookies
Amount Per Serving:
Calories:

214
Total Fat:

12g
Saturated Fat:

6g
Trans Fat:

0g
Unsaturated Fat:

5g
Cholesterol:

32mg
Sodium:

106mg
Carbohydrates:

23g
Fiber:

1g
Sugar:

12g
Protein:

3g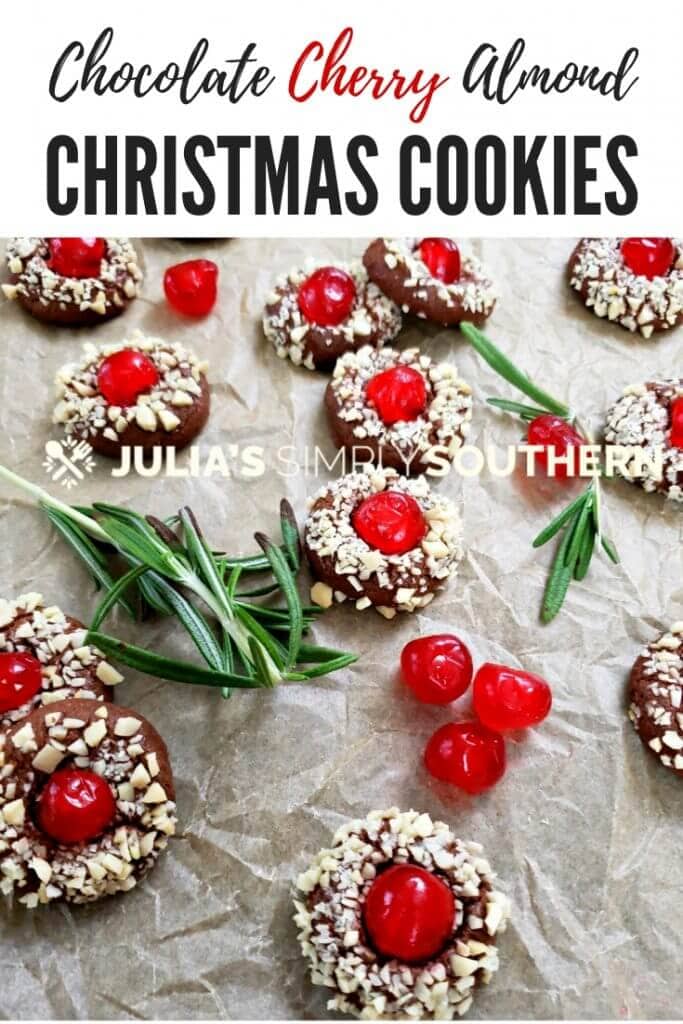 See the Latest Recipes from Julia
Be social and join us on Facebook | Twitter | Instagram | Pinterest
Thank you for stopping by! I know that you're gonna love how easy it is to make this pretty little cookies to share with friends.
Meet Julia
Author of Julia's Simply Southern
Hey Y'all! I'm Julia, the cook and writer behind the recipes here at Julia's Simply Southern. I began my website so that I could share easy to follow recipes that anyone can use to put a home cooked meal on the dinner table. Thanks so much for stopping by!
Follow me on Facebook | Twitter | Instagram | Pinterest | YouTube