In this post I am sharing the recipe for home baked Oatmeal Raisin Cookies.
We're finishing up those Thanksgiving leftovers and now it's full steam ahead into the holiday season. Let the Christmas baking commence!
Every year I bake a batch of oatmeal raisin cookies to share for the holidays. Although I bake a variety of treats, this is the cookie I've somehow become known for.
I even have folks ask me when I'll be baking a batch. I'm not quite sure how it became my signature cookie. Maybe the one extra ingredient that I add that gives it that something special…or at least I think so. Perhaps it's just that there are others who have a love for oatmeal raisin cookies like myself.
Whatever the reason might be, I always include these traditional cookies in my holiday baking. I consider oatmeal raisin cookies to be my personal favorite. Can you believe the hubs doesn't even like them? That's okay, I bake them anyways – haha!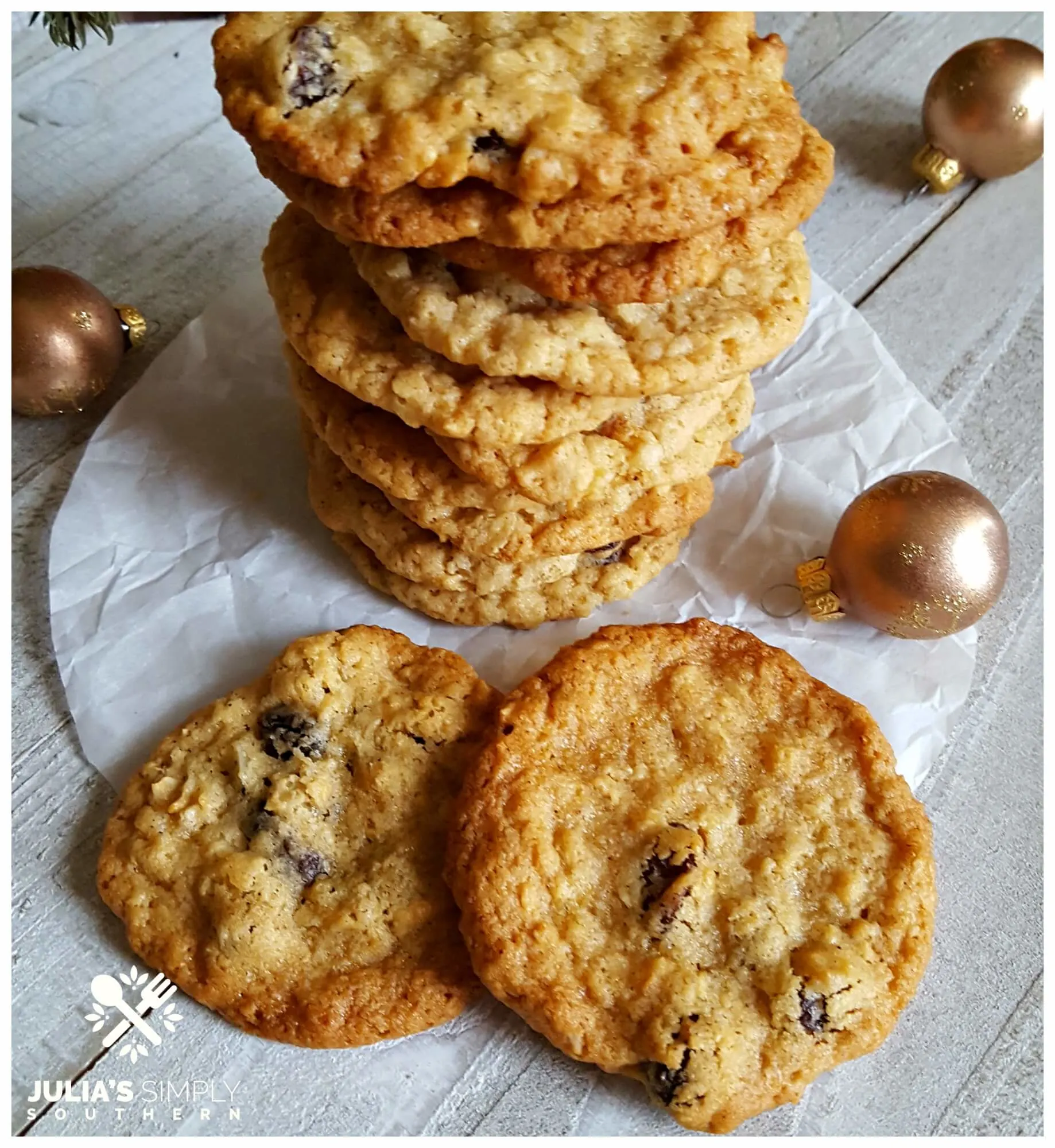 Old Fashioned Oatmeal Raisin Cookies
Oatmeal raisin cookies can be made days in advance if you're hosting or planning to attend a holiday cookie exchange.
This recipe yields about 5 dozen cookies so there's plenty to share for social gatherings. Of course the cook will need to taste one or five for quality testing purposes. 😉
More holiday food gifting recipes you might enjoy: Easy Peanut Butter Fudge Bars , Chocolate Peanut Butter Crock Pot Candy and Southern Jezebel Sauce.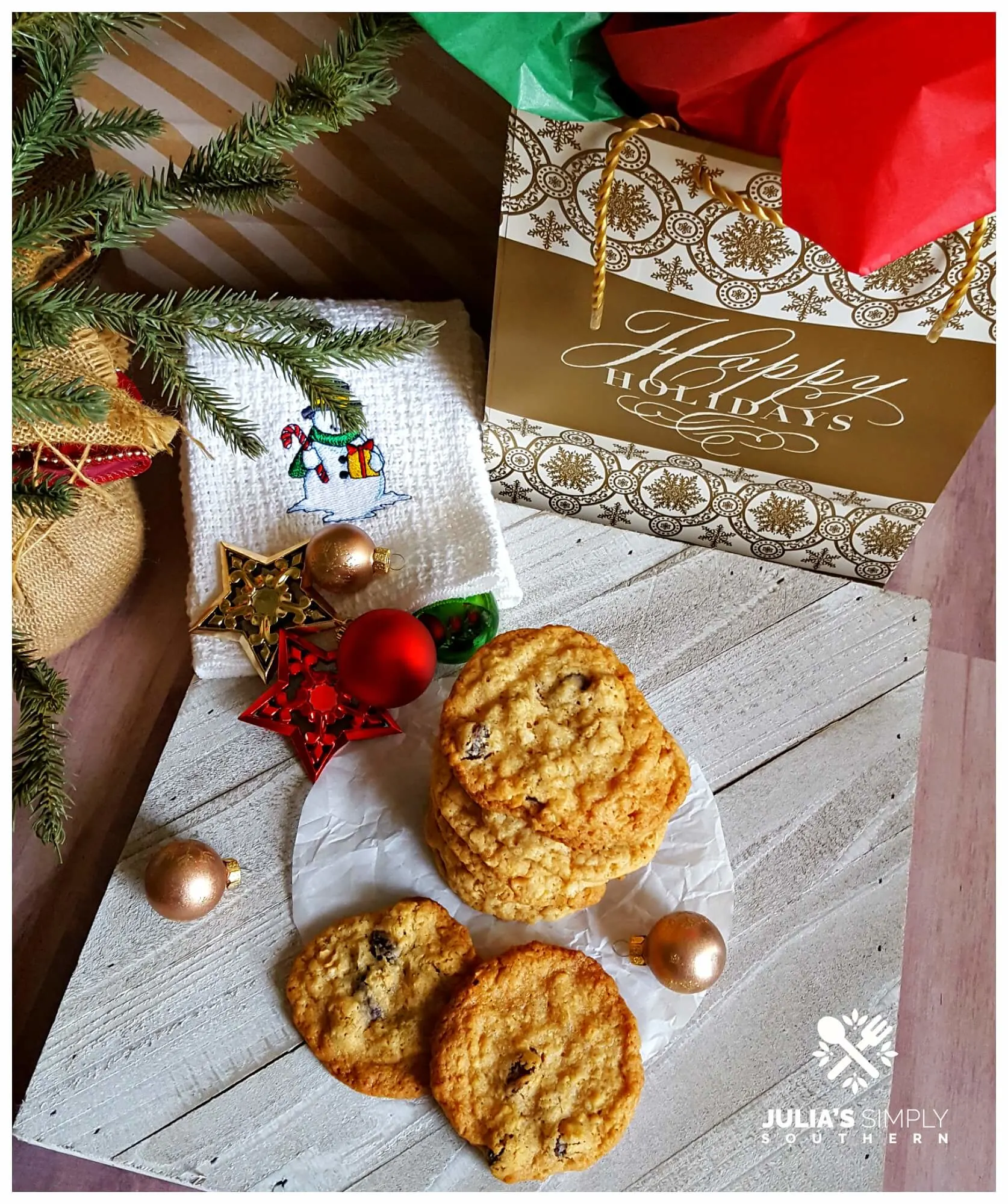 What ingredients do you need for oatmeal raisin cookies? Here's what you'll need to bake up a delicious batch of these classic cookies: Butter, sugar (granulated and brown), eggs, vanilla, flour, spices (cinnamon, nutmeg and cloves), old fashioned oats (quick cooking will work fine too), raisins, and sweetened coconut flakes.
Did you catch my "secret" ingredient? Yes, coconut flakes! It may seem unusual but trust me on this. It really adds something special to these cookies.
Homemade cookies
Perhaps you're wondering why I add coconut flakes? Well, let me tell you the reason. There's a popular sandwich restaurant, I'm sure you all have heard of it, and they also sell cookies. If you're early enough they have oatmeal raisin.
I love the oatmeal raisin cookies of this particular restaurant and tried to figure out why I was so drawn to these cookies.
So….I got my face all in a cookie one day after I took a bite. Really! If I'd had a microscope I would've had that cookie under it studying the thing. HaHa! Luckily, it wasn't too difficult for me to spot what I was looking for. Coconut flakes! AH HA! Since them I've added coconut flakes to my oatmeal raisin cookies. It's magical! Swoon.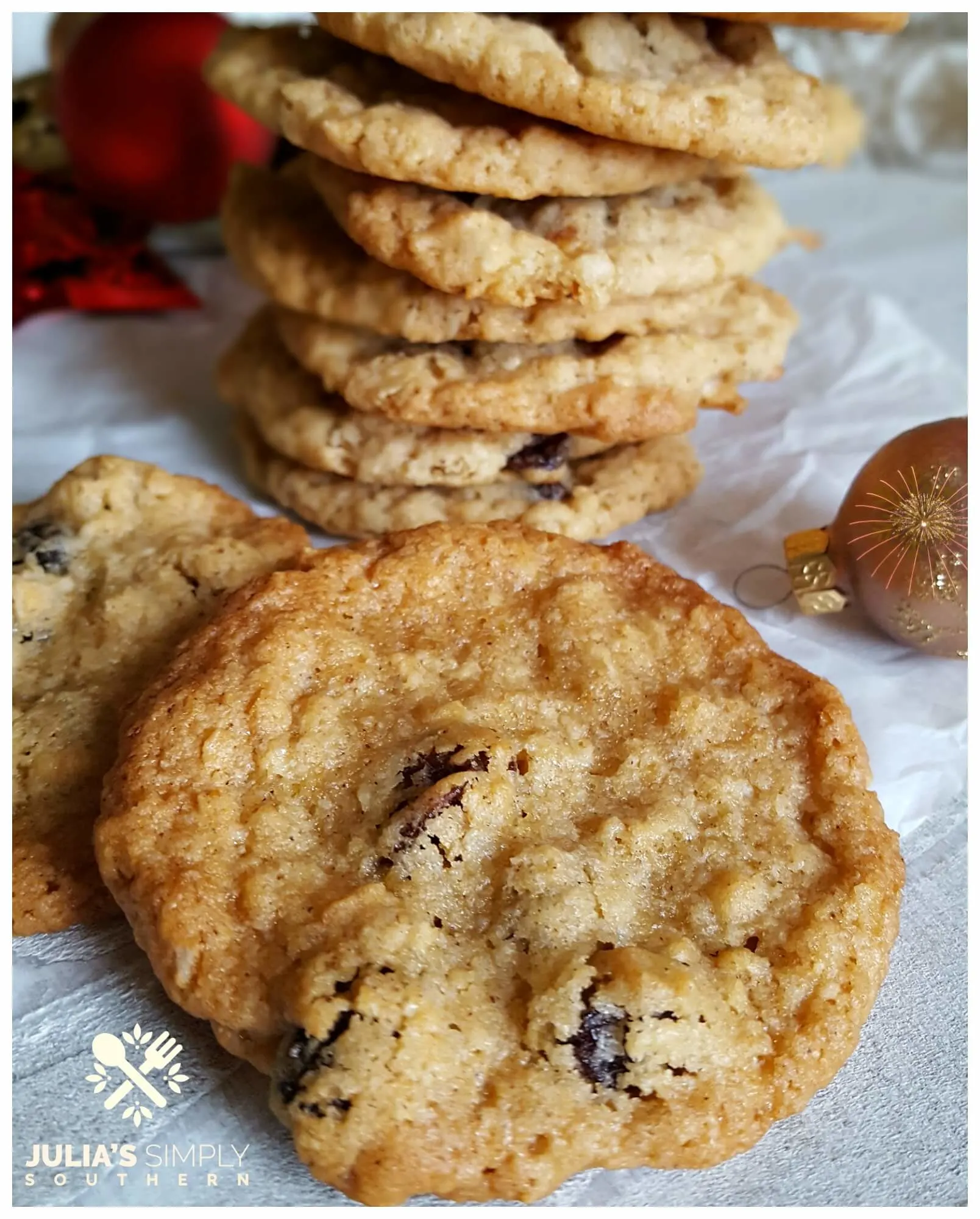 How Do You Make Oatmeal Raisin Cookies? It is really easy and I'm going to walk you step by step through baking up a delicious batch of oatmeal raisin cookies.
Let's get started.
Preheat oven to 375°F (190°C) and line your baking sheets with parchment paper and set aside.
Easy Cookie Recipe
Step 1: In a large mixing bowl, cream together the butter and sugars until light and fluffy using a hand mixer. Next, add the eggs, one at a time and mix well after each addition. Finally, beat in the vanilla to mix well.
Step 2: In a small bowl mix together the flour and spices with a whisk. Next, add the flour mixture (one cup at a time) to the sugar mixture and beat well to combine with each addition until all of the flour is incorporated. Next, add the oats, raisins and coconut then stir or use the hand mixer to incorporate into the cookie dough.
Use a small cookie scoop to gather two teaspoons of dough for each cookie and place on the lined cookie sheets. Space each cookie at least two inches apart. The cookies spread while baking. Bake 12 to 15 minutes depending on desired crispiness.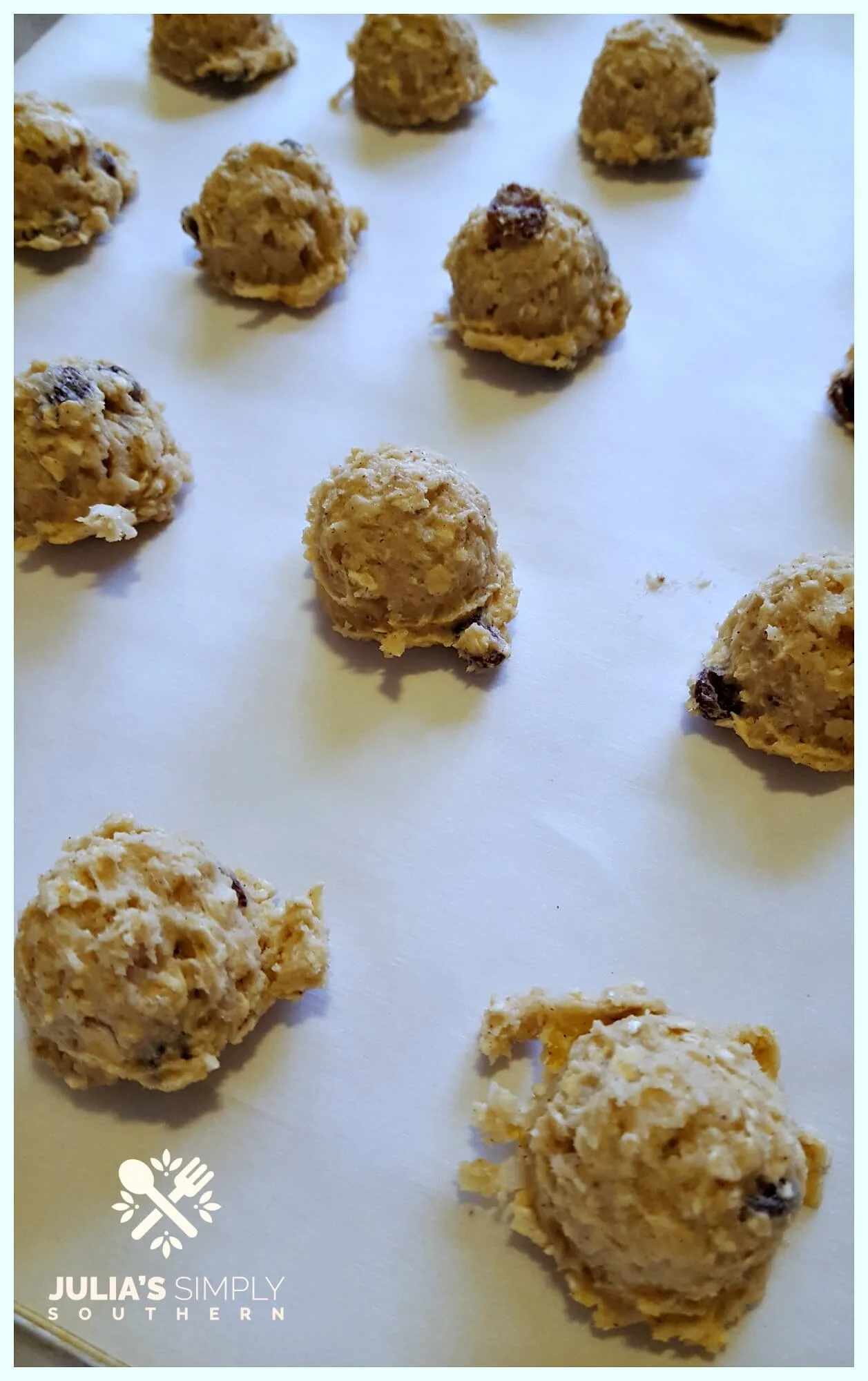 I baked my cookies for 12 minutes which gave me crispy edges and a softer chewy center, which is my preferred result. For crispier cookies just bake a few minutes longer.
Use a metal spatula to transfer the cookies to a cooling rack. Cool completely.
Tips for Baking Delicious Cookies
Have butter and eggs at room temperature for baking.
Always pre-heat your oven unless a recipe states otherwise.
Always line baking sheets with parchment paper, it prevents sticking and makes clean up easy.
Use the appropriate measuring tools – a liquid measuring cup for liquids and dry measuring cups for dry ingredients.
For soft and chewy cookies, check at the minimal baking time and for crisper cookies bake longer. All cookies will be a bit soft until they cool completely.
Ultimate Oatmeal Raisin Cookies
Yield: 5 Dozen
Oatmeal Raisin Cookies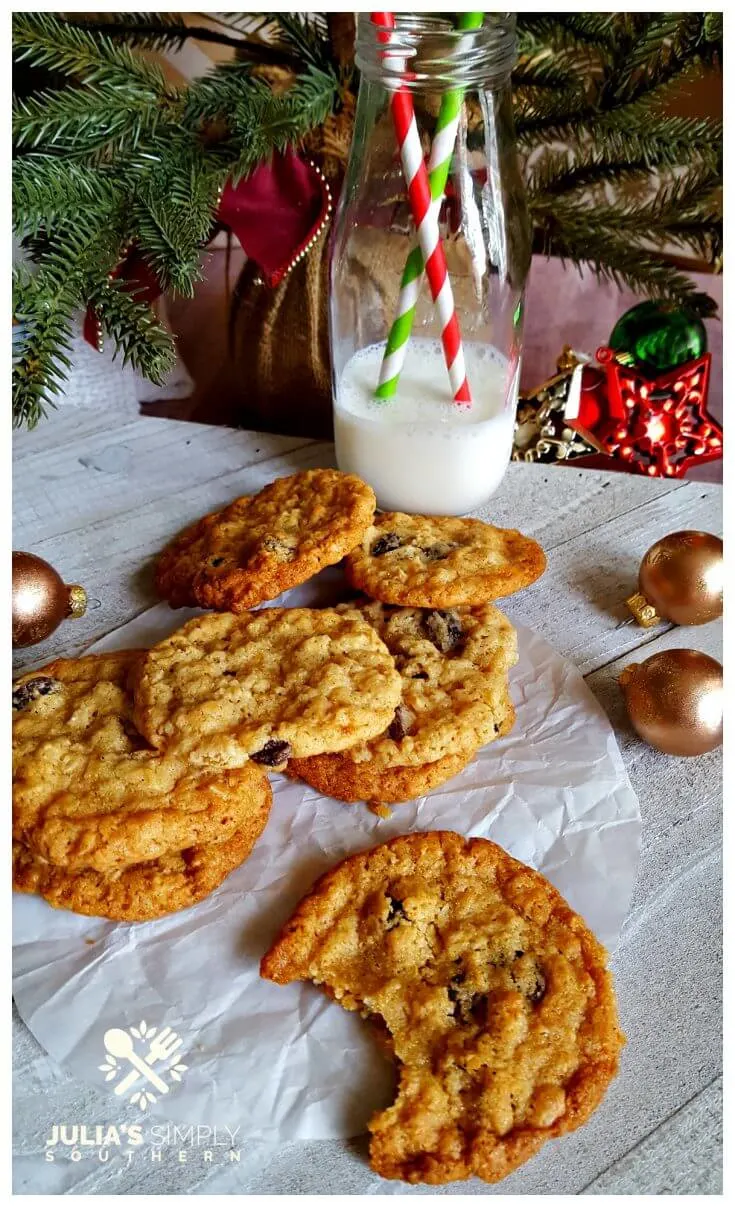 Oatmeal Raising Cookies are a delicious classic and perfect for holiday gifting
Ingredients
2 Sticks of Butter, softened to room temperature
1 c Granulated Sugar
1 c, Light Brown Sugar, packed
2 Eggs, room temperature
1 tsp Vanilla Extract
2 c Self Rising Flour
1/2 tsp Ground Cinnamon
1/4 tsp Ground Nutmeg
1/4 tsp Ground Cloves
2 c Old Fashioned Oats
1 c Raisins
1/4 c Sweetened Coconut Flakes
Instructions
Preheat oven to 375°F
Line baking sheets with parchment paper
Cream together the butter, granulated sugar and brown sugar with a hand mixer in a large mixing bowl until light and fluffy
Next, add one egg at a time mixing well in between each addition
Next, add the vanilla extract and beat into the sugar mixture
Combine the flour and spices in a small bowl and mix with a whisk
Add small amounts of the flour mixture to the sugar mixture beating well to combine between each addition
Finally, add the oats, raisins and coconut and mix to combine in the dough.
Use a small cookie scoop and place cookie dough at least 2" apart on the lined baking sheets
Bake each batch 12 to 15 minutes, until golden brown
For soft and chewy cookies, bake 12 minutes, for crispier cookies bake longer.
Parchment paper can be re-used for each batch going into the oven.
Use a metal spatula to transfer cookies to a cooling rack and cool completely.

Notes
Metal spatulas are thin and ideal for transferring cookies. Some of the modern plastic spatulas are thicker and can alter the appearance of the cookies.
Cookie dough can be frozen. Portion out with a cookie scoop as you would for baking then chill on a baking sheet then transfer to freezer safe storage bags and freeze.
Recommended Products
As an Amazon Associate and member of other affiliate programs, I earn from qualifying purchases.
Nutrition Information:
Yield:
30
Serving Size:
2 cookies
Amount Per Serving:
Calories:

228
Total Fat:

8.1g
For more tips on baking, visit That Skinny Chick Can Bake – Best Baking Tips.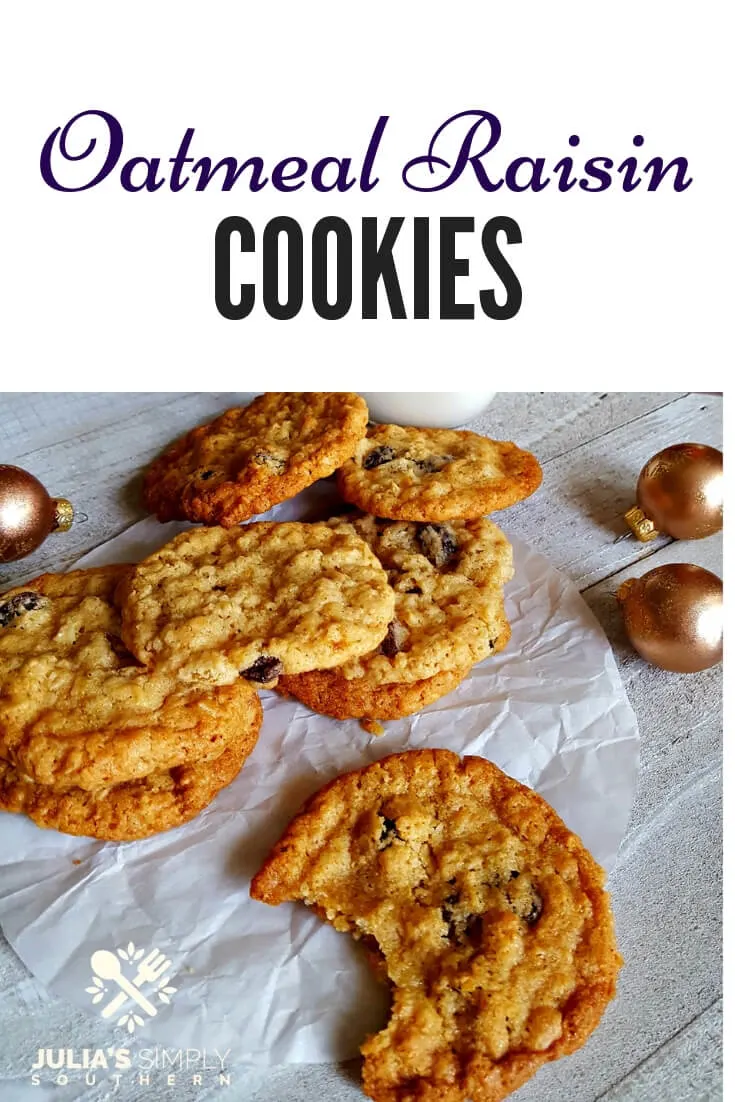 See this recipe at: Weekend Potluck and Meal Plan Monday
Meet Julia
Author of Julia's Simply Southern
Hey Y'all! I'm Julia, the cook and writer behind the recipes here at Julia's Simply Southern. I began my website so that I could share easy to follow recipes that anyone can use to put a home cooked meal on the dinner table. Thanks so much for stopping by!
Follow me on Facebook | Twitter | Instagram | Pinterest | YouTube