In this post I'll be sharing the recipe for a Southern Butter Pecan Pound Cake with Praline Glaze. It's an amazing dessert y'all!
Y'all aren't gonna believe this but I nearly forgot about this wonderful cake. I can hardly believe it myself but it has been years since I've baked one.
I was recently reminded of it when I saw Patara at the Appalachia's Homestead YouTube channel make it. She was teaching her son how to bake a cake but she called the cake by another name that I've never heard before.
Patara's channel is one of my favorites that I watch regularly on YouTube. Y'all may have done the same as we have and two years ago we cut ties with the satellite company and now our television is YouTube, Netflix and Prime Video/Firestick.
Anyways, I knew the cake but not by the name she was using and I went to digging because I needed to find my recipe and what is was called as I know it.
I found my recipe and had my ah ha moment…it's a Southern Butter Pecan Pound Cake.
The next day I was off to the store to fetch the ingredients that I would need to make it. Mr. J. saw the stuff on my kitchen work table and said "oh, you're gonna make that good cake".
Good cake is a good name too because it is just that! So delicious and so easy to make.
Butter Pecan Pound Cake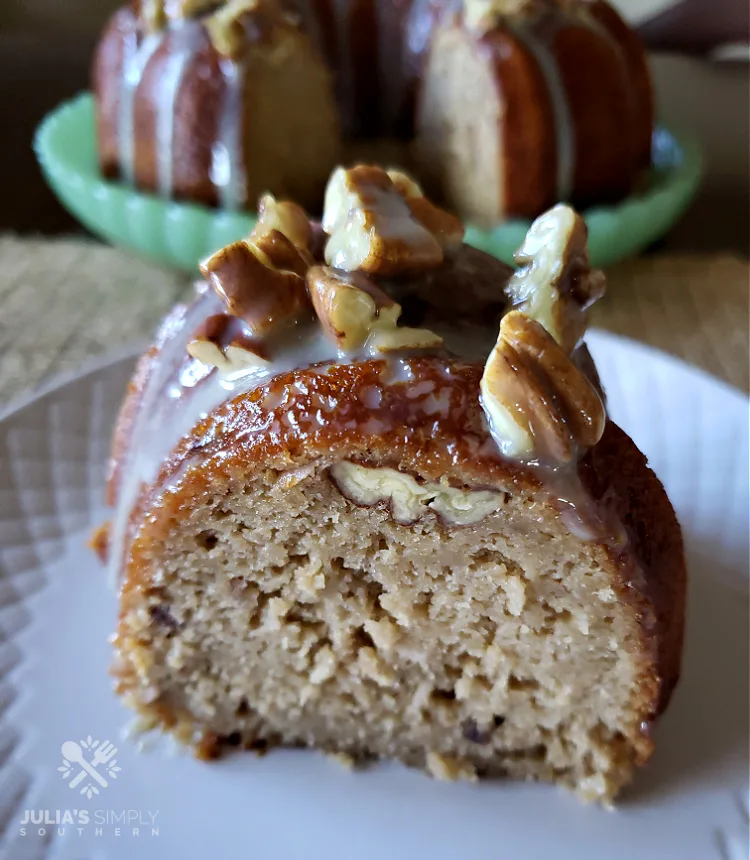 Doesn't that look good y'all? There is a lot of yummy happening in this moist pecan pound cake.
You'll notice that beautiful pecan praline glaze drizzled over the top. It is so good but optional. The cake is perfectly delicious as is but why not take it over the top with a glaze?
I'm fortunate to always have fresh pecans on hand in my freezer thanks to my sweet neighbors who gift me with some every fall. They got half of this cake as my thank you to them and they really enjoyed it.
Butter Pecan Pound Cake with Glaze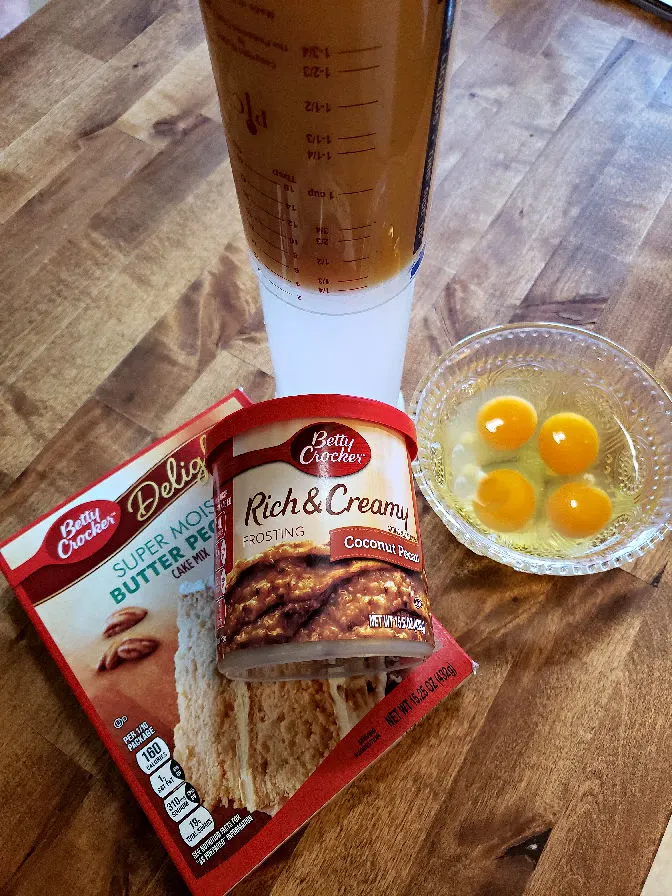 What do I need to make the recipe for a butter pecan pound cake?
Butter Pecan Cake Mix – as far as I know, Betty Crocker is the only brand that makes this particular flavor of cake mix.
Coconut Pecan Frosting
Eggs
Applesauce
Chopped Pecans
How do I keep a cake moist? The applesauce takes the place of using oil in your cake batter and keeps this butter pecan pound cake super moist.
If you don't have applesauce on hand and you would prefer to just go with oil, use a half of a cup of vegetable oil in place of the applesauce.
I really recommend the applesauce though. It makes the perfect delicious cake.
Semi Homemade Dessert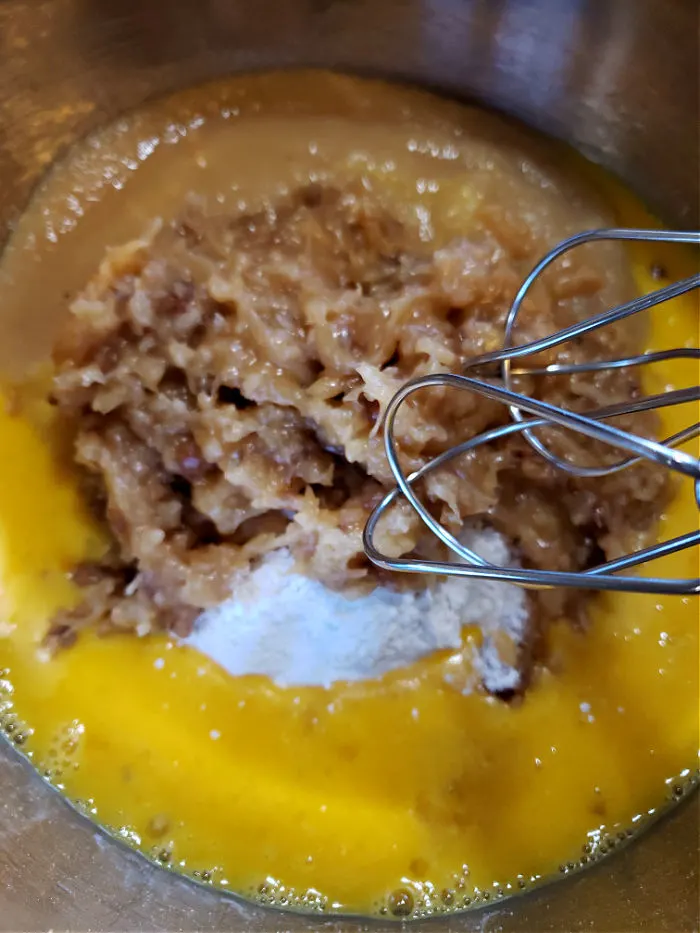 Y'all noticed that icing listed in the ingredients, right? Well it sure ain't for frosting this cake. This pound cake recipe has the icing in the mix. That unique twist is one of the things that makes this cake memorable and how I knew that I'd made the cake before.
Further down in the post you'll always find a printable recipe card for the recipes that I share but I'm gonna take you through the steps here on making this cake.
Step 1: You're going to add those ingredients to a mixing bowl and use a hand mixer to combine everything together.
You only need to mix it until everything is incorporated together and that will take just a minute.
Step 2: One important tip when baking a pound cake in a bundt pan is to grease that pan well. I have a personal preference to spray my cake pans with Baker's Joy.
If you do a lot of baking there are recipes out there to make your own homemade mixture for greasing cake pans.
I don't bake nearly enough as I'd probably like to so the spray works fine for me.
Butter Pecan Pound Cake with Cake Mix and Icing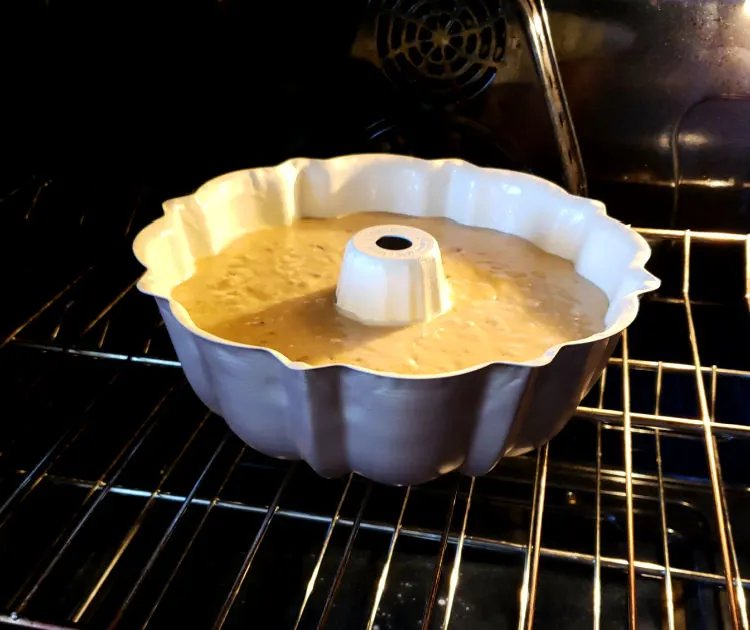 Step 3: So far things have been pretty easy right? Next you'll just pour that glorious cake batter into your prepared pan then pop it into a hot oven to bake.
Unless a recipe states otherwise, you will always preheat your oven when baking a cake.
Another great baking tip: Always read through the entire recipe first if it is your first time making something.
Easy Pecan Cake Recipe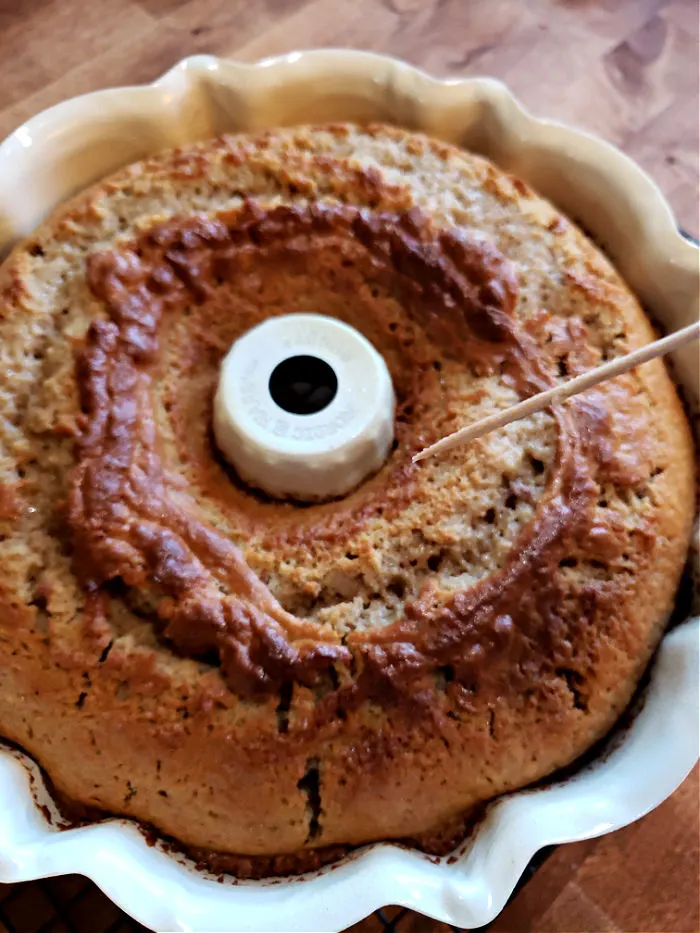 Step 4: Finally you will test your cake for doneness. This is easily done by inserting a tooth pic or wooden skewer into the center of the cake. If it comes out clean then your cake is done.
Leave the cake in the pan for a few minutes to cool before attempting to turn it out.
Particularly with a bundt pan, allowing the cake to cool a few minutes allows the cake to pull away from the sides.
I just set the pan on a cooling rack so air can circulate around it and let it cool down a bit.
Easy Bundt Cake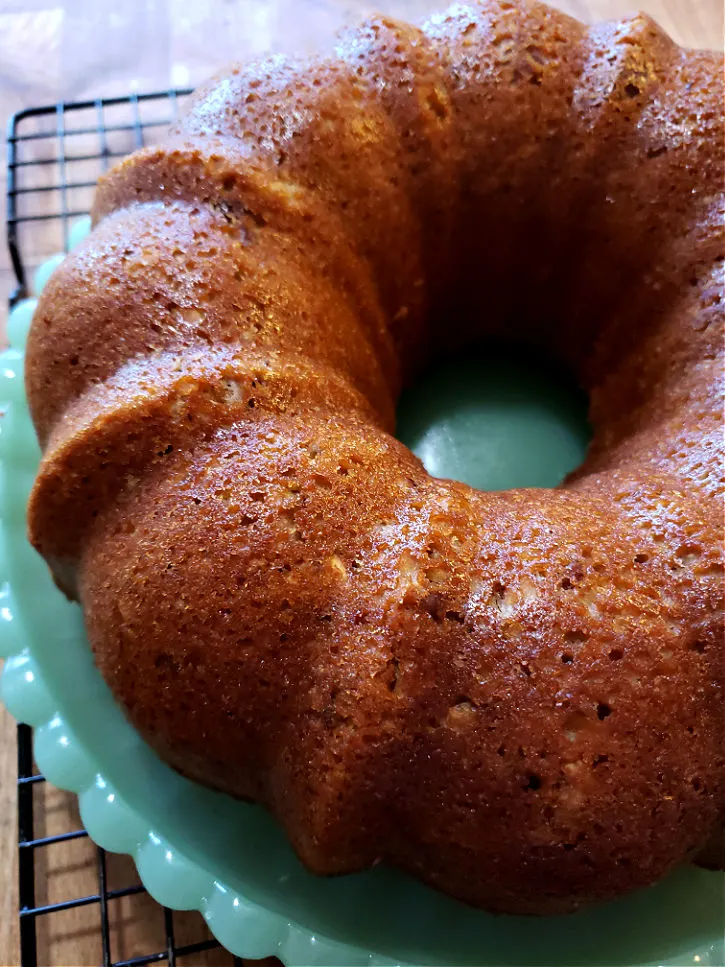 When the butter pecan pound cake is ready to be turned out, grab yourself a plate or dessert platter to hold it and place it over the pan and carefully flip it over.
You may need to use pot holders when flipping the cake so that you don't burn yourself on the hot cake pan.
Hopefully, the cake will turn out beautifully without any parts sticking. Don't fret if you do get some parts that stick, it is not the end of the world. Everyone has that happen occasionally.
On this day, my cake turned out perfect. Thank you, Lord!
Place the turned out cake back on the cooling rack to allow it to cool completely.
Pecan Praline Glaze for Cake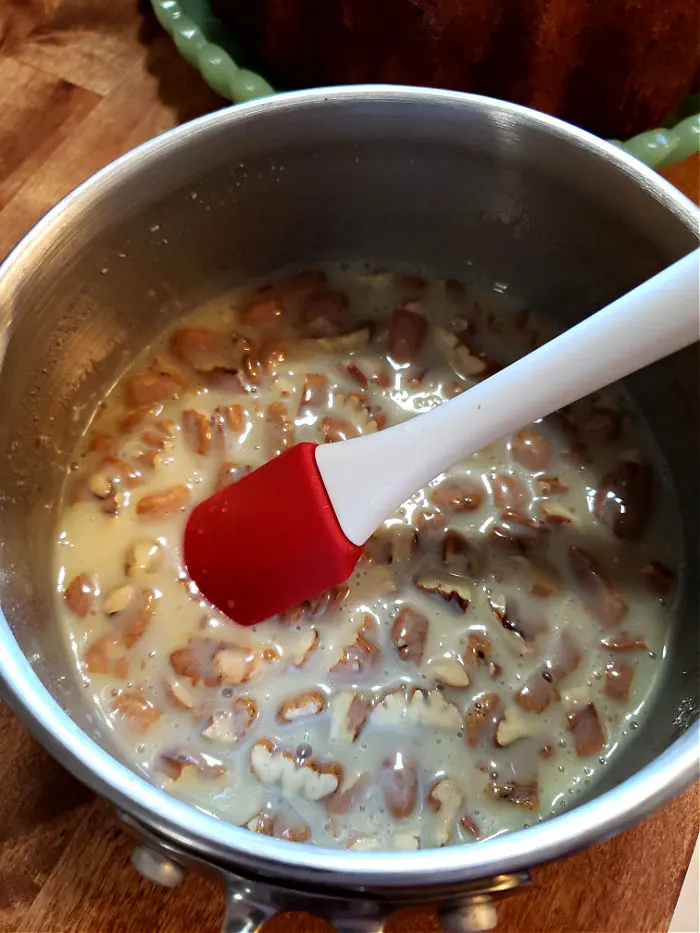 How do I make the praline glaze for butter pecan pound cake?
Sweetened Condensed Milk
Butter
Chopped Pecans
Y'all, this glaze is wonderful but as I said, it is optional and completely up to you if you want to make it. It is really easy to make though.
To make the glaze you're gonna melt the butter in a sauce pan. Once melted, pour in that sweetened condensed milk.
Stir to combine and slow allow it to heat through to where you see a bubble or two then stir in the pecans and remove it from the heat.
Delicious Southern Desserts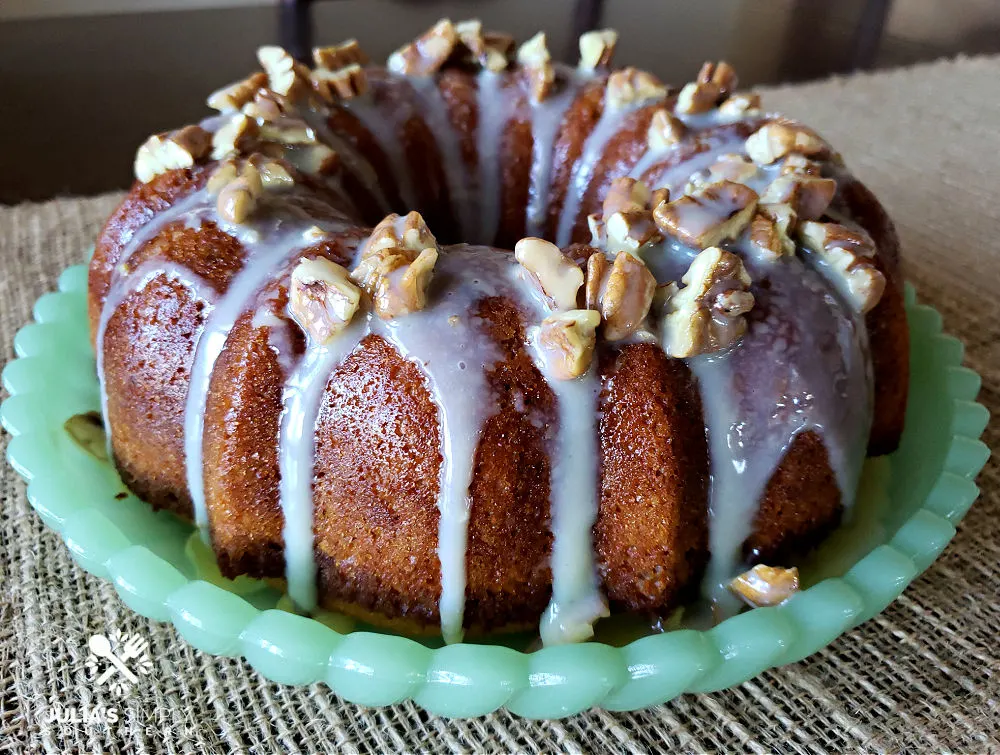 The glaze will thicken as it cools. Allow it to cool a few minutes and then spoon as little or as much as you like over your cake.
Be sure that your cake is completely cooled before adding the glaze. I actually wrapped my cake in plastic wrap and refrigerated it overnight before I made the glaze.
You've got yourself a mighty fine Southern butter pecan pound cake with a praline glaze to be proud of.
Southern Butter Pecan Pound Cake with Praline Glaze
Below you will find the printable recipe for a butter pecan pound cake.
Yield: 1 Cake
Southern Butter Pecan Pound Cake with Praline Glaze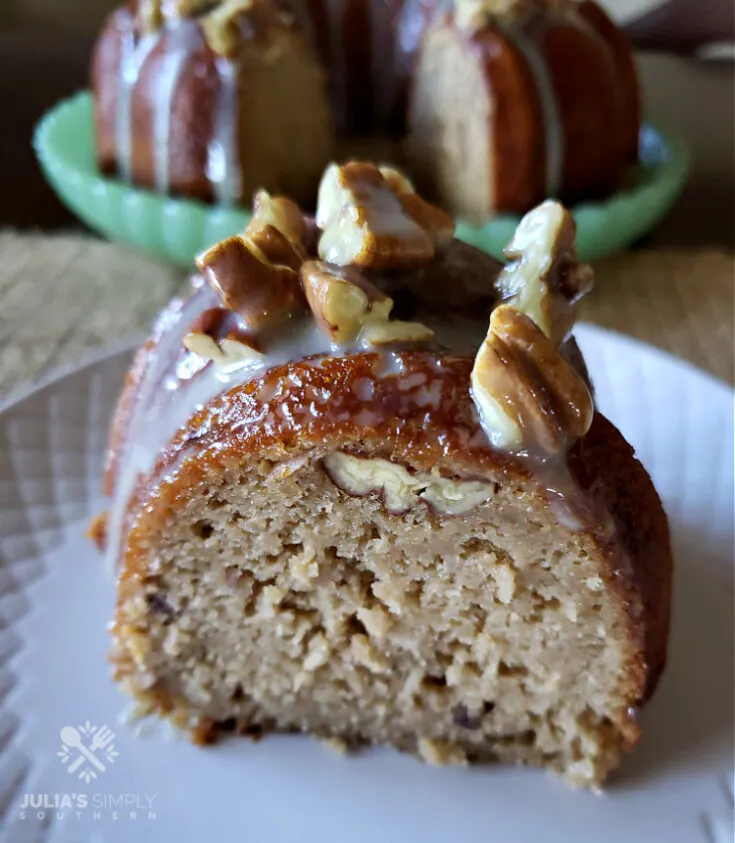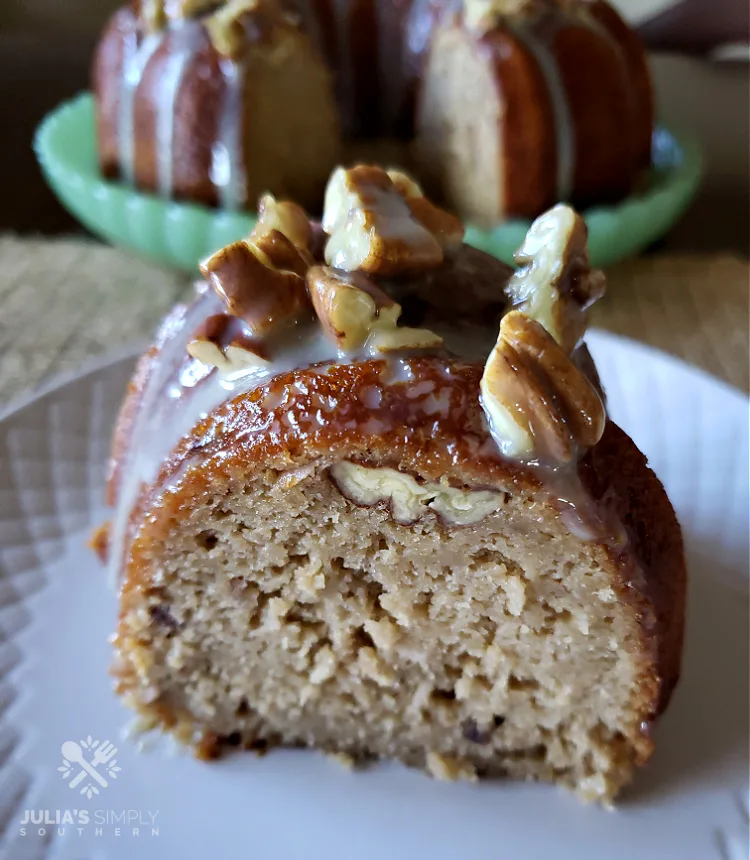 Southern Butter Pecan Pound Cake with Praline Glaze is a wonderful semi-homemade dessert that everyone loves.
Ingredients
The Cake
15.25 ounce Betty Crocker Butter Pecan Cake Mix
15.5 ounce Coconut Pecan Frosting
4 Eggs, lightly beaten
2 cups of Applesauce (or ½ vegetable oil)
½ cup of Chopped Pecans
Praline Glaze
14 ounce Sweetened Condensed Milk
3 tablespoons Butter
½ cup of Chopped Pecans
Instructions
Butter Pecan Pound Cake
Preheat oven to 350°F
Add all of the cake ingredients, except the pecans, to a mixing bowl and combine with an electric hand mixer. Next, add the pecans and stir or mix in.
Prepare a bundt cake pan by spraying with a non-stick baking spray and evenly pour the batter in around the pan.
Place into the oven and bake for 50 minutes, or until a toothpick inserted comes out clean. (My cake took exactly 50 minutes but ovens can vary).
Allow the cake to cool in the pan for 10 minutes before turning out onto a cake plate; allow the cake to then cool completely.
Pecan Praline Glaze
Melt the butter in a sauce pan over medium low heat then add the sweetened condensed milk and stir or whisk until combines. Slow heat through just until you see it about to bubble and remove from the heat.
Next, add the chopped pecans and stir to combine.
Allow the glaze to cool for about 5 minutes then spoon over the cake. (You may not need all of the glaze depending on how much you like)



Notes
The cake may be stored covered in the refrigerator up to a week.
Recommended Products
As an Amazon Associate and member of other affiliate programs, I earn from qualifying purchases.
Nutrition Information:
Yield:
16
Serving Size:
1
Amount Per Serving:
Calories:

527
Total Fat:

24g
Saturated Fat:

14g
Trans Fat:

0g
Unsaturated Fat:

9g
Cholesterol:

75mg
Sodium:

421mg
Carbohydrates:

74g
Fiber:

4g
Sugar:

55g
Protein:

8g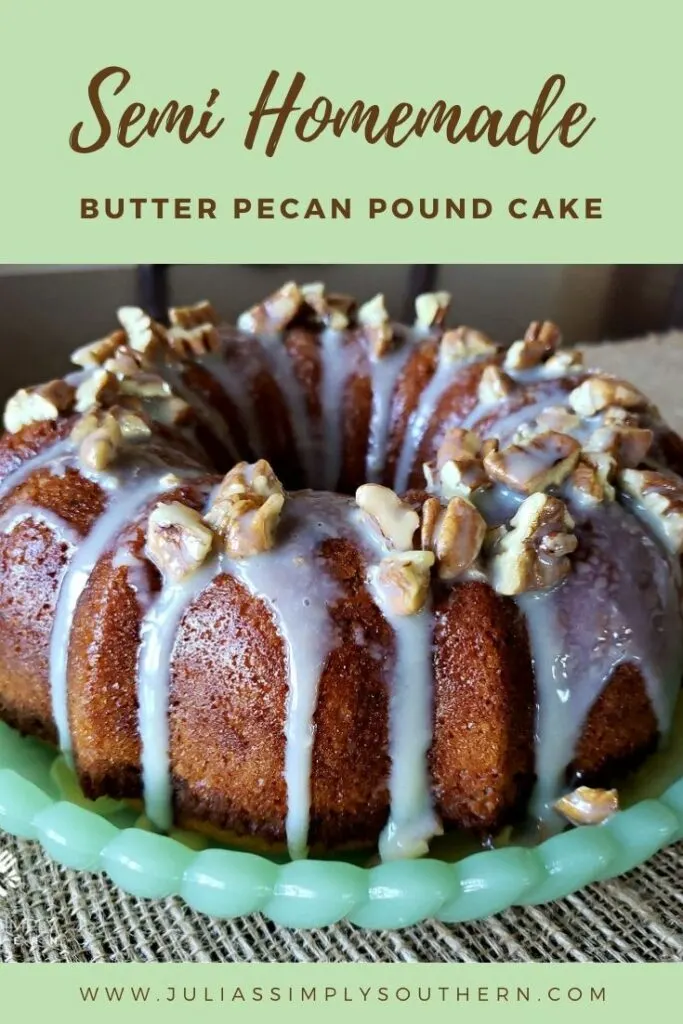 You Might Also Enjoy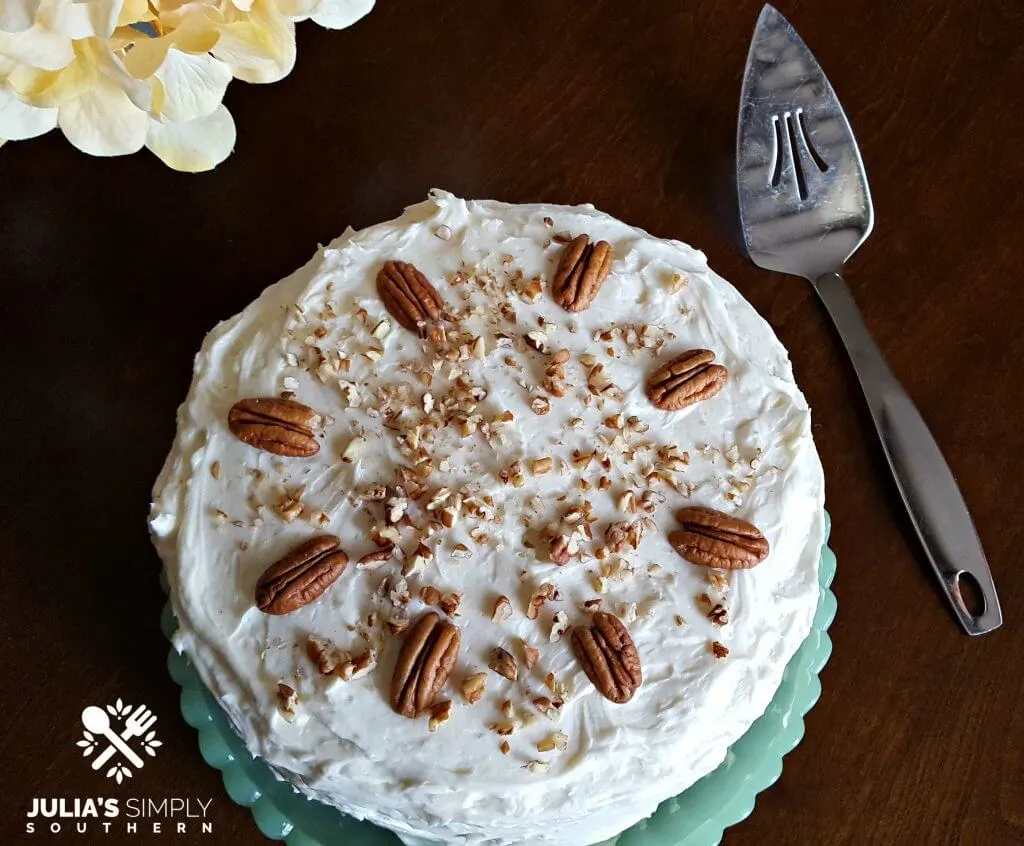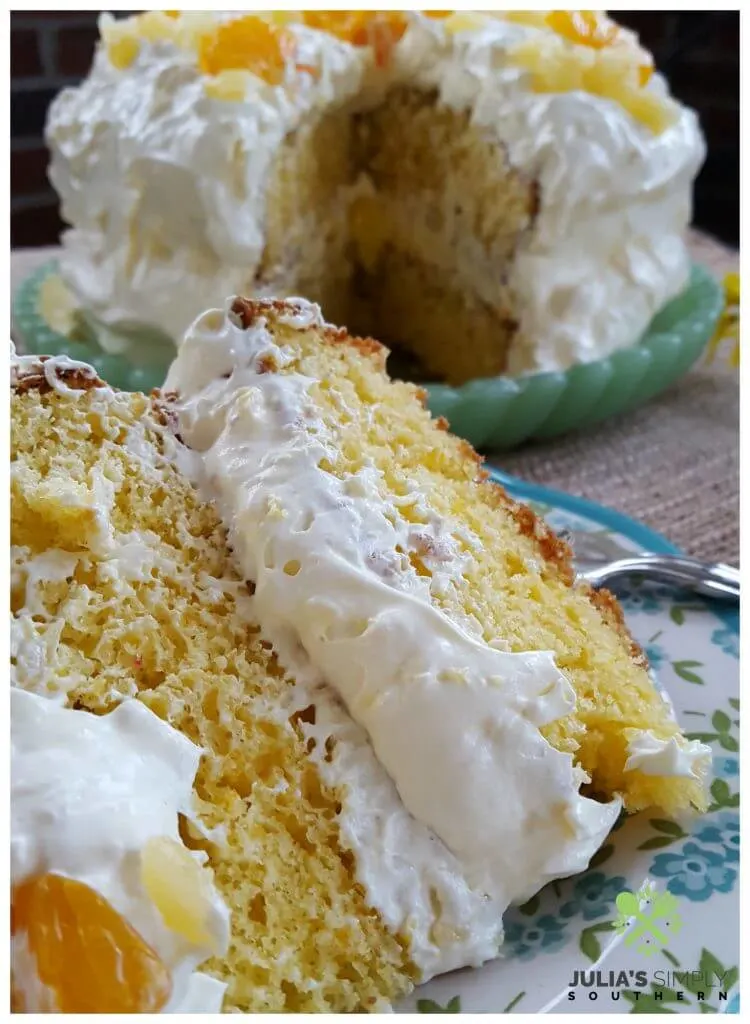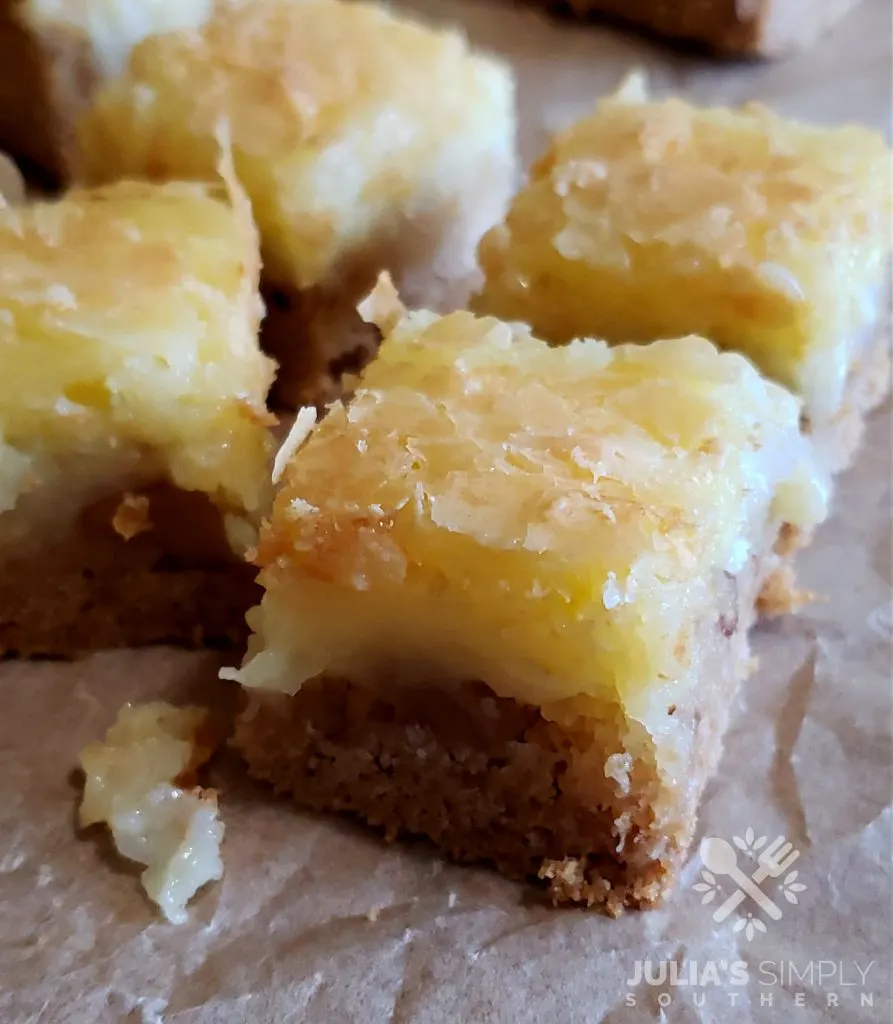 Thank you for stopping by! I'm so happy that you did and I hope that you bake yourself one of these amazing cakes to enjoy soon.
Be sure to subscribe to my email list while you are here. As a subscriber you will receive a weekly newsletter from me with the latest recipes and news here on the blog so that you never miss a thing.
Meet Julia
Author of Julia's Simply Southern
Hey Y'all! I'm Julia, the cook and writer behind the recipes here at Julia's Simply Southern. I began my website so that I could share easy to follow recipes that anyone can use to put a home cooked meal on the dinner table. Thanks so much for stopping by!
Follow me on Facebook | Twitter | Instagram | Pinterest | YouTube