In this post I'm sharing how to make Baked Parmesan Squash and Zucchini.

Y'all, I am so excited to share this amazing recipe for your fresh summer squash. I used a mix of yellow squash and zucchini…but you could go with just one or the other if you prefer to.
The squash that I used in this recipe was freshly picked from the garden and gifted to us. We have been fortunate to take a much needed break over the past week. Some of that time we spent with family.
Husband's sister, father, and step mother were all visiting and we got to spend a few days with them. His dad brought us our first ever chickens for our new coop. I'm beyond excited about our backyard chickens and all of the fresh eggs we'll be getting.
They also were so kind to bring us some of the first vegetables they've harvested from their garden. I love using the freshest ingredients of the season whenever possible. You can't beat fresh off the vine veggies!
Baked Squash and Zucchini with Cheese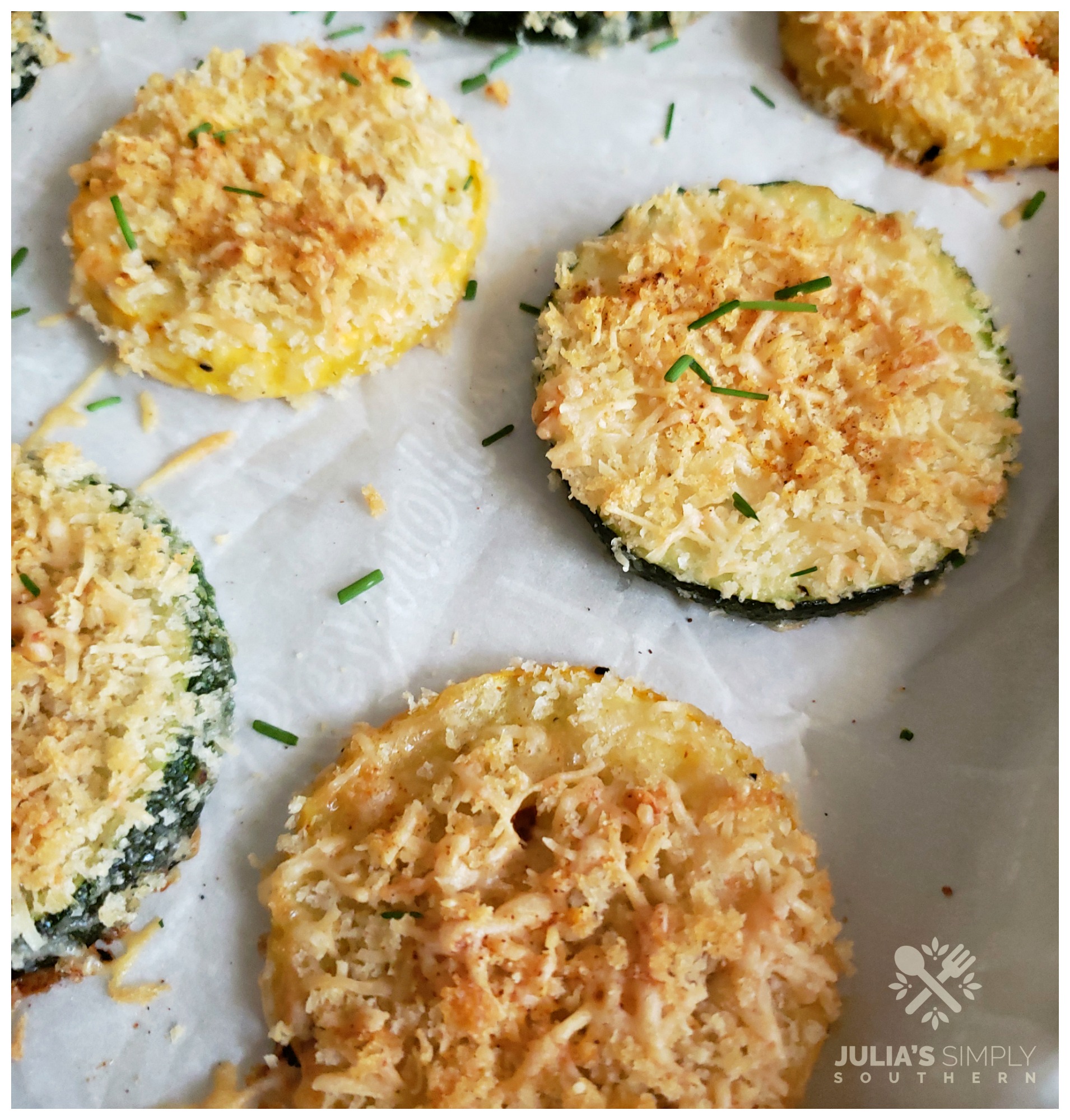 You're gonna love how easy it is to make this healthy baked squash recipe. There are just a few ingredients so that the squash are seasoned perfectly with just a slight kick too. You'll be making this time and time again.
Is squash a healthy vegetable? Summer squash is considered a nutritional power house veggie, so they're very good for you. Squash are loaded with vitamins and minerals.
What is a squash? Squash is a term that includes many varieties of either winter or summer plants. Winter squash include spaghetti, acorn and pumpkin. Summer squash include the yellow or zucchini varieties.
Parmesan Squash and Zucchini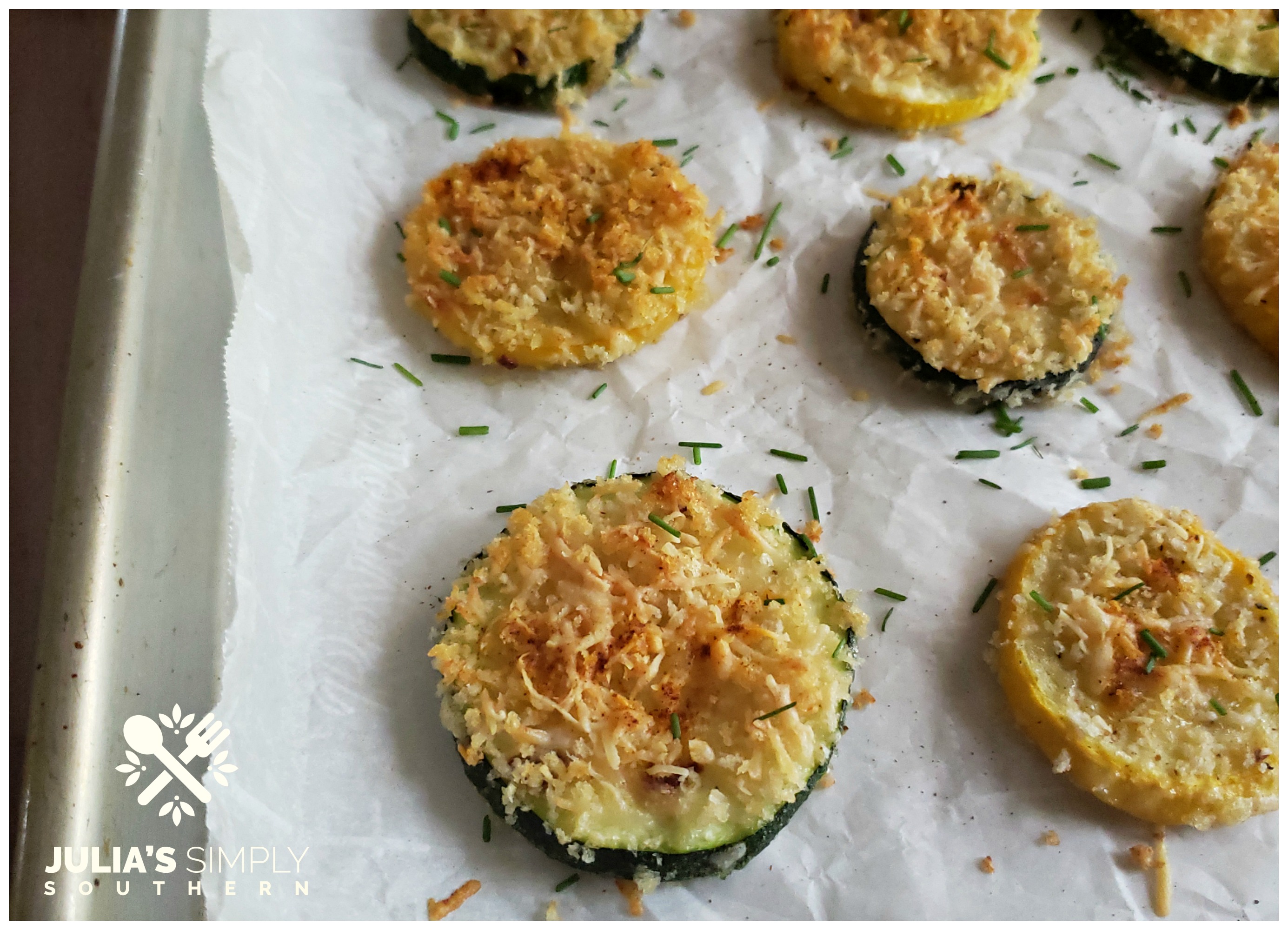 Is zucchini or yellow squash better? Both of these squash are mild and similar in regards to flavor. They vary a little nutritionally but both are very healthy options.
What will I need to make baked Parmesan squash? Squash (zucchini and yellow), freshly grated Parmesan (seriously, skip the green can and grate your own fresh), panko style bread crumbs, olive oil, and a few seasonings are all it takes to make this delicious vegetable side dish.
Oven Roasted Squash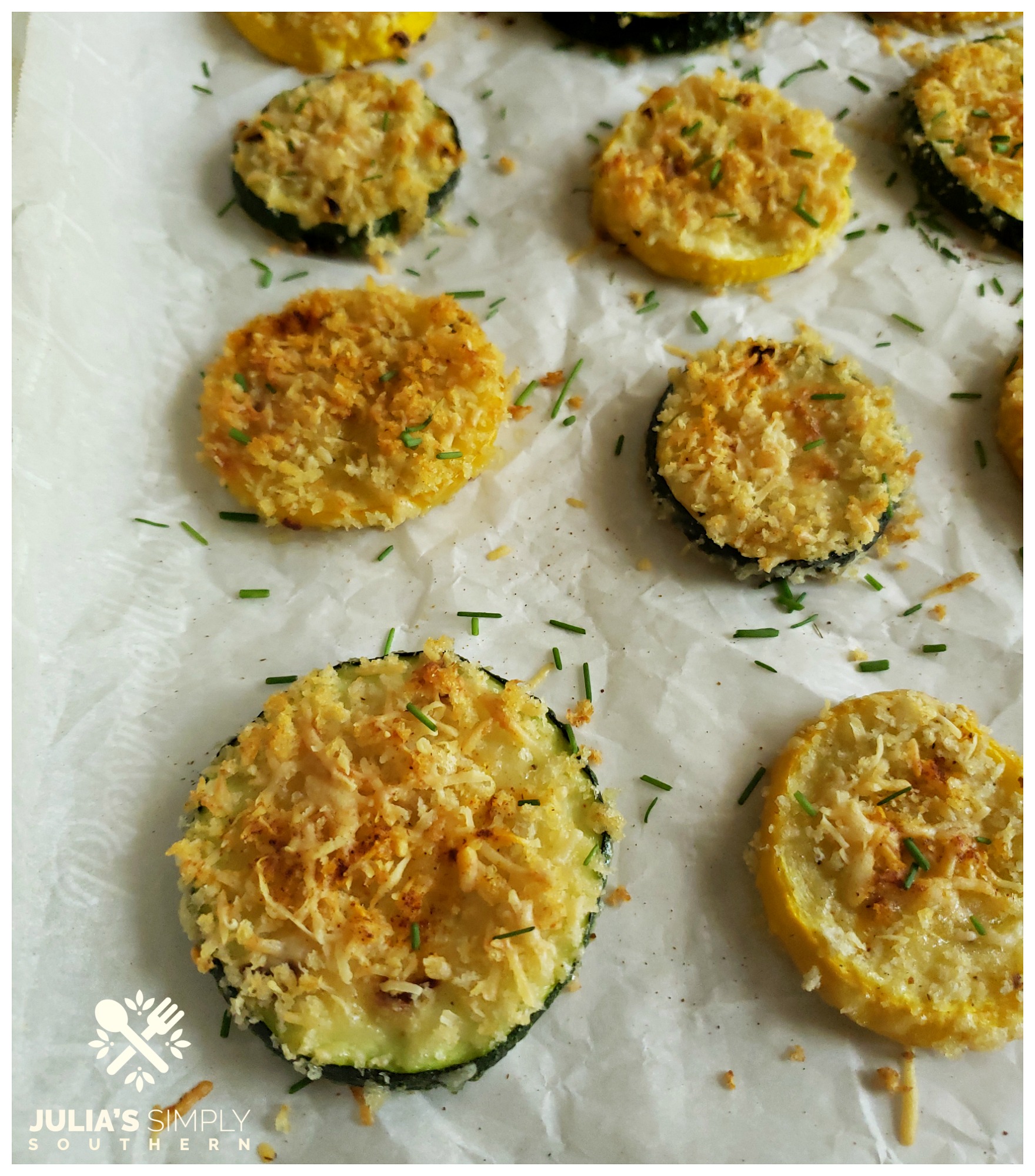 This may be one of the easiest side dishes you can make and one the entire family will love. I found them so delicious and hard to resist…I'm pretty certain that I had more than my fair share (I ate like a pig and I'm glad no cameras were watching).
It takes just a few minutes to prepare this yummy recipe, so give it a try….I'd love to know what you think.
Yellow Squash and Zucchini Recipe
Yield: 8 Servings
Baked Parmesan Squash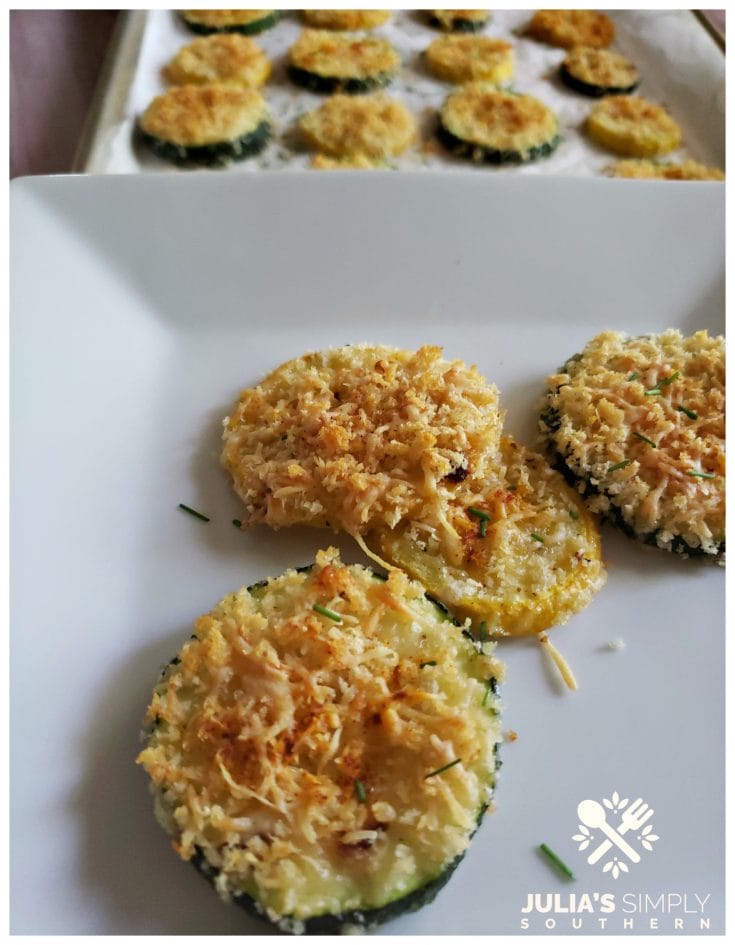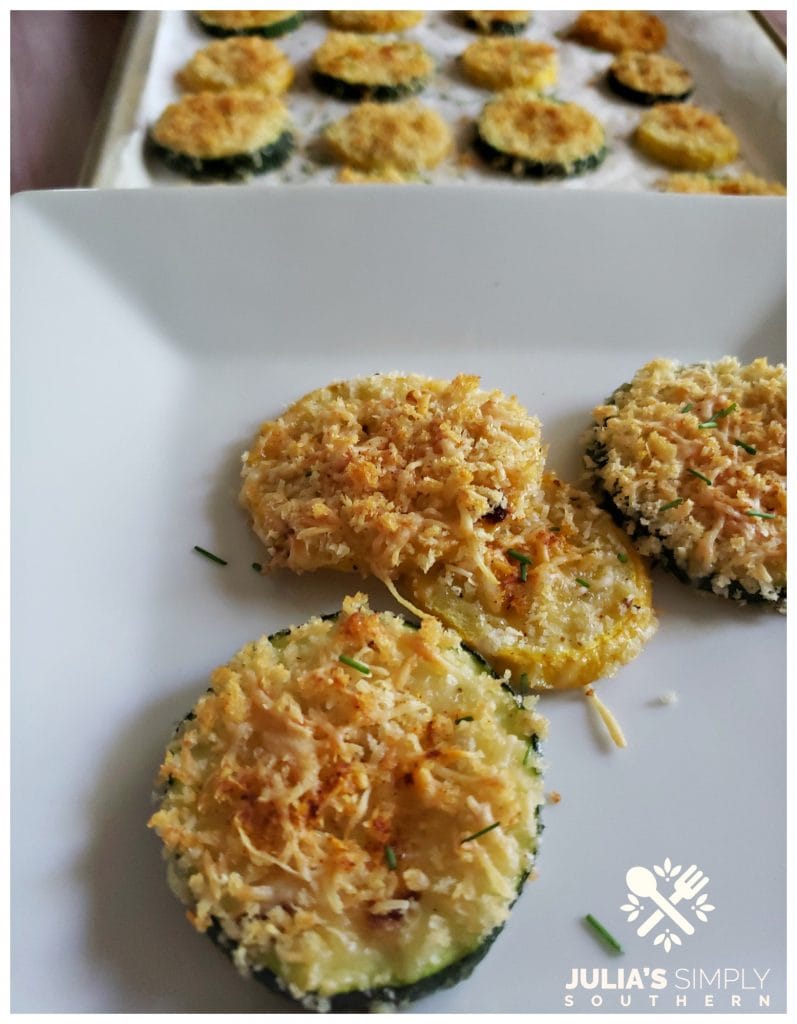 A delicious and easy summer vegetable side dish of baked yellow squash and zucchini with cheese
Ingredients
2 Zucchini Squash, sliced into rounds
2 Yellow Squash, sliced into rounds
2 tbs Olive Oil
Cracked Black Pepper, to taste
1/2 tsp Salt
1/4 tsp Onion Powder
1/4 tsp Red Pepper Flakes (optional)
1/2 c Panko Bread Crumbs
1 c Parmesan Cheese, freshly grated
Pinch of Paprika (optional)
Instructions
Preheat oven to 400°F (204°C)
Line a baking sheet with parchment paper
Slice the squash and zucchini into ¼ inch rounds then add to a mixing bowl.
Next, add the olive oil and seasonings to the mixing bowl and toss with a spatula to combine.
In a separate bowl, combine the bread crumbs and freshly grated Parmesan cheese.
Dredge each squash round then top with a little extra of the Parmesan mixture and place on the baking sheet.
Sprinkle a pinch of paprika over the squash rounds before baking, if desired.
Cook in batches if needed. Baked the Parmesan squash rounds for 20-25 minutes, or until the cheese is melted and the bread crumbs are golden brown.
Recommended Products
As an Amazon Associate and member of other affiliate programs, I earn from qualifying purchases.
Nutrition Information:
Yield:
8
Serving Size:
1
Amount Per Serving:
Calories:

130
Total Fat:

7g
Saturated Fat:

2g
Trans Fat:

0g
Unsaturated Fat:

4g
Cholesterol:

10mg
Sodium:

200mg
Carbohydrates:

12g
Fiber:

2g
Sugar:

4g
Protein:

6g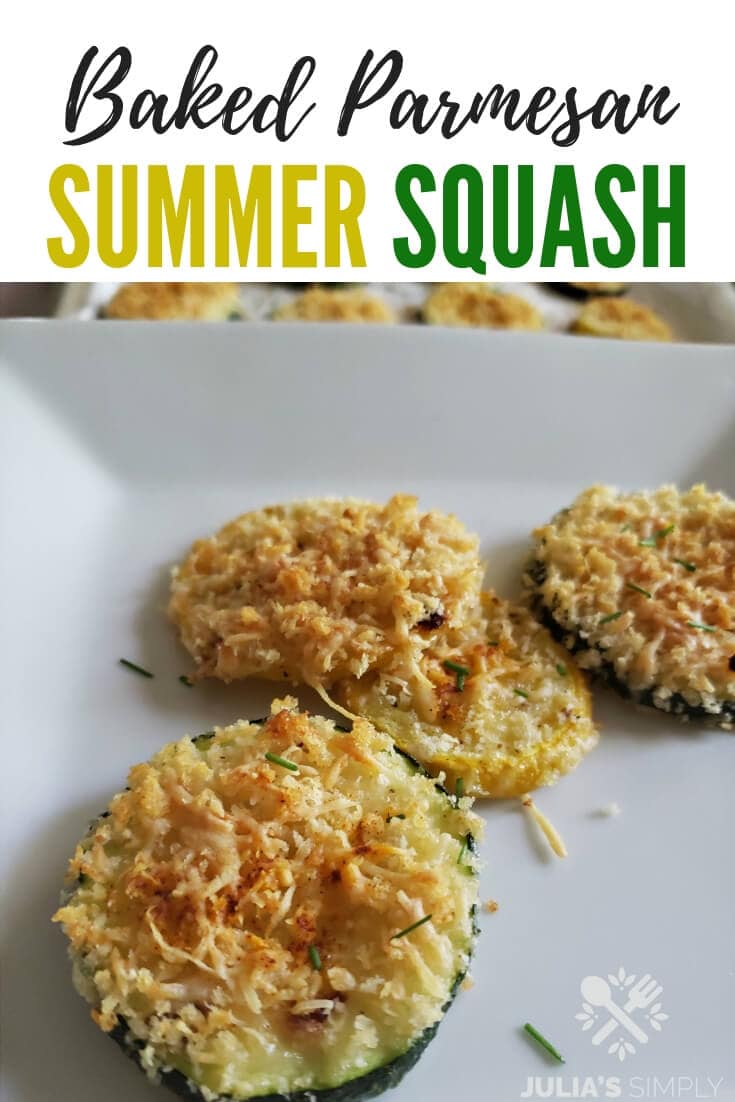 Thanks for stopping by! Be sure to sign up to receive new recipes by email while you're here. You can also follow us on Facebook, Instagram and Pinterest.
You can also see this recipe shared at Weekend Potluck and Meal Plan Monday.
Check out our Latest Recipes
Meet Julia
Author of Julia's Simply Southern
Hey Y'all! I'm Julia, the cook and writer behind the recipes here at Julia's Simply Southern. I began my website so that I could share easy to follow recipes that anyone can use to put a home cooked meal on the dinner table. Thanks so much for stopping by!
Follow me on Facebook | Twitter | Instagram | Pinterest | YouTube