In this post I am sharing how to prepare Southern Purple Hull Peas, also known as Pink Eyed Peas.
We've just finished off the leftovers from Christmas dinner and have a few days before the last segment of the "holiday meals". The first dinner of the new year is just as important as the other holiday meals because it brings luck in the coming year.
We could all use a bit of extra luck, right?!? It doesn't hurt. So on new year's day, my family, like most other Southern families will dine on greens, field peas, pork and cornbread.
Black eyed peas may be the first field pea that comes to mind. It may in fact be the only one that you are familiar with. There are several Southern field peas however and I'm going to introduce you to the pink ladies.
The "eyed" variety of cow peas or field peas have a few close cousins, nearly twins, that include the black eyed, pink eyed (purple hull or pink ladies), and cream (Southern ladies). These peas also fall under the Carolina pea name.
With so many names, it may seem a bit confusing, but they're all field peas. If you're wondering, is there any difference in each, the answer is yes. Not only do they vary in color and although it may be slight, they each offer their own unique taste.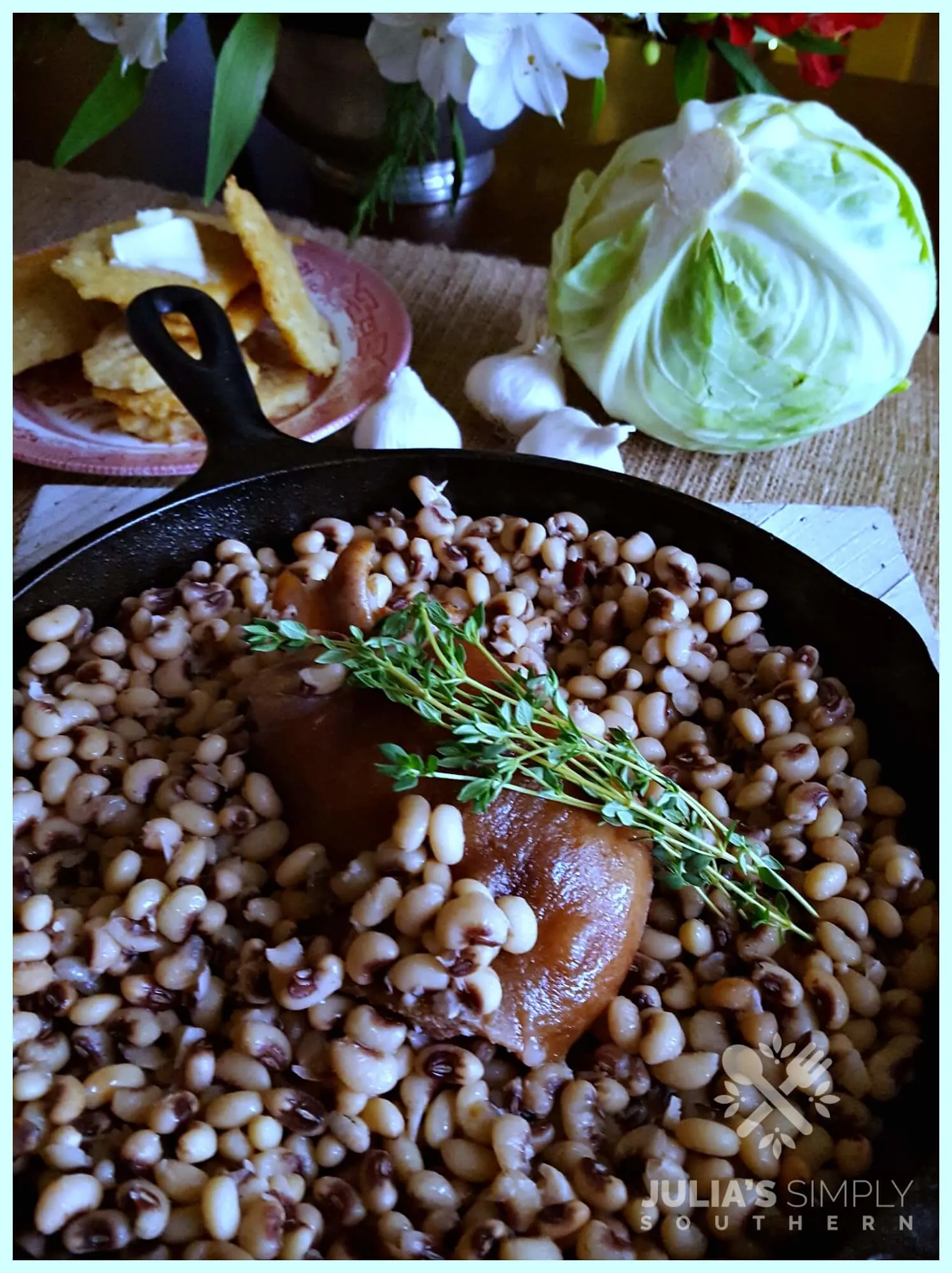 Traditions are a powerful thing in the South and followed without fault. As far as I can remember, new year day supper included collard greens, ham or some other pork, black eyed peas and cornbread.
Even though I wasn't even that fond of collard greens as a child, I ate them anyways. As I said, tradition is a powerful thing and you just do it. Over the years I have come to love collard greens and enjoy them as often as possible.
Fresh Field Peas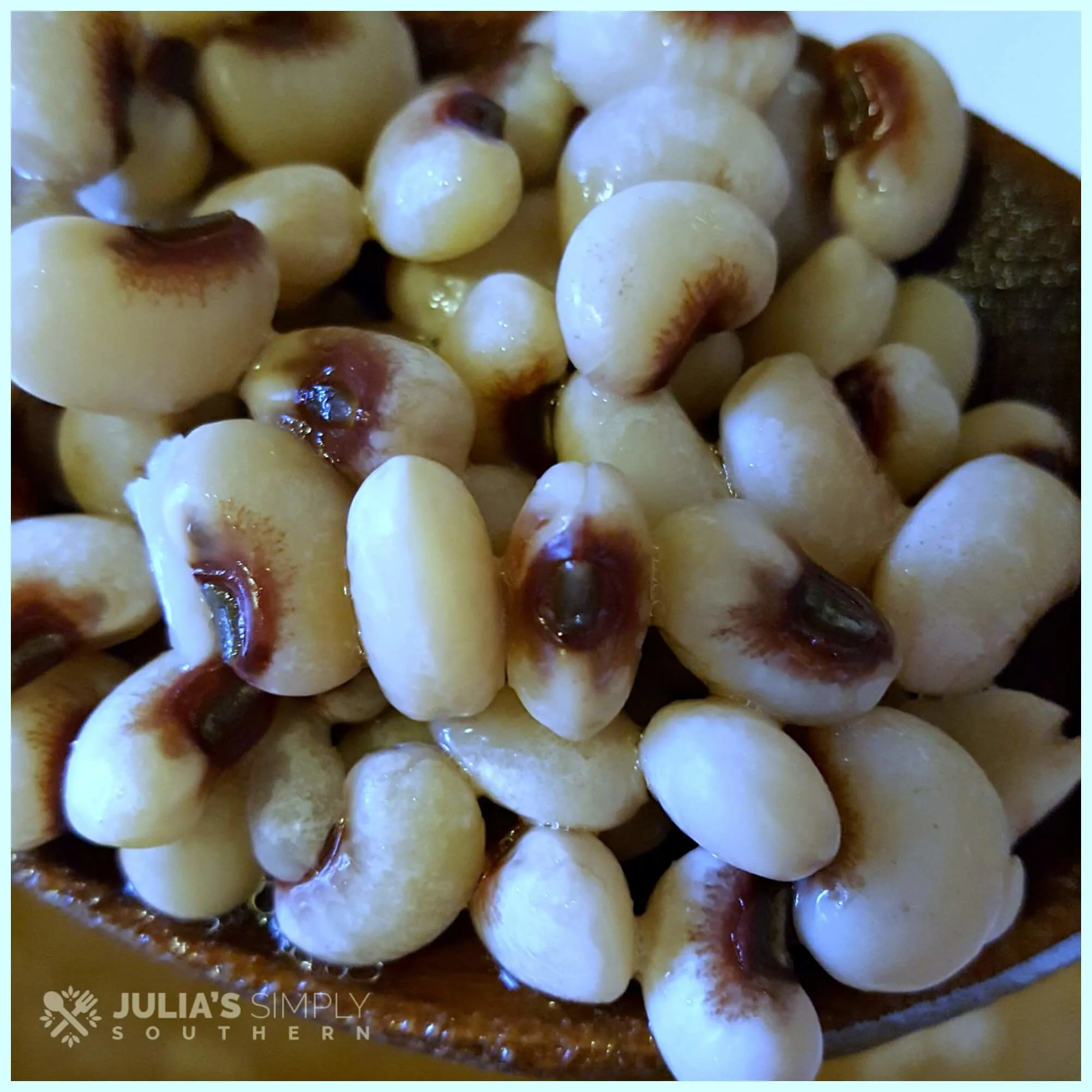 Purple Hull Peas vs Black Eyed Peas
While purple hull (pink eyed) peas and black eyed peas look very much alike, there is a noticeable pinkness to the "eye" and black eyed peas are described as having a more earthy taste.
Truth be told, the taste difference is there and it is so slight and hard to describe. There is a difference though and both of the peas deserve a place on your table.
I'm especially fond of the purple hull peas because I can only get them fresh frozen where I live…or just plain fresh from the farmer's markets.
Fresh frozen peas cook up much faster than dried beans and don't require any soaking.
Frozen Field Peas Recipe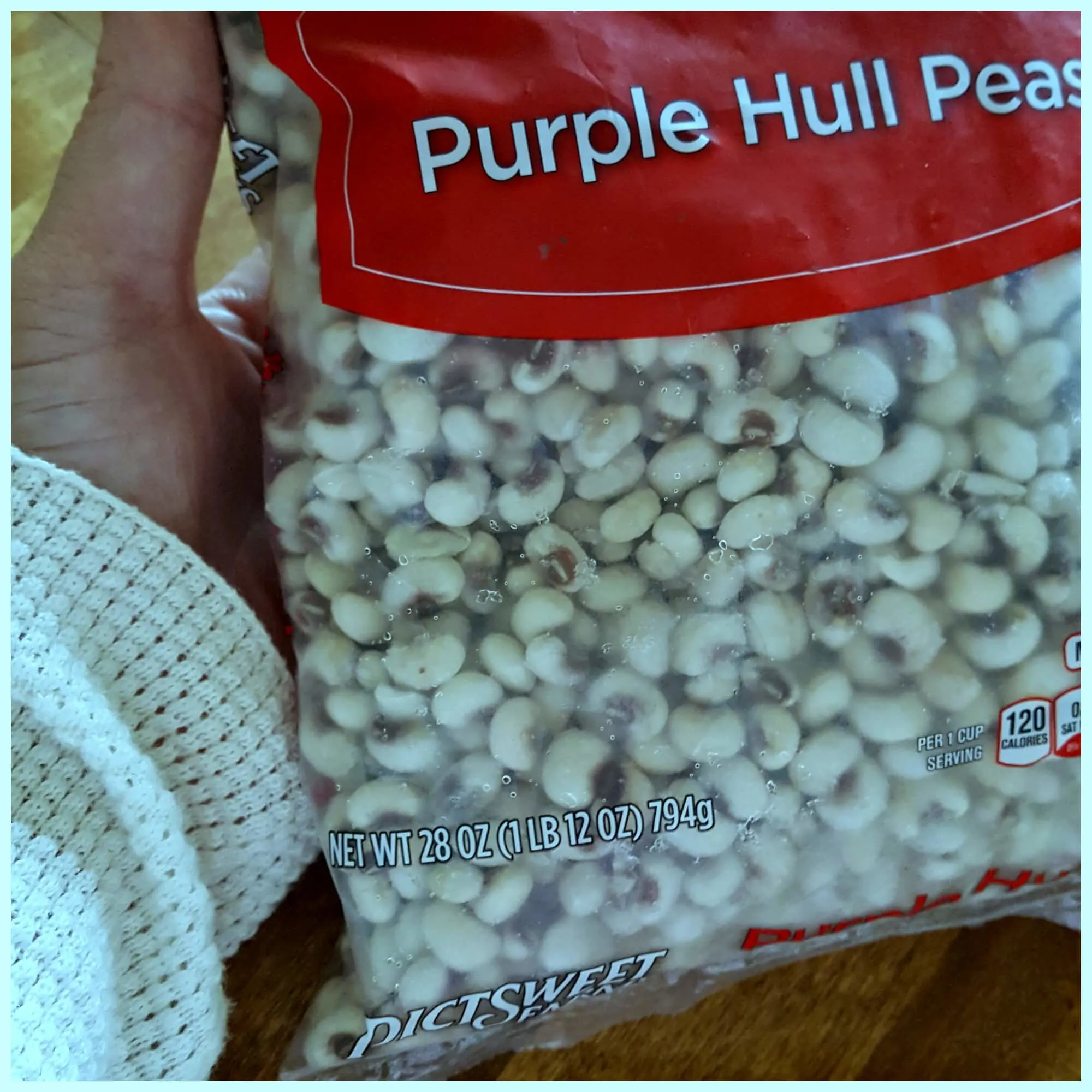 How do you cook Southern Purple Hull Peas? It is really easy to cook a delicious pot of fresh field peas and you'll love this pink eyed variety. Here's what you'll need: bacon, ham hock, fresh frozen purple hull peas, chicken broth, water and a little salt & pepper.
You'll find a full printable recipe further down in this post.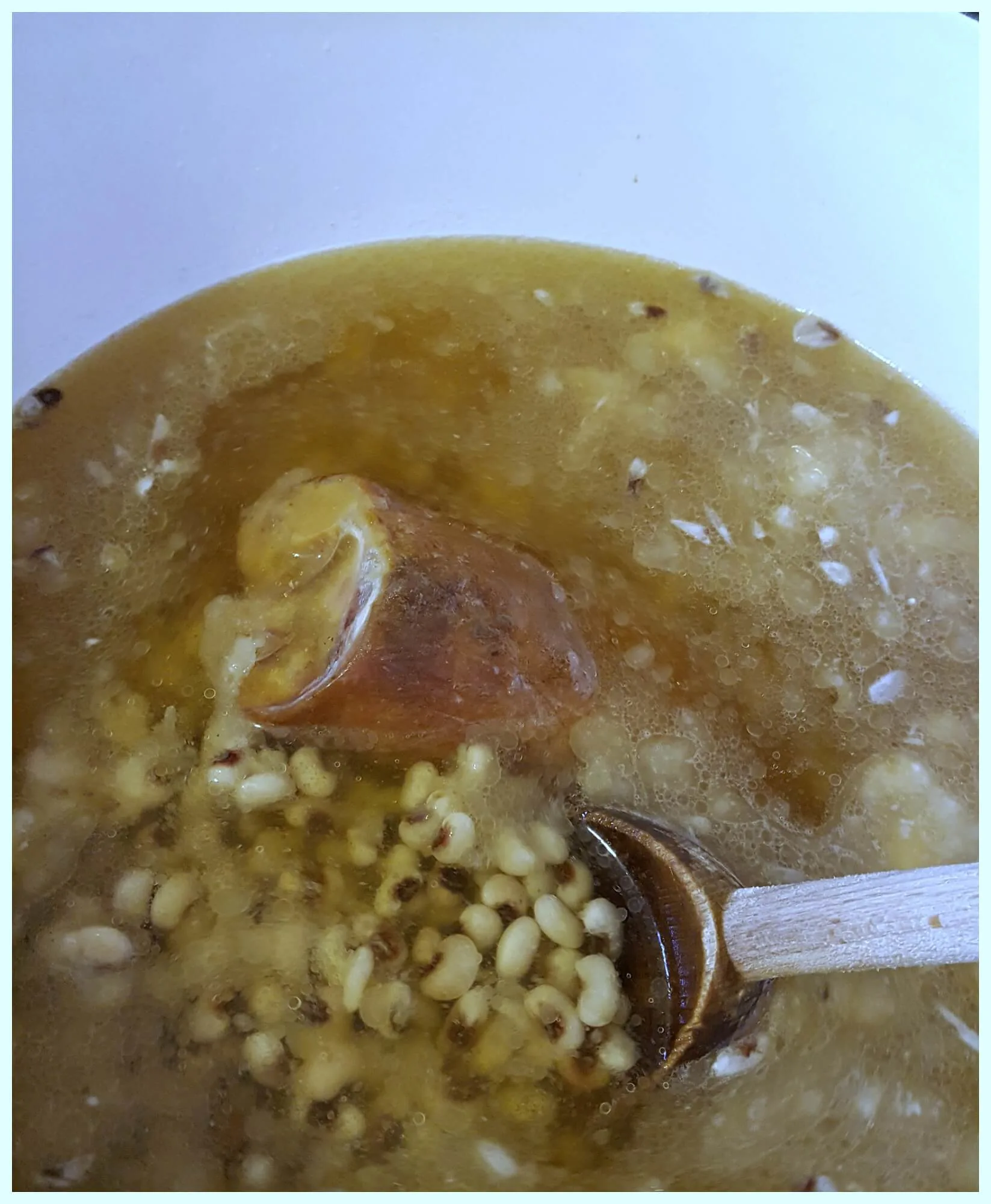 Step 1: Chop up some bacon and throw it in a dutch oven over medium heat. Cook the bacon pieces to render the fat, that delicious and flavorful bacon grease! Once the bacon is crispy and has released all of it's fat drippings, use a slotted spoon to remove it from the pot and set it aside for later.
Step 2: Next, add an important seasoning component to many Southern dishes…a country ham hock. Next, add the purple hull peas, chicken broth and water to the pot. Give everything a good stir and loosely cover with a lid. Bring to a boil then reduce the heat and simmer for one hour.
Step 3: Season the peas. Wait to season until the end because the ham hock and chicken broth will add a lot of seasoning and flavor in cooking. If needed add a bit of salt then add some ground black pepper and cook another ten minutes.
The peas should be tender but not mushy.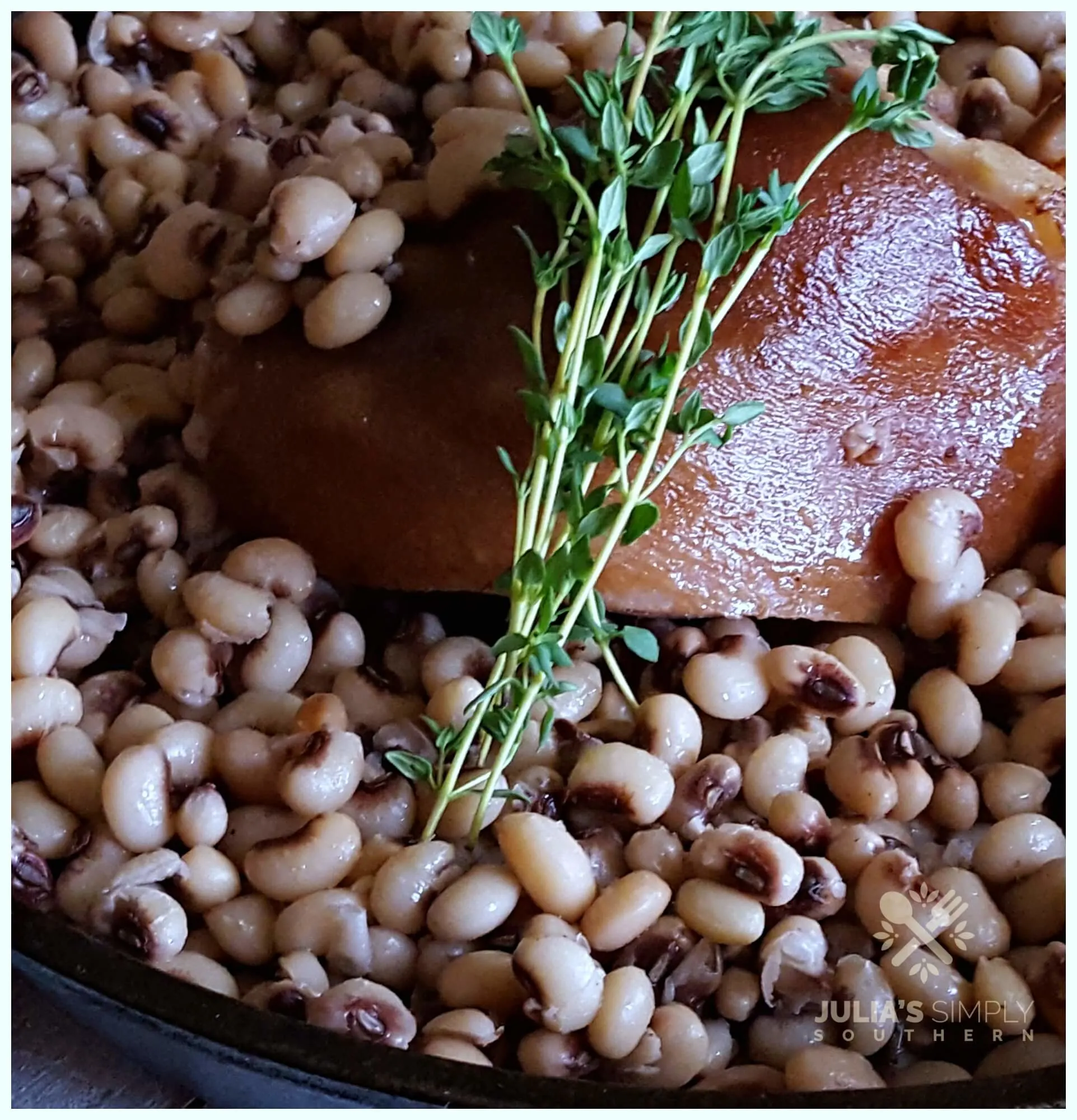 Best Southern Purple Hull Peas Recipe
Yield: 1 Pot of Peas
Southern Purple Hull Peas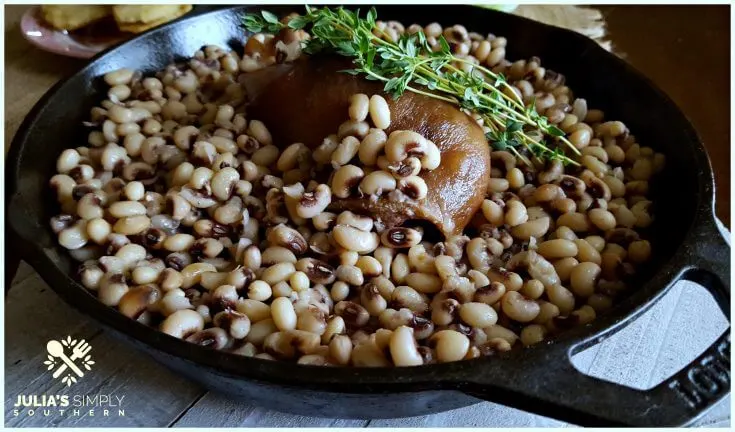 Southern Purple Hull Peas or Pink Eyes are a delicious variety of field peas. While they're all similar, each adds its own unique quality.
Total Time
1 hour
5 minutes
Ingredients
4-5 Strips of Bacon, cut into pieces
1 Country Ham Hock
1.5-2 lbs Fresh Frozen Purple Hull Peas
32 oz Chicken Broth
2 c Water, more or less as needed to cover the peas
1/2 tsp Salt
1/2 tsp Ground Black Pepper
Instructions
Cook the bacon pieces in a dutch oven over medium heat until crispy and all the fat has rendered. Remove the cooked pieces with a slotted spoon and set aside.
Add the ham hock to the pot then add the peas.
Next, slowly add the chicken broth and water.
Cover the pot and bring to a boil, then reduce to a simmer.
Cook for 1 hour.
Taste the broth of the peas and add salt if needed.
Next add ground black pepper.
Pink eyed peas should be tender but not mushy when done.
Serve as a side dish or as the main meal with a side cornbread.
Notes
The reserved bacon pieces may be used for garnish or refrigerate to use as a salad topping.
Nutrition Information:
Yield:
10
Serving Size:
1 cup
Amount Per Serving:
Calories:

180
Total Fat:

3g
Saturated Fat:

1g
Trans Fat:

0g
Unsaturated Fat:

2g
Cholesterol:

16mg
Sodium:

720mg
Carbohydrates:

25g
Fiber:

8g
Sugar:

10g
Protein:

14g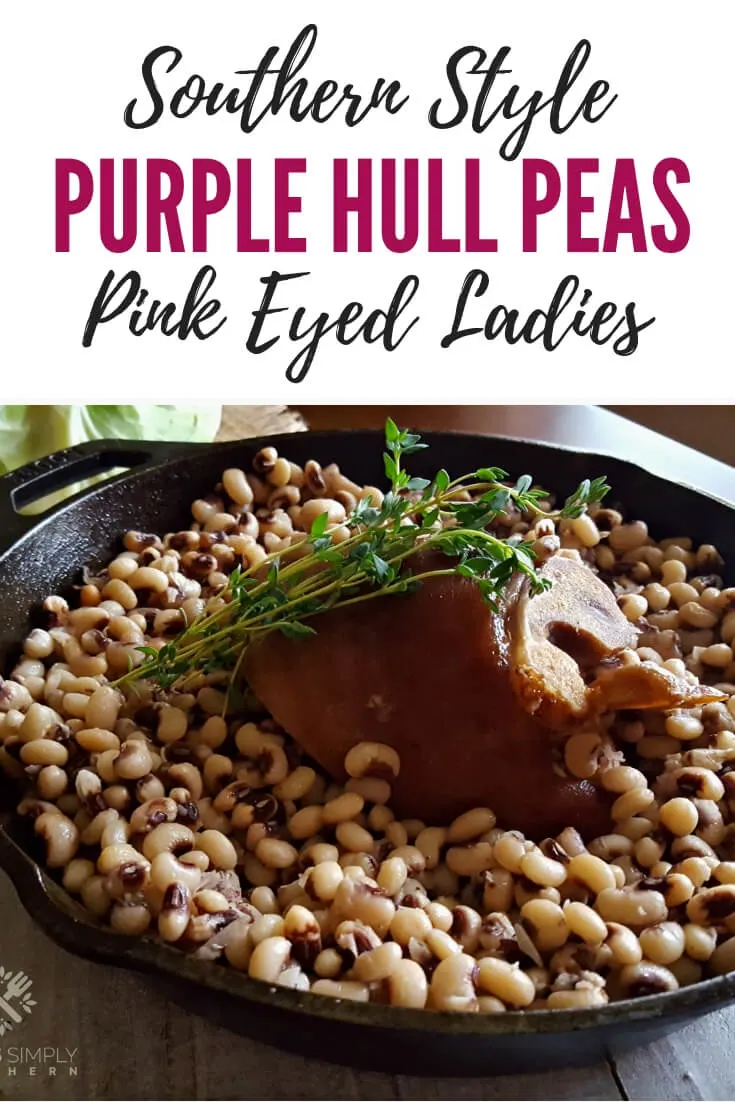 Southern Purple Hull Peas
Don't forget to share and follow us on Facebook, Pinterest and Instagram. Sign up to received free email notifications when we post new recipes and never miss a thing.
Thank you for stopping by, we'll see you again soon!
See this recipe shared at Weekend Potluck and Meal Plan Monday.
See Julia's Latest Recipe Posts
Meet Julia
Author of Julia's Simply Southern
Hey Y'all! I'm Julia, the cook and writer behind the recipes here at Julia's Simply Southern. I began my website so that I could share easy to follow recipes that anyone can use to put a home cooked meal on the dinner table. Thanks so much for stopping by!
Follow me on Facebook | Twitter | Instagram | Pinterest | YouTube