In this post I'll be sharing how to make a Crock Pot Pork Roast with Gravy. This slow cooker pork roast recipe is so easy and delicious. It is one of my favorite recipes for some easy fix comfort food.
If you've ever wondered "can you make a pork roast in a slow cooker" then this recipe is for you friend.
Slow cooking a pork roast ensures that it will stay juicy and tender. It takes just a few simple ingredients to make this home cooked meal.
If you prefer to roast the pork in your oven or cook it up quick in your Instant Pot, then you certainly have those options. I'll share my tips for those cooking methods following the recipe card below.
Why choose a pork roast? The main reason that I check out the pork roasts when I'm doing my grocery shopping is sometimes you can pick one up for an amazing price. Cheap in fact! So check this section in the meat aisle and maybe you can catch a great deal.
A pork roast is also a wonderful cut of pork for family meals. Everyone is sure to love their dinner. Pork roast is always a huge hit at our house.
Southern Pork Roast and Gravy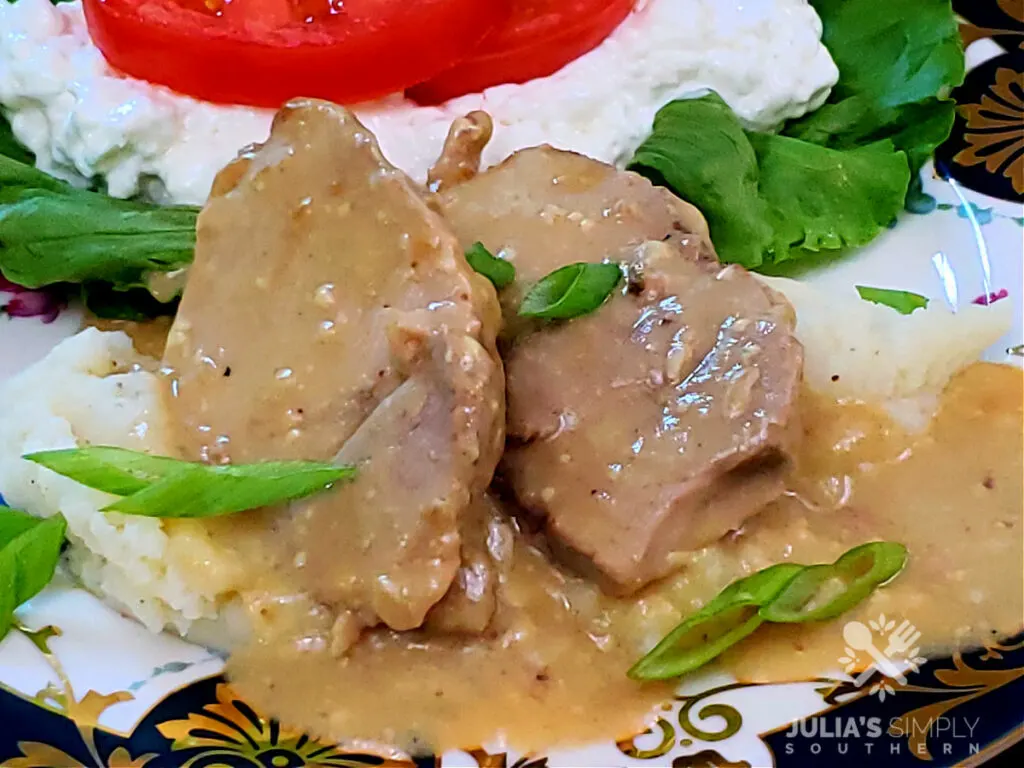 Doesn't that tender pork roast smothered in a flavorful gravy look amazing? On this particular night, I served it up on a pillowy bed of mashed potatoes.
On the side I served a cottage cheese salad topped with ripe tomato slices. I recently found out that folks have strong feeling about cottage cheese from comments on one of my Facebook posts.
They either like cottage cheese or they don't. We do like it and it made a nice side to our meal on this summer evening.
Slow Cooker Pork Roast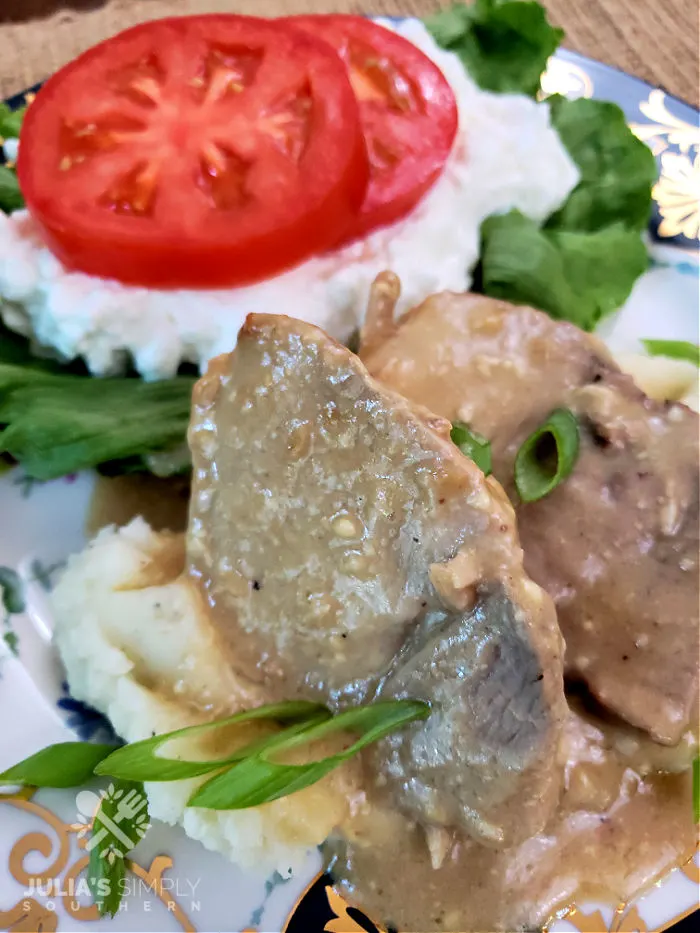 What to serve with Crock Pot pork roast and gravy?
Mashed Potatoes – creamy mashed potatoes are always a delicious side for a meal like pork roast. The roast may be served over the potatoes or on the side.
Green Beans – green beans would be served at every meal at our house if I'd allow it. My husband just loves green beans.
Baby Carrots – glazed in a sauce pan are a delicious side and one of the most popular recipes for a family dinner.
Salad – a side salad, wedge salad or cottage cheese salad are great fresh tasting side options.
Rice – cooked rice pairs wonderfully with lots of slow cooker meals.
Vegetables – any of your favorite veggies like squash, beans, macaroni with tomatoes or asparagus.
Egg Noodles – pork and gravy over noodles is delicious.
Macaroni and Cheese – a side that is always a hit at the dinner table.
A side of bread is also great with a pork roast dinner. Southern buttermilk biscuits, cornbread, mayonnaise biscuits or cheddar garlic drop biscuits are great options.
Old Fashioned Pork Roast Slow Cooker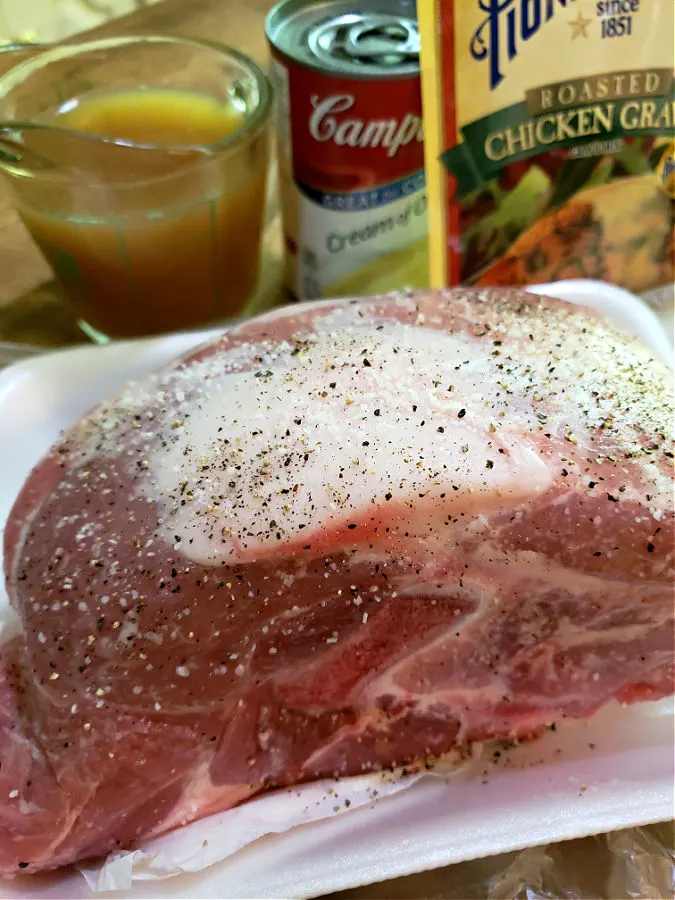 It takes just a few simple ingredients to make your crock pot pork roast recipe. Here's what you'll need:
Pork Roast – I used a pork loin roast, which is a lean pork roast. You may find it labeled "pork roast loin end". The roast was just over two pounds and cost just five dollars and we got two meals from it. Pork chops would also work great in this recipe. This particular pork roast that I had did have a bone in it but a boneless pork roast will do just fine as well. The pork roast should be fully thawed prior to cooking.
Gravy Mix – a packet of gravy mix.
Cream Condensed Soup – I usually go for cream of mushroom soup in this recipe but didn't have any on hand so I used cream of onion. Any of the cream of something soups would work fine too. So, if you have cream of chicken soup or cream of celery then just use that.
Chicken Stock – adds more flavor to the recipe. You can also use chicken broth or water if needed. Stocks and broths are an easy way to add more flavor to any recipe. Just add what you need to a measuring cup so that it is ready to go for the recipe.
Salt and Cracked Black Pepper – to season the roast. I kept it simple on the seasoning. If you have other seasonings that you'd like to add, like garlic powder or onion powder, then feel free to use those too.
How do you make gravy from Pork Roast in Crock Pot?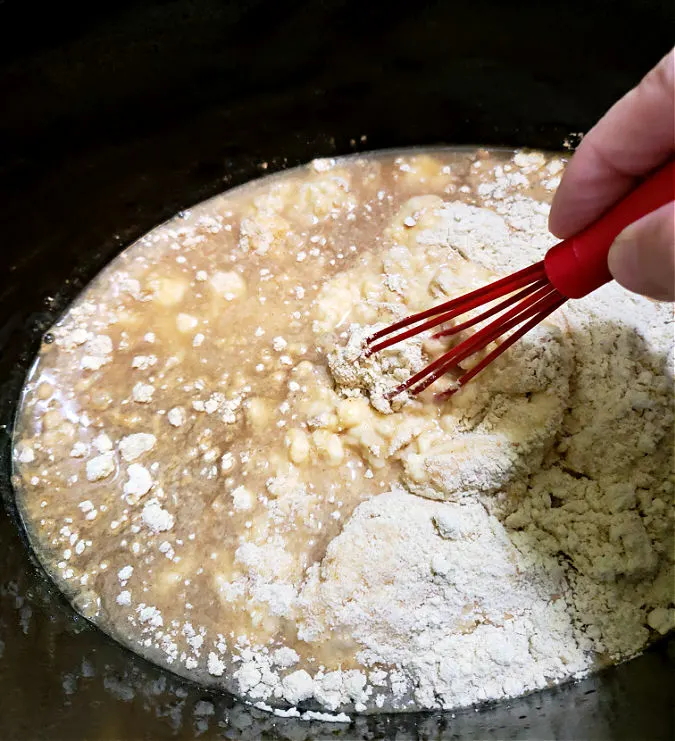 How do you make the gravy for the Crock Pot pork roast? Well, that is really easy. Allow it to make its own gravy as it cooks.
Juices from the pork render as it slow cooks and combine with the gravy mix, creamy soup and liquid to make the best gravy for your pork roast. It's delicious and everything cooks in the slow cooker.
One of my best tips for preparing meals in your slow cooker is to pre-heat your slow cooker on the high setting with the lid on while you gather the ingredients and prep for your recipe.
Lightly spray the hot crockery then add the creamed condensed soup, gravy mix and cup of liquid stock. Be careful since the crockery is warm and use a whisk to combine the gravy mixture.
Boneless Pork Roast with Gravy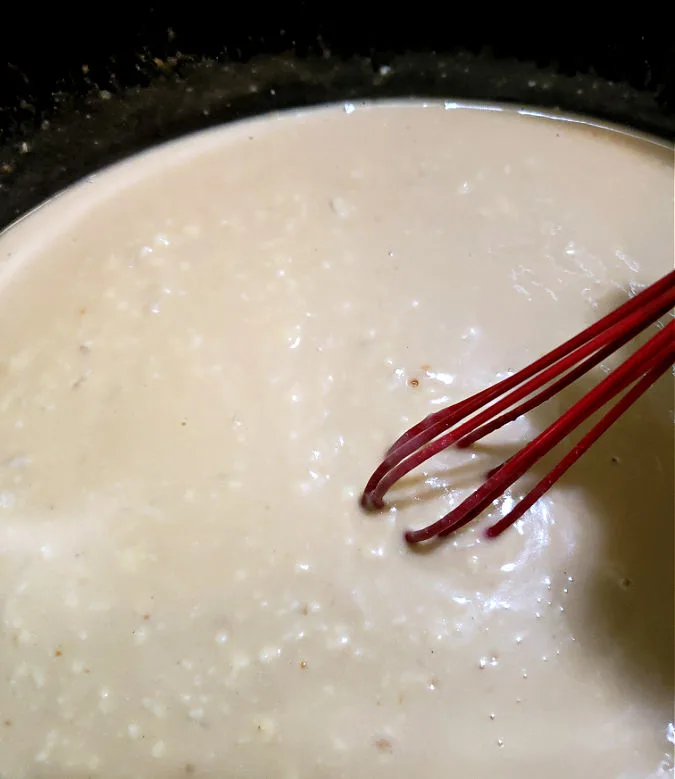 Continue to whisk the gravy mixture until it is creamy and well combined.
Crock Pot Pork Roast Recipe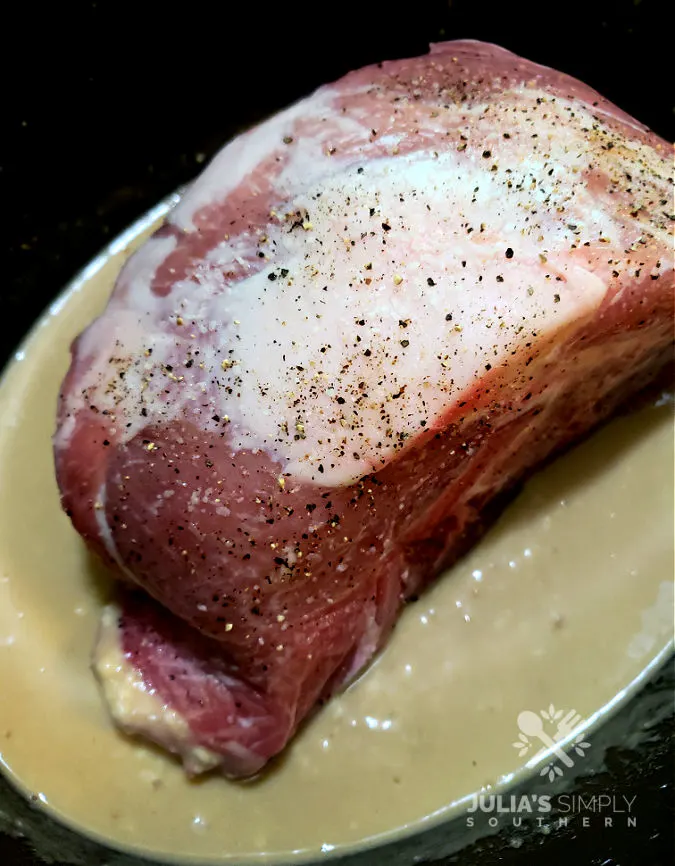 Next, season the pork roast with salt and pepper and place it into your crockery. If there is a layer of fat, as shown above, place the roast so that the fat layer is on top.
This will allow those juices to render and flow over the pork as it cooks low and slow.
I like to take a spoon and cover the pork roast with some of the gravy mixture then cover with the lid and reduce your slow cooker to the low setting.
The cooking time may vary depending on the size of your roast but you'll want to give it several hours to cook on the low heat setting until you have a nice and tender pork roast.
Easy Pork Roast Recipe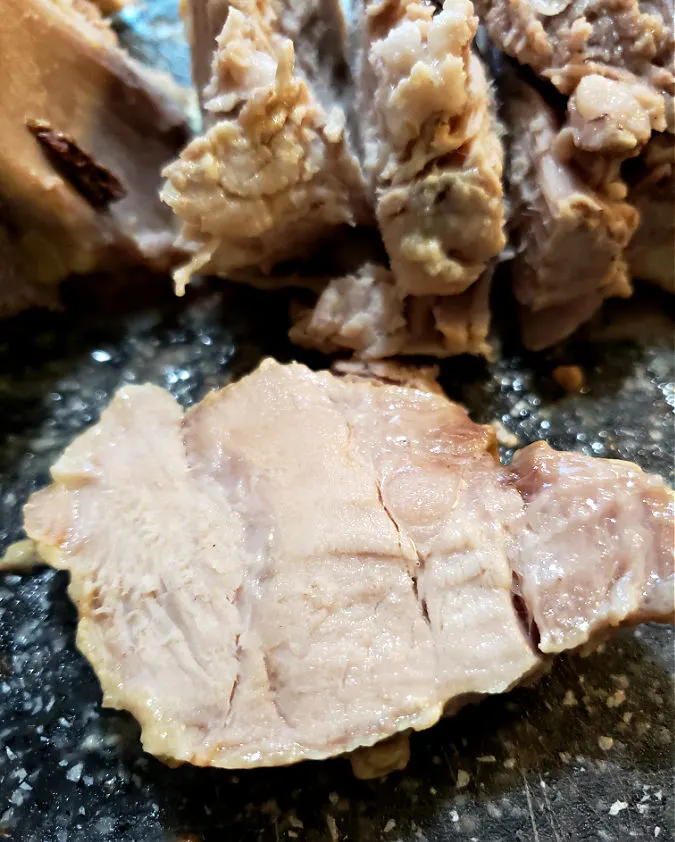 Once the pork was where I wanted it to be on the tender scale, I used tongs to transfer the roast to a cutting board and sliced it up.
After slicing, I transferred the pork roast slices back to the crockery and covered them in the gravy.
The delicious pork roast is ready to serve along with your favorite sides. Be sure give a generous helping of that tasty gravy!
Crock Pot Pork Roast with Gravy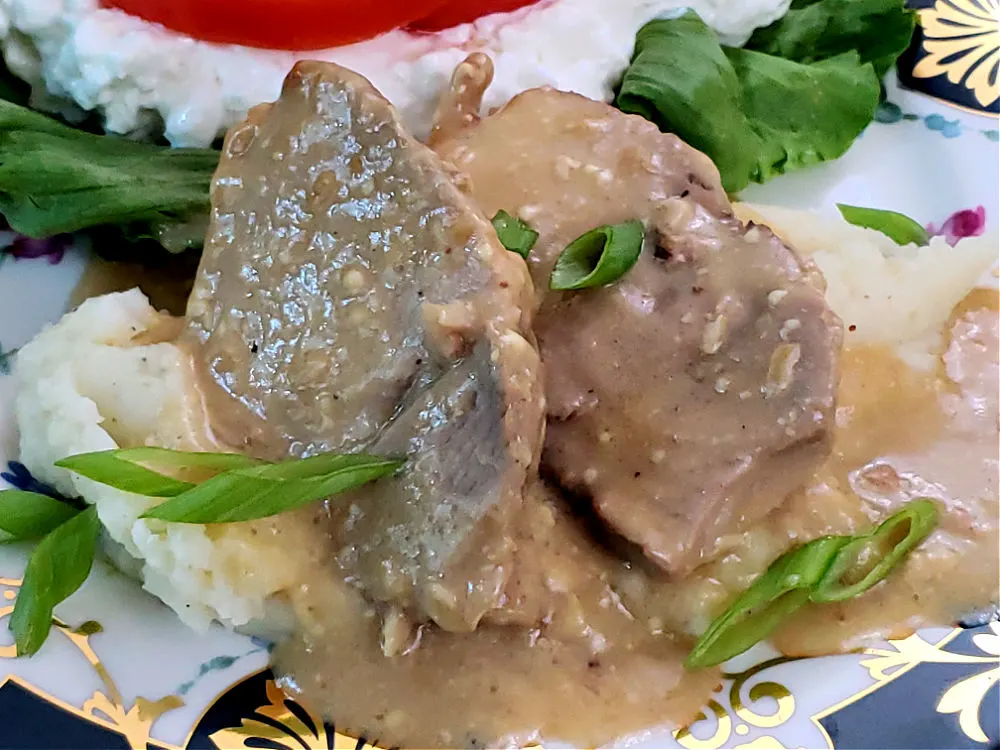 How do you make pork roast in a Crock Pot?
Below you will find the printable recipe card for this Crock Pot pork roast with gravy.
Yield: 1 Pork Roast
Crock Pot Pork Roast with Gravy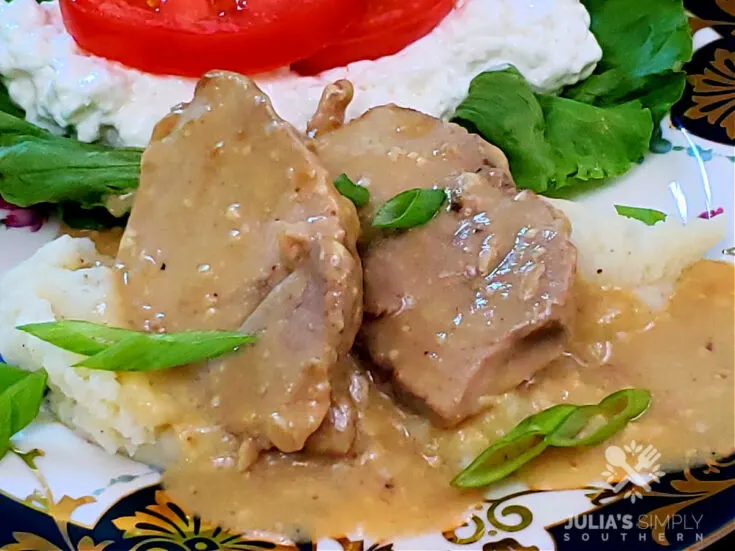 A tender and delicious pork roast made in the slow cooker along with a flavorful gravy. This pork roast is so tender and wonderful with your favorite sides.
Total Time
6 hours
5 minutes
Ingredients
10.5 ounce Cream of Mushroom Condensed Soup (or other flavor of creamed soup, undiluted)
1.67 ounce Packet Roasted Chicken Gravy
1 cup Chicken Stock (may use chicken broth or water if needed)
2.5 pound Pork Roast Loin End
Salt and Cracked Black Pepper, to taste
Instructions
Lightly spray the crockery with cooking spray and pre-heat covered on the high setting.
Whisk together the creamed soup, gravy mix and cup of liquid in the bottom of the warm crockery until creamy and well combined.
Next, season the pork roast on all sides then transfer it to the crockery fat side up. Spoon some of the gravy mixture over the pork.
Cover with the slow cooker lid and reduce the heat to the low setting.
Slow cook 5 to 6 hours, or until tender as desired. Larger roasts may require longer cooking times. If possible, turn the roast halfway through cooking.
At the end of cooking time, transfer the roast to a cutting board and slice the transfer the slices back to the crockery to cover in the gravy. The pork may also be shredded or pulled apart using forks if preferred.
Serve hot.
Notes
Leftover pork roast with gravy may be stored in the refrigerator up to 3 days.
Allow plenty of time for slow cooking for a tender roast.
Recommended Products
As an Amazon Associate and member of other affiliate programs, I earn from qualifying purchases.
Nutrition Information:
Yield:
8
Serving Size:
1
Amount Per Serving:
Calories:

477
Total Fat:

33g
Saturated Fat:

12g
Trans Fat:

0g
Unsaturated Fat:

18g
Cholesterol:

137mg
Sodium:

500mg
Carbohydrates:

5g
Fiber:

0g
Sugar:

2g
Protein:

37g
Oven and Instant Pot Method
Oven cooking option: prepare the gravy in the bottom of a casserole dish as instructed then add the season pork roast. Cover with aluminum foil and roast in a pre-heated 350° F oven for 2.5 to 3 hours until the roast is tender.
Instant Pot Method: prepare the gravy mixture and transfer the seasoned pork roast (as instructed in slow cooker recipe) to the pressure cooker. Cook on the "Meat/Stew" setting for 1 hour then allow natural release 15-20 minutes.
Check out the Latest Recipe Posts
Thank you so much for stopping by! I am so happy that you did. I know you'll love this easy recipe for a delicious pork roast just as much as we do.
While you are here, be sure to subscribe to my email list. Subscribers receive a weekly newsletter from me delivered straight to your inbox with the latest recipes and news here on the blog so that you never miss a thing.
Until next time, Love and Happy Cooking!
Meet Julia
Author of Julia's Simply Southern
Hey Y'all! I'm Julia, the cook and writer behind the recipes here at Julia's Simply Southern. I began my website so that I could share easy to follow recipes that anyone can use to put a home cooked meal on the dinner table. Thanks so much for stopping by!
Follow me on Facebook | Twitter | Instagram | Pinterest | YouTube