In this post I'll be sharing how to make the best Homemade Spaghetti Sauce Recipe.
You will love how easy it is to prepare an easy homemade spaghetti sauce recipe without having to doctor up a store bought jarred sauce.
Years ago, I always had a couple of the glass jars of spaghetti sauce from my local grocery store on hand for easy meals, until I discovered how much sugar is packed into those jars of store bought sauce.
Well, my friend, I decided that I would just make my own sauce. You know what? It was just as easy as it was to try and doctor up that grocery store jar of spaghetti sauce.
With simple ingredients, you can create your own spaghetti sauce that is healthier and more delicious. And, you know exactly what is in it.
Since spaghetti is one of my husband's favorite meals, and a regular on our meal rotation, it makes me feel a whole lot better knowing what ingredients are being used in my meaty sauce.
Best Spaghetti Meat Sauce Recipe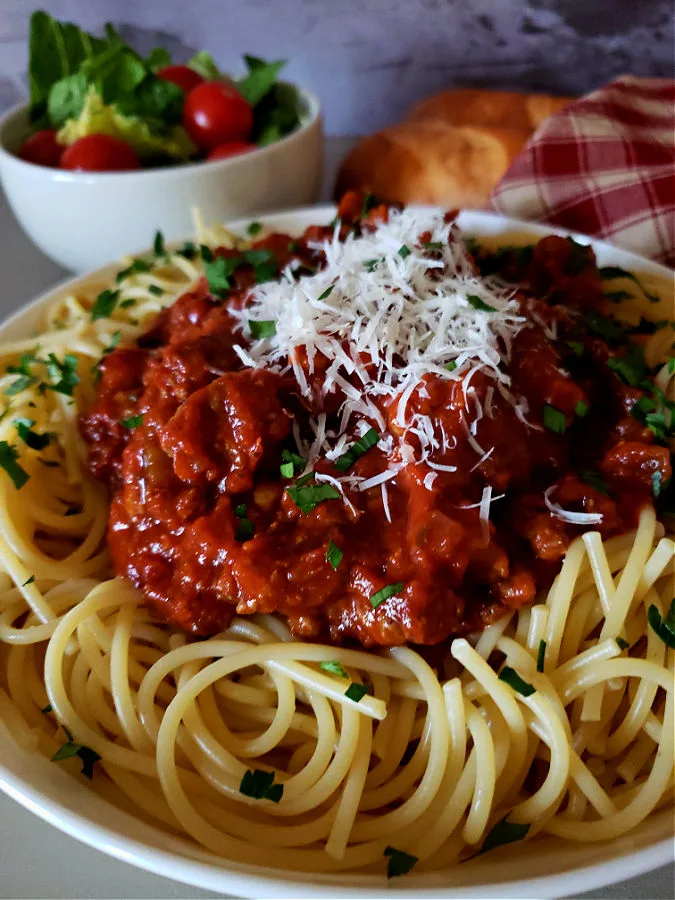 There it is my friend! My BEST spaghetti sauce recipe. Doesn't that look absolutely delicious? You can not go wrong preparing a big batch of homemade sauce.
I portion the leftover spaghetti sauce and freeze it for quick meals on those busy weeknights.
Why you'll love this recipe?
It is made with fresh ingredients for wholesome meals that the whole family will love.
How to use this Italian spaghetti sauce recipe?
Enjoy this delicious sauce over cooked pasta or in casseroles like lasagna or baked ziti.
What do you serve with spaghetti?
A nice green salad is the perfect side to enjoy with a big bowl of spaghetti. A nice loaf of crusty bread or cheesy garlic bread are also great sides for this meal.
Best Homemade Spaghetti Sauce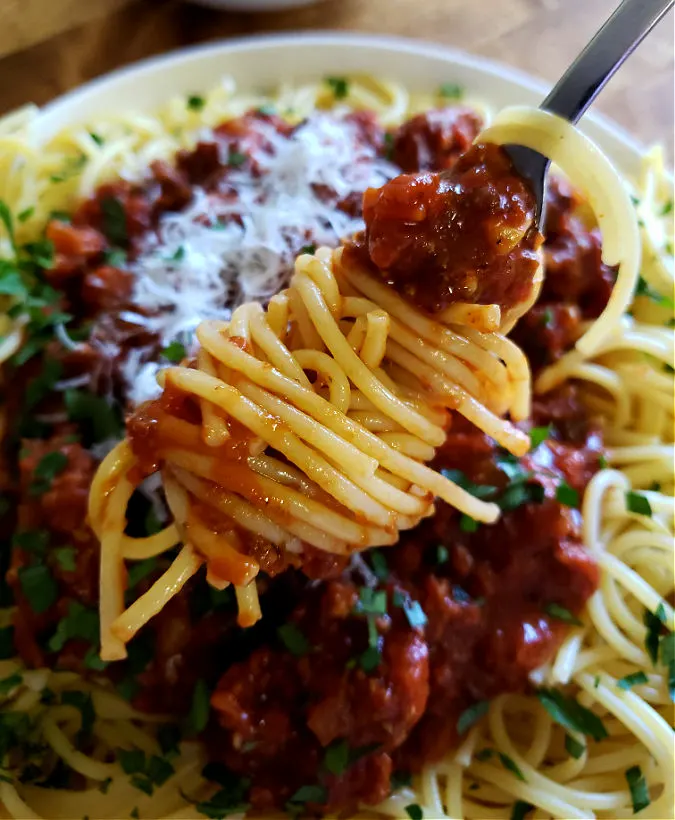 That, my friend, is a meal that will stick to your ribs…as the old saying goes. No one will be leaving the dinner table hungry after enjoying a generous helping of perfectly cooked spaghetti noodles topped with delicious meat sauce.
Don't forget the fresh grated Parmesan cheese! YUM!
Simple Ingredients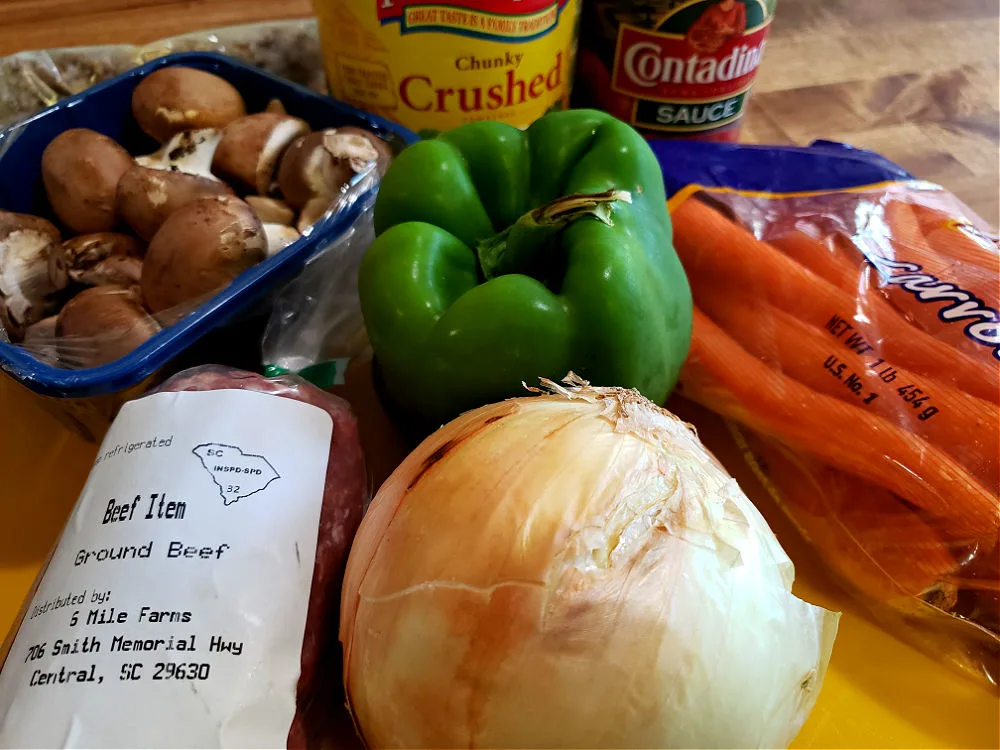 What do I need to make this spaghetti sauce recipe?
Ground Beef – a classic addition for a hearty bolognese that people love with their favorite pasta. If preferred, ground turkey can be used instead of beef.
TIP: if you would like to make this vegan/vegetarian to fit in with your diet plan, leave out the meat and add extra mushrooms to give the sauce "meatiness" without the meat.
Italian Sausage – a pork sausage mince meat with fennel seeds and herbs that adds a lot of additional flavor to spaghetti sauce. I usually keep some cooked Italian sausage in the freezer for pizza or sauce because my husband really likes it.
Olive Oil – for flavor and to sauté the vegetables.
Onion – I used a large sweet onion which adds flavor, aromatics, and a natural sweetness to the sauce.
Bell Pepper – the green pepper is a classic for spaghetti sauce and adds natural sweet flavor and aromatics to the sauce. Any color sweet pepper will work nicely also.
Carrots – that is right, carrots! Finely shredded carrots add nutrition and more natural sweetness to the tomato sauce.
The sweet vegetables used in this spaghetti sauce recipe add natural sweetness so that there is no need to add additional sugar. I mentioned earlier how store bought sauce is packed with sugar, you might be surprised at just how much.
Why do some people add sugar to the sauce? Sugar is intended to reduce the acidity of the tomatoes. I'll take the natural sweetness from the vegetables instead.
Mushrooms – we really love mushrooms. They add nutrition and a meatiness to the sauce.
Garlic Cloves – fresh garlic adds flavor and aromatics.
Fresh Tomatoes – canned at the peak of ripeness. I prefer using crushed tomatoes and tomato sauce. Petite diced tomatoes can be used instead of crushed, if preferred.
Seasonings, Herbs and Optional Ingredients
Seasonings – Kosher Salt, Cracked Black Pepper, Onion Powder, Garlic Powder, Red Pepper Flakes (optional), and Italian Seasoning, which all add flavor to the sauce. Although I add fresh onion and garlic to my sauce, I do still like to use the onion powder and garlic powder. Everything works together to build the best layers of flavor in your sauce.
Bay Leaf – adds an additional layer of flavor to the spaghetti sauce.
Optional Ingredients: fresh herbs are great and can add a punch of flavor to any dish. Fresh parsley sprinkled over the spaghetti when serving is a simple and delicious garnish. Fresh basil is also nice as garnish and extra flavor.
Do you need to use fresh herbs? No, and let me explain why. I've made my sauce recipe with fresh herbs and using dried herbs, so I say this with experience.
The meal made with fresh herbs was certainly special indeed but after the sauce is frozen the re-heated, you cannot tell the difference from using the dried herbs. So just use what you have on hand.
I do occasionally have all of the fresh herbs that I need to make a fresh homemade Italian seasoning blend during the gardening season. You can easily create your own Italian seasoning blend by using fresh basil, thyme, oregano, marjoram, savory (dried herb) and rosemary.
I keep a good quality jar of dried Italian seasoning on hand and that is what I use 99% of the time. When using dried herbs, do use the best quality that you can afford.
Not to step on anyone's toes but I've seen some food bloggers tell people that it doesn't matter if your spices are pricey or cheap. Well, I don't agree with that at all. I speak from experience that not all spices, seasonings and dried herbs are the same.
I'm not saying that you need the most expensive seasonings either, but I have tried some of the cheapest and threw them out because they did nothing for my dish. A good recipe uses good ingredients.
How to make Flavorful Homemade Spaghetti Sauce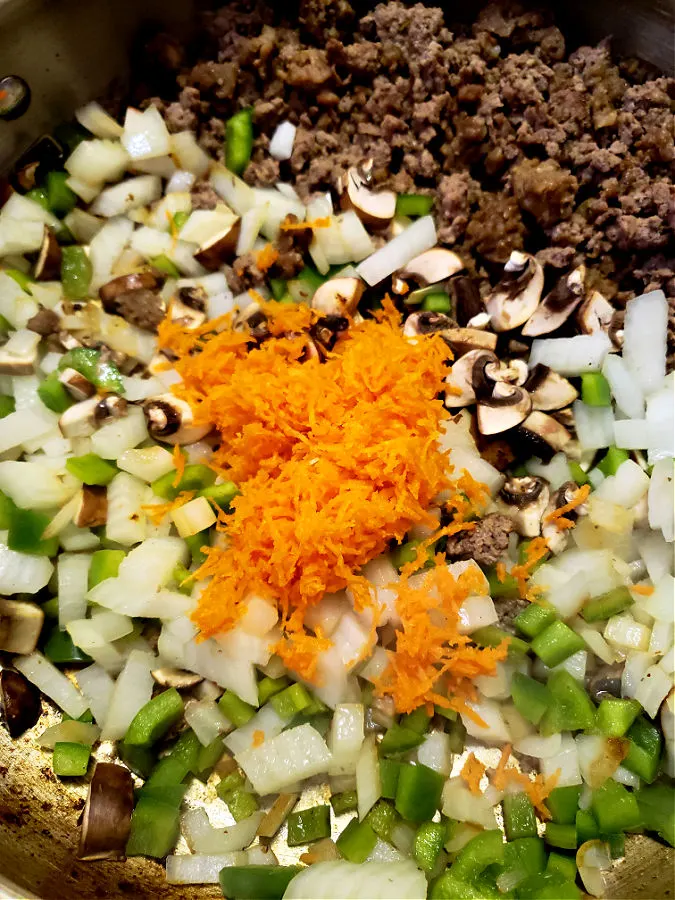 To prepare the pasta sauce recipe, place a large skillet, sauté pan, or dutch oven over medium-high heat. You'll want to use a large pot, or pan, that is big enough to hold all of the ingredients, but also has a lid so you can cover it.
Next, add the ground meat to the hot skillet and break it apart. Cook the minced meat until browned, stirring occasionally.
Once the meat has cooked through, push it aside in the pan and remove any excess grease from the pan.
Next, add the olive oil, onion, bell pepper, carrots and mushrooms. Reduce the heat slightly.
Sauté the vegetables over medium heat until they begin to soften and have released their flavor, then add the minced garlic and sauté for another minute.
Easy Spaghetti Sauce Recipe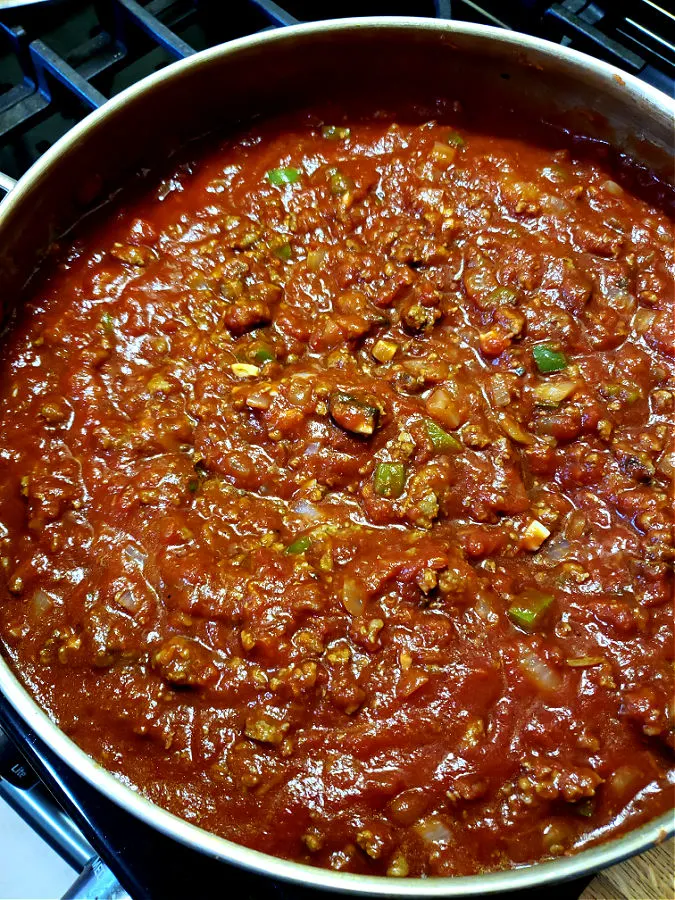 The next step is to add the crushed tomatoes and tomato sauce to the pan and stir to combine with the rest of the ingredients.
This is also a great time to add the seasonings and any herbs that you might be using. Cover your cooking pan with a lid and reduce the heat to low and allow the sauce to simmer, stirring occasionally.
As the sauce cooks, all of those wonderful flavors will mingle together and will be so delicious.
I prepare my sauce on the stove top, but you can also use your slow cooker if you prefer. Prepare the meat and vegetables on the stove top, then transfer the meat mixture to your Crock Pot, and add the tomatoes and seasonings. Simmer on low setting for a couple of hours, stirring occasionally.
Homemade Pasta Sauce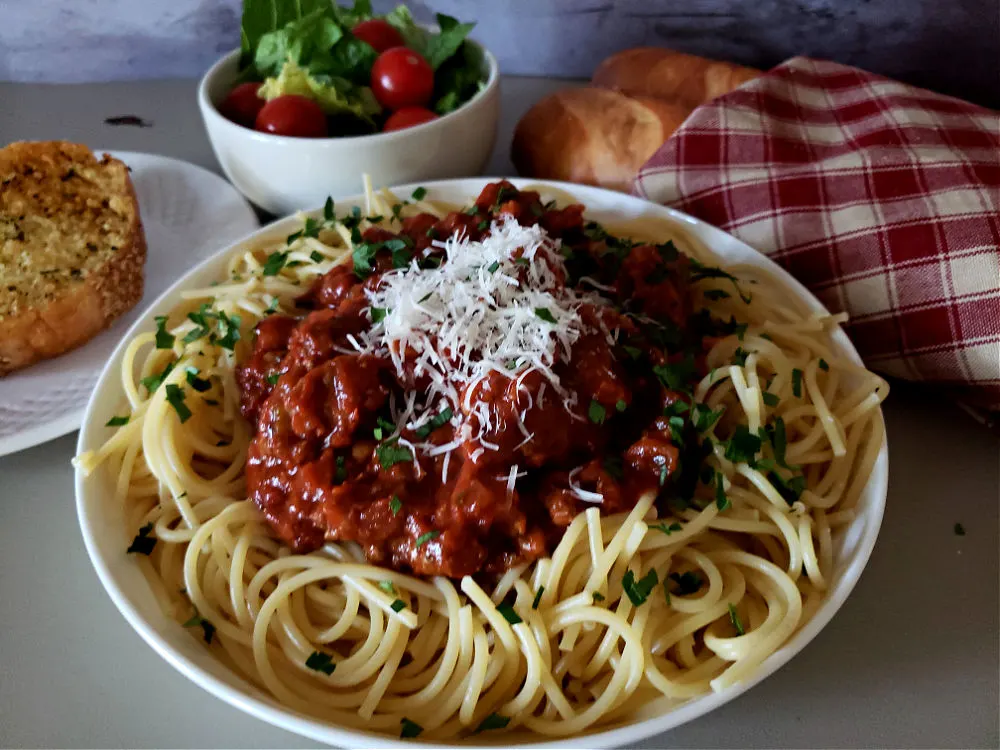 Lastly, cook your pasta and enjoy a delicious spaghetti recipe topped with the wonderful homemade meat sauce. Your taste buds will be so pleased with all of the amazing flavor.
Printable Recipe Card
Yield: 10 Cups
Homemade Spaghetti Sauce Recipe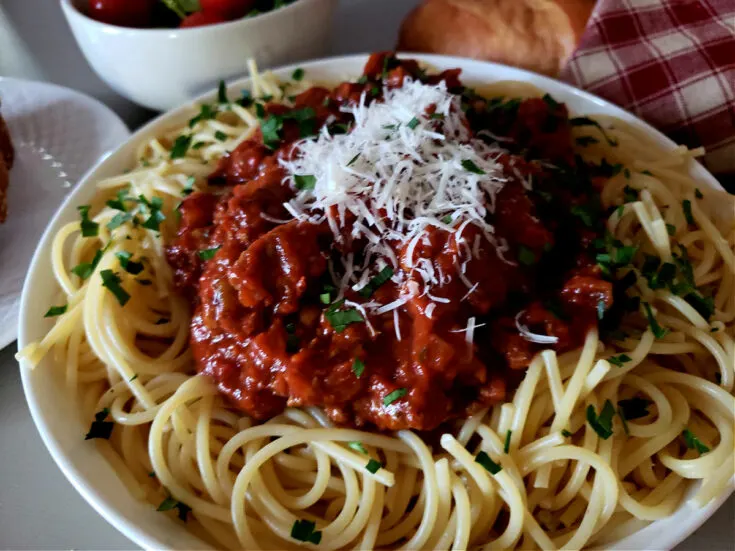 A delicious homemade spaghetti sauce recipe made with all of the flavors that you love in a meat sauce for your pasta meals. This the best sauce to prepare in large batches and freeze leftovers in portions for more easy meals. With a few simple ingredients you can prepare this easy homemade spaghetti sauce recipe.
Total Time
1 hour
15 minutes
Ingredients
1 pound Ground Beef
8 ounces Italian Sausage (or up to one pound)
½ tablespoon Olive Oil
1 Sweet Onion, diced
1 Bell Pepper, diced
2 Carrots, freshly grated (½ cup)
1 cup Diced Mushrooms (I used baby bella)
2 Cloves of Garlic, minced
28 ounce Crushed Tomatoes
2 15 ounce Tomato Sauce
1½ teaspoon Kosher Salt, or to taste
Cracked Black Pepper, to taste
Pinch of Red Pepper Flakes (optional)
¼ teaspoon Onion Powder
¼ Garlic Powder
1 tablespoon Italian Seasoning
1 Bay Leaf
Instructions
Heat a large skillet, sauté pan or dutch oven over medium-high heat. Be sure to use a pan with a lid.
Once the pan is hot; add the ground beef and Italian sausage to the pan and break apart. Cook until browned (takes about 5 minutes), stirring occasionally. Remove any excess grease from the pan.
Reduce the heat to medium; push the meat aside and add the olive oil, diced onions, diced bell pepper, grated carrots and diced mushrooms to the pan. Sauté the vegetables, for about 10 minutes, until they are softened and have released the flavor. Add the minced garlic and sauté for another minute.
Next, add the crushed tomatoes and tomato sauce to the pan and gently stir to combine everything together then add the seasonings and bay leaf. Stir to combine, cover with a lid then reduce the heat to low and allow the sauce to simmer, stirring occasionally for 45 minutes to an hour. (See post for slow cooker method).
Serve the homemade spaghetti sauce over cooked spaghetti or use in other pasta dishes.
Notes
See full post for more tips, like how to freeze leftover spaghetti sauce.
Recommended Products
As an Amazon Associate and member of other affiliate programs, I earn from qualifying purchases.
Nutrition Information:
Yield:
10
Serving Size:
1/2 cup
Amount Per Serving:
Calories:

280
Total Fat:

15g
Saturated Fat:

5g
Trans Fat:

0g
Unsaturated Fat:

9g
Cholesterol:

53mg
Sodium:

692mg
Carbohydrates:

17g
Fiber:

4g
Sugar:

10g
Protein:

20g
Serving sizes may vary depending on individual portion size and appetite.
Can You Freeze Spaghetti Sauce?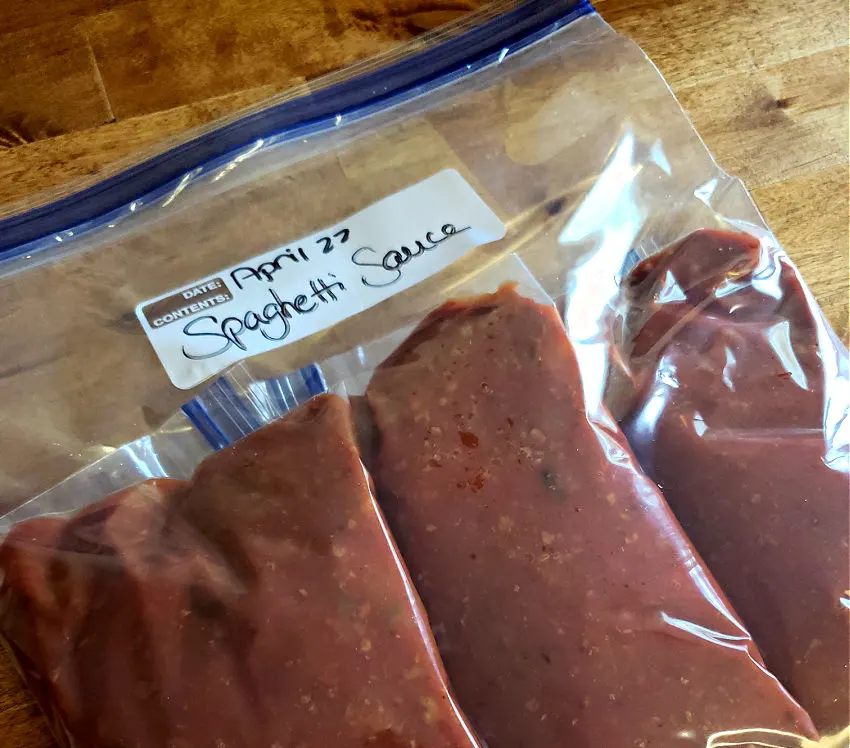 More tips for preparing a homemade spaghetti sauce recipe
How to make spaghetti sauce thicker?
Remove the lid from your pan and continue to simmer on low to allow excess moisture to evaporate from the sauce which will thicken it.
How long does homemade spaghetti sauce with meat last in the fridge?
Meat sauce stored in an airtight container in the refrigerator should be eaten or frozen within 3 days.
How can you freeze spaghetti sauce?
Allow the leftover sauce to cool completely then refrigerate overnight. The cold sauce is easier to handle. The next day, portion the cold sauce into food grade freezer storage bags. Place the portions into a larger freezer storage bag and label. Freeze the portions until needed for easy homemade meals. The easiest way to re-heat the sauce portions is to allow it to thaw in the refrigerator overnight but it can be gently heated if still frozen.
you might also enjoy
Popular Recipes
The Latest Recipes
Thank you so much for stopping by! I am so glad that you did. I know that you and your family will love this delicious homemade spaghetti sauce recipe just as much as we do.
Be sure to sign up for my email newsletter while you are here. Email subscribers receive a weekly newsletter, with the latest recipes and news here on the blog, delivered straight to your inbox so that you never miss a thing.
Meet Julia
Author of Julia's Simply Southern
Hey Y'all! I'm Julia, the cook and writer behind the recipes here at Julia's Simply Southern. I began my website so that I could share easy to follow recipes that anyone can use to put a home cooked meal on the dinner table. Thanks so much for stopping by!
Follow me on Facebook | Twitter | Instagram | Pinterest | YouTube