In this post I'll be sharing a Southern Breakfast Grits Recipe.
Grits have been a staple in the south for centuries. Three quarters of the grits sold in the U.S. are sold in the South. That makes us experts on grits, don't ya think?!? Traditionally grits were ground on a stone wheel at the local grist mill.
In case you've never heard of grits and don't know, grits are made from corn.
You can still get stone ground grits and that is my personal preference. One rule we follow in the south – never, ever use instant grits!
I remember as a small child, my Daddy would sprinkle a little sugar on grits so that I would eat them. I think many southern parents might use this technique to get children acclimated to grits. When you grow up though, you eat your grits with salt, pepper, and a pat of butter. Real butter!
You'll see grits on menus all over the country these days since southern food is a trend these days. I'm sharing my recipe for making the perfect grits you'll love every time.
After you get the hang of this basic grits recipe, try Shrimp and Grits or Blackberry Grits (find the recipe links at the end of this post).
Southern Breakfast Grits Recipe
Grits Ingredients and How to Make Southern Style Grits:
Water
Heavy Cream
Stone Ground Grits
Salt
Cracked Black Pepper, to taste
Butter, plus more for serving
Stone Ground Grits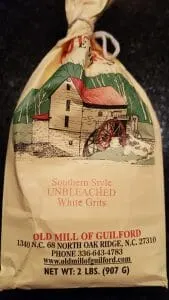 Believe or not, grits can be prepared many ways. Some folks like their grits more basic, made with just water and salt. I prefer rich and creamy grits which is why I add the heavy cream and butter during cooking.
Desired consistency can also vary from person to person. Some like thinner grits and those don't take as long to cook while other like a thicker creamier consistency.
To make grits, you'll begin by adding the water, heavy cream, grits, butter, salt and pepper to a medium sauce pan then cover with a lid and bring to a boil over medium high heat. Stir everything together well when adding it to the pot to ensure each grit is surrounded by the liquid and will not stick together.
We want to avoid lumps in our grits.
The Best Southern Style Grits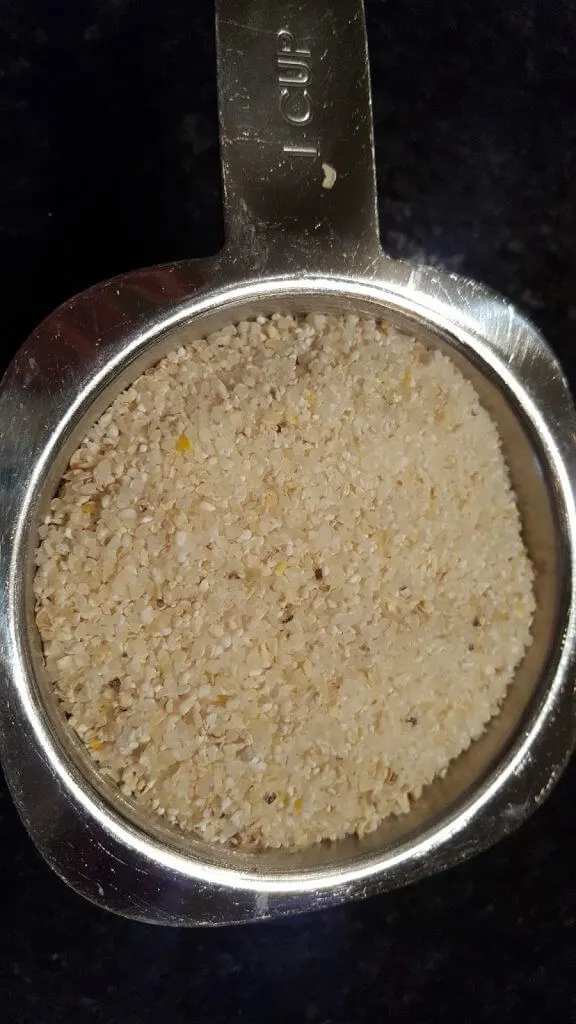 Once your grits begin to boil, reduce the heat to medium low, simmer for 20 minutes for thinner grits or until 30 to 40 minutes until thickened as desired. Stir the grits every 5 minutes during cooking.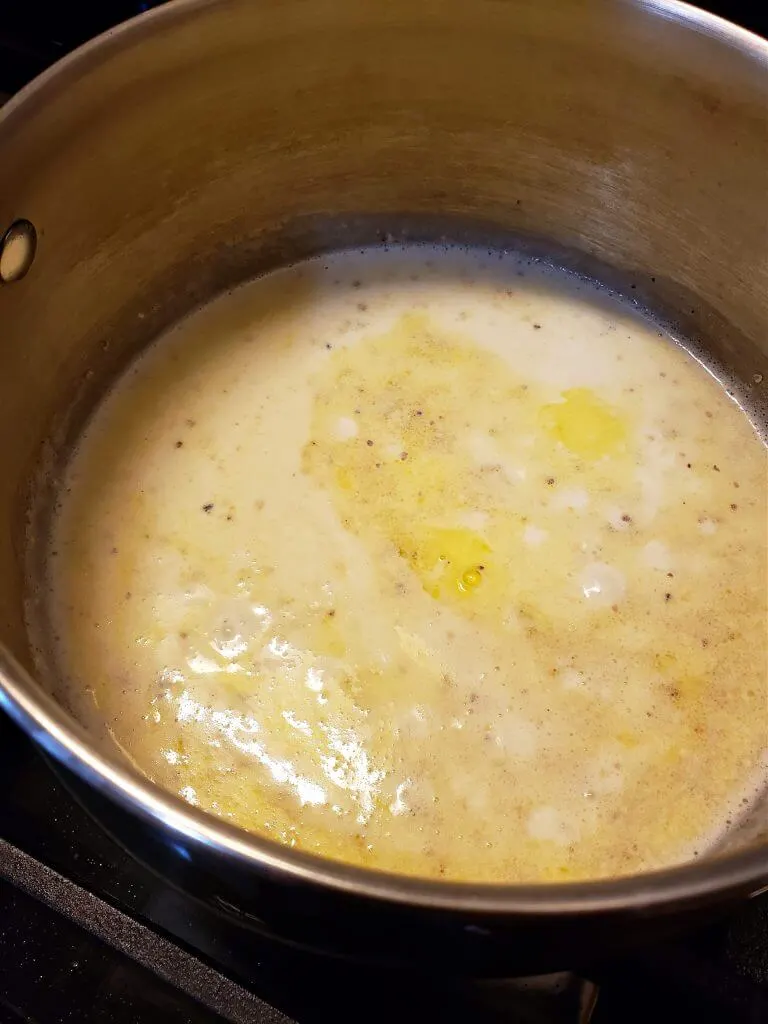 Serve grits immediately when they are done. When eating grits it is customary to maybe add a little more salt and pepper to taste and extra butter if desired.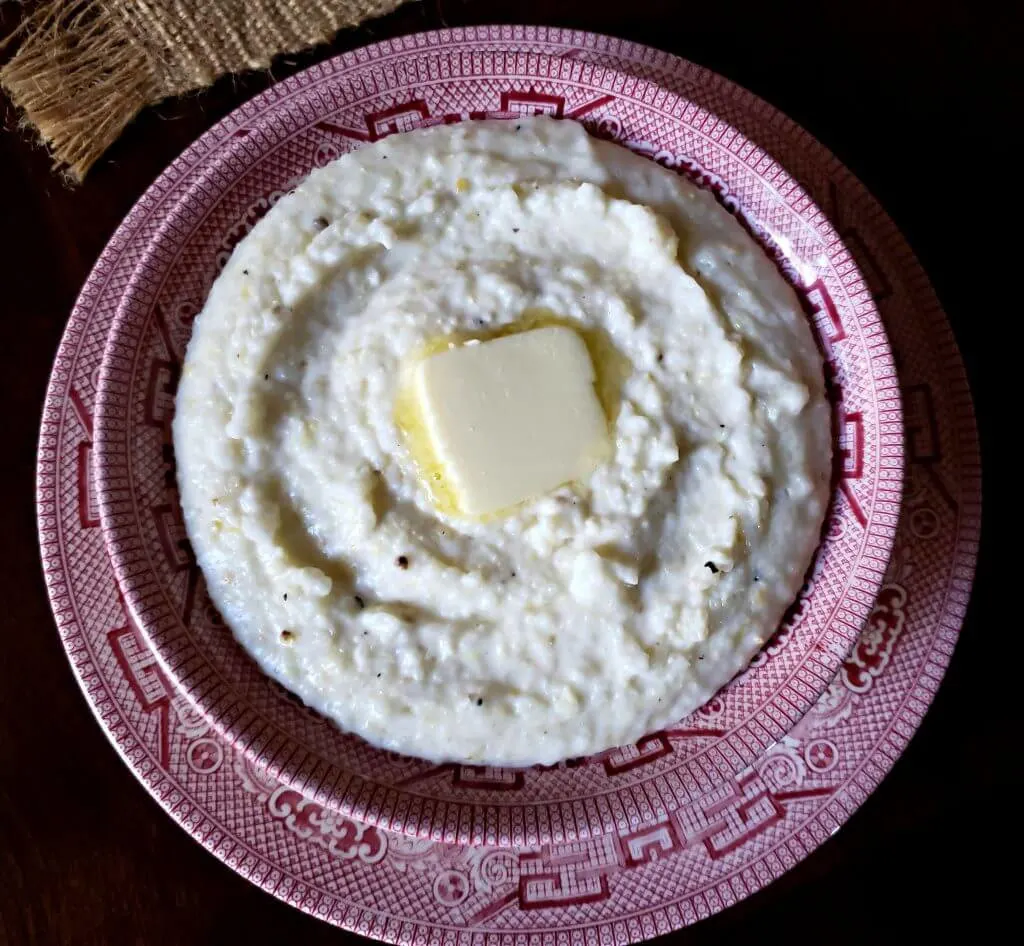 There are some folk who prefer their grits on the sweeter side and might add a little sugar or honey. I'm a savory grits girl myself. The best grits in my book are thick creamy, rich in flavor and seasoned well. Southern grits are a wonderful main breakfast or breakfast side.
Grits are also enjoyed for all meals of the day as the base topped with shrimp,
salmon patties
or other seafood. Homemade grits are the best which is why I recommend avoiding instant grits. But hey, they're your grits and you make them any way that you like.
How to Make Southern Style Grits
The grits below in the yellow serving bowl are on the thinner side which some prefer.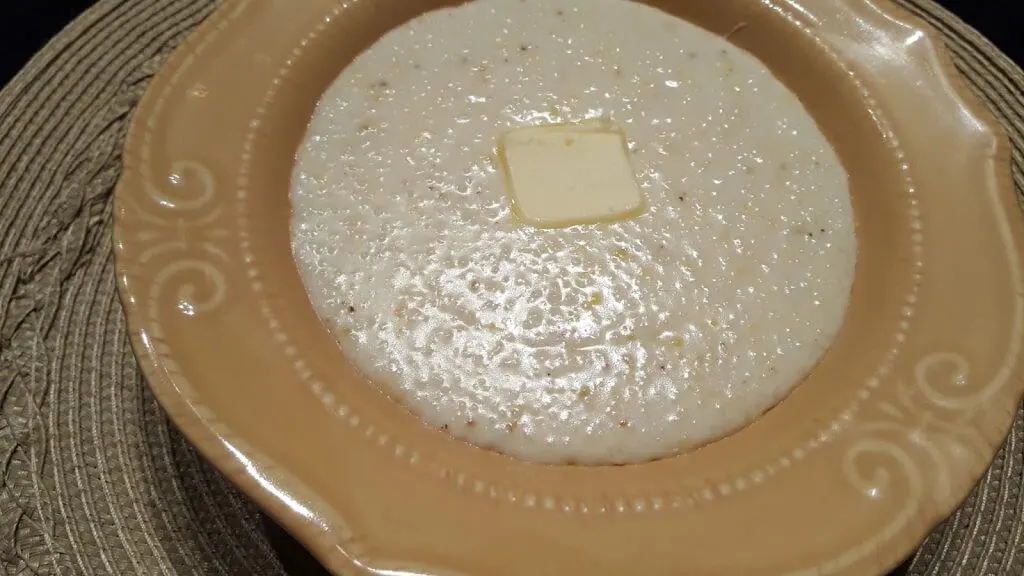 Common Questions About Grits
How are grits made? Grits were originally made at a grits mill where the power of stones, powered by a water wheel, would grind corn to make the grits. Today, grits are still made this way along with modern manufacturing technology.
Why are grits so popular in the South? Grits are a survival staple food that were taught to settlers in the Southern states by the native American people. Through tradition and being so economical, grits have remained popular.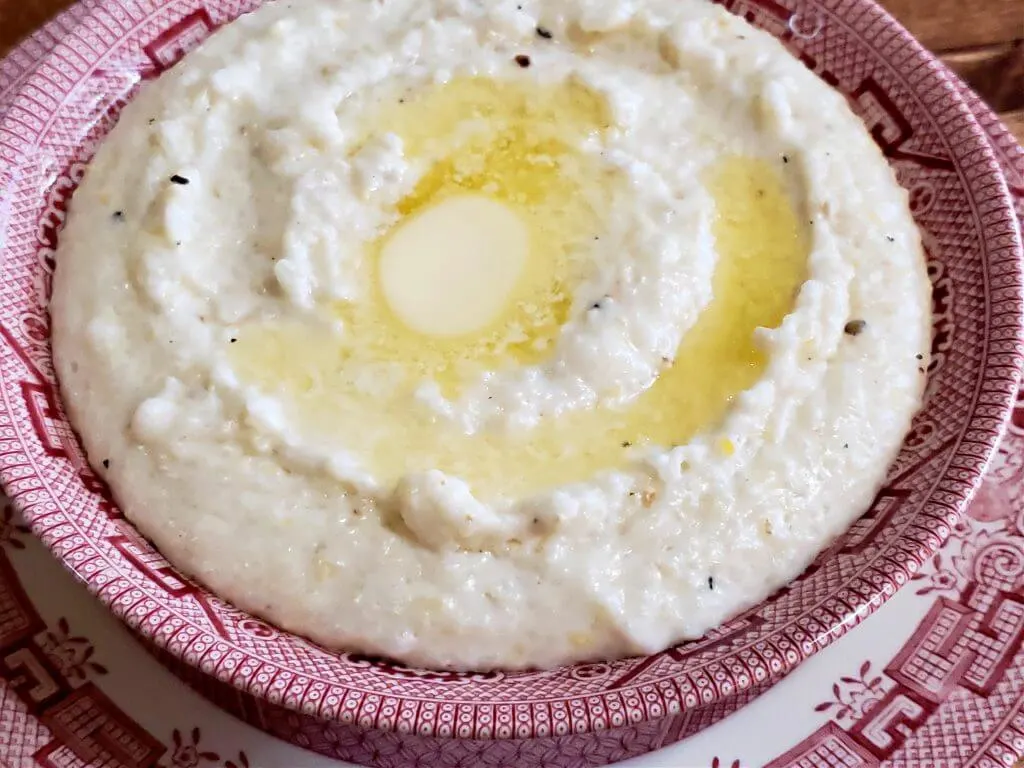 Are grits unhealthy? Plain grits are better for you but not very flavorful. The additions of salt, butter or cheese can add higher levels of sodium and fat that you should be aware of.
What is the best brand of grits? Stone ground grits are preferable so look for those. I've left a couple of my personal favorites in the recipe card as suggestions.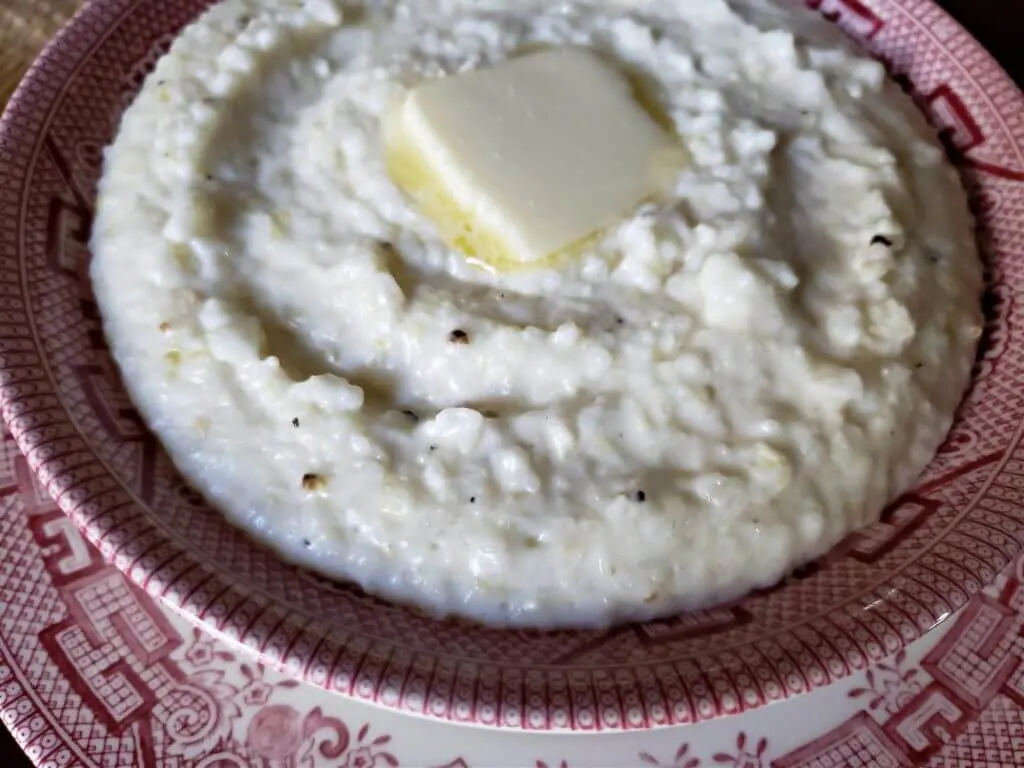 Which is better, white or yellow grits? There is no noticeable difference in taste, it's a matter of preference.
Yield: 4 Servings
Southern Style Grits Recipe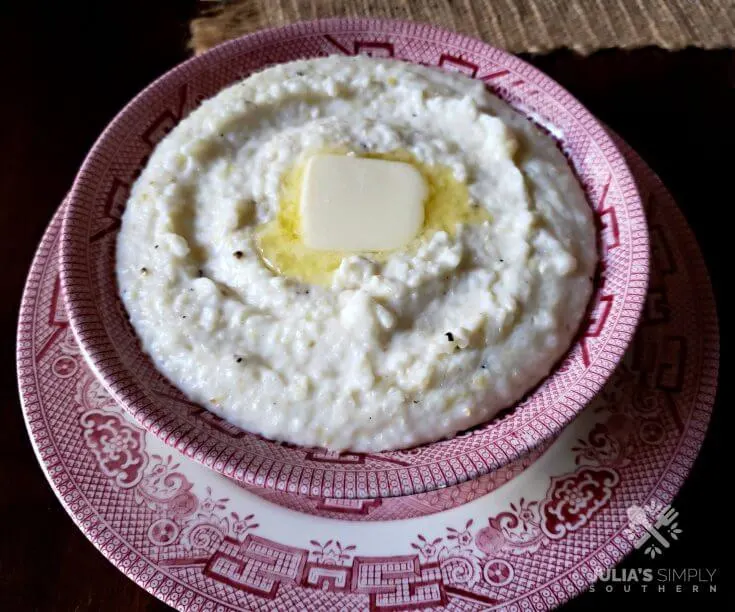 Delicious creamy breakfast grits prepared Southern style.
Ingredients
2 c Water
2 c Heavy Cream
1 c Stone Ground Grits
1 tsp Salt
Cracked Black Pepper, to taste
4 tbs Butter, plus more for serving
Instructions
Add water, heavy cream, butter, grits, and seasonings to a medium sauce pan and bring to a boil over medium high heat.

Cover the pot with a lid and reduce the heat to medium low, simmer for 20 minutes (for thinner grits) or 30 to 40 minutes (for thicker creamier) or until thickened as desired. Stir the grits every 5 minutes during cooking to avoid sticking to the pot and to prevent lumps.

Serve hot with a pat of butter.
Notes
Depending on the brand of grits being used, be sure to check the label for instructions and cooking times as they may vary.
Recommended Products
As an Amazon Associate and member of other affiliate programs, I earn from qualifying purchases.
Nutrition Information:
Yield:
4
Serving Size:
1
Amount Per Serving:
Calories:

347
Total Fat:

55g
Saturated Fat:

35g
Trans Fat:

2g
Unsaturated Fat:

16g
Cholesterol:

65mg
Sodium:

511mg
Carbohydrates:

12g
Fiber:

1g
Sugar:

4g
Protein:

4g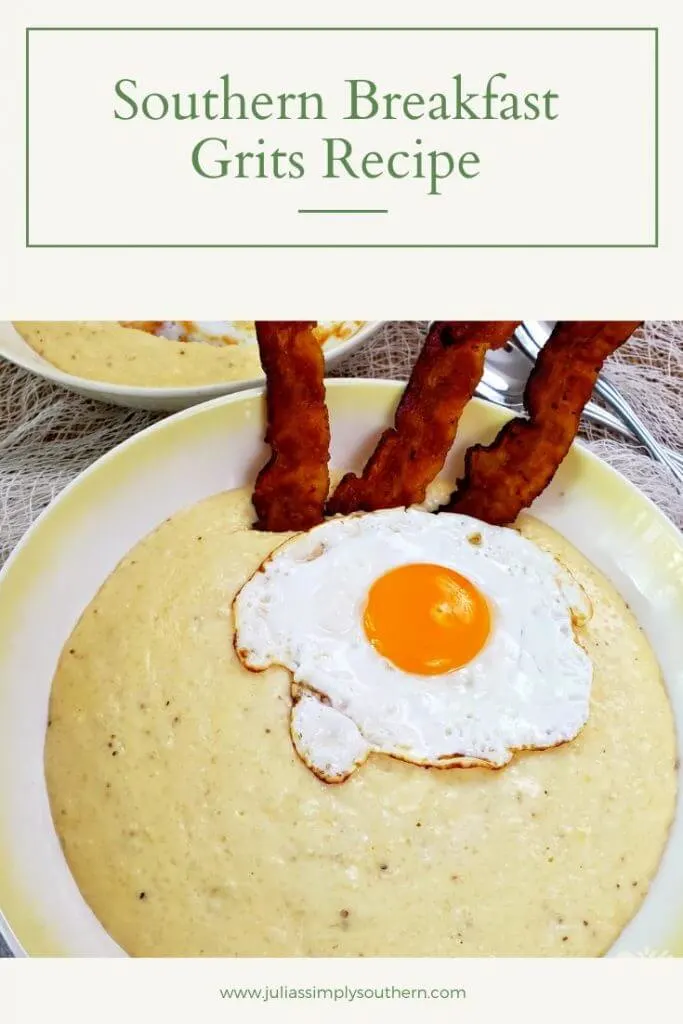 You Might Also Enjoy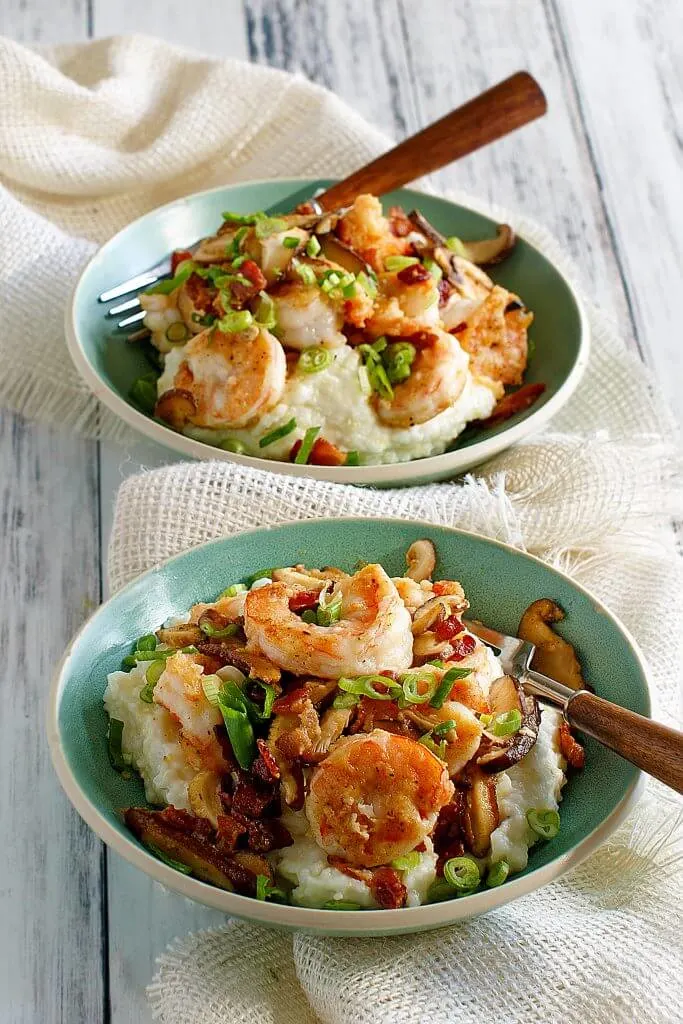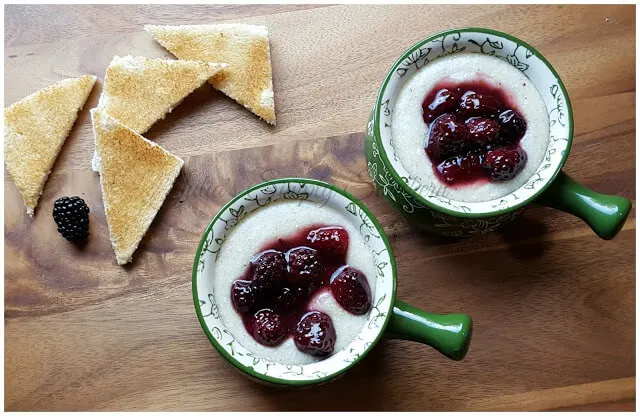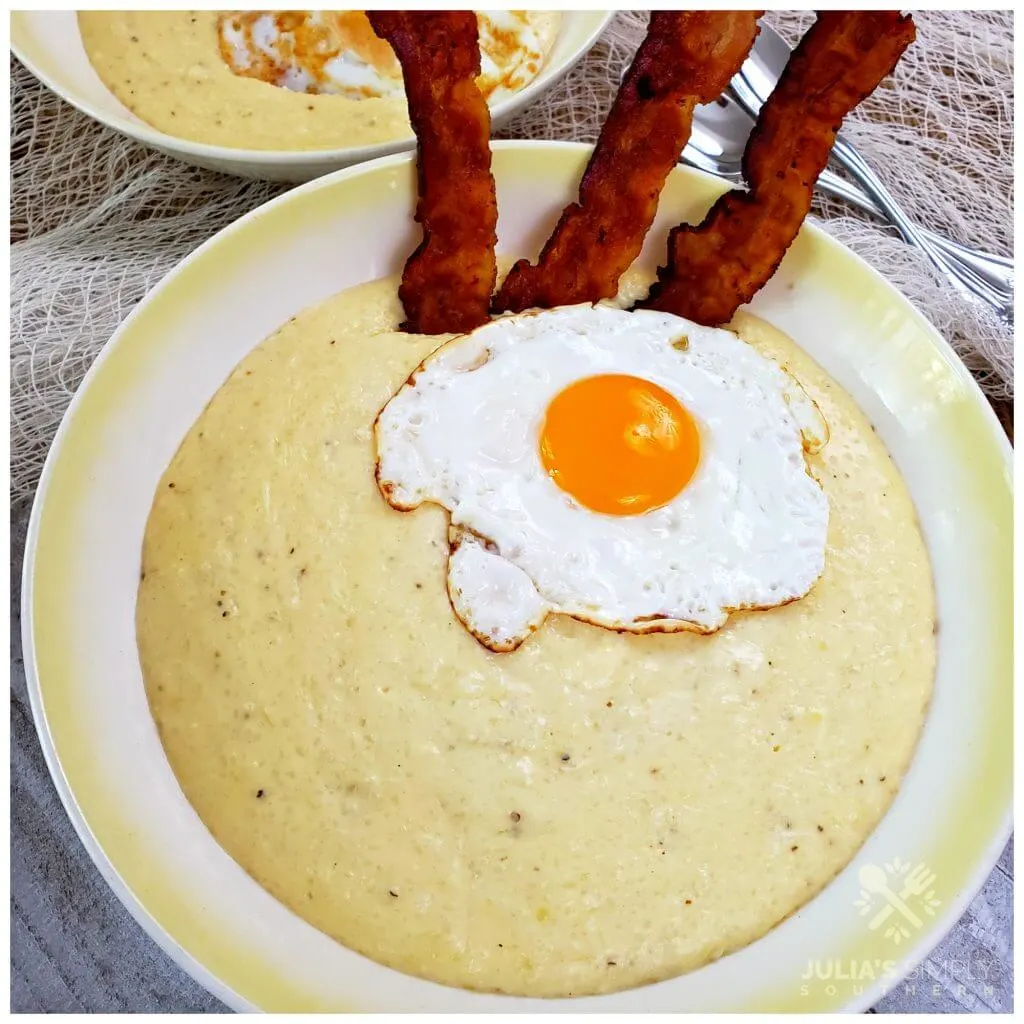 Try Bacon Cheesy Fried Grits from Kevin is Cooking.
Meet Julia
Author of Julia's Simply Southern
Hey Y'all! I'm Julia, the cook and writer behind the recipes here at Julia's Simply Southern. I began my website so that I could share easy to follow recipes that anyone can use to put a home cooked meal on the dinner table. Thanks so much for stopping by!
Follow me on Facebook | Twitter | Instagram | Pinterest | YouTube