Hey Y'all! In this post I am sharing an Easy Skillet Breakfast Potatoes Recipe with Greek Seasoning. This recipe is made with leftover baked potatoes so it cooks up quick and easy! You're gonna love it!
Are you ready for a breakfast that's full of Southern charm and bursting with flavor?
Well, I've got just the recipe for you! Introducing my Easy Skillet Breakfast Potatoes with a delightful twist of Greek seasoning. These are my family's absolute favorite breakfast potatoes recipe!
These spuds are a real crowd-pleaser, whether you're serving them up for a lazy weekend brunch or as a tasty side dish at dinner. With their crispy edges and tender, melt-in-your-mouth centers, these skillet potatoes are a true delight.
These tasty breakfast taters are easy to prepare in your kitchen, but if you've got a cast iron skillet and camp fire, then you can make them on your next camping trip too. Seriously, throw on a couple of extra potatoes to bake the night before.
So, grab your favorite cast-iron skillet, gather up your ingredients, and let's get cookin'! Y'all get ready to savor the goodness of perfectly seasoned potatoes that make any meal a treat.
Sautéed Breakfast Potatoes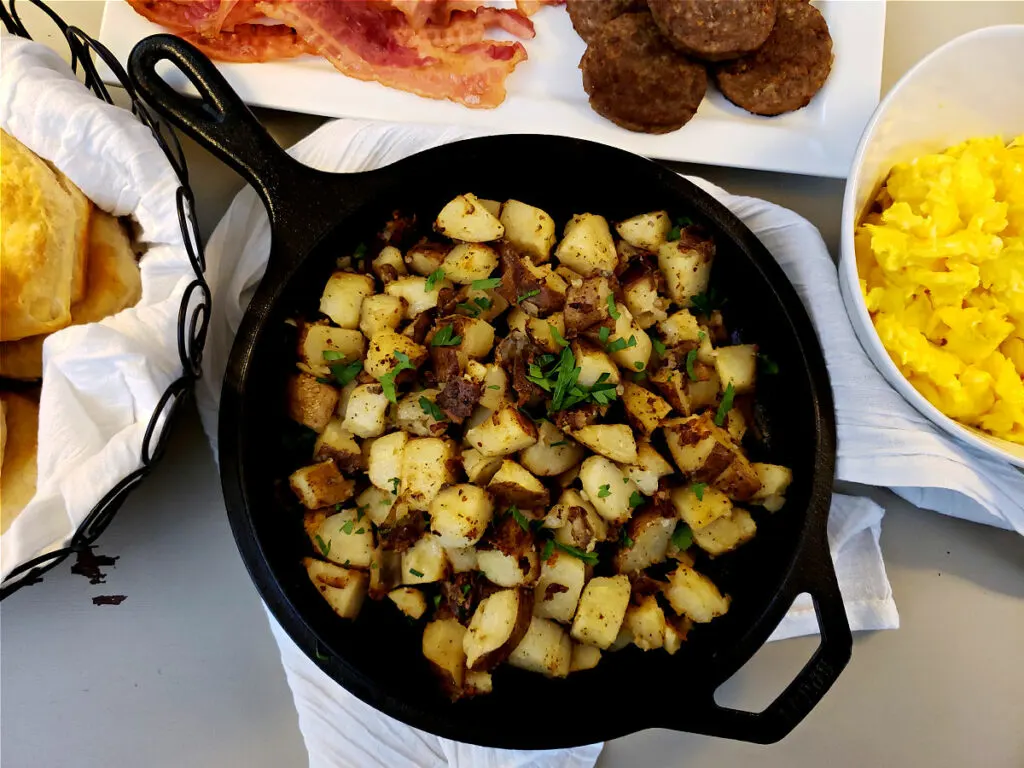 Y'all, look at how amazingly delicious those crispy breakfast potatoes look! It makes my mouth water!
Breakfast potatoes are sometimes called "home fries". What are Home Fries?
Home fries, also known as skillet potatoes, are a classic American dish that brings comfort and warmth to any meal.
These delicious taters are made from diced or sliced potatoes that are cooked in a skillet until they turn golden brown and crispy on the outside, while remaining tender and fluffy on the inside. Leftover baked potatoes make preparing home fries so simple and easy and they cook up quickly!
Home fries are often seasoned with a variety of herbs and spices, such as paprika, garlic powder, and onion powder, to enhance their savory flavor. Y'all just gotta try them with the Greek seasoning because it really adds such amazing flavor!
They are incredibly versatile and can be enjoyed as a side dish for breakfast, lunch, or dinner.
Whether you're pairing them with eggs and bacon in a hearty breakfast plate or serving them alongside a juicy steak for dinner, home fries are the perfect addition to any meal, providing a satisfying and homestyle touch that everyone can enjoy.
Leftover Baked Potato Home Fries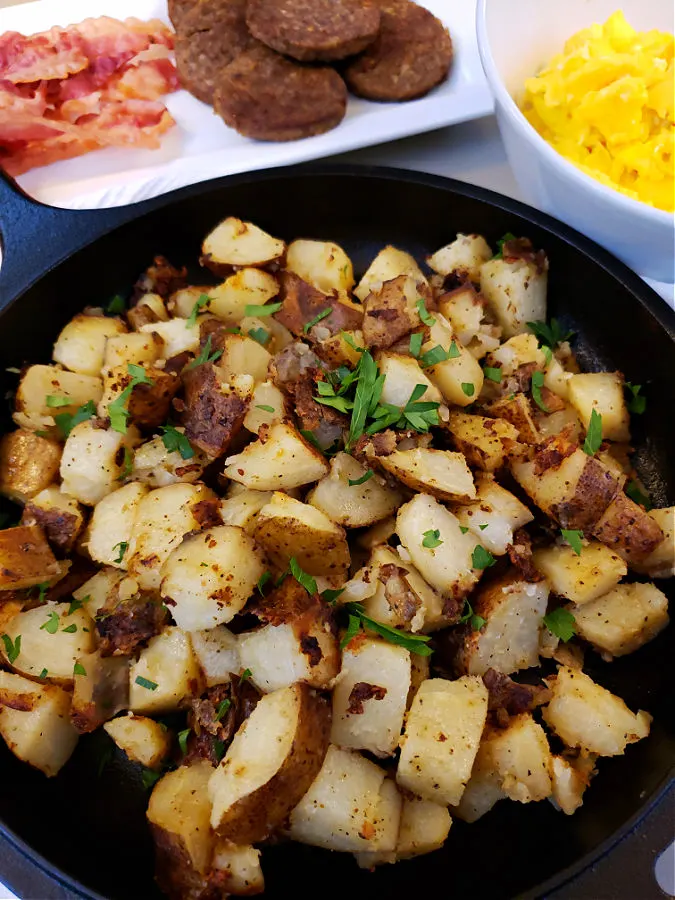 Here's what you'll need to make the best breakfast potatoes ever:
Leftover Baked Russet Potatoes – the tender baked potatoes cook up quick in a hot skillet. Let's face it, who wants to wait around when you're hungry and craving a good breakfast? If you don't have leftover baked potatoes then use what you have. It will just take a little bit longer. I know a lot of folks love red potatoes for their home fries.
Cooking Oil – rendered fat from cooking a breakfast meat, a little olive oil, vegetable oil, or other cooking oil of your choice.
Seasonings – Cavender's all purpose Greek Seasoning, garlic powder, onion powder, salt and black pepper if desired, and other seasonings that you might like.
The Greek seasoning is a mixture of seasonings that include salt, black pepper, corn starch, garlic, oregano, onion powder, parsley, and five other spices that are not specified.
If you want to add additional seasonings, then I recommend tasting your potatoes first, before adding more. I keep it simple with the Greek seasoning and I do add a bit of salt and garlic powder because that is how we like it.
Everyone's taste buds are different when it comes to seasoning food, so you do it how you like it.
Also, if you want to add extra stuff like diced yellow onions or green bell peppers, then feel free.
How to Cook Breakfast Potatoes?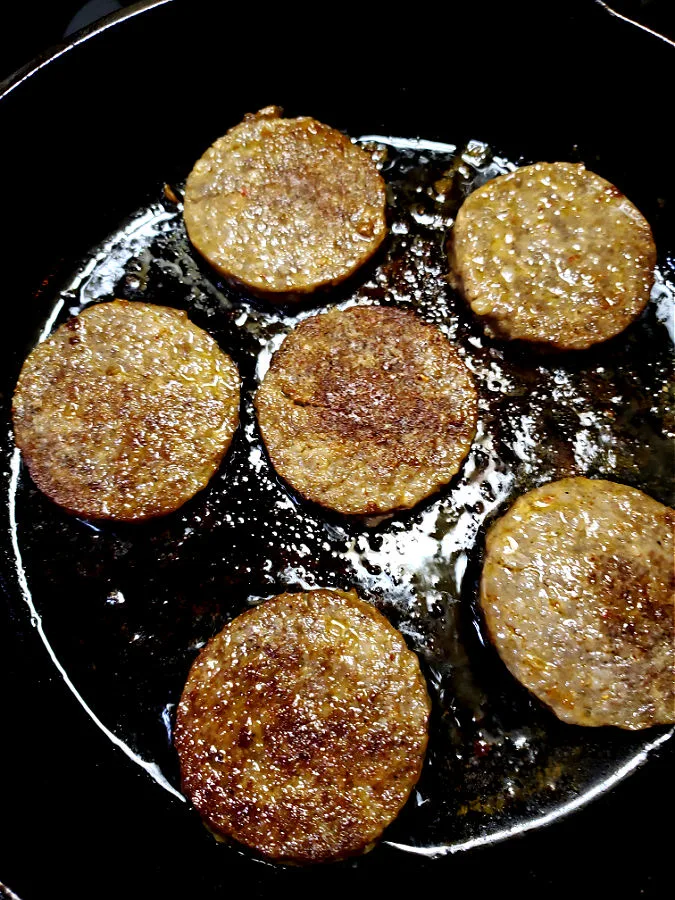 I love to start by cooking up some of our favorite breakfast meat, whether it be sausage patties or bacon, and use the rendered fat to add even more flavor to my skillet potatoes.
Easy Breakfast Potatoes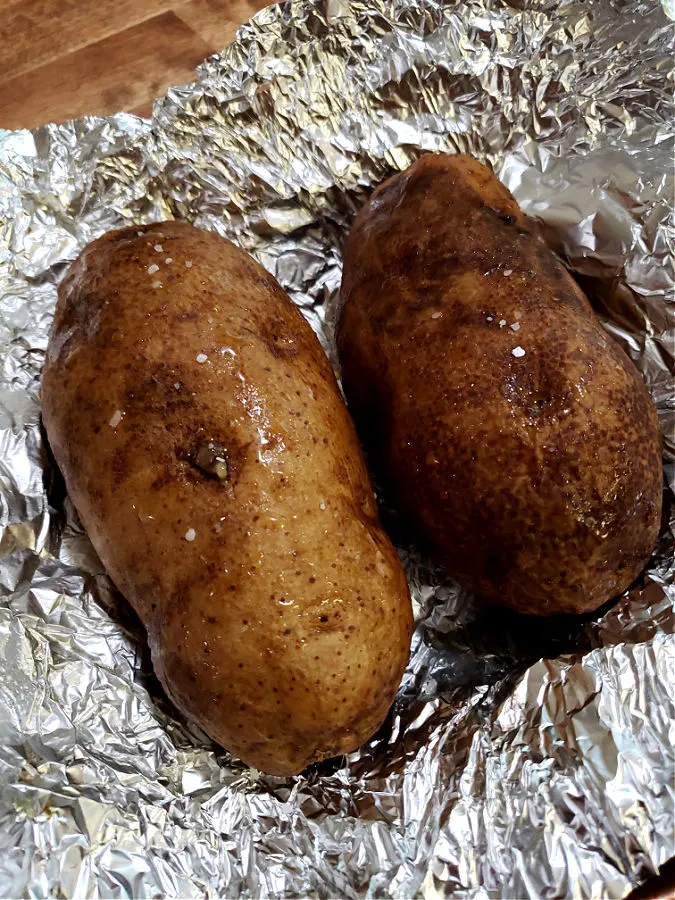 Y'all, I know that I've mentioned it several times, but using leftover baked potatoes really does make the perfect Southern fried potatoes.
Your perfect pan-fried potatoes will be done in no time at all with crispy edges and hot fluffy centers.
Whenever I am preparing baked potatoes I always cook a couple of extra just so that I can make these crispy potatoes for our breakfast the next day.
I got the idea of using leftover baked potatoes from our favorite breakfast place that we stop at when making our monthly trip to Costco. I asked the served how they made theirs and he told me that they use the leftover baked potatoes.
Easy Southern Fried Potatoes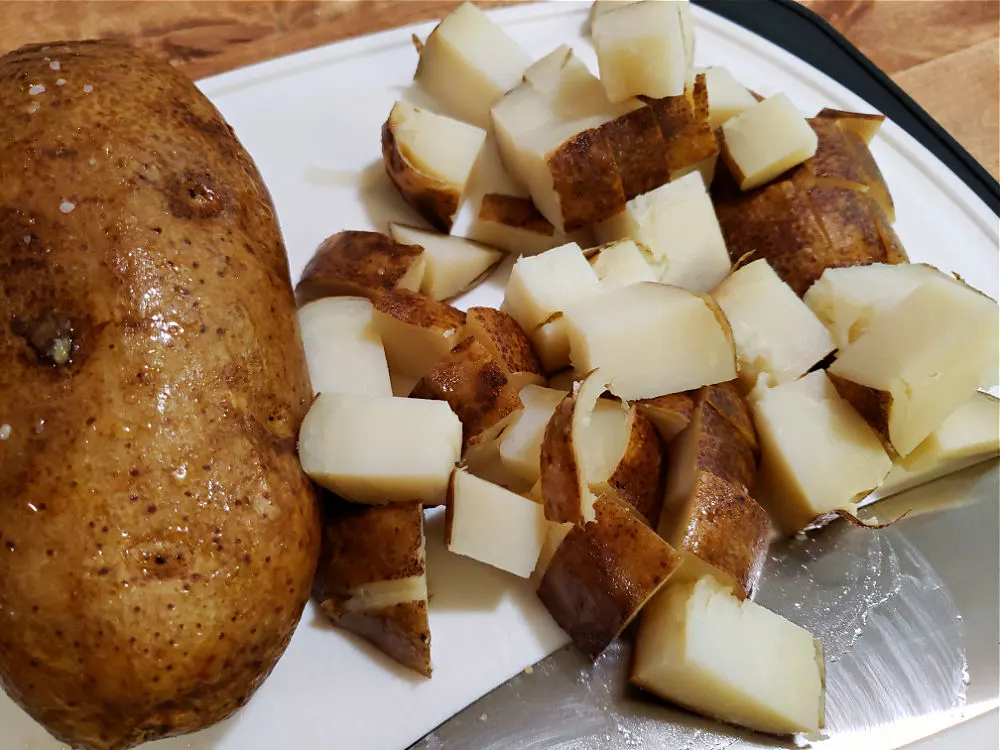 While your breakfast meat is cooking away in your hot skillet, go ahead and dice up the leftover baked potatoes.
Skillet Breakfast Potatoes with Greek Seasoning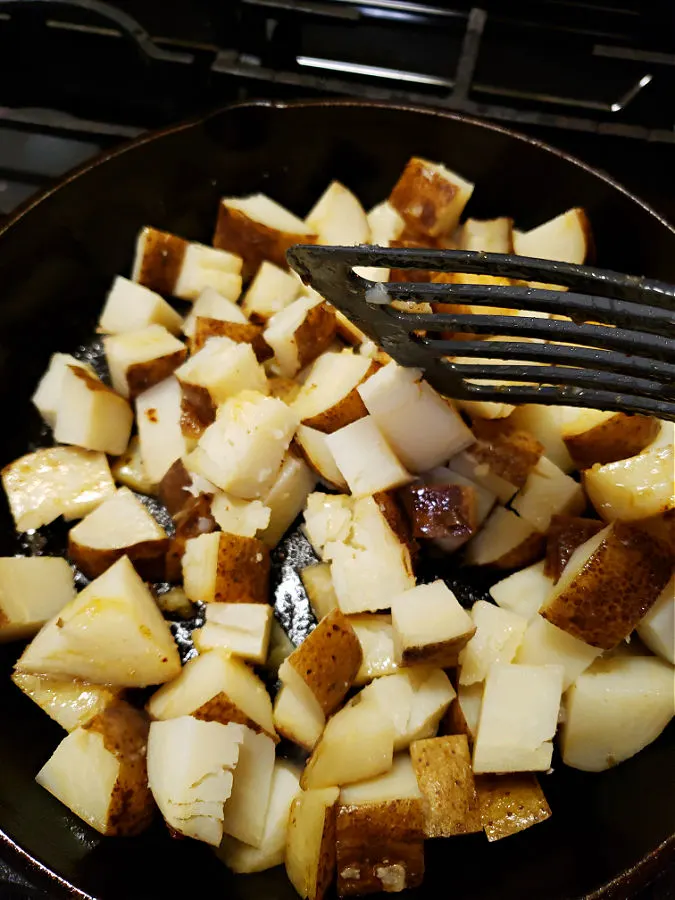 You will want to use a medium to large skillet over medium-high heat that will fit the diced potatoes in a fairly single layer for cooking.
Remove the breakfast meat, if using, from your skillet and set aside. Depending on how much rendered fat that you have, you may need to add a bit more oil to your skillet.
Next, add the diced potatoes to the hot cast iron skillet and use a spatula to turn the potatoes until they are all coated with your oil.
The next step is to season the potatoes and cook until golden brown, turning occasionally as they cook.
The cooking process doesn't take long, maybe ten to 15 minutes.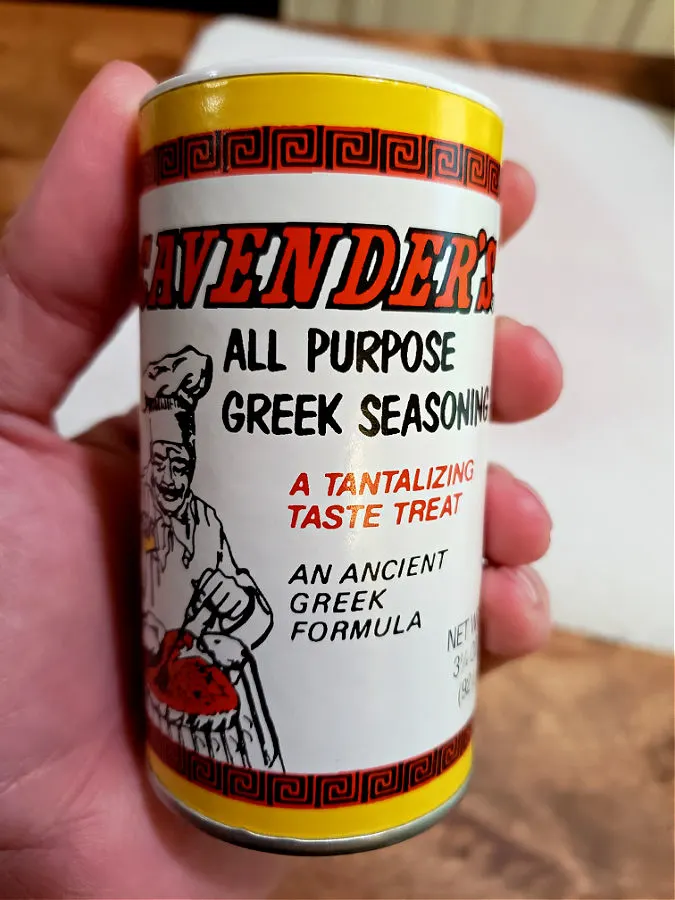 This is the brand of all purpose Greek seasoning that I like to use in case you're wondering. I find it at our local grocery store where the seasonings and spices are located.
I'll link to it below in my affiliate links in the recipe card, but you can easily find the seasoning in your local food stores.
This particular seasoning blend is sectioned in the more specialized seasonings section, like where Cajun seasonings, and other flavor blends are kept.
Printable Recipe Card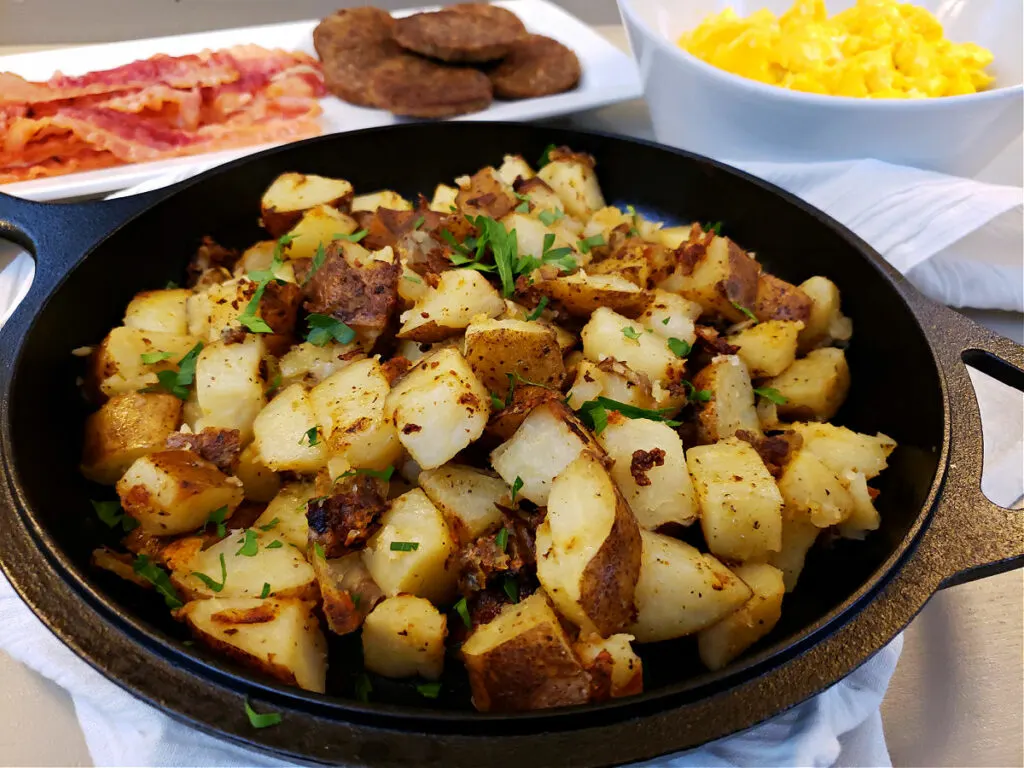 What to Serve with Crispy Breakfast Potatoes?
Crispy breakfast potatoes are a delectable addition to any morning meal, and they pair perfectly with a variety of dishes. Anything that you might like with hash browns.
To create a well-rounded breakfast, serve your crispy potatoes alongside classic breakfast staples like fluffy scrambled eggs, a fried egg, crispy bacon or sausage patties or links, and a side of fresh fruit.
If you're feeling adventurous, you can also incorporate them into a breakfast burritos or top them with melted cheese and a dollop of sour cream for a loaded potato experience.
For a lighter option, pair them with a fresh green salad or add them to a breakfast bowl with avocado, salsa, and a poached egg.
The options are endless, but no matter how you choose to serve them, these crispy breakfast potatoes are sure to elevate your morning meal to a whole new level of deliciousness.
The skillet potatoes ensure that everyone enjoys a hearty meal, but you can also include buttered toast, homemade fluffy biscuits, English muffins, or bagels with cream cheese if you want to.
Below you'll find the printable recipe card so you can add this to your favorite breakfast recipes.
Yield: 4 Servings
Must Try Easy Skillet Breakfast Potatoes Recipe with Greek Seasoning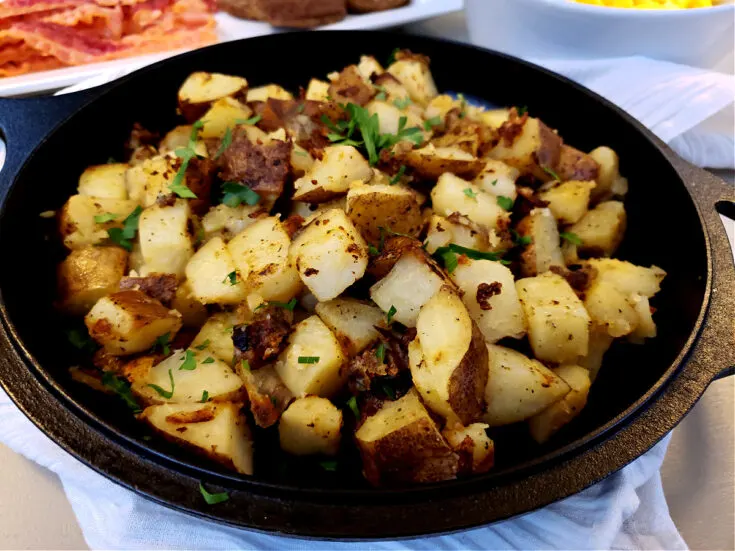 Savor the flavors of the most delicious crispy breakfast potatoes that you ever put in your mouth! These home fries are perfect as a side for your breakfast, brunch, or dinner. The crispy hash browns are made with leftover baked potatoes so that the cooking process is quick and easy. The Greek seasonings adds the magical tough to making these the best breakfast potatoes to make your taste buds sing.
Ingredients
2 Large Russet Baked Potatoes, diced (leftover baked potatoes)
2 tablespoons Oil (or rendered fat)
2 teaspoons Greek Seasoning (Cavender's all purpose)
½ teaspoon Garlic Powder
Salt, to taste
Black Pepper, to taste
Instructions
Heat a large skillet, cast iron skillet recommended, over medium-high heat. Add cooking oil or use rendered fat from cooking breakfast meat.
Dice the leftover baked potatoes into bite sized cubes.
Next, add the diced potatoes to the hot skillet and use a spatula to turn the potatoes to coat with oil (or fat).
Season the potatoes with the Greek seasoning, garlic powder, and salt and pepper, if desired according to taste preference.
Pan fry until golden brown, turning occasionally, until you have crispy breakfast potatoes.
Garnish with a bit of fresh chopped parsley, if desired, and serve.
Notes
See full post for other options and serving suggestions.
Greek Breakfast Potatoes are just like the delicious diner style potatoes and perfect as a side for breakfast, lunch, or dinner.
Recommended Products
As an Amazon Associate and member of other affiliate programs, I earn from qualifying purchases.
Nutrition Information:
Yield:
4
Serving Size:
1
Amount Per Serving:
Calories:

205
Total Fat:

7g
Saturated Fat:

1g
Trans Fat:

0g
Unsaturated Fat:

6g
Cholesterol:

0mg
Sodium:

921mg
Carbohydrates:

33g
Fiber:

4g
Sugar:

2g
Protein:

4g
Popular Recipes on the Blog
The Latest Posts on the Blog
Easy Skillet Breakfast Potatoes Recipe with Greek Seasoning
Thank you so much for stopping by! I am so glad that you did!
In conclusion, crispy breakfast potatoes are a versatile and delightful dish that brings a satisfying crunch and flavor to any breakfast table.
Whether enjoyed alongside traditional breakfast favorites or incorporated into creative dishes, these golden spuds never fail to impress.
So, next time you're looking to elevate your morning meal, reach for a batch of crispy breakfast potatoes made with leftover baked potatoes and savor the joy they bring to your taste buds.
Before you go, be sure to subscribe to my email list! Subscribers receive a weekly e-newsletter delivered straight to your inbox with the latest recipes and news here on the blog so that you never miss a thing.
Y'all enjoy your time creating delicious meals and memories in your kitchen! Until next time, love and happy cooking!
Meet Julia
Author of Julia's Simply Southern
Hey Y'all! I'm Julia, the cook and writer behind the recipes here at Julia's Simply Southern. I began my website so that I could share easy to follow recipes that anyone can use to put a home cooked meal on the dinner table. Thanks so much for stopping by!
Follow me on Facebook | Twitter | Instagram | Pinterest | YouTube