Hands down, chicken wings are always the most popular food at any game day gathering at my house. These Baked Chicken Wings are perfect when serving a crowd.
I'm always stuffing my face with pigs in a blanket and chips and dip but it's like the only thing anyone else sees are the chicken wings.
When hosting a gathering, everyone's tastes will be different. I prefer to serve my wings naked along with a few dipping sauces, such as traditional buffalo and teriyaki.
Serve the wings alongside carrot and celery sticks with plenty of blue cheese dressing, or ranch if you prefer. Bonus points if you add blue cheese crumbles to the top of your dressing. My people love that!
Due to how popular chicken wings are on game day, I've seriously come to the conclusion that I should just make the wings and save myself preparing anything else. I don't think anyone would notice the rest of the food not being there.
Chicken wings, in fact, are the number one food during Super Bowl. Chicken wings are relatively inexpensive so it's not a bad option to serve when you're hosting the game day gathering.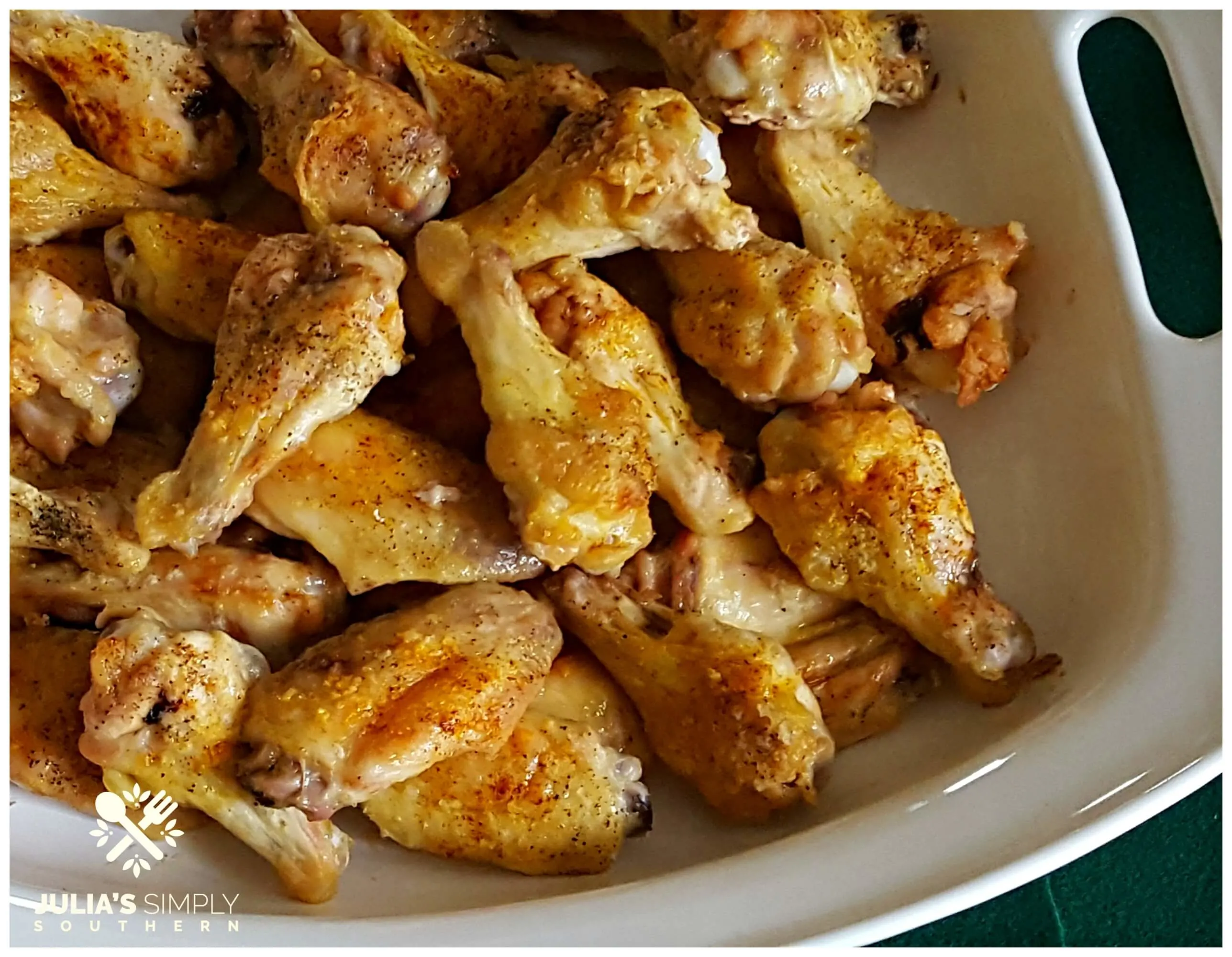 When baking chicken wings, you want them crispy and lightly seasoned. You also want to make sure you prepare enough. I figure most grown men will easily eat a dozen wings.
I buy fresh chicken wings myself and cut them up. I'll be sharing how to do that too. Sometimes you can find fresh wings packaged that have already been cut up but they can be a bit pricier.
Baked Chicken Wings
Find the full printable recipe at the end of this post
Preheat your oven to 400°F (204°C)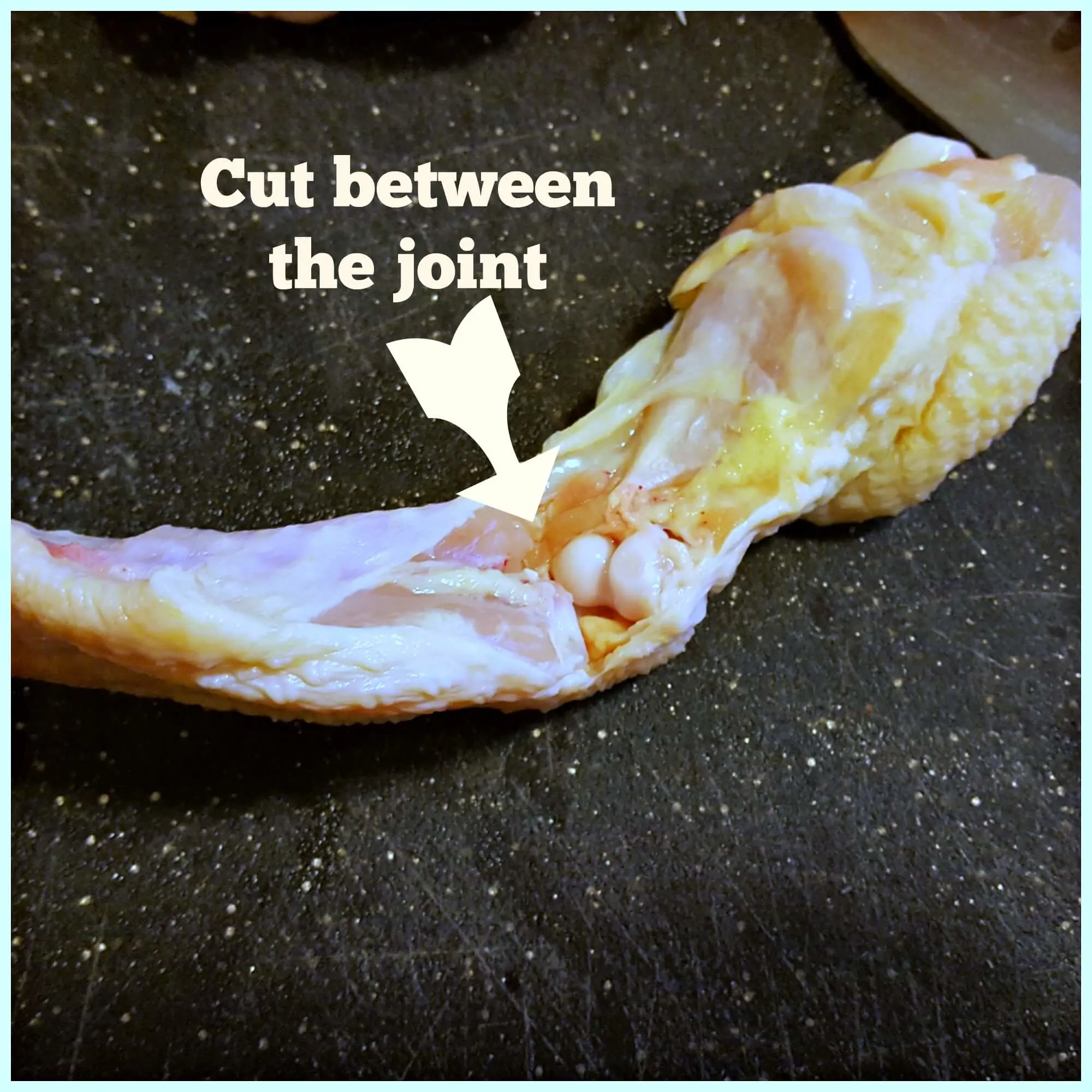 Step 1: Prepare the wings: Use a knife to slice down the skin between the drumstick and flat part of the wing. Guide your knife through the joint (as seen above) to separate the pieces.
Fresh chicken wings will also have a tip on the flat piece. You'll want to find the joint on this section and remove the tip. The tip portion can be discarded or frozen to use when making stock at another time. Add the separated drumette and flat pieces to a large mixing bowl.
One package of whole wings typically contains 10 pieces. When divided you get 20 game day wings. I prepared two packages so had 40 wings. Plan accordingly for the number of guests you'll be sharing with.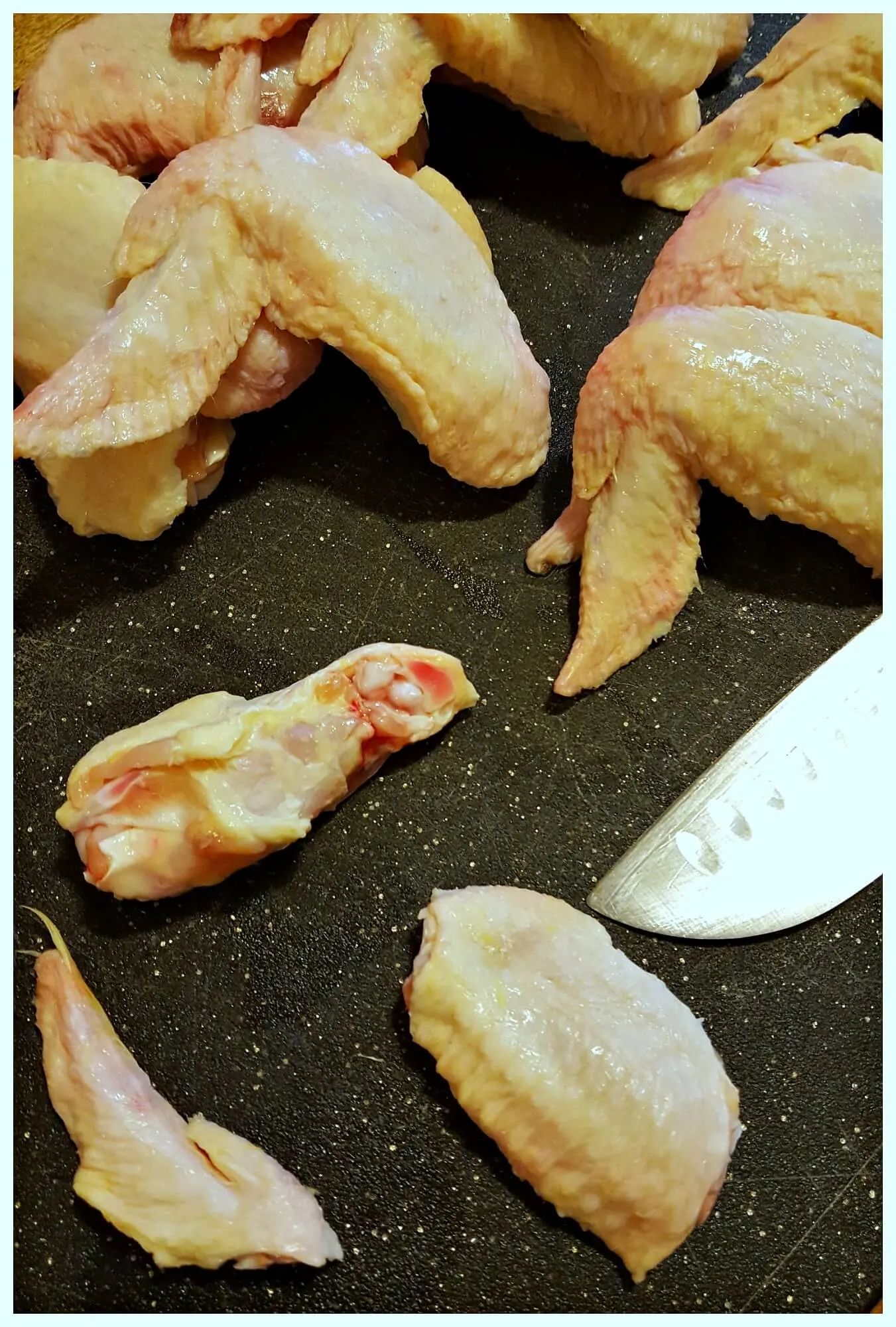 Step 2: Add the vegetable oil to the chicken wings in the mixing bowl. Toss a few times to coat all of the wings with oil. Lay each piece on a lined baking sheet. Season with salt and pepper. Completely optional – I add a little paprika also just to give the wings a nice color as they bake.
If you have a wire rack to place in the baking sheet, it helps ensure crispier wings. No big deal if you don't. My wire racks were occupied with desserts so I simply removed the wings near the end of cooking and drained the fat and juices that cooked off the chicken from the bottom of the baking sheet.
I then returned the wings to the oven and finished off baking. It's an extra step without using the wire rack but either way works just fine.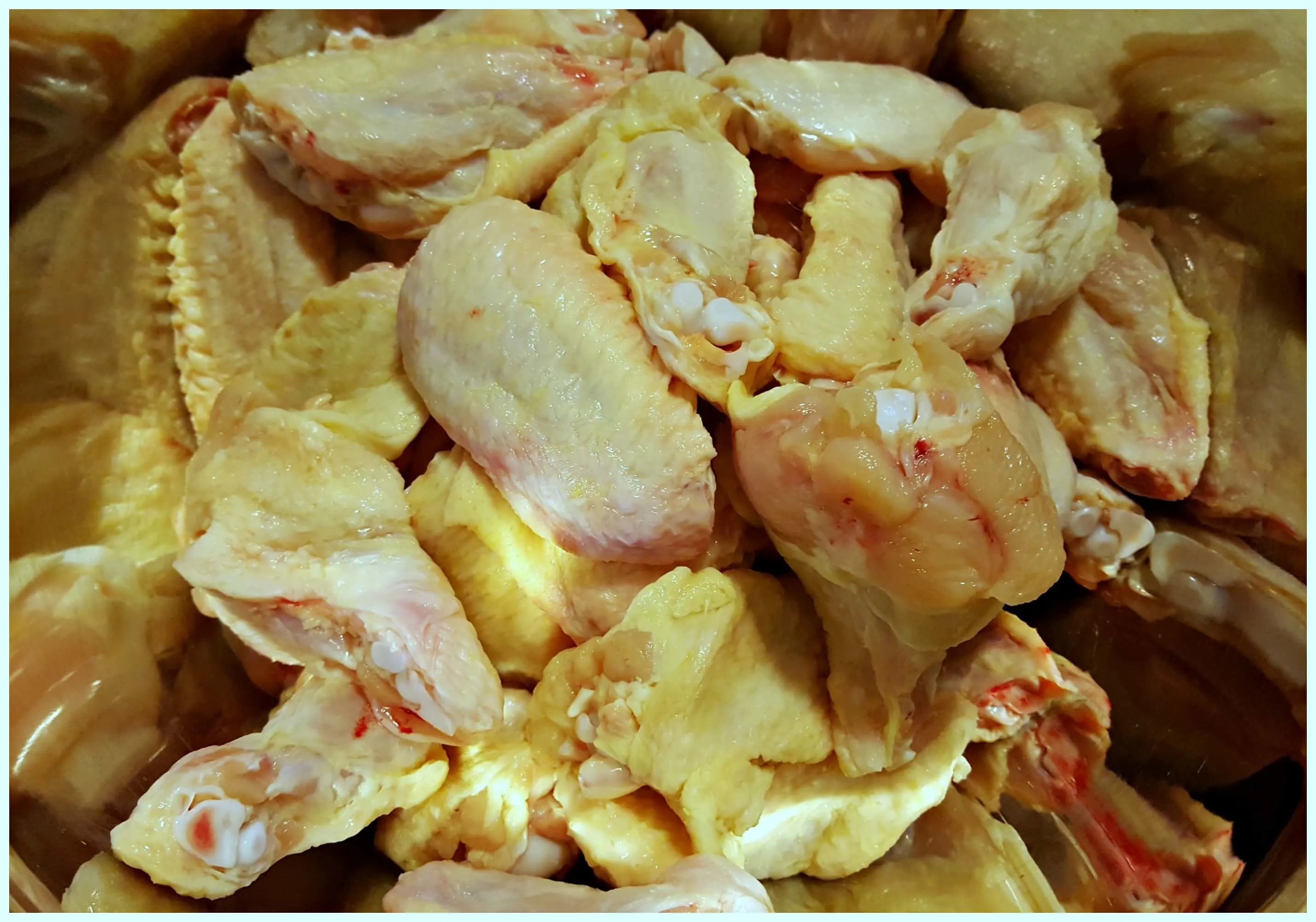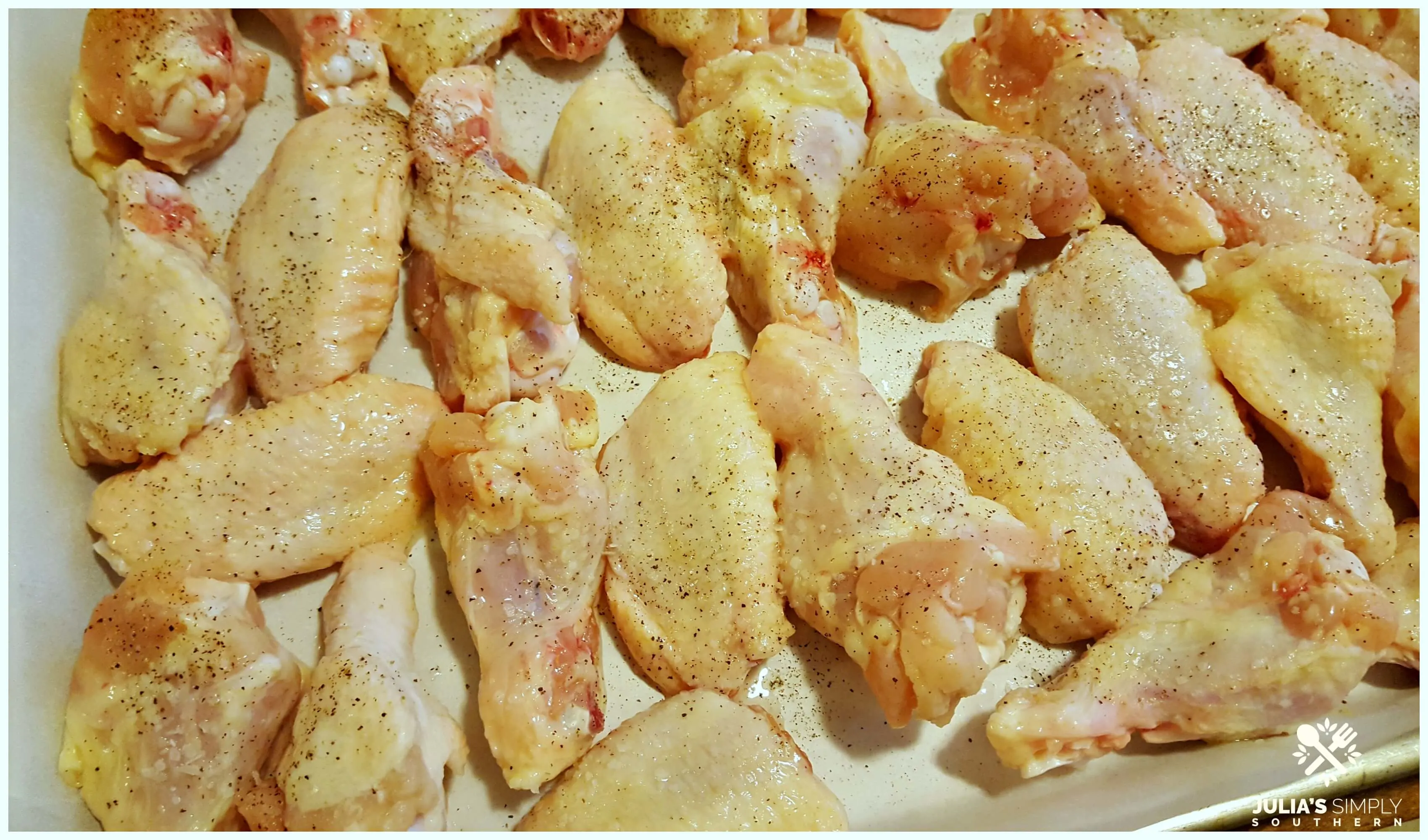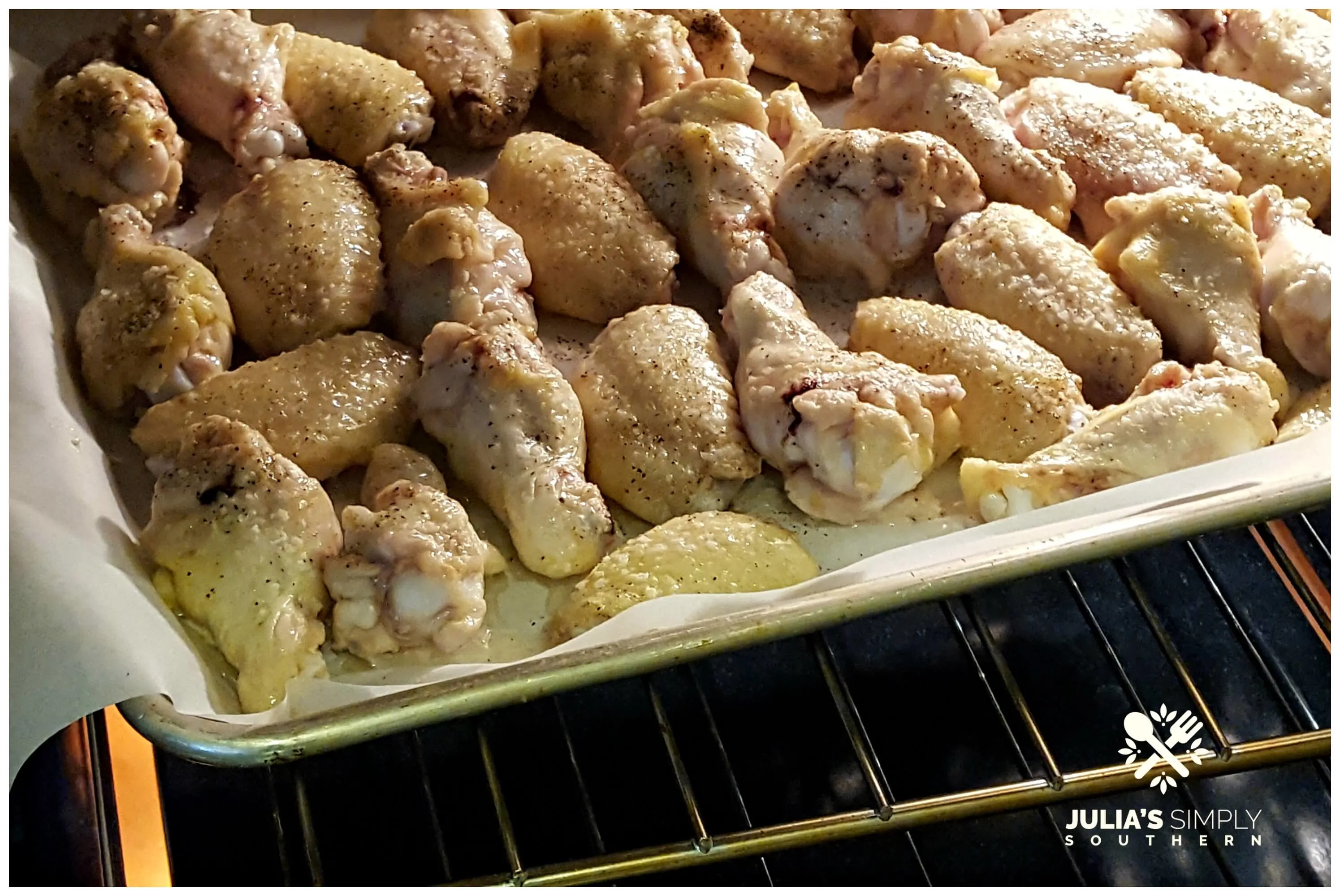 Step 3: Bake for 45 to 75 minutes until desired crispness.
If you plan to take your wings tailgating, they can be prepared the day before. Just reheat the next day in the oven and place in an aluminum pan and cover with foil.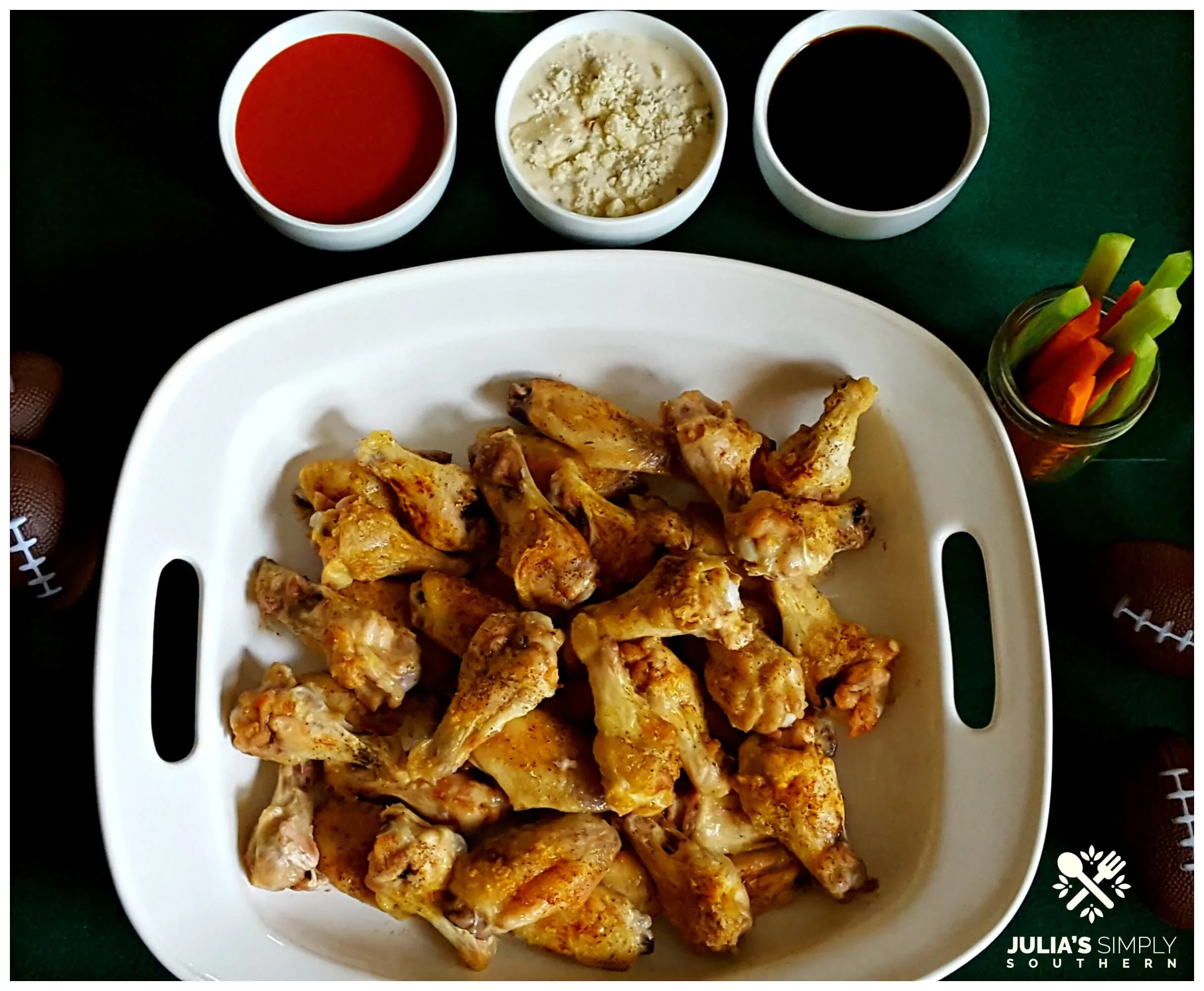 Yield: 40 wings
Baked Chicken Wings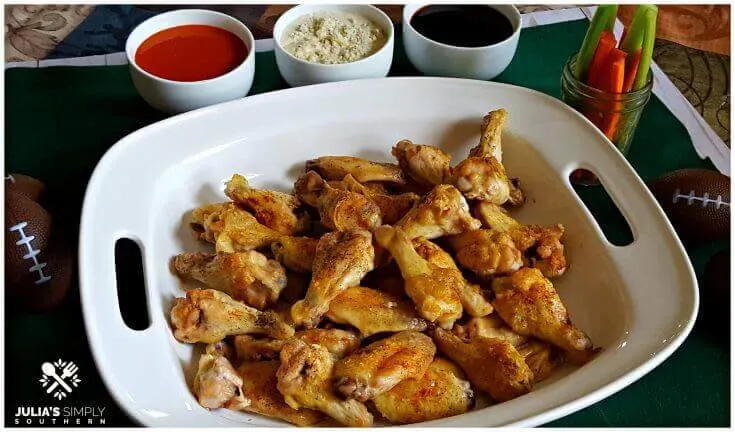 Crispy baked chicken wings are the perfect appetizer, snack or meal
Total Time
1 hour
15 minutes
Ingredients
6 lbs Fresh Chicken Wings, or enough to accommodate your number of guests. (This was 2 packages containing 10 whole wings each that I cut up for a total of 40 wing pieces)
1/4 c Vegetable Oil
Salt, to taste
Black Pepper, to taste
Paprika (optional, to add extra color to the chicken skin)
Instructions
Preheat oven to 400°F
Begin by preparing the wings by using a knife to slice down the skin between the drumstick and flat part of the wing. Guide your knife through the joint to separate the drumette and flat portion. Remove the tip.
Add the separated drumette and flat pieces to a large mixing bowl and add the vegetable oil. Toss to coat all of the wings pieces.
Next, arrange the chicken wings on a lined baking sheet (or on a wire rack placed in a baking sheet).
Bake for 45-75 minutes or until the skin is crisp as desired.
Serve wings at game day gatherings along with sauce options, such as buffalo or teriyaki.
Chicken wings are also traditionally served with carrot and celery sticks with blue cheese or ranch dressing.
Nutrition Information:
Yield:
12
Amount Per Serving:
Calories:

1176
Total Fat:

88g
Saturated Fat:

30g
Trans Fat:

1g
Unsaturated Fat:

51g
Cholesterol:

284mg
Sodium:

739mg
Carbohydrates:

36g
Fiber:

2g
Sugar:

1g
Protein:

59g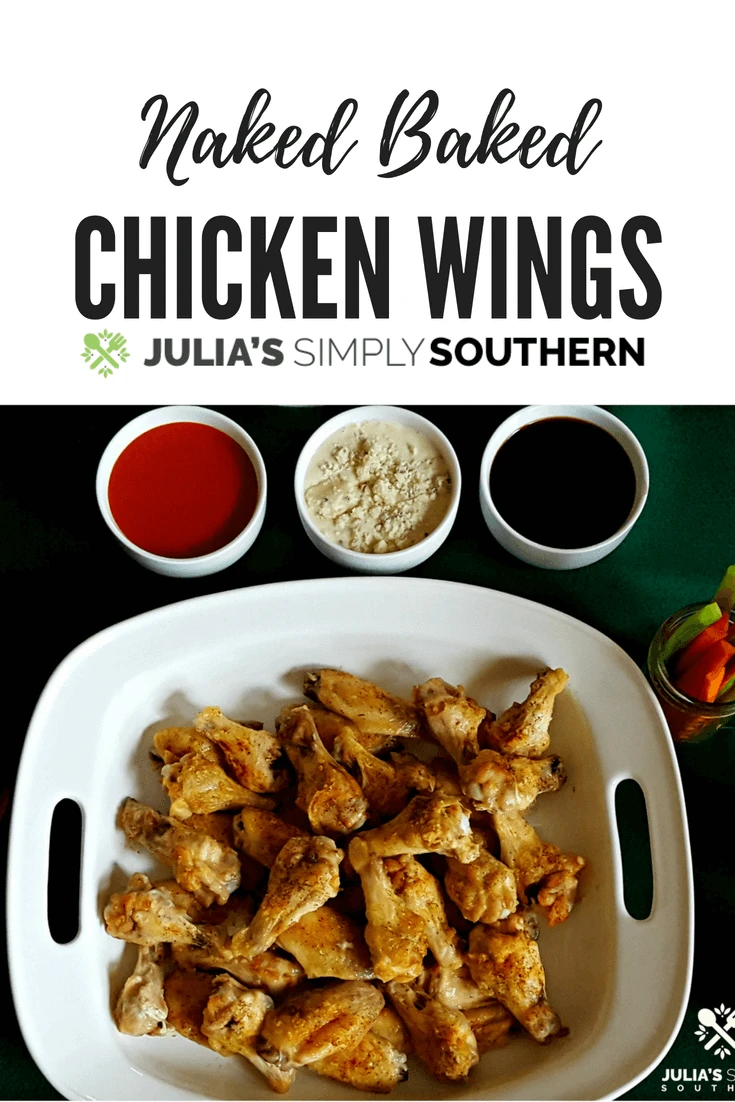 See this recipe at: The Weekend Potluck and Meal Plan Monday
Check out the Latest Recipe Posts
Thank you so much for stopping by! I am so glad that you did.
Be sure to subscribe to my email list while you are here. Email subscribers receive a newsletter each week with the latest recipes and news here on the blog so that you never miss a thing.
Until next time, Love and Happy Cooking, Friend!
Meet Julia
Author of Julia's Simply Southern
Hey Y'all! I'm Julia, the cook and writer behind the recipes here at Julia's Simply Southern. I began my website so that I could share easy to follow recipes that anyone can use to put a home cooked meal on the dinner table. Thanks so much for stopping by!
Follow me on Facebook | Twitter | Instagram | Pinterest | YouTube