Try this easy Herb and Garlic Boneless Pork Roast! This roast pork recipe is simple enough for busy weekdays and special enough for family dinners or holidays.
The fresh herbs and garlic add so much flavor to the meat of the pork as it roasts. The real trick is making sure to cook the pork to the correct temperature.
An over-cooked pork roast will be tough. A pork roast cooked to the perfect temperature will be tender and juicy. It all depends on the cut of pork you choose as to the proper cooking method.
For this recipe, I'm using a boneless pork loin roast. The proper internal and safe temperature should read between 145-160°F for a boneless pork roast.
Southerners have relied heavily on pork being a meal staple for generations. After all, it's the main attraction at our barbecues.
A few weeks ago, I had the pleasure of a visit from my Daddy. He spent a few hours sharing some of our family history and taking me about ten minutes from where I live to show me the areas where he grew up.
My father was born in a rural agricultural mountainous region. Back in those days you planted your own vegetables and harvested your own meats.
One story in particular I thought was rather frightening. During the time he grew up there were still plenty of cougars roaming the mountains here in South Carolina. On the days that an animal was to be harvested, those mountain lions would come down and lurk in the woods behind them screaming their eerie cry.
Slow Roasted Pork in Oven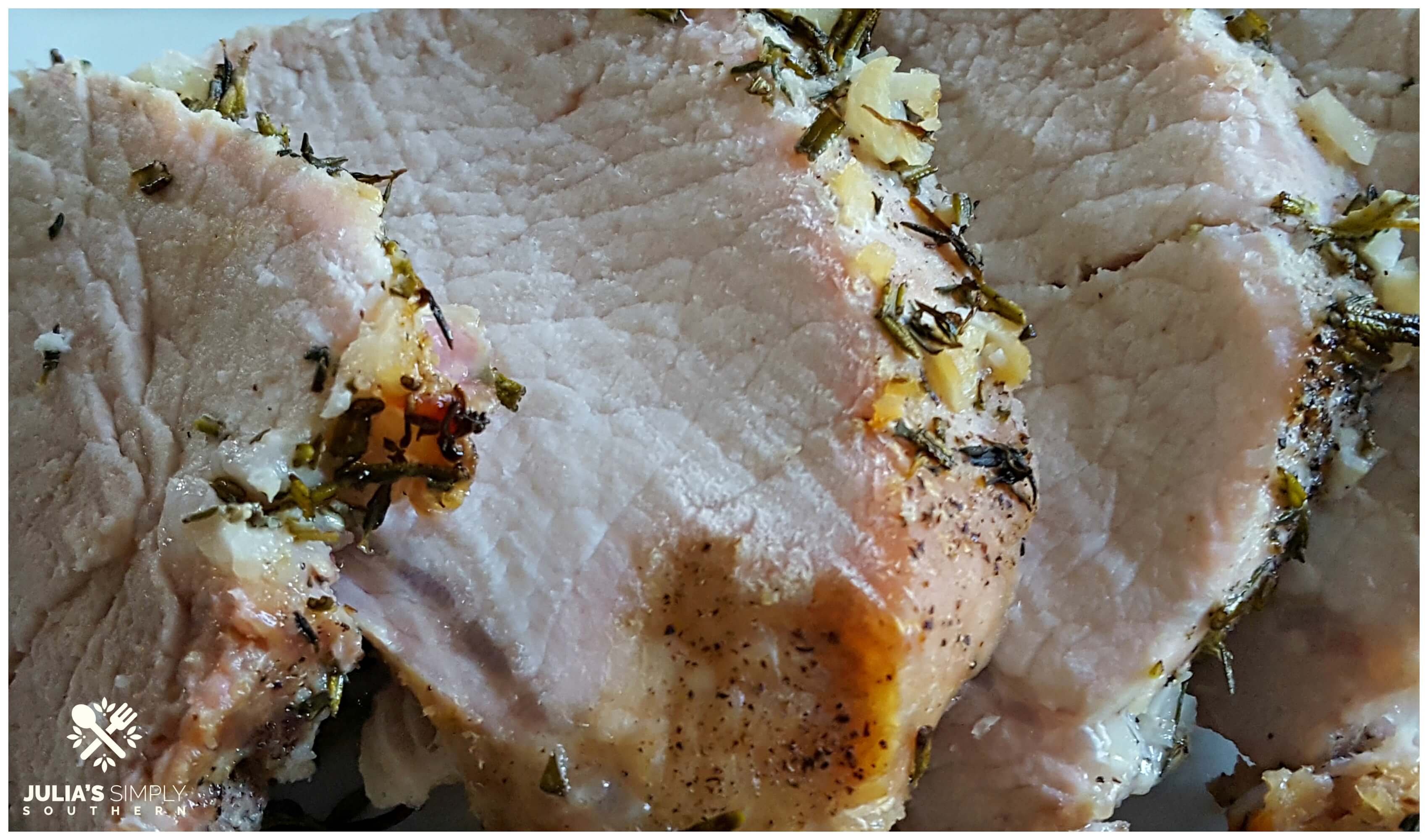 Herb and Garlic Boneless Pork Roast
When I tell y'all how easy it is to prepare this roast, you're gonna be saying "Really, Julia, that's it?". I promise it is so simple and those are my favorite kind of recipes.
Here's what you'll need: a boneless pork loin roast, olive oil, salt, pepper, garlic powder, fresh rosemary, fresh thyme, fresh garlic, a meat thermometer and some chicken stock or water. Find the full printable recipe at the bottom of this post.
Seriously, invest in a trusted meat thermometer. They're readily available in the twenty dollar range and a valuable kitchen tool, particularly for meats such as prime rib, a pork roast or your holiday turkey.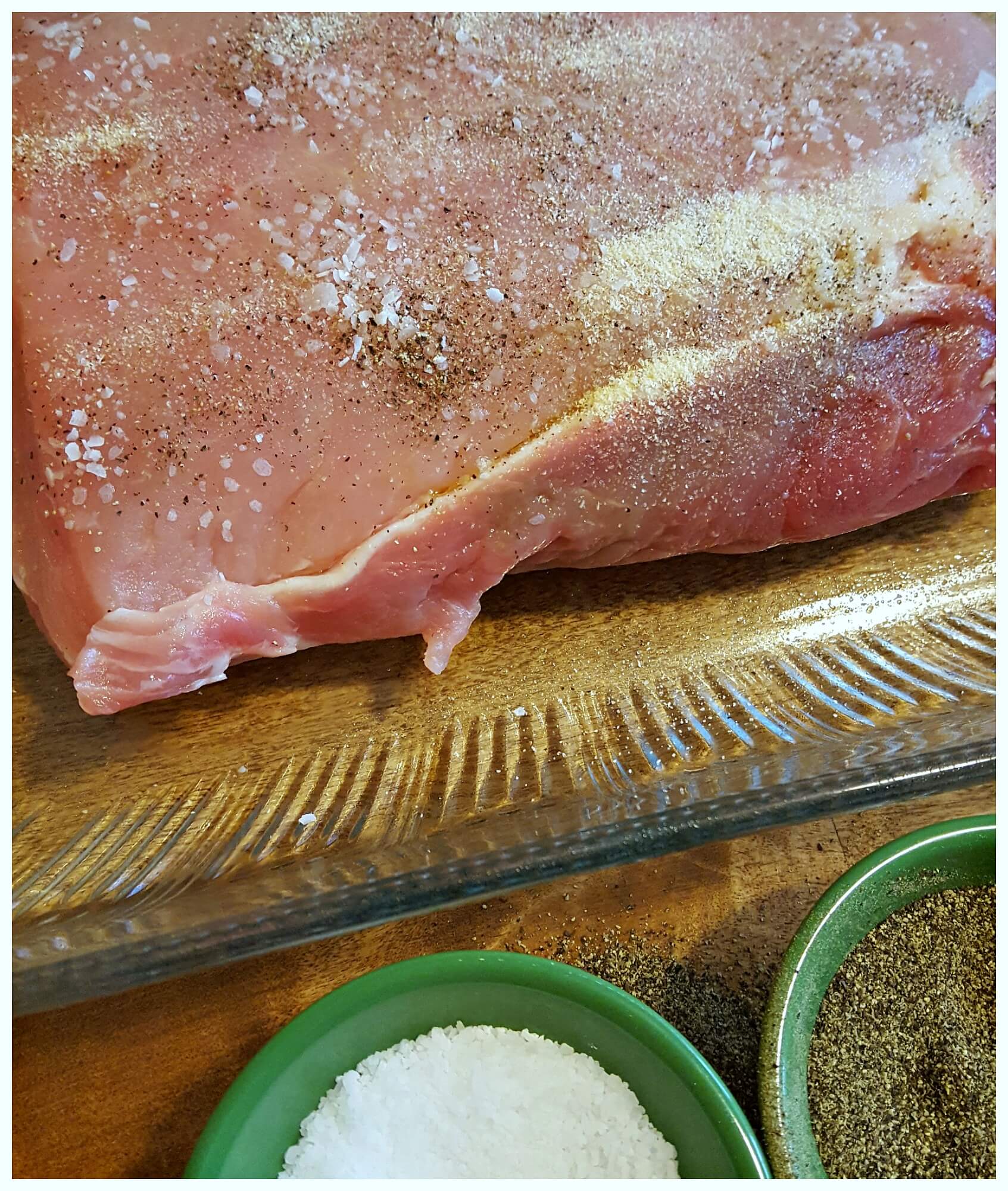 Step 1: Preheat your oven to 325°F (165°C). Finely chop the fresh rosemary and thyme and peel and mince your garlic.
Garlic and Herb Crusted Pork Roast Recipe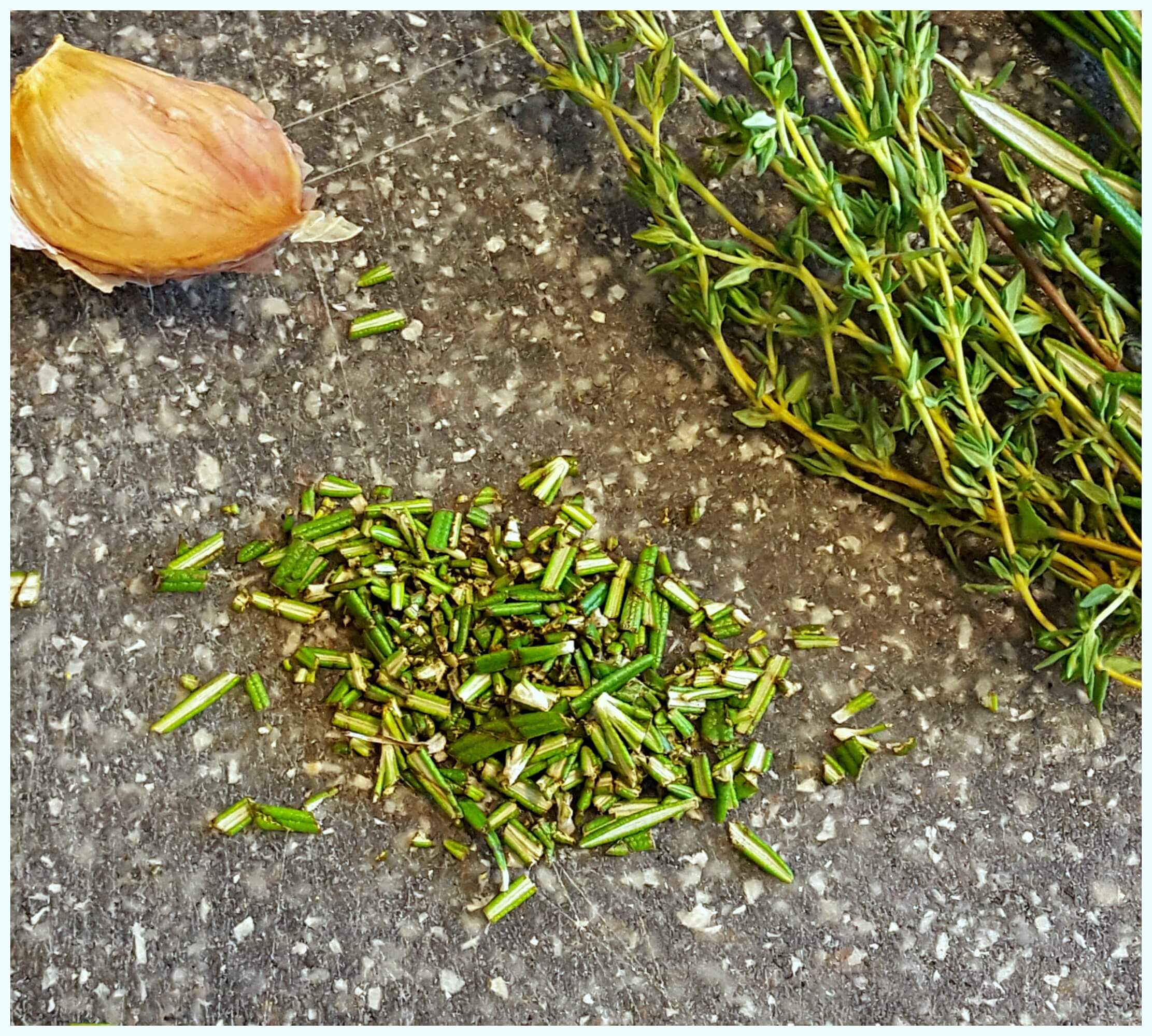 Step 2: Next, rub your pork roast on all sides with olive oil then season with kosher salt, ground black pepper and garlic powder to taste. Notice that mess I made with the pepper on my work table? 😳
Step 3: Place the pork roast in a casserole dish, if you haven't already done so, and apply the fresh minced garlic and freshly chopped herbs. Next, add some chicken stock or water to the bottom of the casserole dish. I prefer to use the stock for an extra flavor boost in case you decide to make a pan gravy later on. Loosely cover the roast with aluminum foil and place into the oven and bake for 1 hour. Remove the post roast from the oven and remove the foil. Return to the oven and bake and additional 15-20 minutes or until the meat thermometer reads between 145-160°F.
Easy and Elegant Pork Roast Recipe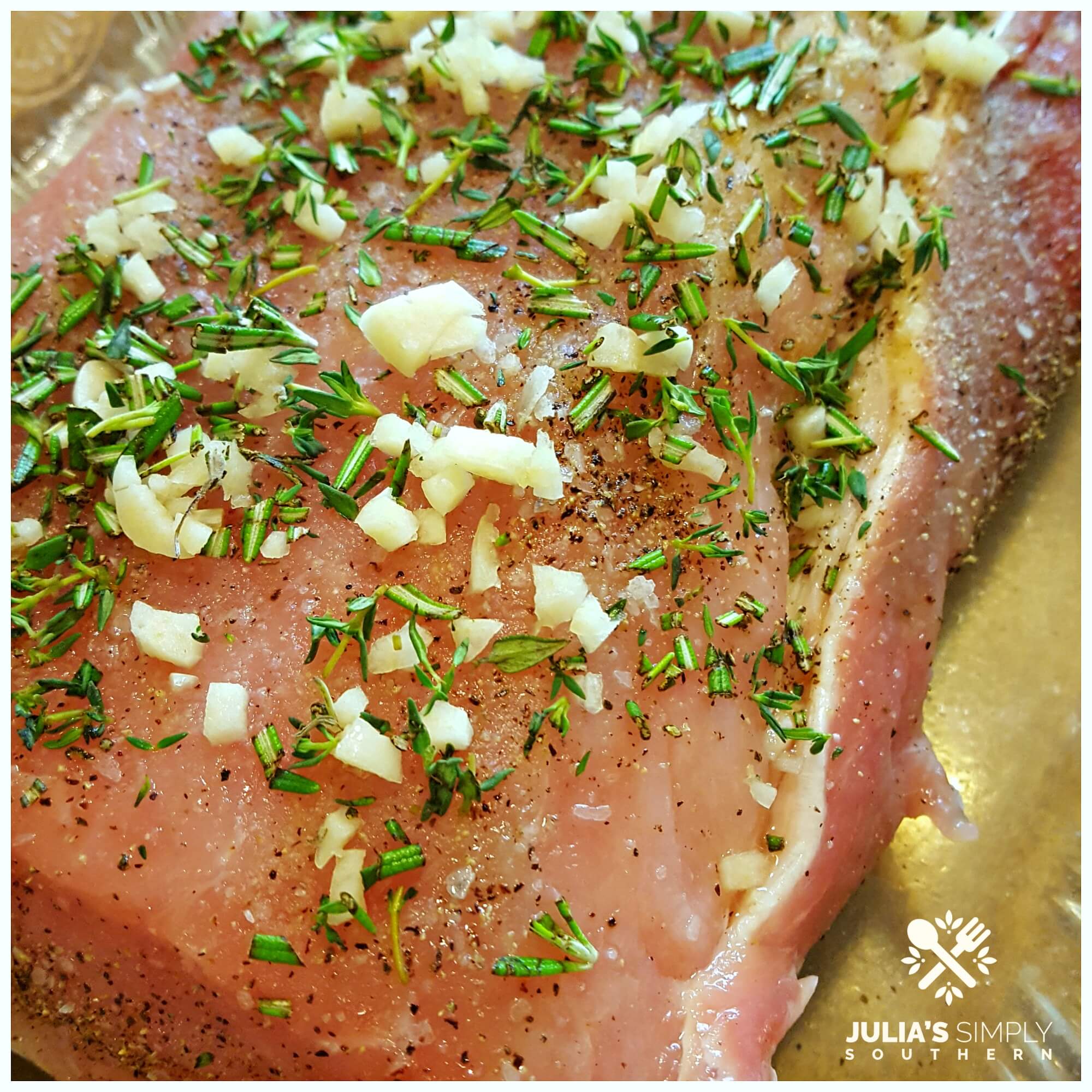 My roasted pork registered 150°F. Allow the meat to rest for 10 minutes before carving.
Herbed Pork Roast at Home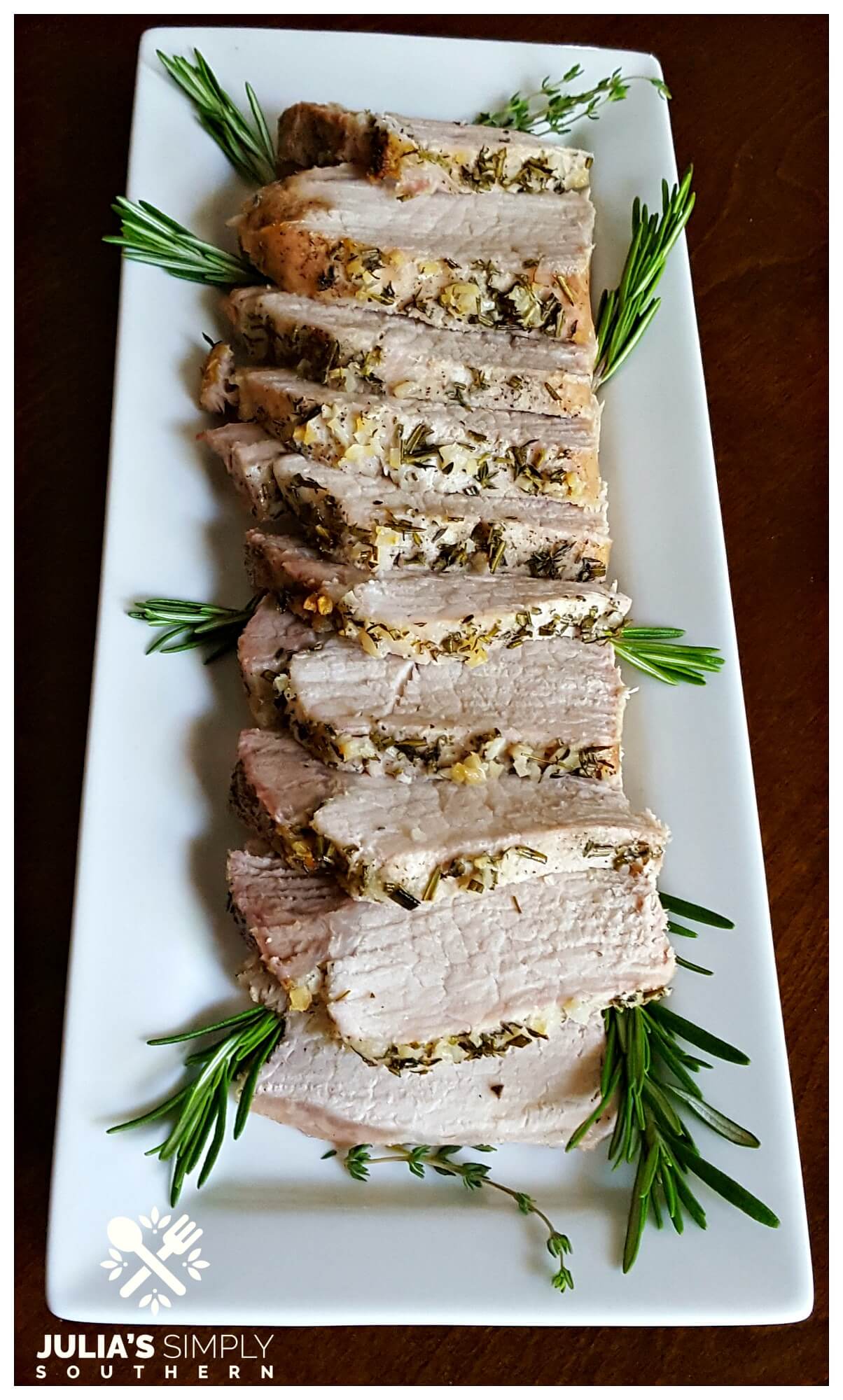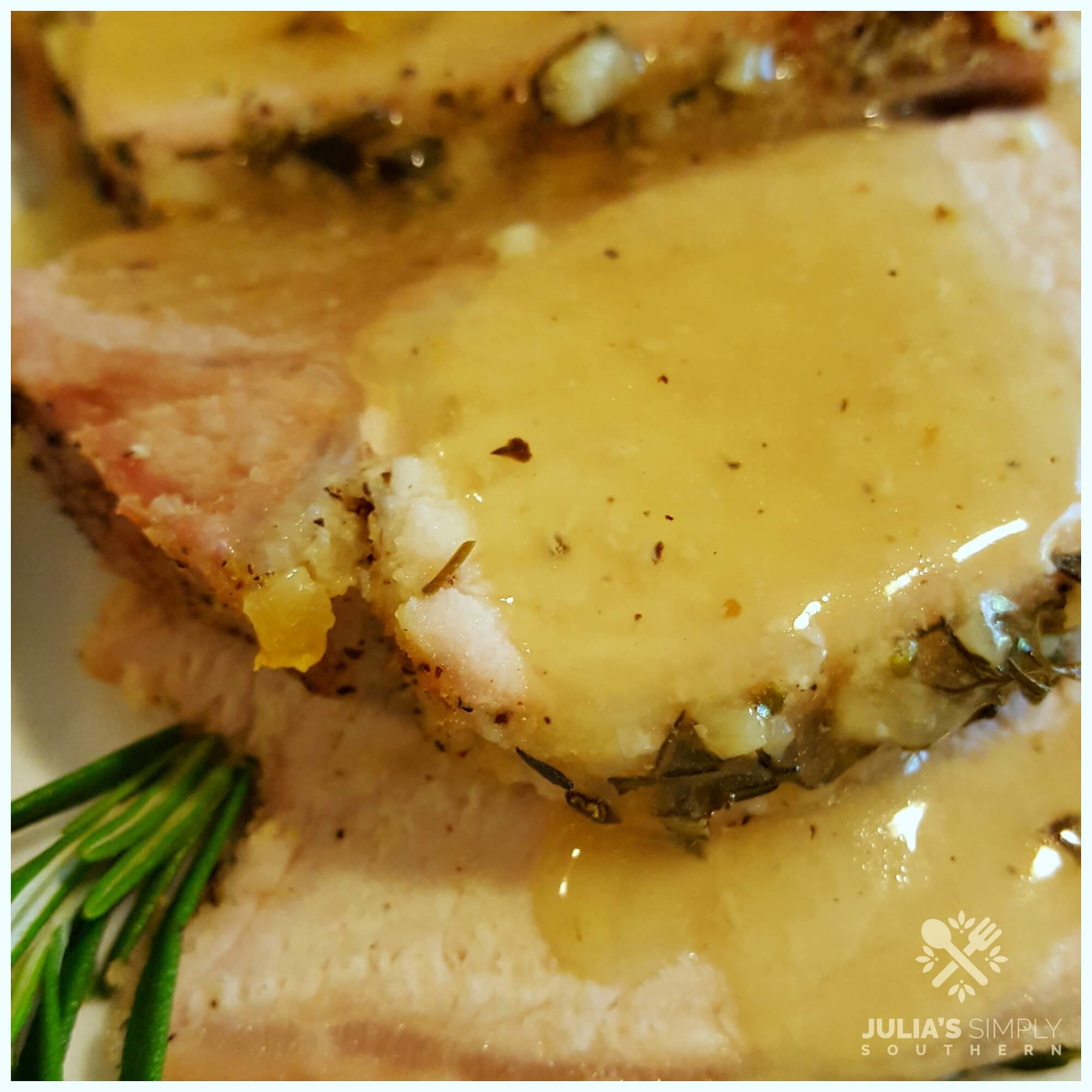 At the last minute, I decided to make a simple gravy using the cooking juices.
Herb and Garlic Boneless Pork Roast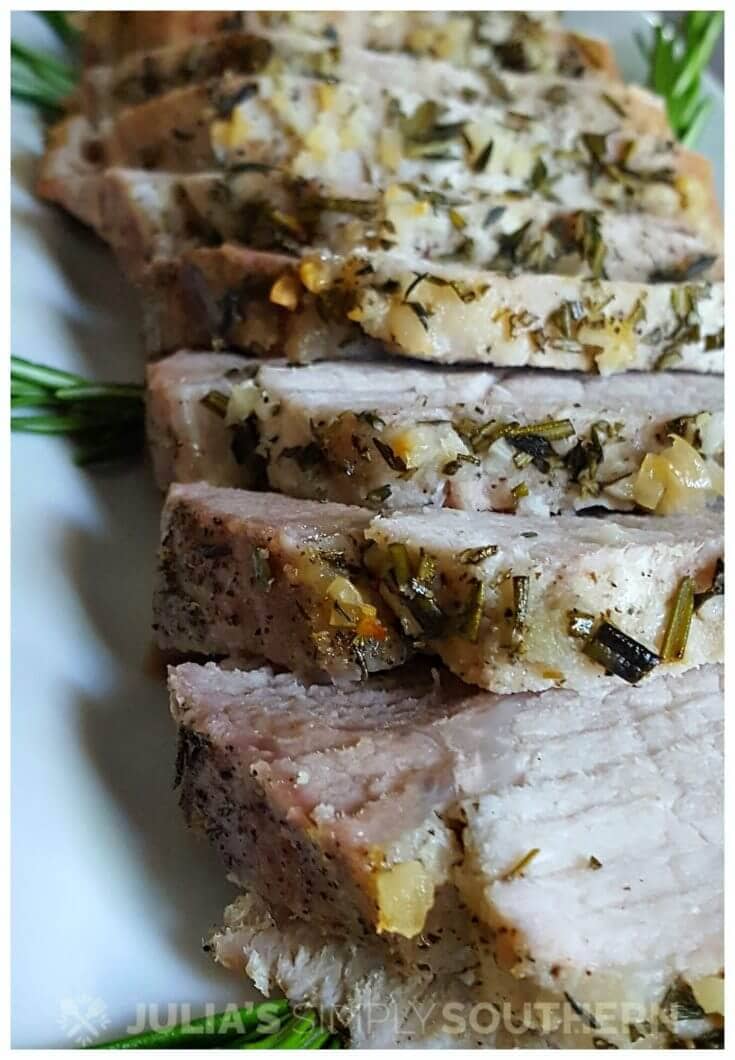 A simple and elegant crusted pork roast with herbs and garlic, easy enough for weeknight meals and special enough for the holiday table.
Ingredients
2 lb Boneless Pork Loin Roast
2 tsp Olive Oil
Kosher Salt, according to taste
Ground Black Pepper, according to taste
1/2 tsp Garlic Powder
1 tsp Freshly Chopped Rosemary
1 tsp Freshly Chopped Thyme
1 Clove of Garlic, peeled and minced
1/2 c Chicken Stock or Water (stock recommended)
Instructions
Preheat your oven to 325°F (165°C)
Prepare the other ingredients by finely chopping the fresh rosemary and thyme and peel and mince your garlic.
Next rub all of the edges of the pork roast with olive oil.
Season liberally with salt, pepper and garlic powder.
Place the pork roast in a casserole dish.
Next, add the chopped herbs and garlic to the top of the pork roast and add the chicken stock to the bottom of the casserole dish.
Cover the roast with foil. Slightly tent the foil so it is not resting on top of the roast.
Bake for 1 hour then remove the foil and bake an additional 15 to 20 minutes or until a meat thermometer reads between 145-160 degrees Fahrenheit.
Allow the meat to rest for 10 minutes before slicing.
Nutrition Information:
Yield:
8
Amount Per Serving:
Calories:

268
Total Fat:

13g
Saturated Fat:

4g
Trans Fat:

0g
Unsaturated Fat:

7g
Cholesterol:

104mg
Sodium:

154mg
Carbohydrates:

1g
Fiber:

0g
Sugar:

0g
Protein:

34g
Also see this recipe at: Weekend Potluck and Meal Plan Monday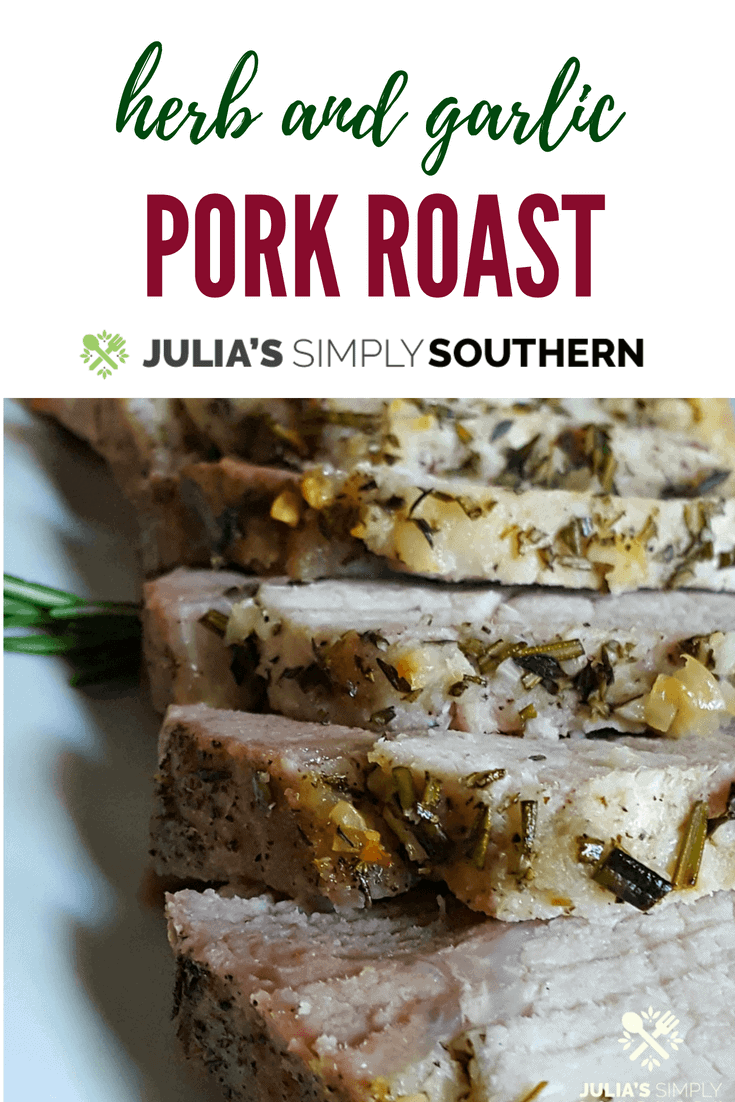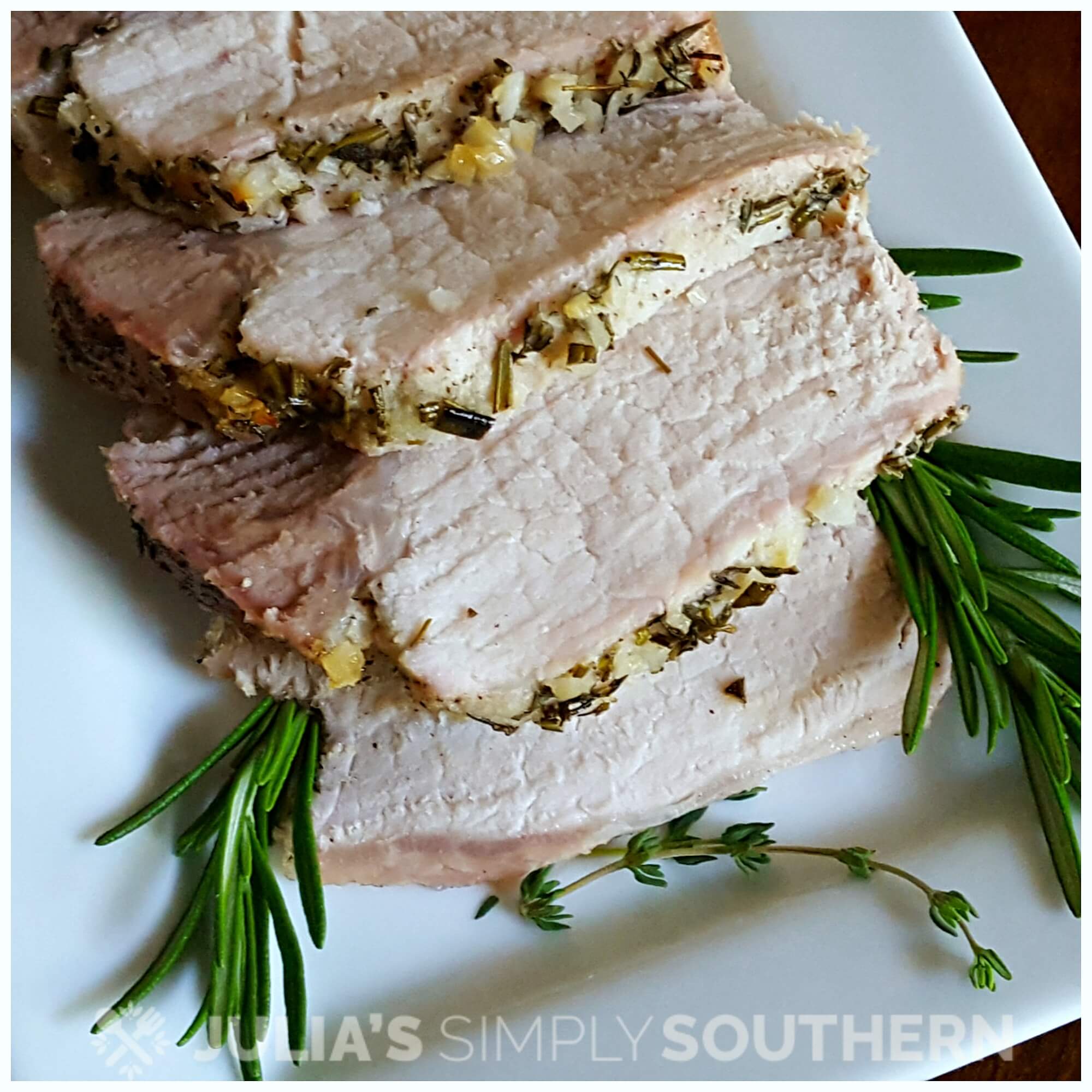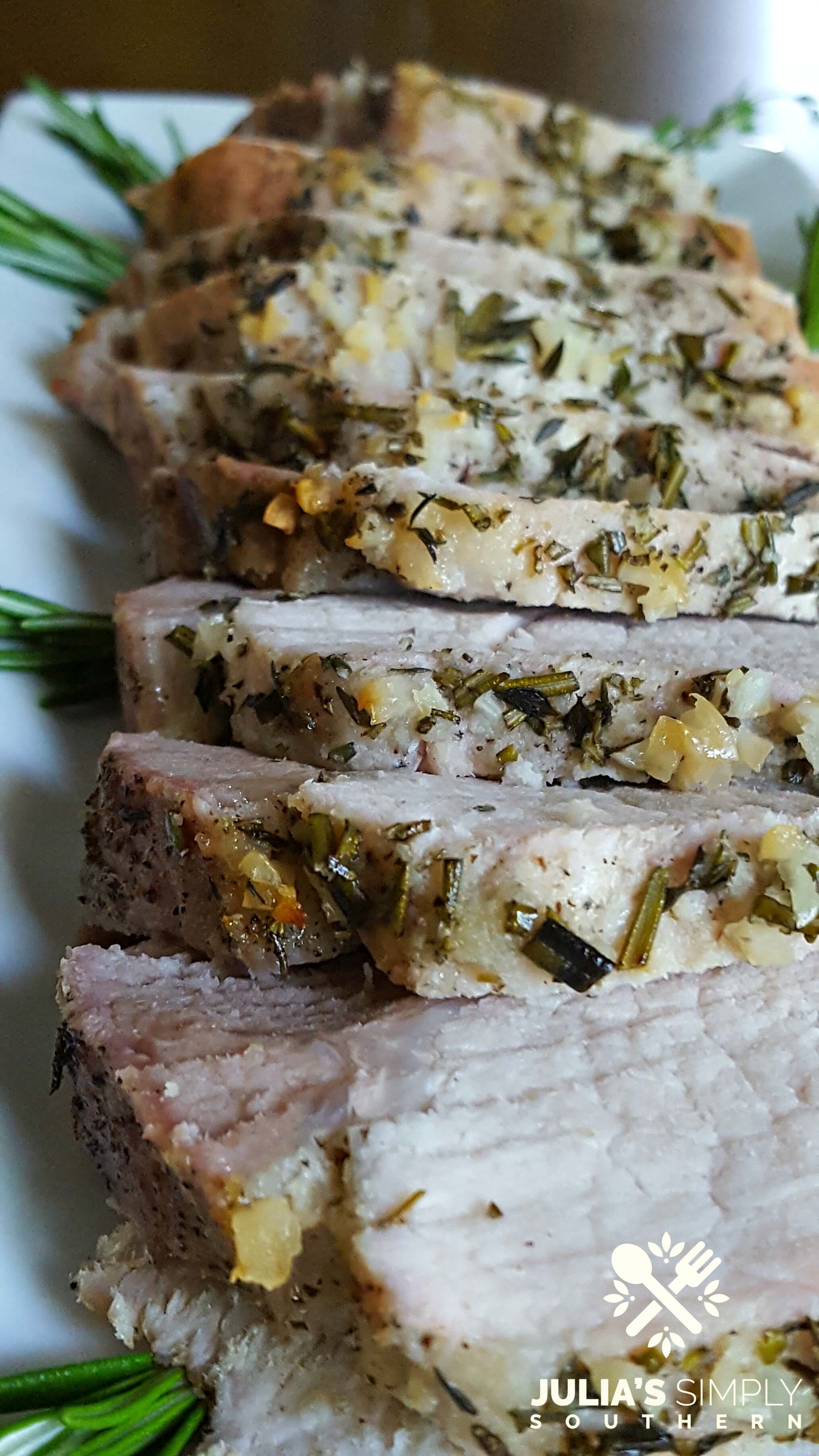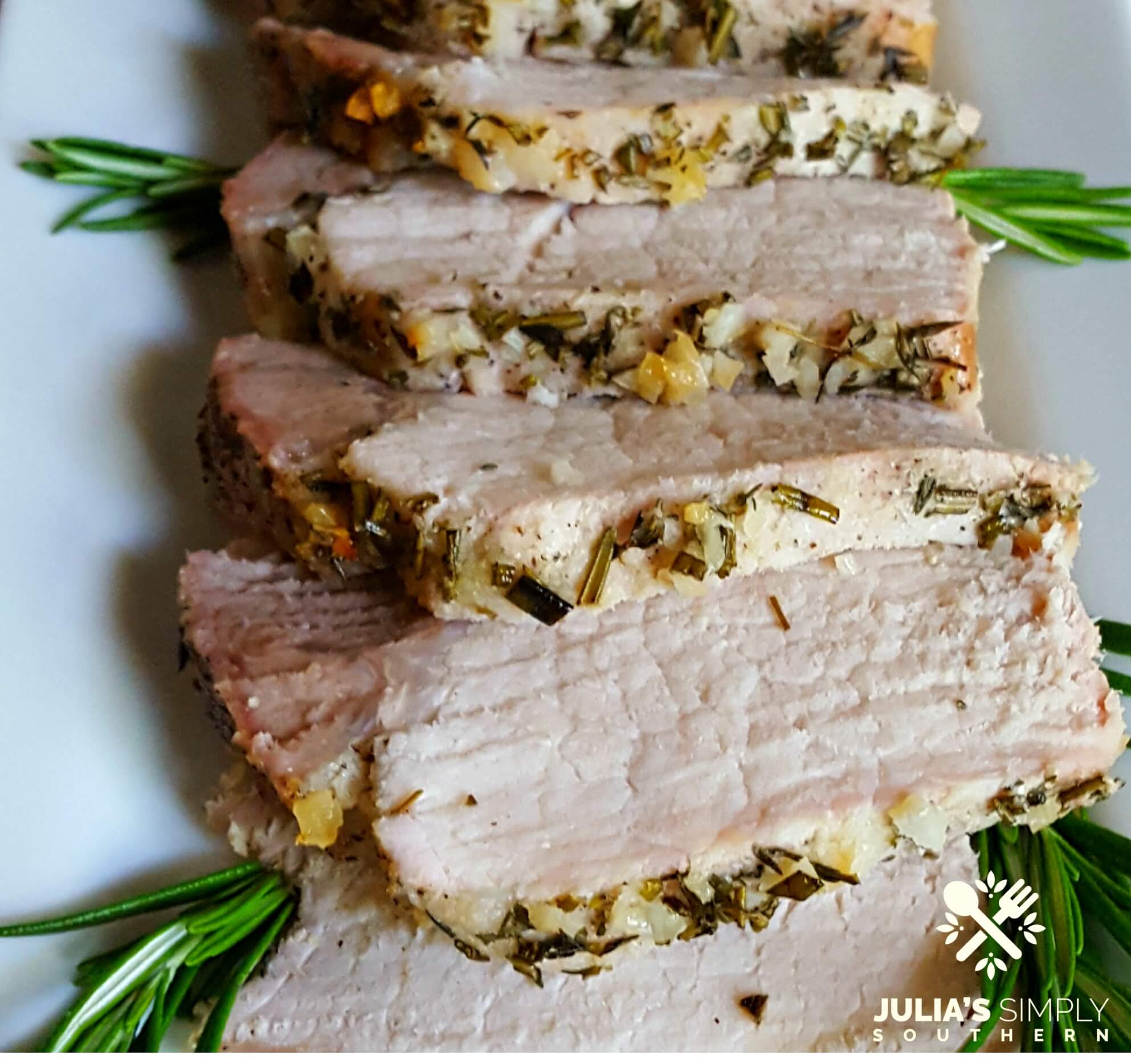 Other Pork Recipes that you may enjoy: Pork Cordon Bleu, Pork Tenders, Stuffed Pork Chops, Pork Medallions with Gravy, and Pan Fried Pork Chops
Find more pork recipes on the blog by searching "pork" in the search box.
Check out the Latest Recipe Posts
Thank you so much for stopping by! I am so glad that you did.
Be sure to subscribe to my email list while you are here. Email subscribers receive a newsletter each week with the latest recipes and news here on the blog so that you never miss a thing.
Until next time, Love and Happy Cooking, Friend!
Meet Julia
Author of Julia's Simply Southern
Hey Y'all! I'm Julia, the cook and writer behind the recipes here at Julia's Simply Southern. I began my website so that I could share easy to follow recipes that anyone can use to put a home cooked meal on the dinner table. Thanks so much for stopping by!
Follow me on Facebook | Twitter | Instagram | Pinterest | YouTube