In this post I'm sharing how to make delicious Bacon Egg and Cheese Croissant Sandwiches. It's a delicious breakfast on the go!
Y'all, I love a delicious fluffy and buttery croissant with cheesy eggs and bacon. There is no need to search for "bacon egg and cheese croissant sandwiches near me" when you can make the freshest and most delicious one right in your own kitchen.
I believe that some of the tasty meals that we enjoy on the go are sometimes forgotten about when it comes to making them ourselves. There is nothing better than using the freshest ingredients that you love to make your own.
Now I'm fine calling this a homemade recipe but I'll be straight up in telling you that after I've seen dozens of videos for how to make croissants that I will never ever be doing that and plan to keep on buying them from the bakery.
Plus those buttery bakery croissants are delicious and perfect for these breakfast sammies. This might be the easy way but I'm a fan of keeping it simple.
Bacon Egg and Cheese Croissant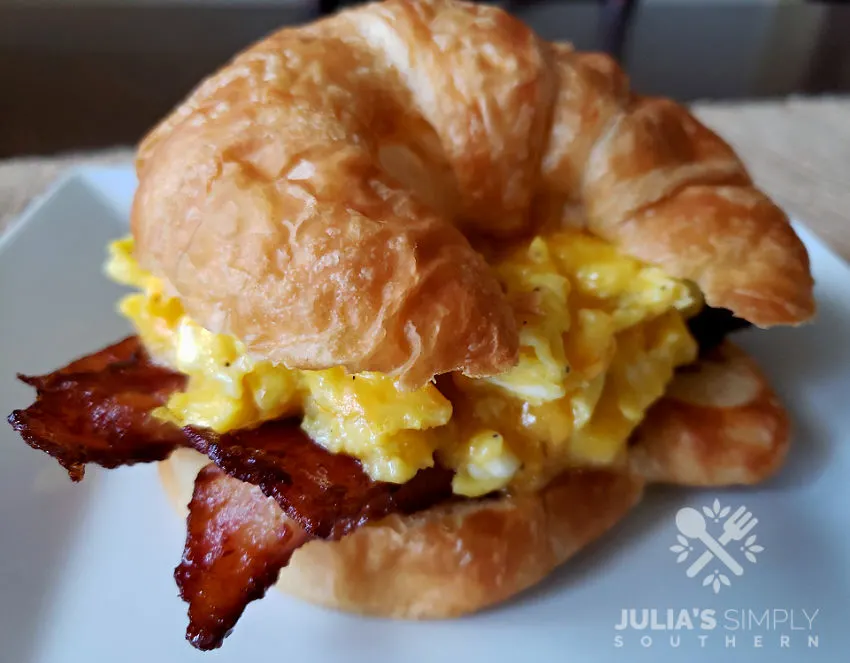 Why you'll love this recipe? Baked bacon, egg and cheese croissant breakfast sandwiches are super easy to make and they're great on the go. Kids love them too!
If you don't have bacon on hand (add that to your shopping list) then just use whatever you have on hand like breakfast sausage, Canadian bacon, ham or whatever you like.
Every single bite of these sandwiches is heavenly! It is kind of a splurge so I'm glad that only six of those big croissants come in a package. This is a breakfast we only enjoy occasionally. I like to switch things up for our breakfast meals so we're not feeling like we eat the same thing over and over too often.
Breakfast Sandwich
What do I need to make Bacon, Egg and Cheese Croissant Sandwiches?
Bakery Croissants – they're big and perfectly delicious and work well for this meal. I don't recommend the refrigerated bake yourself version (you know which ones I'm talking about). It's just not the same.
Bacon – because bacon is delicious!
Eggs – local farm fresh if you can get them. Egg are a nutrition powerhouse and a perfect way to start the day.
Cheese – the delicious cheese of your choice adds another dimension of wonderful flavor to this sandwich.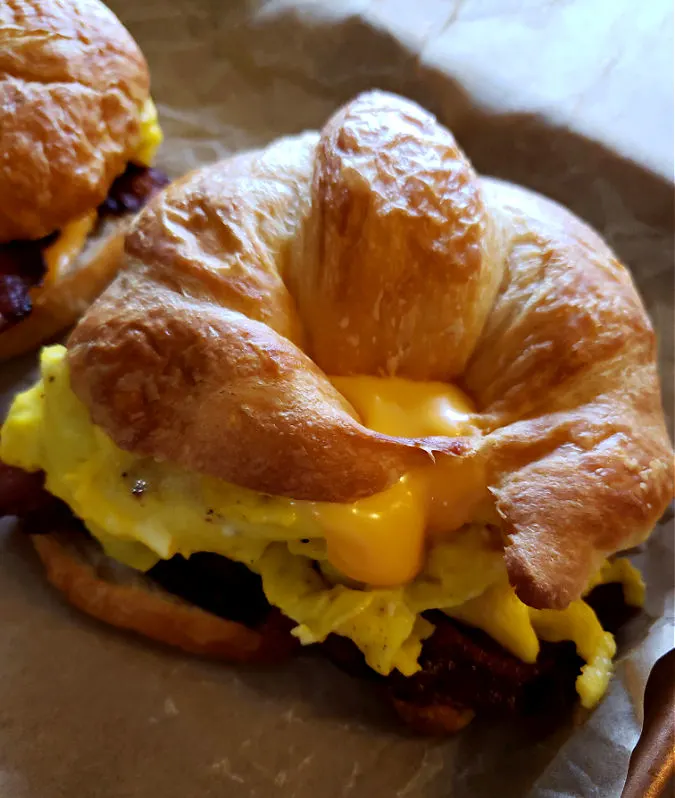 When I make the fluffy scrambled eggs for this recipe I will sometimes add freshly grated cheddar into the eggs as they cook and other times I use a slice of cheese on the sandwich. Either way is delicious and you can use whatever type of cheese that you love.
Delicious cheese options for this breakfast sandwich would be cheddar, American, pepper Jack or provolone.
Although I keep the sandwiches to just the basic ingredients, you could certainly add additional toppings if you prefer them (like lettuce and tomato).
BEC Croissantwiches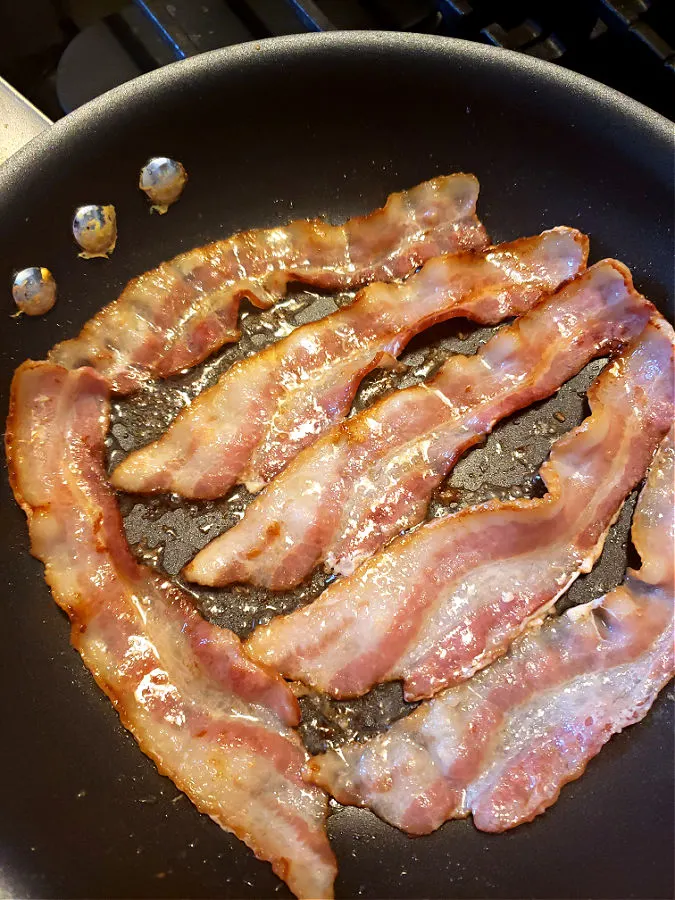 First things first, we gotta cook the bacon. Since it is just a few slices I chose to just go ahead and fry them in a skillet then I'll have some of that flavorful bacon grease to scramble the eggs.
If you're making a larger batch of bacon and feeding more than just two as I am then you could cook the bacon in the oven.
I have gone back and forth over the years on bacon, sometimes choosing the thick sliced, but these days we seem to like the regular ole bacon that cooks up thin and really crispy.
Bacon Egg and Cheese Croissant Sandwiches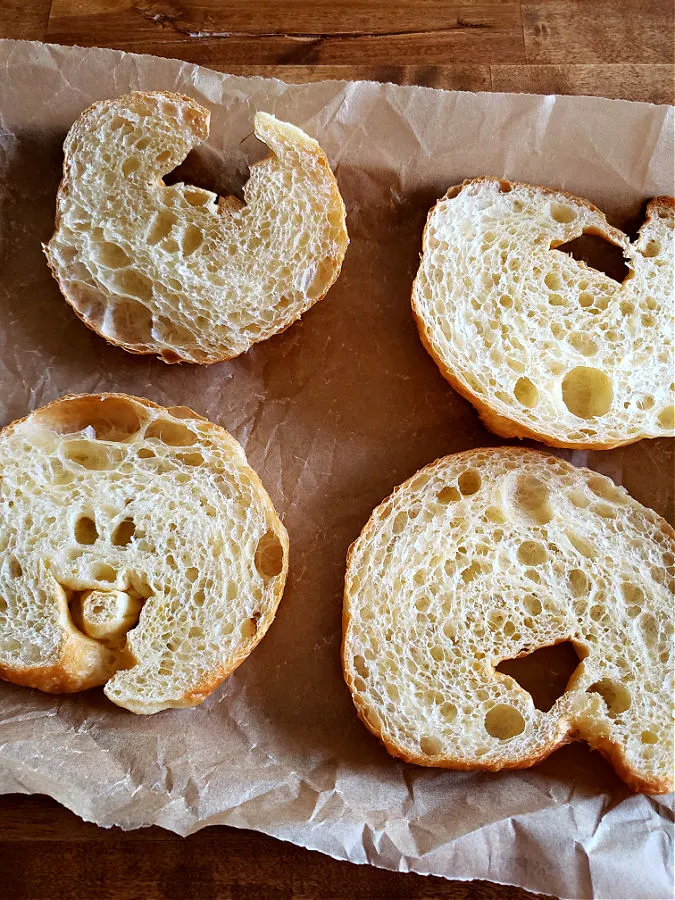 How do I make a real good breakfast sandwich?
Next, take a couple of those big beautiful croissants and slice them in half and place them on a lined baking sheet. Just look at how beautiful and flaky they are!
Bacon, we want Bacon!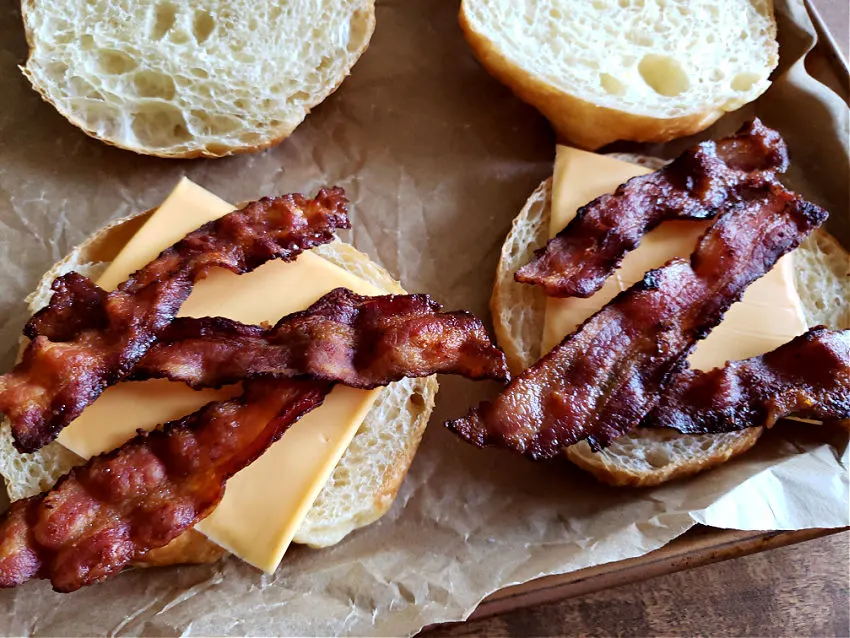 Go ahead and place a slice of your cheese of choice on the bottom half of each croissant then add a few slices of bacon. I think these sandwiches could've used another slice or two. I'll have to do better next time!
Let's be honest here friends, more bacon is never a bad thing in my book.
Easy Breakfast on the Go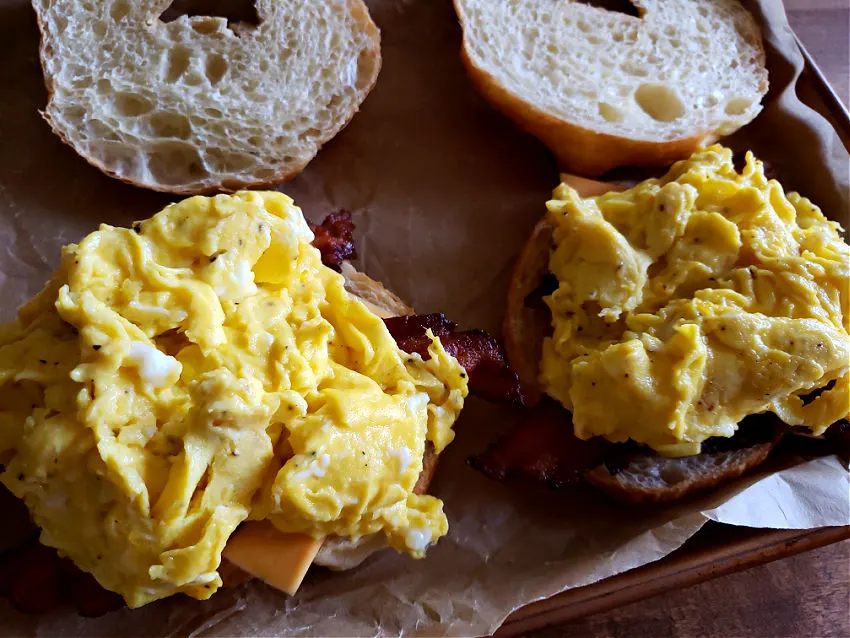 It's time for the fluffy scrambled eggs! I love scrambled eggs. I have a couple of tips when it comes to scrambling eggs that I'd like to share.
A non-stick skillet or a well seasoned cast iron skillet works best for cooking eggs.
Fresh eggs are always best.
Beat the eggs really well with a splash of heavy cream.
Hold off on seasoning the eggs until they are finished cooking. This will keep the salt from drying out the eggs.
Scramble eggs over medium low heat while pushing the curds toward the center gently as they cook. Continue to cook until they are done to your likeness.
Place a heaping amount of your perfectly cooked eggs on top of the bacon and cheese the place the top of the croissant on and pop them into the oven to bake until the cheese is melty.
Warm croissants are amazing and you'll love how taking a couple of minutes to toast the sandwiches. The oven baking really adds to how special they are.
If you prefer a fried egg over scrambled then by all means cook the eggs however you like them best. This is your sandwich after all and you know what you will enjoy the most.
Croissant Breakfast Sandwiches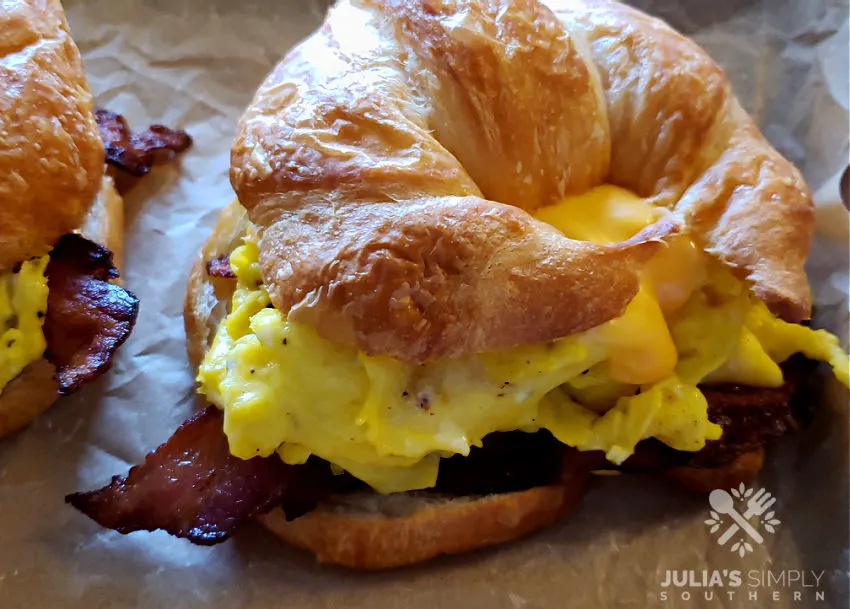 Serve your croissantwiches immediately or wrap it up and take it with you as you head off on your day.
Below you'll find a handy printable recipe card with all of the details for this delicious breakfast recipe.
Printable Recipe Card
Yield: 2 Sandwiches
Bacon Egg and Cheese Croissant Sandwiches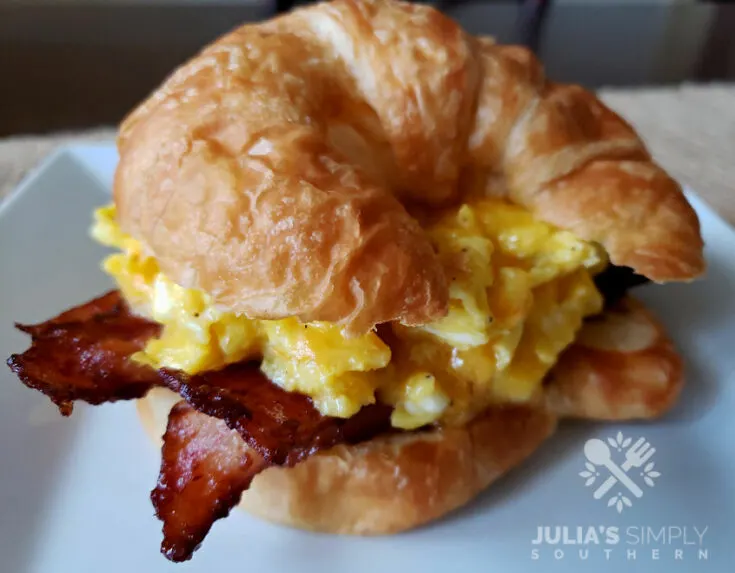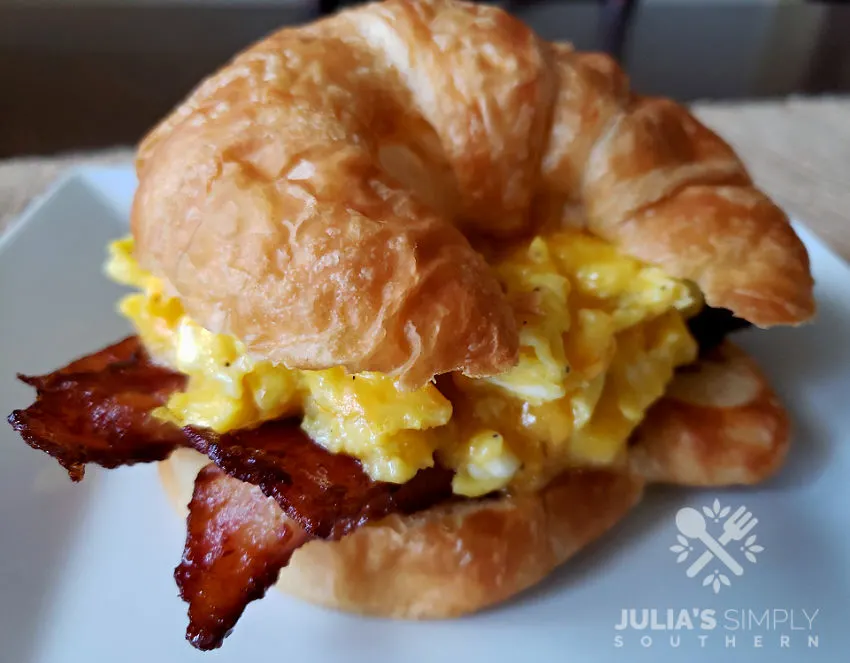 Oven baked bacon, egg and cheese croissant sandwiches are an amazingly delicious way to start the day. These are the ultimate breakfast croissant and so easy to prepare. Perfect on the go too.
Ingredients
6 Slices of Bacon
4 Large Eggs
1 tablespoon of Butter
Splash of Heavy Cream
2 Big Flaky Bakery Croissants
2 Slices of Cheese
Salt and Black Pepper, to taste
Instructions
Preheat oven to 350°F.
Cook the bacon in a skillet over medium heat, turning until crispy on both sides. Transfer bacon to a paper towel lined plate and set aside.
Remove most of the fat from the skillet leaving about half a tablespoon then add the butter to melt. Beat eggs well and add to the skillet and scramble 3-4 minutes until desired doneness.
Assemble the croissant sandwiches by slicing each croissant in half and placing on a lined baking sheet. Next, add a slice of cheese and strips of cooked bacon to the bottom half of each croissant. Next add the fluffy scrambled eggs and place the top of the croissants on each sandwich.
Bake in a pre-heated oven 5-8 minutes until warmed and the cheese has melted.
Serve immediately.
Recommended Products
As an Amazon Associate and member of other affiliate programs, I earn from qualifying purchases.
Nutrition Information:
Yield:
2
Serving Size:
1
Amount Per Serving:
Calories:

533
Total Fat:

46g
Saturated Fat:

22g
Trans Fat:

1g
Unsaturated Fat:

21g
Cholesterol:

480mg
Sodium:

601mg
Carbohydrates:

18g
Fiber:

1g
Sugar:

5g
Protein:

34g
What to serve with breakfast sandwiches? The breakfast sandwich is most often the entire meal itself but can be served with a side of fruit, a bowl of grits or hashbrowns if desired. Be sure to enjoy a hot cup of coffee too.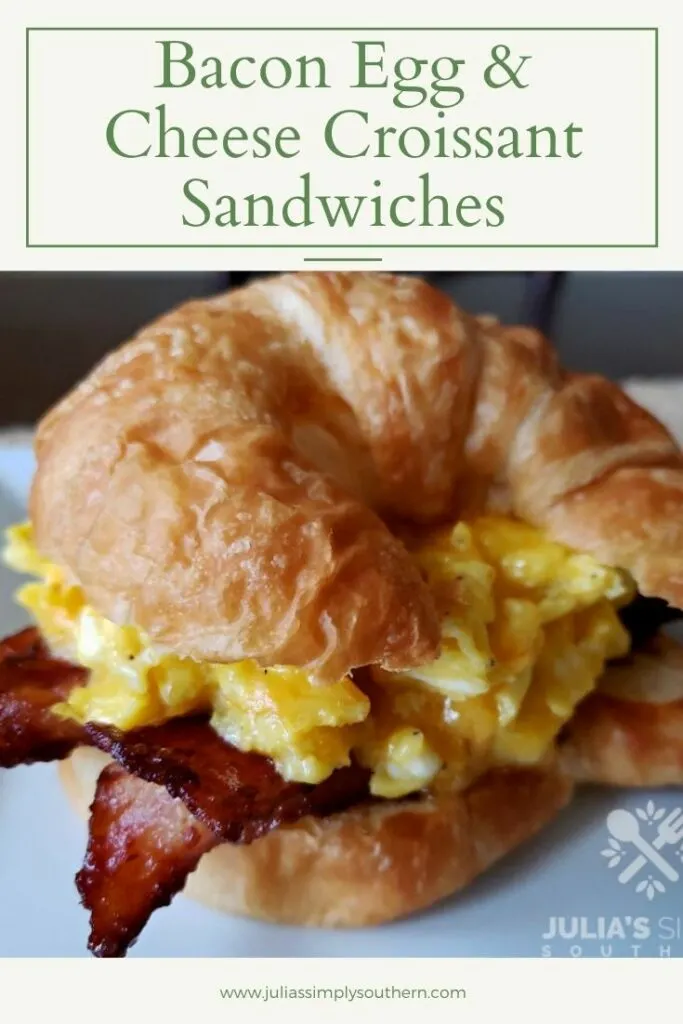 The Latest Breakfast Recipes on the Blog
Baked Bacon Egg and Cheese Croissant Sandwiches
Thank you so much for stopping by! I am so happy that you did and I know that you'll love making your own amazing breakfast croissant sandwiches just as much as I do.
I happen to be a person who just loves breakfast and I want a delicious breakfast every day. These tasty sammiches are certainly that…delicious!
Be sure to subscribe to my email list while you are here. It's a great way for us to stay connected and as a subscriber you will get an email newsletter from me once a week with the latest recipes and news here on the blog so that you never miss a thing.
Browse through the breakfast recipes on the blog for more great breakfast sandwiches that you might enjoy too.
Peace, love and bacon grease y'all! I'll see you next time!
Meet Julia
Author of Julia's Simply Southern
Hey Y'all! I'm Julia, the cook and writer behind the recipes here at Julia's Simply Southern. I began my website so that I could share easy to follow recipes that anyone can use to put a home cooked meal on the dinner table. Thanks so much for stopping by!
Follow me on Facebook | Twitter | Instagram | Pinterest | YouTube