In this post I am sharing a delicious recipe for Southern Air Fried Yellow Squash, also known as summer squash.
Hey Y'all! I've been having a lot of fun with the air fryer we were gifted during the holidays. It was a joint decision to incorporate some healthier recipes in our meal rotation and I'd say that is working out quite well for us.
There have been a lot of delicious and successful recipes in our air fryer and one or two fails. It happens. They can't all be wonderful the first go around.
The traditional Fried Squash recipe on the blog is very successful. It is a reader favorite and also a personal favorite of mine. It's one of those classic Southern vegetable sides that I grew up with and am very fond of.
"You cannot swim for new horizons until you have courage to lose sight of the shore." ~ William Faulkner
Fried Squash in Air Fryer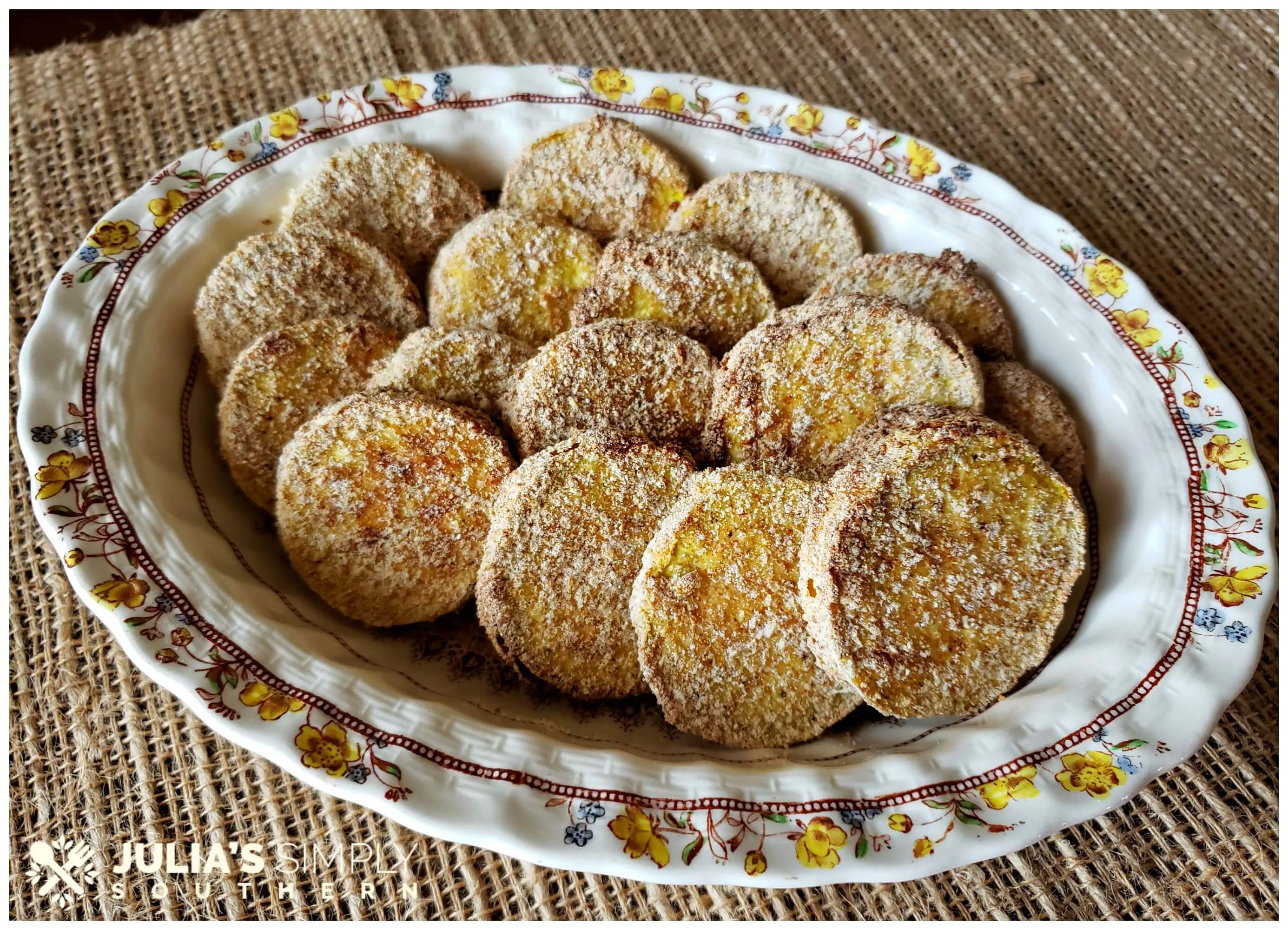 Taking one of my favorite fried vegetables and developing an air fryer recipe was a bit of a risk. Would I like it? Would my family like it? Well…we gotta try it first and see, so we did.
It is delicious and seasoned well and has a nice bite of crunch to it. Is it the same as traditional fried squash? Well, no it is not. I had regular bread crumbs on hand that I used in this recipe. Panko would have given a bit more crunch in my opinion so I think I'll use that next time.
Air fried vegetables are still delicious and have up to 70% fewer calories but can not and will not be quite the same as food fried in oil. My plan is to alternate between the two recipes when I want fried squash.
Best Air Fried Squash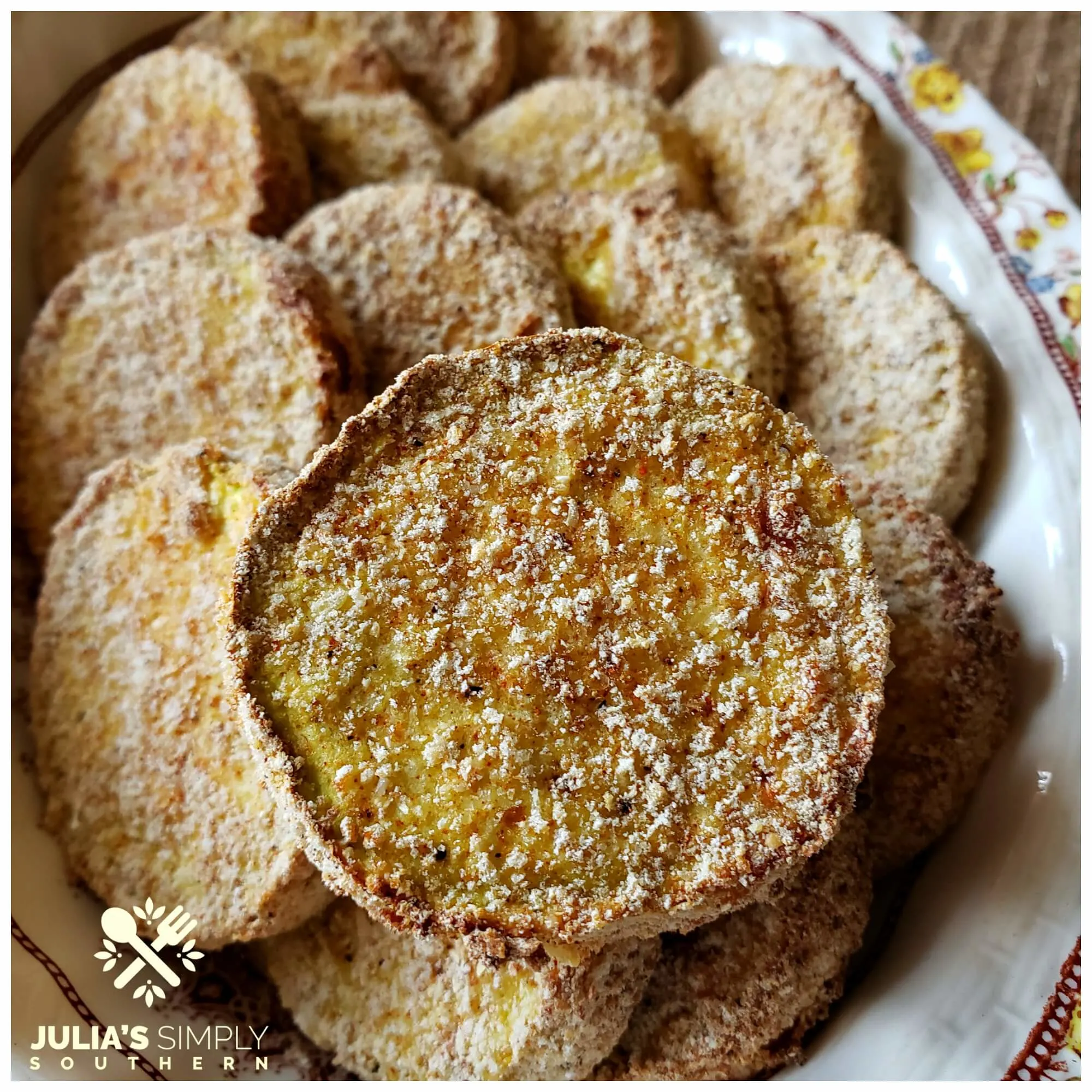 Besides healthier recipes, another thing I enjoy about using the air fryer is that it makes food preparation so easy. There is no standing over the stove dodging popping hot grease.
I'm really gonna enjoy cooking with the air fryer when it is summer time in the South and a million humid degrees outside and it's just too darn hot to cook.
Air Fryer Vegetables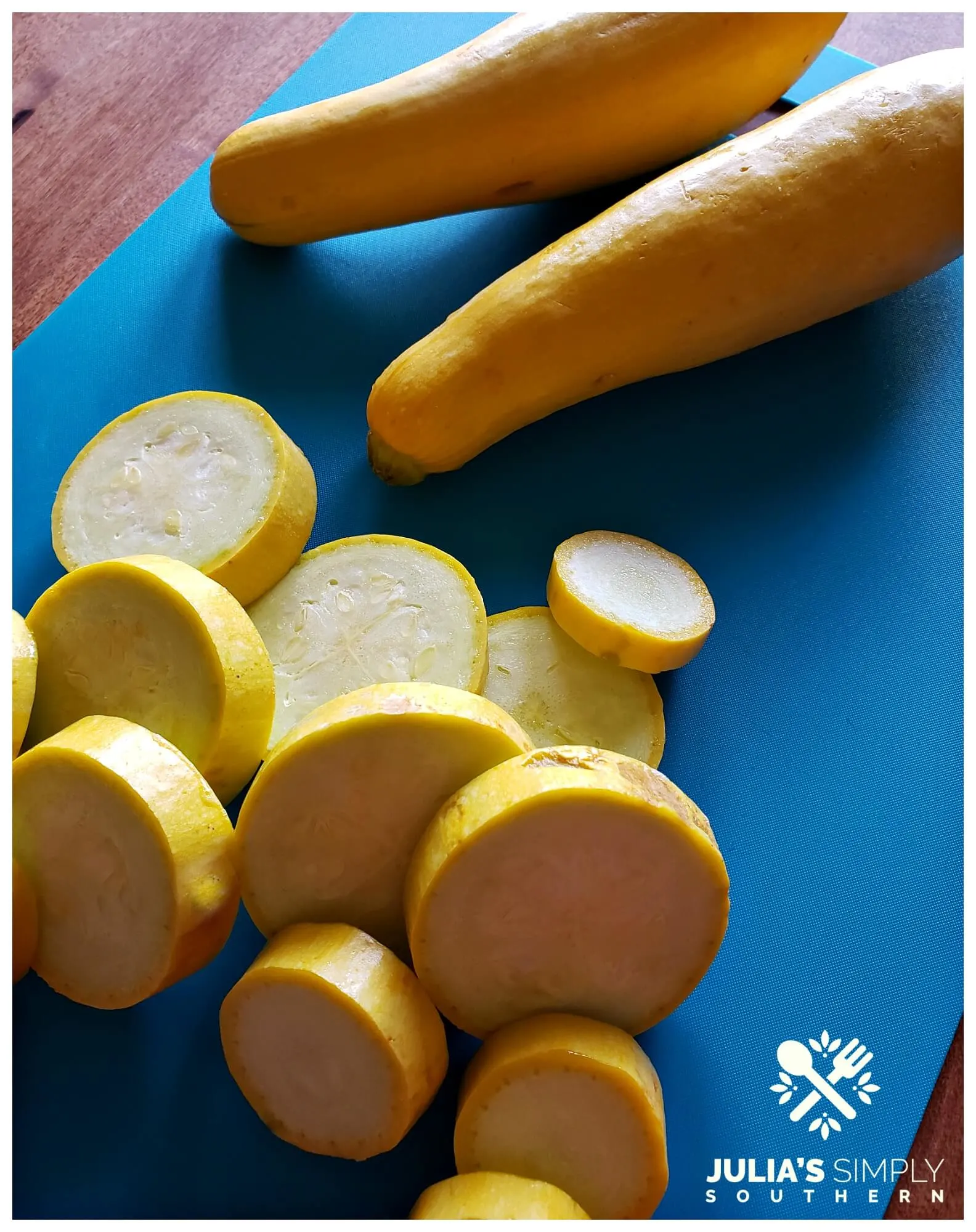 Find a Full Printable Recipe Card further down in this post.
Okay…let's talk about how I made this gorgeous air fried squash. OH…and if you're curious about the type of air fryer that I have, I'm sharing a link to it below with the recipe card.
Step 1: Slice the squash into even slices. It is completely optional but I season the squash with a little salt and pepper before breading too. I think that is an easy way to ensure you have a nice seasoned vegetable.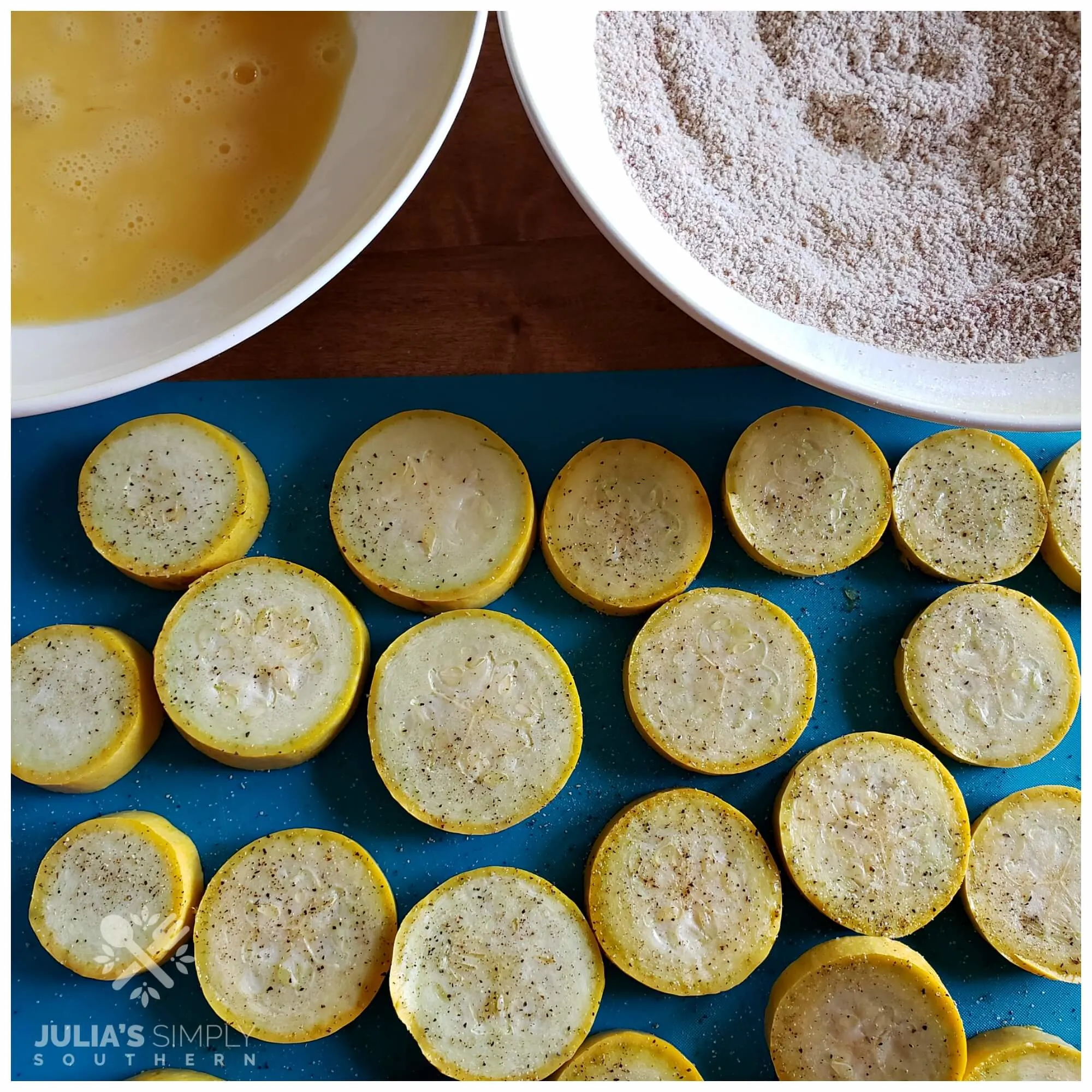 Step 2: Prepare the dredging station. In one bowl, whisk together two eggs with a little buttermilk. If you don't have buttermilk on hand, no worries, just whisk together three eggs. In a separate bowl combine the cornmeal, bread crumbs (preferably panko) together with the seasonings.
By the way…if you'd like to make this "low carb", you can use crushed seasoned pork rinds rather than the bread crumbs.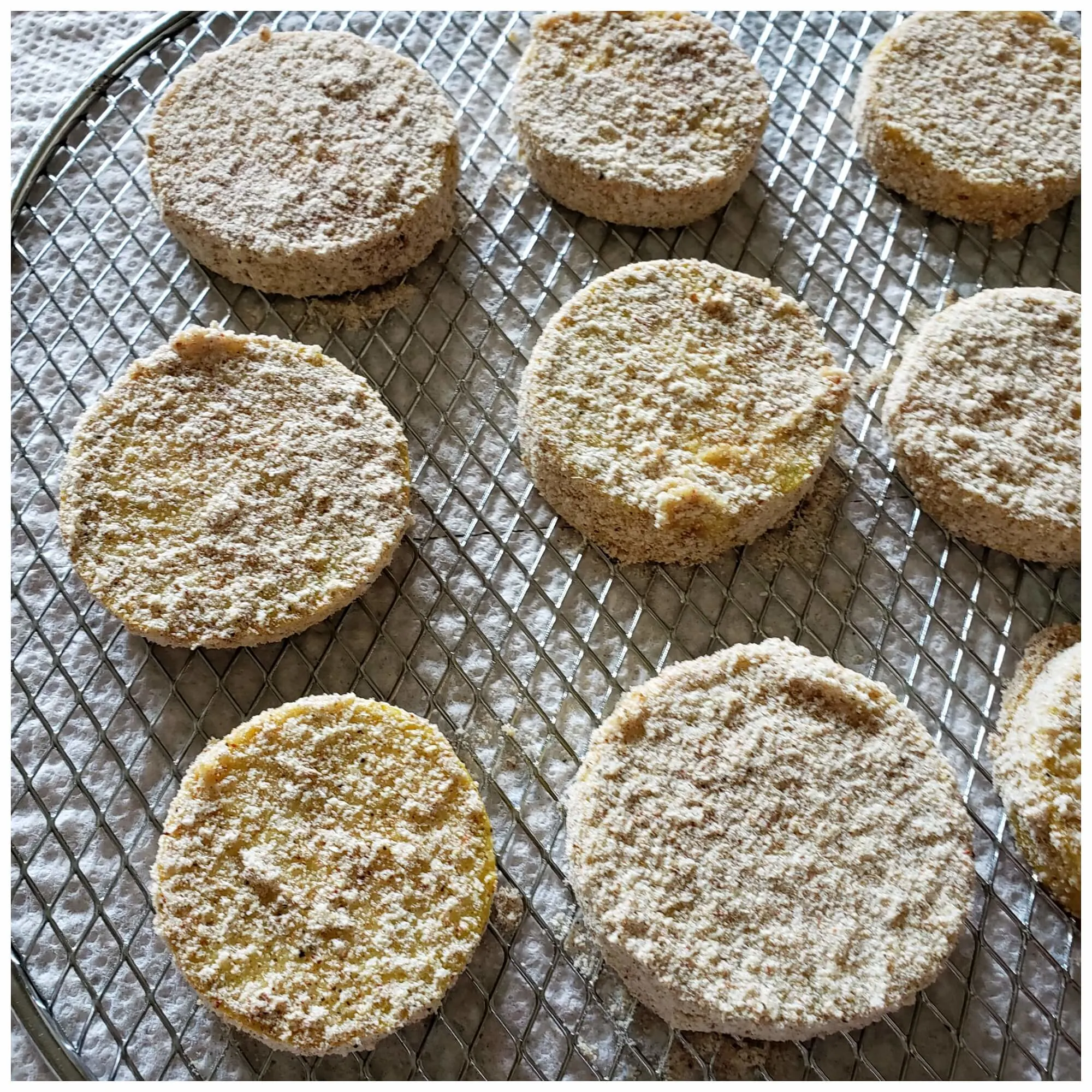 Step 3: For easier clean up I lay out some paper towels and place the air fryer racks on top of them. Dredge each squash slice in the egg mixture and then coat well with the bread crumb mixture and place on the air fryer racks.
Place the racks into the air fryer and cook at 400°F (204°C) for 20 minutes. Adjust cooking time and settings as needed for your particular air fryer model.
Depending on the model of air fryer that you own, you may need to rotate racks or turn the vegetables if using a bucket style halfway through cooking.
Southern Air Fried Yellow Squash
Yield: 2 pounds
Southern Air Fried Yellow Squash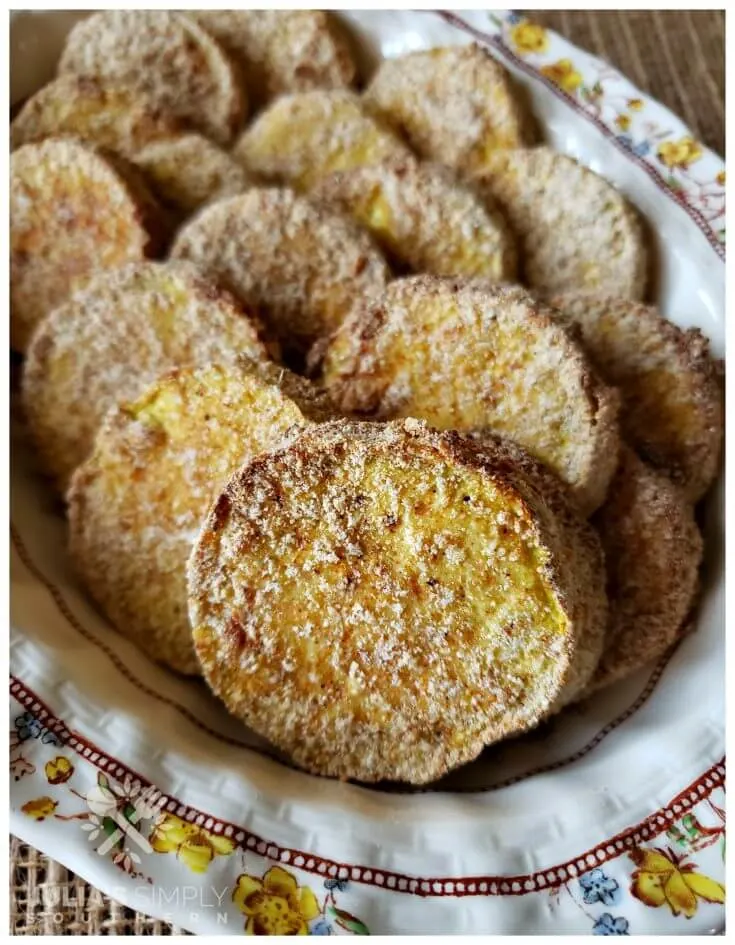 Southern Style Air Fried Squash is a healthy, crunchy and delicious low calorie alternative to traditional fried squash in oil.
Ingredients
3-4 Yellow Summer Squash (Zucchini would work also)
2 Eggs
2 tbs Buttermilk
1/4 c Cornmeal
1/2 c Bread Crumbs, plain (or Panko)
1 tsp Salt
1/4 tsp Ground Black Pepper
1/2 tsp Onion Powder
1/4 tsp Garlic Powder
1/2 tsp Paprika
Instructions
Slice the squash into 1/4 to 1/2 inch thick pieces. (Optional: season the squash pieces with a little salt and pepper before breading for extra flavor)
Combine the egg with the buttermilk in a bowl.
In a separate bowl, combine the cornmeal, bread crumbs and seasonings together.
Dredge the squash slices in the egg mixture and then coat in the seasoned bread crumb mixture and arrange on the air fryer cooking racks.
Air fry at 400°F for 20 minutes, or until slightly browned.
Serve hot.
Notes
Adjust cooking times and temperature settings as needed for your own particular air fryer model.
Recommended Products
As an Amazon Associate and member of other affiliate programs, I earn from qualifying purchases.
Nutrition Information:
Yield:
8
Amount Per Serving:
Calories:

96
Total Fat:

2g
Saturated Fat:

1g
Trans Fat:

0g
Unsaturated Fat:

1g
Cholesterol:

47mg
Sodium:

168mg
Carbohydrates:

16g
Fiber:

3g
Sugar:

5g
Protein:

5g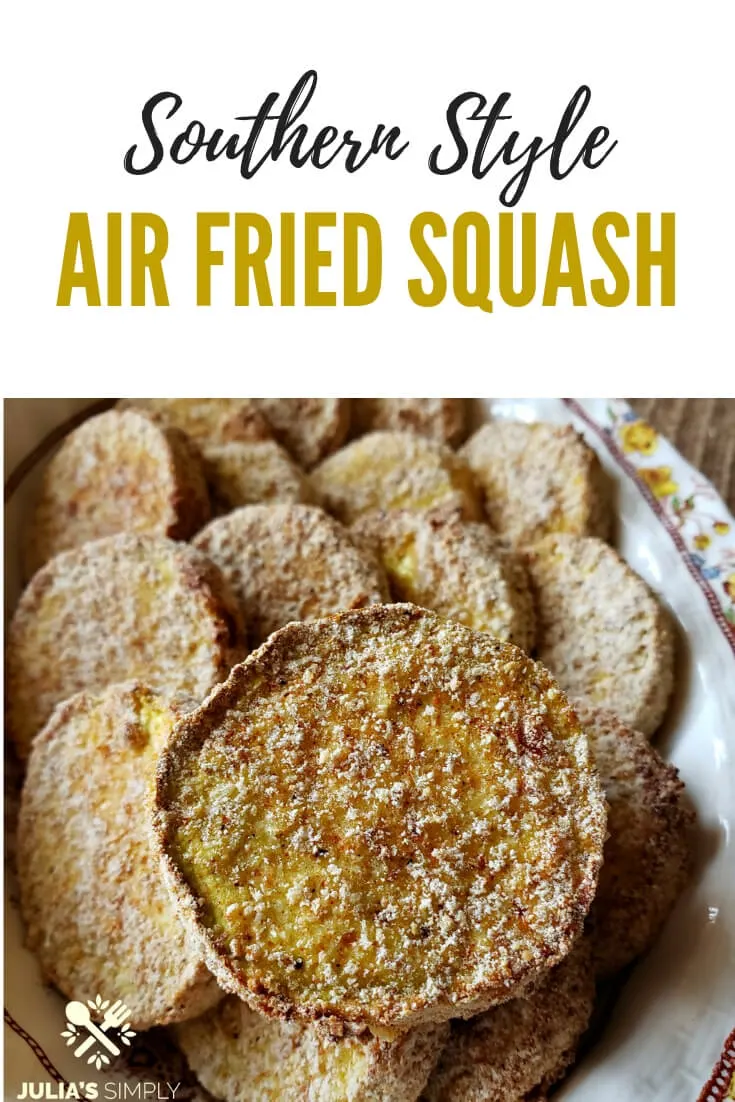 See this recipe shared at:
Meet Julia
Author of Julia's Simply Southern
Hey Y'all! I'm Julia, the cook and writer behind the recipes here at Julia's Simply Southern. I began my website so that I could share easy to follow recipes that anyone can use to put a home cooked meal on the dinner table. Thanks so much for stopping by!
Follow me on Facebook | Twitter | Instagram | Pinterest | YouTube