In this post I will be sharing an Easy Pineapple Coleslaw Recipe.
How does a creamy cool side with a bit of tropical fruit sound for summer? Amazing, right! Pineapple coleslaw is the perfect side dish to serve up all summer long.
A few years back, a friend of mine told me about some amazing slaw that they had in a North Carolina restaurant and that it had pineapple in it.
I was intrigued about this pineapple slaw since it was different from my classic coleslaw recipe and wanted to try it.
Unfortunately I never made it to the restaurant serving up this fabulous side dish so I just made my own. My pineapple coleslaw recipe is perfectly delicious and easy to make with just a few ingredients.
It is a must try if you've never had it and a great addition to your backyard BBQ menu. You'll enjoy the flavors in this tropical inspired cabbage coleslaw.
Pineapple Coleslaw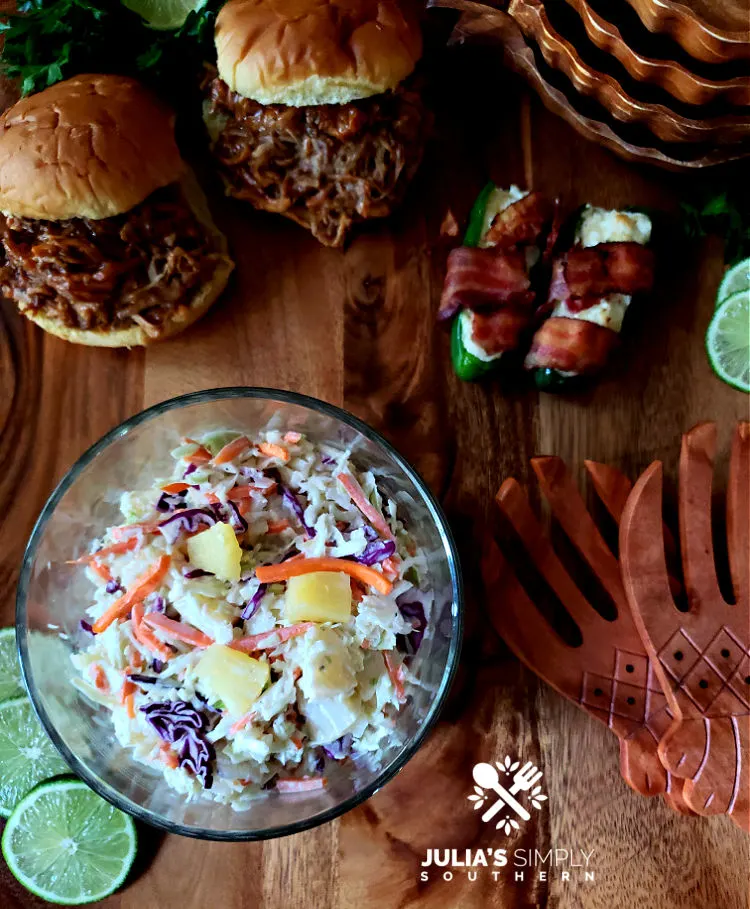 Doesn't that look wonderful? I love the bright colors of the green cabbage, purple cabbage and bright orange carrots along with the slightly sweet and creamy pineapple dressing. This summer side is a keeper!
For this recipe, I didn't add onion, but you could add some purple minced onion if you like.
Like many cool sides, this is one best made ahead and allowed to chill for several hours to overnight so that all of those flavors mingle and get even more yummy.
Tropical Summer Slaw Salad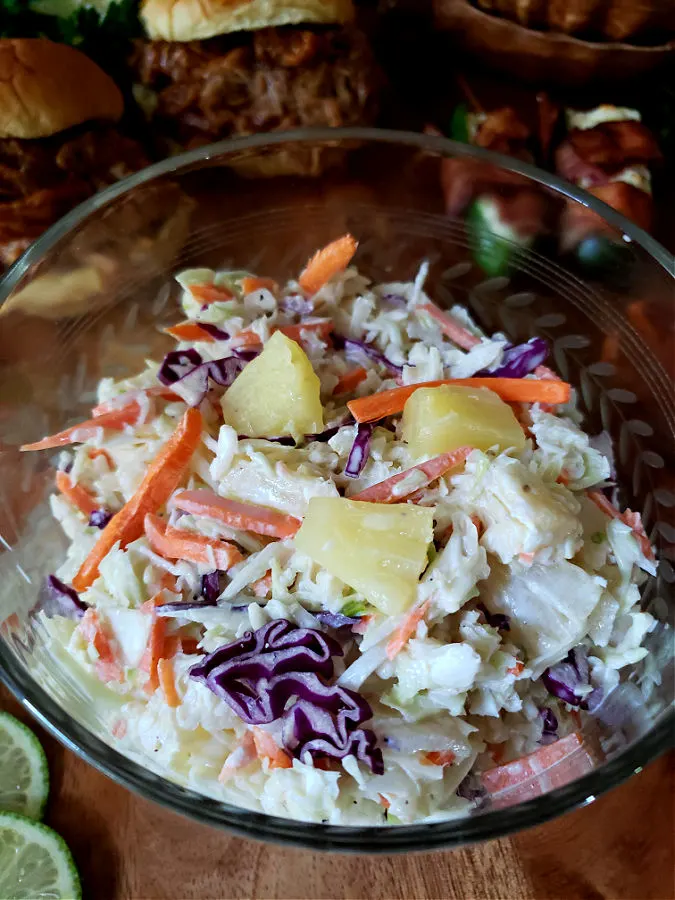 What to serve with pineapple coleslaw?
Pulled Pork Sandwiches – pineapple slaw would be great alongside these tasty sandwiches or served on top.
Hot Dogs or Bratwurst – again…on the side or as a topping would be delicious. Slaw dogs are a big thing down in my neck of the woods.
Seafood Meals – A classic side for Southern seafood meals includes coleslaw, fries and hush puppies.
Chicken Dinners – slaw is always a great side to some home cooked fried chicken.
Barbecue – creamy coleslaw always works well on a plate of barbecue with baked beans and hush puppies.
Fish Tacos – seafood tacos are often topped with a cabbage slaw.
Julia's Carolina Slaw Dogs Recipe!
Sweet Coleslaw Recipe with Pineapple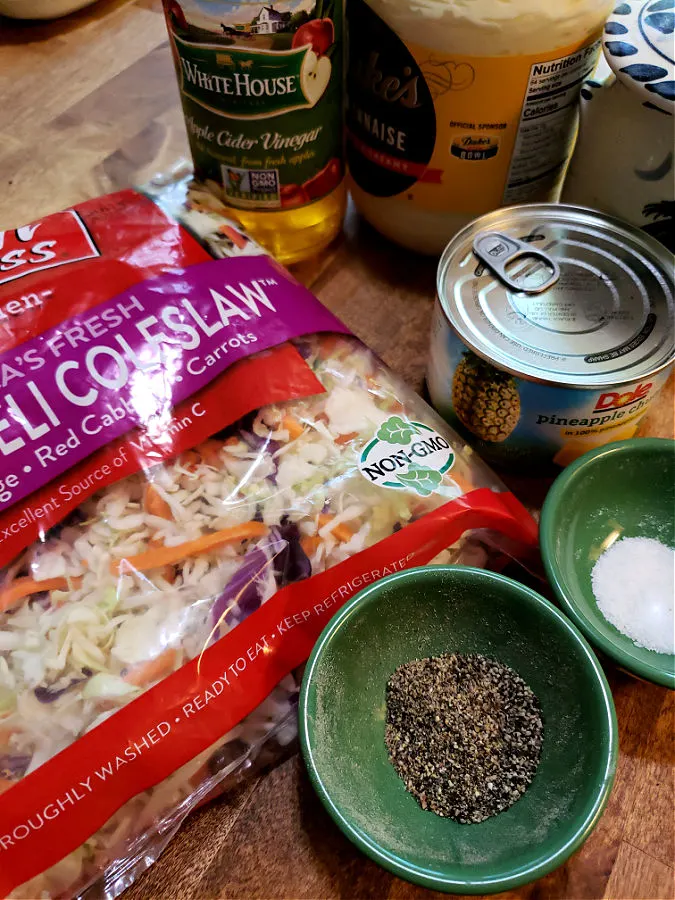 What do I need to make Pineapple Coleslaw?
Bag of Coleslaw Mix – easy and convenient using a bag mix for this recipe. I went for the one with the most color. If there seem to be any pieces of cabbage that are too big then give it a rough chop. The bag mix has a great blend of green and red cabbage for the Hawaiian pineapple coleslaw.
Pineapple Tidbits – the small chunks of pineapple work great for that burst of juicy pineapple flavor in this dish. Since I only had chunks on hand, I sliced each one in half to make them tidbits. Crushed would probably work well too. Hang on to the juice too because you'll need some it for the dressing. I used the Dole brand of pineapple because I had it on hand. There are no brand preferences for me. I also use generic store brands and it depends on who has what I need.
Salt and Black Pepper – for a bit of seasoning
Other options might include using green onions, red onion or fresh pineapple if you have one on hand.
Pineapple Coleslaw Dressing
Sugar – to add that bit of sweetness to the recipe.
Pineapple Juice – helps make the dressing creamy and adds more pineapple flavor.
Apple Cider Vinegar – adds a bit of tang for the perfect sweet and tangy dressing.
Mayonnaise – adds flavor and creaminess to the dressing. I prefer Dukes but your brand of choice will work just fine. If you would like to lighten things up you could do a half mayo and half plain Greek yogurt in the recipe.
You'll also need a large bowl to mix the slaw and a small bowl to prepare the dressing.
Creamy Pineapple Coleslaw with Mayo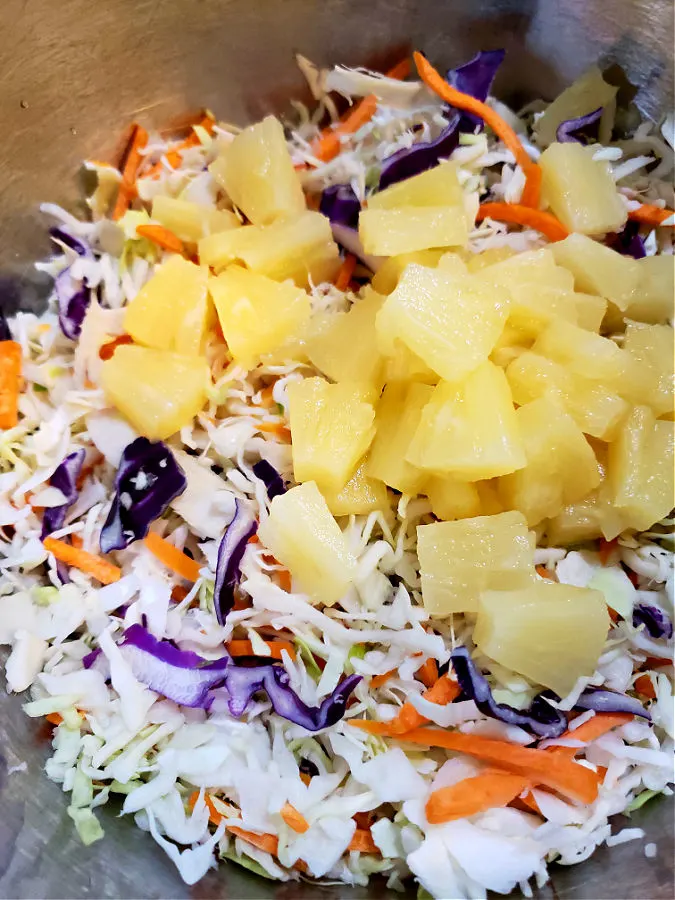 To begin, grab yourself a mixing bowl and add the slaw mix and the drained pineapple tidbits with a little salt and black pepper. Give it a quick stir to introduce those little pineapple bites to the cabbage mix.
Set the slaw mixture aside and prepare the dressing.
Pineapple Coleslaw Dressing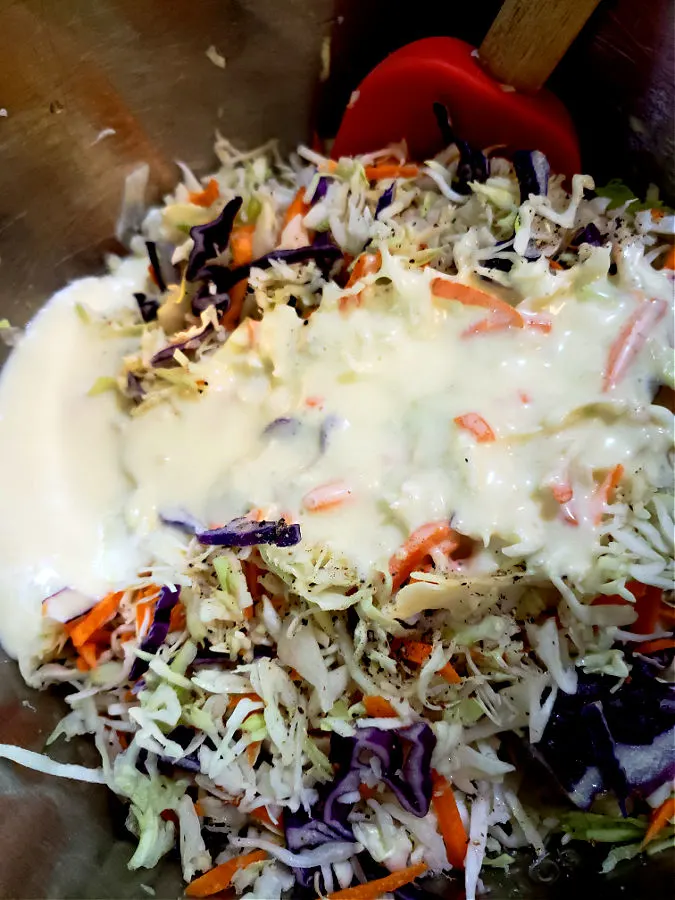 ohhhh, that creamy and delicious dressing y'all! It is so good! To make it, grab a small mixing bowl and add the sugar, reserved pineapple juice, vinegar and mayonnaise.
Use a small whisk to combine until it is smooth and creamy then pour it over the cabbage mixture.
Easy Coleslaw Side Dish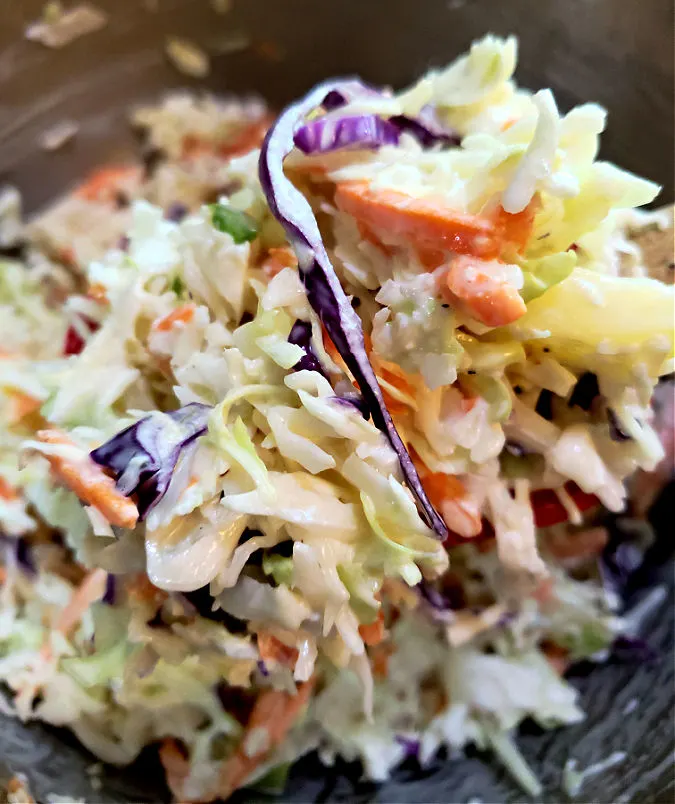 Next, Use a spatula and stir to combine everything together then transfer to a serving bowl, cover and refrigerate.
Allow the pineapple coleslaw to chill for a few hours before serving and it is even better if you can let it hang out in the fridge overnight.
You'll want to give the BEST pineapple coleslaw ever a quick stir before serving to redistribute the dressing. You're gonna enjoy every bite and this easy recipe is sure to become a regular in your meal rotation list.
Pineapple slaw is also wonderful for sharing at summer gatherings and everyone will enjoy the delicious twist on a perfect side dish for summer.
How long does coleslaw last? Three to five days stored in the refrigerator.
Pineapple Coleslaw Recipe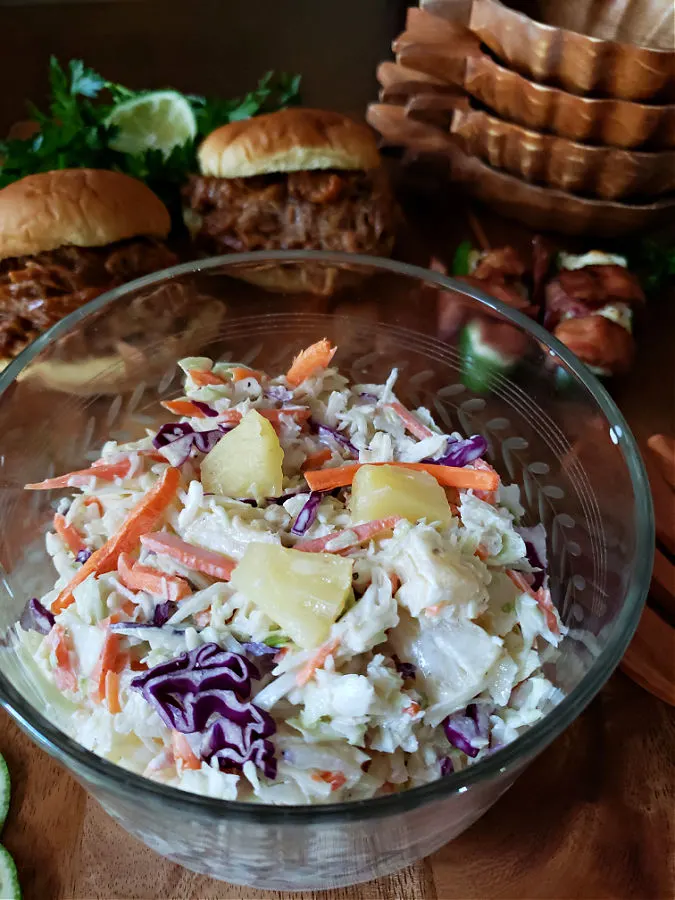 Below you will find a printable recipe card for this quick and easy pineapple coleslaw recipe.
Yield: 1 Side Dish
Easy Pineapple Coleslaw Recipe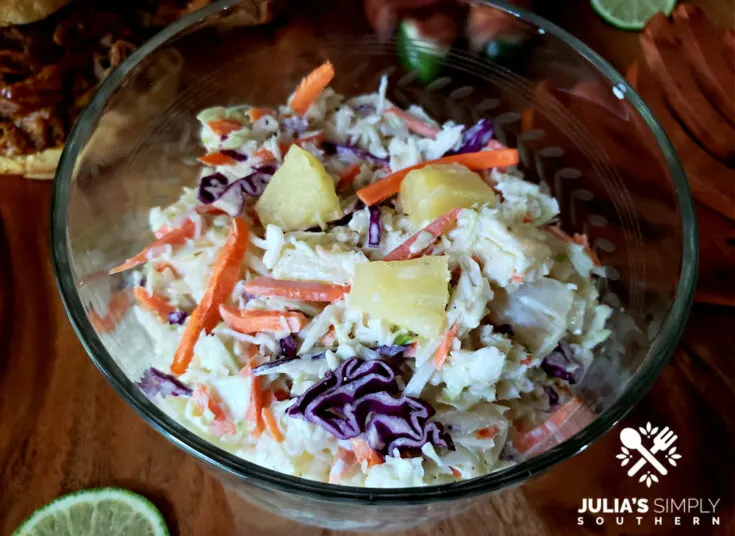 Delicious creamy pineapple coleslaw is the perfect side dish of summer. Enjoy it for family meals and social gatherings.
Total Time
4 hours
5 minutes
Ingredients
Pineapple Coleslaw Mix
14 ounce Bag Coleslaw Mix
8 ounce Pineapple Tidbits, drained and juices reserved
½ Salt
¼ Ground Black Pepper
Pineapple Coleslaw Dressing
2 tablespoons of Granulated Sugar
2 tablespoons of the Reserved Pineapple Juice
1 tablespoon Apple Cider Vinegar
½ cup Mayonnaise
Instructions
Slaw Mix
Use a large bowl; add the slaw mix, drained pineapple bits, salt and pepper. Stir and set aside.
Dressing
In a small mixing bowl; add the sugar, pineapple juice, apple cider vinegar and mayonnaise then use a whisk to combine until smooth and creamy.
Pineapple Coleslaw
Pour the dressing over the cabbage mixture and stir to combine. Transfer the pineapple coleslaw to a serving bowl, cover and refrigerate at least 4 hours or overnight until ready to serve. Give the slaw a stir to redistribute the dressing when serving.





Notes
Leftover pineapple coleslaw can be stored in the refrigerator 3-5 days.
To lighten up the recipe: use half of the mayonnaise and replace the other half with plain yogurt.
Recommended Products
As an Amazon Associate and member of other affiliate programs, I earn from qualifying purchases.
Nutrition Information:
Yield:
6
Serving Size:
1
Amount Per Serving:
Calories:

172
Total Fat:

9g
Saturated Fat:

1g
Trans Fat:

0g
Unsaturated Fat:

7g
Cholesterol:

6mg
Sodium:

227mg
Carbohydrates:

23g
Fiber:

2g
Sugar:

19g
Protein:

1g
When searching for pineapple coleslaw recipes you may have noticed some have a lot of sugar in them. I don't think this slaw recipe needs more than the two tablespoons because the carrot and pineapple also contribute sweetness to the dish.
Cabbage Pineapple Salad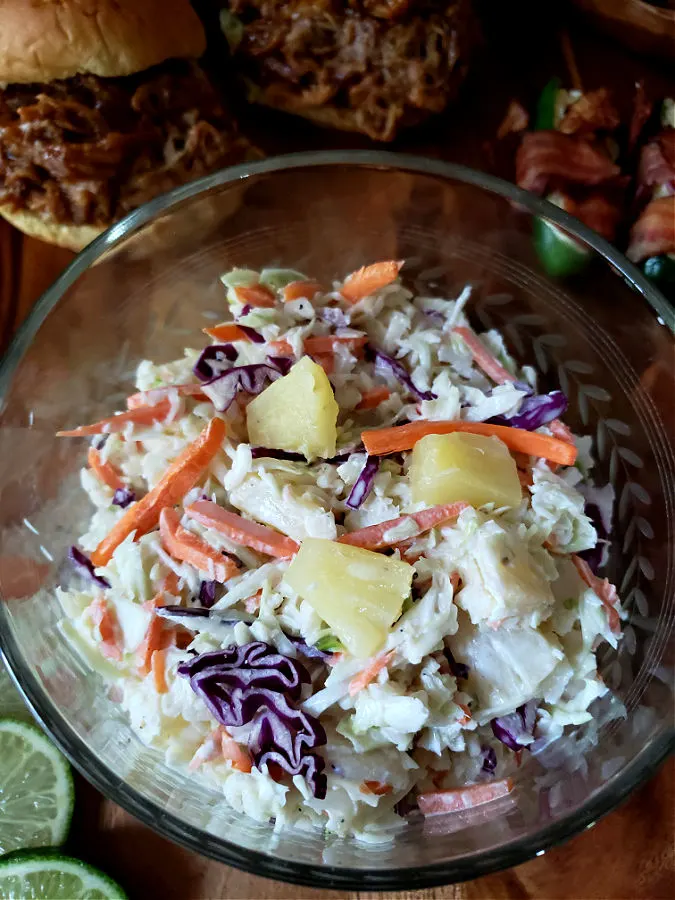 What are the different types of coleslaw? There are many ways that coleslaw can be prepared depending on how it is being served. Some of the most popular was are mayonnaise based, vinegar based, spicy, or a mustard based.
Coleslaw isn't always made mostly of cabbage these days. Broccoli slaw is another great option to change things up in a slaw recipe.
Check out the Latest Recipes on the Blog
More Pineapple Inspired Recipes that you might Enjoy Too
Thank you so much for stopping by! I am so glad that you did. I know that you're gonna love this delicious pineapple coleslaw just as much as we do. I hope you'll enjoy it at all of your summer cookouts.
Be sure to subscribe to my email list while you are here. Subscribers receive a weekly newsletter via email from me with the latest recipes and news here on the blog so that you never miss a thing.
Love and Happy Cooking, Friend!
Meet Julia
Author of Julia's Simply Southern
Hey Y'all! I'm Julia, the cook and writer behind the recipes here at Julia's Simply Southern. I began my website so that I could share easy to follow recipes that anyone can use to put a home cooked meal on the dinner table. Thanks so much for stopping by!
Follow me on Facebook | Twitter | Instagram | Pinterest | YouTube